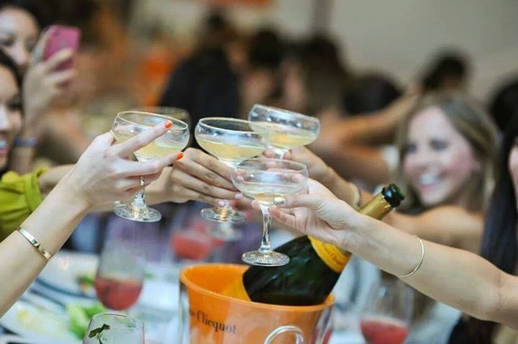 Just as this photo from the Bubblesgallery Champagne-Cocktail Bar Facebook page suggests, champagne is the top beverage choice for Mykonos visitors celebrating important occasions or special holiday moments …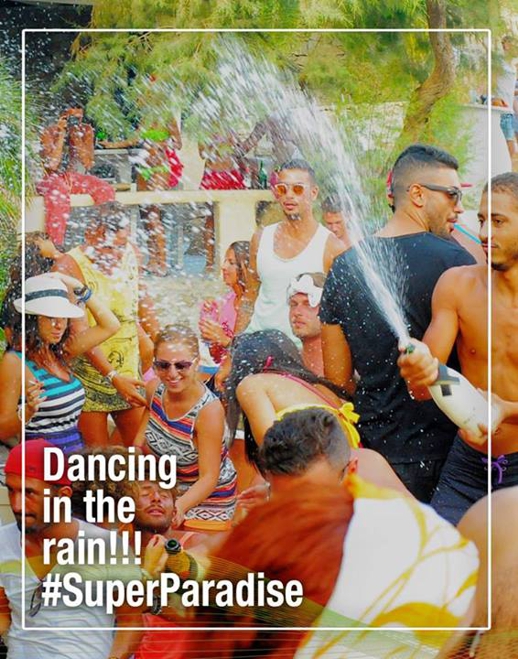 … but at some of the island's notorious party beaches, champagne is meant to be shaken and sprayed, not drunk, as this photo from the Super Paradise Beach Facebook page illustrates
 Sip it or spray it: Seems like only yesterday that mojitos were all the rage on Mykonos.  Everywhere I went a couple of summers ago, whether in Mykonos Town or at one of the island's world-famous beaches, I saw people sipping mojitos.  Dozens of different drinks are more in favour now, but social media postings show that the most popular alcoholic beverage on the island this summer isn't a cocktail — it's champagne.
I regularly follow Mykonos events on Facebook, Twitter, Instagram, YouTube and elsewhere, and have been astounded by the vast number of photos and videos of champagne that have been published so far this summer.
The images confirm that Mykonos tourists will drink thousands of cases of bubbly this travel season, but also suggest it's possible that much of the sparkling French wine sold on the island won't even touch people's lips.
Many visitors will order bottles of bubbly to toast an important occasion or mark a special holiday moment, of course, but countless more will purchase champagne with absolutely no intention of ever taking a taste. For them, it's only meant to be shaken and sprayed — at other people, especially sexy bikini-clad young ladies.
Bars at two of the island's top party beaches — Paradise and Super Paradise — have been stocking champagne by the truckload this summer to supply revellers who want to shake things up and get wet, wild and sticky after spending their afternoon frolicking in the sun and sea.
While dowsing people with drinks sounds like something one might expect to see only at beaches where 18- to 35-year-old partygoers gather to get totally trashed, champagne showers have been recorded even at classy high-end Mykonos dining and drinking establishments, like Nammos Restaurant by the Sea at upscale Psarou beach.
If you're travelling to Mykonos this season, turn to page 2 of this post to discover some of the best places to enjoy champagne — whether you prefer to sip it or spray it.
  CONTINUED ON PAGE 2