The July–September issue of 2board magazine features a gastronomy guide, suggested tours for Athens and Chania, and profiles of top boutique hotels
 Tons of great tips: If you're passing through Athens International Airport anytime this month, be sure to grab a copy of the July–September issue of 2board magazine while you're in the terminal.
The 212-page glossy publication is packed full of useful travel tips about hotels, restaurants, and attractions at a variety of destinations — information that could come in handy during your current travels in Greece, or for planning a future holiday.
2board is the official magazine of the Athens airport. Copies are available free of charge from magazine racks situated at various locations in the terminal building.
I always find a wealth of interesting information, travel ideas and helpful research material in 2board, and this summer's edition is no exception. In fact, it's one of the better issues, content-wise, that I've seen. (And, as always, it's packed with photos of luxurious resorts, villas and restaurants I can only dream about visiting someday … but it's still great fun to imagine what it would be like seeing these places and photographing them with my own camera.)
Gastro Guide to 10 top restaurants
Foodies will want to flip directly to page 21 for 2board's "Gastro Guide to Greece," which profiles "Ten restaurants that do not simply dish up Greek high gastronomy, they consistently take it one step further."
The guide highlights two acclaimed restaurants on Mykonos, three on Santorini, one each on the islands of Corfu, Crete and Rhodes, and two on the Greek mainland — one at Preveza and another in Halkidiki:
♦ Etrusco at Kato Korakiana on Corfu;
♦ Old Mill at the Elounda Mare Hotel at Elounda on Crete;
♦ The Squirrel, one of the restaurants at Danai Beach Resort & Villas in Halkidiki;
♦ the dining room at Bill & Coo Suites & Lounge above Megali Ammos beach on Mykonos;
♦ the brand new White Star at Lakka Square in Mykonos Town;
♦ the restaurant at SESA Boutique Hotel at Kanali beach in Preveza;
♦ The Greek, a new dining room at the Sheraton Rhodes Resort on Rhodes;
♦ Selene in Pyrgos village on Santorini;
♦ Sea Side by Notos at Santorini's Perivolos beach; and
♦ the dining room at the Grace Santorini hotel in Imerovigli.
The Gastro Guide includes full-page photos of the respective restaurants' chefs and some of their tantalizing creations, along with suggestions of signature dishes to try if you get the opportunity to dine at one of these fine establishments. A word of warning: don't read this article on an empty stomach, because the stunning food photos and descriptions of the unique dishes will instantly make you feel hungry!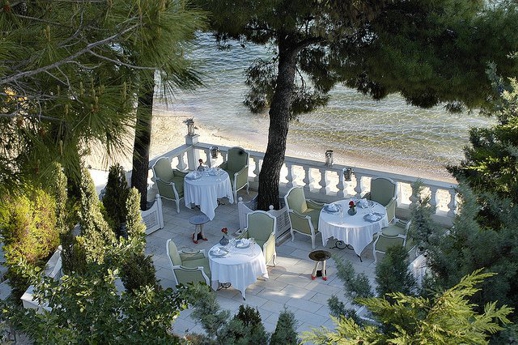 The seaside dining terrace at The Squirrel restaurant in the Danai Beach Resort & Villas in Halkidiki. The photo is from the Danai Beach Resort Facebook page.
 Please click on the 2 in the link below to continue reading this report.
 CONTINUED ON PAGE 2