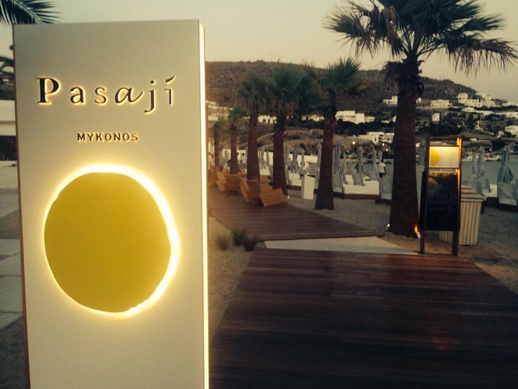 One of the newest restaurants on Mykonos this summer is Pasají, which opened in July at Ornos beach.  It features Mediterranean fusion cuisine and sushi, and boasts a chic beach bar and beachside swimming pool.
 More choices: Mykonos is probably best known for its nightlife and beaches, but with well over 300 restaurants and bars catering to all tastes and budgets, it's also one of the most interesting and exciting destinations for dining and drinking in all of the Greek Islands.
Choosing from such an extensive variety of restaurants is no easy task, especially since dozens are critically acclaimed and come highly recommended by websites and print publications geared to foodies and travellers.
Deciding where to go for a meal or cocktail became even more difficult this year when more than 20 newcomers arrived to spice up the island's restaurant scene with additional flavours, tastes and unique dining environments.
I have already written two reports profiling some of the new arrivals for 2014: Remezzo club gets restyled into restaurant & bar as new places to eat, stay & play open on Mykonos, published on April 13, and Mykonos 2014 restaurant & club update (Part 2), posted on May 5.
In this third instalment, I'll introduce you to 12 more new establishments that are waiting to whet your appetite when you visit Mykonos. Some of the restaurants opened as recently as July, while others launched at the end of last autumn. But this is the first summer all have been operating, and the feedback about food and service has been extremely favourable for most.
Not surprisingly, Greek and Mediterranean cuisine (including seafood) figure prominently on the menu selections at most of the new eateries. But in line with recent trends, several restaurants focus on sushi, while three specialize in either Thai, Indian or Italian dishes. Two are the Greek equivalent of "fast food" joints — grill houses that serve cheaply-priced gyros and souvlaki.
More than half of the new dining spots are located in Mykonos Town, while the rest are at beach resort areas including Agia Anna/Paraga, Ornos and Paradise.
Follow the link below to page 2, where you'll find photos and information about the new restaurants.
 CONTINUED ON PAGE 2