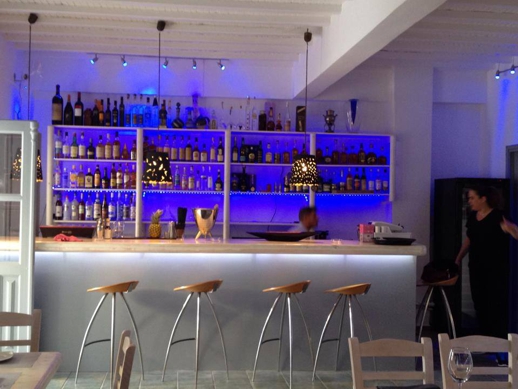 The bar at Funky Kitchen Mykonos, a new restaurant that opened recently in the Lakka district of Mykonos Town. The photo is one of several posted recently on Funky Kitchen's Facebook page.
More openings: Several weeks back I posted photos and information about brand-new tourist-related businesses opening on Mykonos for the summer of 2014 (see my April 13 2014 report headlined: Remezzo club gets restyled into restaurant & bar as new places to eat, stay & play open on Mykonos).
Friends on Mykonos tell me the arrival of the new accommodation, bar and dining venues has heightened the positive energy and enthusiastic buzz that has been steadily building this spring as travel bookings indicate the island could see a whopping 40% increase in visitor numbers this year.
That excitement will continue to increase this week, and throughout May, as more of the island's already-established restaurants and bars launch their season with opening parties and special events.
Here's some information to update my previous report from last month:
Newcomers to Lakka Square
Located near the busy Fabrika bus depot, the area around Lakka Square in Mykonos Town has long been one of the island's top destinations for drinking and dining. It's home to a variety of hugely popular restaurants and tavernas, including Bakalo, Marco Polo Taverna, Mediterraneo, and Sale e Pepe, and is where the cavernous Space Mykonos nightclub was located.
This year has brought three noteworthy changes to Lakka's vibrant restaurant and bar scene.
Space is gone, and a new venue — Dream City (DC) — has taken its place. DC kicked off the season on April 19 with a grand opening party featuring Melisses and Knockout, and threw another bash the next day with Claydee and Bang La Decks. During May, Dream City will be open only on Fridays and Saturdays, but after that will be party central every day for the rest of the summer.

This image was posted on Facebook to promote last month's opening party for Dream City Mykonos, a new club in the old Space Mykonos space
Just around the corner from DC, Funky Kitchen has opened its doors and begun welcoming customers. The restaurant subscribes to the "slow food" philosophy in preparing its Mediterranean dishes from high-quality, locally-sourced products. Everything the restaurant serves is made in-house, from its bread and dips to its marmelade and sauces as well as its sweets, chocolate chili and cardamom ice cream. Funky Kitchen also boasts an extensive wine list and cocktail menu.
Funky Kitchen is situated at 40 Ignatiou Basoula street, next door to Marco Polo Taverna.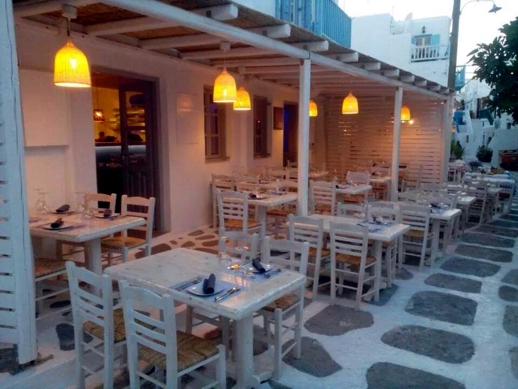 Street view of the new Funky Kitchen restaurant, which features Mediterranean cuisine prepared in line with the "slow food" approach to cooking
The third newcomer to Lakka Square is Noodle Mykonos, an Asian "fusion" restaurant with a noodle and sushi bar.
Noodle offers "quick, fresh and healthy" cuisine for on-site dining, take-out and delivery.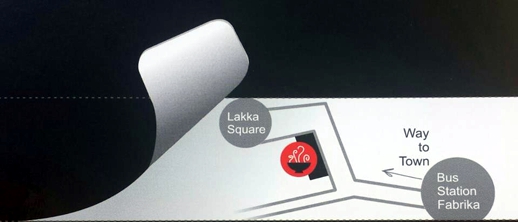 This map, from the Noodle Mykonos Facebook page, shows the restaurant's prime location two blocks from the Fabrika bus depot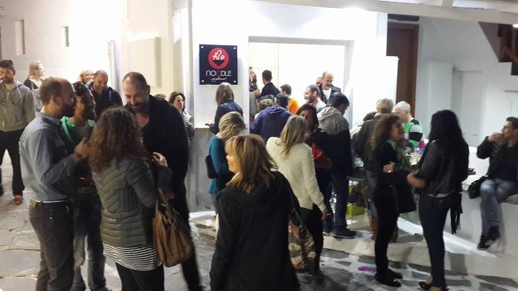 This photo of guests gathered outside Noodle Mykonos during the restaurant's recent opening party was posted on Facebook.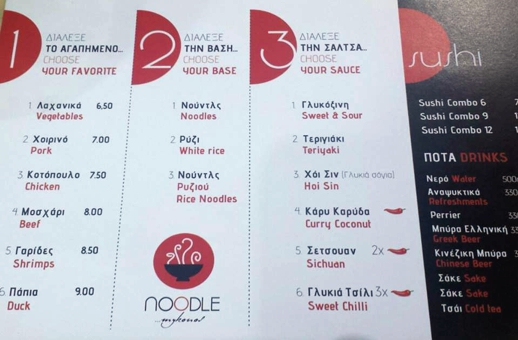 Also from the Noodle Mykonos Facebook page, a snapshot of the menu
 Skandi Bar ready to rock
The Skandinavian Bar and Disco has been a veritable institution on Mykonos since 1978, ranking as one of the top places to party in the Greek islands every year since then. Its opening night event for 2014 takes place tonight (May 5), and the place will continue rocking all summer long.

Opening party promotional image from the Skandinavian Bar Facebook page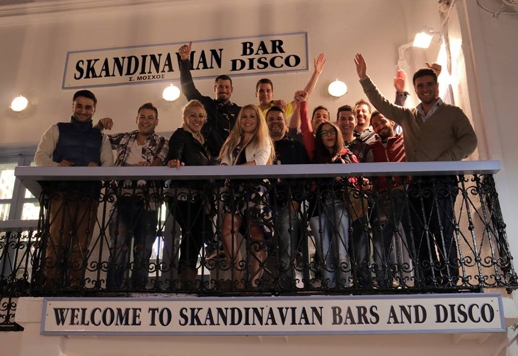 Skandinavian Bar posted this enthusiastic group photo on its Facebook page to promote the club's opening party on Monday May 5
Kastro Bar launches new season
Also opening today is another popular bar that has developed a legion of fans and regular visitors from around the world since it opened in 1976 — Kastro Bar. It's located steps from the famous Paraportiani Church and boasts great sea and sunset views.
This photo of the Kastro Bar interior was posted on the Mykonos Facebook page today to announce today's official opening.
 A Nice n Easy start at Kalo Livadi
 The Nice n Easy Bio restaurant cafe expanded from Athens to Mykonos last summer, and the island outpost became an instant hit. Nice n Easy Mykonos vaulted to the #37 ranking for Mykonos restaurants on TripAdvisor.com, supplanting Solymar as the trendiest eatery at Kalo Livadi beach. (Solymar had to settle for the #176 ranking on TripAdvisor's Mykonos restaurant chart).
Will Nice n Easy duplicate its success in 2014? We may soon find out — it will be opening its doors on May 16.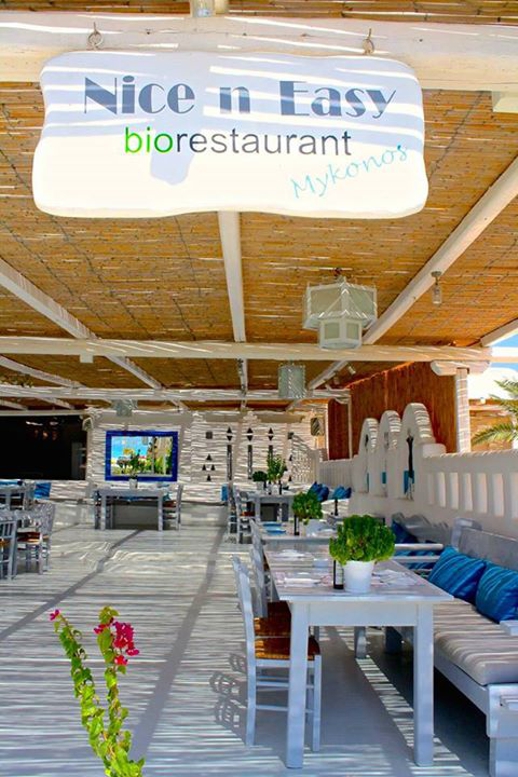 This photo was posted on the Nice n Easy Mykonos Facebook page to announce the restaurant's official opening on May 16
Top beach eateries now open
Kalosta Restaurant quickly became one of the most popular new places to dine on Mykonos last year, vaulting into a high position on the TripAdvisor.com traveller reviews (where it is currently is rated as the #12 restaurant on the island.) It opened for a fresh season on May 7.
It joins several perennially-popular dining spots that have already opened for business at other beach areas, including Kiki's Taverna at Agios Sostis, Aneplora at Kalafatis, Solymar at Kalo Livadi, Tasos at Paraga, Nammos at Psarou, Kostantis at Ornos and Hippie Fish at Agios Ioannis. Launching its season soon will be Fokos Taverna at Fokos beach, which has set its opening for May 15.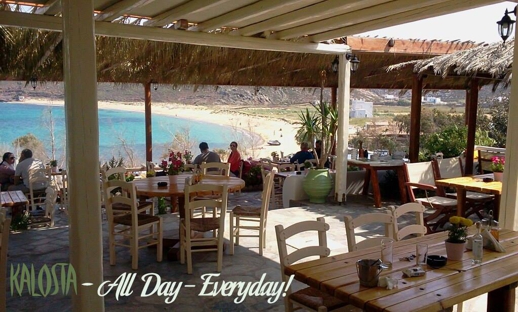 This photo, from the Kalosta Restaurant Facebook page, shows part of the view of Panormos beach that restaurant guests will enjoy from the open-air dining terrace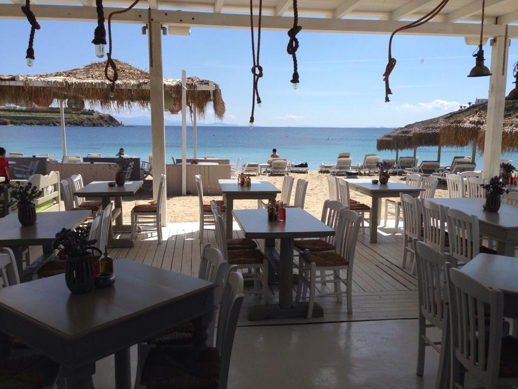 Kostantis restaurant is situated near the middle of Ornos beach. This photo of the beachside dining terrace appears on the Kostantis Restaurant Facebook page.
Mykonos Town hot spots
Fans of superb Italian food and fine wine will be happy to hear that Sale e Pepe is open for another season. The restaurant is located at Lakka Square and has won numerous accolades for its food and wine. It has been well-known for its wine list which is arguably the best on the island, and which has won acclaim from Wine Spectator magazine as one of the best restaurant wine lists in the world.
Lovers of authentic Neapolitan pizza will be delighted that Marechiaro is now open again, too.  Besides pizza, Marechiaro offers salads and appetizers as well as fish specials and rib eye steaks.  Pizza can be ordered for pick-up and take-away each day from 7 p.m. to 1 a.m.
Last but not least, the world-famous Nobu Matsuhisa Mykonos started its second decade of business on May 9. Situated in the chic Belvedere Hotel, the restaurant celebrated its 10th anniversary last year.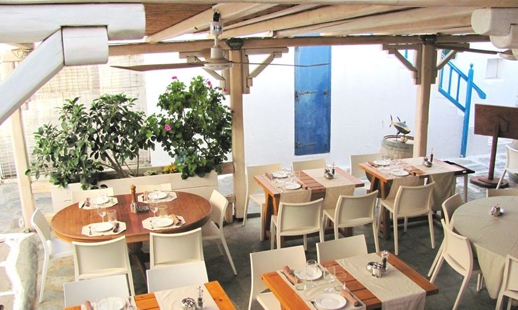 From the Sale & Pepe Facebook page, a photo of the restaurant's open-air dining terrace near Lakka Square in Mykonos Town
New disco & lounge at Taxi Square
Boogie nights return to Taxi Square on May 16 when the new lounge & discotheque @54 Club opens in the premises formerly occupied by the Ramrod Club gay bar.
The island's newest nightclub is promising "Exclusive weekly parties full of the sexiest & most glamorous jet setting crowd and pumpin' jamz to boot!"
The grand opening celebration starts at 7 pm.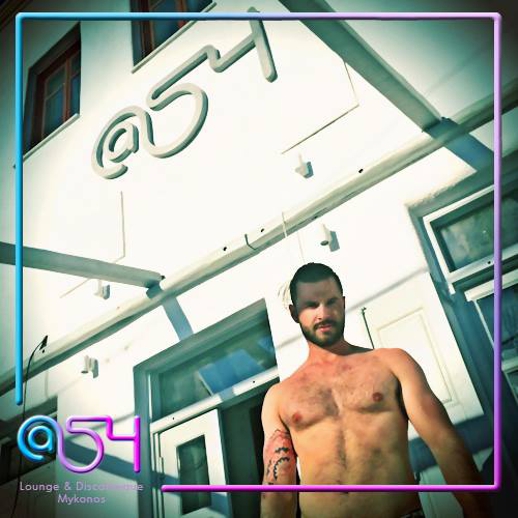 Bartender Tassos stands outside @54 Club, a new disco & lounge opening on the premises once occupied by the Ramrod Club gay bar. The club, located next to Taxi Square in Mykonos Town, starts its boogie nights with a grand opening party on May 16. The photo is from @54 Club's Facebook page.
Greek dancing & music at Roca Cookery
Roca Cookery isn't a new restaurant (it has been in business for nearly three years now), but I noticed they have added something new that will probably be as huge a hit with tourists as their excellent seafood dishes and Greek cuisine.
One evening each week, Roca Cookery will host a Greek dancing show with live music. The spectacles will take place on Tuesdays at 21:30 (9:30 p.m.).
For reservation inquiries, contact the restaurant by telephone at 30 2289 022955 or drop by in person. Roca Cookery is situated next to the Mykonos Archaeological Museum on the road above the Mykonos Old Port.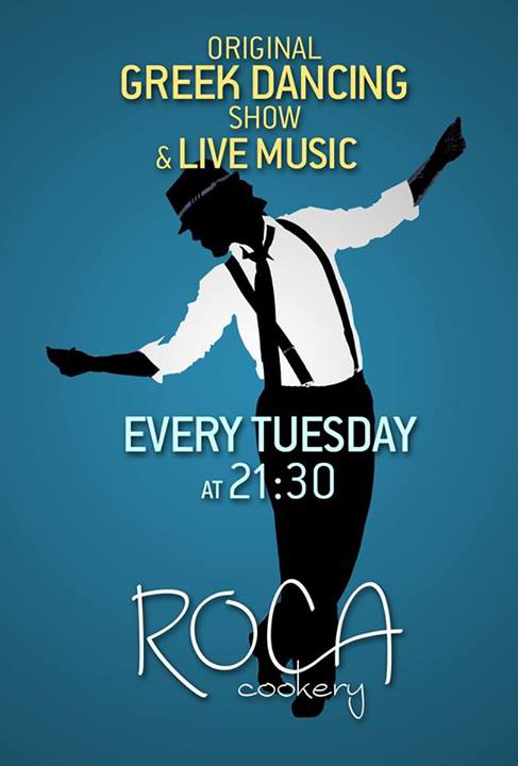 A promotional image for the new Greek dancing and live music shows being held every Tuesday night at Roca Cookery.