The new Anna's Place Restaurant & Bar overlooks Paradise beach from its hillside location next to the Cavo Paradiso nightclub complex. This photo of the restaurant's beach view appears on the Anna's Place Facebook page.
New this season: It has been a busy week on Mykonos, and next week will be even busier, as dozens of hotels, restaurants and shops open their doors for Easter celebrations and officially launch their 2014 tourist season.
Several new businesses — restaurants and bars plus Bohème Mykonos, a luxury boutique hotel — are opening for the first time, adding more variety to the island's diverse and exciting mix of accommodation, drinking, dining and entertainment venues.
New restaurants have already opened at two of the most popular beach resort areas on Mykonos: Anna's Place Restaurant & Bar at Paradise beach, and Apagio seafood and Aegean cuisine at Ornos. Two more dining spots opening soon in Mykonos Town are the noodle and sushi joint Noodle Mykonos, and the chic new restaurant and cocktail lounge Remezzo Mykonos. And a newcomer to the island's notoriously intense nightlife scene will be the gay-friendly Sofi'a Thalami Bar.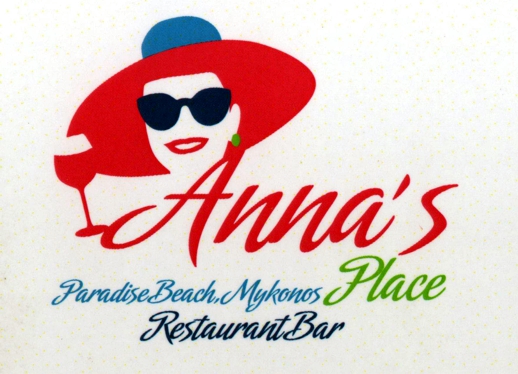 The colourful logo for Anna's Place at Paradise beach
Legendary nightclub revived as chic restaurant
If the name Remezzo rings a bell, that's because it's the latest incarnation of the legendary nightclub that opened in 1967. Located on the Mykonos Town harbourfront, Remezzo catered to the jet-set party crowd and for decades enjoyed a worldwide reputation as one of the island's leading dance clubs.
This year, Remezzo is being transformed into what its Facebook page describes as "an exceptional restaurant with sophisticated Mediterranean cuisine and an impressively eclectic international wine list." It will occupy the "same idyllic setting" near the Old Port as the original bar — upper levels of the big white building near the red-domed church and the neoclassical Mykonos Archaeological Museum, two familiar landmarks near the Mykonos Old Port. (Salparo Seafood and Kavos Cafe occupy the building's ground level, beside the pedestrian path that leads from the Old Port to little Agia Anna beach in front of the Leto Hotel.)
Remezzo will open for the season on May 1.
This promotional image, from the Remezzo Mykonos Facebook page, shows the new restaurant's outdoor cocktail and dining terrace.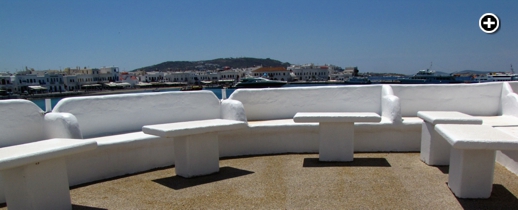 The Remezzo Mykonos outdoor terrace has superb views of the Old Port, harbour and Mykonos Town waterfront, part of which are visible in this pic of the veranda that I shot three years ago.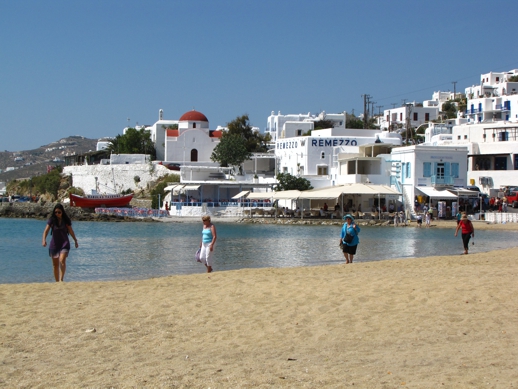 Looking toward the big white Remezzo building (center) from little Agia Anna beach at the Mykonos Town harbour.
Seaside seafood and ouzo at Ornos
After eight years, the man who created the popular Ithaki restaurant at Ornos beach has moved on to launch a new venture in premises a short walk away. Sikiniotis Lefteris has opened Apagio Authentic Aegean Cuisine on the east side of Ornos Bay near the Santa Marina Resort & Villas, only a couple of minutes' walking distance from Ornos beach. (The name is spelled Apagio in some places, and Apaggio in others, but they're one and the same place.)
The restaurant specializes in fish and seafood, but its menu includes appetizers, salads and some meat and pasta dishes. The Apagio bar serves beer and wine and boasts an impressive selection of more than 40 different raki and ouzo to accompany the delicious appetizers. The restaurant's indoor dining area faces Ornos Bay, with a wall of glass panels that staff can slide open on beautiful days. Apagio also has a row of outdoor tables right next the seaside, offering unrivaled views of the beach and bay.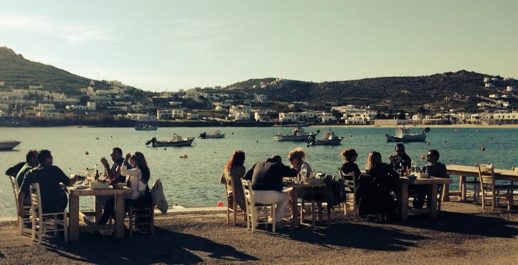 Apagio restaurant has a row of seaside tables offering views of Ornos beach and the entire Ornos bay area. The restaurant is located near the entrance to the five-star Santa Marina Resort & Villas. This photo was posted on the Apagio Facebook page by Petro Kalaris.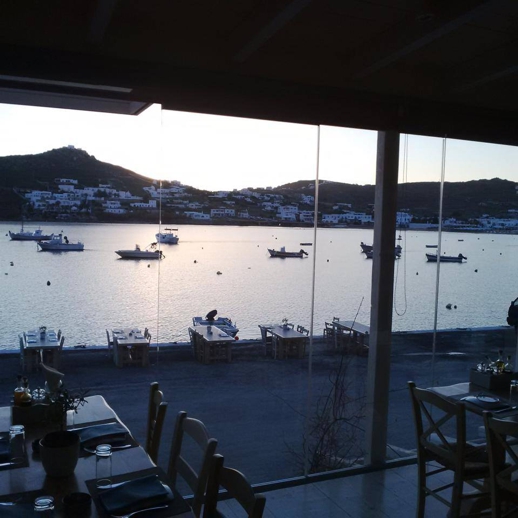 This photo shows the indoor and seaside dining areas of Apagio restaurant at Ornos. The photo is from the Apagio Facebook page.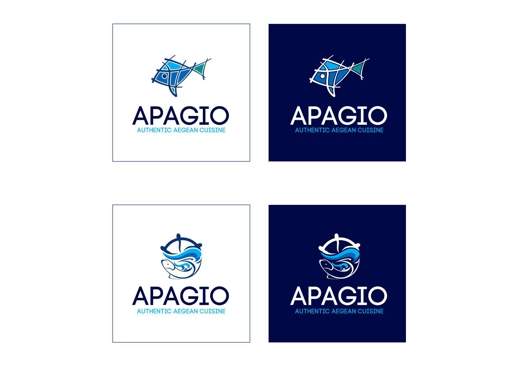 Logos for the new Apagio fish and seafood restaurant at Ornos. The restaurant's bar is stocked with an extensive selection of ouzo and raki.
 Asian & Med cuisine in the Italian district
The neighbourhood around Mykonos Town's Lakka Square is a bustling zone of shops, restaurants and bars close to Fabrica Square (location of the depot for buses servicing Ornos, Agios Ioannis, Psarou, Platis Gialos, Paraga and Paradise beaches). I have often heard people refer to Lakka as "the Italian district" because it's home to several popular Italian restaurants, including Mediterraneo and Sale e Pepe. A new eatery, Noodle, will add some Asian spice and flavour to the area.
An "Asian fusion" restaurant featuring a noodle and sushi bar and takeout service, Noodle is promising "quick, fresh & healthy" meals. There's no word yet on the precise date it will be commencing operations — the Noodle Mykonos Facebook page still has an "Opening Soon" banner. [Editor's update: Noodle will open on April 24.]
Also opening in the Lakka area is Funky Kitchen Mykonos, whose menu will offer Mediterranean cuisine. The restaurant is situated at 40 Ignatiou Basoula, next to Marco Polo Taverna. No photos or further details are available yet.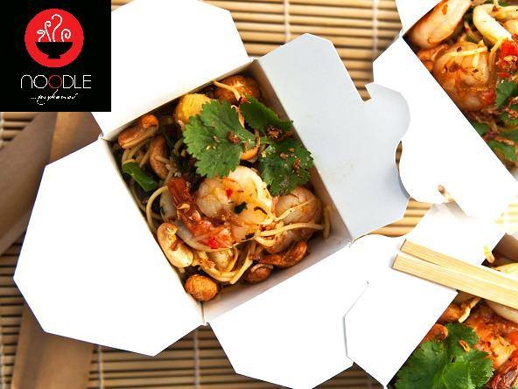 Noodle Mykonos will bring "quick, fresh & healthy" Asian fusion cuisine to the Lakka restaurant and bar district of Mykonos Town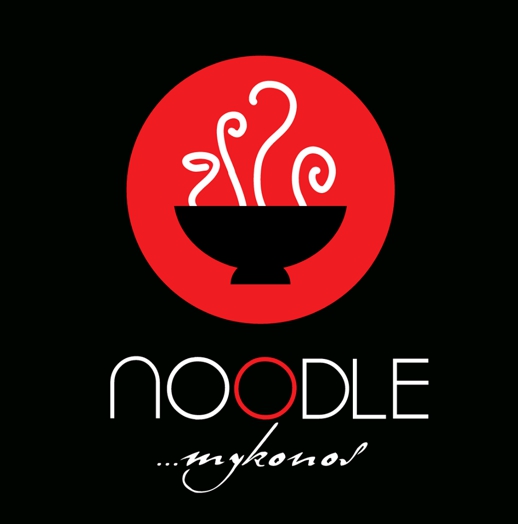 An image of the restaurant logo, from the Noodle Mykonos Facebook page
 Anna's piece of Paradise
Paradise beach is known around the world as the premier "party beach" on Mykonos, and for good reason — it has a strip of bars hosting wild and crazy daytime beach parties, plus it's home to the island's two biggest special entertainment venues, Paradise Club and Cavo Paradiso, where top international DJs spin for events that last from midnight to dawn.
This summer, the Paradise party crowd will have a new spot to drink and dine — Anna's Place Restaurant & Bar has opened in sea- and beachview premises adjacent to Cavo Paradiso. Anna's menu includes Greek cuisine as well as seafood, pasta and meat dishes. The restaurant has a sheltered dining room and bar terrace that overlooks Paradise beach and bay.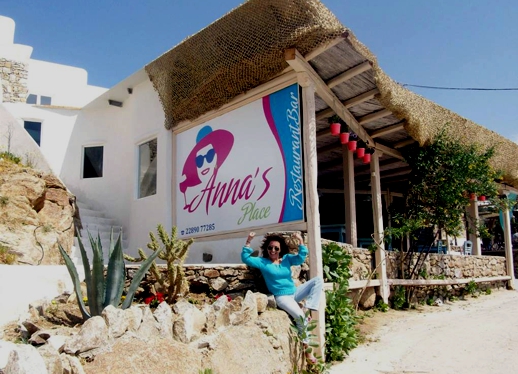 From the Anna's Place Facebook page, a photo of the exterior of the new restaurant and bar at Paradise beach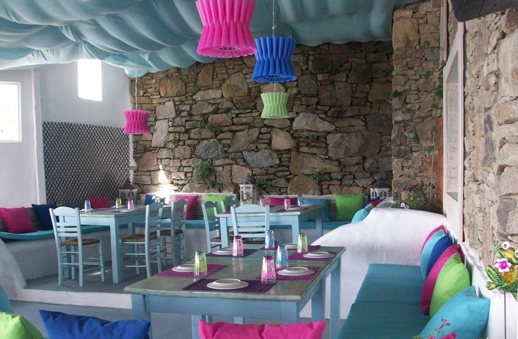 Also from the Anna's Place Facebook page, this photo shows part of the restaurant's colourful interior dining space
New nightclubs in Tria Pigadia & former Space disco

Details are scant, but a new nightclub named ODE has opened in the Tria Pigadia (Three Wells) area of Mykonos Town, in the former Aigli bar premises across the street from Astra nightclub.
The club posted two photos on the ODE Facebook page, which was created April 15 to announce the bar's April 16 premiere, but has not yet added further information.
Musician Alexandros Christopoulos will be one of his exclusive Esthete concept parties in the club on April 19.
That's the same night that Dream City Mykonos will make its grand debut in the Lakka-area location formerly home to Space disco.  The new Mykonos club will be a sister to the Dream City restaurant and nightclub at 30 Iera Odos in Athens.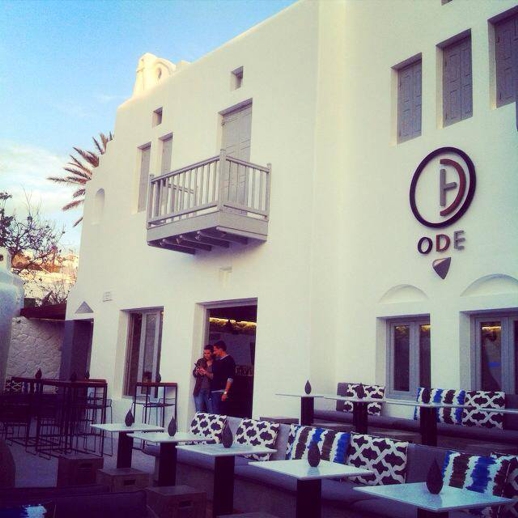 From the ODE Mykonos Facebook page, a view of the nightclub's outdoor patio
 Sophie's choice for a new gay venue

Sophie, a French "icon" well-known to many of the thousands of gay travellers who visit Mykonos each summer, is opening a new club called Sofi'a in the space formerly occupied by Thalami Bar (the lower back level of the Mykonos municipal building, right next to busy Niko's Taverna).
Thalami had been around for decades, and was perenially popular for its live Greek music and friendly, social atmosphere.  No word yet on when Sofi'a will be opening — there's no website or Facebook page for it yet, but it's getting plenty of buzz on social media as people continue to share photos of the bar's logo (below). [Editor's update: Sofi'a Bar held an opening party on April 17.]
There is also talk that the Ramrod Club at Taxi Square will be reopening this season, offering gay and gay-friendly visitors another venue to meet and mingle.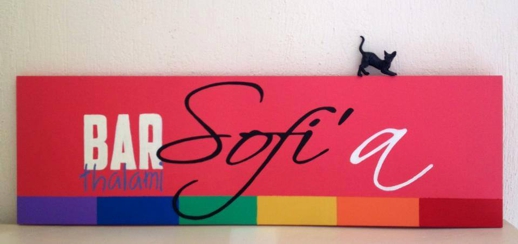 A photo of the sign for the new Sofi'a Thalami Bar in Mykonos Town
Mystery hotel opening in May
There are nearly two dozen 5-star hotels on Mykonos, but the vast majority are situated at beach resort areas like Agios Ioannis, Elia, Ornos and Psarou. Only four are either right in Mykonos Town or within a reasonable walking distance of the town center — the Theoxenia, Kouros, Cavo Tagoo and Tharroe. The Theoxenia is the most centrally-located of the bunch, sitting right behind the famous row of windmills at Little Venice. Kouros and Cavo Tagoo are a 10-minute walk away in the seaview Tagoo neighbourhood on the north side of the Old Port, while Tharroe is a slightly longer walk on the south side of town, high above Megali Ammos beach.
The newest member of the Mykonos 5-star club is Bohème Mykonos, which is also on a hill above Megali Ammos but much closer to town than Tharroe. Scheduled to open on May 15, Bohème will boast 20 luxurious suites with contemporary Bohemian decor in a sparkling white building of traditional Cycladic architecture. Bohème is one of 11 Mykonos hotels belonging to Small Luxury Hotels of the World.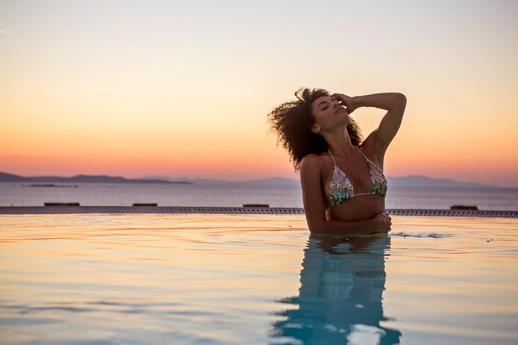 This image of a model striking a sultry pose in a seaview swimming pool at sunset appears on the website and Facebook page for the new Bohème Mykonos boutique hotel in Mykonos Town
New 5-star accommodations on site of former budget hotel
Regular Mykonos visitors will be familiar with Bohème's location — it's the site formerly occupied by the 2-star Carrop Tree Hotel and Merolayia restaurant.
I've been curious to see how Bohème looks, and especially to learn how its creators transformed the old budget-friendly Carrop Tree building into high-end boutique accommodations. Unfortunately, no-one from Bohème, or from its sister hotel, Porto Mykonos, responded to requests for information that I emailed to their website contact addresses and Facebook pages. But perhaps they're keeping those details under wraps as part of the new hotel's online promotional campaign, built around the theme "Let's get lost in the Bohème mystery."
Indeed, while the Bohème website and the Bohème Mykonos Facebook page both feature impressive photos that photographer Christos Drazos shot of several different suite interiors, there are no images of the hotel's exterior or main facilities (possibly because they could well have been under renovation at the time the website was constructed).  So until guests and passersby begin posting photos online, Bohème's external appearance will remain secret.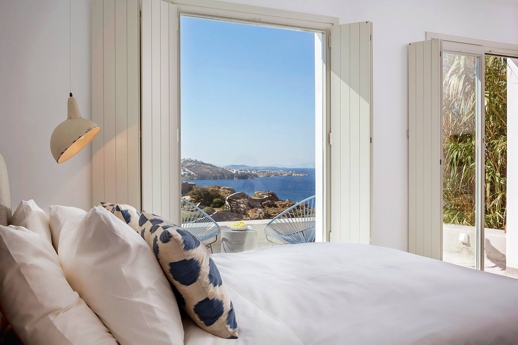 This photo, from the Bohème Mykonos Facebook page, shows the interior of a superior sea view suite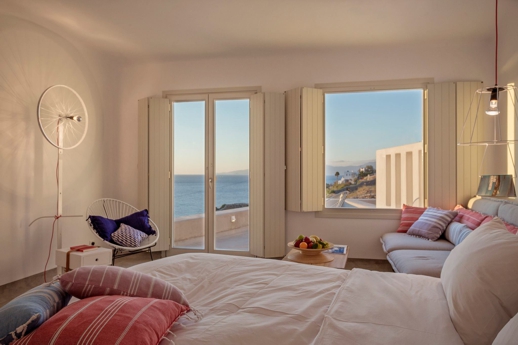 From the Bohème Facebook page, another photo of a suite interior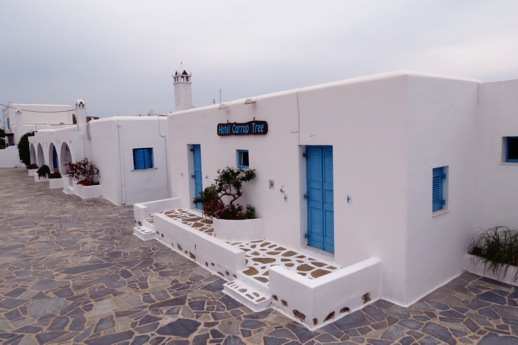 The budget-priced Carrop Tree Hotel formerly occupied the property where the new 5-star Bohème Mykonos hotel will open on May 15. I shot this photo of the Carrop Tree in May 2012, and am very curious to see how the building has been transformed into its new incarnation as luxury accommodations.
Popular places opening in April
Popular restaurants in Mykonos Town that celebrated the start of the 2014 tourist season this week were D'Angelo and  M-eating, which both opened April 10, and Kalita, which welcomed guests on the 11th.  Aroma Bar also opened on April 11 with music by DJ Inspiro, while Scarpa nightclub in Little Venice threw its season-opening bash the same night with DJ Valeron. Nammos By the Sea got summer started at Psarou beach with its grand opening on April 12.
Restaurants opening in time for next weekend's Easter festivities include Bakalo, which has announced it will open on April 14, and Catari on the 15th. Aneplora near Kalafatis beach, plus Marechiaro and Avra Restaurant in Mykonos Town, all will open on April 16 while Jackie O' Beach at Super Paradise will follow on the 17th, offering a special Easter menu on the weekend. Salparo Seafood near the Old Port has given the trademark red and white fishing boat next to its patio a fresh coat of paint in time for the taverna's April 17 opening. Karavaki restaurant at the Vencia Hotel also opens on the 17th, while Avli tou Thodori at Platis Gialos starts its season on the 18th.
The Mykonos Town nightlife will pick up steam with three club openings all on April 16 —  Semeli Bar in Little Venice plus Astra and the brand-new ODE Mykonos nightclubs, both in the Tria Pigadia area. Over at Panormos beach, Panormos Beach Bar is aiming to open on the 17th.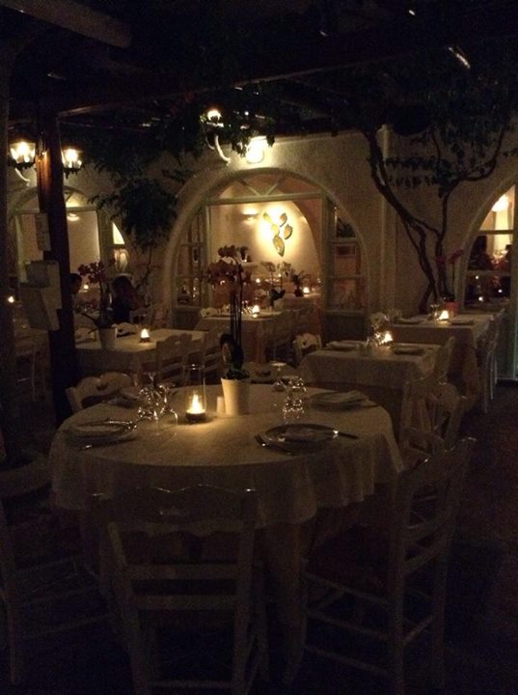 Avra Restaurant co-owner Sarah Pearson posted this photo of Avra's elegant courtyard dining area to Avra Restaurant Facebook group page this weekend. Avra will celebrate its season opening on Wednesday April 16.
~
Places opening in May
Although many bars and restaurants target Easter weekend for their annual season opening, there's always quite a few that don't open until May.
The Nobu Matsuhisa Mykonos at the Belvedere Hotel is among them; it will start summer service on May 9.  Pinky Beach at Super Paradise will host a "soft opening" on May 21, while that night the Paradise Club at Paradise Beach will get the summer party circuit off to a rocking start (see my March 31 post for further information about that.) Interni Restaurant in Mykonos Town will throw open its doors on May 23.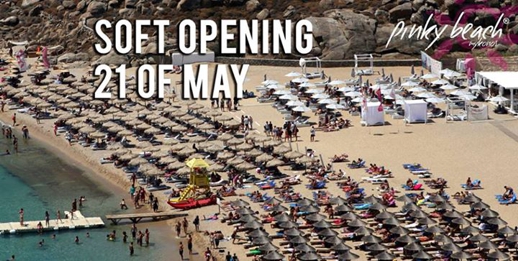 A promotional image announcing the 2014 opening for Pinky Beach at Super Paradise Beach