~ White Star ~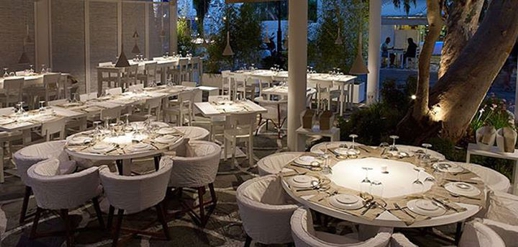 Part of the dining room at White Star is shown in this photo, one of numerous images from the restaurant's Facebook page.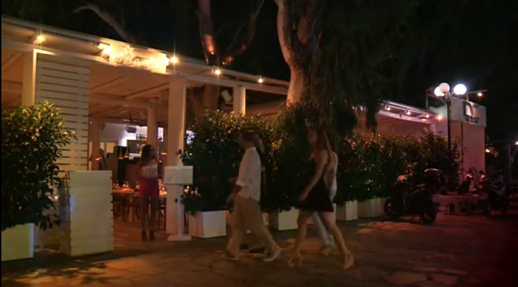 White Star's exterior is shown in a screenshot from a promotional video
  The new restaurant getting the most buzz this summer is White Star, located at  bustling Lakka Square in Mykonos Town. The reason? Its inventive menu of fine Greek cuisine was created by Michelin-starred chef Lefteris Lazarou.
According to the White Star website, "You will be tempted by highly refined dishes such as salad with marinated seaweed and sea urchin, fish roe with figs and baby arugula, marinated sea bass with 'stamnagathi', baked squid with black-eyed peas and marjoram, Moussaka with minced shrimp, fish fillet with cauliflower mousse, vegetable ratatouille with cuttlefish ink sauce, rack of lamb with aromatic potatoes and metsovone cream, picanha with aioli cream and Kozani crocus, beef fillet with lentil salad, polenta and aubergine cream."
White Star has been a gastronomic sensation since its opening, and has received extensive rave reviews online and in the Greek and international media. It was one of 10 acclaimed restaurants featured in "A Gastro Guide to Greece," which I wrote about in my August 11 post entitled 2board summer issue features gastronomy guide, hotel profiles + tour ideas for Athens & Chania.
Below is a promotional video that appears on the White Star website.
WHITE STAR Marina from Delphi Art on Vimeo gives glimpses of a few Mykonos attractions before offering tempting peeks at some of White Star Restaurant's signature cocktails and superb Greek cuisine.
 ~ Suba Sushi ~

Views of the exterior and interior of Suba Japanese restaurant situated off Matogianni Street in Mykonos Town. These photos appear on the Suba website.
 Sushi has been a big hit on Mykonos for the past several years and the trend shows no signs of abating, with several new sushi bars opening shop this summer. One of them is Suba Mykonos, a sister to the popular Suba Japanese restaurant in the Kolonaki district of Athens.
Suba Mykonos is located near Interni restaurant in Matogianni, the premier shopping district of Mykonos Town. The restaurant's website states that "the unique Suba-concept of authentic Japanese cuisine, fused with western bits of culture, sets a new attitude towards food that enlivens the senses." Online reviews agree. I have seen only positive comments about Suba's food, and Pinktrotters — the "Glam Chic Travellers" website —  called Suba "outstanding" in their Mykonos Glam City Guide.
~ Sushi Med ~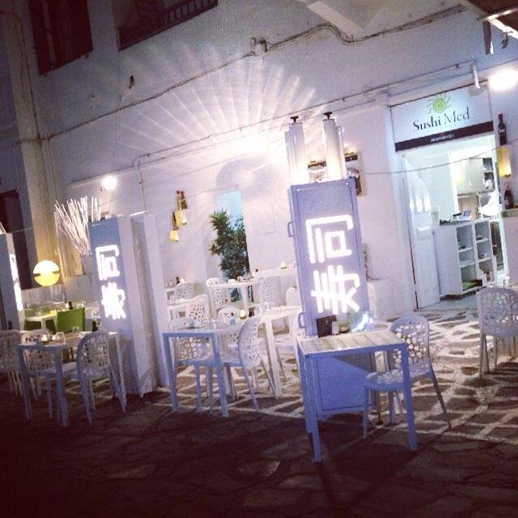 This photo of the restaurant's outdoor dining terrace was posted on the Sushi Med Facebook page
 Another new sushi spot in Mykonos Town is Sushi Med, which opened on May 24 as part of the Mykonos Mediterraneo Ristorante Pizzeria Disco Club complex at at Lakka Square.  The menu includes appetizers and tartare specials, as well as noodles and gunkan, teppan, nigiri sushi, hosomaki, uramaki, sushi and sashimi dishes. Since it's part of an Italian restaurant run by Italians (a place incredibly popular with the many Italians who holiday on Mykonos each summer), Sushi Med also offers a selection of Italian wines.
Feedback about Sushi Med has been overwhelmingly positive, and as of this writing the restaurant is the #38-ranked Mykonos Town restaurant on TripAdvisor.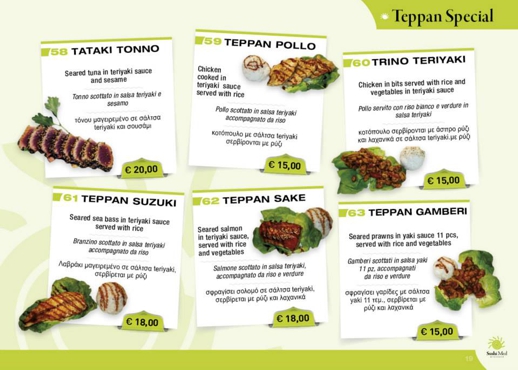 This photo of the restaurant's various Teppan dishes is one of several menu pictures posted on the Sushi Med website
~ Balthazar ~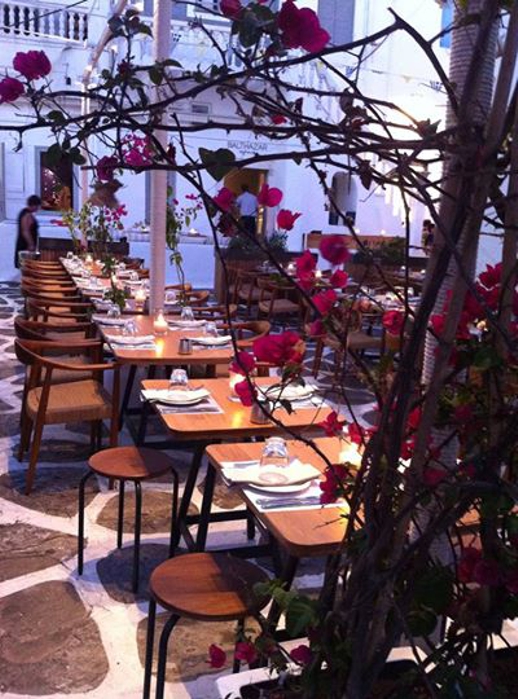 Balthazar restaurant offers courtyard dining at Agia Kyriaki Square in Mykonos Town. This image is from the Balthazar Facebook page.
 Another newcomer to the Matogianni district is Balthazar Mykonos, an island sister to the long-established (since 1973) Balthazar restaurant and bar in Athens. The Mykonos resto is situated at Agia Kyriaki Square in Mykonos Town, right next door to the popular Rock n Roll Mykonos nightclub and bar. (Long-time Mykonos visitors will know the location — it's the same square where the legendary Pierro's bar had been situated.)
According to the Balthazar Mykonos Facebook page, the restaurant's Greek and Mediterranean cuisine is "inspired by the Cyclades and dedicated to the development and evolution of local products, making fresh and creative dishes."
The restaurant has been praised by OneLoveHotels.com, which called Balthazar its "favourite new restaurant in Mykonos." A post on the OneLoveHotels Facebook page noted that Balthazar offers "fresh and delicious Mediterranean food with an Asian influence, artfully arranged and served with panache. And for the louche hedonists among you, it also helps that Rock and Roll bar is right next door for that nightcap that turns into an all day hangover."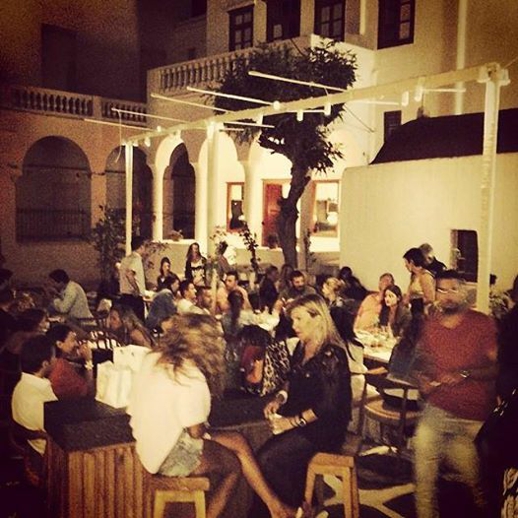 This photo of Balthazar's open-air courtyard bar and dining terrace appeared on the OneLoveHotels Facebook page in a post that called Balthazar "our favourite new restaurant in Mykonos."
~ Mr Pug ~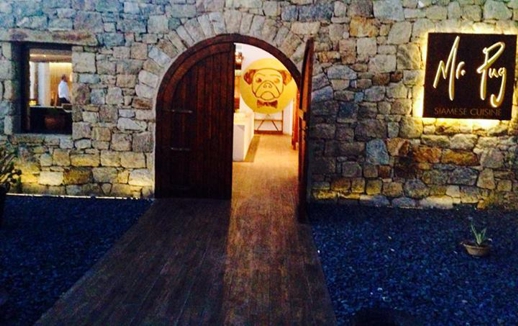 The stone-walled exterior of the new Mr Pug restaurant on the hilltop overlooking Mykonos Town. The photo is from the Mr Pug Facebook page.
 Several of my friends made a point of dining at Blue Ginger restaurant during their annual trips to Mykonos because they loved its delicious and authentic Asian cuisine. All of them have travelled the globe extensively, and one had even lived in Thailand, so if they insisted that Blue Ginger was good, I knew it must be true. Unfortunately, I never made it there myself, and won't get the opportunity next time I'm back on Mykonos — Blue Ginger closed at the end of the 2013 tourist season.
However, a new restaurant specializing in Asian and Thai cuisine — Mr Pug — has opened this summer in the same location — at a plaza off the main highway on the hilltop above Mykonos Town.
The Mr Pug listing on TripAdvisor.com says that the restaurant, which was "created by celebrity Greek chef Georgios Venieris," draws its inspiration "from the cuisine of ancient Royal Thailand. Our dishes are infused with the exquisite tastes and permeate with the delicate fragrances of Siam. Our fare is light, summery, aromatic and above all else yummy!"
I'll be anxious to hear what my friends have to say if they visit Mr Pug later this summer when they're on Mykonos. So far, online reviews have been excellent, with guests praising both the food and the cocktails.
If you've got wheels, you'll be happy to hear that Mr Pug has ample parking. The restaurant is located just past the first roundabout (if you're approaching from the direction of the Mykonos New Port area), across the road from the Shell station.
Diners will enjoy marvellous sunset views with their meal, thanks to Mr Pug's hilltop location high above Mykonos Town
~ Indian Palace ~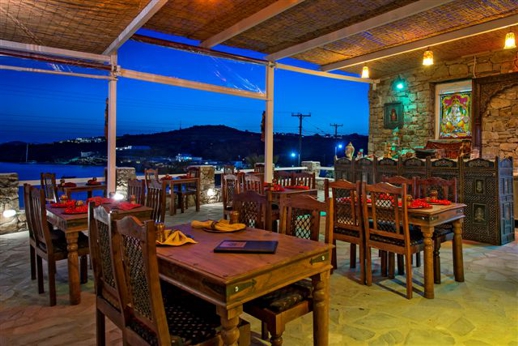 The dining terrace at Indian Palace boasts views of Paradise Bay
 Paradise beach has long been the top place to party on Mykonos, but it has never been considered a dining destination.  The beachfront cafeterias served decent Greek dishes, salads and North American fare (e.g. burgers and fries), but people seeking better quality sit-down meals were limited to Stamatis and Dimitris Place near the Paradise beach bus stop, or had to walk over to nearby Paraga beach and Agia Anna beach for excellent Greek food at the cafés and tavernas situated there. It's totally a different story this summer.
As I noted in my Remezzo club gets restyled report back on April 13, Anna's Place Restaurant & Bar had just opened, offering a menu of Greek, seafood, meat and pasta dishes along with great views of Paradise beach and bay from its hillside location. But Anna's isn't the only new restaurant at Paradise this year — it has been joined by Indian Palace.
This restaurant serves traditional and authentic Indian cuisine, and boasts an extensive wine list along with Indian lager beers. Open for lunch and dinner, Indian Palace offers its customers a wonderful sea view as well as plenty of room for family, group and business gatherings — it can accommodate 150 diners, and even has a separate hall that can hold up to 100 guests for special private events.
Feedback about the restaurant has been laudatory since it opened. As of this week, 14 favourable reviews had been posted to TripAdvisor.com, with 12 people rating it "excellent" and two "very good." 
Indian Palace is operated by the same people who run the two Jaipur Palace restaurants in Athens — one in the Kifissia neighbourhood and the other in the Alimos area.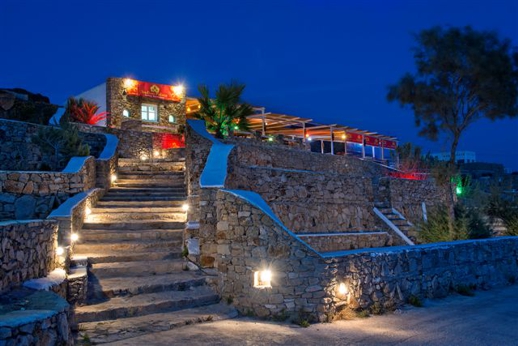 Exterior view of Indian Palace at Paradise beach.  The restaurant features a terrace with views across the beach and bay.
~ LAMÉD Seaside Pleasure ~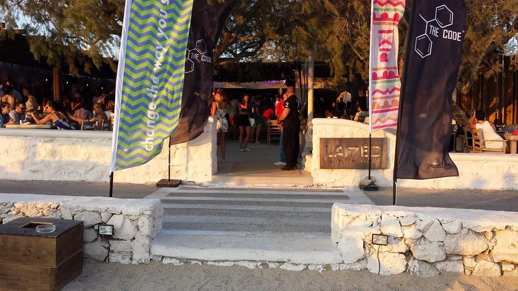 This photo, from the LAMÉD Seaside Pleasure Facebook page, shows a view of the restaurant entrance from Agia Anna beach on the opposite side of the road
  Regular readers of this blog may recall that little Agia Anna beach, situated between Paraga and Platis Gialos, is one of my favourite destinations on Mykonos — primarily to escape the crowds at busier beaches while enjoying some of the excellent food at the family-run Nikolas Taverna. In fact, Nikolas is one of the restaurants I recommend the most to people planning holidays on Mykonos.
Although Nikolas has been around since 1967, it isn't always the only dining choice at Agia Anna/Paraga. From time to time, someone opens another restaurant on a property just several dozen meters away, near the northern end of Agia Anna beach. From 2000 to 2006, for instance, a Greek food restaurant called Axinaioi operated in the space, which has a very large open-air dining terrace just steps from the small sandy beach. In 2009, an upmarket restaurant called Blanco opened there, serving Greek and Italian cuisine for a few years. Axinaioi re-opened in the spring of 2013, and received several five star reviews on TripAdvisor. But it didn't last.
This year, the Axinaioi space has been totally transformed into LAMÉD Seaside Pleasure, a trendy restaurant and beach bar with a menu focussed on Mediterranean cuisine. With its comfy lounge chairs and umbrellas on the small beach, beverage and lunch service to customers renting the sunbeds, and a Sama boutique fashion shop on the premises, LAMÉD offers a chic beach club atmosphere that contrasts sharply with the traditional taverna ambience over at Nikolas. LAMÉD also hosts special party events from time to time; it recently brought in the popular Greek music groups Melisses and OtherView for live performances, and held a full moon party with music by DJ de Puta Madre.
I've been hearing good comments about LAMÉD this summer, and have noticed it has received overwhelmingly positive reviews on TripAdvisor (with one recent exception).  If it can maintain its favourable reviews, it's bound to draw more people from Platis Gialos and Paraga. And if its special event parties with live entertainment remain popular, LAMÉD could well put Agia Anna on the map as the newest party beach on Mykonos.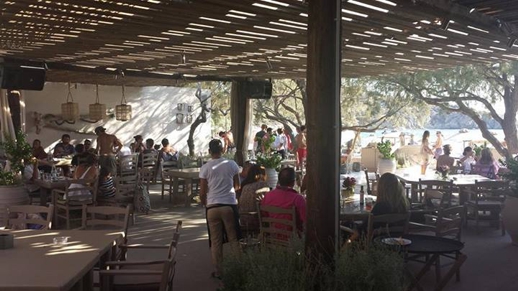 A Facebook photo of LAMÉD's large dining terrace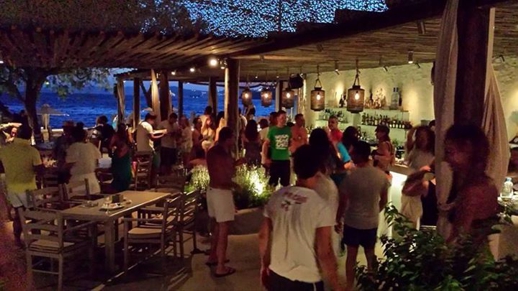 A Facebook photo showing a night view of LAMÉD. The restaurant occasionally hosts parties with either DJs or live performances by popular Greek musical groups like Melisses and OtherView.
~ Pasají ~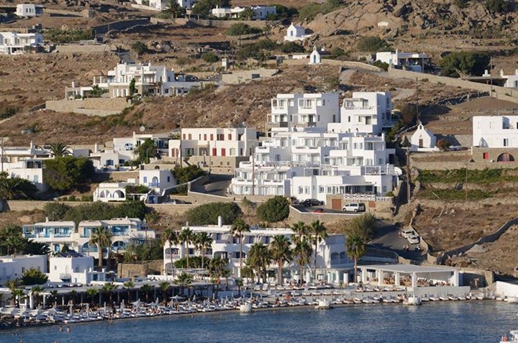 This photo, from the Pasají Mykonos Facebook page, shows how the restaurant and pool bar property extends along the eastern end of Ornos beach
Pasají Mykonos, a new restaurant and beach club at Ornos, is a yet another example of the continuing trend for successful Athens restaurants to expand their dining empires to Mykonos.
The Athens Pasaji has been situated in the Spyromiliou Arcade in Central Athens since 2008, and serves "modern Greek" cuisine as well as sushi. Pasají Mykonos made its debut in July. It describes its menu as "Mediterranean fusion" and, like its Athens counterpart, has a sushi bar. But the island restaurant can boast about some noteworthy extras — an extensive beachfront with luxurious sunbeds and umbrellas, as well as a large beachview bar terrace with a swimming pool and DJ.
(Pasají Mykonos occupies the prime Ornos beachfront properties that were previously home to a highly popular restaurant called Ithaki, and an adjacent eatery called Nostimon. As I noted in my first Mykonos restaurant update for 2014, Ithaki's owner opened a new restaurant earlier this year. It's called Apaggio, and it's located on the Ornos seaside just a few hundred meters away from the former Ithaki premises.)
The Pasají Mykonos restaurant and beach club concept appears to be a huge hit. People have posted rave reviews online, complimenting the food, staff, service, views and beachfront.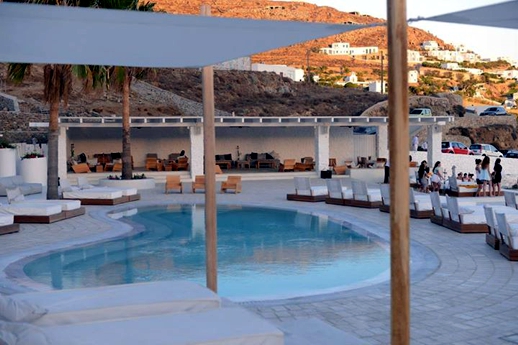 The Pasaji complex includes this swimming pool and large terrace, shown in a photo from the restaurant's Facebook page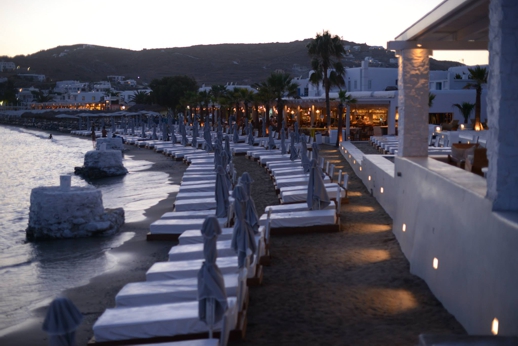 Another photo from Facebook shows the comfy sunbeds lining the beach in front of the Pasaji restaurant and pool bar areas
~ Mpalothies ~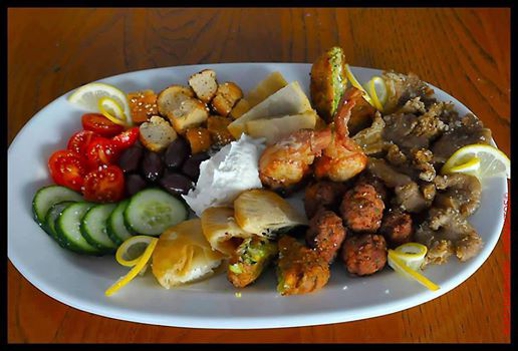 All summer, the Facebook page for Mpalothies taverna has been filled with photos of its tantalizing Greek cuisine.  I feel hungry the instant I see their posts!
  If you're hankering for a hearty, delicious meal at a traditional Greek taverna, Mpalothies will hit the spot. It's situated at Ornos, a short walk up the road from the beach, and specializes in authentic Cretan cuisine.
I have been following Mpalothies on Facebook throughout the summer, and must admit I feel hungry whenever I see the photos they regularly post showing some of the Greek food items on their menu. Everything looks yummy!
The restaurant gets considerable praise online, especially in reviews on TripAdvisor, where customers rave about the excellent friendly service and reasonable prices, as well as the generously-sized portions of delicious Greek food. I have also read highly positive comments about Mpalothies in articles I've discovered in Greek news and travel websites.
To enhance its authentic taverna experience, the restaurant often offers live musical entertainment in the evening.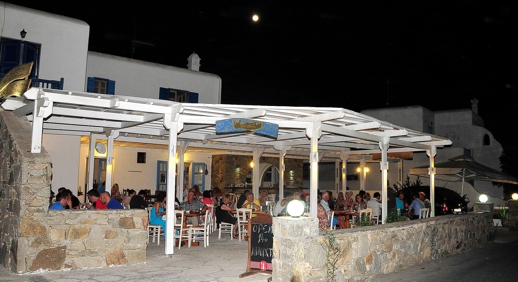 This photo from the Mpalothies Facebook page shows a street view of the taverna's open-air dining terrace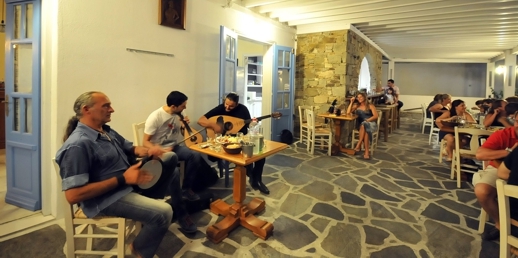 Besides superb Cretan cuisine, Mpalothies sometimes offers live entertainment
~ Pepper Souvlaki & More ~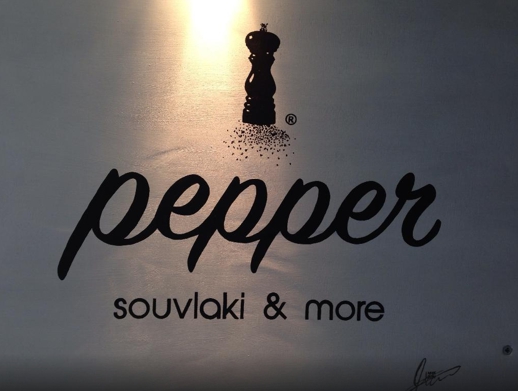 A photo of the sign for the new Pepper souvlaki shop in Mykonos Town
  If you're in the mood for some cheap but tasty eats either before or after a night of partying at Skandinavian Bar or one of the clubs at nearby Little Venice (or anywhere else in Mykonos Town, for that matter), head over to Pepper Souvlaki & More.
Located on Kouzi Georgouli Street in the Barkia district of town, Pepper serves souvlaki, gyros, salads, burgers & fries at what, for Mykonos, are considered bargain prices.
New this year, Pepper has been a big hit with visitors who have praised the tasty food and reasonable prices in scores on online reviews. I rarely hear people say they got a good burger in Mykonos, but the ones served at Pepper have been called "amazing" by customers who have thoroughly enjoyed them. In fact, so many people have been giving Pepper good ratings this summer that, as of this writing, it is the #13-ranked Mykonos Town restaurant on TripAdvisor.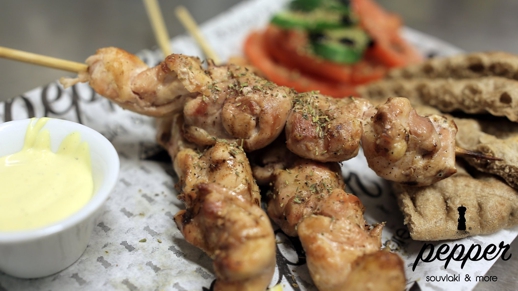 Skewers of souvlaki shown in an image posted on the Pepper Facebook page
~ Kalammmakia Lakka ~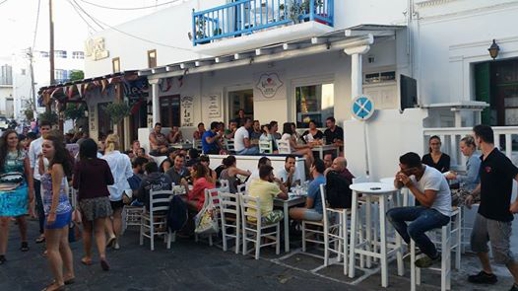 From the Kalammmakia Grill House Facebook page, a photo showing an outdoor view of the popular fast food restaurant at Lakka Square
 Another popular new souvlaki and gyros joint is the Kalammmakia Grill House in the Lakka area of Mykonos Town — generally called Kalammmakia Lakka, to distinguish it from another Kalammmakia Grill House that the same owners opened near Ano Mera village last year.
The Lakka restaurant — like its counterpart in Ano Mera — gets highly favourable reviews for delicious souvlaki, gyros and kebab at low prices. Some reviewers have praised it as having "the best" souvlaki in town.
The tasty cheap eats and cheap prices have struck a chord with travellers — Kalammmakia Lakka is currently the #22-rated Mykonos Town restaurant on TripAdvisor.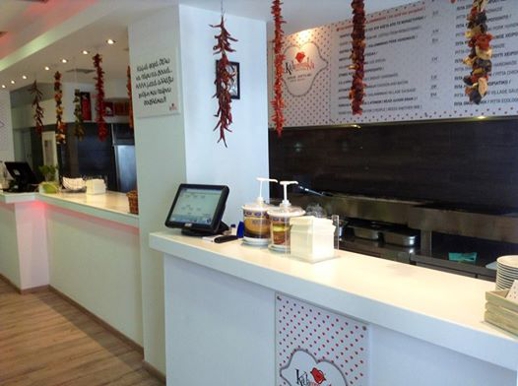 From Facebook, a photo showing the interior of Kalammmakia Lakka