2board magazine summer issue, continued from page 1
Profiles of select boutique hotels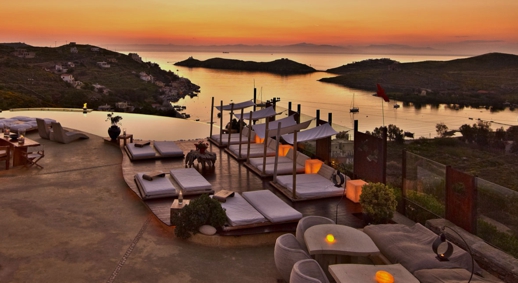 Guests enjoy fantastic sunset views at the Aigis Suites resort on Kea island. This image is from a gallery on the resort's website.
In addition to its restaurant recommendations, 2board promotional profiles spotlight several upscale or boutique hotel properties at various locations on the Greek islands and mainland.
Among the resorts profiled in the summer magazine issue are the St Nicolas Bay Resort on Crete; Aigis Suites on Kea; the King George Hotel at Syntagma Square in Central Athens; and the Elefsina Hotel in the city of Elefsina, less than 30 minutes' driving time from downtown Athens.
This photo showing the view from a swimming pool at the St Nicolas Bay Resort  appears in a gallery on the hotel website. The resort overlooks Mirabello Bay in the Agios Nikolaos area of Crete.
Highlights of the Chania area of Crete

A photo caption for the magazine's "5 days in … Chania" feature says "there is so much to explore besides the charming old town." That's a bit of an understatement! The article author describes five busy days of activities that included meals at Kandani,  Anidri, Theriso and other traditional Cretan villages; visits to Elafonissi island and Balos beach; a hike down the Samaria Gorge, and of course sightseeing in and around the town of Chania itself.
Website or telephone contact information is provided for most of the hotels, restaurants and sights mentioned in the article, so it will be a useful resource to consult if you're planning a trip to Crete yourself.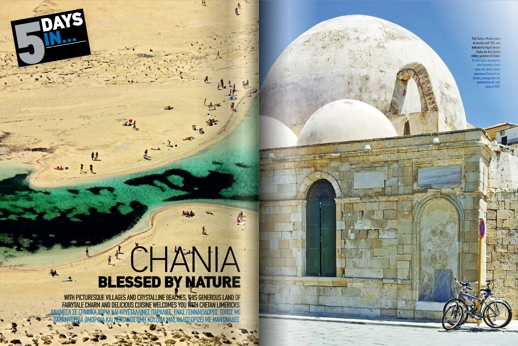 The magazine's "5 days in … Chania" feature suggests things to see and do on a getaway trip to what it calls "one of Crete's most atmospheric towns."
"Customized" Athens visits
One of the magazine's main features is "45 Tips for Tailor Made Athens," a city guide chock full of suggestions for sightseeing, dining, accommodations and shopping.
It's actually three guides in one package — divided into three separate levels appropriate to travellers with varying familiarity with Athens:
♦ Level One describes 15 "must see" attractions for the "Enthusiastic Newcomer" to Athens;
♦ Level Two offers 15 suggestions for the "Frequent Lover" who wants to "see the city's underbelly and experience it as natives do", and
♦ Level Three provides 15 recommendations for the "Almost Local" — the frequent Athens visitor who may think they have seen everything. "Think again," the guide advises. "Athens is the city that never ceases to amaze."
11 top reasons to visit Greece
Another fun feature in the summer issue is "60+ Reasons to Holiday in Greece," in which 11 experts offer 66 reasons that "explain why this country never looks better than it does during the [summer] holiday season."
There's something for every kind of traveller here, since the experts highlight attractions and activities that appeal to all kinds of tourists. The subjects they explore include:
♦ Divine local delicacies;
♦ Windsurfing hotspots;
♦ Fun family holidays;
♦ Unique stays;
♦ Boutique havens;
♦ Dreamy resorts;
♦ Awesome nature trails;
♦ Sporting events;
♦ Unspoilt beaches;
♦ Wine destinations;
♦ Wildlife spots, and
♦ Unique adventures
Besides the special articles described above, the magazine is loaded with information about shopping and activities in Athens and elsewhere, cultural events like the annual Athens & Epidaurus Festival, and even destinations outside of Greece.
It also has several sections about shops, restaurants, services and facilities in the airport terminal, including a special section on the building's newly redesigned food court.
If you can't pick up a copy of the 2board summer magazine because you won't be travelling through Athens International Airport this month, you can still view the complete issue online. Click here to reach the airport's publications webpage, where you can review either the current edition of 2board, or browse back issues.