~ What's New on Mykonos in 2015 … continued from page 4
What's new in travel services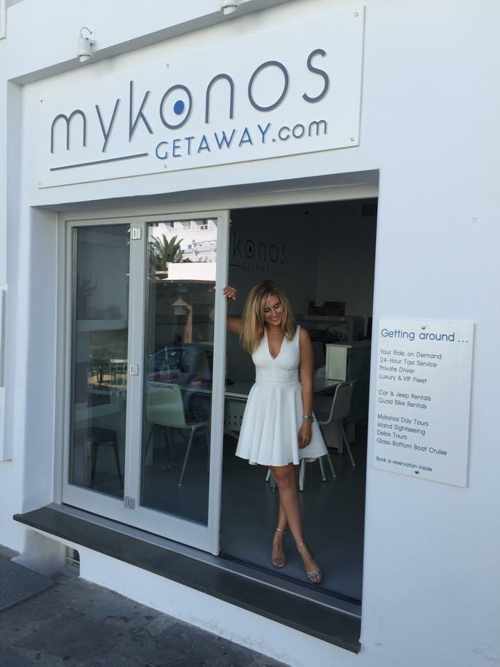 The Mykonos Getaway office in Mykonos Town, seen in a photo from the company's Facebook page.  A "luxury boutique travel agency," the firm was established by local residents who have three generations of experience in the tourism field.  The firm arranges accommodations; private tours and sightseeing expeditions; transfers; car rentals; yacht charters; and offers a personal concierge service. 
What's new in catering services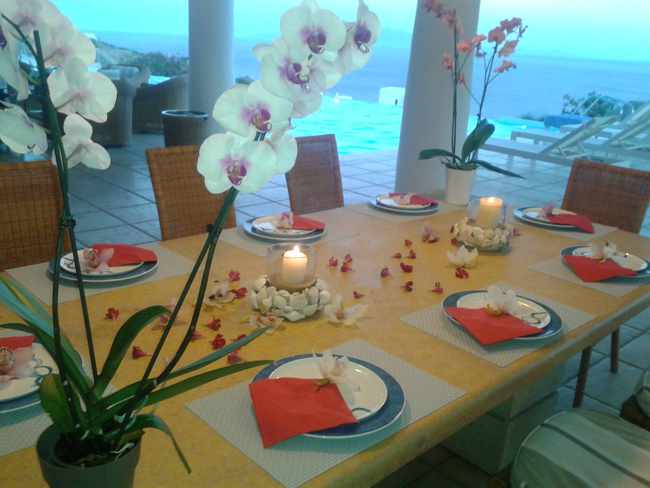 if you're staying in a villa or private vacation home during your Mykonos holiday, and don't feel like grocery shopping and cooking, Cook 4 U Mykonos will do it for you!  Owners Antonis and Oivia will shop, prepare and cook "inspiring and delicious food" right in the comfort of your own accommodations.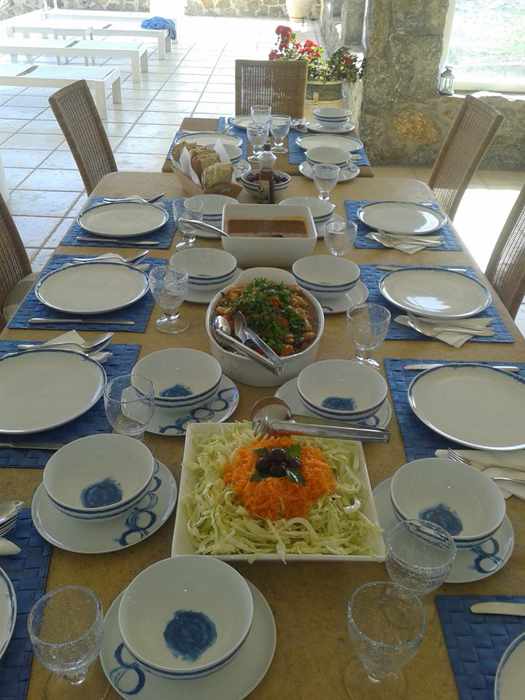 Cook 4 U Mykonos can take care of meal planning, preparation and service whether it's for a quiet private dinner or for an evening of entertaining guests.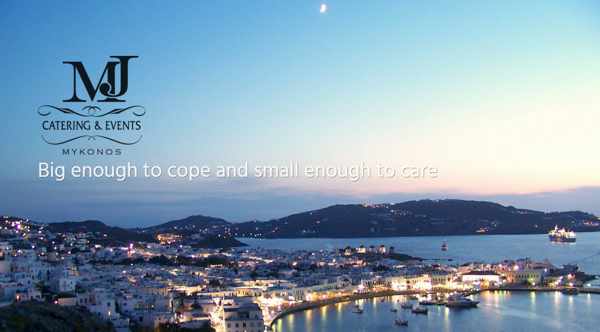 Named after its chef-owners Michael and Julia, MJ Catering & Events opened this summer to provide  catering for weddings and other special family and private events, business functions, cocktail parties, picnics and barbecues. They also provide specialty catering for villas and yachts.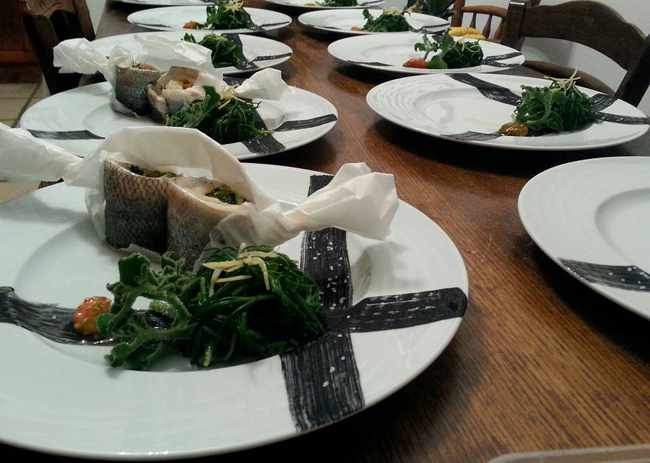 The owners and staff of MJ Catering have a strong passion for fine food and exceptional catering services, and pride themselves on fine cuisine and presentation. The team also operates the new MJ Cafe in the Klouvas area of Mykonos (along the road to Ano Mera). 
What's new in spas & beauty services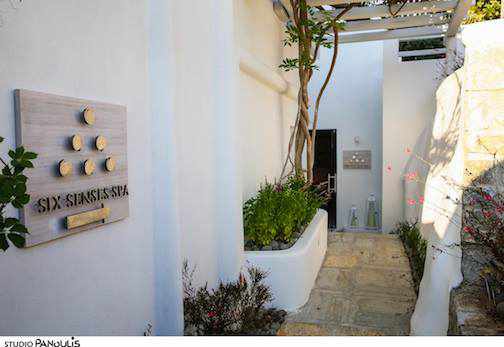 A Six Senses Spa opened in the Belvedere Hotel in July
In early July, a new Six Senses Spa opened in the iconic Belvedere Hotel in Mykonos Town. Bangkok-based Six Senses is a renowned operator of upscale hotels, resorts and spas, and its Six Senses Spa Mykonos is its second spa in Greece. The spa will reflect the chic hotel's traditional Myconian architecture "with a contemporary interpretation," Six Senses said in a news release. "Locally-inspired features such as whitewashed walls and marble floors sourced from the neighboring island of Naxos have been used throughout the spa. Special attention has been given to the local craftsmanship with the classic white interiors being complemented by beautiful wooden shelving carved by a local artisan. Natural fabrics in shades of Aegean blue and white together with soft lighting add warm highlights to the spa's natural palette to evoke the serenity of the island."
Guests will be able to choose from "a wide selection of Six Senses signature massages, body treatments, rituals as well as beauty services," the company says. "Local ingredients such as cinnamon leaf and bark oils, honey and the finest sand from the Adriatic Sea have provided inspiration for an anti-inflammatory body treatment, while aniseed, sesame and olive oils are used in a head-to-toe cleansing therapy, and pomegranate, sea salt, grape seed and fig in an anti-oxidant body cocoon." Also offered "is a range of result-driven face and body treatments from The Organic Pharmacy designed to restore, energize and nourish the body and mind. This renowned organic skincare is based on homeopathic and herbal medicine with the principles that the quality of the ingredients and the purity of the formulation are paramount as well as dosage."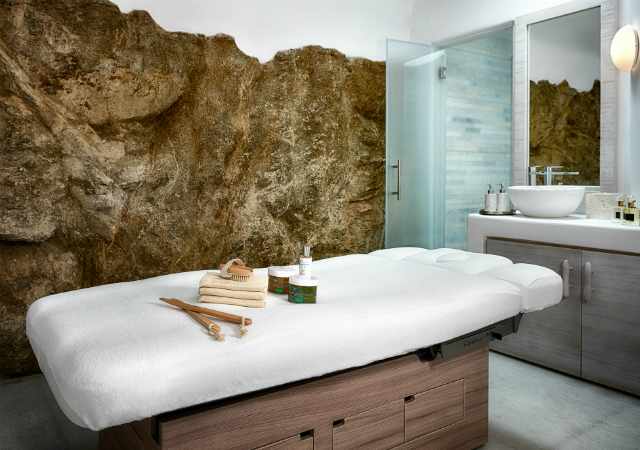 A treatment room in the Six Senses Spa Mykonos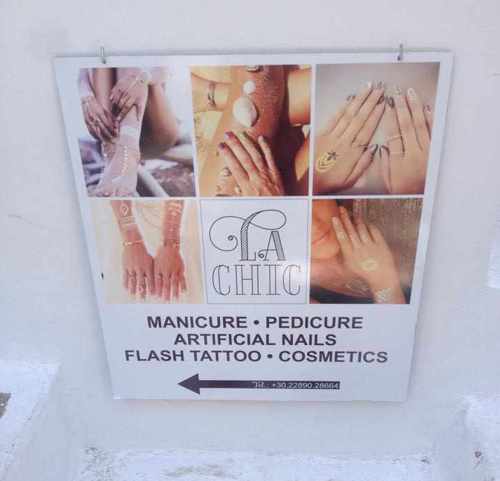 Located on Enoplon Dinameon Street next door to Cosi Cafe-Bar, La Chic Nailspa is a new mani and pedi spa and cosmetics shop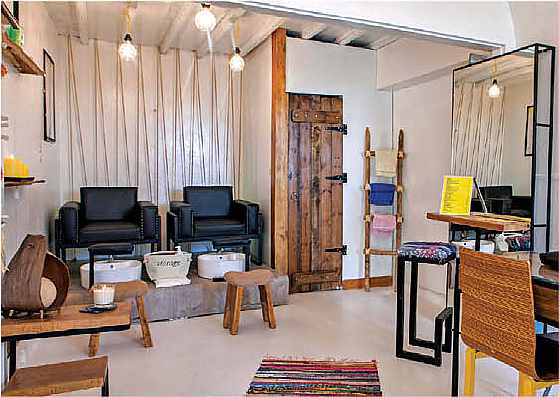 La Chic Nailspot interior photo from Icons Magazine's Best in Travel Mykonos 2015 edition.  The shop also sells a selection of nail polishes, body creams and skin scrubs.
What's new in retail and shopping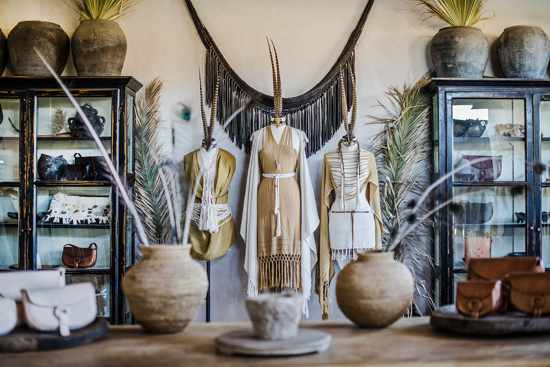 Located in the new Scorpios beach club and restaurant complex, Caravana boutique boasts an exclusive line of handcrafted Caravana Montaecristo fashion accessories, each of which "is made with 100% cotton fabric, strands & gauze. They are all hand knotted, frayed & fringed in Vallalodid, Yucatan Mexico."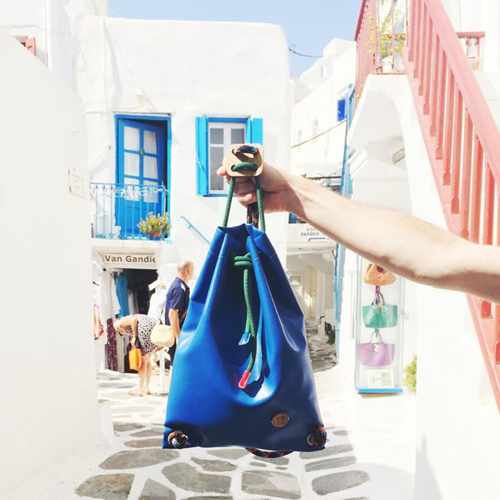 Italian designers Isabela de Felice and Francesca of IF Bags opened a boutique at 2 Dilou Street in June. Their exclusive bags are available in 30 colours and patterns, but custom designs are available, too. Photos of many of their creations can be viewed on the IF Bags Facebook page.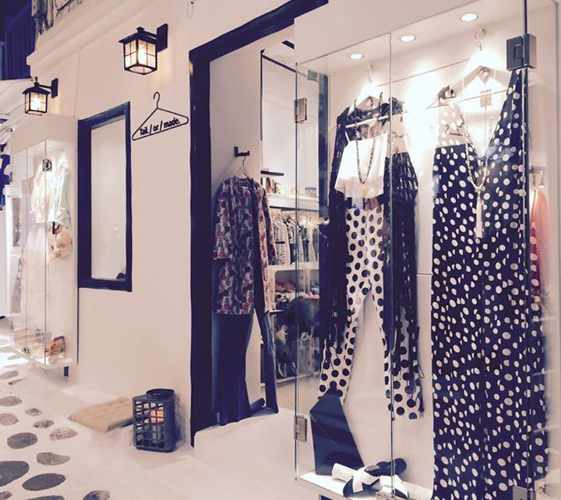 TaiL / or / made opened in late May at 23 Kouzi Georgouli Street. The shop showcases unique women's clothing and fashion accessories  created by Greek designers.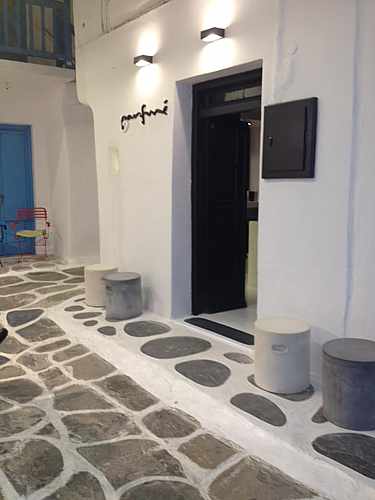 Street view of Barfume Parfumerie, which opened in June at 16 Agias Kyriakis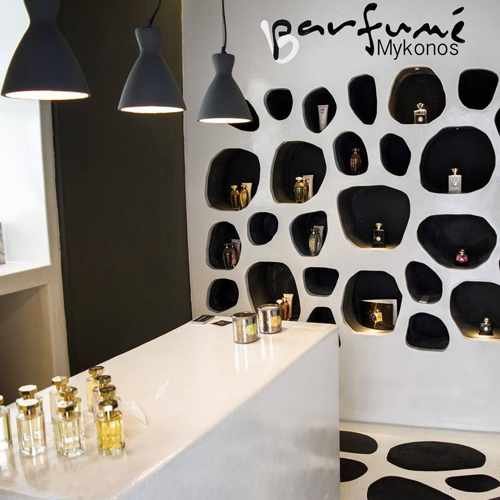 Barfume Parfumerie carries a line of top-flight perfume brands, many of which are displayed in photos on the shop's Facebook page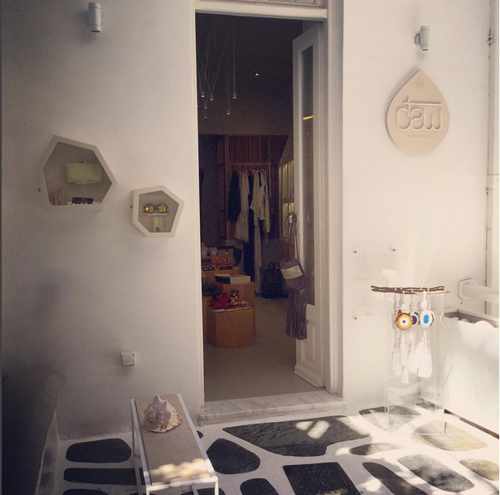 Entrance to Dew Mykonos is seen in this photo from the boutique's Instagram page.  The shop, which opened this spring on Enoplon Dinameon Street, is a venture of jewelry designer Elina Kantza and her friend, Aristi Sarra. It features Elina's El Jewels collection of handcrafted luxury jewelry, along with beachwear, bags.watches and other fashion items created by select Greek and international designers.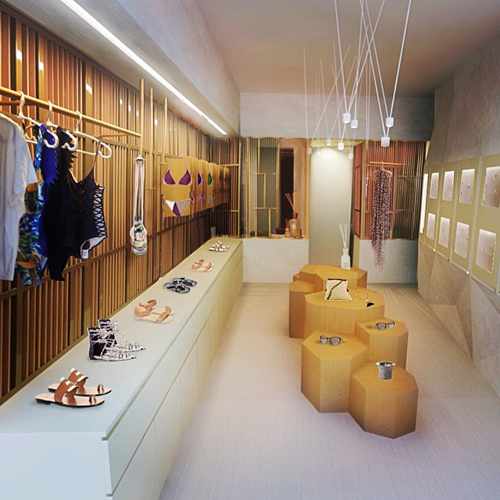 The interior of Dew Mykonos is seen in this photo posted on the Facebook page for Stones & Walls, the Athens-based interior design and construction firm which handled the Dew store project.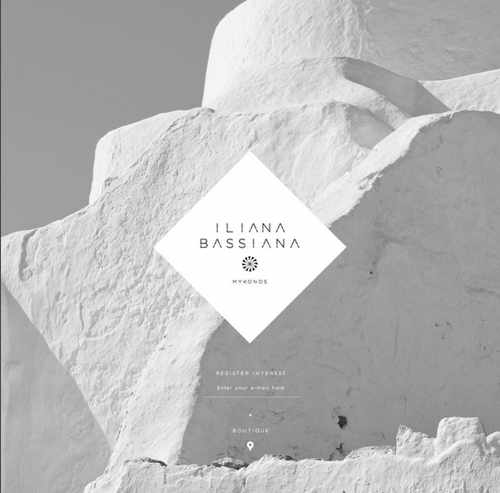 Architect and fashion designer Iliana Bassiana opened a "luxury resort wear" boutique this summer at 33 Kalogera Street.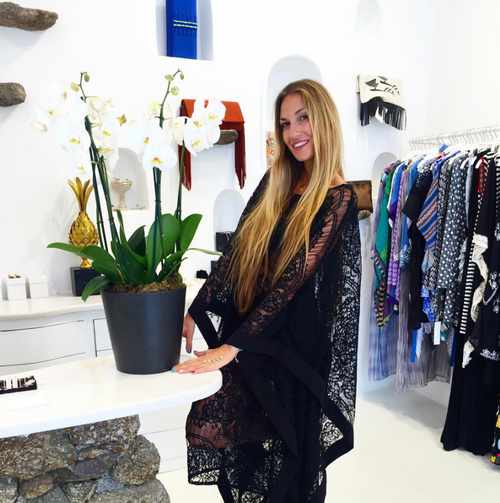 Instagram photo of Iliana Bassiana in her new Mykonos boutique. The shop offers chic "boho" kaftans, swimwear, dresses, jewelry and luxury fashion accessories featuring her own designs as well as creations by other Greek and international designers. Regular Mykonos visitors might remember Iliana's previous boutique, Beach Me, at Kalo Livadi.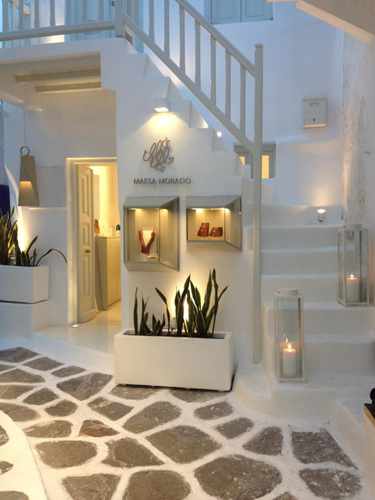 Street view of the Maesa Morado jewelry and fashion accessories boutique, which opened in late June in the heart of Mykonos Town.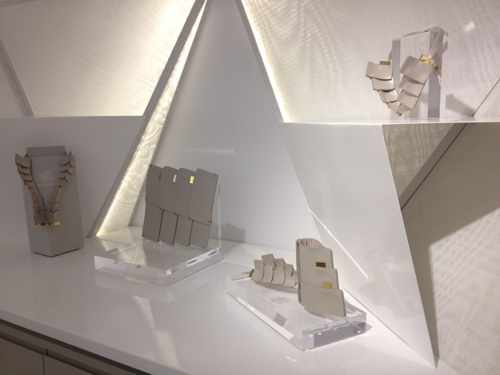 A women's fashion accessories display seen in a photo from the Maesa Morado Facebook page.  The boutique features sculptural leather and metal jewelry and fashion accessories designed by Maria Lantavou.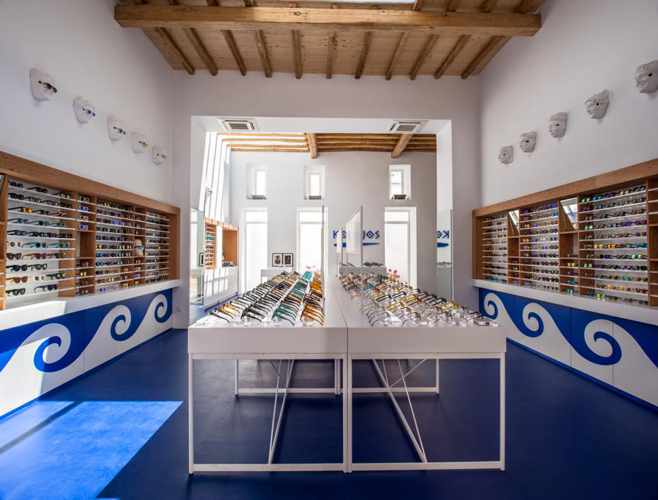 Kopajos, which is renowned for its exclusive handmade sunglasses, has opened a new shop at 23 Kalogera Street
Kopajos eyewear has a  vintage-inspired yet contemporary design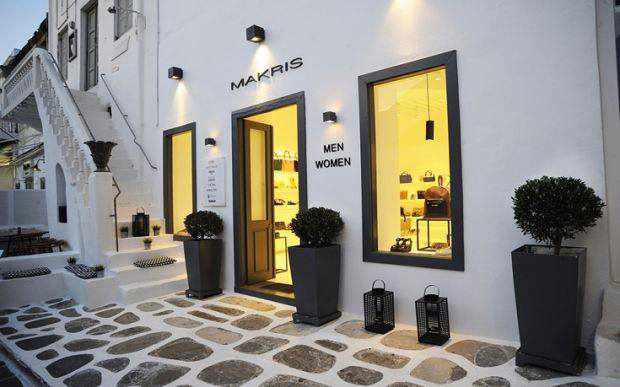 Makris, one of Greece's pre-eminent luxury shoe brands, has opened a men's and women's footwear boutique on Matogianni Street.  This street view photo of the shop is from the Makris Official Facebook page.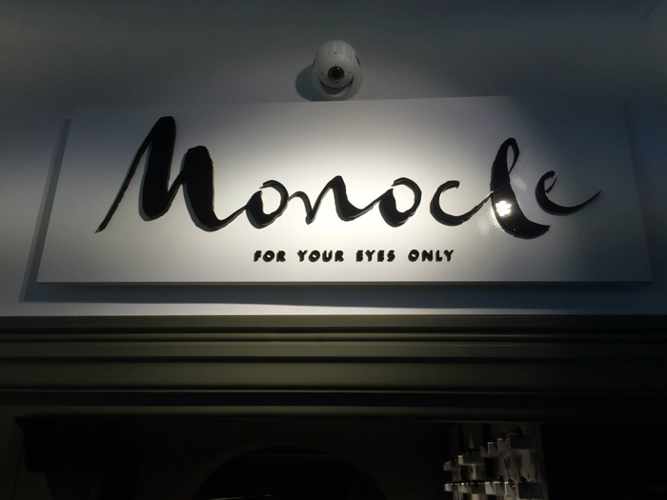 Monocle — For Your Eyes Only is a high-end optical shop that opened on Matogianni Street in April. The shop carries such luxury brands as Prada, Giorgio Armani, Miu Miu, Dolce & Gabana, Michael Kors, and many more.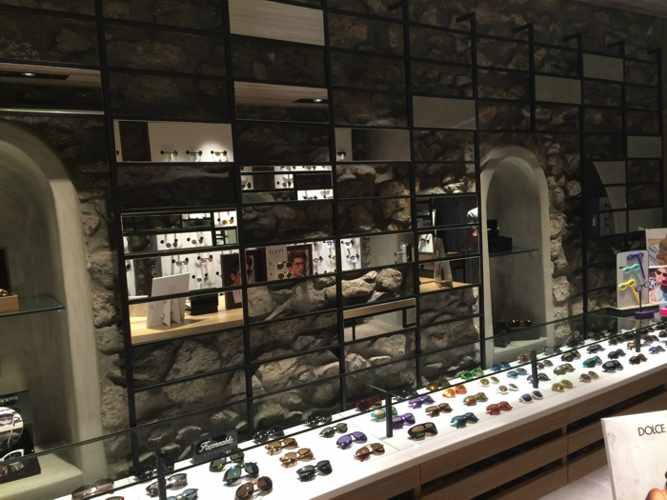 The interior of the Monocle eyewear boutique is seen in this photo, one of several that Woodmade Velentzas  of Mykonos posted in a Monocle Store  album on Facebook to showcase its handiwork on the shop's interior decor.
Street view Golden Feather, a self-described "boho and hippie-chic"  jewelry and fashion accessories shop that opened in June at 8 Drakopoulou Street.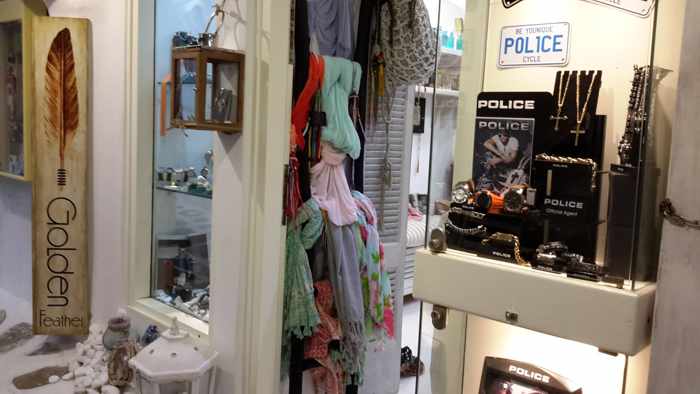 A concept store created by Vassiliki Dimitriou, Golden Feather features jewelry, handbags, and fashion accessories by young Greek designers and artists.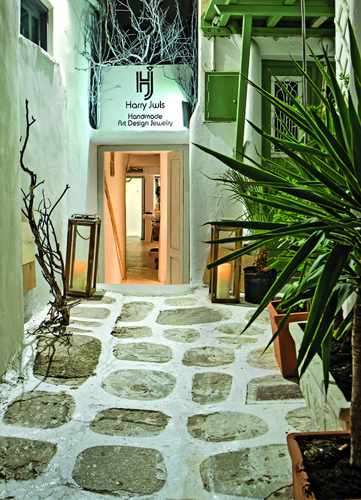 The Harry Jwls boutique at 11 Agiou Gerasimou Street opened in early spring. The shop showcaseslimited-edition handmade jewelry designed by Austalian-born Harry Mestros.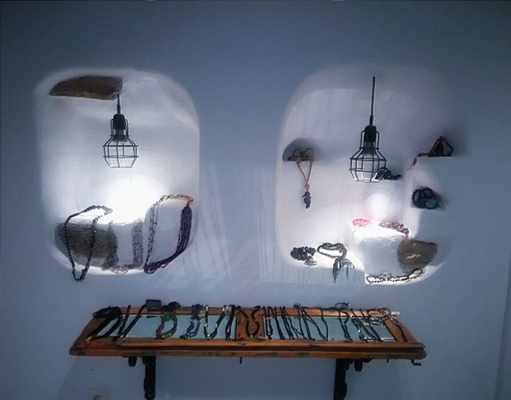 A display in the Harry Jwls boutique, which has jewelry selections for both men and women.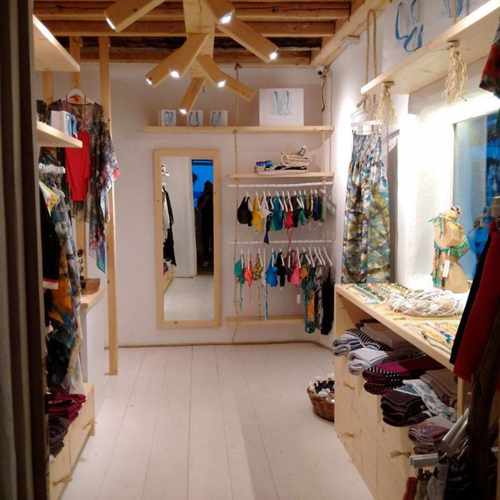 Beach boutiques are all the rage on Mykonos this year, and Aperanto Galazio at Ornos is the latest beach restaurant and bar to offer beachside shopping. The Aperanto Galazio Seaside Boutique opened in early July, and offers a selection of men's and women's beach swear, swimwear and fashion accessories.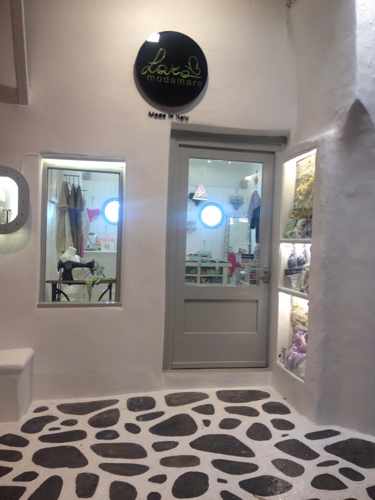 Street view of the Lara Modamare shop, which Italian bikini and beachwear designer Lara Turrina opened in April at 11 Florou Zouganelli Street.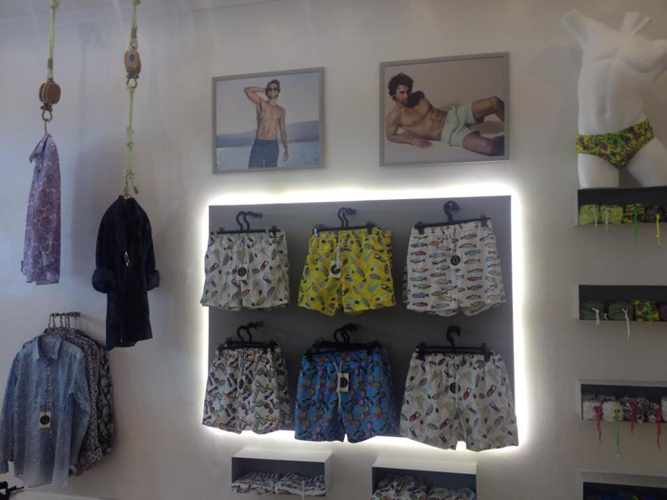 A display of men's swimwear is seen in this photo from the Lara Modamare Facebook page. The shop specializes in handmade swimwear and beach fashions for men and women.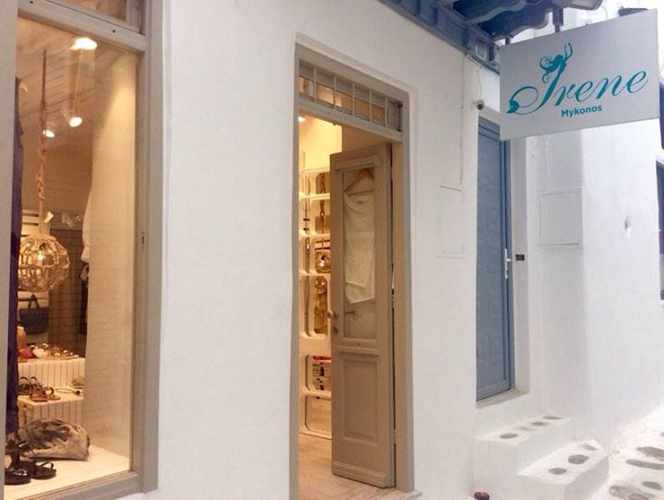 Women's fashion shop Irene Boutique opened in April at 4 Riga Fereou Street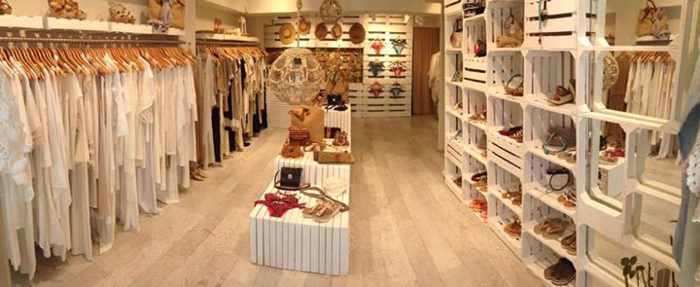 Irene Boutique offers a collection of dresses, shirts, shorts, skirts, leather sandals and hand-made jewelry by Greek and Italian designers
White Angel, which has three shops in Athens, has opened a boutique on Andronikou Street. The store features women's wear for all ages, and includes "casual wear, evening, shoes, accessories, bags in variety of designs and prices."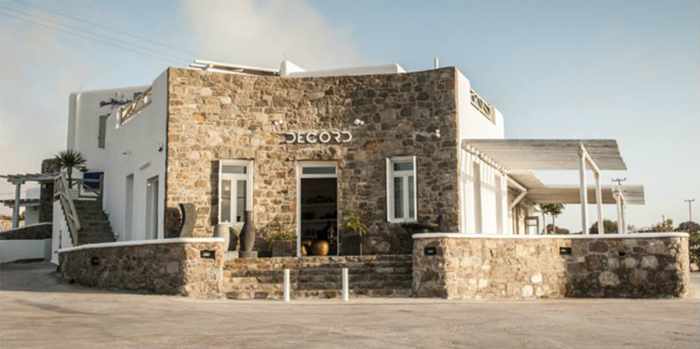 Athens-based furniture and interior decor shop Decord opened a showroom in Mykonos in April. It's located in the Skalado area of Mykonos along the road to the airport.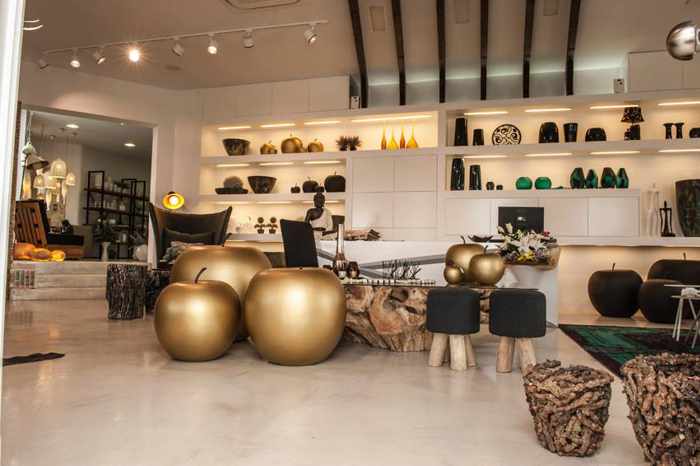 Inside the Decord Mykonos showroom. The shop carries collections of furniture and home decor pieces by top designers from around the world.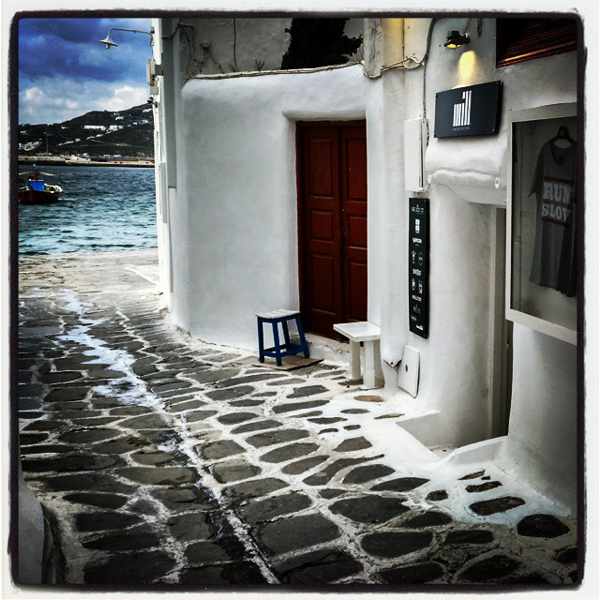 Mill Limited Edition, a hip men's and women's clothing and fashion accessories boutique, opened April 1 at Agias Kyriakis Square just steps from the Mykonos Town harbourside promenade (Kampani Street).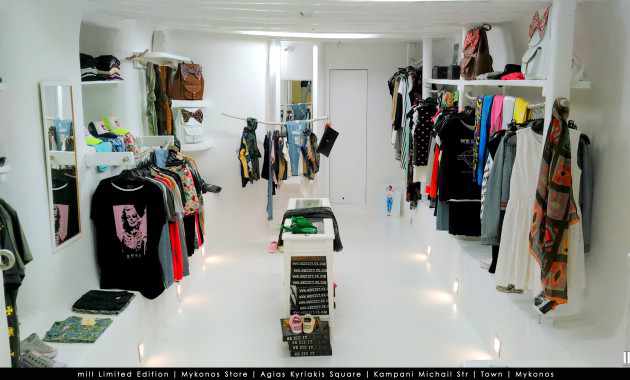 This photo of the Mill Mykonos shop interior is from a store profile published by Reportaz.gr in July. It said Mill offers classy clothing and accessories "that give youthful style and elegance!"
Street view of the building in which the Mykonos gift and sex shop Does your mother know? is located (near the new Remezzo-area taxi stand.)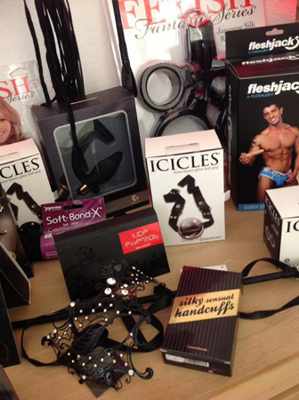 Does your mother know? carries a wide range of his and hers love toys, massagers, lubricants, accessories and fun gift items, like these displayed in a photo from the shop's Facebook page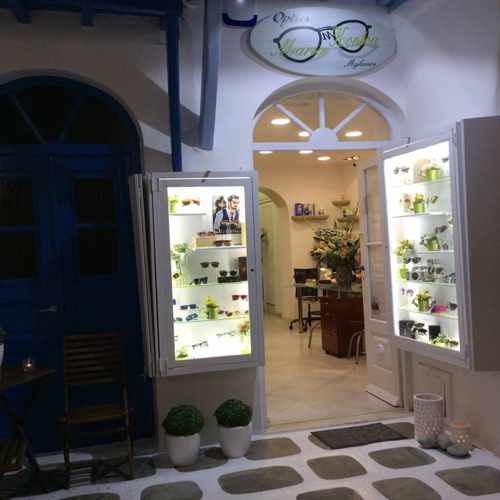 The Maria Kontou Optics shop opened in early June at 3 Ag. Efthimiou Street.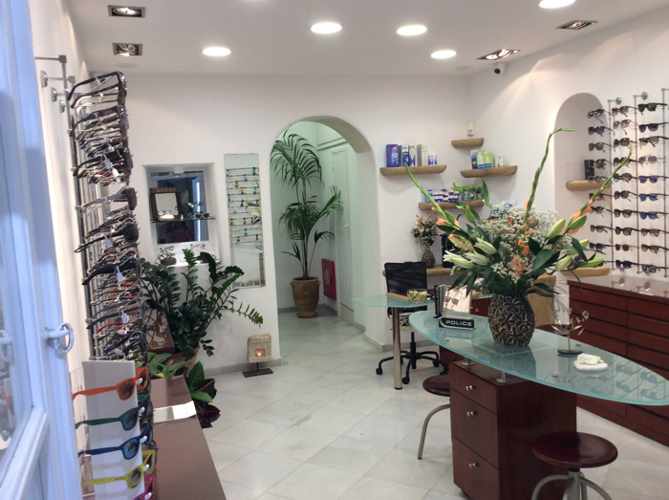 Maria Kontou Optics boasts a unique selection of stylish sunglasses ingeniously crafted in Italy and France from wood, paper, stone and fabric. The shop also offers custom-made sunglasses created from styles and patterns selected by its clients.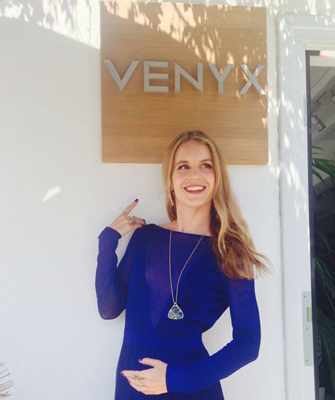 A Venyx World jewellery boutique opened in the lobby at the Belvedere Hotel in late June. The boutique features fine jewellery designed by Venyx's creative director, Eugenie Niarchos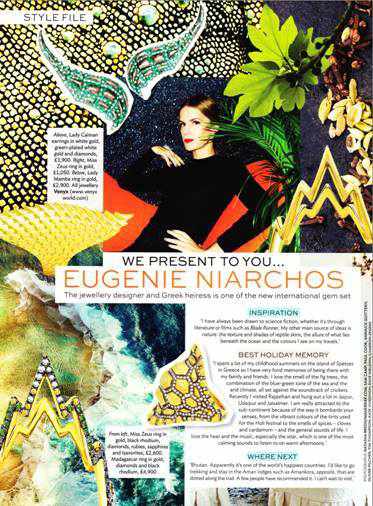 The U.K.'s Conde Nast Traveller magazine published a profile of Venyx World's Eugenie Niarchos in its August 2015 edition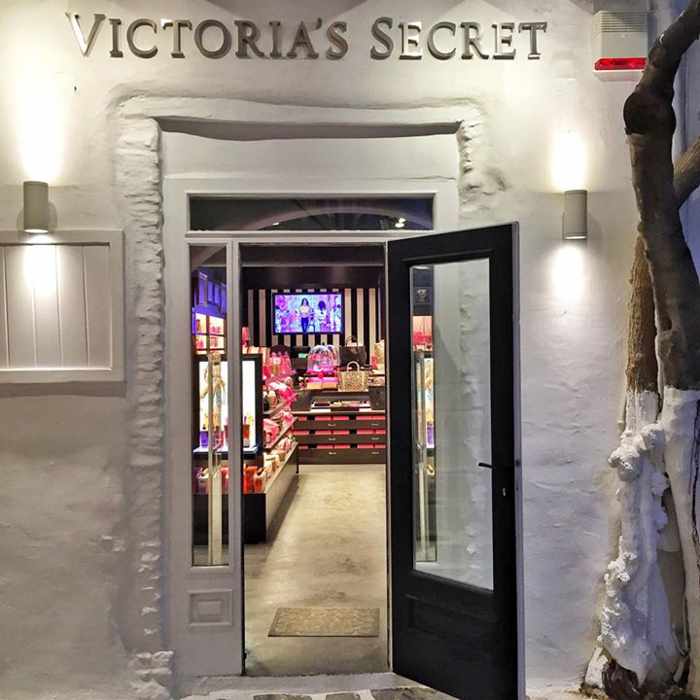 The first Victoria's Secret shop in Greece has opened in the premises formerly occupied by Anchor Bar, at the Gialos harbourside in Mykonos Town. It's one of numerous top-flight international retail brands to open boutiques on Mykonos this year, joining the likes of Louis Vuitton, Swarovski, DSquared2 and others.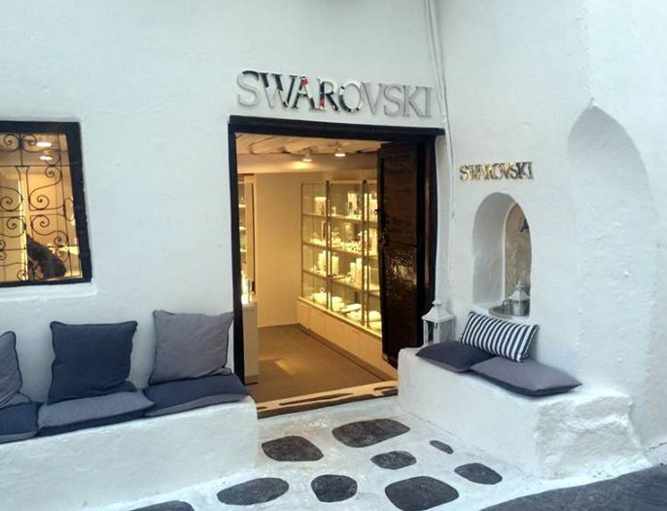 The Swarovski Mykonos boutique opened in May at Manto Square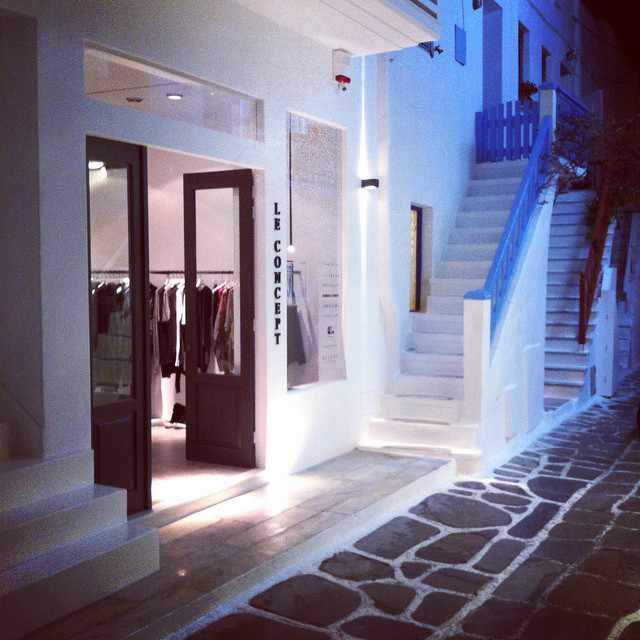 The women's and men's clothing and accessories shop Le Concept Avant-Garde opened on Matogianni Street on April 5.  The haute couture and luxury goods purveyor carries styles by upscale brands and designers including John Richmond, Meo Fusciuni, PREACH, Baobab and Krisvanassche.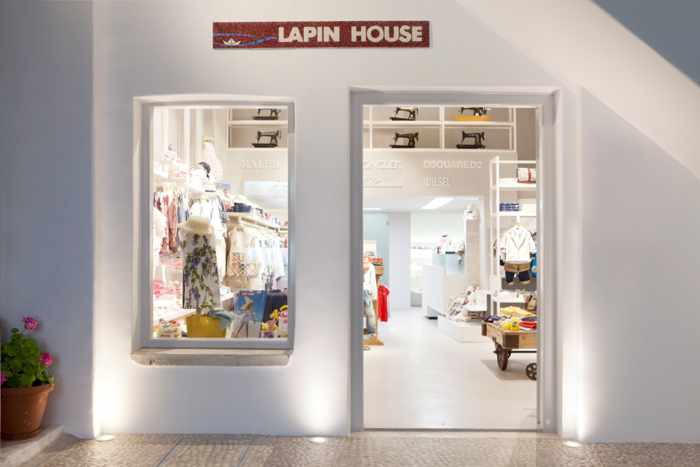 A Lapin House children's wear shop opened at 27 Mitropoleos Street in April.  This photo appeared with a profile of the shop on the joytv.gr lifestyle website.
 Following extensive renovations and interior redesign, the Flora Supermarket near the Mykonos Airport is now the coolest place to shop for food, with nightclub-style lighting and decor, big screen televisions displaying music and fashion videos, and a DJ spinning tunes to entertain the shoppers. Click on the arrow to view a short Mykonos Live TV video that shows the store interior.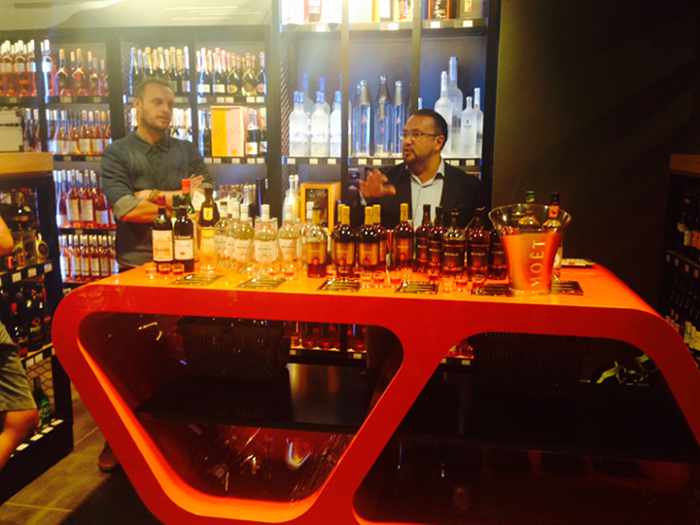 In early May, the Flora supermarket held a special tasting event to sample Ron Botran rum and a variety of exquisite cocktails. The store's wine cellar boasts a collection of rare vintage wines.
New hotels & accommodations
~ Mykonos No.5 Villas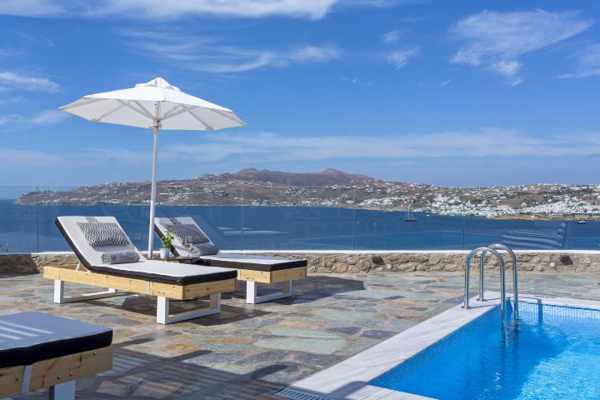 Mykonos No.5 Villas is a 2-building complex in the island's Kanalia area, with panoramic views of Mykonos Town on the opposite side of Korfos Bay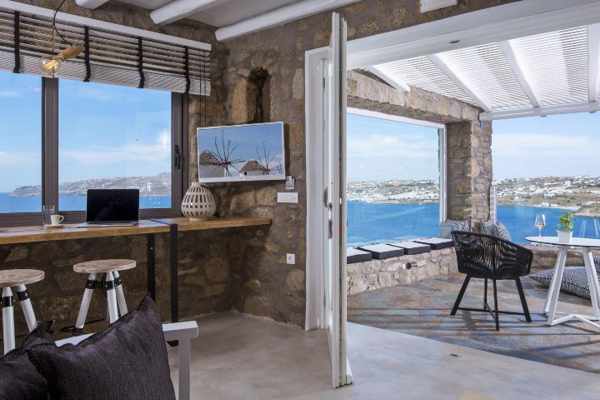 One of the luxuriously-appointed suites at Mykonos No5 Villas.  The complex includes 4 maisonettes and 3 apartment residences in one building, and 4 design lofts in the second building. Some units have private swimming pools, and all have sea views.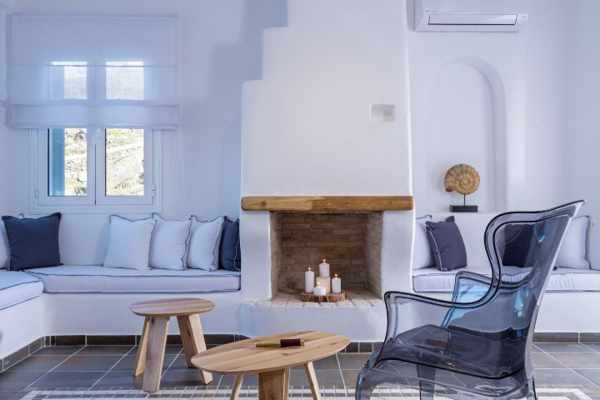 The stylish living room in one of the suites at Mykonos No5 Villas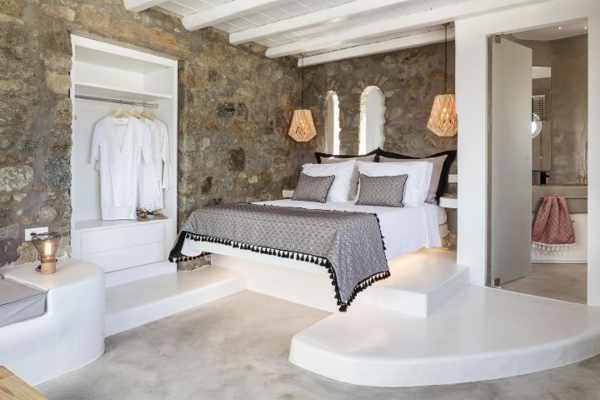 The chic bedroom in one of the suites at Mykonos No 5 Villas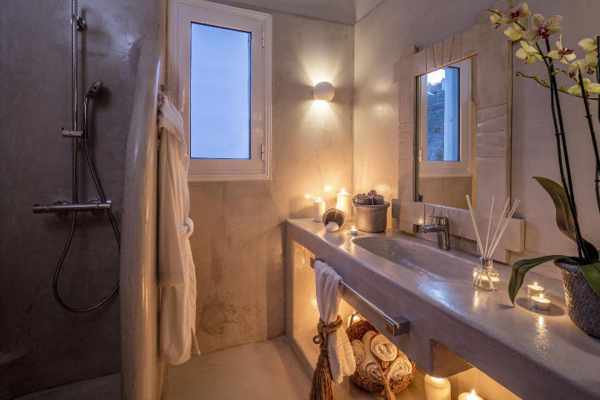 A sumptuous bathroom in one of the villas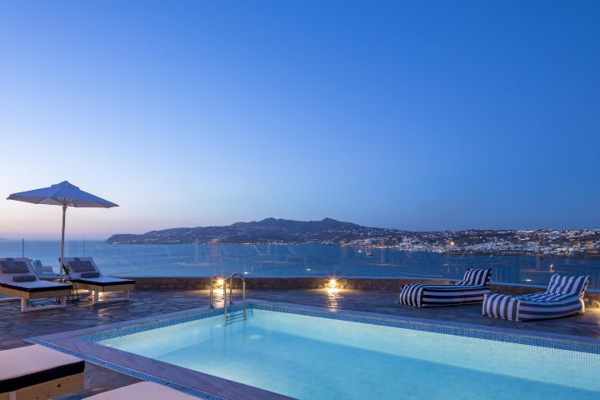 Twilight view from one of the pools at Mykonos No5. Each of the hotel's buildings has a public swimming pool, while some of the suites enjoy the luxury of their own private pools.
~ Mykonos Unique Apartments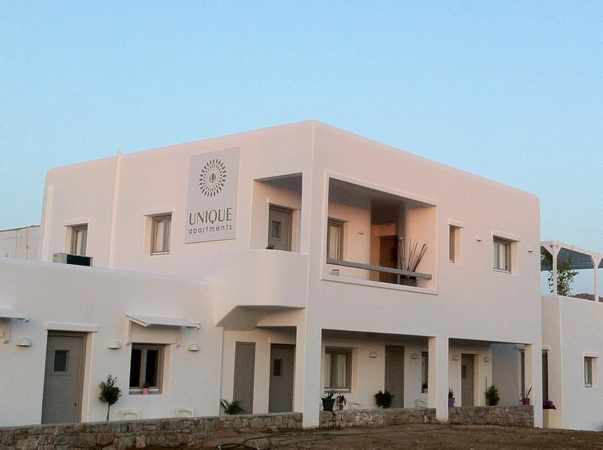 Mykonos Unique Apartments opened in early June in the island's Argirena area, about 800 meters from Ano Mera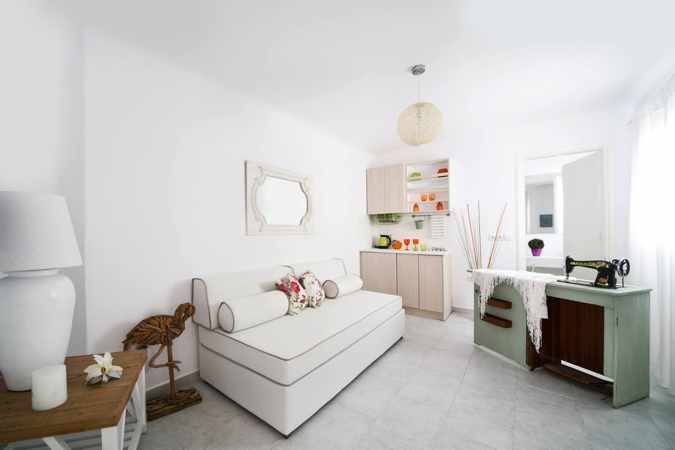 Interior of a studio at Mykonos Unique Apartments. Each unit has unique decor, artwork and furnishings selected by owners Voula and Andriana Poula.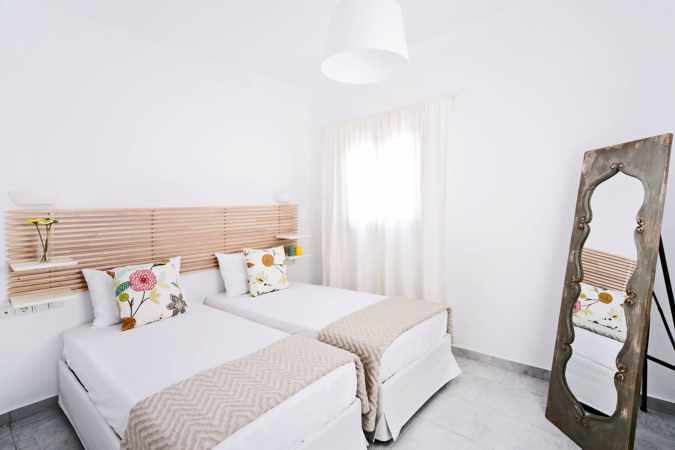 The bedroom in one of the apartments at Mykonos Unique Apartments. The complex includes studios that sleep two, as well as apartments that can accommodate 4 to 6 adults.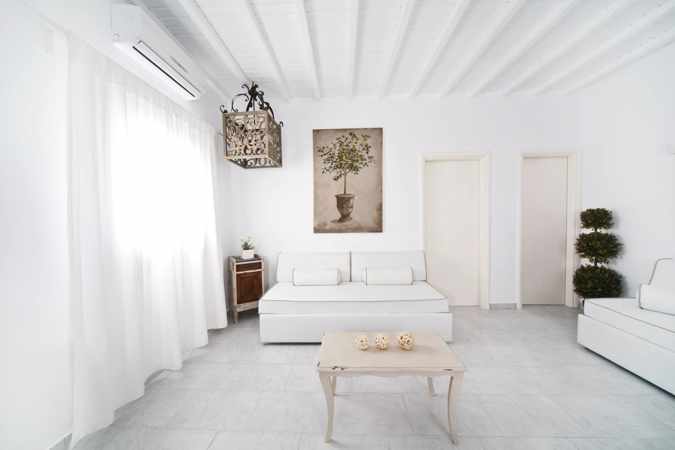 The living room for one of the Unique apartments.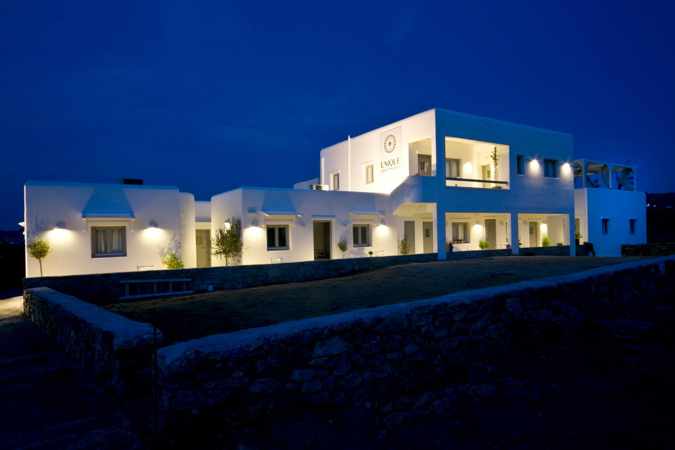 Mykonos Unique Apartments is situated close to a bus stop, and is within walking distance of the restaurants and shops at Ano Mera town square
~ Cape Mykonos Residences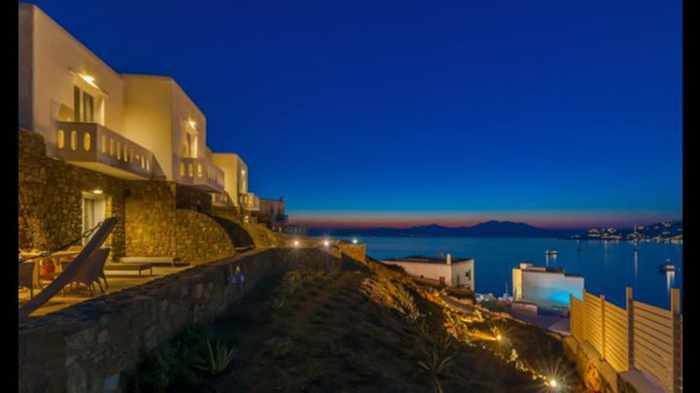 Cape Mykonos Residences is a 10-suite hotel on a hillside overlooking Megali Ammos beach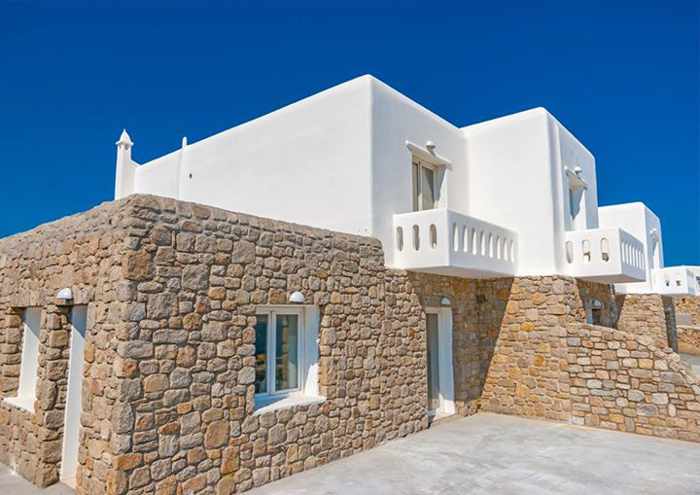 Cape Mykonos features traditional Cycladic architecture and design, and is situated only 500 meters from the south side of Mykonos Town.
The interior of one of the rooms at Cape Mykonos Residences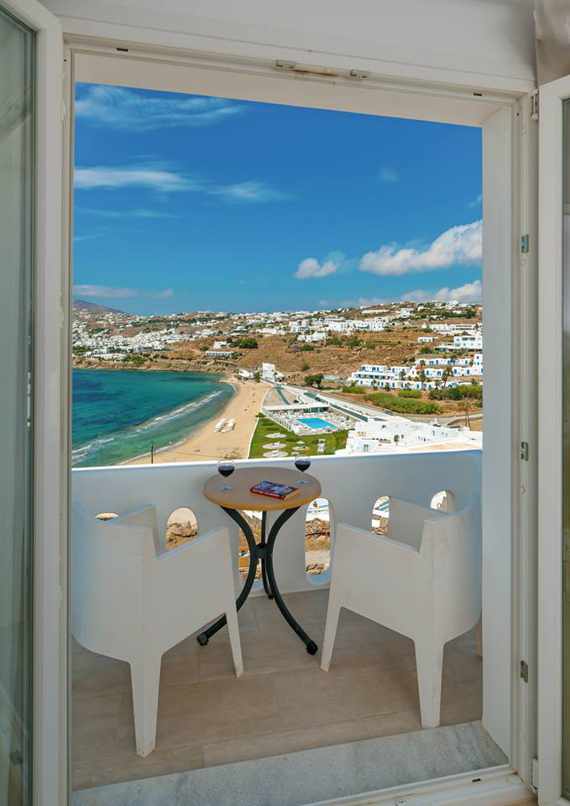 The view from one of the balconies at Cape Mykonos Residences includes Megali Ammos beach and Mykonos Town 
~ Villa La Terrasse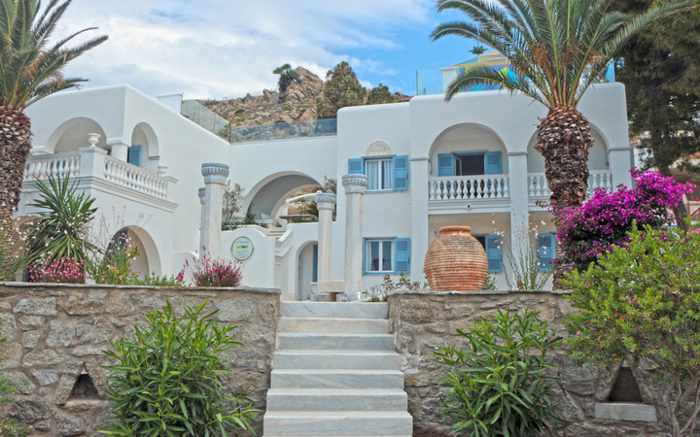 Villa La Terrasse is a 3-suite property located on the hillside above Psarou beach. The suites are in a completely-renovated house that was constructed in 1978 by Dimosthenis Panagiotakopoulos.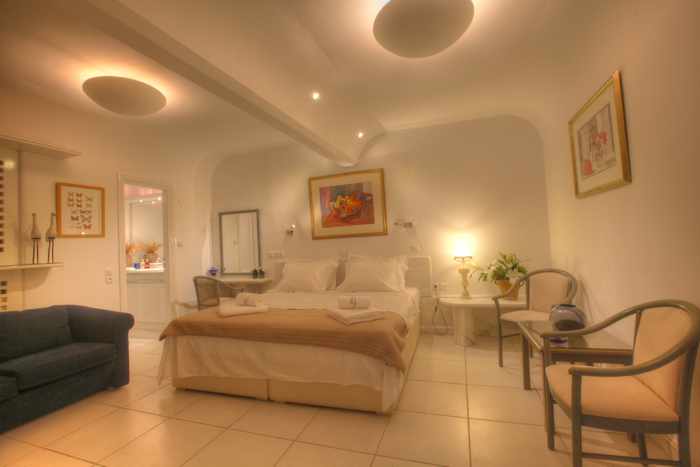 Interior of the Executive Studio at Villa La Terrrasse. The 1-bedroom suite sleeps 2 people and has a garden view. The Grand Suite is another 1-bedroom that accommodates 2.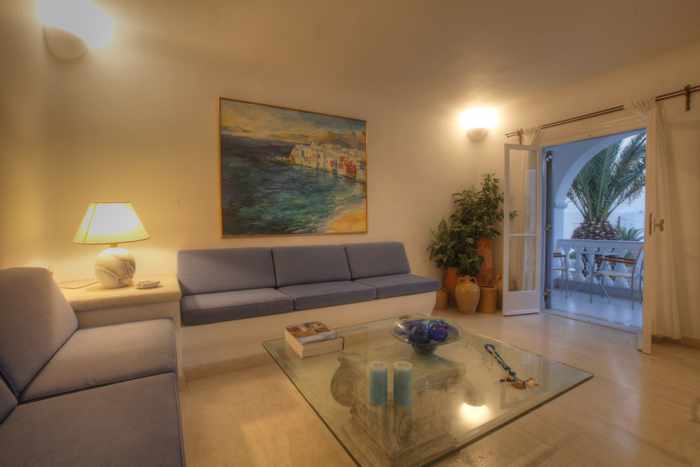 Part of the Villa La Terrasse Imperial Suite, which can accommodate four people in two bedrooms. It has a balcony overlooking Psarou beach, which is only 150 meters away.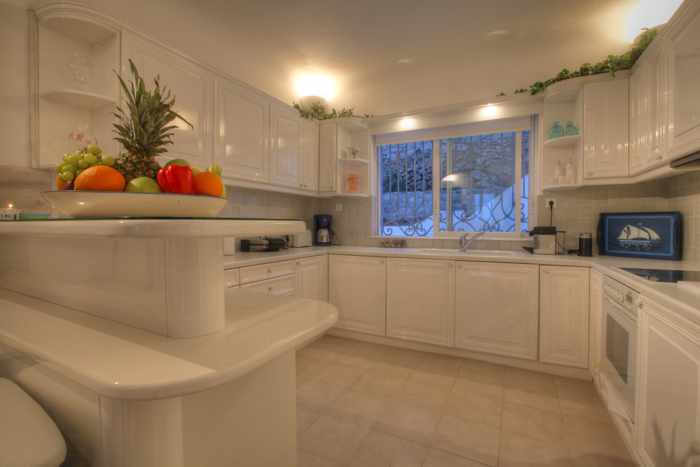 The kitchen in the Imperial Suite. Each of the three suites at Villa La Terrrasse has a fully-equipped kitchen.
~ Hippie Chic Hotel at Agios Ioannis: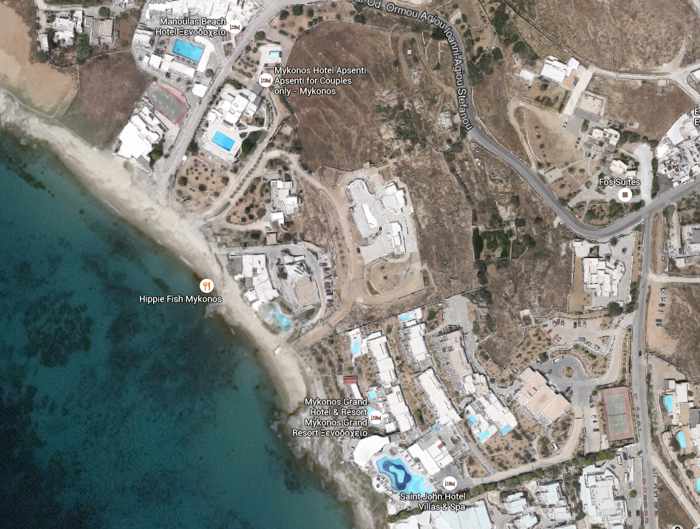 Hippie Chic Hotel is situated directly behind the popular Hippie Fish restaurant, which is indicated on this Google Map image of Agios Ioannis beach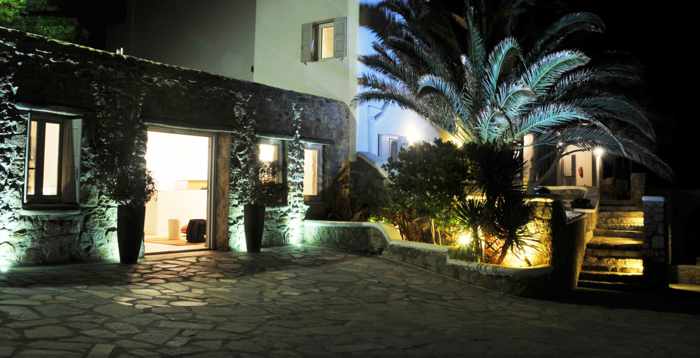 Night view of the Hippie Chic Hotel entrance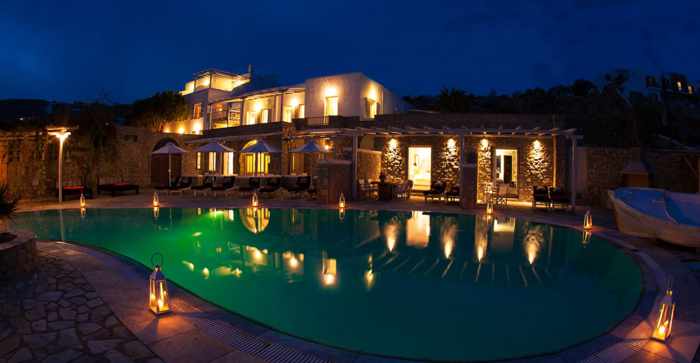 The 3-storey building was another hotel before it was completely overhauled and renovated into a "cool and stylish" new luxury facility
Night view of the Hippie Chic pool, looking toward Agios Ioannis Bay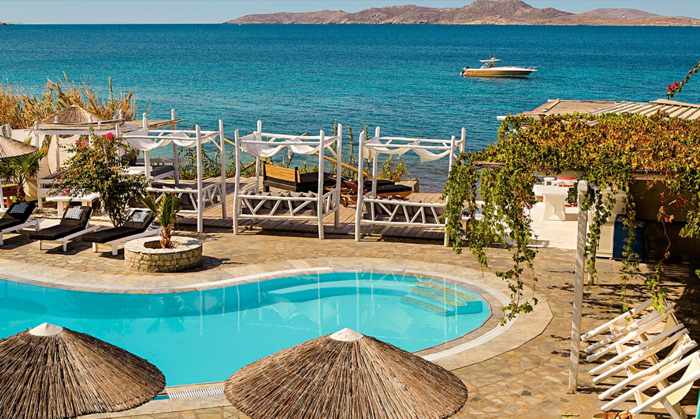 Daytime view of the swimming pool and Agios Ioannis Bay, with Delos island in the distance
View of the swimming pool and hotel building behind it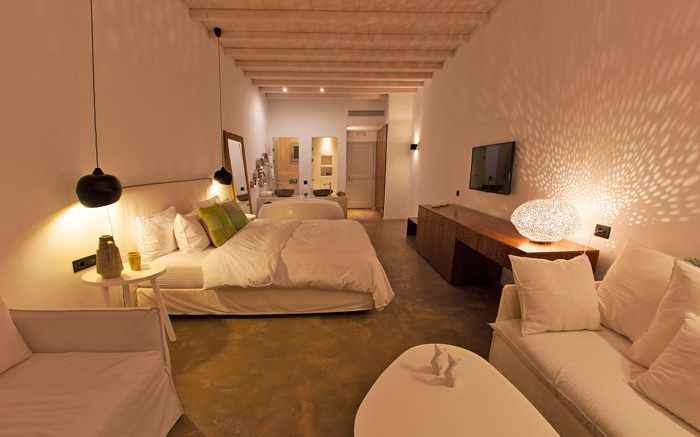 The interior of the Hippie Chic Suite, one of the 23 rooms and suites in the new hotel, which promises "barefoot luxury" with style and elegance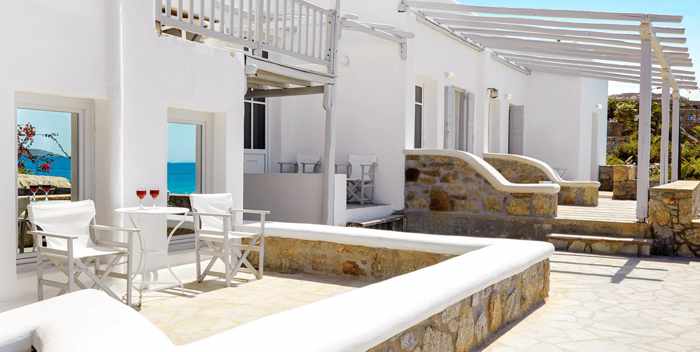 Terraces for some of the rooms at Hippie Chic Hotel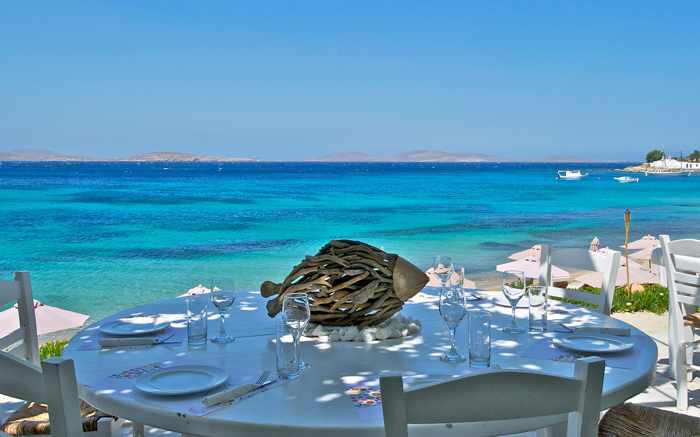 A seaview table at Hippie Fish restaurant. The restaurant, hotel, a sushi bar and "hip mixology bar" all are components of one hotel, bar and restaurant complex directly on the Agios Ioannis beachfront.
~ Colours of Mykonos Luxury Residences & Suites at Agios Lazaros: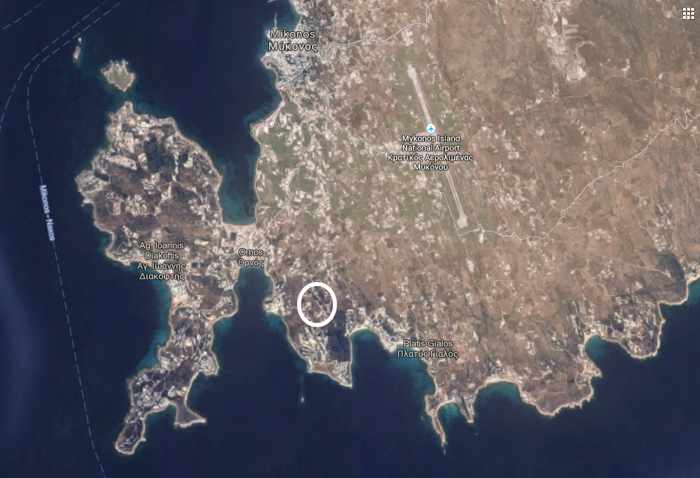 I've marked the approximate location of Colours of Mykonos Luxury Residences & Suites on this Google map of Mykonos. Colours is situated on a hilltop in the Agios Lazaros area of the island about 800 meters from Psarou beach (located just to the lower right of the white circle).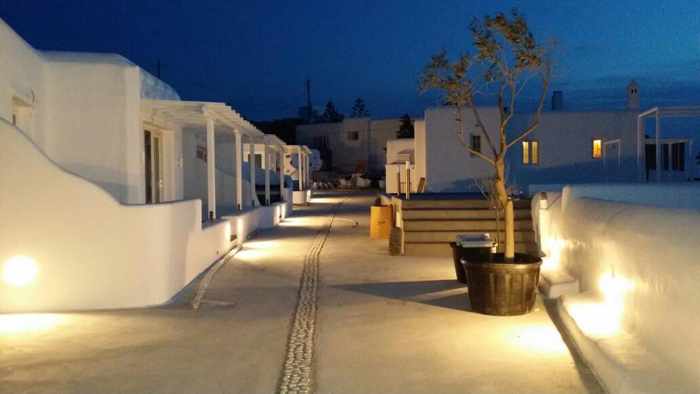 Night view of Colours of Mykonos. It's still under construction but work is almost finished and the residences will be opening on May 20.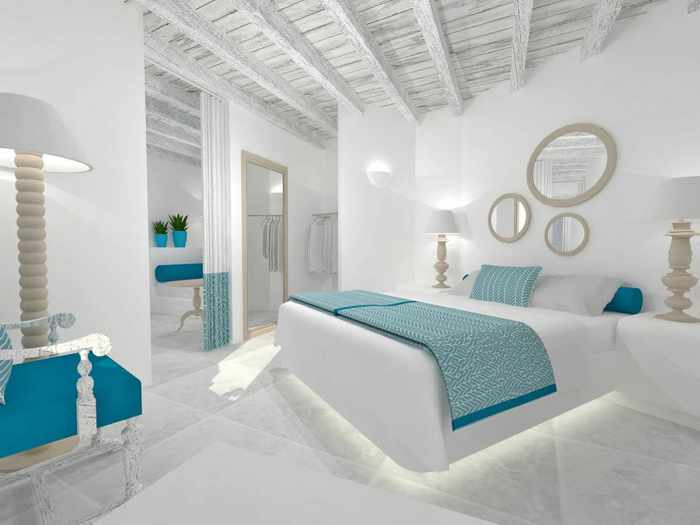 Part of the interior of the Promo Suite, one of 8 different suites available at Colours of Mykonos.  There also is a junior suite with sea view, 3 junior suites with outdoor jacuzzis, and 3 Colours Residences.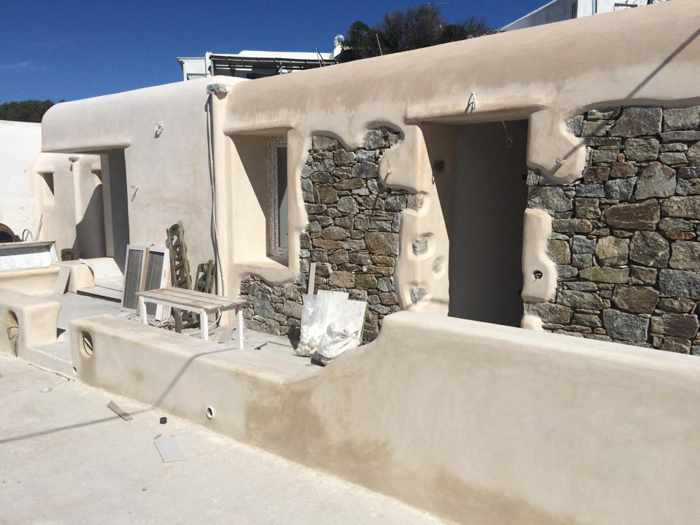 This image from the Colours of Mykonos Facebook page shows some of the Cycladic design details that feature in the buildings' architecture.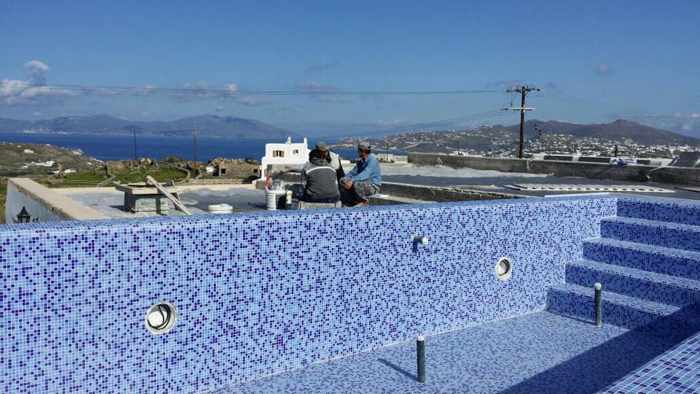 This post from the Colours Facebook page showed construction progress on the swimming pool, from which there are views toward Mykonos Town (upper right) and Tinos island (upper left)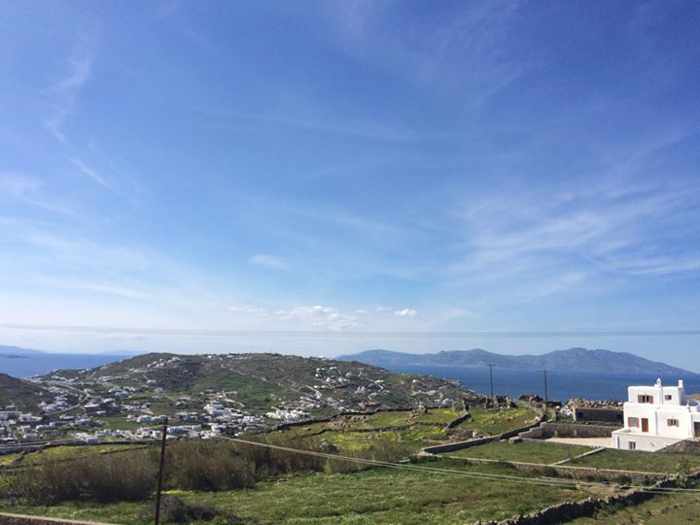 Colours of Mykonos view toward the southwestern end of Mykonos
~ The George Hotel at Platis Gialos: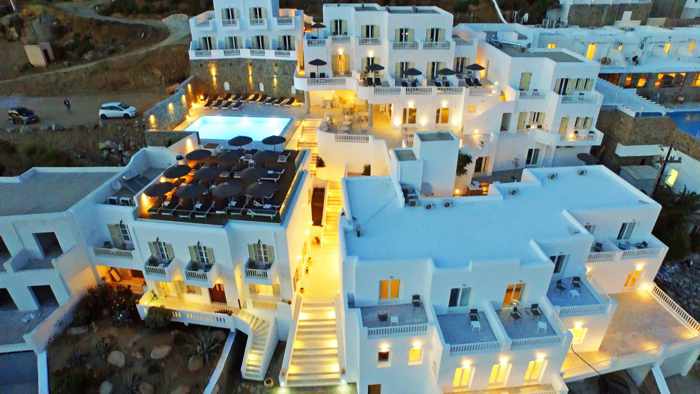 The George Hotel at twilight, captured in an aerial image by photographer Thomas Chrisohoidis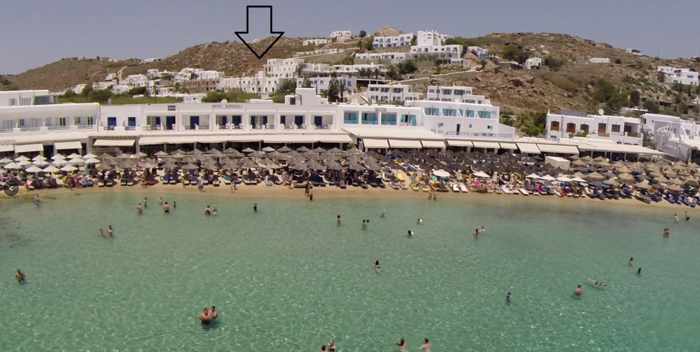 This image, from The George Hotel website, shows the building's location on a hillside behind Platis Gialos beach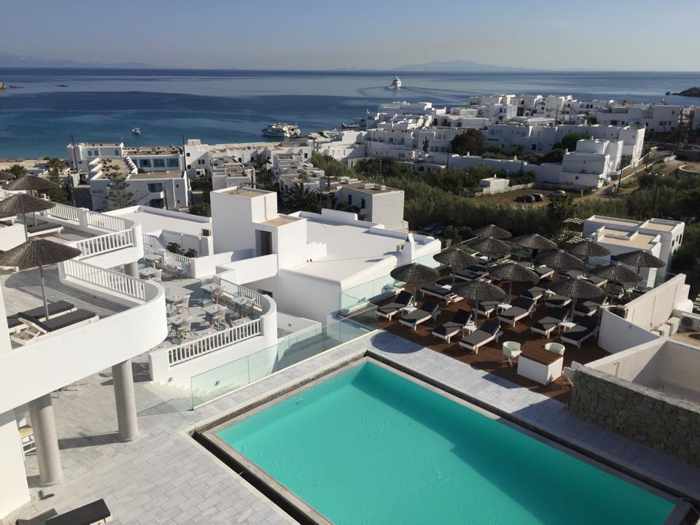 The George is only a couple of minutes' walking distance to Platis Gialos beach, which is lined with restaurants and bars. Hotel rooms and common areas have views of the sea, beach and Platis Gialos resort area.
The George is a 4-star resort with facilities that include this swimming pool, a seaview breakfast terrace, a cocktail bar and snack bar with verandas, private parking, an elevator, a business center, and free wifi access.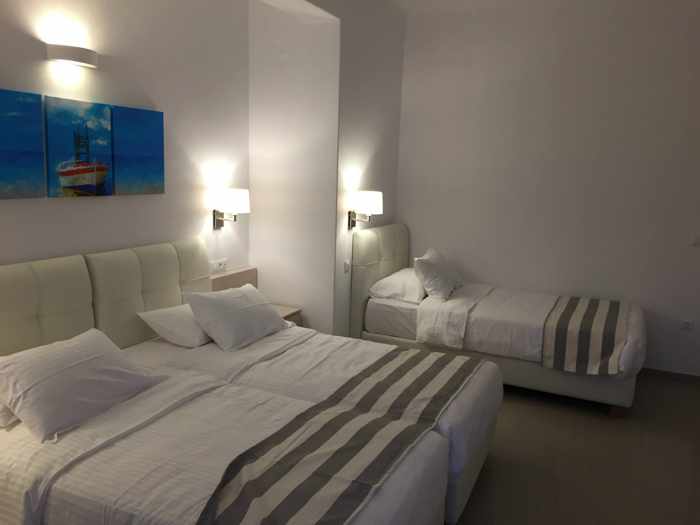 The interior of one of the 41 rooms at The George Hotel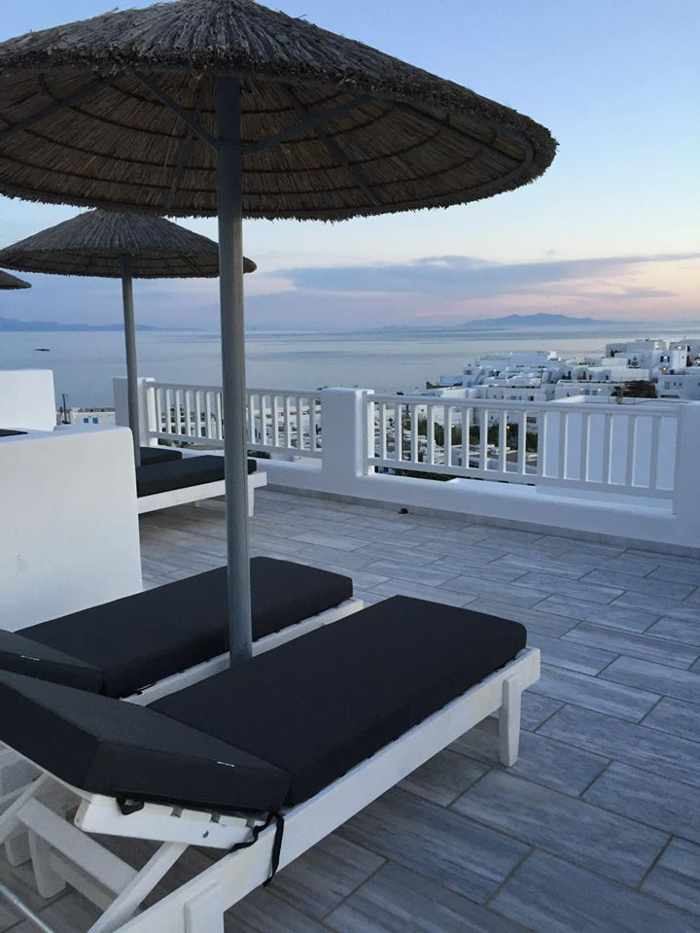 Sunbeds on a seaview terrace at The George Hotel.  You can read more about the hotel and see additional photos in my January 21 2015 post.
~ Mykonos Blanc Hotel at Ornos: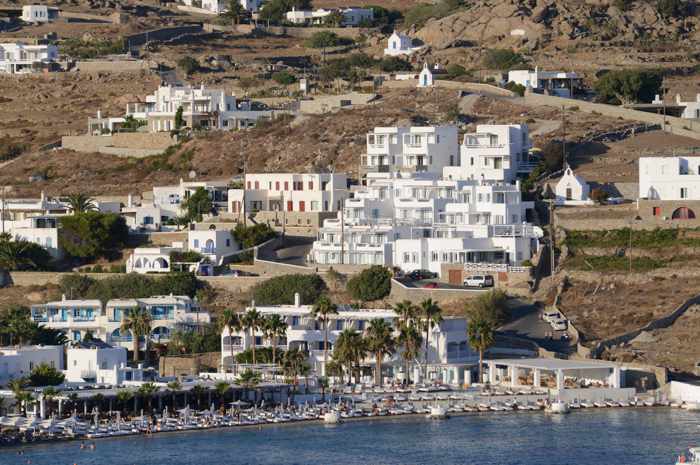 The Mykonos Blanc Hotel is the 3-level building partially visible behind the row of tall palm trees in the bottom-center part of this picture. It is owned by the same people who operate Pasaji restaurant and beach bar, which extends a long length of Ornos beach in front of the hotel.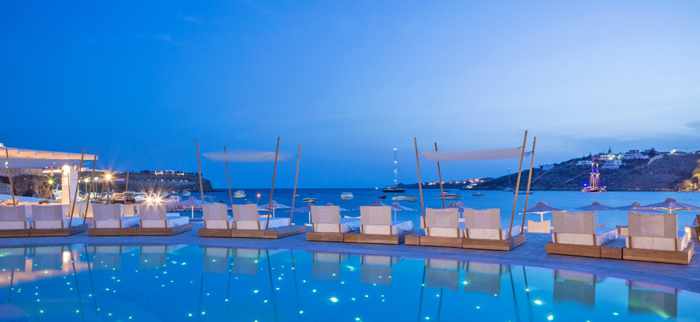 The pool at Mykonos Blanc Hotel has views of Ornos beach and bay
An architectural illustration of the interior of one of the 25 rooms and suites at Mykonos Blanc.  The hotel occupies premises formerly known as the Ornos Beach Hotel. The building has been completely renovated into a luxury property and opens for the season on May 15.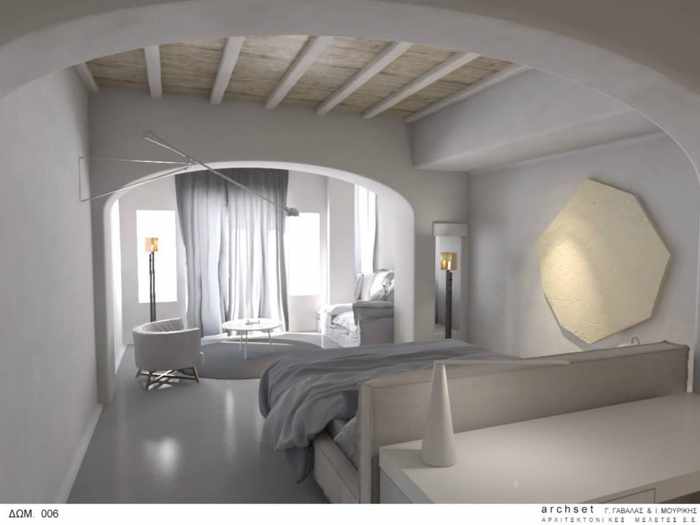 Another architectural illustration of a Mykonos Blanc suite interior. The hotel is owned by the same people who own four other Ornos beach travel properties — the Mykonos Ammos luxury hotel, the restaurants Kuzina and Trattoria Farina at the Ammos, and the beachfront Pasaji restaurant.
Freshly renovated hotels
~ Kivotos Luxury Boutique Hotel at Ornos: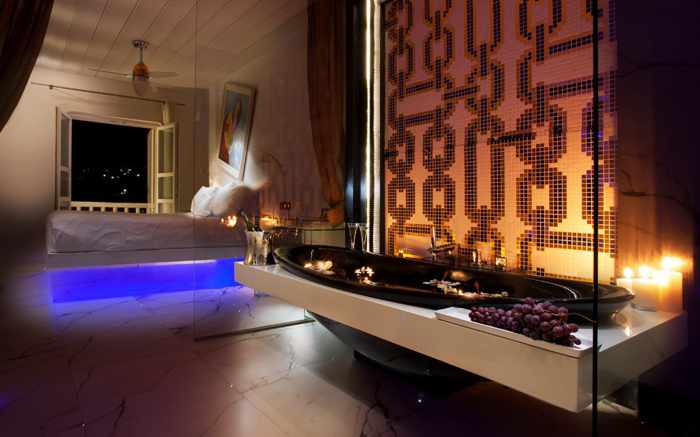 One of 10 freshly renovated suites that the 5-star Kivotos Luxury Boutique Hotel at Ornos unveiled in time for the 2015 season. Kivotos will be refreshing 10 more for 2016, as well as updating its public areas and private beach.  A post on the Kivotos hotel blog describes the renovations  in greater detail.
~ Nissaki Boutique Hotel at Platis Gialos:

This is a screen capture of the home page for the Nissaki Boutique Hotel Mykonos website, which notes the Nissaki has been fully renovated for 2015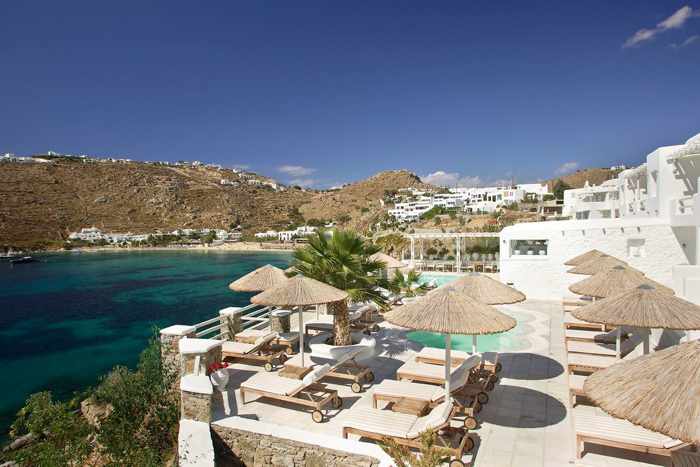 The 5-star Nissaki is short walking distance to Platis Gialos beach, but its rooms and common areas overlook beautiful Psarou bay and beach.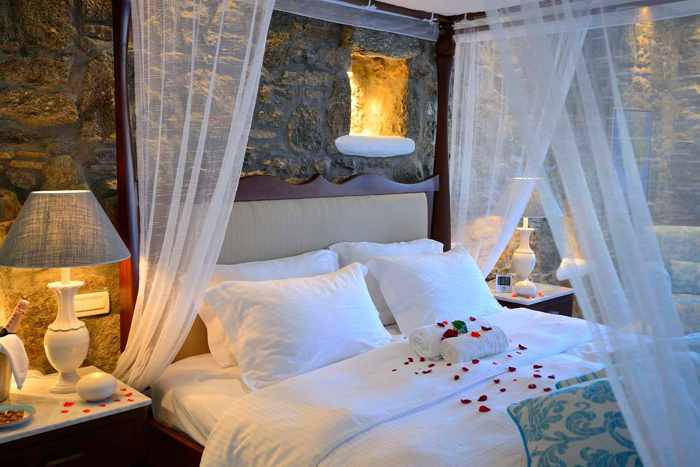 Interior of one of the 18 rooms at the Nissaki. The hotel has a range of accommodation options, including double rooms, a variety of suites, and villas.
~ Petinos Beach Hotel at Platis Gialos:
This is a screen capture of the home page of the Petinos Beach Hotel website, which notes the property has been completely renovated for 2015

Website photo of the hotel lobby. As a result of its renovations, Petinos Beach Hotel now bills itself as a 5-star hotel property.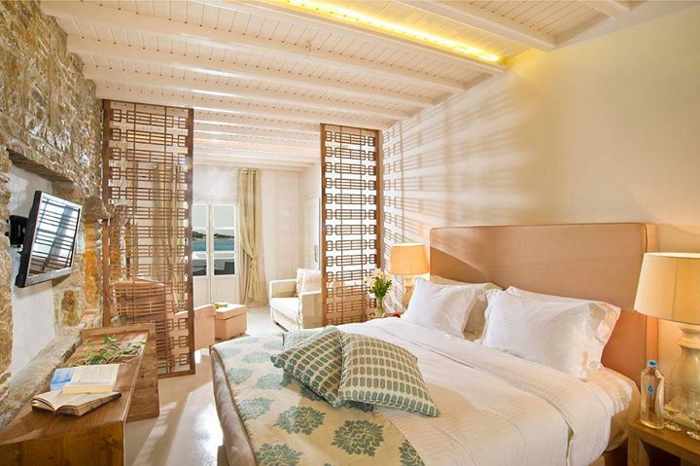 Interior of the Family Suite, one of 24 rooms and suites at Petinos Beach Hotel
~ Semeli Hotel in Mykonos Town: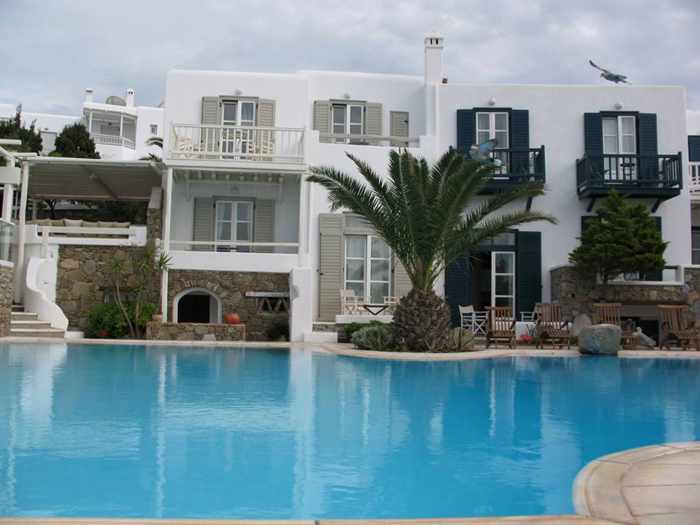 Semeli Hotel is a 4-star luxury property in Mykonos Town. Its 62 rooms include suites with private pools, jacuzzis and spas.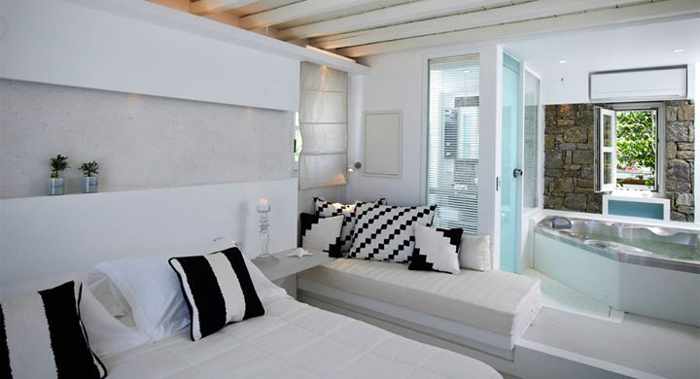 The Semeli's spa rooms have all been renovated for 2015 with stone, glass and Corian elements providing a simple yet luxurious contemporary decor. A Superior Spa Room is pictured here.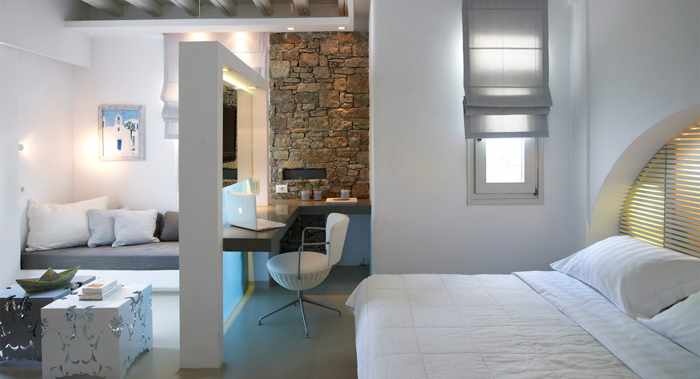 The Semeli's  Superior Rooms also have been fully renovated for 2015