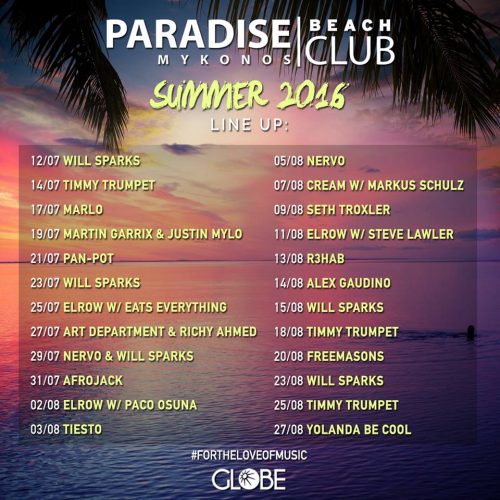 Paradise Club's 2016 summer DJ lineup, released July 14
x

This is Kalua Bar's party lineup for July and August. An event for July 21 has been added since this list was released.
Cavo Paradiso's international DJ lineup for July and August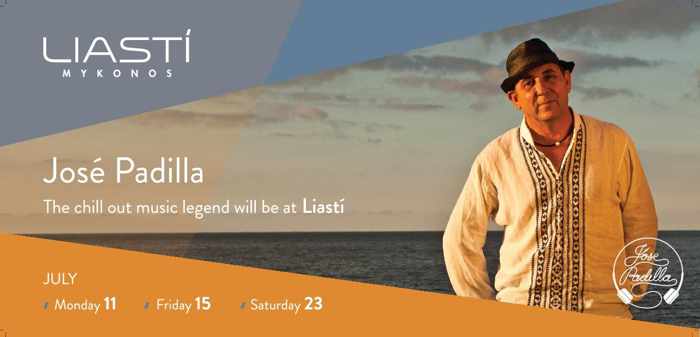 The creator of the Cafe del Mar music collections, Jose Padilla, will make three appearances at Liasti Beach Resort in July — on Monday the 11th, Friday the 15th, and Saturday the 23rd
This post features promotional flyers for party events taking place on Mykonos during specific days in July only. If you want to see events for other months during summer 2016, click here.
Daily party events
The island's main party beaches are Paradise, Super Paradise and Paraga, where beach parties start in the afternoon and continue into the evening. At Paradise, parties start around 4 p.m. at Tropicana Club and at Guapaloca, while partying can begin as early as mid afternoon at Super Paradise Club at Super Paradise beach. Guapaloca also throws a body painting partyk every night at 10 p.m. At Paraga, you'll find afternoon beach parties at Kalua, daily pool parties at 5 p.m. at Sueno Village, and music entertainment events most days of the week at Scorpios. Parties can spontaneously erupt at Psarou beach, as well, when guests at Nammos beach bar and restaurant feel the urge to let loose (and they often do).
In Mykonos Town,  Semeli Hotel holds a Sun:Set party at 6 p.m. every day in its Semeli Lounge. The Elysium Hotel in the School of Fine Arts district presents its famous Sunset Cabaret on its seaview pool terrace every evening starting at 8:30 p.m., while @54 Club has nightly drag shows starring Roxy Brooks and dancer Matthew Malia at 1 a.m. At the 4711 live music club, Dionisis Sxoinas will perform nightly (except on Tuesdays and Wednesdays) from July 21 through to August 21.
Regular weekly events
Besides special one-time events featuring leading Greek and international DJs, some bars and beach clubs hold regular theme parties on specific days of the week. Here are some of the regular events being offered during July and August this summer:
Monday: Kalua holds its Skin Orgasm Party with Ms Lefki starting at 5 p.m., while at Kalo Livadi beach, DJ Maga spins chill tunes at the new Chinawhite by Rakkan, starting at 4 pm. 
Tuesday: Scorpios hosts the Yoruba Soul Experience music event, starting at 5 p.m. Madon presents its weekly Propaganda party starting at midnight. Vinos bar features live jazz music from 10 p.m., and Dome Club has its Showtime Tuesdays party.
Wednesday: Kalua presents its Spirit party starting at 5 p.m.; Pinky Beach at Super Paradise hosts an After Beach Dine & Dance party with music by DJ Thanos starting at 6 p.m.; Toy Room Club hosts Toy Room on Fire, where the dress code is Red and music is by DJ Silence; and Rock N' Roll Mykonos hosts special parties presented by Sintillate, with hip hop, RNB and house music by DJ Skaterboi. 
Thursday: Hippie Fish at Agios Ioannis beach throws its Peace Love Music parties starting at 1 p.m.; and Scorpios presents its weekly Movements music event at 5 p.m.  And starting at 10 p.m., Vinos bar presents live jazz music.
Friday: Scorpios holds its weekly Ceremonia music event beginning at 5 p.m.; Kalua holds its weekly Obsessions party with DJ Agent Greg starting at 5 p.m.; Blu Blu Lounge presents its Blu Sunset party with "eclectic" music by DJ Dest starting at 7.30 p.m.; and The Dublin pub at Agios Stefanos presents live Greek rock music with local band the VBros starting at 10:30 p.m.
Saturday: Monarch at Platis Gialos beach holds its weekly Blackrock Sinful Sunset beach party starting at 5 p.m.
Sunday: Liasti beach resort offers live saxophone music and jazz vocals in its restaurant area. The weekly day-to-night Sneaky Sundays music event takes place at Scorpios beginning at 5 p.m.; Toy Room Club hosts its weekly Incognito Masked Ball; and DJ Giannis Zissis from Athens spins at Dome Club.
Party announcements are added to this post whenever they are released, so check back regularly for updates. I usually add new events every day, and sometimes more than once a day. Note that most bars and clubs don't post their full party schedules for the summer, and sometimes announce special events or DJ appearances as little as one to three days before they take place.
Please click on the link below to turn to page 2 of this post, where you will find a day-by-day list of party events taking place throughout July.
 CONTINUED ON PAGE 2