~ For event information for 2017, see: Mykonos party scene 2017 ~

These are the DJs that will be appearing at Cavo Paradiso in May …
… and this is Cavo Paradiso's international DJ lineup for July and August. Curiously, the club did not release a full schedule of events for June.
~ Click here for a list of parties taking place during September and October 2016 ~
What's happening:  Now that it is spring, some Mykonos bars and clubs have opened for the 2016 tourist season, while others have begun announcing the dates they will re-open.
Ling Ling got things off to an early start on March 23 when it kicked off its second season on Mykonos. It was followed in early April by Passo Doble Cocktail Bar, the JackieO' bar in Mykonos Town, and Room 101. Mid-April saw the opening of popular gay hangouts Lola and Porta Bar, along with Galleraki Bar and Vicolo Bar at Little Venice. Scarpa Bar and Semeli Bar in Little Venice will open in late April, as will Thalami Bar behind the Mykonos Town Hall, and Remezzo near the Old Port. Beach parties resumed in mid-April with Guapaloca Bar and Tropicana Club opening at Paradise Beach. They will be joined the last week of April by Nammos at Psarou beach and Kalua Bar at Paraga. And in May,  Scorpios will celebrate its grand re-opening at Paraga beach.
Speaking of beach clubs, there will be at least two new spots to check out this summer. Rakkan Mykonos will be opening in late May at Kalo Livadi beach, while Monarch has moved to Platis Gialos beach. See my post New beach bar/restaurant venues coming to Mykonos for further details about those two places.
Click here to see club openings and events taking place in March and April
Click here to see club openings and events scheduled for May.
Click here to see announcements for parties taking place in June.
Click here to see parties and events that have been announced for July.
Click here for a list of events being held in August.
Click here for parties taking place in September and October.
And click here to see where you can find live jazz, rock, Greek and other music shows on Mykonos.
Party schedules will be posted here when available
Bookmark this page and keep checking back — I will be updating this post with information about bar & club openings, and DJ schedules, as soon as events are announced. Keep in mind that the island's biggest party clubs generally don't post detailed summer party lineups until late May to mid June, while many bars don't publicize their season kick-off celebrations until shortly before they open their doors.
For information about ticket prices, advance booking, table reservations and VIP services, please contact the specific clubs you are interested in.
And if you want to get a general idea of what to expect around the time you're planning to visit Mykonos this summer, scroll through my 2015 party post, which lists club openings and party events that took place each month between March and November last year.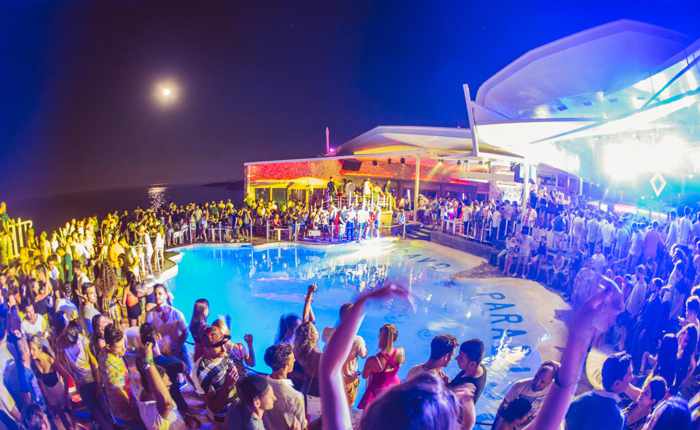 Two great articles about Cavo Paradiso have been published this winter. Have a look at ClubWorld's Mediterranean Clubbing Mecca, and Thump's How clubbing has provided a refuge during Greece's economic hardships.
To put yourself in a Mykonos beach party frame of mind until you can get there to party, check out the videos below:
This is the 2016 promotional video for Paradise Beach Resort and Guapaloca club
This was the official 2015 trailer for Paradise Beach Resort 
CONTINUED ON PAGE 2