Vocalist and saxophonist Giuseppe Fabris makes frequent live appearances in Mykonos, including Tuesday and Friday nights this summer at Vinos wine bar. Check out the video (above) to watch him perform to the backdrop of a magnificent Mykonos sunset.
Sun, sea & sax: Although most people associate Mykonos with frenzied beach parties and a vibrant dusk-to-dawn club and bar scene boasting music by top Greek and international DJs, musical entertainment on the island isn't limited to dance, house, techno and hip hop.
Visitors can enjoy live jazz, rock and Greek music, too, at performances presented by some of the island's bars and restaurants on a regular basis during the summer tourist season.
I post promotional flyers for many of these events in my directory of Mykonos party events for 2016,  but I'm launching this separate list of "alternative" music shows and performances since many people think that article is devoted only to DJ appearances at dance and party venues.
Please click at the bottom of this post to turn to page 2, you'll find flyers for jazz, rock, Greek and other music events taking place during August 2016.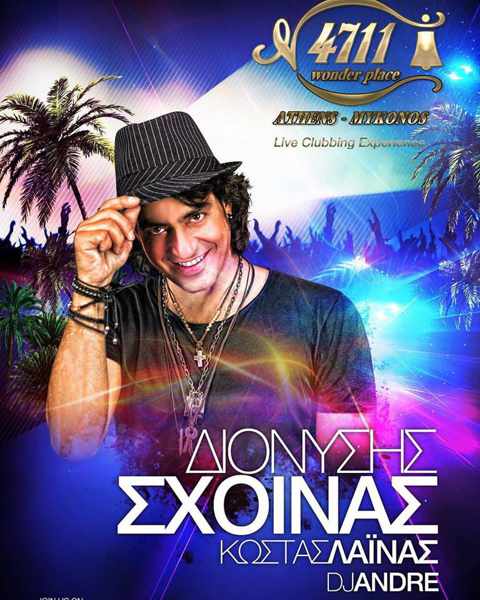 Located in Mykonos Town, 4711 is a live Greek music venue open nightly during the summer. Some of the club's regular feature entertainers include Dionisis Sxoinas as well as  the duo Nancy Alexiadi and Tilemachos Zeis.
CONTINUED ON PAGE 2