Enjoy the ultimate Mykonos clubbing and entertainment experience with exclusive VIP table and bottle service at the island's top nightclubs and beach venues, including Guzel, Toy Room Club, Astra, VOID, Charlie, Rock N' Roll, Bonbonniere, Kalua, Nammos, Scorpios and more 
It's no surprise that Mykonos is one of the top luxury destinations in Europe. The island boasts everything one could desire for the ultimate VIP summer vacation experience:
♦ an impressive variety of gorgeous beaches, many of which boast some of the top beach restaurants, bars and clubs in the Mediterranean; 
♦ dozens of fine dining and award-winning gourmet restaurants;
♦ picturesque shopping streets lined with boutiques presenting exclusive luxury brands and styles from the world's leading fashion, jewellery and eyewear designers;
♦ art galleries and special exhibitions showcasing works by Greek and internationally-acclaimed artists;
♦ unforgettable day, evening and night parties and special entertainment events at world-famous beaches, including legendary Paradise, Super Paradise, Paraga and Psarou;
♦ some of the best summer nightlife in Europe at a host of iconic bars and exclusive nightclubs in the heart of charming Mykonos Town;
♦ a wide range of exquisite and luxuriously-appointed private villas; plus
♦ luxury vehicle rentals and yacht charters, and private helicopter and jet charter services.
If you're looking to treat yourself to the ultimate Mykonos VIP experience, or simply want to make the dream vacation of a lifetime a reality, you can now book your nightclub and restaurant tables and villa accommodations right here. MyGreeceTravelBlog is partnering with Concierge VIP Mykonos — the island's leading luxury concierge service — to offer special VIP table reservations for the summer's most exclusive nightclubs and beach parties, and to arrange private villa accommodations and luxury transportation services.
Villas can be selected from a portfolio of 40 different luxury properties, including Villa Gina (shown below and on page 2 of this post; other villas will be profiled here on MyGreeceTravelBlog from time to time). And reservations can be made for exclusive VIP tables at leading nightclubs and beach party venues (though a minimum spend — ranging from US $1,000 to $5,000 — will be required, depending upon the particular event and venue being booked.)
For further details and to make reservations or inquiries, please click on the image below or contact us at: mykonosconcierge2016@gmail.com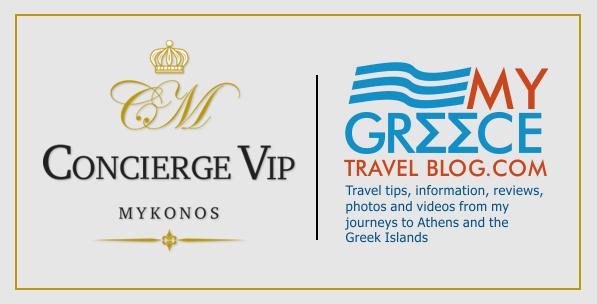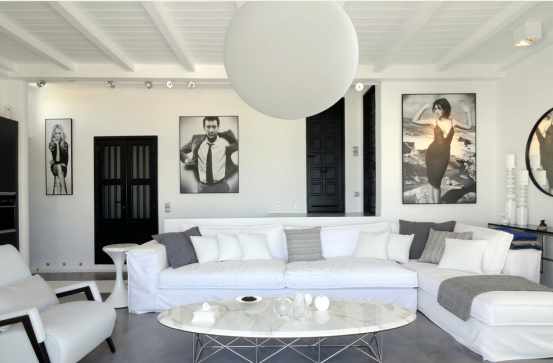 Situated on a hillside right in Mykonos Town, Villa Gina is an elegant 2-bedroom house with a separate 1-bedroom guest apartment. 
Villa Gina offers fabulous views of the town, the harbour and Old Port areas, the sea and the sunset
Please click on the link below to see more of Villa Gina on page 2 of this post.
CONTINUED ON PAGE 2