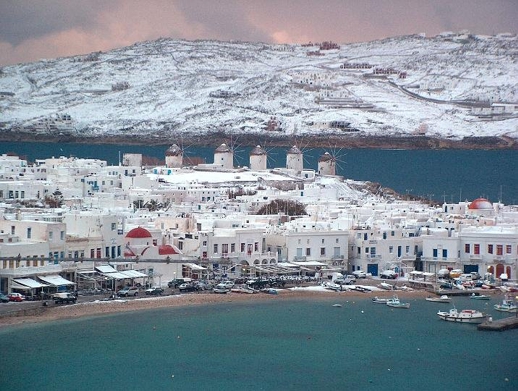 Even the Greek Islands experience snowfalls on occasion, as this 2004 photo of Mykonos confirms. It's one of several stunning Mykonos winter scenes that M. Koubaros has posted on the Panoramio.com photo sharing website.
Winter wonderland: "I'll bet you wish you were in Greece right now!"
Actually, I wish I had collected $1 each time someone told me that this week — I'd have enough money to treat myself to a hearty meal of pastitsio or moussaka at one of my favourite restaurants in Toronto's Greektown neighbourhood tonight.
Like many places in North America, we suffered through five days of miserably cold temperatures this past week, followed by a severe winter storm that dumped more than seven inches of snow on our downtown neighbourhood yesterday. Whenever friends and acquaintances saw me bundled up and shivering in the wintry weather, they inevitably asked if I'd rather be relaxing on a Greek Island beach instead.
But all were surprised to hear me say that Greece doesn't bask in scorching hot temperatures and clear sunny skies every day — and especially not during December.
Greek Islands get cold weather in winter
They, like many people, have a misconception that Greece is a semi-tropical destination that draws sun- and sand-seeking vacationers to its magnificent beaches all 12 months of the year. But Greece is not like Hawaii. Most people are surprised when I tell them the travel season for most Greek Islands extends only from late April until early October, and they're stunned when I say that Greece gets winter, too. Few of them  realize that islands like Mykonos and Santorini can experience bone-chilling cold temperatures or light snowfalls, and none knew that there are more than a dozen ski areas in the mountains of mainland Greece (of which Parnassos Ski Resort is the largest, boasting 23 trails and 13 lifts).
On December 11, for instance, the Mykonos Winter Facebook page reported that it was only 9 degrees on Mykonos — with gale-force winds reaching a brutal Force 9 on the Beaufort scale. Not a pleasant day to spend outside, by any means!
However, even though Greece does get cold weather during the winter, my friends are absolutely right — I would much rather be there. As I write this post, it's overcast and 11 degrees below zero here in Toronto, compared to 12 degrees above zero under partly cloudy skies in Athens. And though a dinner of moussaka or pastitsio would certainly be a great way to warm up here tonight, a meal at an authentic Greek taverna in Greece would be so much better.
To give you an idea of what winter can be like in Greece, below are photos of snow scenes from Mykonos, Paros and Santorini plus one of the Parnassos Ski Resort, along with a brief videoclip entitled "Winter's Beauty in Greece," posted online by YouTube member TheAmazing Greece. You can view more winter scenes from Greece on the Amazing Greece Facebook page.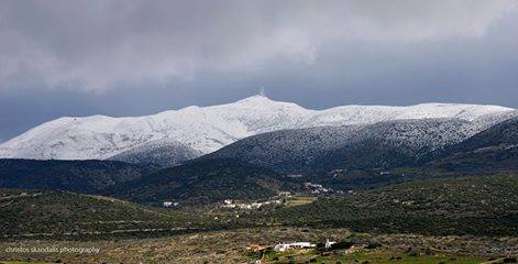 This view of snow on Agios Pantes on Paros was posted on the ΠΑΡΟΣ like Facebook page. Neither the date nor the photographer are identified, but a tiny watermark on the picture appears to read "Christos Skandalis Photography."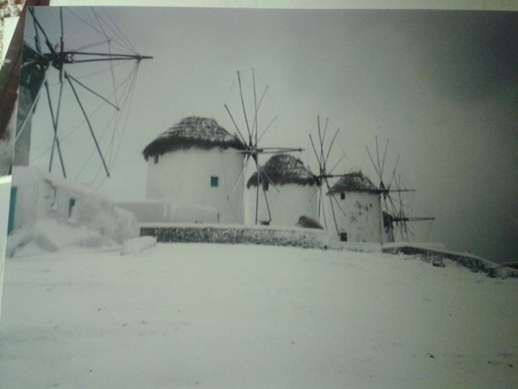 The famous Mykonos windmills are seen following a storm in 2004. This photo was posted on the Facebook page for Andriani's Guest House.
This YouTube upload by Dimitris Koutsoukos displays a variety of photos that various Mykonos residents and others have captured over the years following snowfalls on the island.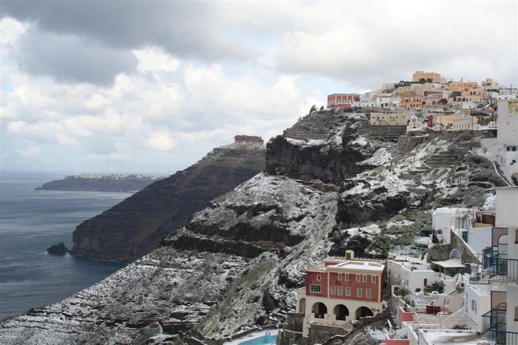 This photo shows a light dusting of snow around the town of Fira on Santorini island. It and three more winter scenes from Santorini were published in a post on the cassettes blog on February 22 2008.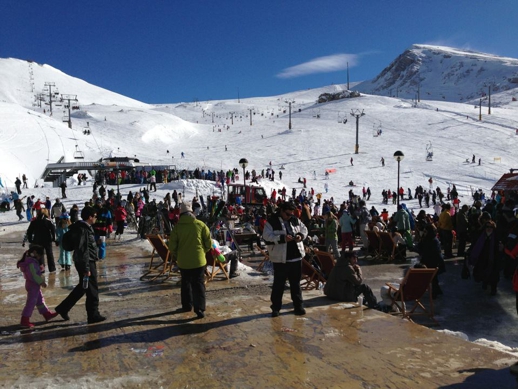 Snowboarding and skiing enthusiasts can enjoy winter at more than a dozen mountain resorts on mainland Greece. This photo of the Parnassos Ski Resort is from the Parnassos Ski & Snowboard group page on Facebook.
 This videoclip of winter scenes in Greece was posted online by YouTube member TheAmazing Greece