Tinos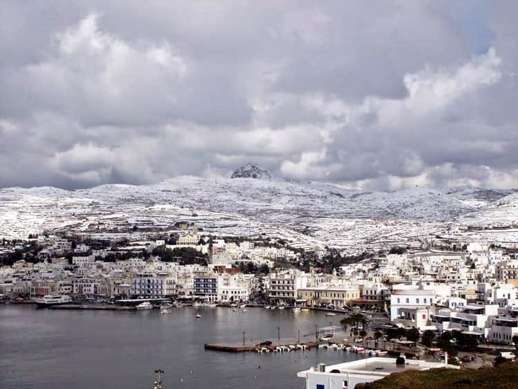 This photo, from the Tinos Today news website, shows snow-covered hills behind Tinos Town, the island's port and main commercial center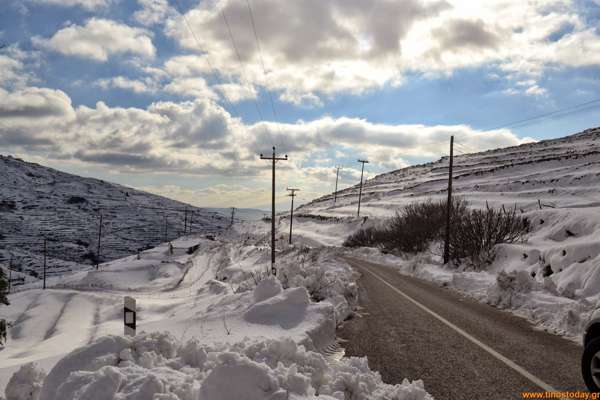 This was among dozens of photos that Tinos Today collected from residents to publish in a January 9 feature called Tinos in White. Click on the article link to view a wide variety of snow scenes from around the island.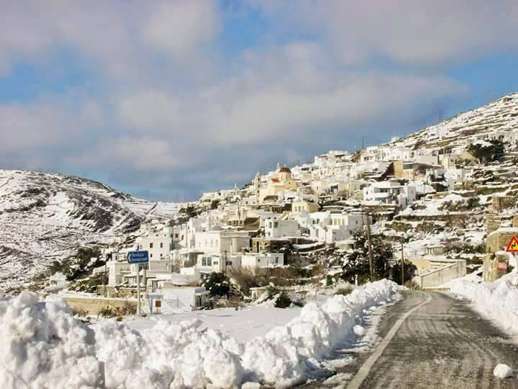 A village on Tinos is seen during a sunny break after the big storm. The local Nissos Brewery shared the photo on its the Facebook page and credited Tinos Today as the original source of the image.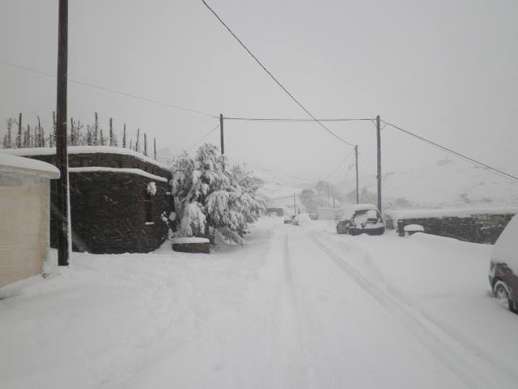 A snow-laden road in Tripotamos is seen in this image from the Tinos Surf Lessons Facebook page.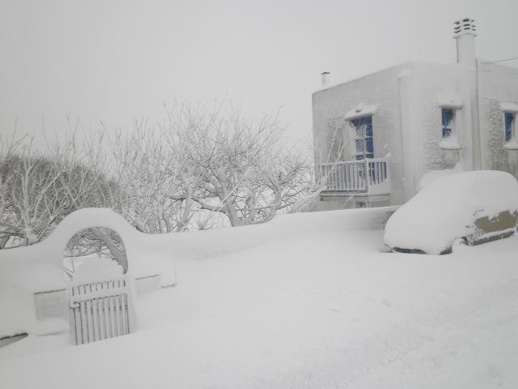 Also from Tinos Surf Lessons, another snow scene from Tripotamos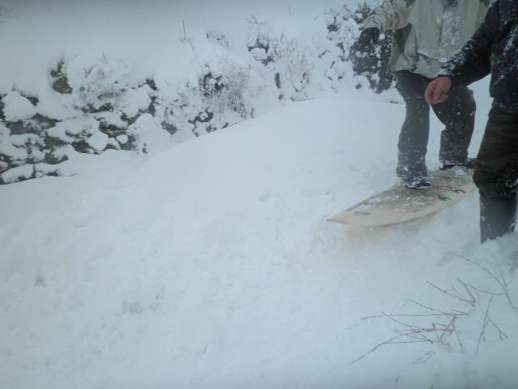 Surf's up! Tinos Surf Lessons posted this image to Facebook along with the caption: "Now Tinos Snow Lessons."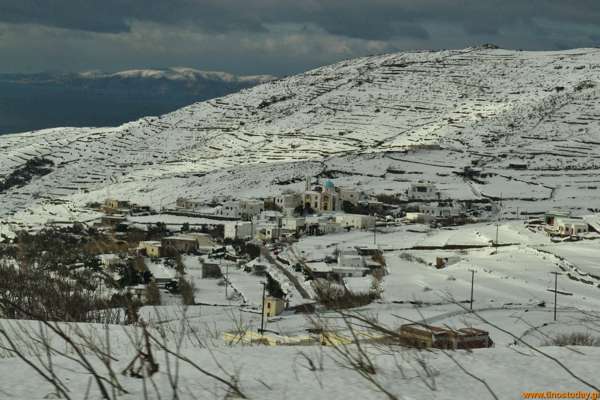 Another image from the Tinos in White photo feature from Tinos Today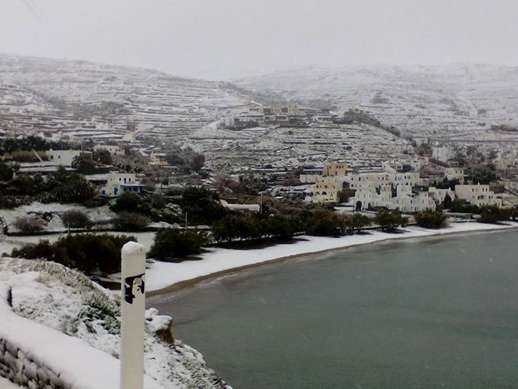 Agios Romanos seen in a Facebook photo by Marko Delasouda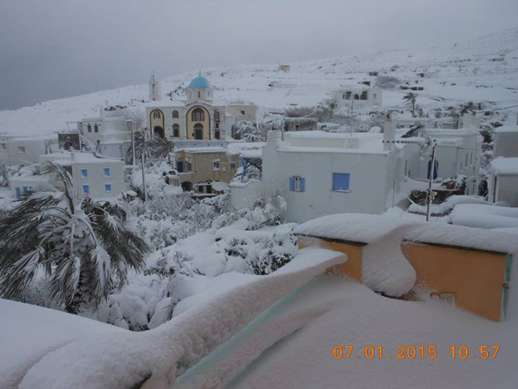 Blue window shutters and a blue church dome add small pops of colour to this snow-dusted hillside on Tinos. The photo is among many snowstorm images posted on the Tinos Today Facebook page.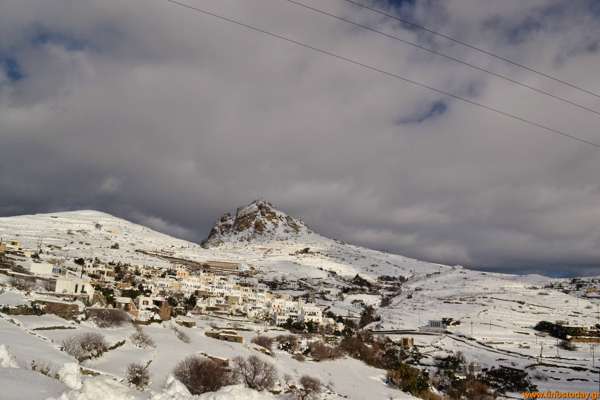 A snow covered mountain village seen in another image from the Tinos in White collection posted on Tinos Today.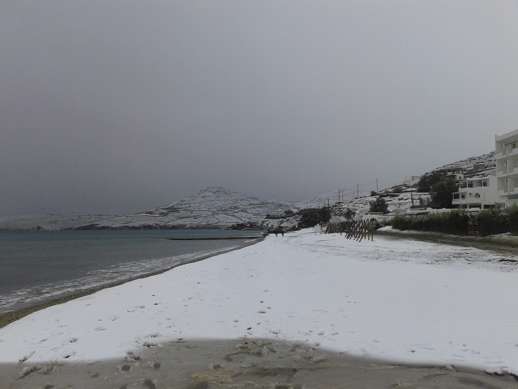 From Facebook, a Pepi Vidali photo of snow at Kionia beach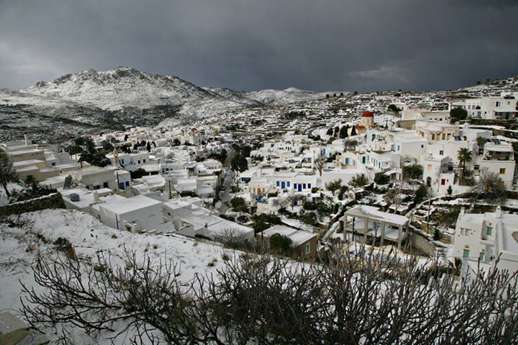 This image by Chrysa Paraskeva was posted to the Facebook page for Tinos About magazine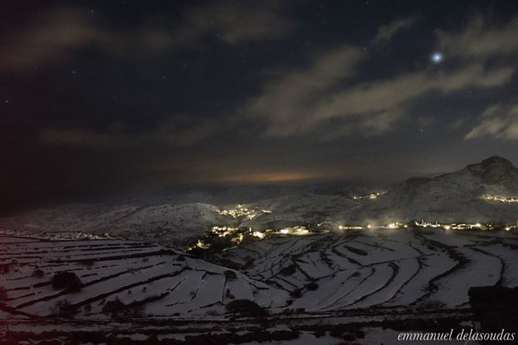 A snowy Tinos at nightfall was captured in this photo posted on Facebook by Emmanual Delasoudas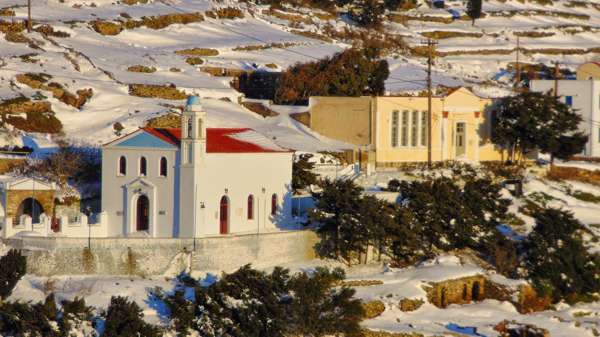 This is one of 40 images from a photo feature,  Xιονισμένο τοπίο o Aρνάδος (Snowy landscapes at Arnados) that Tinos Today published on January 10
This clip, posted to YouTube by a member named "Tinos," shows a January 7 sea view of the snow-shrouded island, likely filmed from a passing ferry.
Rafael Apergis posted this clip of scenery near Keria and Derafia on January 7
Another video by Rafael Apergis, this January 9 clip shows scenes from Pentostrato and Koumaros
A January 9 videoclip by Giannis Doukas of Tinos mountain scenery viewed from a moving motor vehicle
This video by Rafael Apergis is over 24 minutes long and was shot during a drive around Tinos Town
Another driveabout video by Rafael Apergis, this time showing areas of Tinos that received substantial snowfalls
This YouTube upload by Rafael Apergis is a compilation of photos shot at a wide variety of locations on Tinos.
 Tinos, as seen from Syros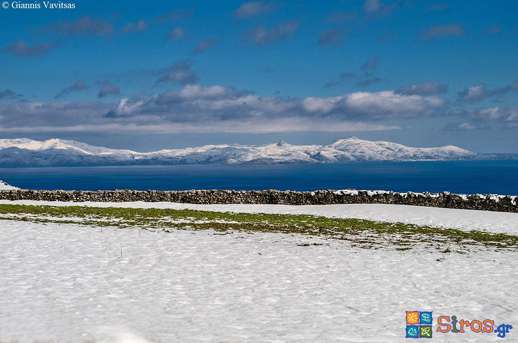 The Siros.gr Facebook page published this image of Tinos, shot by Giannis Vavitsas on Syros. Click on the picture to enlarge the image.
 Tinos, as seen from Mykonos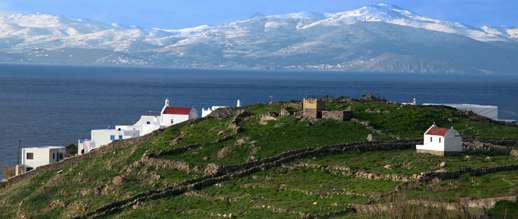 Achim Eckhardt captured this striking view of Tinos from a verdant hillside on Mykonos. Below are several more beautiful photos by Achim, all of which originally appeared on his Postcard ME Mykonos-Greece Facebook page. You can view enlarged versions of Achim's photos simply by clicking on each one.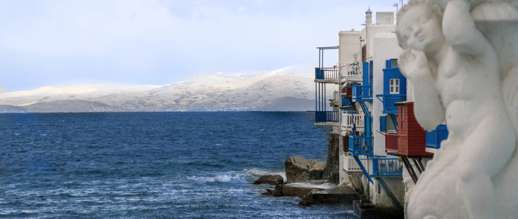 Achim Eckhardt photo showing a view of Tinos from the Little Venice seafront of  Mykonos Town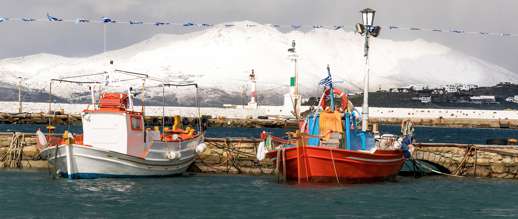 Snow-white mountains on Tinos provide a dramatic backdrop to this Achim Eckhardt photo of fishing boats in the harbour at Mykonos Town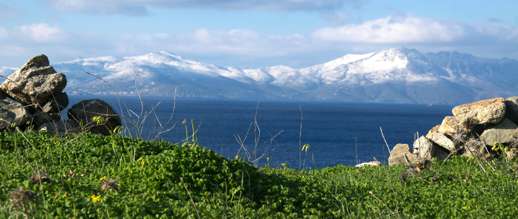 Another view of Tinos that Achim captured from a Mykonos hillside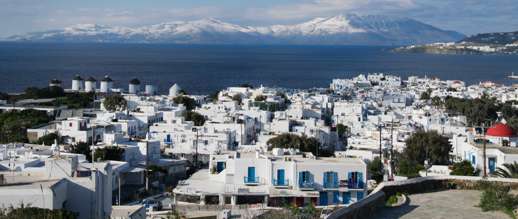 Achim shot this pic of Tinos from a hill above Mykonos Town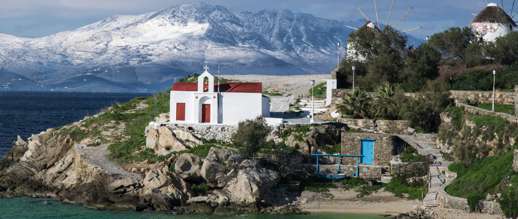 Tinos mountains loom large in this wonderful photo Achim shot from Mykonos Town. In the foreground is the red-domed Agios Charalampos chapel, and at right are two of the iconic windmills that stand on a hill near Little Venice.
Mykonos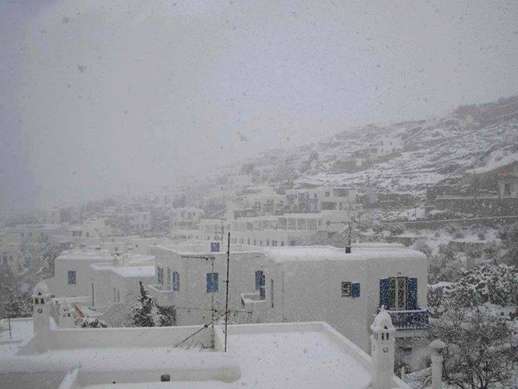 This Facebook photo by Margarita Tsakiridi shows snow falling on hillside houses in Mykonos Town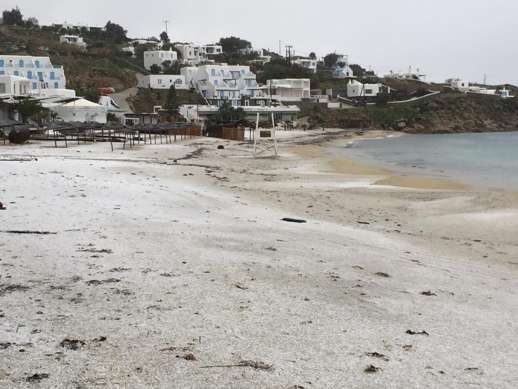 The golden sand of Platis Gialos beach is powdered with snow in this photo posted to the Acrogiali Hotel Facebook page on January 6
 Milos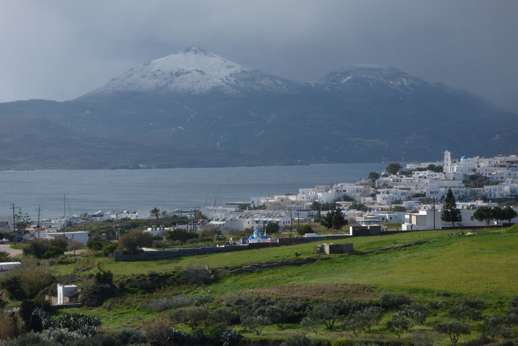 Mountain peaks on western Milos were capped with snow on January 7, while the hills behind the port town of Adamas remained a vibrant green. This photo is from the Sea Kayak Milos Facebook page. Click the picture to enlarge the image.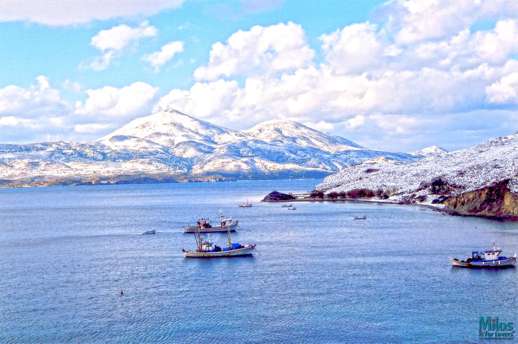 Another image of snow on mountains and hillsides surrounding the Bay of Milos. This photo is by Andreas Belivanakis, operator of the Milos travel and information portal milos-island.com
Santorini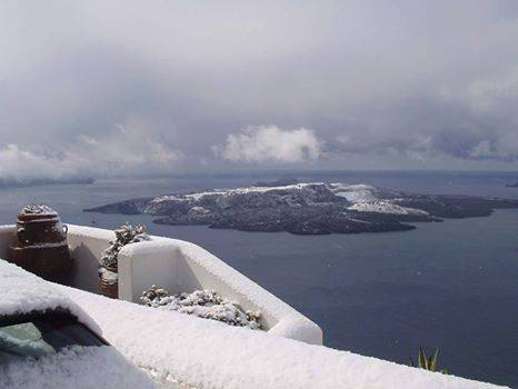 Light snow fell on Santorini and the nearby volcano islet of Nea Kameni. This photo, from the Blue Dolphins Apartments & Suites Facebook page, shows a view of Nea Kameni from Firostefani village on Santorini.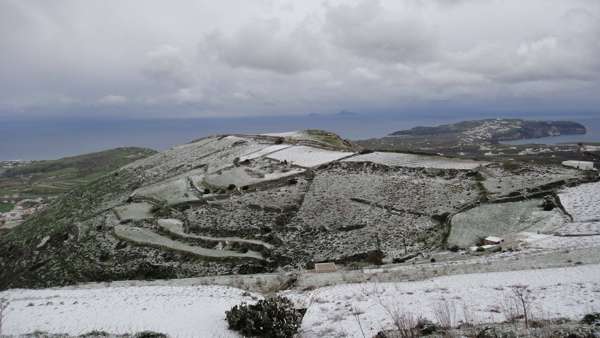 An Γιάννα Κυλιακούδη Facebook image of snow-powdered hills on Santorini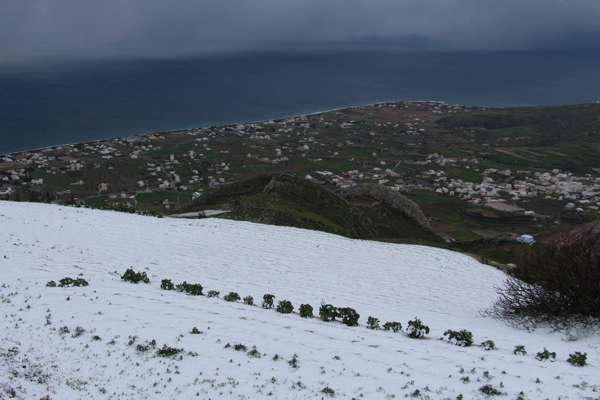 This Facebook photo by Γιάννα Κυλιακούδη shows a snow-covered hill above a vibrantly green eastern part of Santorini that appears untouched by the storm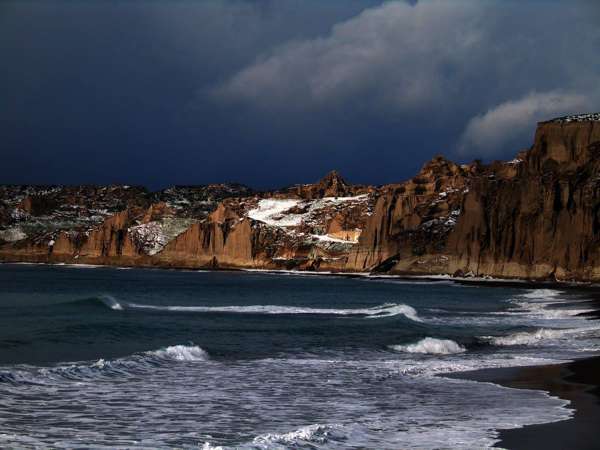 Γιάννα Κυλιακούδη captured this dramatic view of snow atop cliffs on the rugged Santorini coastline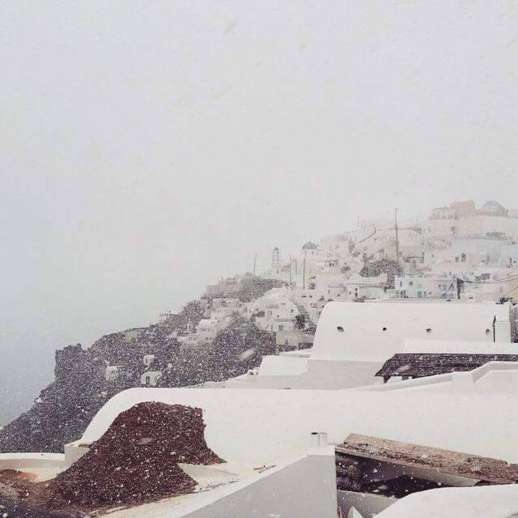 This Anna Tsoucalas photo of the January 6 flurries on Santorini was widely shared on Facebook.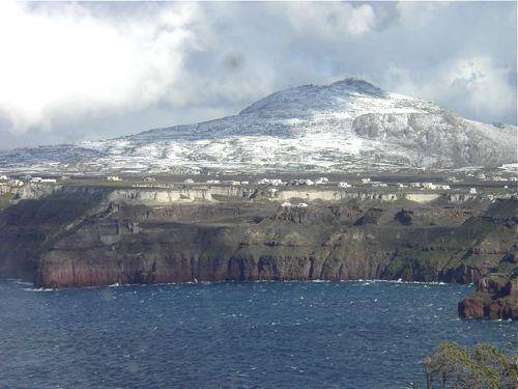 Snow blankets a mountainside above the world-famous caldera cliffs on Santorini. Caldera Yachting Santorini posted this to its Facebook page on January 8.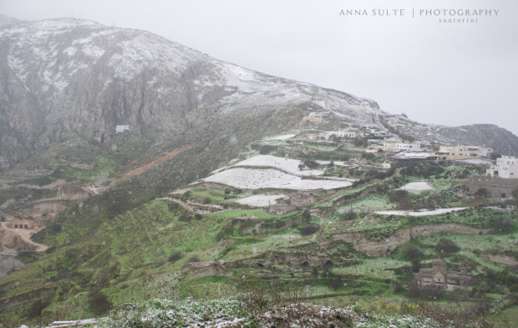 Santorini photographer Anna Sulte posted this image of Mt Profitis Ilias to an online album entitled "Snow in Santorini."  You can view the snowfall pics and more of her island photos on the Anna Sulte Photography Santorini Facebook page.
This YouTube upload by Artemia Argirou includes photos and video of snow falling on Santorini on January 6
 Paros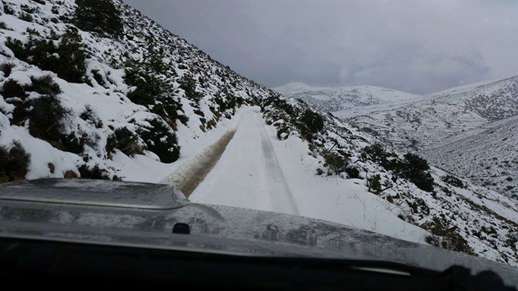 A Paros snow scene from the ΠΑΡΟΣ like Facebook page. The location was not identified in the post.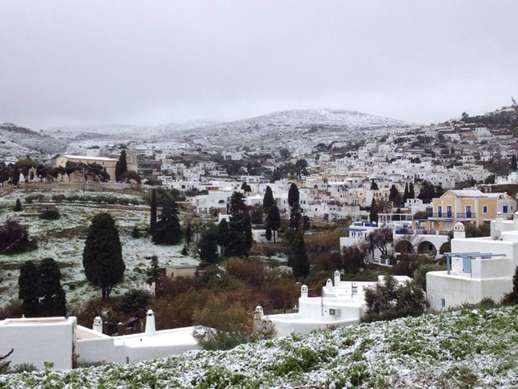 Lefkes village is seen after a light snowfall in this Facebook photo posted by Awake Paros Watersports & Outdoor Activities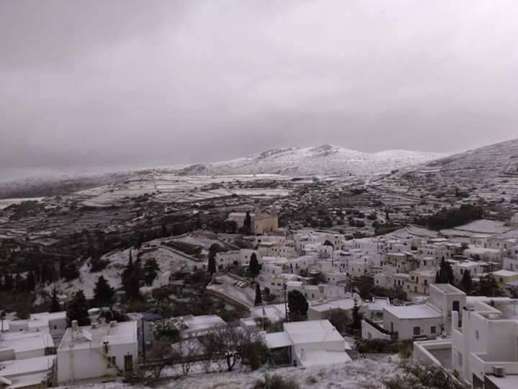 Another Facebook image of snow at Lefkes village. Some posts credited the picture to photographer Konstantina Sarri.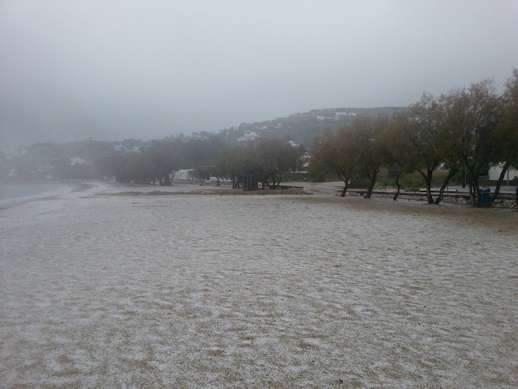 A Daniel Sarris Facebook photo of snow on Livadia beach at Parikia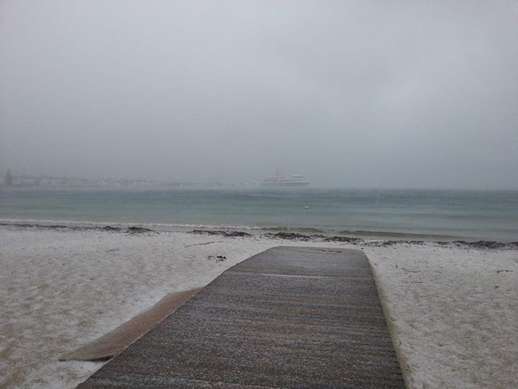 Another Daniel Sarris photo of snow-dusted Livadia beach, looking across the bay toward a Blue Star ferry docked at the port in Parikia.
Another photo from the ΠΑΡΟΣ like Facebook page. This one, showing a snowy path beside a white chapel, was posted on January 8.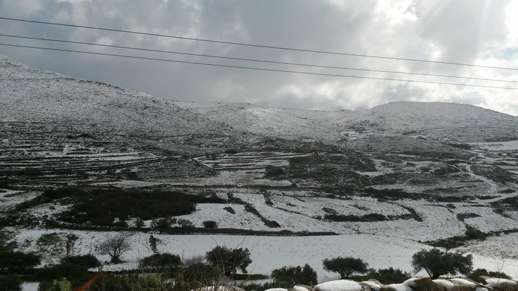 Stormclouds pass above snowy hills on Paros. Meltemi Cafe Paros posted this photo to its Facebook page on January 7.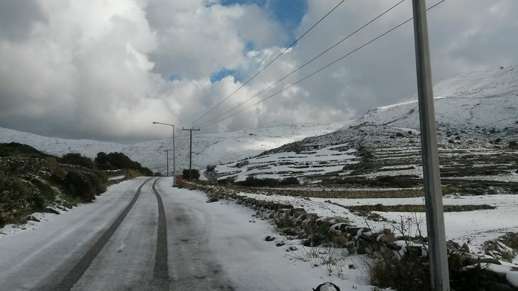 Another Meltemi Cafe Paros Facebook photo from January 7
Paros, viewed from Naxos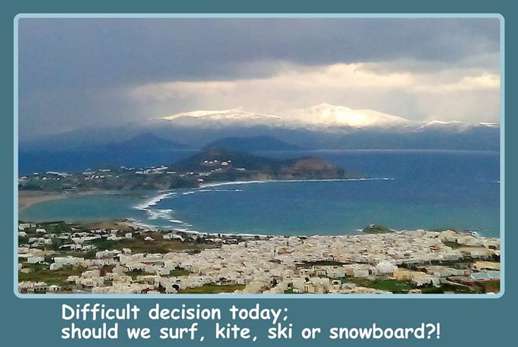 Flisvos Sportclub Naxos demonstrated a good sense of humour with this Facebook post on January 7.  The picture shows Naxos Town and St George's Bay in the foreground, while sunshines illuminates snow-topped mountains on Paros in the distance.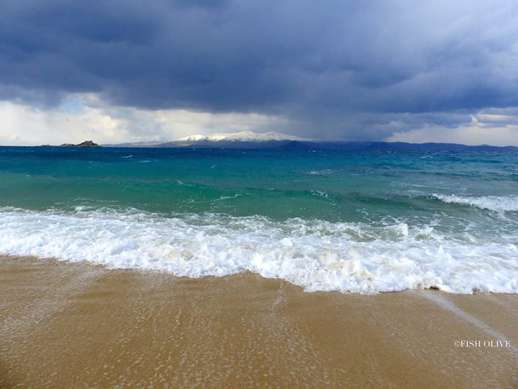 Looking toward snow-covered mountains on Paros from a beach on Naxos. This image was posted January 7 by Facebook member Fish Olive
Syros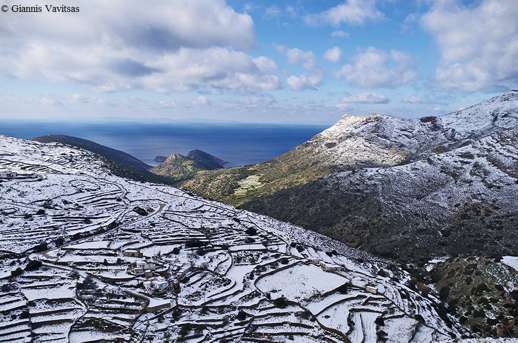 This is just one of more than 40 absolutely breathtaking images that photographer Giannis Vavitsas captured following the snowfall on Syros. Click on the link to view the images; the photos of snow scenes start with the 7th photo in the series. The spectacular shots were published on the siros.gr news and information website.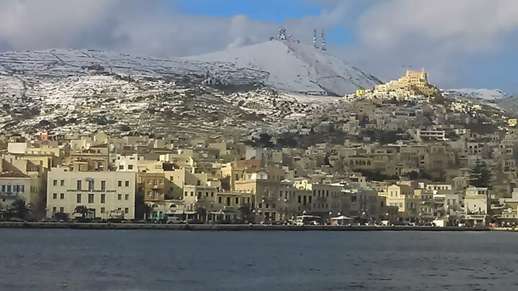 This sea view of snow-tipped mountains behind the city of Ermoupoli was circulated on Facebook, and credited to photographer Anton. Leibadara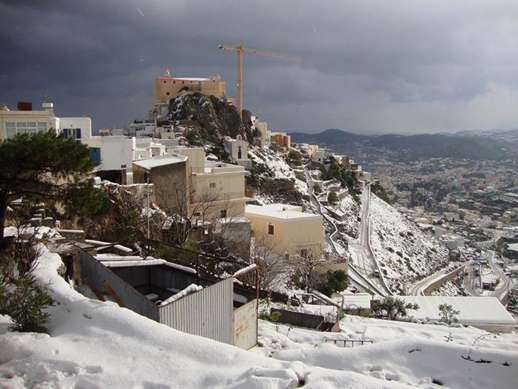 George Basalo posted this photo of Ano Syros, the historic hilltop village above Ermoupoli.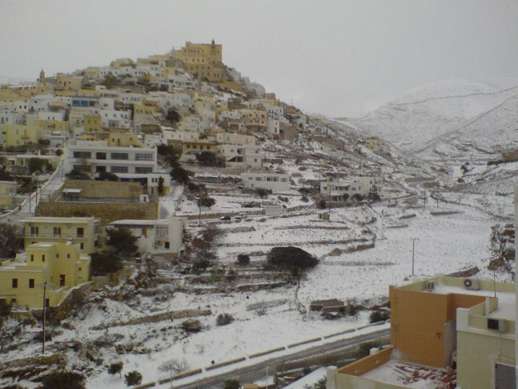 This photo of Ano Syros appeared on the cyclades24.gr news and events website.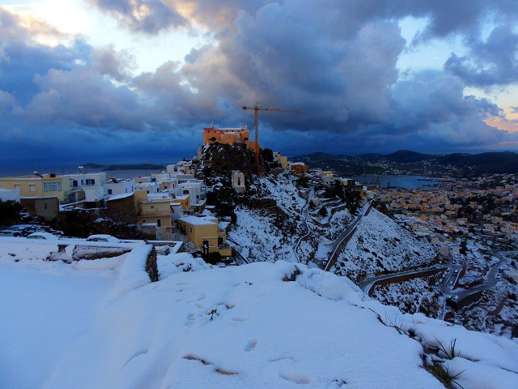 This photo of stormclouds soaring above Ano Syros was shot by Mary Karavas, and was circulated extensively on social media
Another Mary Karavas photo of snow at Ano Syros.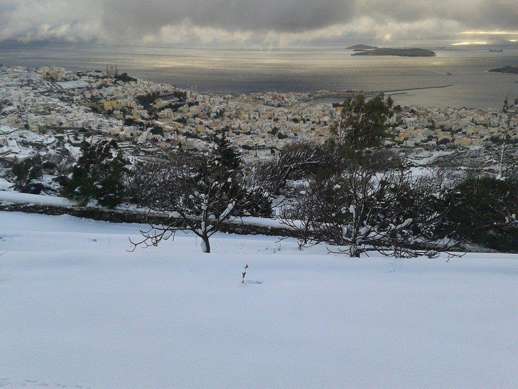 This photo of Ermoupoli was shared on a number of Facebook pages which credited Anna Rabioloy as the photographer.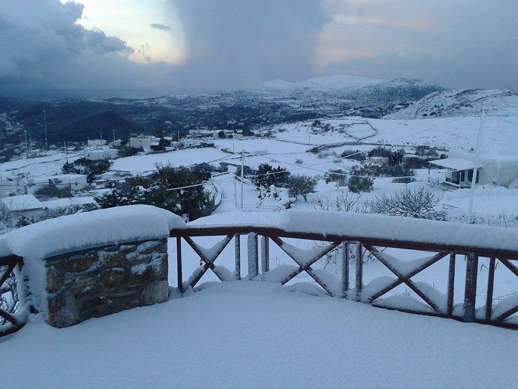 Another Syros snowfall photo attributed to Anna Rabioloy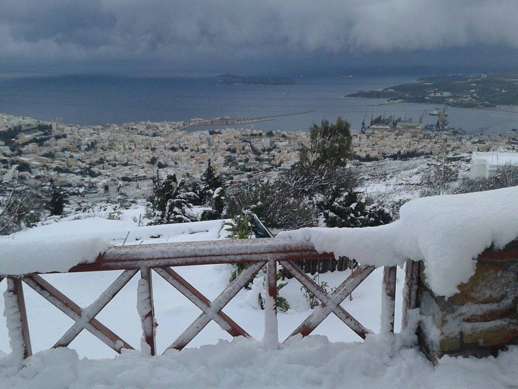 Another Anna Rabioloy picture of Ermoupoli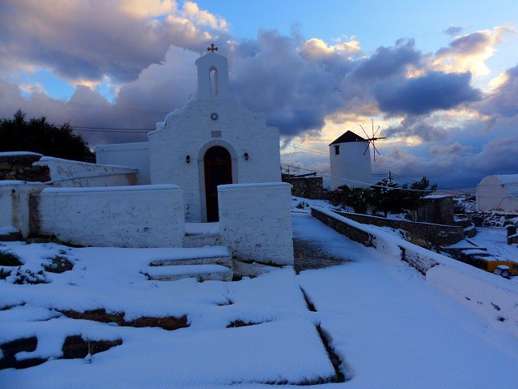 This after-the-storm photo of a chapel and windmill on Syros was one of 15 images by Mary Karavas that were posted in a January 7 photo feature entitled "Icy magic: Pictures of Syros & Crete dressed in white," on the pathfinder.gr news and information website.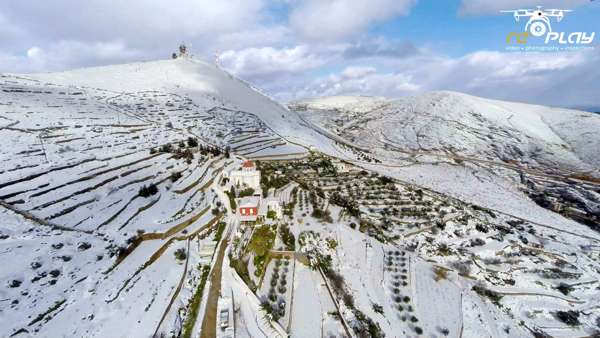 This is one of three amazing aerial photos of Alithini that RePlay Media posted to its Facebook page on January 8. You can see it and the other two pics in full-size on RePlay Media's album, Snowhite 2015.
This 7-minute videoclip by Vimeo member koinignomi shows snow at various areas on Syros on January 7. Click the arrow to start the film, sit back and enjoy a drive around Syros to see the winter scenery!
 Naxos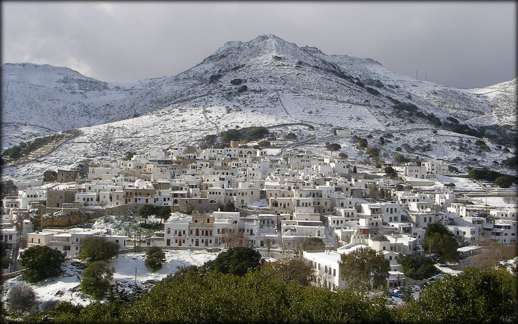 Νικόλας Γιακουμής captured this beautiful view of Apeiranthos when sunshine broke through clouds above the village following the snowstorm. Click on the picture to enlarge the image.
Another Apeiranthos photo by Νικόλας Γιακουμή. Click on it to view a larger image.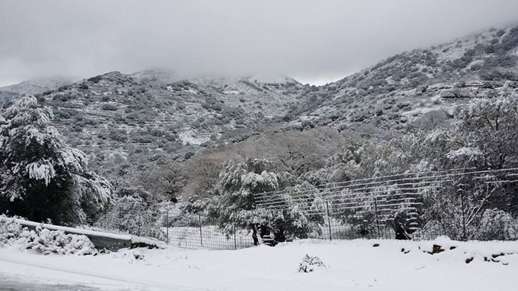 Snow-powdered mountain slopes between Filoti and Apeiranthos are seen in this Facebook photo posted by Galaxy Hotel Naxos.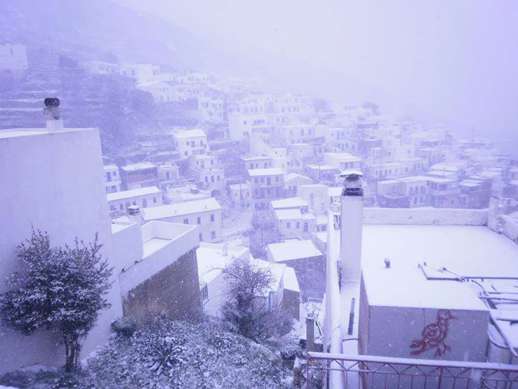 Snow falls on the mountain village of Koronos in this photo posted to Facebook by Labrini Paulopoulou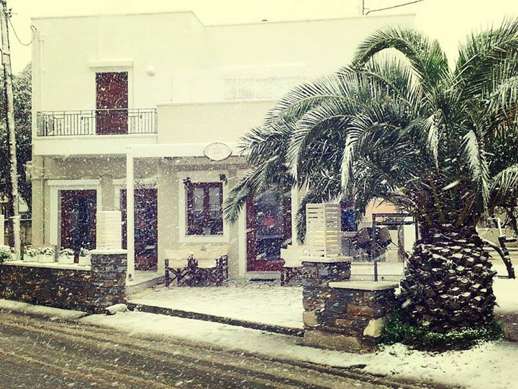 Snow begins to collect on the patio and a palm tree at Halki Cafe in Chalki village. The cafe posted this picture to its Facebook page on January 6.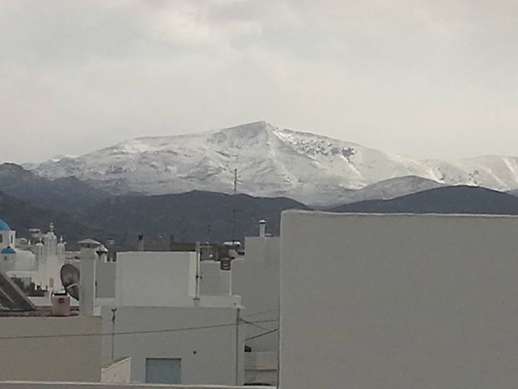 Mount Zas is seen in this photo posted to Facebook by Makis Karagiannis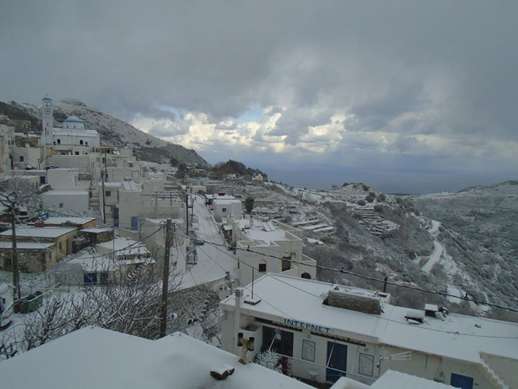 Snowclouds pass above a Naxos mountain village, possibly Koronida, in this Facebook photo by Giorgos Komiaki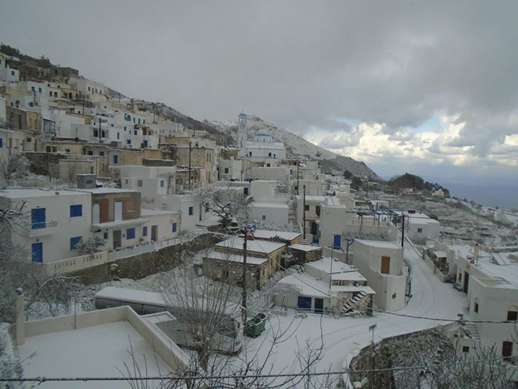 Another Giorgos Komiaki Facebook photo of Koronida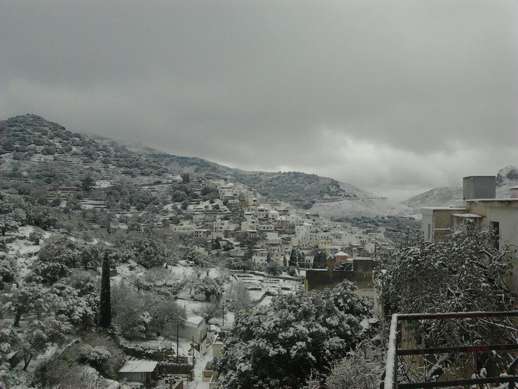 Thick grey stormclouds sweep above scenic Filoti mountain village in this Facebook photo by Billys Tsafos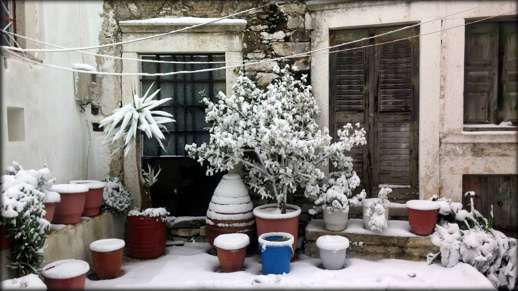 A Νικόλας Γιακουμής photo of snow-shrouded plants and pots in Apeiranthos 
A Νικόλας Γιακουμής image of a rustic old building in Apeiranthos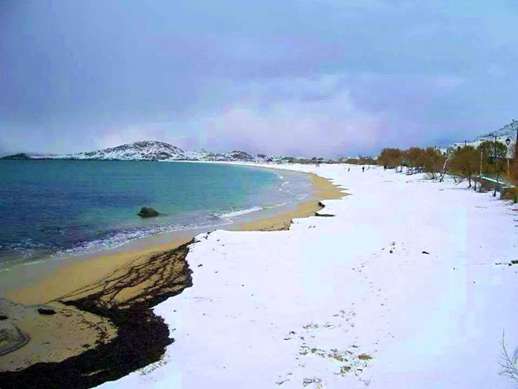 Snow blankets Agios Prokopios beach in a photo that was posted on numerous Facebook pages, including one for Vaporias Bar-Cafe as well as the community group page called Agios Prokopios – Agia Anna – Plaka The best beaches of Greece Naxos island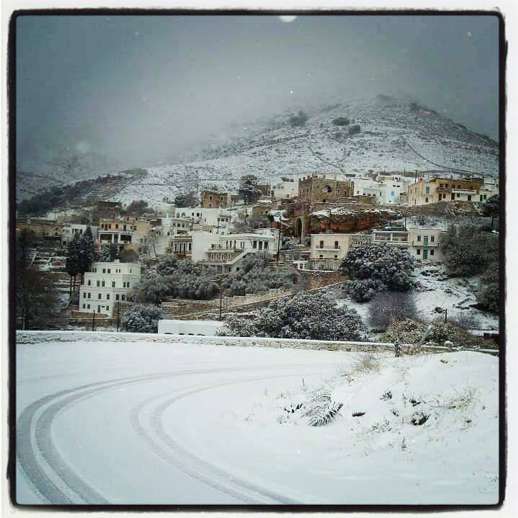 A beautiful view of Apeiranthos in a Facebook photo posted by Πολιτιστικός Σύλλογος Τα Φανάρια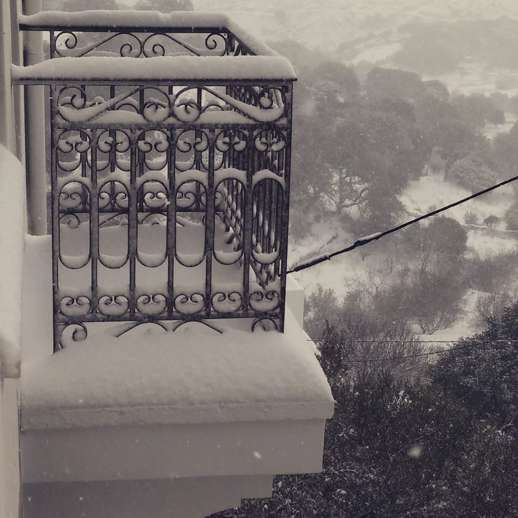 A Νικόλας Γιακουμής photo of a snow-laden balcony in Apeiranthos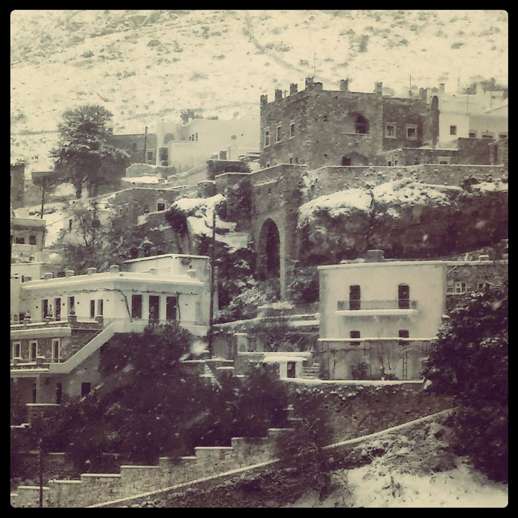 Another Apeiranthos photo posted to Facebook by Νικόλας Γιακουμής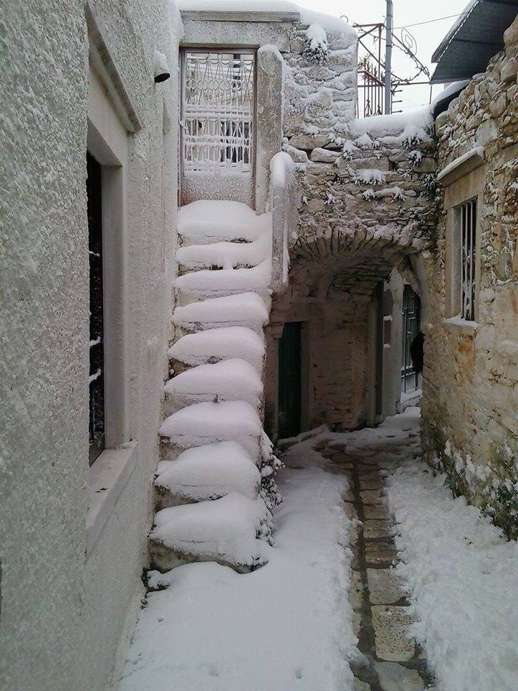 Πολιτιστικός Σύλλογος Τα Φανάρια captured this view of snow in an alley in Apeiranthos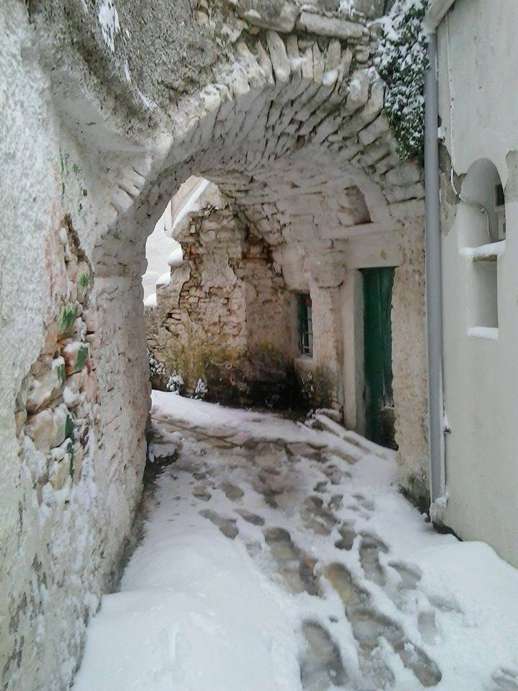 Another Apeiranthos alley photographed by Πολιτιστικός Σύλλογος Τα Φανάρια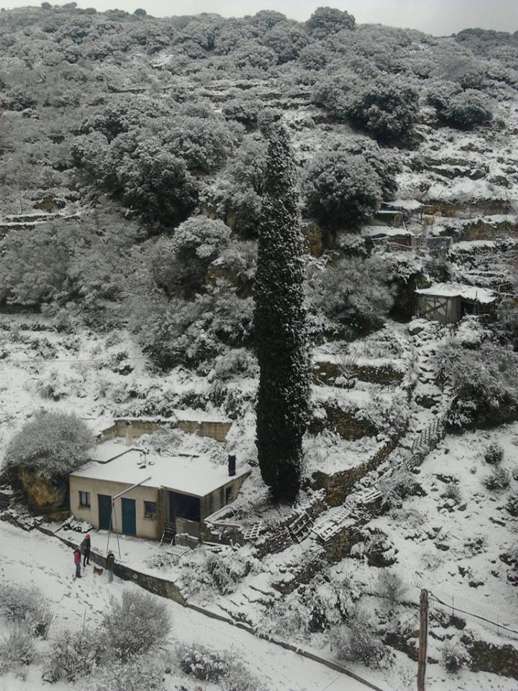 A Billys Tsafos Facebook image of a hillside in Filoti village
Nikos Soiles posted this Facebook photo of a snow-covered street in Apeiranthos
This lovely evening photo of Apeiranthos, shot by Andreas Farkonas, was shared extensively on social media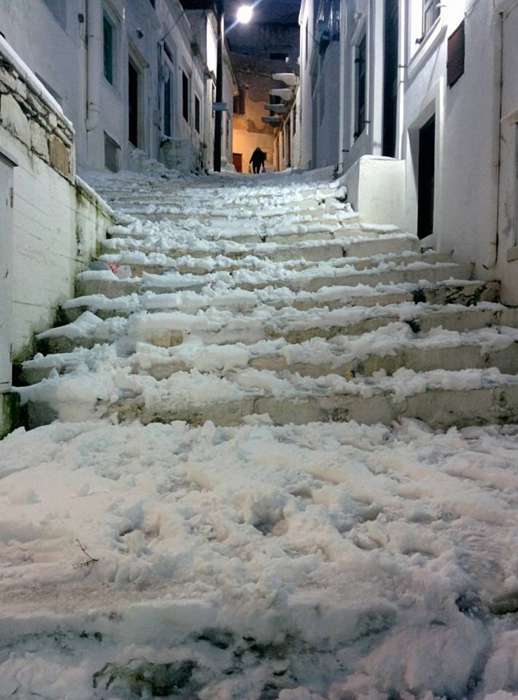 Another Andreas Forkonas photo of snow at Apeiranthos. It and several more photos were published in a January 7 weather report on the Naxos News website.
This video by Galaxy Hotel shows scenery during a January 6 drive between the villages of Halki and Moni
YouTube member saxo11ful posted this clip on January 6. It captures snowy hillsides and other scenery passed during a drive to Moni.
This clip by YouTube member Πόπη Αλιμπέρτη was filmed during a January 6 drive through Filoti village
 Naxos, viewed from Amorgos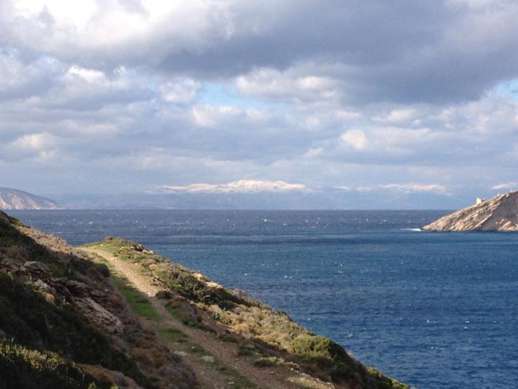 Looking toward snow-capped Naxos mountains from Katapola Bay on Amorgos. This was one of several images posted to the Velanidia Foundation for Amorgos community Facebook page on January 8
  Sifnos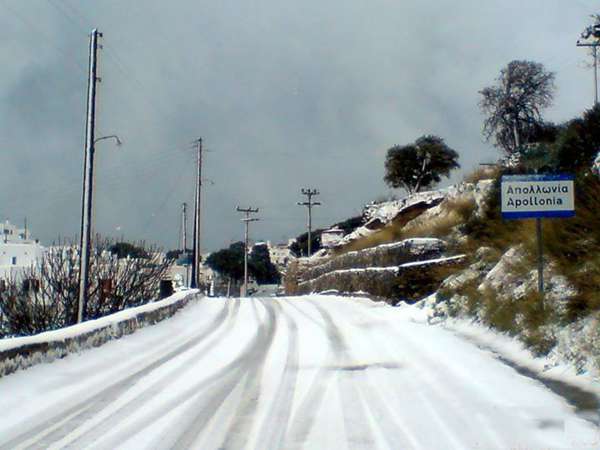 Nikolas Farianos posted this view of snow on the road into Apollonia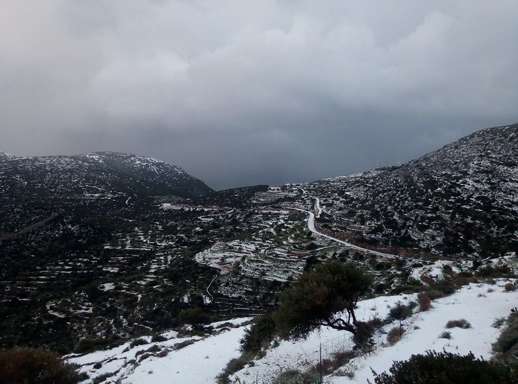 Snow-dusted Sifnos mountains seen in an image by Kalliopi Athimariti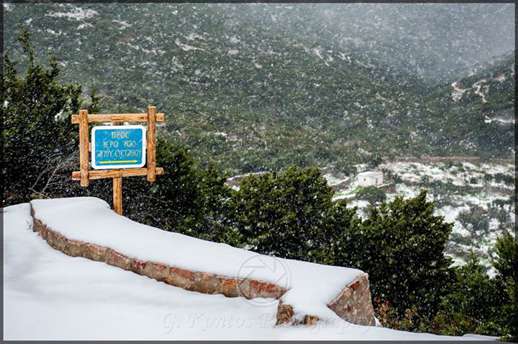 Giannos Kontos posted this shot of snowflurries above a valley on Sifnos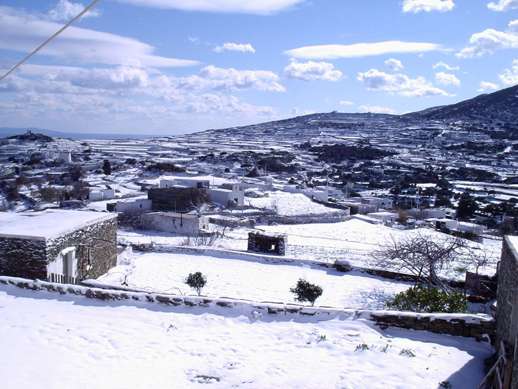 Sunshine brightens a snowy Sifnos landscape in this photo posted to Facebook by Nikolas Farianos