This video showing a Skiathos Town street flooded by yesterday's thunderstorm was posted on YouTube by the tsak Bpam crêperie. It reminded me of television newsclips reporting on flooding from monsoons in southeast Asia. This wasn't a scene I would expect to see on a Greek island in June!
Stormy interlude: I keep a small travel-size umbrella in my luggage just in case we encounter some rainy weather while travelling in Greece, and we have had to use it a few times. If we manage to schedule a trip to Skiathos in the near future, news about some wild weather on the island yesterday may make me consider packing some rubber boots, too.
Only two weeks ago, in my June 4 post Greek islands take spring weather woes in stride, I reported about thunderstorms that brought several days of heavy rain and strong wind to many parts of Greece at the beginning of this month.
This past Sunday afternoon, Skiathos got thoroughly drenched by a sudden deluge that dumped over an inch of rain on parts of the island in less than an hour.
Torrential rain, power cuts and street flooding reported
News about the latest bout of bad weather broke on the TripAdvisor.com Skiathos forum where SkiathosLover1, a TripAdvisor destination expert for the island, started a conversation thread entitled "Violent Storms … affecting the island this afternoon," and described "torrential rain," thunder and lightning, power dips, and "reports of flooding in Papadamatis street." SkiathosLover1 also included a link to the YouTube video which I posted above.
Numerous people quickly posted replies expressing concern and hopes that all residents and visitors to the island were safe and minimally affected by the tempest.
This morning TA member ShaunWin chided them for "getting so worked up about yesterday's storm." It lasted only an hour and "was fun to watch," he wrote, but "that was it. It's glorious again today, with not a cloud in the sky."
"If you've got friends or fans out here and are worrying about them: Don't! They'll be on the beach or on the beers today and not worrying about you!!" ShaunWin observed.
However, while the storm may have been fun for some to watch, SkiathosLover1 pointed out that it did cause considerable damage bringing down trees, and did frighten passengers returning to the island on tour boats.
A description of the storm's highlights can be read a June 15 post on The Skiathan blog.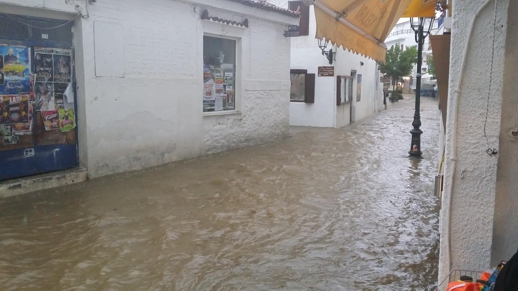 Nikos Paschalis  posted this photo on Facebook, showing stormwater rushing down Papadamatis street in Skiathos Town during the late afternoon downpour.