Nearly one-quarter of the passengers were Greeks, including the two men in the seats next to me. Many of the Greek travellers were elderly, heading home after spending the winter in Canada with relatives. Appropriately enough, one of the in-flight movies was the 2008 hit musical Mamma Mia!, which was filmed in Greece on the Sporadic islands of Skiathos and Skopelos. Apart from some finger- and foot-tapping during Mamma Mia!, our flight was calm and quiet until we experienced several short episodes of turbulence while flying above Europe.  We landed at Eleftherios Venizelos, the Athens International Airport, about 15 minutes early, at 07:15.
Approaching the terminal at Eleftherios Venezelos, the Athens International Airport
 Monday May 14: Arrival in Athens
I reached the customs hall by 07:40 and was pleased to see the area has at long last been organized with a bank-style corral that directs travellers to the next available customs agent. On every previous trip, we arrived to a hall was jam-packed with jumbled, disorganized and very long lines, and me inevitably stuck in the one that moved the slowest. The single line moved rapidly this time, in sharp contrast to previous years; the customs agents smiled, unlike previous years; and I reached the luggage carousel slightly more than 10 minutes later, in contrast to the 45 to 70 minutes it had taken to clear customs before (it helped that ours was the only flight arriving at the time; in previous years, a Thai Airlines 747 arrived at the same time, but I heard those flights have been cancelled this summer).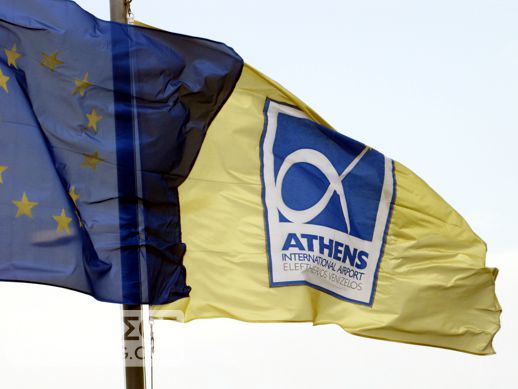 A flag flaps in the breeze outside the terminal at Athens International Airport
Just a few minutes past 08:00, my bag was checked for my Aegean Airlines flight to Mykonos and I had more than 3 hours to kill in the airport before my 11:30 departure. That gave me plenty of time to have breakfast, browse the shops, and take a few walks outside before going to the departure lounge. I had read somewhere that one of the best ways to combat jet lag is to spend time in bright sunshine as soon as possible after getting off a plane, so I made sure I left the terminal a few times to take short walks and sit in the sun. It really seemed to work. Although I was tired, I didn't feel the dull headache and exhaustion I usually suffer after an overnight transAtlantic flight.
Something that really struck me was how dead the airport looked and felt. When we landed and while our plane was approaching the terminal, I saw only a few other aircraft. Inside the terminal, there weren't many people in the baggage claim area besides the passengers from my flight, and the arrival and departure halls were almost vacant. The shop and restaurant section of the terminal also was fairly empty; only two cafés and the newsstand were busy. Since I couldn't recall ever seeing the airport so quiet in the past (and all of my previous flights to Athens had arrived at approximately the same time), I assumed the lack of traffic was due to what the Greeks call the ongoing economic "crisis."
Eventually it came time to make my way to the gate for my flight to Mykonos. The airport security check was bizarre. An agent considered my Canon SX40 to be highly suspicious, so he sent the camera through the X-ray machine at least three separate times. He also made me turn it on and off repeatedly, remove the lens cap and put it back on several times, as well as repeatedly open the flippable LCD. Then he intently scoured and touched nearly every square centimeter of the camera with his latex-gloved hands before declaring it was OK for me to take it back. Strange!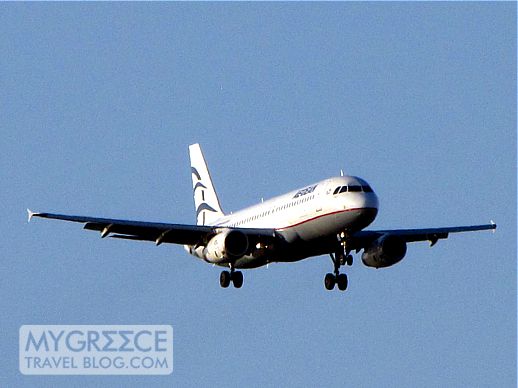 An Aegean Airlines Airbus A319 jet flew me to Mykonos
Arrival at Mykonos
 The Aegean flight left Athens more than 15 minutes behind schedule around 11:45. About one-third of the seats were empty, while at least half of those that were occupied were carrying tourists from Canada and the USA. The flight took 20 minutes — just enough time for a hasty beverage service — and flew low over Rinia and Delos islands as the pilots circled to land at Mykonos Airport. I got an amazing aerial view of the Delos archaeological ruins which, from above, look even more extensive than they appear when you're viewing them from the top of Mt. Kynthos on the island itself. I also got great views of Elia and Super Paradise beaches on Mykonos as the plane descended to the runway. I was surprised to see that there were no private jets at the airport. In past years, there have been as many as a dozen private planes parked on the tarmac when we arrived. That — plus the number of empty seats on my flight — seemed to be yet another indication that tourist numbers could be down because of the crisis. Mykonos is usually one of the most popular destinations in Greece, so it was unsettling to see that it might not be busy this trip.
Once off the plane and in the terminal, I had a very long wait for my luggage. In fact, it took almost as long for my suitcase to appear on the conveyor belt as it had taken us to fly from Athens! Relieved that my luggage had not been lost, I headed for the exit, anxious to start enjoying my holiday.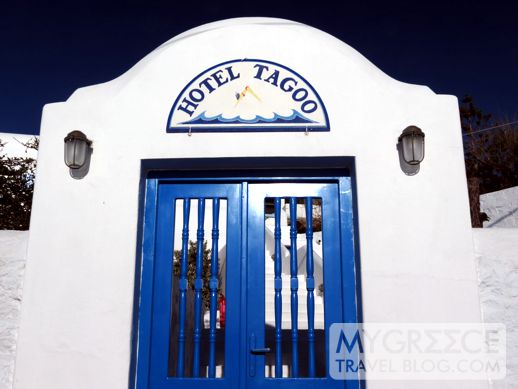 The lower-level entrance gate to Hotel Tagoo
I walked out of the terminal into brilliant, warm sunshine and spotted a familiar face: Yiannis from Hotel Tagoo, who was standing amongst a group of hotel shuttle bus drivers, tour reps and taxi drivers waiting outside the exit. Yiannis's father owns Hotel Tagoo, which he built more than 25 years ago, and which happens to be the hotel where I have stayed on my three previous Mykonos holidays. Of course, that's where I was staying again this trip. Yiannis's wife, Anna, manages the hotel, while Yiannis does chauffeur duty several times a day, picking up guests who arrive at the Mykonos airport or one of the two ferry ports, and driving those  leaving the hotel to their island departure point.
Yiannis and I had to wait several minutes for one more passenger — a fellow from France whose luggage was taking even longer to arrive than mine — before we left on our 7-minute ride to the hotel. There, I got a warm welcome from Anna, who feels like a friend I've known for ages even though our acquaintance has been only several short hotel stays. Anna told me she would be holding a welcome meeting for newly-arrived guests that evening, so I promised to attend that and headed to my room (#7) to change out of my travel clothes and freshen up.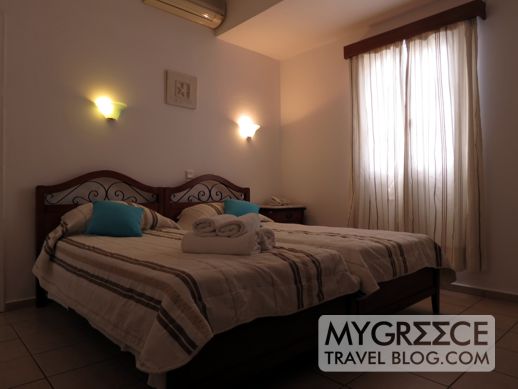 The interior of room number 7 at Hotel Tagoo, my comfortable and quiet home away from home for the next 8 days …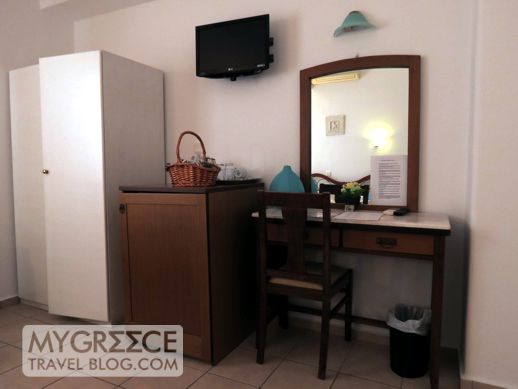 … was furnished with a storage closet (it had a safe and beach towels inside), a mini refrigerator, kettle and cups with saucers, desk and TV …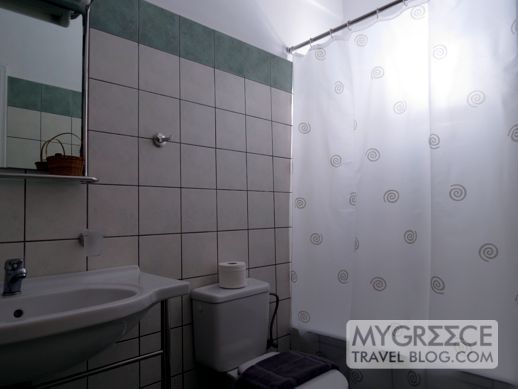 … while my sparkling-clean bathroom had a shower and a small bathtub
A few minutes later I left the hotel to take a long stroll in the sun see what was new in Mykonos Town, the main commercial and tourist hub of the island, a 15-minute walk away. (Hotel Tagoo is situated in what's called the Tagoo area of Mykonos — basically a hillside "suburb" between the town and the island's Tourlos area, where the new port is located. Also known as the Mykonos "golden coast," Tagoo has spectacular sea, island and sunset views, and is home to a number of villas and houses as well as more than a dozen different hotels, including the budget friendly Hotel Tagoo and the exclusive high-end luxury property, Cavo Tagoo.)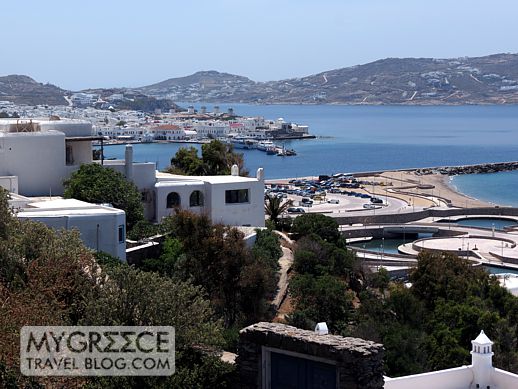 From this spot along a road in the Tagoo area I could see the landmark windmills of Mykonos Town (near upper center of photo) as well as the new marina and parking area next to the Mykonos Old Port (center right)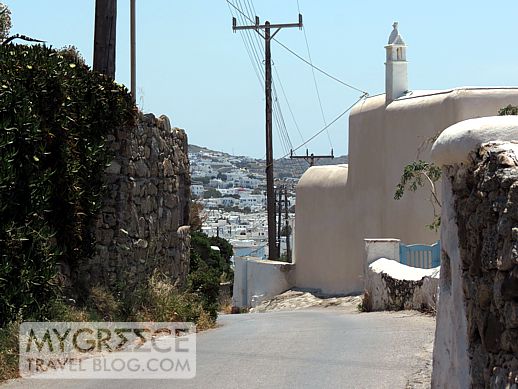 Approaching Mykonos Town on the road from Tagoo. It's less than a 15-minute walk from Hotel Tagoo to Mykonos Town. Going there is an easy and mostly downhill stroll, but walking back takes a little longer because of the gradual incline the first 300 meters.
Mykonos Town was astonishingly quiet — much quieter than I have ever seen it on a May afternoon. The streets were practically  empty, with only a few people walking along the waterfront promenade and through Taxi Square (Manto Square), two main thoroughfares which normally are abuzz with pedestrian traffic.  There were barely any people even at the scenic Little Venice area, which is one of the top tourist draws on the island; in fact, only a handful of tables at the seaside cocktail bars were occupied. I noticed that many shops, hotels and restaurants had not yet opened for the season, including Babulas Taverna near Agia Anna beach at the harbour. This was the first time Babulas had not been open during one of my Mykonos visits. (Tourists love to pose for photos next to the bright red fishing boat parked on the seashore beside the taverna's colourful outdoor terrace — especially when the kitchen staff hang octopus from the boat's masts to dry in the sun.) The residential streets of Town were even quieter; I wandered along many of the narrow stair-filled lanes without seeing another soul.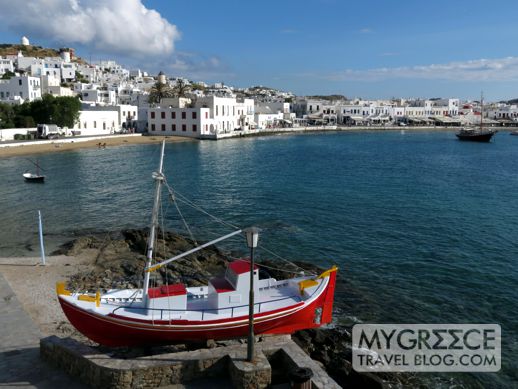 I was shocked that Babulas taverna had not yet opened. The taverna usually sets up rows of chairs and tables with bright blue and white checked tablecloths on the rocky shore behind its trademark red and white fishing boat.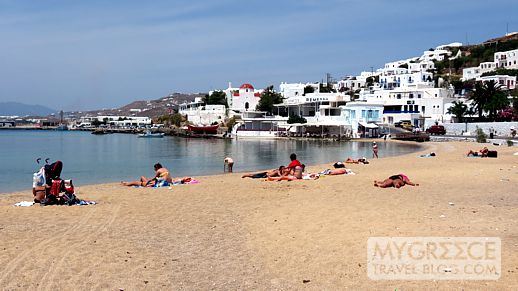 Sunbathers relax on little Agia Anna beach at the Mykonos Town harbourfront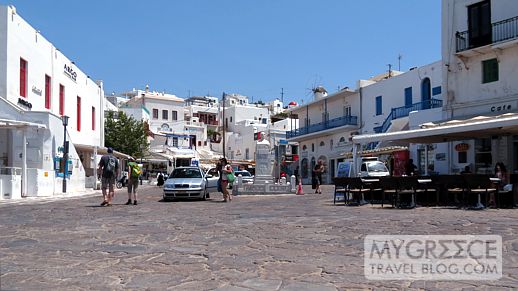 Taxi Square (Manto Square) is usually teeming with people (and taxis), but on this sunny afternoon it was surprisingly sedate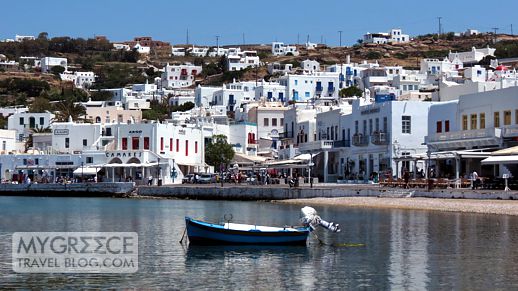 The harbourfront area, which is lined with tavernas, also was exceptionally quiet. Each taverna had only a handful of customers.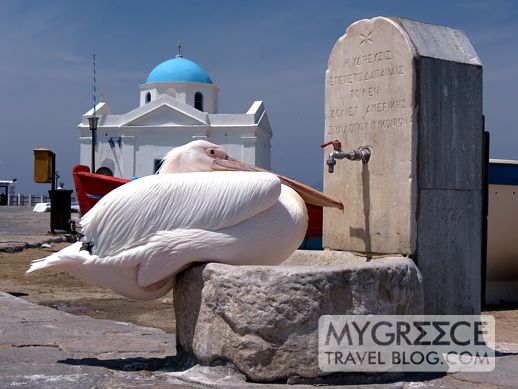 One of the island's popular pelicans rests on a water fountain next to the harbour.  The big-beaked birds usually draw crowds of camera-toting tourists, but this afternoon only a few people — including the woman in the videoclip below — paid this one any attention.
<>
<>
By late afternoon I had worked up a strong appetite, so I stopped into Fato a mano for an early dinner (I had not eaten since having a light breakfast and coffee at the Athens airport). Fato a mano has been one of the most popular restaurants in Mykonos Town since it opened eight years ago, but this was my first time dining there.  One of the restaurant's lunch specials, advertised on a chalkboard out front, offered Greek salad, a choice of moussaka or fried calamari, and a glass of wine, for €12. I took a seat on the shaded terrace and ordered the calamari. The large salad was big enough to feed two people,  and so was the serving of calamari. But I was starving, and  polished off everything on my plates. The food was delicious, and the friendly, attentive service was excellent, too.  I had a long chat with the  staff both during my dinner and while relaxing afterwards with the complimentary plate of fruit and shot of brandy they offered me.
After leaving Fato a mano, I walked over to the Fabrica bus depot to check the bus schedules, and passed by the harbour to check ticket prices and boat times for the excursions to Delos. On my way back to the hotel, I stopped at a minimarket near the harbour to buy bottled water (a 6-pack of 1.5-liter bottles cost only €2), then checked the schedule for the Ano Mera, Elia and Kalafatis buses that depart from the road near the Remezzo nightclub.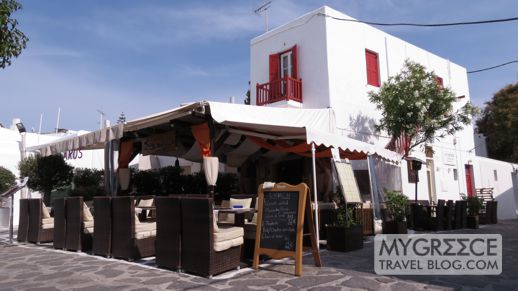 Fato a Mano has been a popular Mykonos dining spot for 8 years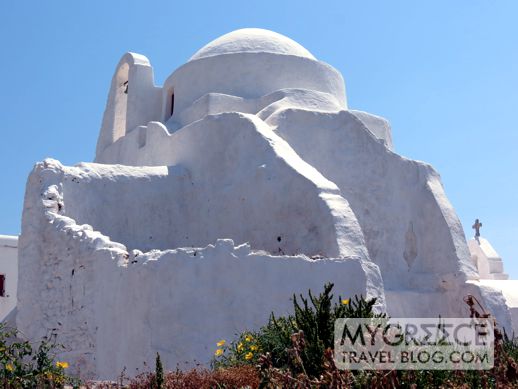 Paraportiani church near Little Venice is one of my favourite buildings in Greece. I love its funky yet traditional Cycladic architecture and design.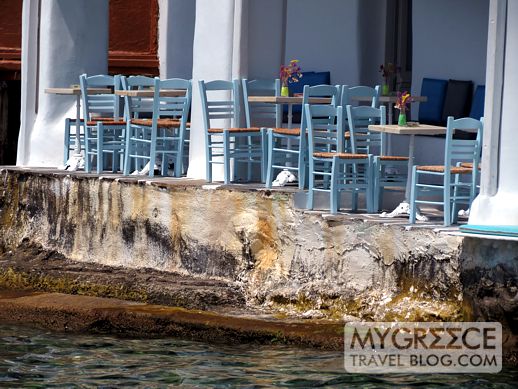 These prime seaside seats at Veranda Bar in Little Venice were vacant, as were most of the tables at the scenic tourist area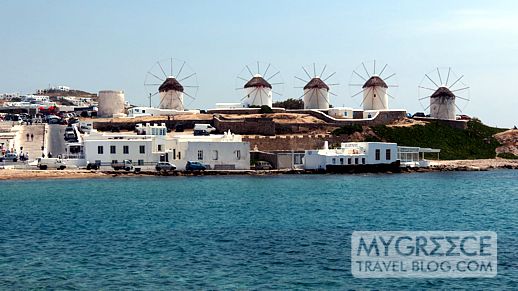 The six windmills on the hillside near Little Venice are a symbol of the island, and one of the top tourist attractions on Mykonos. There once were more than 10 windmills on the hill.
 Above is a brief video showing the windmills and Little Venice seashore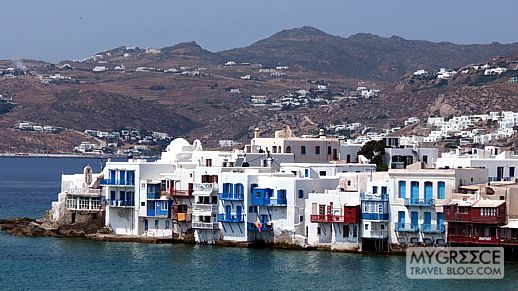 A view of Little Venice from the top of the hill where the windmills are situated
Above is a brief videoclip showing the seaside Little Venice area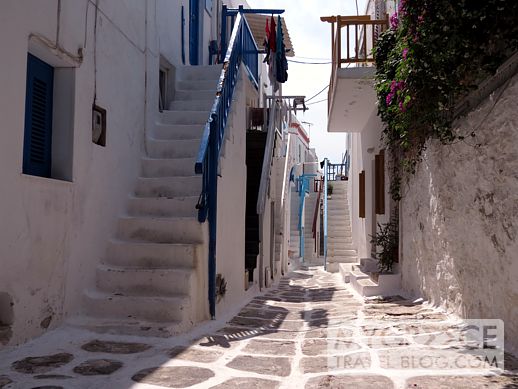 A quiet residential street in the heart of Mykonos Town. Stairways with bold blue or red handrails are a distinctive feature in the town's narrow lanes.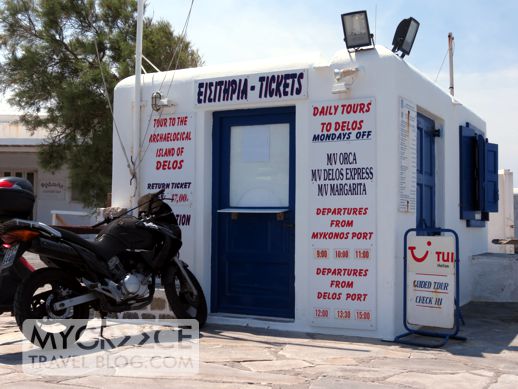 Tickets for excursions to Delos island are sold at this booth at the harbour, as well as various travel agencies in Mykonos Town. The boats depart every day except Monday at 09:00, 10:00 and 11:00, and return from Delos at 12:00, 13:30 and 15:00. The 2012 price for a return ride is €17; there is an additional €5 fee which must be paid at the entrance gate to the Delos island archaeological site.
This board at the Fabrica bus terminal shows departure times for buses to the new port, the airport and to Platis Gialos, Ornos, Agios Ioannis, Paradise and Paraga beaches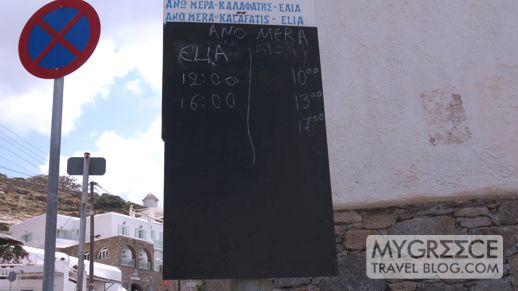 This chalkboard near the Remezzo nightclub shows the very limited low season bus service to Elia beach and the town of Ano Mera. Buses weren't yet running to Kalafatis beach.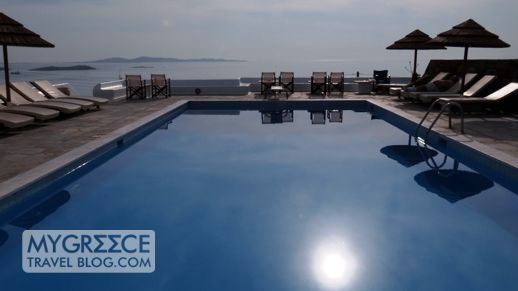 The late afternoon sun reflects on the calm water in the Hotel Tagoo swimming pool
Back at Hotel Tagoo, I relaxed for the rest of the afternoon on the swimming pool terrace, where I never get tired of the mesmerizing panoramic views of nearby islands like Delos, Rinia, Syros and Tinos, or watching the afternoon sun sparkle off the Aegean Sea as cruise ships, sailboats and fishing boats approach or depart Mykonos. I had been hoping to watch a spectacular sunset, but in early evening the sky turned so hazy it wasn't possible to see the sun go down. Nevertheless, I had a fun evening meeting other guests at the pool bar and chatting over drinks with Anna, the fellow from France who had been on my flight from Athens, a honeymooning couple from Australia, and Anna's brother Jimmy, who is the bartender. Eventually my jet lag and lack of sleep caught up with me, so  I called it a night and went to bed early.
Tuesday May 15
I always sleep well at Hotel Tagoo, and my first night of this trip was no exception. I slept in past 9:30, so I rushed to get ready for breakfast (eggs, sausages or bacon, breads, cheese, fruit, yogurt, cereal, juice and coffee are offered in a self-serve breakfast room next to the hotel reception area each morning from 8:30 to 10:30). I just can't function in the morning until I've had at least one cup of coffee so I certainly didn't want to miss breakfast!
When I stepped outside, I was taken aback by the dramatic change from Monday's hot and sunny weather: it was extremely windy, and though it was sunny with frequent cloudy periods, it felt chilly. I was wearing shorts and a T-shirt, and quickly regretted that I had not packed a long-sleeved shirt. Luckily, I had brought along a windbreaker … I had been expecting to have to wear it only at night, but I quickly realized it would probably get some daytime use, as well.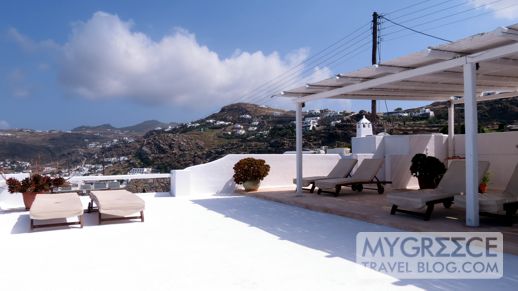 It looks like good weather for sunbathing in this view of the upper deck at Hotel Tagoo on the morning of May 15. However, it was extremely windy and even a bit chilly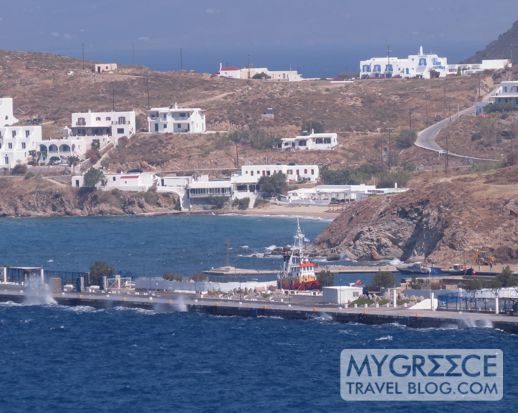 Powerful gusts of wind smash waves against the pier at the Mykonos New Port at Tourlos. That's Agios Stefanos beach in the background.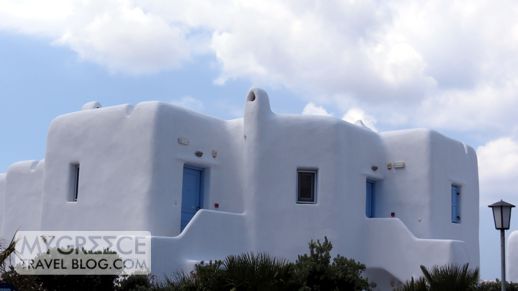 Thick clouds loom above the Harmony Hotel in Mykonos Town. Regular cloudy periods made it feel like a storm was imminent, but it never rained.
After breakfast, I realized it would be too windy and cool to go to a beach, so I spent a few hours wandering through Mykonos Town to take photos instead. The town was surprisingly quiet once again, with very few people in the streets or main tourist areas even though the Amadea, a cruise ship operated by the German travel company Phoenix Reisen, was anchored off the coast for a Mykonos port day. The town is usually buzzing with hundreds of extra visitors whenever cruise ships stop at the island, but I didn't see many passengers from the Amadea strolling the streets.
On Monday, the Little Venice cocktail bars had been almost empty despite the gorgeous sunny weather. Today, they had no customers again, but for a different reason — it was too windy and wet. Waves whipped up by strong gusts of wind pounded the seashore, spraying cool salt water across most of the tables and chairs. The narrow stone path along the shore next to Caprice bar and Aqua restaurant was soaked and slippery, so pedestrians had to watch for breaks between oncoming waves so they could cross the walkway without getting wet. A couple in front of me got splashed by a big wave, but I got sprinkled with only a few drops of water as I crossed the path on my way to visit the nearby windmills.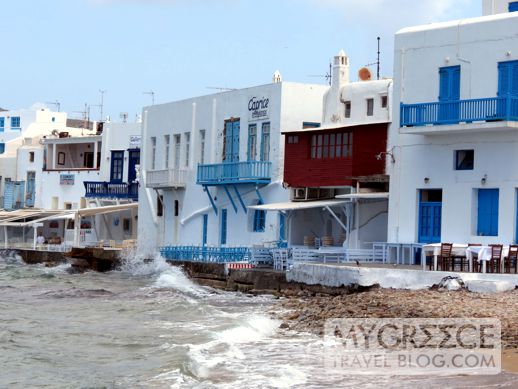 Waves splash onto the narrow walkway in front of Caprice Bar at Little Venice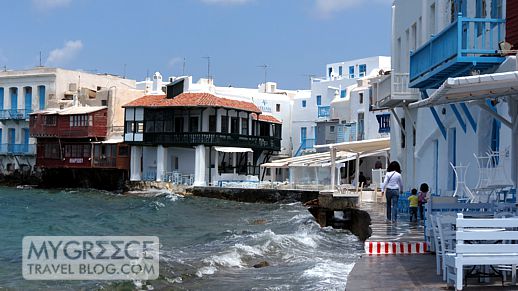 A woman and her two young children walk along the seawater-soaked walkway …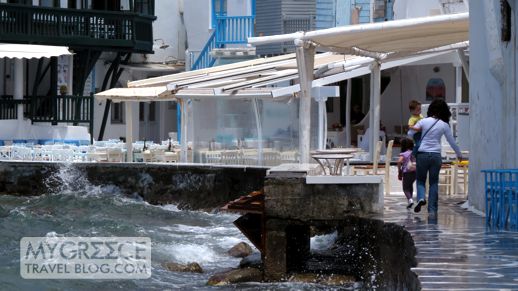 … successfully timing their crossing to avoid getting sprayed by the splashing water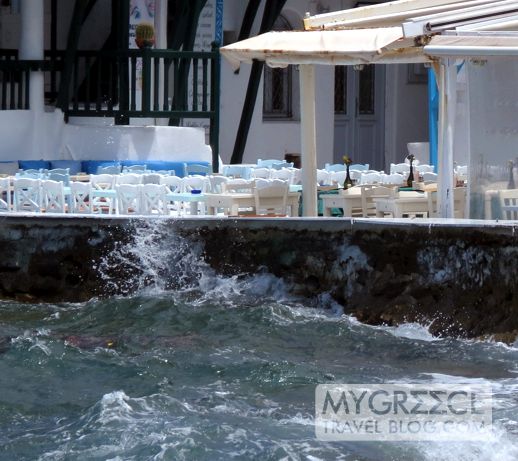 The seaside cocktail bars didn't have any customers because all their tables and chairs kept getting sprayed with water as the wind whipped waves against the seawall
Above is a brief videoclip showing waves battering the seaside at Little Venice
Above is another videoclip of waves making a splash at Little Venice
I had Windmill Hill practically all to myself — there were at most just a half-dozen other tourists wandering between the windmills and taking photos from the hillside. At times it was downright unpleasant being there because the gusts of wind were so strong and unrelenting, and I frequently found it impossible to hold my camera steady.  I eventually wandered down the hill and headed into the narrow twisting streets behind Little Venice to escape the wind. Hardly anyone was around except shopkeepers and restaurant staff.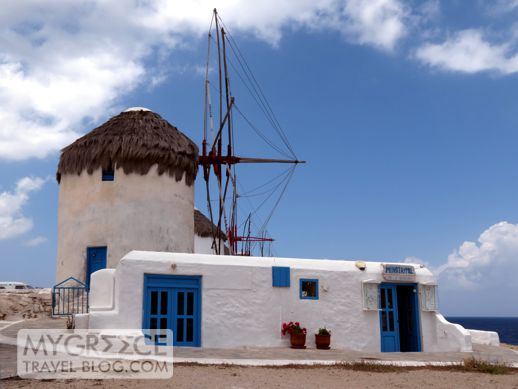 The Minotaur Art and Jewellery shop sits on the hill next to the windmills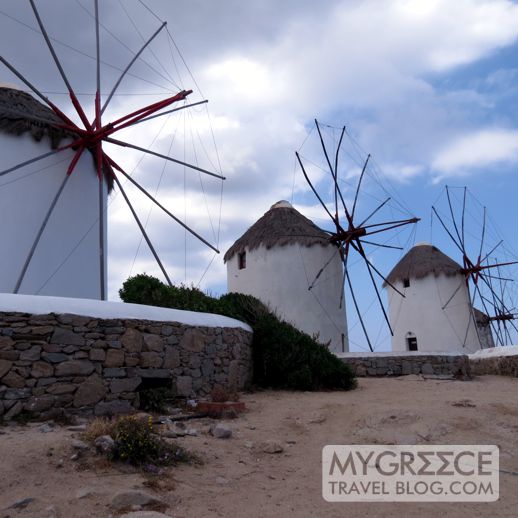 Windmill Hill is normally crawling with dozens of tourists, but I was one of only a few people who ventured onto the wind-blasted promontory that afternoon
Windmill Hill view of Sea Satin Market restaurant, with Little Venice in the background. The final scene of the 2002 action movie The Bourne Identity was filmed at Sea Satin.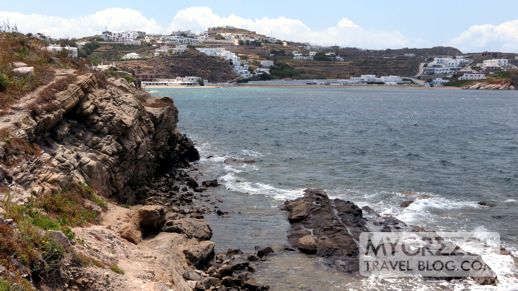 Looking toward Megali Ammos beach from the rocky hillside next to the windmills. There wasn't a single person on the entire long stretch of beach.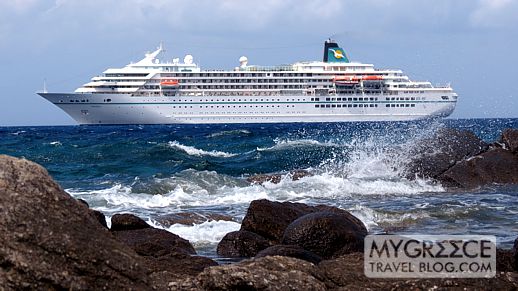 The cruise ship Amadea, anchored in the bay near Mykonos Town
A sea-level view of Little Venice, from the rocky coast below Windmill Hill
Above is a brief video that I shot of Little Venice from the rocky shoreline below Windmill Hill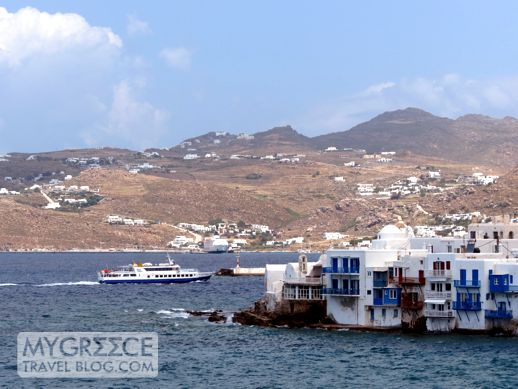 The Delos Express enters Mykonos Town harbour on its return trip from Delos island
Above is a brief videoclip showing views from Windmill Hill
Above is another brief videoclip showing Windmill Hill views of Little Venice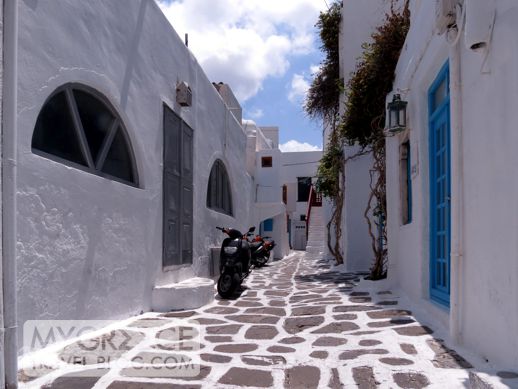 The street behind Caprice (right) and some of the other Little Venice bars gave me welcome respite from the incessant wind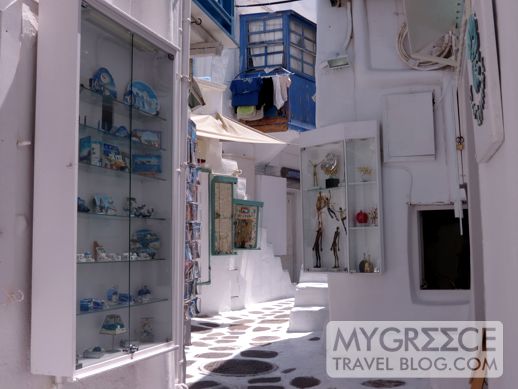 Display cases outside souvenir shops in Mykonos Town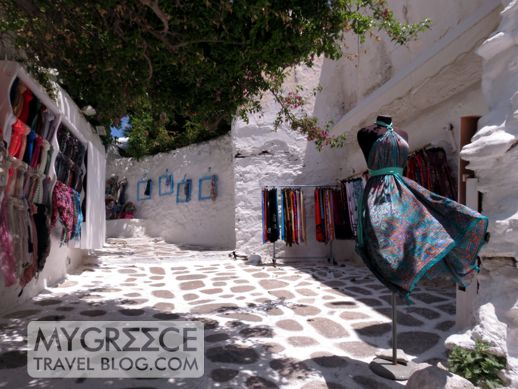 Fashion displays in a street near Little Venice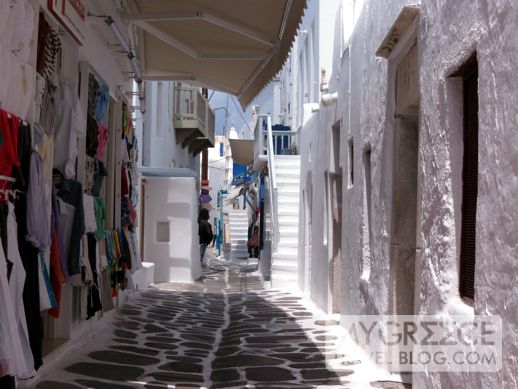 Another shopping area in Mykonos Town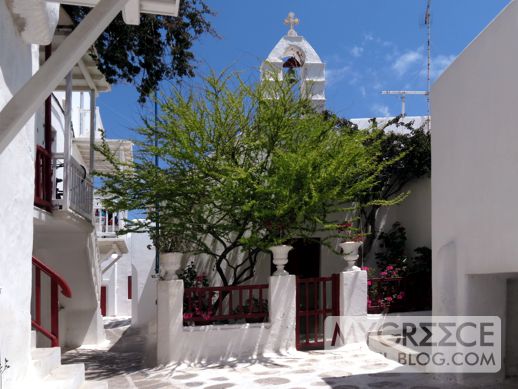 A tree dominates a small church courtyard in Mykonos Town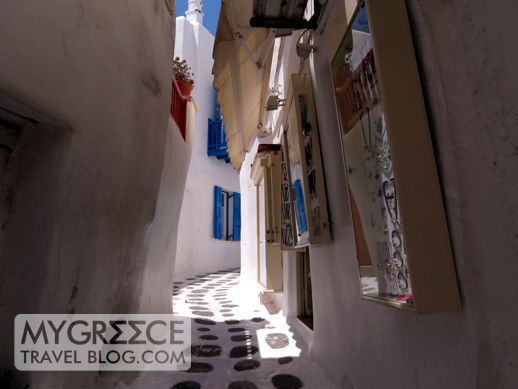 A jewellery shop on a narrow twisting street behind Little Venice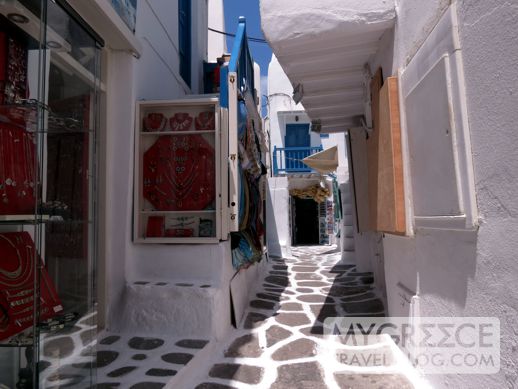 Another quiet shopping street in Mykonos Town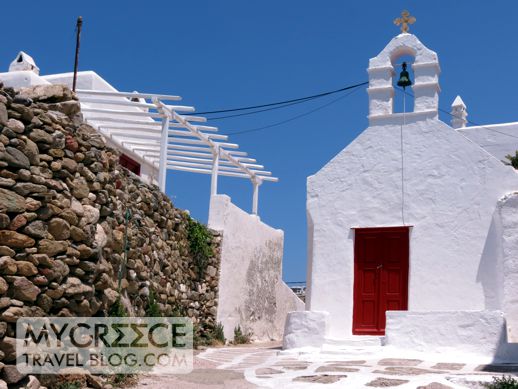 A white church with red door near Paraportiani Square
Artwork displays outside Stelios Shop on Agion Anargiron Street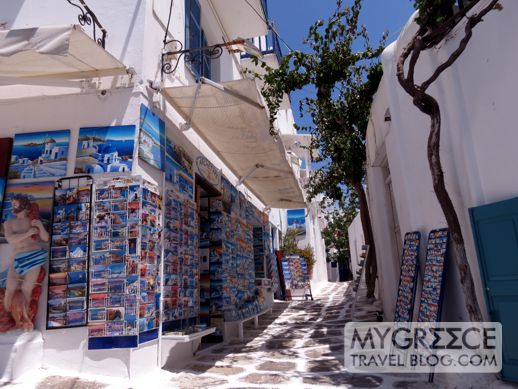 A postcard and souvenir shop adds colour to a street behind Little Venice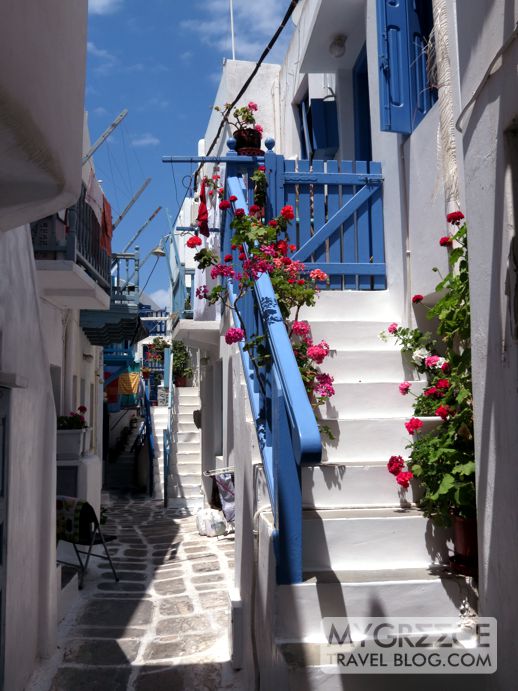 Red and pink geraniums adorn a blue railing on a staircase in Mykonos Town
All the walking worked up my appetite, so I stopped at Sakis Grill House and ordered a pork souvlaki platter and a big bottle of Mythos beer (total price: €7.50), and ate my tasty lunch at one of the little tables in front of the restaurant. The souvlaki hit the spot; it wasn't greasy or overly salty as souvlaki often tends to be. Sakis is normally a great place for people-watching since it's right on Kalogera, one of the town's busier streets, but I didn't get to see many people pass by — just the Australian couple from the hotel, a few other tourists, and several locals.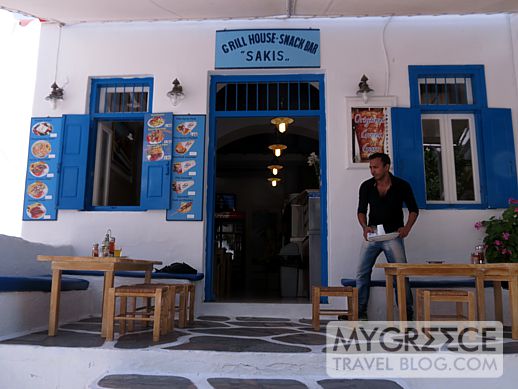 Sakis Grill House on Kalogera Street
After lunch I walked back to the hotel to leave my jacket in my room; the wind was starting to let up, and it was getting warmer, so I didn't need to wear it any longer. Then I hit the road and started walking in the opposite direction of Town — toward the new port at Tourlos. It took about eight minutes to walk down the hill from Tagoo to a small sandy strip of beach right next to the main road. I spent some time at the seaside, enjoying the views and watching the huge rolling swells of water break against the sand. Just as I started to snap a photo of the churning surf, a rogue wave smashed against the rocks I was sitting on, soaking my shirt and streaking the polarizer lens on my camera with chilly salt water. I had to laugh at myself for thinking I had picked a dry, safe place to sit when it turned out to be anything but! Unfortunately, my lens cloth was in my camera case, which I had left at the hotel, so I  had to return to my room and clean the lens so I could continue taking pictures.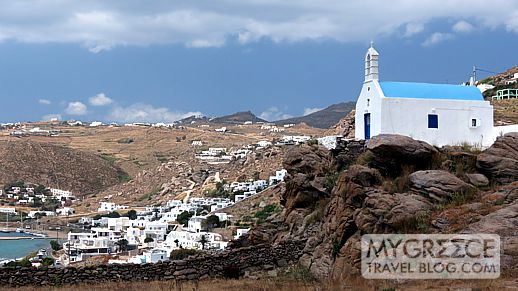 A blue-domed church on a rocky hill above the Tourlos area of Mykonos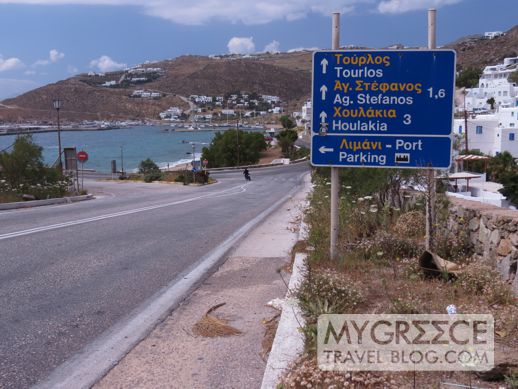 The road to Tourlos and Agios Stefanos. I was heading to a small sandy beach beside the trees at the bottom of the hill.
Whoosh! Water splashes across my camera lens just as I take a picture of waves crashing against the beach beside the road to Tourlos.
I didn't feel like walking back down to Tourlos again, so I headed for the hills instead — to the Mykonos folklore museum's restored Bonis windmill on the hillside above Mykonos Town. The windmill dates to the 16th Century, and originally was used to grind grain. It's now part of an agricultural museum exhibit, but it's only open from June through September so I haven't yet been able to go inside. The windmill is still functional, and its original interior is apparently still intact. It's a great spot to visit just for the spectacular panoramic views, especially the sea of white buildings and rooftops that spreads out below.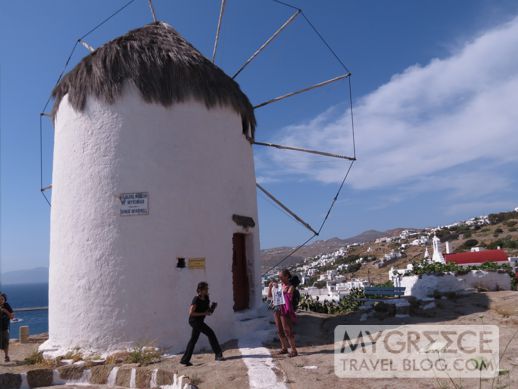 Tourists take pictures at the Bonis windmill above Mykonos Town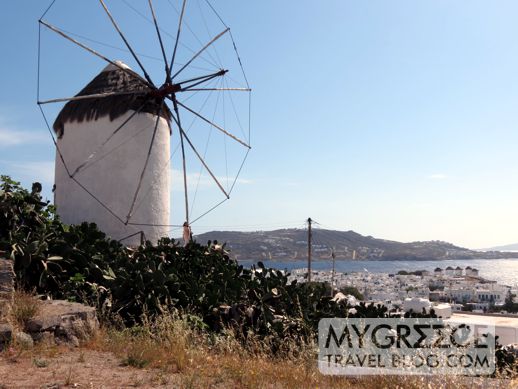 The Bonis windmill was built in the 16th Century to grind grain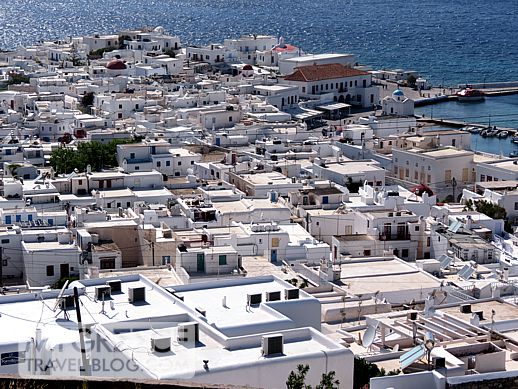 I love the amazing views from the Bonis windmill, including all the white buildings and roofs below the hill …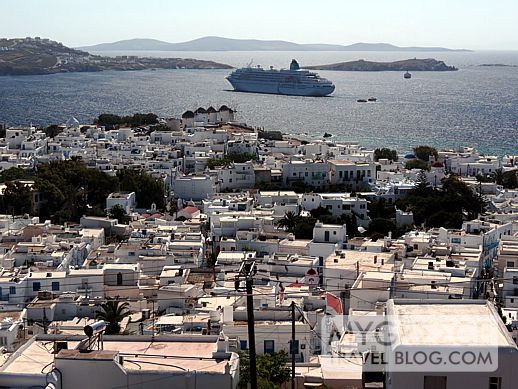 … and the windmills near Little Venice, visible near the cruise ship in the bay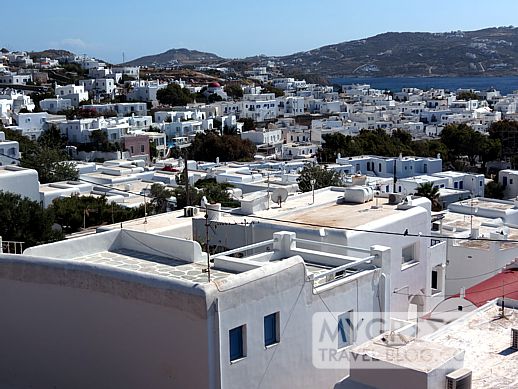 The view to the left side of the Bonis windmill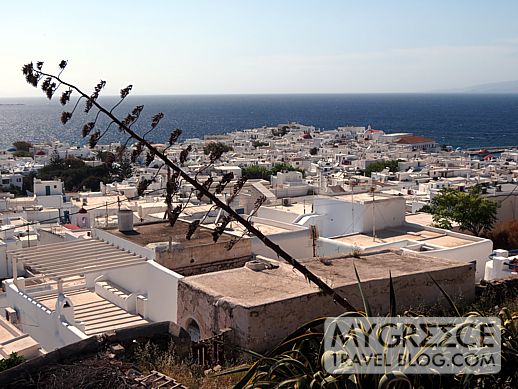 An agave flower stem tilts on the hillside above Mykonos Town, next to the Bonis windmill. I published photos of agave flowers on other islands in an August 27 2011 post.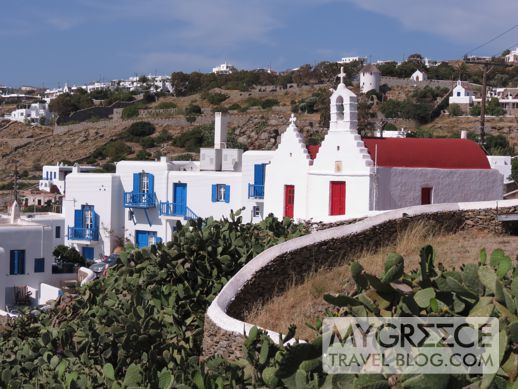 Two red-domed churches on the hill near the Bonis windmill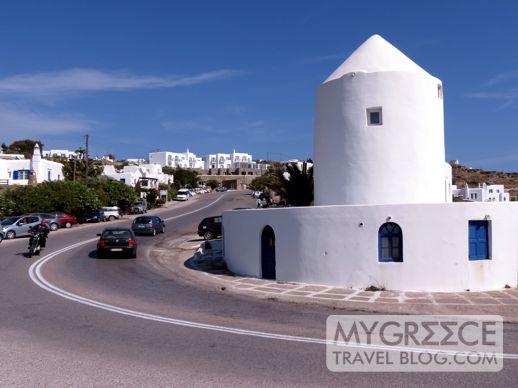 This former windmill , just a short walk up the road from the Bonis windmill, has been converted to new uses. The popular Hermes Hotel is visible at the top of the hill.
After taking some pics from the road and hillside near the Bonis windmill, I walked into Town on a footpath that winds down the hill through a quiet residential neighbourhood.  I took more photos as I made my way to Maria's traditional Myconian restaurant, behind the Hondos Center, for a late afternoon snack. A group of customers was just leaving the taverna, so I had the big courtyard terrace all to myself. I sat at a table in the shade and ordered a Greek salad and grilled bread (cost: €6), which I enjoyed while relaxing on the peaceful terrace and feeding pieces of feta to a couple of cats that sauntered over to keep me company. On my walk back to Hotel Tagoo, I noticed that another cruise ship had arrived at Mykonos, and was docked at the New Port at Tourlos. It was a smaller ship than the Amadea, but I hoped its passengers would liven up Mykonos Town that evening. I wanted to see the streets buzz with people and activity!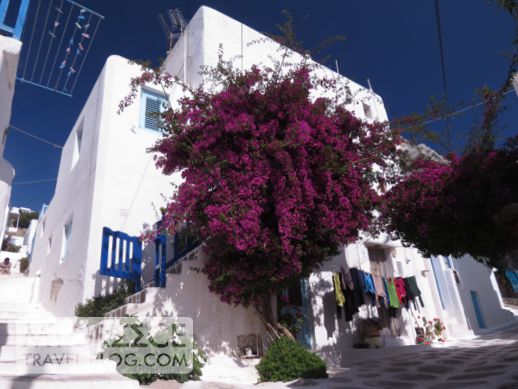 A colourful streetcorner in a hillside residential area of Mykonos Town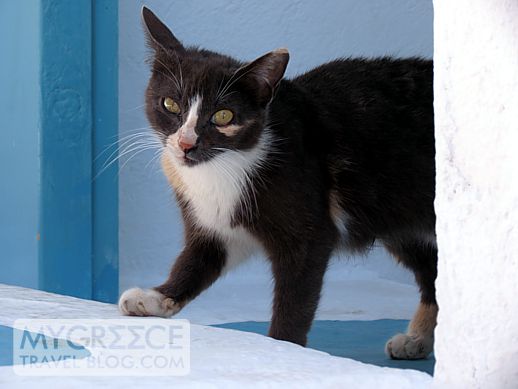 A cat peeks at me from the doorway of a house on the hillside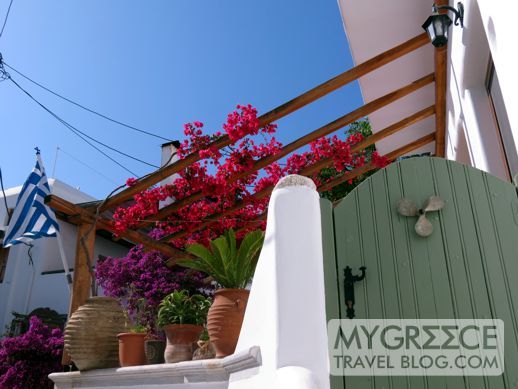 A Greek flag, plants and bougainvillea brighten a cheery private terrace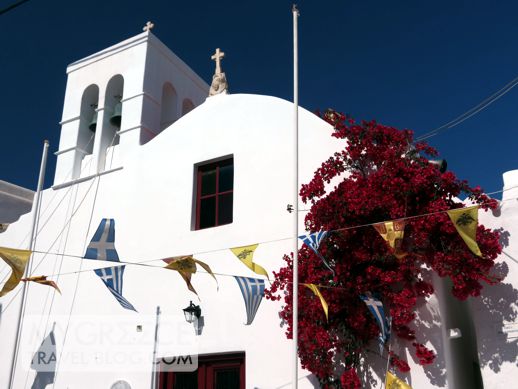 Bougainvillea and banners outside a church in Mykonos Town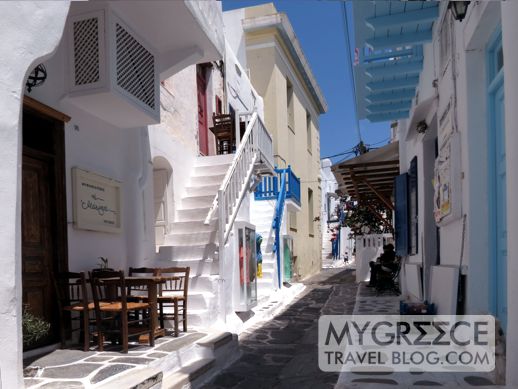 To Ma'ereio taverna (left) on Kalogera Street is one of my favourite Mykonos restaurants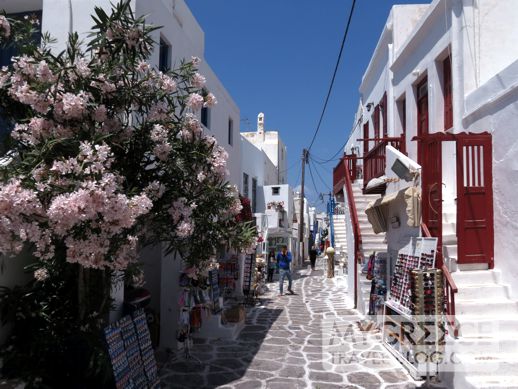 A shopping street in Mykonos Town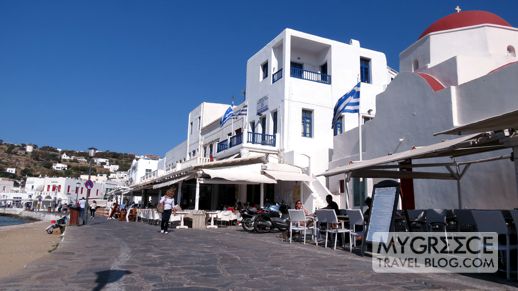 Akti Kambani street, the restaurant-lined harbourside promenade in Mykonos Town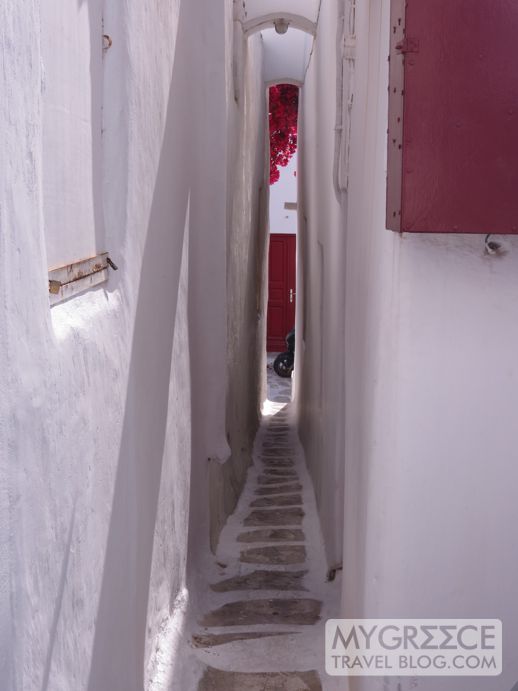 This must be the narrowest street in Mykonos Town!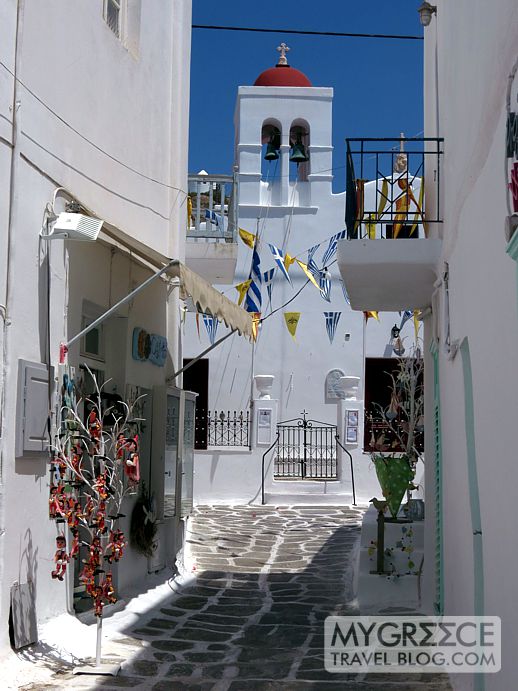 A red domed church in Mykonos Town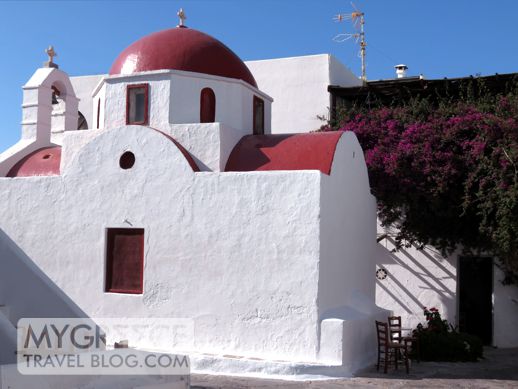 Another red-domed church. This one is situated next door to the Hondos Center on Polikandrioti Street near Agia Anna beach.
Maria's Myconian restaurant occupies a spacious courtyard behind the Hondos Center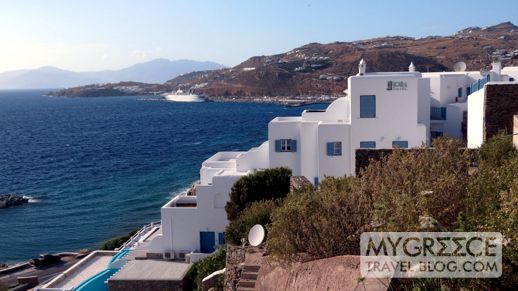 A view of the Kouros Hotel and a cruise ship docked at the New Port at Tourlos
Just past sunset that evening, I attended Hotel Tagoo's Greek Night — an event that Anna and Yiannis hold occasionally to give guests an opportunity to meet and mingle and experience some traditional Greek culture. The party takes place at the poolside bar, where Anna serves home-made cheese and spinach pies while guests drink ouzo or some of Jimmy's wickedly potent vodka and liqueur shooters. The highlight of the evening is a Greek dancing demonstration by Anna and Yiannis, after which Yiannis teaches the guests the steps to two different dances, and then leads them in a hilarious leg-kicking line-dance around the pool. I had difficulty learning the dances, but surprised myself by not tumbling in the water — even though I have two left feet and was under the influence of ouzo and some of Jimmy's shooters.
After the party ended and everyone dispersed, I grabbed my jacket from my room and walked into town for dinner. (After the sun went down, the breeze picked up again and the evening turned chilly.) This time I was happy to see the streets were lively and bustling with people from the cruise ships; Mykonos Town at last had the energetic vibe I remembered from my previous visits. I went directly to my favourite Mykonos taverna, To Ma'ereio on Kalogera Street, where I took a seat at the bar and ordered the delicious Avra chicken and a half carafe of red wine (total cost: €19). To Ma'ereio is a small restaurant, with only a dozen tables inside and four more outside in the narrow street. It's also very popular, and every table was taken. The bar was busy, too; while I was there, more than a dozen different local residents dropped in for a quick drink and chat with the bartender and his twin brother, who was waiting on tables.
After dinner I strolled along some of the streets, but noticed that the crowds had thinned out and many shops had closed for the night, while others were starting to close up. It was a little past 23:00, and the cruise passengers obviously had returned to their ships. Bars were either empty or had only a couple of customers each, and the town just didn't feel lively anymore. I returned to my hotel room and called it a night. It had been a great day.