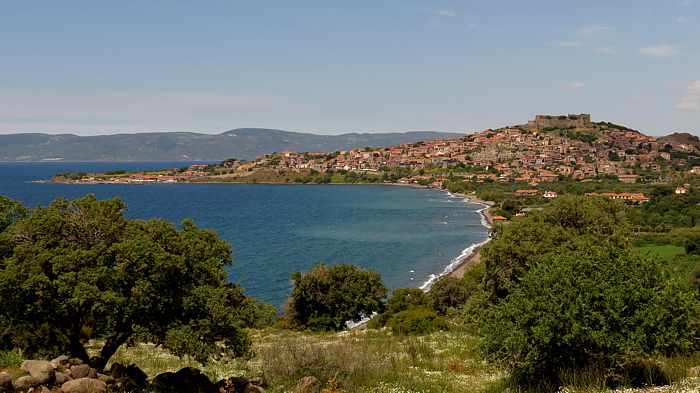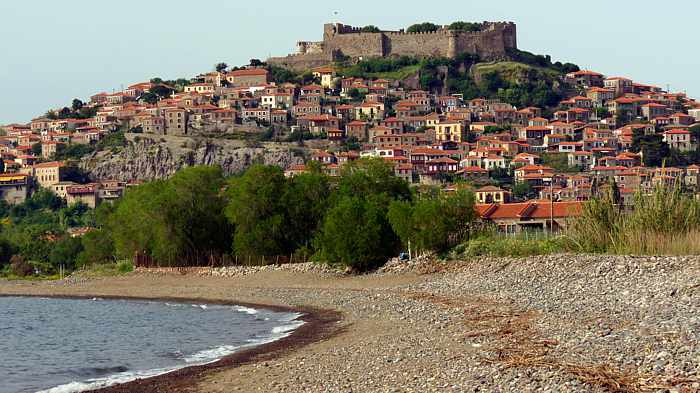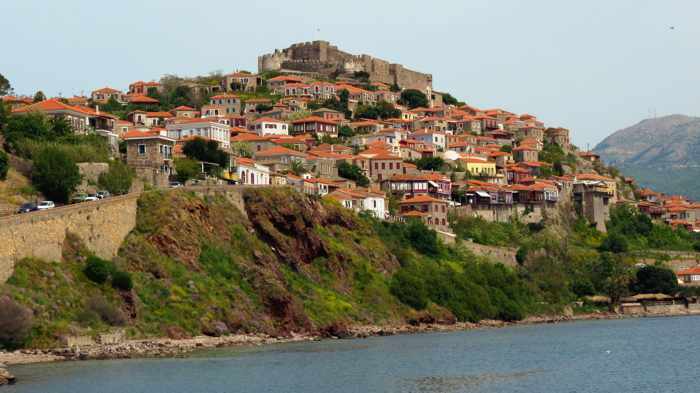 Views of Molyvos from a highway lookout point two kilometers south (top), from the local beach (center) and from the harbour jetty (bottom). Also known as Mithimna, the town is situated near the northern tip of Lesvos, and is one of the island's premier attractions and visitor destinations. 
Cobblestone streets and lanes. Elegant stone and wood buildings with red-tiled roofs. Cozy cafes, bustling bars and traditional tavernas. Charming shops, chapels and churches. A picturesque fishing boat harbour and a long sandy beach. Byzantine and Ottoman-era historical influences. An imposing hilltop castle. Lovely views of the Lesvos coastline and the Northeast Aegean Sea, plus parts of the nearby Çanakkale province of northwest Turkey. Molyvos has all this and more — everything you'd expect from a town that dates back to 700 B.C.
This year, we visited Lesvos, and spent the first half of our island holiday — 8 full days and nights — at Molyvos. Initially, we were concerned this might be too long, but friends and regular Lesvos visitors assured us we wouldn't get bored.  They were right, of course:  Molyvos suited us to a T. Its sublime natural and architectural beauty, comfortable atmosphere, historic character and friendly locals quickly showed us why Molvyos has legions of fans who faithfully return year after year. Molyvos has such an alluring charm, you just can't help but fall in love with it.
If you haven't been to Molyvos before, my collection of photos on page 2 of this post will give you a good impression of what you could expect to see while wandering around this marvellous town.
Please click on the link below to begin your tour of Molyvos!
CONTINUED ON PAGE 2