Best dining ambience
Kiki's Taverna on Mykonos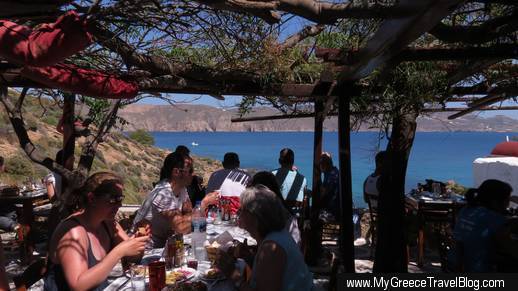 Kiki's Taverna has a cozy dining terrace shaded by trees and vines
In my August 14 2013 post entitled Mykonos food and drink 2013, I described our first-ever visit to Kiki's Taverna at Agios Sostis beach on Mykonos. Kiki's has been getting tremendous word of mouth and laudatory online reviews for years, and probably generates more buzz than any other restaurant on the island. No easy feat, considering there are more than 300 places to eat on Mykonos. We were eager to finally give it a try, but were concerned we could be setting ourselves up for disappointment after hearing so much positive hype about Kiki's for so long. But we were wowed by the location, the unique setting, and the superb food. Our lunch at Kiki's wound up being one of our most memorable experiences on Mykonos — ever.
Kiki's has a legion of fans around the world, including some food and travel bloggers who have visited restaurants all over the globe.
'Our best day and meal on Mykonos'
One of the most recent reviews for Kiki's Taverna appears in A Spoonful of Sugar. In an August 5 2013 post, blogger Victoria Cameron describes her group lunch as "one of the most memorable meals" of a 5-day trip to Mykonos. "There is something special about Kiki's," she wrote, noting that everyone in her party has all commented "since we've been home that that was the best day and meal we had in Mykonos."
In a July 23 2012 post on the Eat Everywhere food and travel journal, co-authors The Fat Bulldog and The Hungry Giraffe gushed: "We just love this place! The view of the ocean, the smell of grilled meat and fish, and the fact that there is absolutely nothing pretentious about this restaurant makes it an ideal destination if you want to relax from the craziness of Mykonos."
Kiki's got an 8.5 out of 10 rating on the Lucy in the Larder foodie blog. In her September 16 2011 post, Lucy Squire calls Kiki's "The epitome of laid-back Mykonos" and says: "I wish there was somewhere like this back home. Just perfect."
Cara from Cara's Cravings also wrote about a satisfying lunch at Kiki's. Her June 23 2010 post includes photos and descriptions of the salads, swordfish steaks and grilled turkey sausages she and her travel companion enjoyed.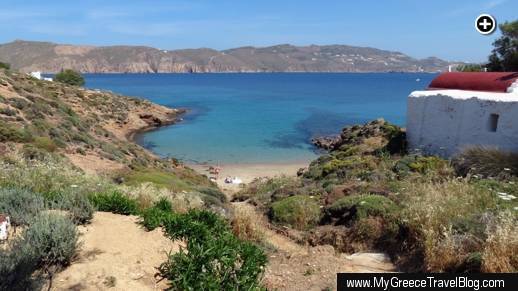 The dining terrace at Kiki's taverna overlooks this quiet cove near Agios Sostis beach. Some customers take a swim or catch some rays on the little beach while waiting for a table in the restaurant. Click on the photo to view a full-size image.
 Best island seaside cocktail bar
Semeli Bar in Mykonos Town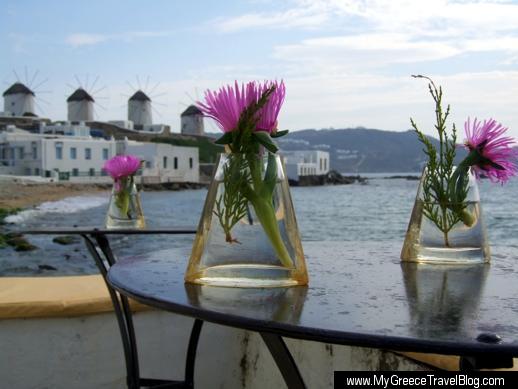 The seaside tables at Semeli Bar offer a great view of the iconic row of windmills on the hillside next to the Little Venice district of Mykonos
The Little Venice area of Mykonos is one of the biggest tourist attractions on the island, and is one of the best places to go if you want to sit next to the sea or watch a sunset while relaxing with a glass of wine or a cocktail. The narrow strip of seaside between the Alefkandra Taverna and Veranda Bar is home to at least a half-dozen different bars, some of which serve food. Our favourite place at Little Venice in the past, and again in 2013, was Semeli Bar. It has a more laid-back feel than the others, whose staff will sometimes aggressively try to persuade you to take a table on their premises when you walk past or pause to snap a photo. The Semeli staff don't pressure passersby with a sales pitch, which is probably why why prefer it over the others.
Best seats at Semeli Bar are right against the sea wall (except on windy days, of course, during which you risk getting splashed by waves crashing against the shore). From those tables, you get a prime view of the sea, sunset and the landmark row of windmills on the nearby hillside. 
Below is a fun videoclip from the Semeli Bar Facebook page.
Best beach bar
Panormos beach bar & restaurant on Mykonos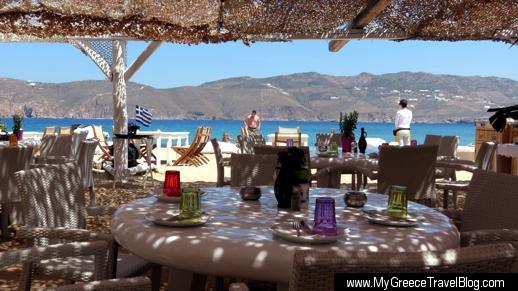 Camouflage netting shades the large dining and bar patio from the sun at Panormos beach bar & restaurant. Tables at the front of the terrace have a great view of the beach and the vivid turquoise waters of picturesque Panormos Bay.
On May 15 we took a long hike from Mykonos Town to see two beach areas we had previously glimpsed only briefly, during a quick evening drive around the island with a friend in 2011. After two hours of walking in blazing hot sunshine, we arrived at the parking area behind Adva Beach Bar Restaurant at Panormos beach. We entered the open-air bar at the back and checked out Adva's chic decor as we walked toward the front section facing the beach. I was taken aback when one of the staff approached and looked at me disdainfully. I suspect he didn't think we were a suitable fit for the young, hip and beautiful clientele the bar was obviously designed to attract (although there were several senior citizens and other people considerably older than us sitting at tables). Then, in a really sharp, rude tone he snapped: "So, do you want something? Are you going to sit down?" No thanks, not with that arrogant attitude!
We walked onto the beach and approached the Panormos beach bar and restaurant next door. In sharp contrast to the obnoxious fellow at Adva, the staff at Panormos were pleasant and friendly, greeting us with smiles and cheery hellos. The warm welcome confirmed that this was the right spot for us to sit and relax with a cold drink before continuing on our way to Agios Sostis beach for lunch at Kiki's Taverna.
With its personable staff and laid-back vibe, Panormos was the beach bar we enjoyed the most in 2013. I wish we'd had an opportunity to go back to try some of their food, because it looked amazing. The Greek cuisine and seafood that people around us were eating all looked really, really good — and was served in large portions. You can see dozens of photos of the food, as well as the restaurant and beach, on the Panormos Beach Bar Facebook page.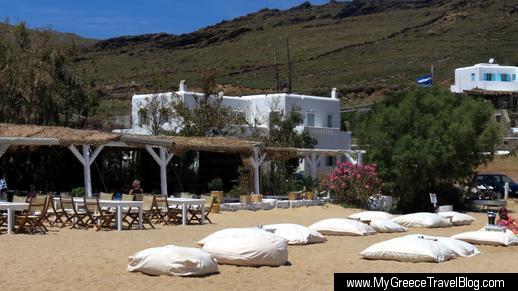 Besides the sheltered interior space, the Panormos beach bar & restaurant has tables and comfy cushions out front right on the soft sand.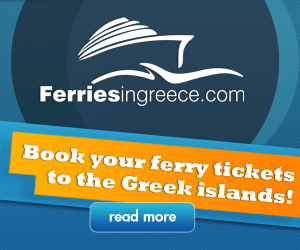 Best place to eat or drink while waiting for a ferry
Aphrodite Restaurant on Ios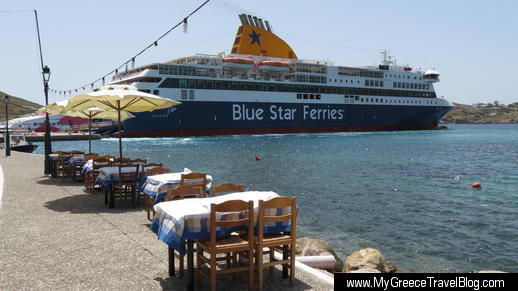 Aphrodite Restaurant has a row of tables on the edge of Gialos Bay, from which you can watch passengers disembark and board the ferries arriving at Ios (the SeaJet Superjet and Blue Star Delos are seen here on May 19).
The passenger waiting areas at Greek Island ferry ports aren't particularly pleasant places to pass valuable vacation time. They're basically just concrete sheds that look and feel like farm pens for domestic animals, so you don't want to spend more time in them than is absolutely necessary.
At some ports, like the one on Ios, there's a good selection of decent cafés and tavernas just a quick stroll from the ferry quay.  Some, like La Randa (the restaurant closest to the ferry boarding zone) directly face the quay, so island hoppers can sit and relax with a drink or snack until the final boarding call. Certainly beats standing in a queue in a dismal passenger pen!
Our favourite place to kill time waiting for a ferry is Aphrodite Restaurant on Ios. It has a row of tables on the seaside, from which you can see ferries making their approach to Gialos Bay. Once they turn into the bay, it takes the ships five to 10 minutes to reach the quay. That gives you plenty of time to finish your beer, pay your bill and walk a few doors down the road to the port. Another big plus: Aphrodite's food is good and reasonably priced. We went there for lunch while waiting to catch our ferry to Naxos.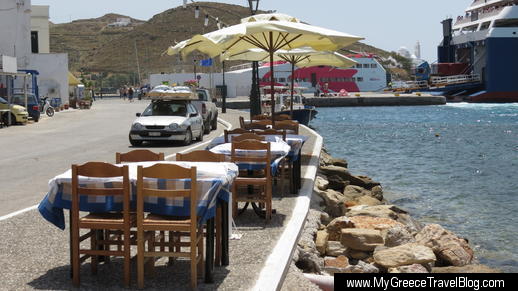 Aphrodite's tables are less than a half-minute walk from the ferry quay, so they're a convenient place to relax with a drink or meal while waiting for your ferry to another island or back to Athens
Best seaside dining spot
Aphrodite Restaurant on Ios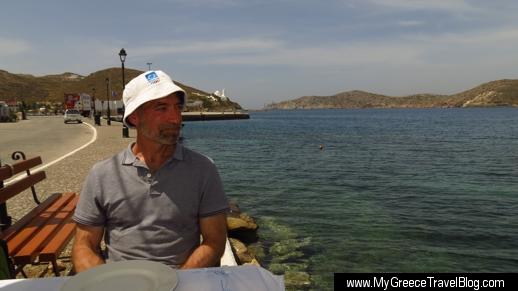 Behind me are the ferry port, the brilliant white Church of St Irene and the mouth of Gialos Bay (center rear)  …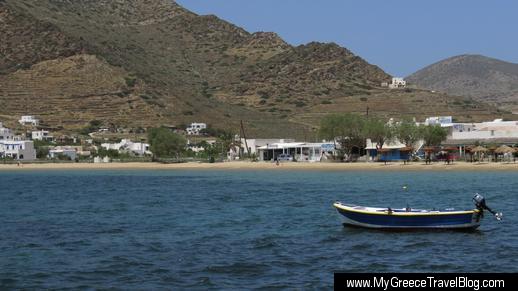 … while Gialos beach is the scenic attraction in the opposite direction
Aphrodite restaurant isn't just a good spot to kill time while waiting for a ferry to arrive at the port on Ios — it's also a nice place for a meal, especially if you want to sit right next to the sea and soak in the pleasant beach and mountain scenery while you dine.
We had lunch here three times and, when we weren't being entertained by ferry arrivals and departures, we enjoyed watching sailboats set out to sea from the nearby marina, and listening to waves lap against the seawall beside us. It was incredibly peaceful and relaxing.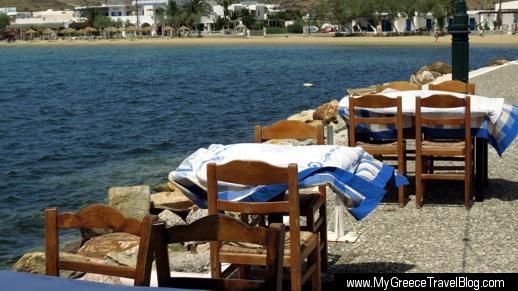 It can get breezy at the seaside tables at Aphrodite restaurant …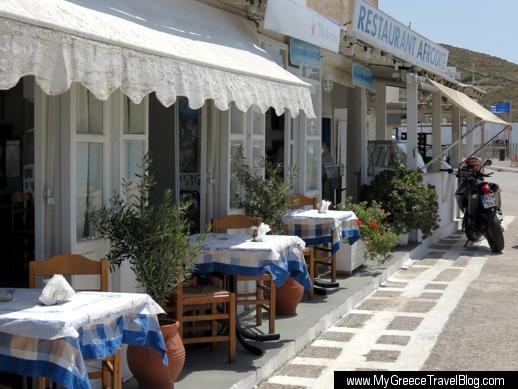 … but if you find it too windy next to the water, you can always sit inside the restaurant or at one of the tables right out front and enjoy the same views
 Best island sunset view cocktail bar
Oniro Bar on Mykonos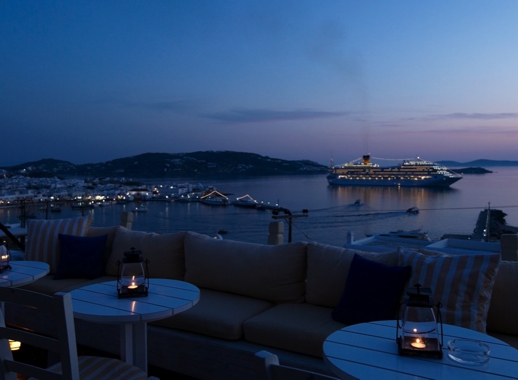 Oniro Bar at the Mykonos View Hotel has an open-air terrace offering wonderful views of Mykonos Town and the Old Port area. This image showing an evening view of a cruise ship anchored close to the town and port is from the Mykonos View Facebook page.
I mentioned earlier that the cocktail bars at Little Venice are a great spot to enjoy a drink while taking in views of the iconic Mykonos windmills. The scenery there certainly is impressive, but Oniro Bar at the Mykonos View Hotel is the place to go for superior panoramic views of Mykonos Town (including the windmills), nearby islands like Syros and Tinos, and of course one of the splendid Mykonos sunsets.
The Mykonos View is situated on a hillside above the Old Port, just a 5-minute walk from the Remezzo bus stop area behind the Mykonos Archaeological Museum. (Follow the road that leads uphill on the left side of the Hercules car and bike rental agency. When you reach the fork in the road at the Porto Mykonos Hotel, keep going to the right. The Mykonos View is just a short distance past this point, on the right-hand side.)
The evening we dropped by Oniro bar, the best seats along the edge of the terrace were occupied by a group of very attractive young ladies, but the views from other parts of the patio were still amazing. (The women looked a little peeved when I raised my camera to take photos of the views from the bar — they obviously didn't want their pictures appearing on someone's travel blog! — so I didn't snap any shots and have posted images from Oniro's Facebook page instead. )
If you happen to be staying at a hotel in the Tagoo district of Mykonos, Oniro Bar is a convenient alternative to the busy Little Venice area — and not only does it have better views, but it saves you from having to take a 15- to 20-minute walk across town.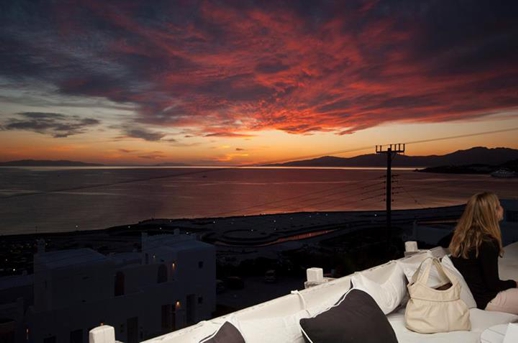 Oniro Bar is the perfect spot to enjoy a drink while watching a spectacular Mykonos sunset. This photo is from the Mykonos View Hotel's Facebook page.
Best island café
L'Île Bistrot-Café in Mykonos Town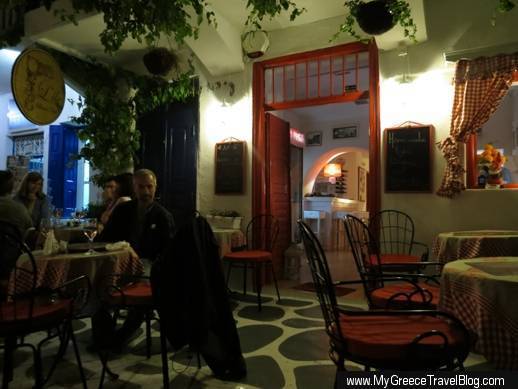 Night view of L'Île Bistrot-Café in Mykonos Town
If you're a regular reader of my blog, L'Île Bistrot-Café should sound familiar — it was one of the places I profiled in my August 14 2013 post entitled Mykonos Food and drink 2013: Where we ate.
Situated in a narrow flagstone-paved lane lined with bars and cafés, L'Île Bistrot-Café is an ideal spot to people-watch while enjoying a morning or afternoon coffee and snacks, or an evening drink and light meal. We recommend the tasty tarte flambée, which is similar to a thin-crust pizza. It was delicious!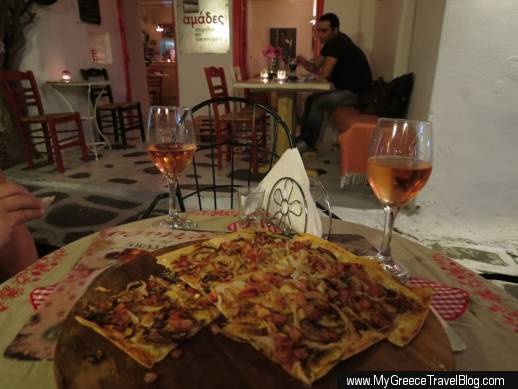 Tarte flambée and glasses of rose wine we enjoyed during a light meal at L'Île Bistrot-Café. The tarte was terrific!
Best international cuisine
La Vigne French Wine Bar in Naxos Town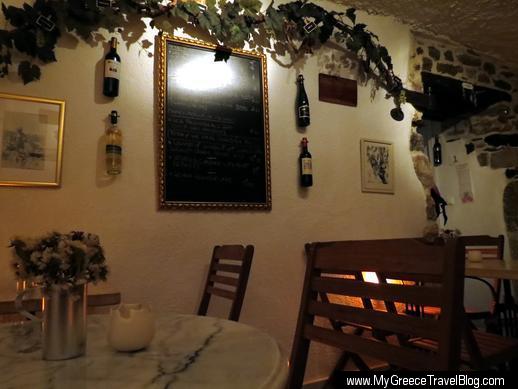 Part of the intimate interior at La Vigne French Wine Bar
When in Greece we usually eat Greek food, but not always. Occasionally we might order Italian (either pizza or a pasta dish), and sometimes we'll try another international cuisine, like the yummy Thai food we enjoyed at Ithaki restaurant on Mykonos several years ago. 
In October, we got more than our fill of Greek food while on Naxos, and were eager to try something different as the end of our visit approached. Yes, believe it or not, we were actually started to tire of Greek salads and gemista!
On the night of October 9, we found ourselves wandering through the centuries-old lanes in the Old Market area of Naxos Town, looking for a place to have something other than Greek for dinner. We considered having Italian cuisine at L'Osteria Ristorante or Spanish tapas at Anda Jaleo, but couldn't decide which we would prefer. A few minutes later, we turned a corner and saw several people drinking wine at tables outside a cute little bar that looked inviting. It was La Vigne French Wine Bar, which I will describe further in our "Best Wine" category below.
Bar offers appetizers and light meals
We thought it would be nice to drop in for a glass of wine and then go to dinner, so we sat down at a table inside. The only other customers in the bar at the time were a young couple from Chicago who told us they were on holiday after spending the summer working at a family hotel on Santorini. We didn't realize that you could get food at La Vigne until one of the proprietors brought an appetizer plate and an entrée to the Americans. She told us that, while La Vigne is a bar that specializes in wine, it does offer a small selection of appetizers and other light fare. There's no set menu, though, because the food items will vary from season to season, and sometimes even from day to day.
On this particular evening, two hot dishes were available — Colombo of Chicken Filet with coconut cream and basmati rice, and cabbage stuffed with meat — as well as several different appetizers. The Americans were enjoying the chicken filet, and told us it was excellent. It certainly looked delicious, so after hearing their recommendation we asked for an order to share. But we wanted to have an appetizer or two first, while we enjoyed the wonderful wine. When we learned that one of the starters included eggplant, we of course had to get that. It was aubergine and kefalotiri cheese bruschetta, and it was utterly amazing! We also thoroughly enjoyed the Brandade de Morue, a puree of cod and potatoes that was delicious with bread. Our dessert was exceptional, too — a fluffy and light lemon meringue cake. Superbe!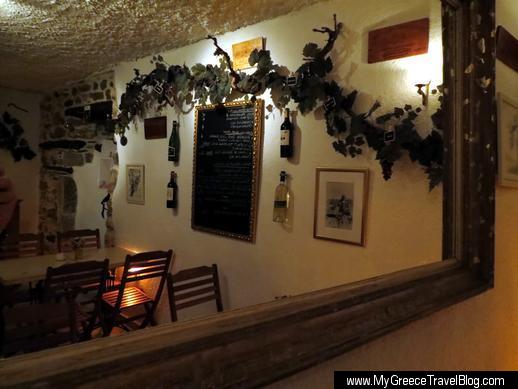 A mirror reflects part of the intimate wine bar space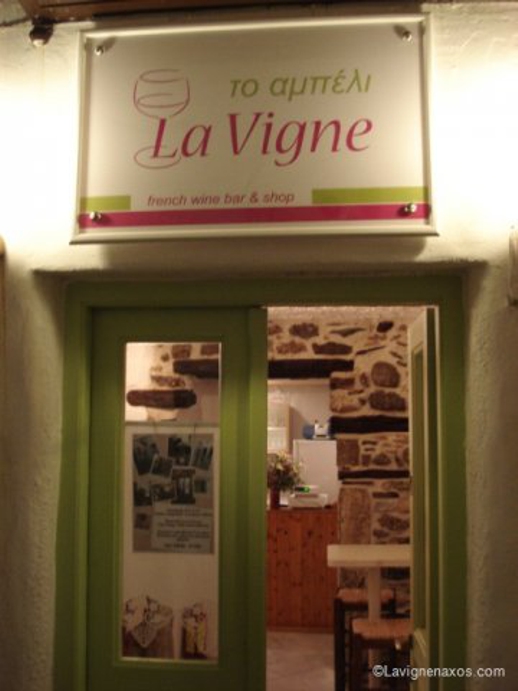 It can be achallenge to find La Vigne French Wine Bar in the maze-like street layout of Naxos Town's Old Market.  Look for this sign above a pair of green doors. This image is one of 15 photos of the wine bar on La Vigne's website.
 Best seaside café /cocktail bar on the mainland
Notos Café in Voula and Lasithi Café in Vouliagmeni (Tie)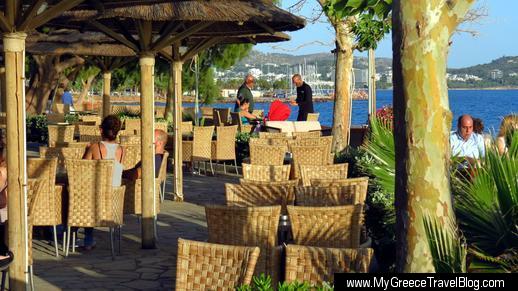 The evening sun casts a golden glow on the seaside patio at Notos Café in Voula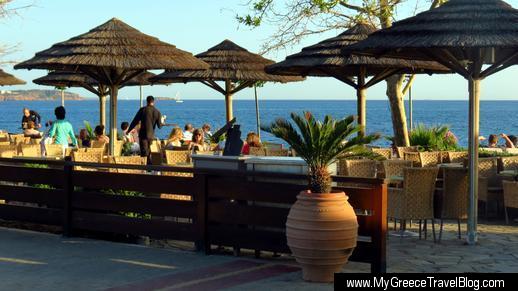 A friend took us to Notos for a coffee the day we arrived in Athens in May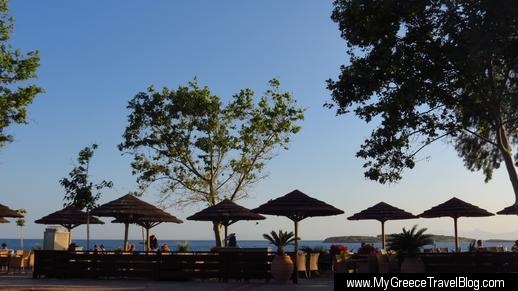 Notos Café is a great spot to enjoy a cocktail or a glass of wine at sunset
A friend who lives in the Glyfada suburb of Athens keeps introducing us to impressive cafés along the Apollo Coast.  She knows we like to sit near the sea, so she takes us to scenic spots where we can have enjoy a long walk along the coast before stopping somewhere for a coffee or drink. We would probably never find these places on our own, although there are scores of bars and cafés along the Athens Riviera that I'm sure are probably just as nice.
In May, our friend took us to Notos Café  in Voula for a late afternoon coffee. Like many of the cafés along the Apollo Coast, Notos is huge — it has several different patio and terrace areas that can seat hundreds of people. Only several dozen were enjoying frappés and cocktails when we arrived, so plenty of tables were available, but our friend assured us that the place would be jam-packed during the summer months.
Shortly before sunset the same day, she took us to the Kavouri coastal area in Vouliagmeni so we could stroll along the seaside walkways. We started our walk near Lasithi Café, another impressive establishment with excellent sea and sunset views. Lasithi's sun-soaked patio looked like a perfect spot for a sunset drink, but we didn't have time to stay since we had plans to meet friends for dinner. We went back for a glass of wine later that night. We couldn't sit outside because the weather had turned windy and chilly, but the indoor lounge was comfortable. Besides the mellow music, we got to enjoy the relaxing sound of waves breaking against the seashore only a few meters below the café.
You can see more photos of Notos Café and Lisithi Café in my Apollo Coast/Athens Riviera album on the mygreecetravelblog Flickr page. The Notos Café Facebook page contains more photos of the café, including several shots that show the gorgeous sunset views from the terrace.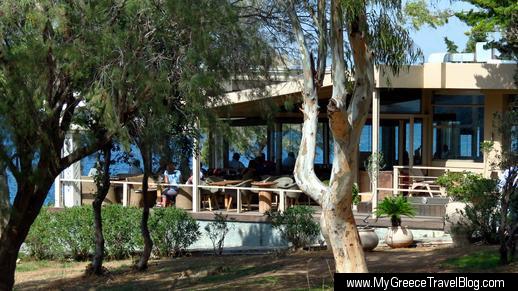 Lasithi Café is located in a park-like setting on the Kavouri seaside in Vouliagmeni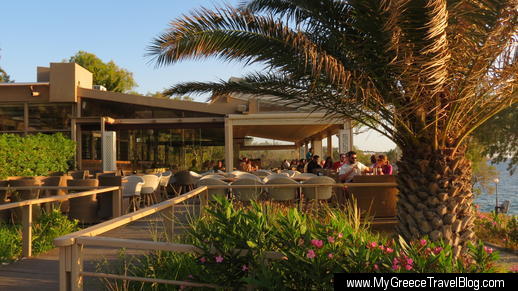 Lasithi Café has open-air terraces as well as a sheltered indoor area. We came here for a glass of wine after dinner.
Best meat taverna
Taverna To Trigono in Kalyvia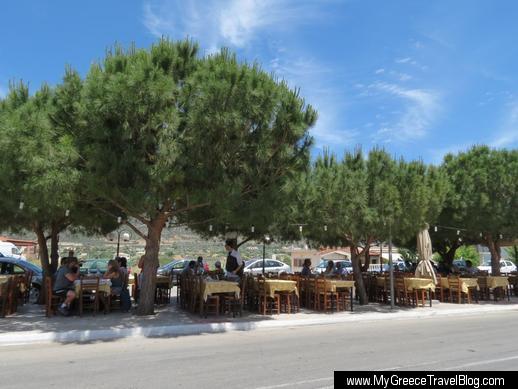 Taverna To Trigono has a large outdoor dining terrace under a row of shade trees across the street from the restaurant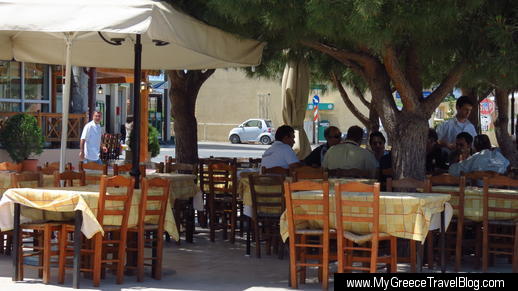 To Trigono's tree-shaded patio can easily accommodate large groups.
In May we spent a weekend in the Athens area with friends who live in the city as well as with others who live in the U.K. and who, like us, love travelling to Greece. During an afternoon drive down the Apollo coast, our group stopped for lunch at Taverna To Trigono at 36 Athinon Street in the town of Kalyvia. The restaurant, like others in Kalyvia, is famous for its grilled meats, and I've seen it described as "the meat palace" in some reviews.
We don't usually eat much meat at lunchtime, but this wasn't a typical day for us, so we were content to let our Athenian friends order several grilled dishes for everyone to share, along with Greek salads and some grilled vegetables. I can't remember how many different items we were served — platters of food completely covered our row of tables, and the waiters constantly reappeared with more — but I do know that the meat items included chicken, lamb, beef and goat. The portions were huge, and the meat tender and juicy, and by the time lunch was finished everyone felt completely stuffed and ready for a long afternoon nap. I don't know how we did it, but we managed to polish off all of the food. Everyone agreed that To Trigono had been a good choice for lunch. The food had been delicious, and astonishingly inexpensive: with wine and beer, the tab came to just €12 per person. An amazing bargain.
We ate on one of the restaurant's outdoor terraces, which is actually across the road from the taverna building. There's another patio out front, and of course plenty of indoor seating. To Trigono can accommodate large groups easily, especially on the terraces, so it's a perfect place to take a big party of meat lovers for a fantastic meal.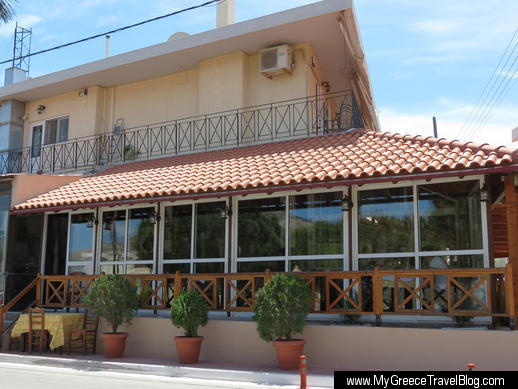 To Trigono has a large indoor dining room ….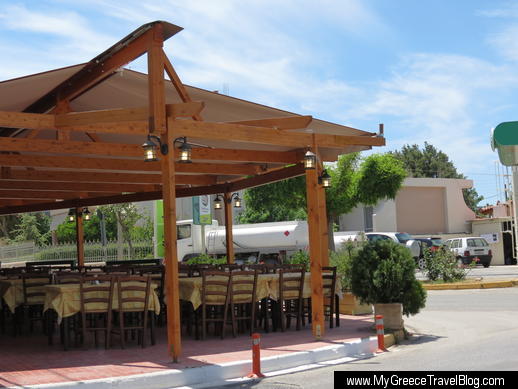 … along with another sheltered terrace, right out front of the restaurant
Best coffee shop
Padelis Coffee Shop in Naxos Town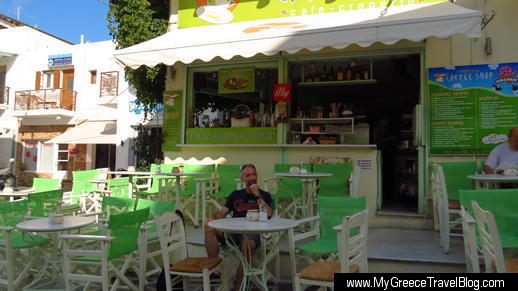 Padelis Coffee Shop on Dimokritou Street in Naxos Town
I love coffee, but the closest thing in Greece to a typical North American brew is "filter coffee," and it really doesn't compare. It's often bland or weak-bodied, and is usually served in a small cup that costs more than double what we would pay for a large coffee at a chain store back home. It's common to pay €3 or more for a small filter coffee in Greece.
On Naxos last year, we enjoyed the java at Padelis coffee shop in Naxos Town several times. It came in big cups at a cost of €2.80 each, a price we considered more than reasonable considering the amount of coffee provided.
Padelis is located on Dimokritou Street in Naxos Town, an L-shaped alley that runs from Papavasiliou Street to the main waterfront promenade, Akti Protopapadaki Street. (It's tucked behind the OTE office and easy to find if you keep an eye out for the Waffle House, an ice cream and dessert shop that is tremendously popular with tourists.)
The coffee shop has tables and chairs on both sides of the lane, and both seating areas are great spots to sit back, relax and watch tourists and locals go by.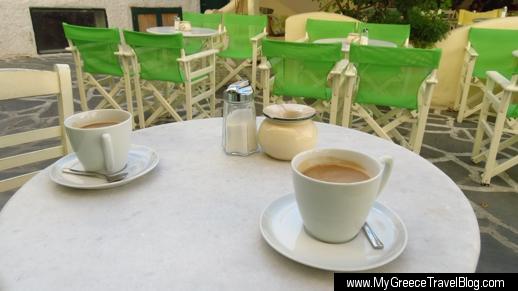 A filter coffee costs €2.80 and is served in a large cup, easily twice the size of most coffee servings in Greece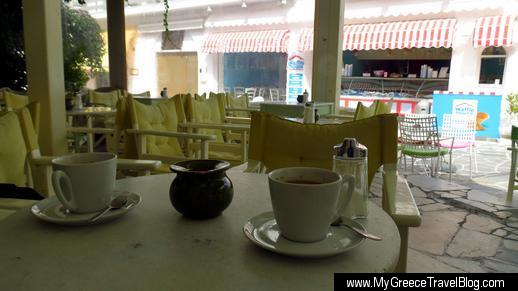 Padelis Coffee Shop is right across from the Waffle House, an extremely popular ice cream and waffle shop close to the Naxos Town waterfront
Best hospitality
The Mills restaurant on Ios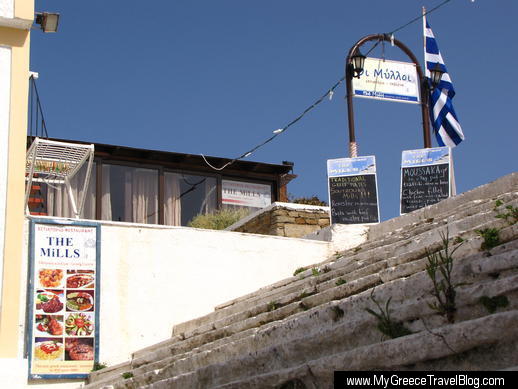 The Mills is situated at the top of a steep flight of steps in Chora village on Ios. If you approach from other directions, you won't have to climb the stairs.
We saw The Mills restaurant in Chora several times during our first trip to Ios, in May 2011, but didn't dine there. The one evening we nearly did, the restaurant was hosting a large group of Greeks who appeared to be celebrating a special family event, and we didn't want to intrude. We didn't get back to give the Mills a try until last May, when we passed by on a quiet evening during which there were customers at perhaps only half a dozen tables.
We were standing near the door, perusing one of the menus, when the restaurant proprietor popped over to ask if we wanted to stay for dinner. We were still indecisive about what we felt like eating, so he gave us some suggestions to consider, and then made an offer we couldn't refuse. He invited us to take seats so we could be more comfortable while checking the menu, and said he would bring us each a glass of white wine "on the house — no obligation." It was ours to enjoy whether we stayed for dinner or not, and he wouldn't be offended if we simply drank up and left. He said it was simply his way of extending us a "welcome to Ios."
So we took seats at a table on the restaurant's outdoor dining terrace, which faces some of the rustic old windmills in Chora. The wine was good, and we found several items on the menu that we decided to order: moussaka; a pasta dish called The Mills Pot (spaghetti, sausage, onions, green peppers, tomatoes and cheese cooked in a ceramic casserole); sausages stuffed with onions, peppers and cheese; and the fried chick peas. While we were waiting for the food, and enjoying the wine, our host returned with another complimentary item — a grilled pita topped with tapenade, tomatoes and cucumbers. It looked similar to a bruschetta, and was delicious. As was everything else we ate.
We were glad we had finally gone to The Mills for dinner, and look forward to going back on our next trip to Ios.
Honourable mention for hospitality goes to another Ios restaurant, The Nest, which we have enjoyed several times during our 2011 and 2013 visits to the island. Brothers Dimitri and Yiorgos, who greet customers at the door, are very personable fellows and lots of fun to chat with.  They make us feel very welcome each time we visit for dinner, and they always wave, smile and say hello whenever they see us wandering through Chora.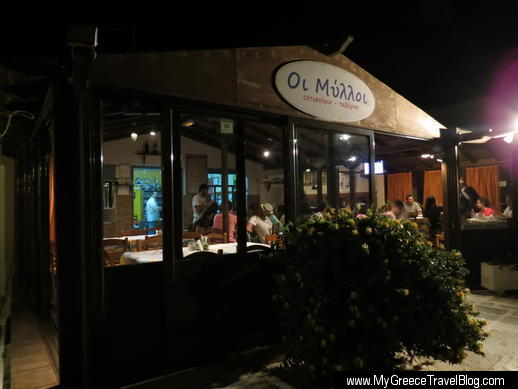 The Mills taverna in Chora village on Ios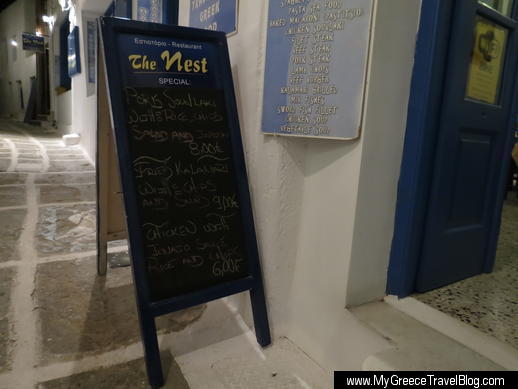 It's easy to find The Nest — just watch for the sandwich board sign advertising the daily specials outside the entrance to the family restaurant. Hosts Dimitri and Yiorgos are usually standing nearby to greet passersby and customers.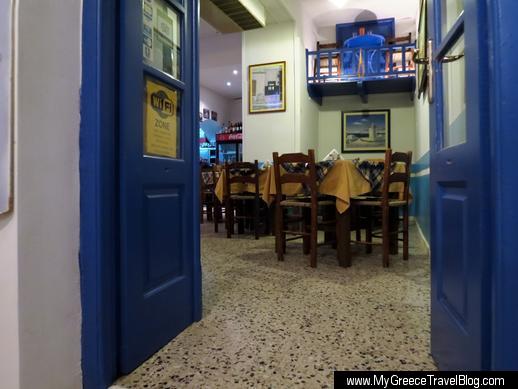 There is no outdoor terrace at The Nest. But it has a comfortable two-level dining room with local artwork and photos of Ios from the 1960s.
Best wine
La Vigne French Wine Bar in Naxos Town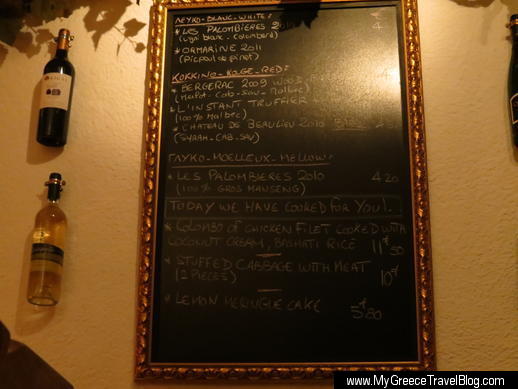 Featured wines available by the glass, as well as light meal special of the day, are shown on a chalkboard inside La Vigne French Wine Bar
On many of the Greek islands, the house wine is often locally or regionally produced, and is described as "barrel wine" on taverna menus. We personally prefer drinking bold, full-bodied red wines (especially Malbec), and enjoy slowly sipping a glass before having dinner at home or dining out in a restaurant. Unfortunately for us, most of the Greek taverna barrel reds taste thin and weak, and we don't find them particularly satisfying. We'll order a glass each, or sometimes a half-liter, when we go to a taverna for dinner, but we wouldn't want to drink the stuff all evening. (Of course, good-quality Greek wine is available by the bottle, but the home-made barrel wines are typically the only ones offered by the glass or half-carafe.)
After nine days of drinking barrel red in October, we were excited to stumble upon La Vigne French Wine Bar in the historic Old Market district of Naxos Town.  We were craving a good wine for a change, and La Vigne's charming, rustic interior caught our eye, so we popped in for a glass. The chalkboard menu on the wall listed two whites, three reds and one sweet as the featured wines of the day — all available by the glass, at prices ranging from €4 to €4.50. We ordered two glasses of the Bergerac 2009 Merlot – Cabernet Sauvignon – Malbec, and sat back to savour the excellent wine and the atmosphere of La Vigne's intimate and romantic setting. We later enjoyed two glasses of the L'Instant Truffier 2009 Malbec.
La Vigne also is a wine shop, so keep it in mind if you'd like to buy some bottles to enjoy on your hotel room terrace or balcony.
Part of La Vigne's cozy interior space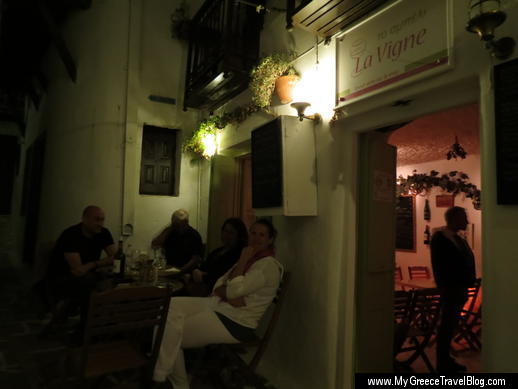 There are a couple of tables in the narrow alley outside La Vigne, should you prefer to sit outdoors to enjoy the ambience and charm of the Old Market district.
 Best gemista (stuffed peppers and tomatoes)
Aphrodite Restaurant on Ios and Nikolas Taverna on Mykonos (Tie)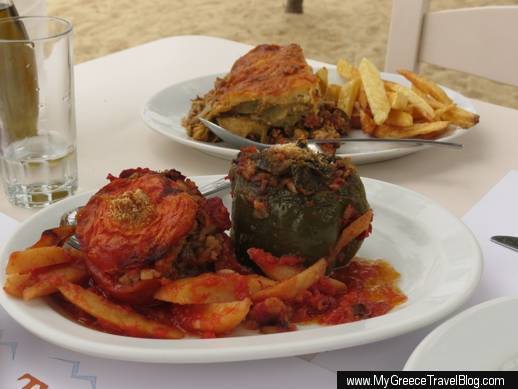 Nikolas Taverna at Agia Anna/Paraga beach on Mykonos serves its delicious rice-stuffed tomatoes and peppers with a side order of oven-baked potato slices topped with a tangy tomato sauce. Absolutely delicious!
One of our all-time favourite Greek dishes is gemista — stuffed peppers and tomatoes — and we order it nearly as often as Greek salads (our #1 fav). I've tried making gemista at home several times, but I have never been happy with the results. My attempts wind up tasting bland, completely lacking the textures and rich flavours of the gemista we enjoy at tavernas in the Greek Islands.
During our trips in 2013, we ordered stuffed peppers and tomatoes almost every other day. With one exception, they were all delicious, but the ones we enjoyed the most were served at Aphrodite restaurant on Ios, and at Nikolas Taverna on Mykonos. In fact, we enjoyed Aphrodite's gemista so much, we had it three separate times!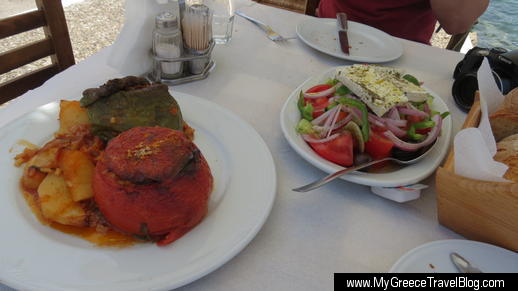 Oven-roasted potatoes accompanied the stuffed tomato and pepper dish served at Aphrodite Restaurant on Ios, too
Best gyros
Tsi Tsi Estiatorio in Glyfada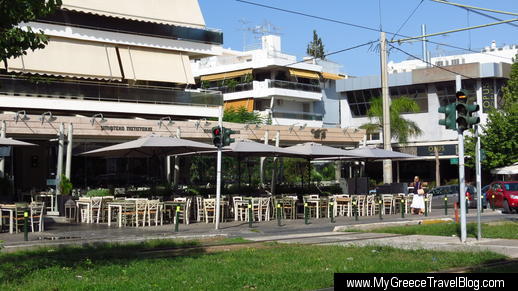 View of Tsi Tsi Estiatorio from the opposite side of Metaxa Street, across the tram tracks. Plateia Espiridon is the tram stop closest to the restaurant.
Since 2010, we have ended our island-hopping holidays by spending a few days in the Athens suburb of Glyfada. We have walked past Tsi Tsi Estiatorio numerous times, since it is situated on Metaxa Street, the main Glyfada thoroughfare, right next to the tram line. Though the place looks quite popular (it is almost always packed with customers), we had never dined there. But that changed last May, when other guests at the Blue Sky Hotel came back from a dinner at Tsi Tsi, raving about the good food and reasonable prices. We stopped in just for a drink and a Greek salad for lunch the next day, and wound up going back for dinner that same night.
We don't usually order gyros when we're in Greece — though they're cheap (a Greek fast food equivalent to a McDonald's burger), we usually find them to be excessively salty and quite greasy. Not to mention exceptionally messy to eat (make sure plenty of serviettes are in close reach if you order one!). But we decided to give Tsi Tsi's chicken gyros a try, based on the recommendation we had received. Surprise surprise! We really enjoyed them — the gyros didn't taste salty or greasy at all. And they were cheap — only €2.40 apiece. With a Greek salad, a plate of delicious grilled vegetables, a basket of grilled pita bread and a half-liter of red wine, we had a thoroughly satisfying and filling meal for a grand total of €23.40.
In October, we went back for another dinner, ordering pretty much the same items and enjoying the gyros once again. I'm sure we'll return to Tsi Tsi for another meal if we stay in Glyfada again.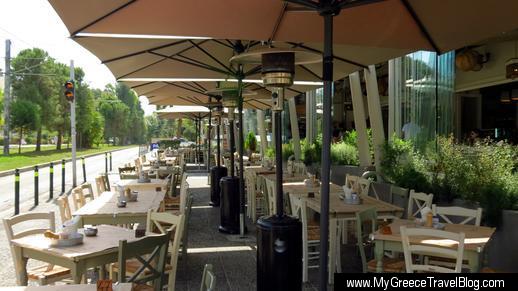 Tsi Tsi's large dining terrace beside Metaxa Street.  There's a few more photos of the restaurant on the Tsi Tsi Facebook page.
Best lamb stew

To Elliniko Taverna in Naxos Town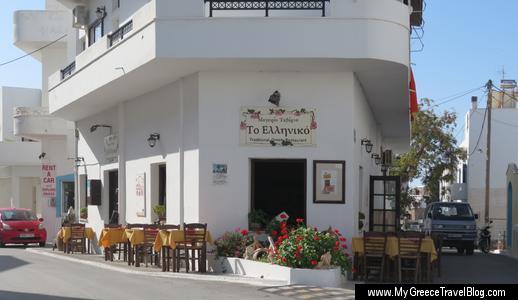 To Elliniko Taverna in Naxos Town
To Elliniko Taverna is just a 2-minute walk from Hotel Spiros, where we stayed during the second half of our two-week trip to Naxos in October. We went to To Elliniko twice and had delicious meals both times. The standout item from our first visit was the lamb in tomato sauce, a stew served with fried potatoes. The lamb was moist and tender and packed with flavour. We went back for more the next night, but were disappointed when the waiter told us the lamb wasn't available. We did enjoy something else instead, though, as you'll read a little later.
Best lamb chops
Lefteris Grill House on Mykonos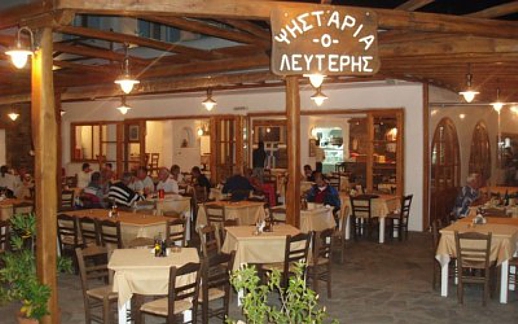 This photo appears on the Lefteris Grill House listing on inmykonos.com. It shows the restaurant's outdoor patio. There's an interior dining room, too.
On the final night of our Mykonos visit in May, some local friends treated us to dinner at Lefteris Grill House. Situated at Ornos just around the corner from the beach, Lefteris is apparently a favourite with island residents, and is popular for its grilled lamb chops in particular. That's what our friends told us, and that certainly seemed true on the windy, cold and rainy night we were there. Despite the inclement weather, the Lefteris patio was comfortable with the windscreens pulled down to shield guests from the elements. The place was packed, and I think we were the only people who weren't speaking Greek.  Everyone else seemed to know each other, exchanging pleasantries, shaking hands, and having very animated conversations.
Our friends took care of the food ordering, and our very filling meal included tzatziki, saganaki, and Greek salad to accompany our individual big platters of grilled lamb chops and fried potatoes. It was a lot of food, and the lamb lived up to its top billing.
We're told that Lefteris stays open late into the night, and provides delivery and take-out service. So if you get a craving for lamb chops and don't feel like leaving your studio or villa to order some in a taverna, you can always give Lefteris a ring and have dinner delivered to your door.
Best Greek salad
Aphrodite Restaurant on Ios, Enigma Restaurant on Ios, Fotis Taverna on Naxos and Paradiso Taverna on Naxos (Tie)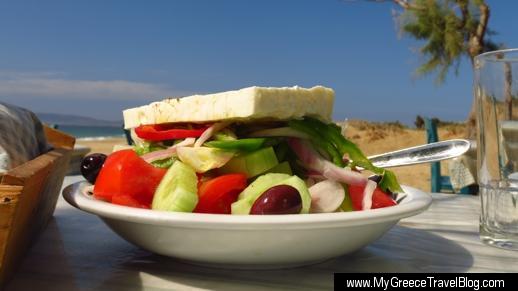 A Greek salad at Paradiso Taverna at Maragas beach on Naxos
Before we left home for Greece last spring, I wrote a post on May 10 2013 describing how much we were looking forward to ordering a Greek salad. We enjoyed several delicious salads during our trip in May, and many more in October, but we couldn't conclude that any one particular taverna served a better horiatiki than another. Some had smoother feta, some had richer-tasting olives, others had juicier tomatoes and a few had crisper peppers and cucumbers. We were able to narrow down the candidates to a short list, however, so we've declared a four-way tie.
Our biggest Greek salad was served at Fotis Taverna, a grill house at Agios Prokopios beach that has been one of our favourite go-to places on Naxos ever since our first visit to the island (see my March 26 2012 post for more photos and information about the restaurant). Our eyes nearly popped when our host, Fotis, arrived at our table carrying an enormous salad that was large enough to feed four people. It contained more tomato slices than any Greek salad we've ever seen, and came topped with two big chunks of feta. We surprised ourselves by finishing the entire serving.
The Greek salads at Aphrodite Restaurant near the Ios ferry port were served in generously-sized portions, too — though not as huge as the one we had at Fotis's place. We ordered the salad on three separate visits to Aphrodite in the course of our four-day visit to Ios, and they were delicious each time.
Enigma Restaurant, also near the ferry port on Ios, served a large salad, too, as did Paradiso Taverna at Maragas beach on Naxos. 
Though the salads at all four places were excellent, the one at Paradiso was probably the most memorable. We ordered it for lunch on our first full day on Naxos last October,while we were taking a leisurely walk to Plaka beach from our hotel in Stelida. A morning thunderstorm had soaked the island with a heavy downpour, and the sky was slowly starting to clear when we headed out for our afternoon hike. We got to Paradiso Taverna shortly after the stormclouds had cleared away, leaving a brilliant sunny sky in their wake.  A delicious Greek salad on a sunny, scenic beach with views of Paros — priceless!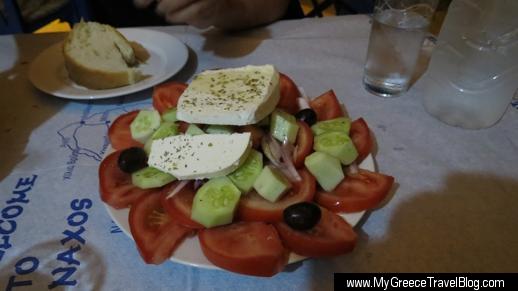 You can't tell from this photo, but our Greek salad at Fotis Taverna was huge, with two big chunks of feta and enough tomatoes to feed a family of four.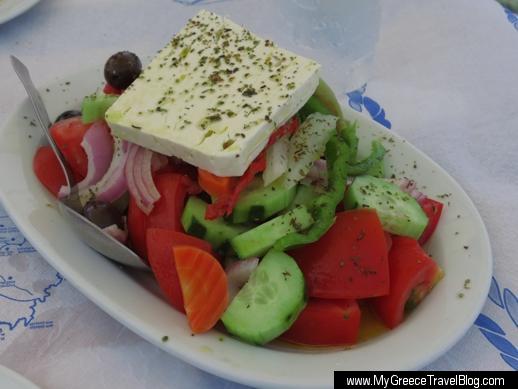 The Greek salad at Aphrodite restaurant on Ios came with a bit of a twist: It included pickled hot peppers and carrot slices that added some heat and crunch.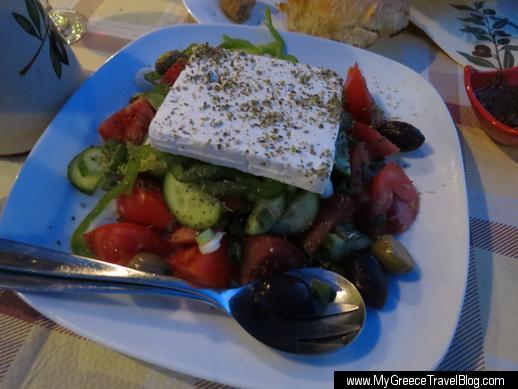 The deliciously crunchy Greek salad we enjoyed with our final dinner on Ios last May, at Enigma restaurant near the Gialos port
Best souvlaki
Fotis Taverna at Agios Prokopios beach on Naxos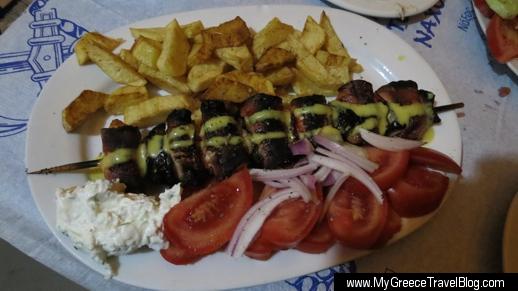 Fotis Taverna served its bacon-wrapped chicken souvlaki with large portions of fried potatoes and juicy tomato slices, plus a big dollop of tzatziki
When we went to Fotis Taverna for dinner on our first night on Naxos last May and took a look at the meat and seafood dishes in the kitchen display case, the bacon-wrapped chicken souvlaki caught our attention. We're not big fans of souvlaki because we've found the meat too chewy or dry most of the times we have ordered it in the past. I can recall only a few instances in which we actually enjoyed souvlaki. But we thought we'd give Fotis's a try, since we suspected that the bacon might  help moisten the meat. Sure enough, it did — the chicken was incredibly juicy and almost melt-in-your-mouth tender. Served with very large portions of delicious fried potatoes, juicy ripe tomatoes and a dollop of tzatziki, this was one very satisfying meal. So good, in fact, that we went back and ordered it again the next night!
Honourable mention goes to The Nest on Ios, where we were served a juicy chicken souvlaki in May.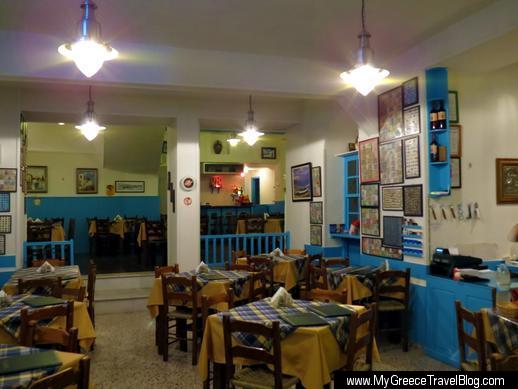 Interior of The Nest restaurant on Ios. The family taverna serves traditional Greek cuisine and has two of the friendliest hosts in the Greek Islands, brothers Dimitris and Yiorgos, who are always fun to chat with.
Best salads
Kiki's Taverna on Mykonos
This photograph appeared with two others in a September 16 2011 post on the foodie blog, lucyinthelarder.com. It shows just a few of the dozen delectable selections on Kiki's famous salad bar — artichoke hearts with lemon and garlic; lentils; broad white beans; tabouli; and beetroot with apples.
Earlier, I cited Kiki's Taverna for Best Dining Ambience. Although Kiki's is worth visiting just to experience its remarkable setting, it's also famous for its quality food. Kiki's specializes in charcoal-grilled meats and seafood as well as cold salads.
When you order your meal, the Kiki's staff will invite you to step into the kitchen to select items from their renowned salad bar. On our visit, there were at least a dozen different salad varieties to choose from, including lentils, white beans, chick peas and black eyed peas; curried pasta; Turkish eggplant; beetroot; couscous; tabouli; artichoke heart; carrot pineapple; sweetcorn; and potato salad.  You can order a plate with only one type of salad, or a dish with two half-portions. Or a platter with four. We wanted to sample everything, but we had to leave room for the grilled pork chop, which we knew would be enough for us both to share. So we decided to pick two items.  Anna, the manager of Hotel Tagoo, had told us the curried pasta was outstanding, so we asked for that along with the giant white beans. Anna was absolutely right — the curried pasta was incredible. We would go back to Kiki's just to have more of that. But next time I think we'll probably order a platter of four salads, unless we decide to order the grilled chicken breast … or the calamari … or …. perhaps another pork chop. Decisions, decisions!
Honourable mention for salads goes to Lemoni Grill House in Glyfada, where a friend took us for dinner last May. Lemoni features nine different salads on its menu, but our friend recommended the "Lemoni salad," which included shredded carrots, cabbage, peppers and beetroot drizzled with a delightful pomegranate and balsamic dressing. It was delicious — our favourite salad of the trip after Kiki's curried pasta. We actually returned to Lemoni the following night with other friends and ordered the "Lemoni salad" again!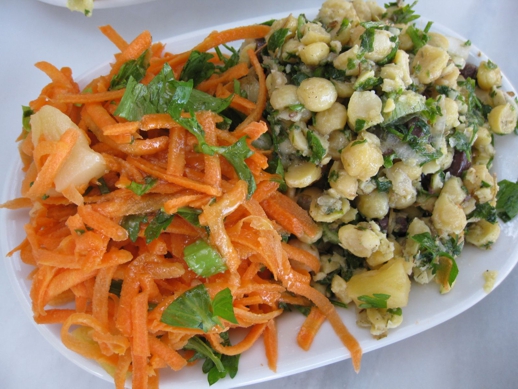 This photo is from a June 23 2010 post on Cara's Cravings, a blog that shares "indulgent recipes for healthy living." It shows two of Kiki's signature salads: carrot & pineapple,  and chickpeas with olives.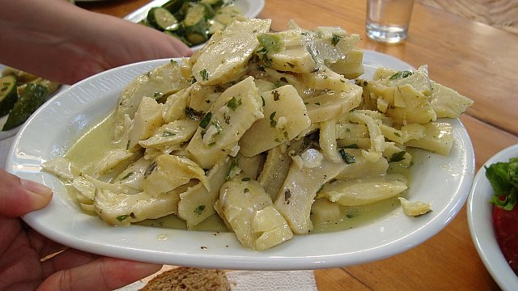 This photo of Kiki's artichoke heart salad with garlic, lemon and herbs was published in a November 20 2009 entry on The Dopamine Junkie.
Kiki's superb curried pasta salad is shown in this photo from a July 23 2012 post on the Eat Everywhere food and travel blog. The Eat Everywhere write-up about Kiki's includes photos of several more salads, so be sure to take a look at it.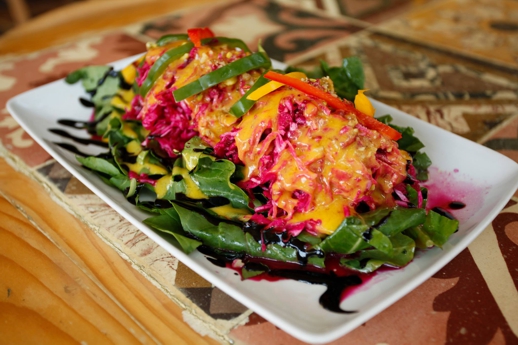 This isn't a Kiki's creation; rather, it's one of the signature salads at Lemoni Grill House in Glyfada. The Lemoni Salad is a tantalizing mix of carrot, cabbage, peppers and beetroot, drizzled with a pomegranate and balsamic dressing. This photo is from the Lemoni Grill House Facebook page.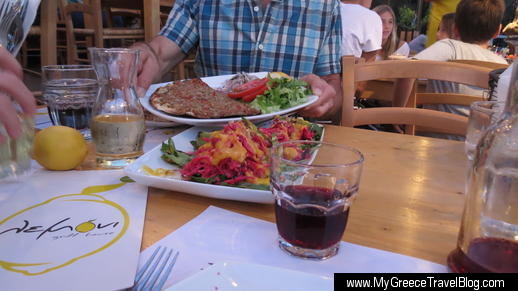 An Athens friend took us to Lemoni for dinner on a Friday night in May. We loved the Lemoni Salad, which we enjoyed with lahmajoon — Armenian meat pizza — a slice of which you can see on my plate in the photo above. We liked the Lemoni Salad so much, we ordered it again when we went back to Lemoni with other friends on the Saturday night!
Here's a video showing how the Lemoni Salad is prepared
Best pork chop
Kiki's Taverna on Mykonos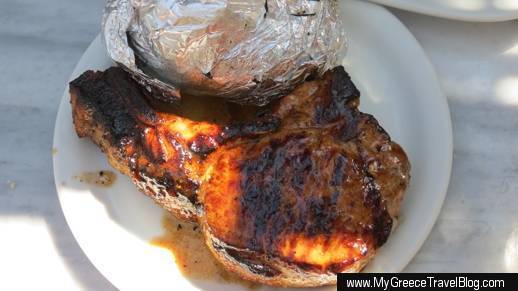 Kiki's pork chop is served with a huge baked potato. The chop and potato are so big, this one order plus a salad is substantial enough to fill two hungry adults
I am not exaggerating when I say that dozens of people recommended we try the grilled pork chop if we went to Kiki's Taverna for lunch. For two years, I kept hearing about the "must have" pork chops from other guests at Hotel Tagoo who had been to Kiki's — some of whom went there more than once in the course of a week's holiday because they loved the food, atmosphere and overall experience so much.
One guest at Hotel Tagoo referred to The Flintstones cartoons when he described the chops as being "Bam Bam-sized," while another suggested skipping breakfast so we'd have room to eat the whole thing. "And you probably won't want dinner that night because you'll still feel full from lunch," he said.
They weren't kidding. Our Kiki's pork chop was the biggest I've ever seen, and the baked potato that came with it was probably the largest, too. 
Amazingly, the meat was tender and juicy throughout, despite the fact it was about an inch and a half to nearly two inches thick. I can't cook pork chops one-tenth the size without drying them out!
If you're not a fan of pork, order the grilled chicken breast. It is stuffed with cheese, and it's a significant-sized portion, too. The Scottish fellow sitting next to me had that for his lunch, and when I saw his meal I felt a tinge of regret that we had ordered the pork chop instead. The chicken looked divine, and he said it was just as delectable as it looked.
Best grilled sausages
Giagiaka's Kitchen in Naxos Town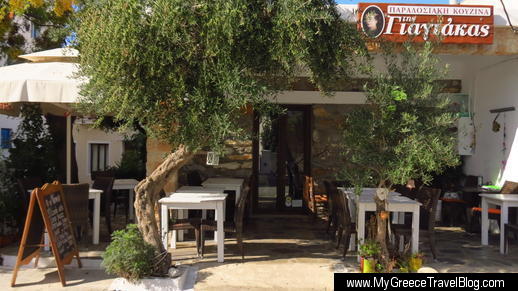 Street view of Giagiaka's Kitchen in Naxos Town
While researching Naxos prior to our return trip in October, I read many rave online reviews of the food at Giagiaka's Kitchen (it's the #2-ranked restaurant for Naxos Town on TripAdvisor.com, where the name is spelled Yiayiaka). I made a note to watch out for the restaurant, which some reviews described as being difficult to find. But we had no trouble locating it — Giagiaka's was just a couple of blocks from our hotel, and we walked past it many times during the course of our holiday.
We went to Giagiaka's for dinner on October 8, and took a table inside the restaurant because it was a chilly evening and we didn't want to sit outdoors. Several items on the menu caught our fancy, including the pastitsio, but when our host, Dimitri, came to take our order, he said none of our choices was available that night. We asked for a few more minutes to reconsider, and then selected a couple of the "specials" advertised on the sandwich-board signs on the street in front of the restaurant (one was lamb in lemon sauce, and I think the other was rooster in a tomato sauce). As our luck would have it, the specials were all "sold out." We pored over the menu and made a third set of choices but, yet again, Dimitri told us they weren't available. He explained that since it was nearly the end of the tourist season, the restaurant no longer offered everything printed on the menu.
By this point we were frustrated and felt like leaving. I was set to pay for my beer so we could head out to find another restaurant when Dimitri returned. This time we asked what Giagiaka's did have, and Dimitri mentioned several items that sounded good. One was Naxian pork sausages. Over the course of our holiday, staff at several restaurants had recommended the local sausages, describing them as a delicious "must try" Naxos specialty, but we never tried any. This time we thought "what the heck" and ordered some. (I'll tell you more about the rest of our dinner a little farther down in this post.)
The serving was huge — three very large, thick sausages. If we had ordered only those, along with a salad, that would have been plenty of food for the two of us. But we had ordered other dishes, too, and wondered how we would manage to eat everything. We each took one sausage and, as we had been assured, they were delicious and flavourful. Unfortunately, we were just too full to eat the third sausage. Dimitri wrapped up the leftover so we could take it back to the hotel and finish it another time.
If you like pork, be sure to try the Naxian sausages at Giagiaka's.
Best aubergines
Paradiso Taverna on Naxos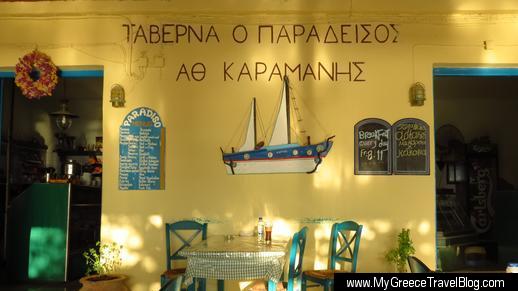 Kitchen entrances at Paradiso Taverna on Naxos
If you've read this far, you've learned that we're big fans of Greek salads and stuffed peppers and tomatoes. Another of our favourite Greek dishes is aubergines (eggplant), which tavernas prepare in a number of ways — grilled, roasted, and stuffed. We like them any which way.
On October 4, we took a walk down the southwest coast of Naxos to Plaka beach. The beach itself is several kilometers long, but we only walked part way before turning around for the long trek back to our hotel. It was late afternoon, and we were thirsty, so we stopped at Paradiso Taverna to have a drink and give our feet and legs a brief rest. When a waiter walked past carrying a plate of fried potatoes to another customer, I got a sudden craving for fries and ordered some for myself. Meanwhile, Dan popped into the kitchen to take a peek at the specials of the day. He came back a few minutes later and urged me to go take a look, too, saying the food looked exceptional — especially two different eggplant dishes.
He was right — the stuffed aubergines looked incredibly appetizing. Problem was, we didn't feel like having dinner that early, but we didn't want to come all the way back to Paradiso after returning to our hotel, either. We were pretty much walked out for the day. We asked the waiter if the eggplant dishes would be on the menu again the next day, but he said the selection would depend on what the chef felt like cooking. "Maybe" he would make eggplant tomorrow, and "maybe not." We decided to have both aubergine dishes then and there. One had a cheese stuffing, while the other contained minced meat. Both were delicious. Best eggplant dishes of the trip.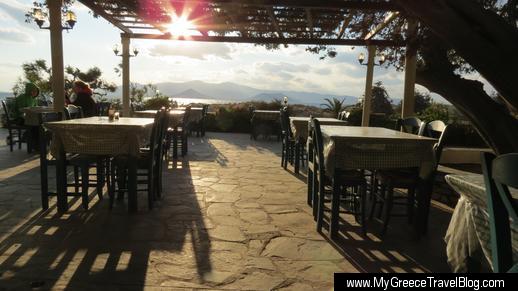 Paradiso Taverna terrace view toward Paros, shortly before sunset on October 4
Best moussaka
Nikolas Taverna on Mykonos and To Gorgona Taverna on Naxos (Tie)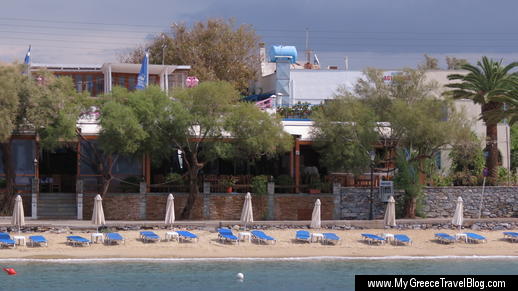 Taverna To Gorgona is partially hidden by a row of trees along the road at Agia Anna beach on Naxos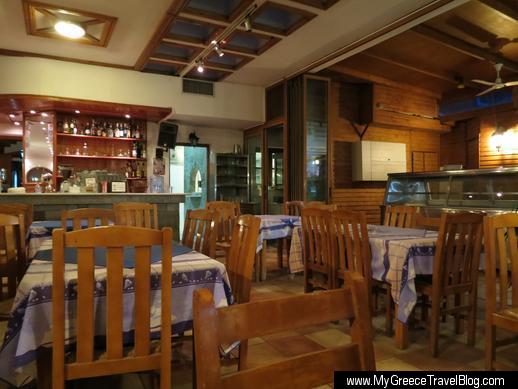 Just a small section of the large dining room at Taverna To Gorgona
A trip to Greece just wouldn't feel right if we didn't have a good moussaka for dinner at least once.  In May, Nikolas Taverna's home-cooked version hit the spot; it was light and fluffy — perfect for lunch on a warm spring afternoon. In October the hearty moussaka at Taverna To Gorgona did the trick. The thick, heavy portion was the perfect comfort food for a chilly autumn evening. Two totally different styles of moussaka, but equally enjoyable and satisfying.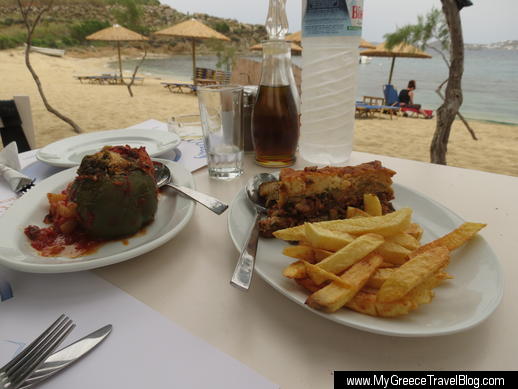 At Nikolas Taverna on Mykonos, the moussaka (right) was served with a side of delicious fried potatoes.
Best fish and chips
To Elliniko Taverna in Naxos Town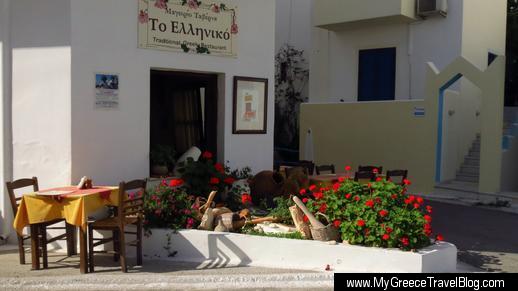 To Elliniko Taverna in Naxos Town
I'll be honest: It wasn't called fish and chips on the menu. But one of the specials at To Elliniko Taverna on October 11 was grilled sole, and it came with a side order of fried potatoes as well as slices of tomatoes and cucumbers.  The fries were yummy and the sole was absolutely dee-lish — best fish and chips we'd tasted in a long, long time. So good, in fact, that we requested a second order. But wouldn't you know it — the kitchen had run out of fish. We had ordered the last portion.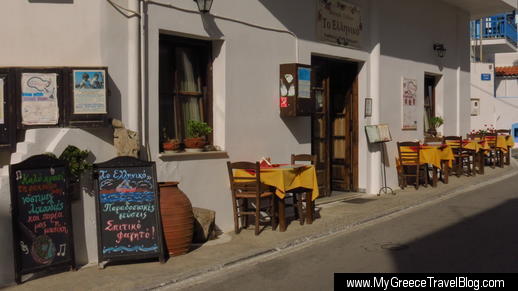 Outdoor tables at To Elliniko Taverna
Best risotto
Giagiaka's Kitchen in Naxos Town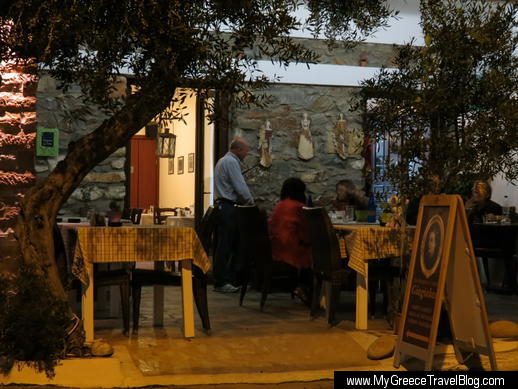 Evening view of tables next to the street outside Giagiaka's Kitchen
Earlier, I described the big three-piece portion of Naxian sausages that Giagiaka's Kitchen served us. It was just one of several dishes that we requested. We also ordered zucchini fritters and a plate of fried potatoes, both of which were good. But the highlight of our meal was the curried vegetable risotto, which was absolutely scrumptious. I wasn't keen when Dan suggested ordering it, but since Giagiaka's seemed to be sold out of everything else that night  I agreed to give it a try. Sure glad I did, because it was awesome — probably the best risotto I've ever tasted. I would love to try making this at home, but I know I wouldn't get the curry to taste as zesty and robust as Giagiaka's.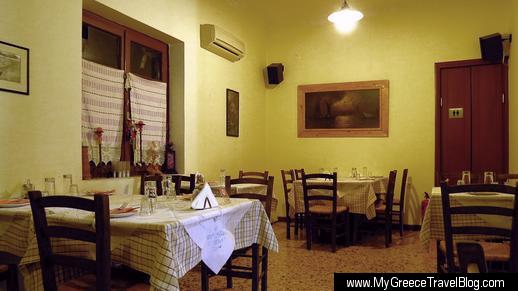 The dining room at Giagiaka's Kitchen. The restaurant also has several tables outside, next to the street, and on a courtyard terrace at the rear of the building.
Best goat
I Kali Kardia taverna in Naxos Town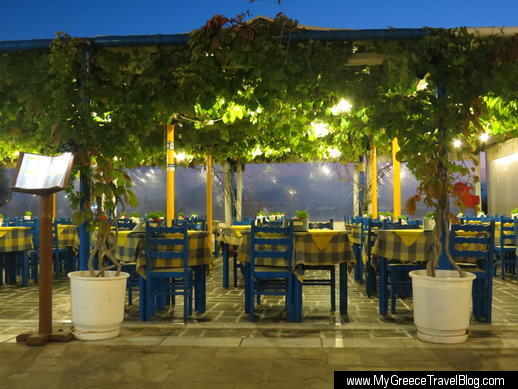 Outdoor terrace at I Kali Kardia taverna in Naxos Town
We've been fans of roasted goat ever since we tried the local patatato specialty at Kamara Café on Amorgos back in 2009 (see my March 29 2013 post for details about that memorable dining spot).
We've had delicious goat only a couple of times since, probably because it isn't usually listed on menus — when available, it has typically been offered just as a special dish for that particular day.
On our final night in October, we went to I Kali Kardia for dinner specifically because I saw that they had a goat stew (they called it "goat in red sauce"). It was fantastic! Moist, tender, and juicy … exactly as we had hoped. We liked it so much, we ordered a second serving — for dessert.
That was the one and only time we had goat for dinner in 2013, but it gave us our goat "fix" for the year and will tide us over until our next trip.
Best appetizer dip
Fotis Taverna on Naxos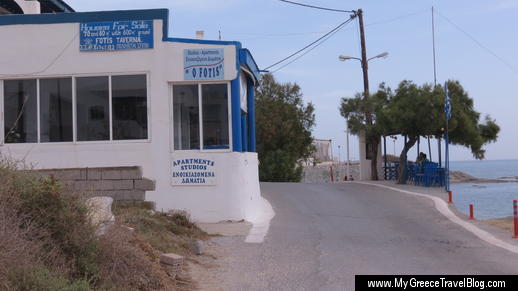 Fotis Taverna has a dining area in the restaurant building, left, as well as several tables under the tree across the road. Those tables overlook Agios Prokopios beach, and are an excellent spot to watch the sunset.
I'm not ashamed to admit this — we're not big fans of tzatziki. In fact, we don't particularly like it. But it's offered as a cold appetizer virtually everywhere you go in Greece and practically everybody seems to order it. Restaurant staff give us strange looks when we say we don't want any. We prefer hummus or melitzanosalata (eggplant dip), but order those only occasionally.
In May, we got a surprise when we ordered the "eggplant salad" off the menu at Fotis Taverna. We were expecting a cold aubergine salad of some kind, but it turned out to be melitzanosalata — and an exceptionally good one, at that. It had a rich, smoky flavour — stronger than any eggplant dip we've had before — and we polished it off in no time.
When we returned to Fotis the next night, we had the "eggplant salad" once again, and loved it just as much the second time. You can bet we'll be going back for more next time we're on Naxos.
Honourable mention for appetizer dips goes to Joanna's Niko's Place at Megali Ammos beach on Mykonos. The beach taverna is hugely popular for its grill, which Joanna fires up around 7 o'clock each evening. But her menu also includes a sampler platter of dips, all of which are quite delicious. In fact, the dips were the item we enjoyed the most from our meal last May.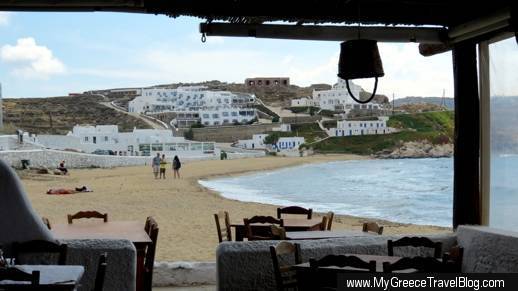 View of Megali Ammos beach from the interior of the seaview dining terrace at Joanna's Niko's Place on Mykonos.
Best taverna for large portions
Taverna To Gorgona and Giagiaka's Kitchen on Naxos (Tie)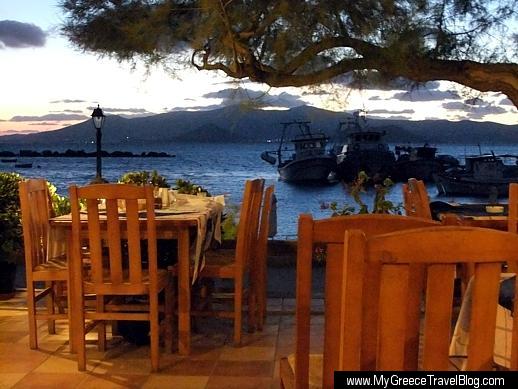 The big windows at the front of Gorgona Taverna give customers a view of the fishing harbour at Agia Anna, as well as Paros island across the channel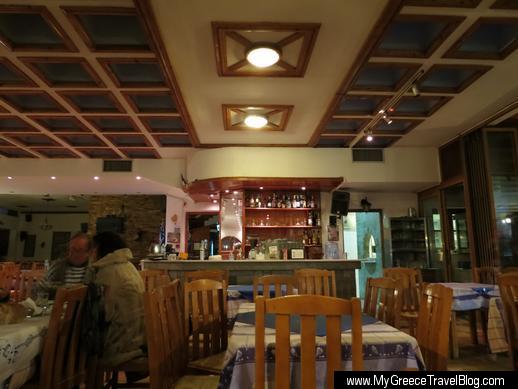 Just one small section of the spacious dining area at Gorgona Taverna
The word "big" comes to mind when we think of To Gorgona Taverna at Agia Anna beach on Naxos. It's a big place with a sprawling dining room that can comfortably host large groups for family celebrations, birthday parties, weddings and other events. It has big, wide windows offering views of the Agia Anna fishing harbour as well as Paros island in the distance. It has a big selection of food — everything from cold and hot appetizers and salads to traditional Greek vegetable dishes, grilled meats and seafood.
Make sure you have a strong appetite if you ever go to Gorgona, because the other thing that's big there is the size of its food servings.
Good thing we were feeling famished when we arrived for dinner on October 5. We ordered the mixed grilled vegetables, moussaka, stuffed peppers and giant beans and were about to request a fifth item when Koula, who has managed the Gorgona with her husband, Dimitri, for the past 25 years, abruptly exclaimed "Stop! Enough!" It took us by surprise, but Koula explained that we had already ordered plenty to eat and wouldn't need anything more. She was right — the portions were huge, and we felt totally stuffed by the time we took our final bites. (Amazingly, we didn't leave a morsel of food on our plates.) We were glad we had a 25-minute uphill walk back to our hotel, because we needed to work off some of the gazillion calories we had just consumed.
Portions were big at Giagiaka's Kitchen, too. I mentioned previously that we couldn't eat all of the Naxian sausages that we ordered there, even though they were yummy. We also couldn't finish eating all the fried potatoes, something that came as a bit of a shock since I love, love, love the fried potatoes in Greece and can't get enough of them (until that night). Our curried risotto also came in a very generously-sized serving.  If you ever go to Giagiaka's, be sure to arrive hungry there, as well.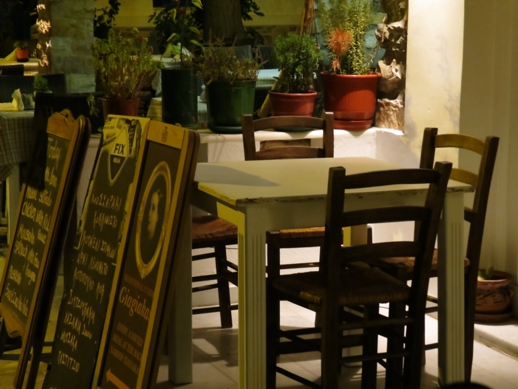 Sandwich-board menu signs rest against one of the tables on the front terrace of Giagiaka's Kitchen
Best dessert
La Vigne Wine Bar in Naxos Town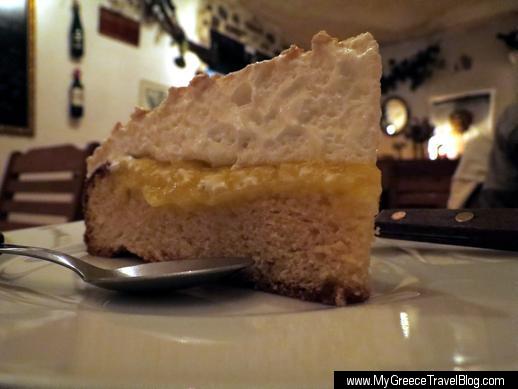 La Vigne's light and fluffy lemon meringue cake was fabulous
 Best. Dessert. In Greece. Ever.
Best complimentary thank-you treat

Tsi Tsi Estiatorio in Glyfada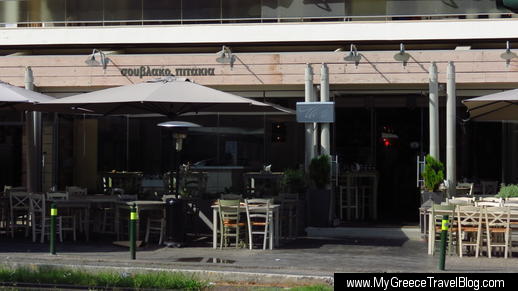 Entrance to Tsi Tsi Estiatorio on Metaxa Street in Glyfada
In Greece, it's common for tavernas and restaurants to offer customers a complimentary treat at the end of their meal, as a thank-you gesture for giving them business. Often it's a sweet pastry or another dessert of some kind, sometimes it's a plate of sliced fruit, and occasionally it's an alcoholic beverage, like a shot of mastiha liqueur from Chios, a glass of sweet wine from Samos, or a tumbler of home-made rakomelo. Not all establishments offer something, but in our experience most do.
Our best thank-you treat in 2013 was at Tsi Tsi estiatorio in Glyfada on the final night of our holiday in May. We had been to the restaurant for a light lunch, and enjoyed it so much we went back for dinner.  The same staff were working both times, and when we arrived in the evening one of the waitresses made us chuckle when she joked: "Where have you been? We missed you!" When I asked for the bill at the end of our meal, she returned with a platter containing not one but six different desserts, including ice cream, mousse, pastries and chocolate cake. We were already full from our meal, and could barely finish the desserts, but they were just too tasty to pass up. It was a really nice touch on Tsi Tsi's part, and of course totally unexpected.
Honourable mention goes to Fato a mano restaurant in Mykonos Town, which gave us three complimentary treats following our lunch on May 13 — a plate of sliced fruit, a serving of yummy galaktoboureko (a custard-filled phyllo pastry), and two glasses of sweet wine.
Night view of the outdoor dining terrace at Tsi Tsi
Fato a mano restaurant in Mykonos Town
Above is the Best food & drink 2013 album on the mygreecetravelblog Flickr page. It contains full-size versions of the photos displayed in this post, along with dozens of extra photos of many of the bars and restaurants — over 200 photos in all. Click once on the image to view a small-format slideshow, or click twice to open the album and see full-size versions of the photos.