~ continued from page 1 ~

Arguably the most famous beach venue on Mykonos, Nammos opens on Saturday April 21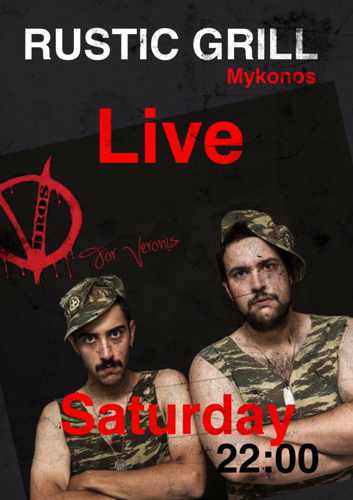 Local rock group the VBros performs at Rustic Grill on Saturday April 21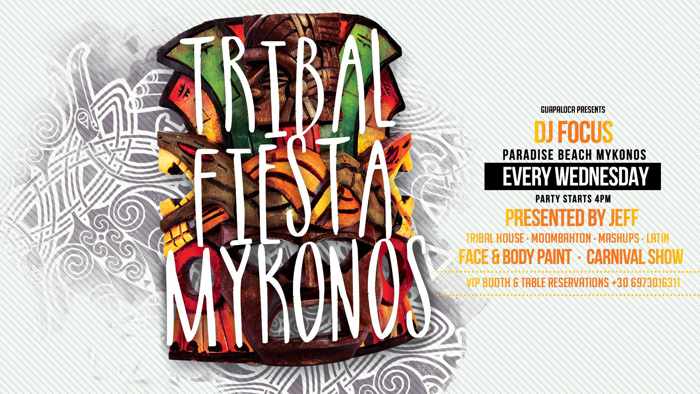 Guapaloca throws its first Tribal Fiesta party of 2018 on Wednesday April 18, and will hold it again every Wednesday starting at 4 p.m. throughout the summer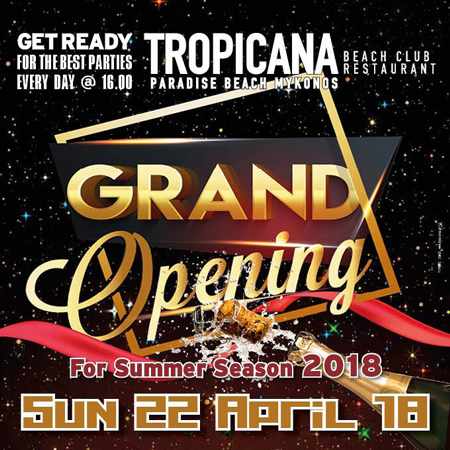 April 22 is opening day for Tropicana club at Paradise beach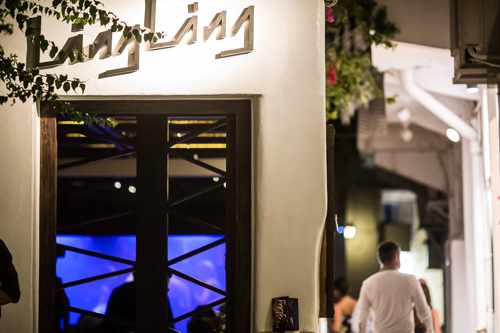 Ling Ling returns for a new season on Thursday April 26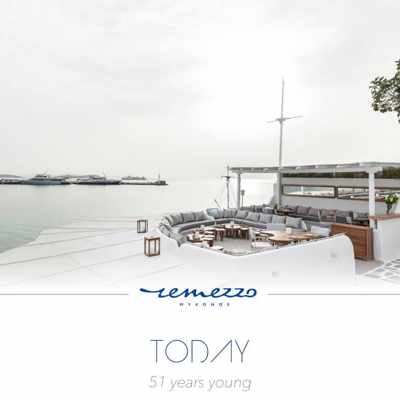 Remezzo returns for its 51st season on Friday April 27
Alemagou brings its unique beach vibe back to Ftelia beach on Friday April 27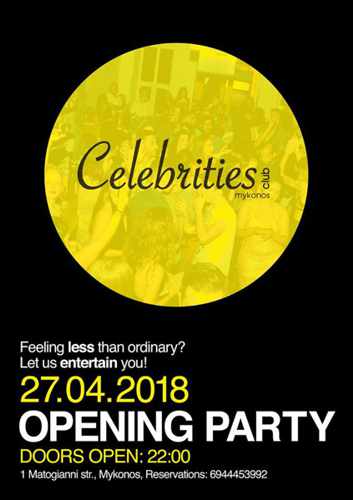 Season opening party for Celebrities Club is on Friday April 27
DJs Mapet and Mark Code will spin for the opening party at Room 101 on Friday April 27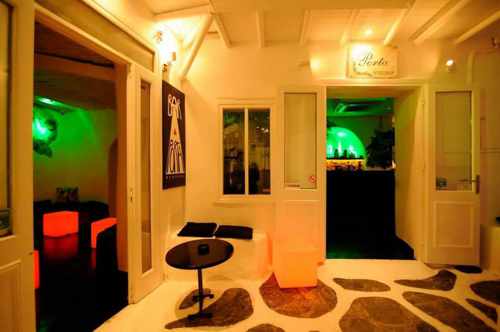 Also opening on Friday April 27, following a complete interior renovation, is Porta bar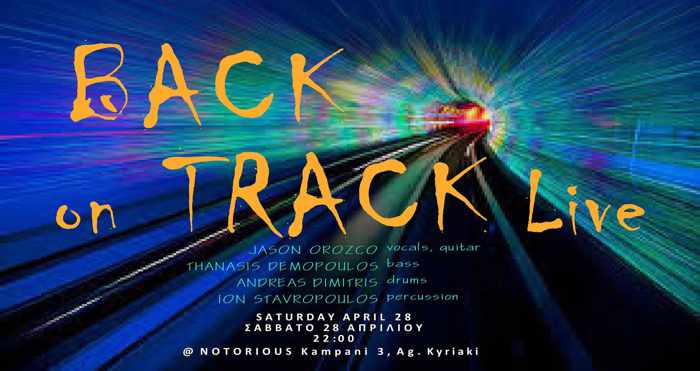 Notorious presents another Back on Track live rock show on Saturday April 28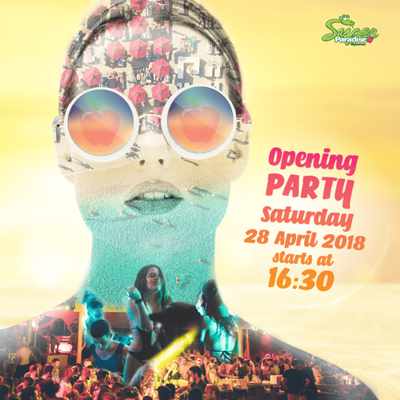 Super Paradise Beach Club kicks off its 2018 season with an opening party on Saturday April 28
Rustic Grill hosts a Latin Dance event each Sunday starting at 10 p.m.
Nammos invites you to get up on the tables and dance to music by DJ Antonis Dimitriadis on Sunday April 29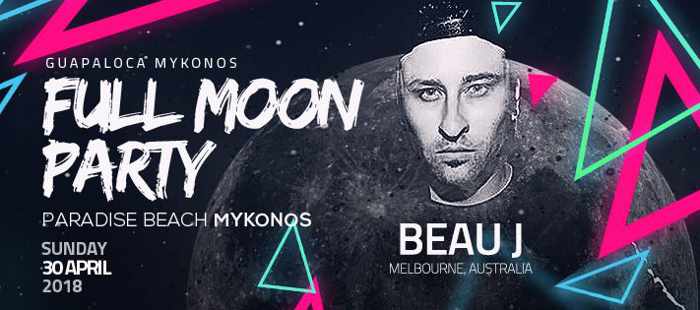 The first Full Moon Party of 2018 takes place at Guapaloca Club at Paradise beach on Sunday April 30, with music by DJ Beau J from Melbourne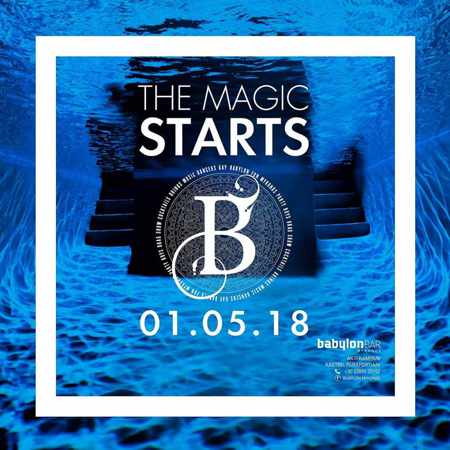 Tuesday May 1 is opening day for Babylon bar in Mykonos Town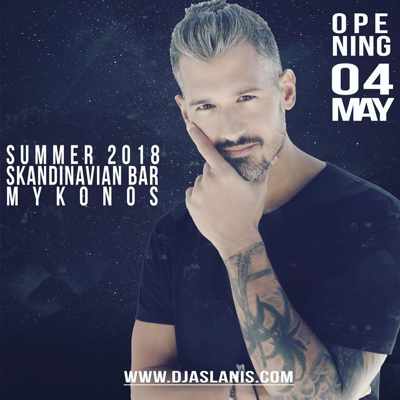 DJ John Aslanis will be on the decks for the summer 2018 opening party at Skandinavian Bar on Friday May 4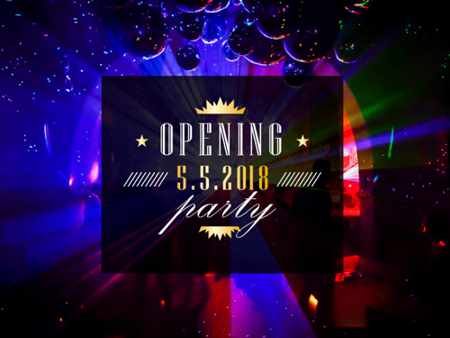 At54 club starts its season on Saturday May 5 with an opening party featuring a live show by singer Kelly Kaltsi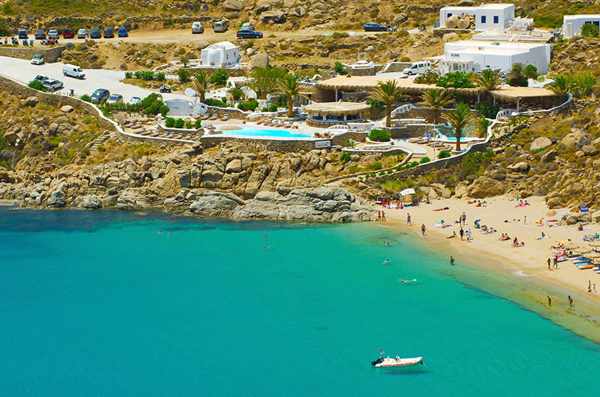 JackieO' Beach opens for the summer on Saturday May 5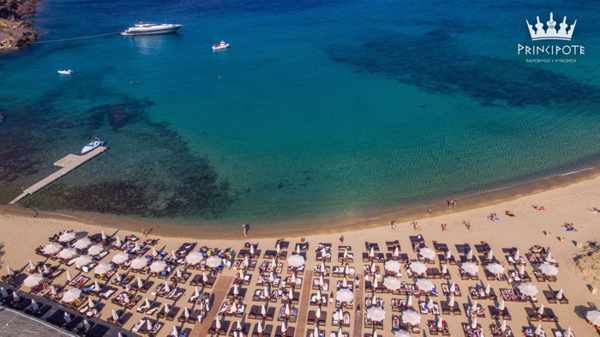 Principote Panormos starts its season on Thursday May 10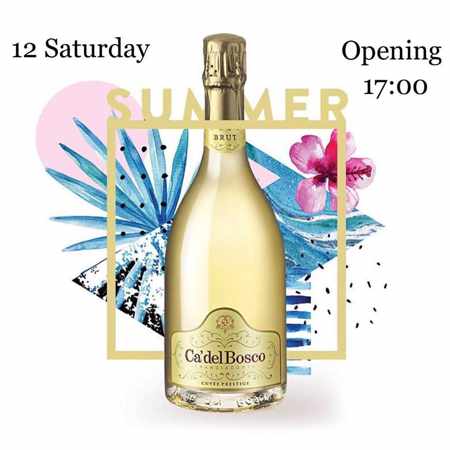 Corks will be popping when Vinos wine bar & restaurant celebrates its summer opening on Saturday May 12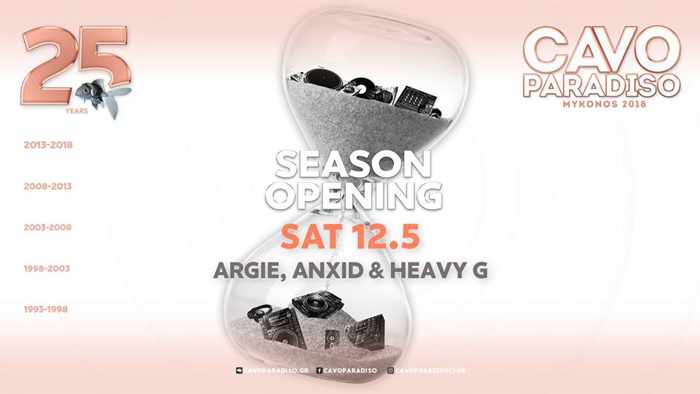 Cavo Paradiso launches its 25th season on Saturday May 12 with DJs Argie, AnXid & Heavy G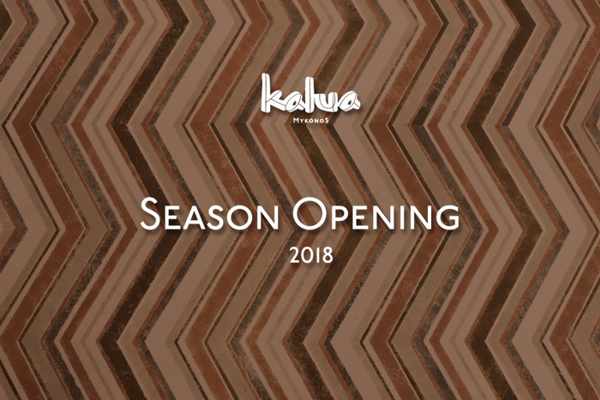 Kalua returns to Paraga beach on Sunday May 13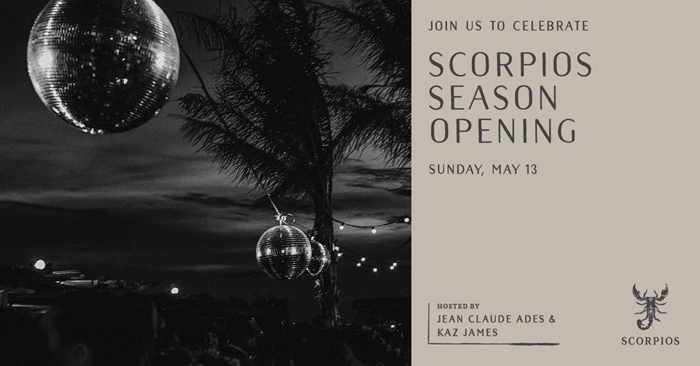 Jean Claude Ades and Kaz James host the season opening party at Scorpios on Sunday May 13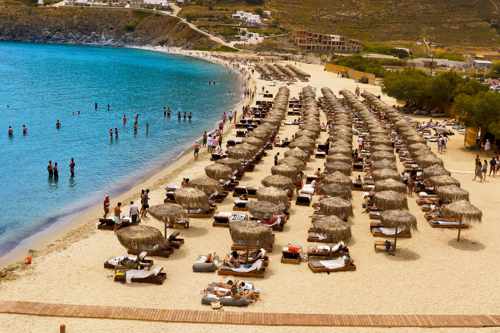 Solymar beach restaurant and bar returns to Kalo Livadi on May 15
This is a teaser for the SantAnna beach club at Paraga beach, which will launch its 2018 season on Tuesday May 22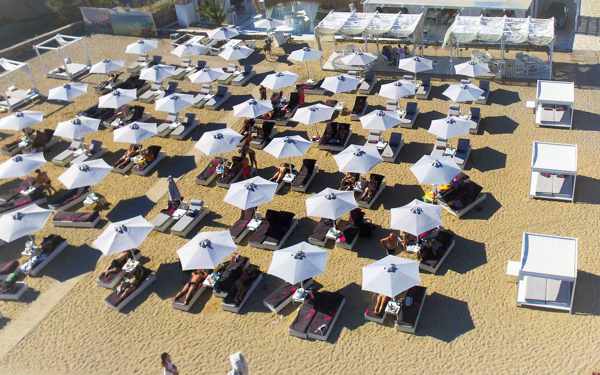 The brand new Divine Sea & More beach bar and restaurant celebrates its grand opening at Super Paradise beach on Friday May 25
Narghile Bar and Sale e Pepe restaurant celebrate their official summer opening on Friday May 25 with a live performance by singer Kelly Kaltsi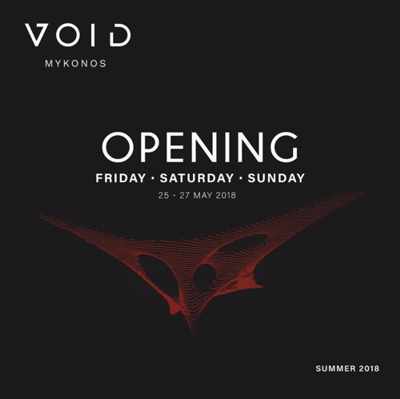 Void celebrates its 2018 opening with parties on Friday May 25, Saturday the 26th and Sunday the 27th

Madon club opens for the season on Friday May 25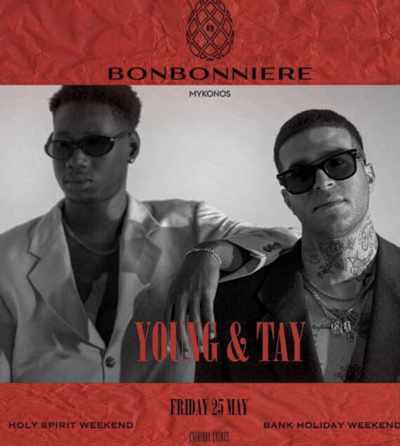 Young & Tay headline the soft opening party at Bonbonniere on Friday May 25. The club's official opening party will be held in June.
Güzel gets its 2018 season going with an opening party on Friday May 25

Live Greek music venue 4711 Mykonos opens on Friday May 25, with performances by Dionisis Sxoinas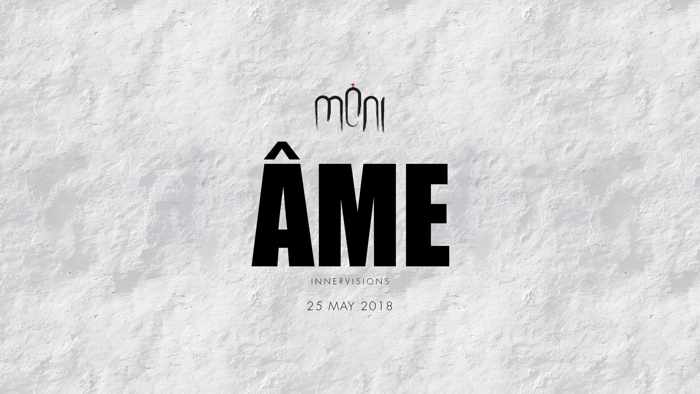 Live DJ duo Âme is headline act for the opening party at  Moni nightclub on Friday May 25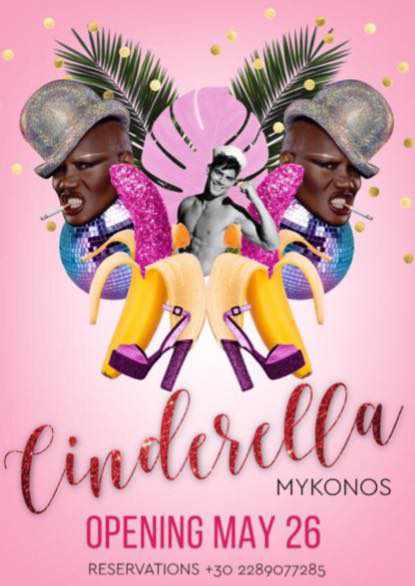 The new Cinderella Mykonos  dance club celebrates its grand opening on Saturday May 26. Inspired by the legendary Piero's bar, a former icon of the Mykonos nightlife party scene, it's the summer island outpost of the Cinderella club in Athens.

Toy Room Club kicks off its 2018 season with a June 1 opening party featuring music by DJ Silence and J Fyah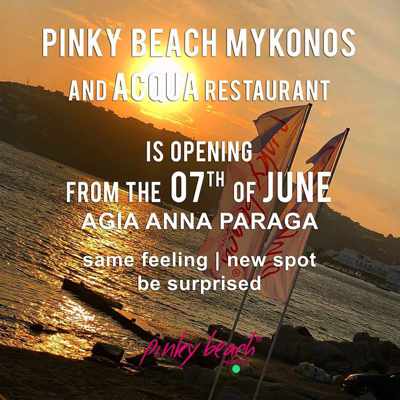 Pinky Beach has bid goodbye to Super Paradise, and will open its new location at Agia Anna / Paraga beach (the small beach situated between Paraga and Platis Gialos beaches) on Thursday June 7.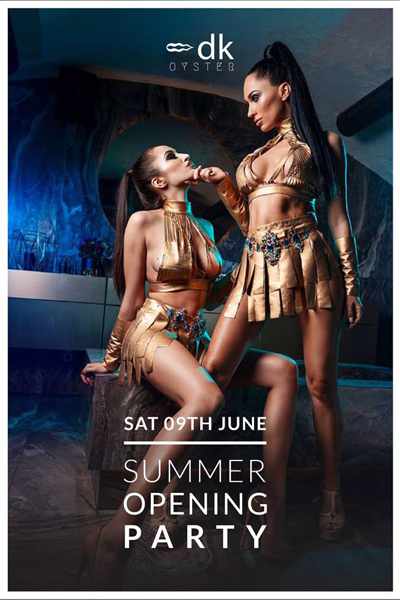 DK Oyster is holding its summer opening party on Saturday June 9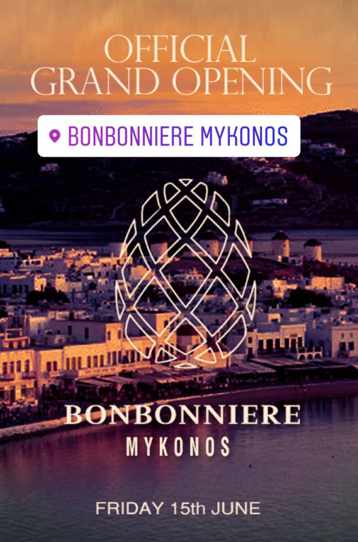 Bonbonniere celebrates its official grand opening for 2018 on Friday June 15
SEE PAGE 3 FOR A LISTING OF DAILY AND WEEKLY REGULAR EVENTS BEING HELD AT MYKONOS BARS AND CLUBS THIS SUMMER.
CONTINUED ON PAGE 3