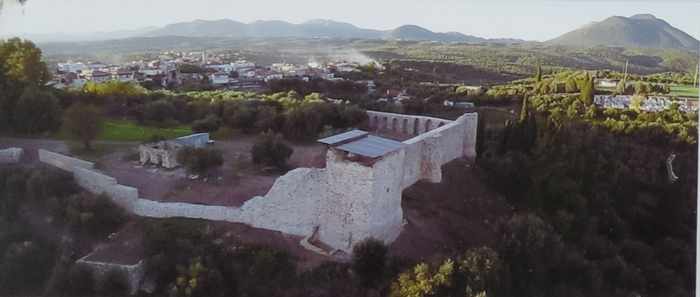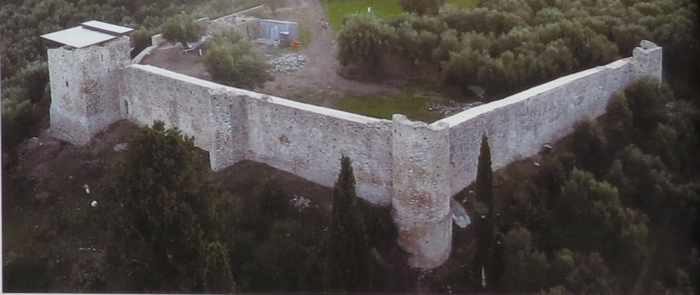 Aerial views of the remaining walls of Androusa Castle in Messenia. The images are from an on-site information plaque that describes the features and history of the ancient castle, as well as recent restoration work by the Ephorate of Antiquities of Messenia.
First fortress:  On Day 2 of our May 2017 holiday in the Peloponnese, we drove south from Ancient Messini, where we passed vast groves of olive trees and several small settlements before stopping at the village of Androusa to see the first of several castle ruins on our list of attractions to visit.
As I noted in my earlier post Our 4-day road trip in the western Peloponnese, the village is home to Androusa Castle, a fortress built by the Franks in the middle of the 13th Century.  It was a significant military stronghold for the Kalamata region for several hundred years, after which the castle became an important administrative center. But just as the need for a fortification in the area declined, so did maintenance of the castle, which eventually crumbled and lay in a state of neglected ruins from the early 18th Century.
In early 2012, the Ephorate of Antiquities of Messenia launched a €550,000 project to restore parts of the castle's eastern curtain walls and repair its few standing towers. The work was completed in 2015.
There isn't much on the site apart from the rehabilitated wall sections and towers, and a few small stone buildings, so it doesn't take long to walk around the grounds and see all that's there — including lovely panoramic views of the lush green landscape that extends to the Messenian Gulf. If you're travelling in the area and happen to be passing through Androusa or close by, you might find it interesting to stop for a quick look, as we did. But unless you're a huge fan of castles, I wouldn't recommend going out of your way to see it. Within reasonable driving distance you'll find several immense and largely intact fortresses that are much more worthwhile to visit, including the Neokastro at Pylos and the Methoni castle at Methoni.
On page 2 of this post, you can view our photos of Androusa Castle. If you'd like to see or learn more about the fortress, check out these links:
♦ the Castle of Androusa page on Kastrologos — Castles in Greece;
♦ the Castles page on Picturesque Peloponnese (you'll have to scroll about two-thirds of the way down the page to view the Androusa section); and
♦ the Androusa page on the Castles of Greece website operated by Andrew Sawyer.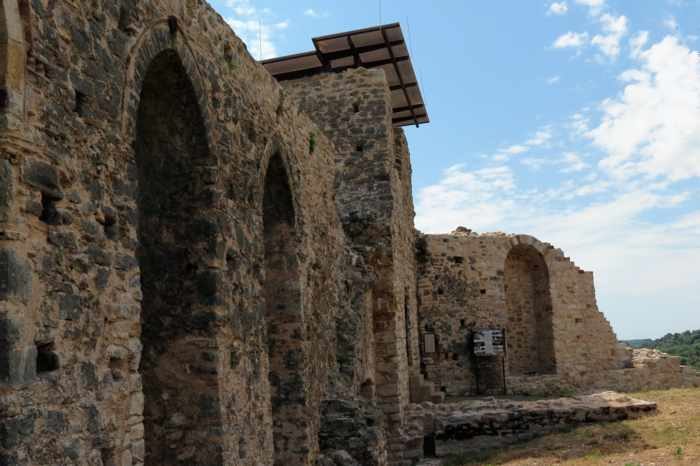 Part of the restored eastern curtain wall and tower at Androusa Castle, which was built more than 700 years ago
CONTINUED ON PAGE 2