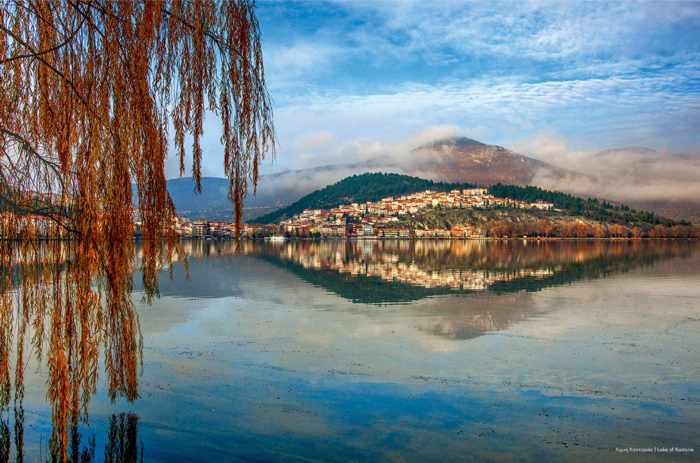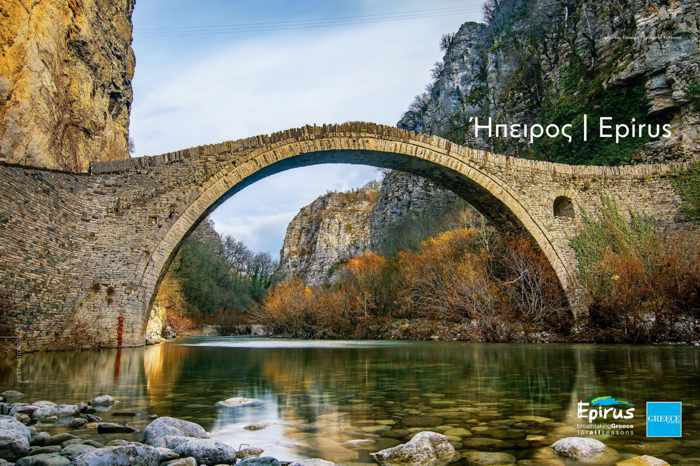 These striking photos of the city of Kastoria in northern Greece and the historic Kokkoros Bridge in Epirus are from The White Issue of Fly, the magazine of Sky Express airline. The  picture-packed issue spotlights visit-worthy mainland Greece destinations that aren't on typical tourist itineraries.
Armchair travels: Since we can't take our scheduled spring trip to Greece because of Covid-19 lockdowns and travel restrictions, we have been travelling there vicariously — by reading magazine and newspaper articles about destinations, hotels, attractions and a wide variety of aspects of Greek life and tourism. Armchair travel lacks the thrill and pleasure of actually going to Greece, of course, but it's a heck of a lot better than brooding about the cancellation of our 2020 holiday plans while we're cooped up in home quarantine.
On the positive side, our time catching up on articles published over the past six months has been well spent, introducing us to incredible places in Greece we weren't too familiar with, and giving us ideas and inspiration for trips we hope to take once the pandemic has passed and Greece re-opens its borders to international visitors.
Since the articles and photo profiles could be interesting and helpful to readers dreaming about their own future trips to Greece, we will be sharing our "quarantine travel reads" in a series of  blog posts, beginning with this one.
Destinations and topics profiled in this instalment include:
♦ Thessaloniki and the Halkidiki peninsula;
♦ Athens
♦ the southern Peloponnese, including Costa Navarino, the Mani and Monemvasia; and
♦ Impressive towns, villages and scenic areas in mainland Greece
Upcoming blog posts will spotlight:
♦ stylish luxury hotels and hot dining spots in Athens, Crete, Mykonos, Paros, and Santorini;
♦ travel writer accounts of trips to Athens and various Greek Islands, including Evia, Milos, Paros and Symi;
♦ Cretan food and the Mediterranean diet;
♦ mini guides to Greek islands, and more.
Athens and the southern Peloponnese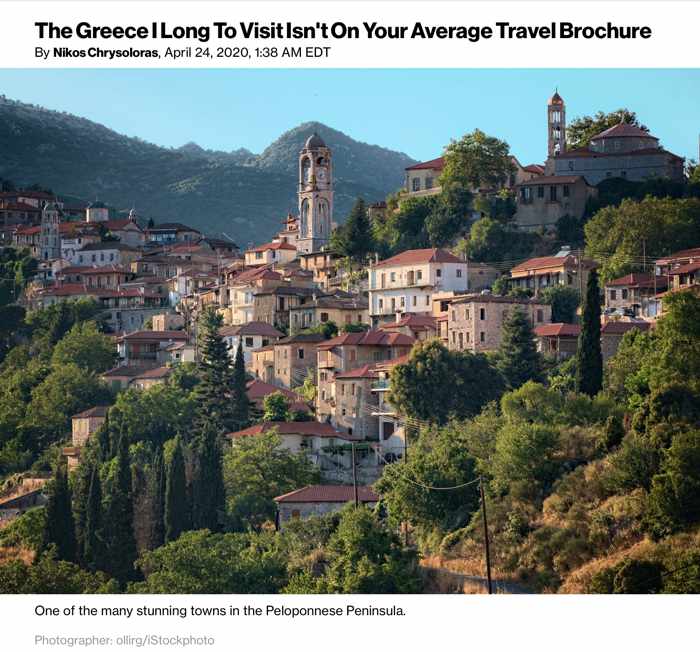 Dimitsana, a mountain village in Arcadia, is among the places writer Nikos Chrysoloras recommends visiting in the southern Peloponnese
"…there will be so much Greek paradise for you when this viral outbreak is behind us" says Nikos Chrysoloras, whose article The Greece I long to visit isn't on your average travel brochure was published by Bloomberg News on April 24.
Greece does indeed abound with places people would consider paradise, but Chrysoloras devotes his article to describing a travel itinerary that will let visitors experience the true essence of Greece first in Athens and its surrounding area, and secondly during a scenic road trip through the southern Peloponnese peninsula.
A must-see in the historical center of Athens, he says, is Monastiraki Square, which "epitomizes my country perhaps more than any island or beach." He recommends two rooftop bars overlooking the square, from which visitors can enjoy spectacular views of the Parthenon and other historic monuments. "It's the weight of millennia packed in the space of a single block," Chrysoloras notes. He also recommends a day trip along the Athens Riviera and a visit to the clifftop Temple of Poseidon at Sounion, famous for its sensational sunset view, which he describes as "Greece, Profound." He also suggests specific places to drink and dine, so visitors planning to spend time in the city would be wise to bookmark the article for easy reference once in Athens.
For the Peloponnese portion of his suggested roadtrip, Chrysoloras recommends starting off in the area around the Costa Navarino resort and the incredible Voidokilia beach (which I wrote about in my blog post A bucket list visit to Voidokilia), and then exploring the rugged Mani region. "It's a mountainous terrain with stone-built villages and very narrow roads leading to pebbled beaches. This area is the land of the ancient Spartans, people as defiant as history suggests." Again, Chrysoloras recommends places to stay, dine, hike, swim and enjoy a drink with a fabulous sunset view.
From Mani, the drive continues to the castle town of Monemvasia, whose "medieval alleys are full of mystery and wonder, like a set that Game of Thrones producers ought to have used." On the way back to Athens from there, Chrysoloras urges a detour to Dimitsana — his mother's home town — "one of the most characteristic specimens of the mountainous side of Greece. Surrounded by conifer trees, you can enjoy unspoiled traditional stone architecture and hike in the area's beautiful forests and nearby villages." Although worth a look nearby is Panagia, a now-deserted village where Chrysoloras recommends a taverna that serves outstanding traditional dishes. 
Please click on the link below to continue reading on page 2, where we discuss excellent magazine articles about Thessaloniki, noteworthy destinations in mainland Greece, and fascinating places to explore in Athens.
CONTINUED ON PAGE 2