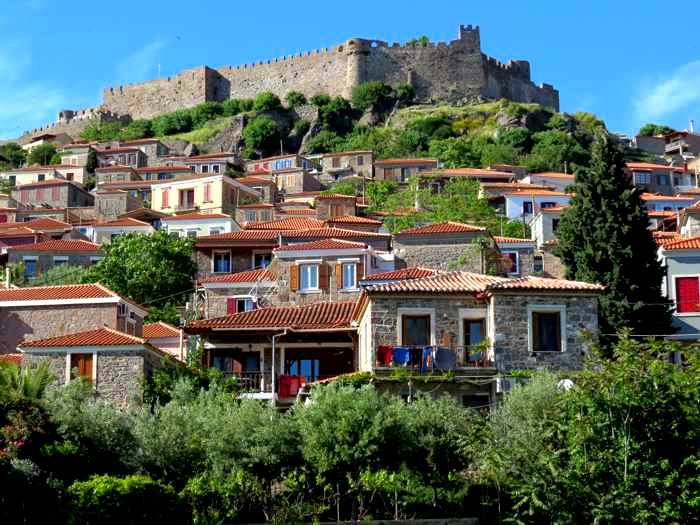 Even though it meant climbing up and down hundreds of stone steps, we couldn't resist exploring the residential districts that line the steep slopes beneath Molyvos Castle. 
My first Moments in Molyvos post included of photos we shot, during our spring 2019 vacation, of sights along on the town's main road and harbour. 
In this instalment, we venture uphill to explore the residential areas situated on the steep slopes that descend from the hilltop Castle of Molyvos to the main road. Photos in this collection include elegant stone houses, villas and hotels; four of the town's major churches; shops and restaurants lining the cobblestone lanes of the historic market district; a lovely pine-forested park; the municipal cemetery; and occasional scenic views from the hillsides. We will visit the castle in Part 3.

Tile-roofed stone buildings, many of which are centuries-old, cling to the steep hills below the Castle of Molyvos. In this post, we enter the maze of lanes and steps between the buildings to take a closer look at what's there.
Please click on the link below to continue the photo tour of Molyvos. 
Page 2 contains pictures from our walkabouts in the town's traditional market and surrounding neighbourhood, while
Page 3 features photos of our walks on the hillsides below Molyvos Castle.
Page 4 has pictures from our walks on the hills northwest of the castle, high above the harbour.
CONTINUED ON PAGE 2