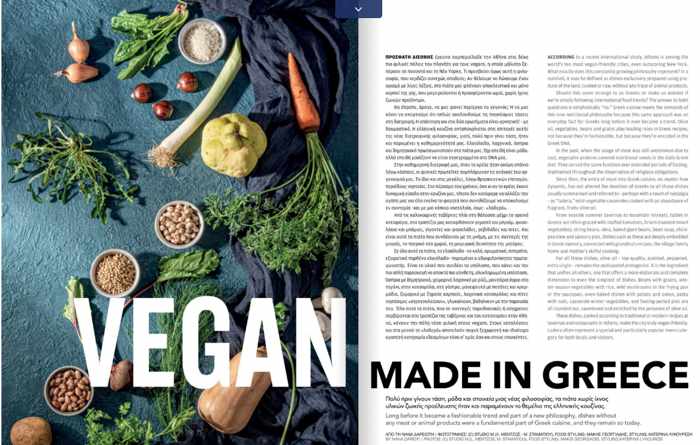 "Long before it became a fashionable trend and part of a new philosophy, dishes without any meat or animal products were a fundamental part of Greek cuisine, and they remain so today," says the introduction to an Aegean Airlines in-flight magazine article about vegan food.
Feta. Greek Yogurt. Plant-based cuisine. Local Greek Island specialties. Wine bars in Athens. Vineyards open to visitors. These are a few of my favourite things in Greece, and they're also the subject of magazine and newspaper articles I found particularly informative and instructive to read in 2019.  If you love food and wine yourself, and have a trip to Greece in your sights for 2020 (or later), the publications I spotlight in this post will give you an advance taste of the culinary and oenophilic delights you can plan to experience.
The articles I have selected as best reads for 2019 cover some topics that interest me personally, and others that will be useful to people who have emailed me or asked questions on social media or online travel forums that I regularly follow, like the Greece forum on TripAdvisor.
For instance, there's a question that has become increasingly common in the past couple of years: "Will I be able to find vegan food & restaurants in Greece?" The answer: "Absolutely!" Brand-new restaurants specializing in vegan cuisine have been popping up in Athens, Mykonos and other major tourist destinations in recent years, while many existing eateries have been adding a range of vegan dishes to their menus to meet rapidly rising customer demand. But even in off-the-tourist-path places, travellers won't have any trouble finding delicious meals that haven't been prepared with meat or animal products.
As writer Nana Daroti notes in the article Vegan: Made in Greece, which starts at page 110 in Issue 80 of Blue, the Aegean Airlines on-board magazine,  Greeks are devoted to vegetable dishes known generally as ladera, and which can be found everywhere from "summer seaside tavernas to mountain retreats."
"Olive oil, vegetables, beans and grains play leading roles in Greek recipes, not because they're fashionable, but because they're encoded in the Greek DNA," Daroti explains.
For me, a far more difficult challenge than finding vegan food is shopping for wine in Greece, and not just because the labels on many bottles are written only in Greek.  Since we're not familiar with local varietals and vineyards, we can never be certain what might suit our palates, and often wind up choosing a bottle at random and hoping we like it. We've found some pleasurable hits that way, but also some sorry misses. Happily, buying wine should be considerably less confusing on future holidays thanks to Wine Plus Magazine, which devoted its 2019 summer edition (Issue 57, pictured below) to all things a visitor needs to know about Greek wine.
In a welcome message, Editor Maria Netsika says the issue takes readers on "a journey through the wines of Greece … a travelogue to pleasure." The Wine Plus trip itinerary includes the regions of Thrace, Macedonia, Epirus, Thessaly, Central Greece, the Peloponnese, Aegean islands, Ionian islands, and Crete, and visits not only the country's leading vineyards, but also lesser-known wine makers. For each region, the magazine suggests "must try" and "must buy" local cuisine and food products, and provides directions to vineyards and wineries to help visitors plan their "oenotourism stops" in whatever area of Greece they may be travelling. Directories highlight specific regional wines, and conveniently include photos of the bottles.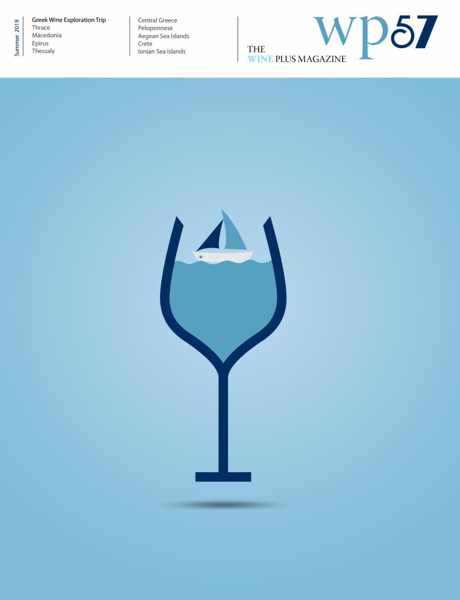 The Summer 2019 edition of The Wine Plus Magazine is a veritable encyclopedia of Greek wine, packed with everything you need to know about Greek grapes, vineyards, wine regions, production, and more.  
Please turn to page 2 to see more of my favourite articles about Greek food, wine and beverages from 2019.
CONTINUED ON PAGE 2