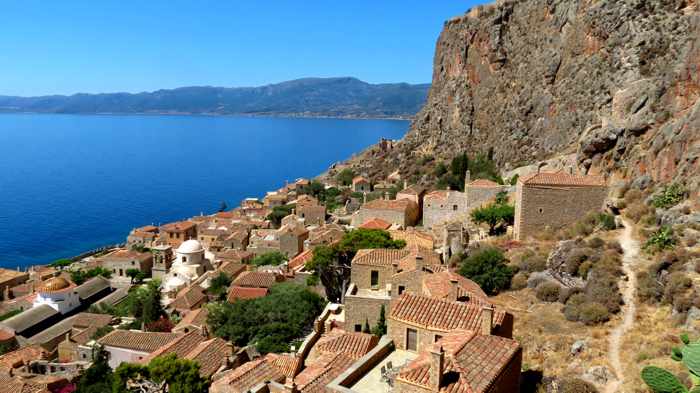 The fascinating fortress town of Monemvasia, where we spent three days and nights in early June
Amazing experience: I only need one word to describe our first-ever visit to Greece's Peloponnese region and  Hydra island this month: Wow!
We weren't even halfway through our holiday when we noted that the trip was shaping up as one of our best vacation experiences ever in Greece. Now that we're back home, recalling all the places and sights we encountered and sorting through our photos,  we've agreed that it was our favourite trip of all. 
The Argolida and Laconia districts of the Peloponnese far exceeded our high expectations, while a spur-of-the-moment trip to Hydra impressed us immensely as well. The sights and scenery everywhere we went were simply amazing.
We enjoyed exhilarating views of sparkling turquoise seas and mountains extending as far as the eye could see. We roamed around charming villages and towns, visited historic archaeological sites, and walked dozens of kilometers along scenic coastal paths. We saw vast groves of olive trees, thousands of citrus trees laden with fruit, and dozens of picturesque churches, chapels and monasteries. We explored ancient castles, even spending three nights in a fortress town and swimming in the sea below its formidable stone walls. And we drank good wine and dined on delicious traditional and contemporary Greek cuisine. 
I will tell you more about our trip in detailed posts to come, but will launch my 2016 trip report with a series of photos showing some highlight sights and scenes from our travels.
Please click on the link below to view the pictures on page 2.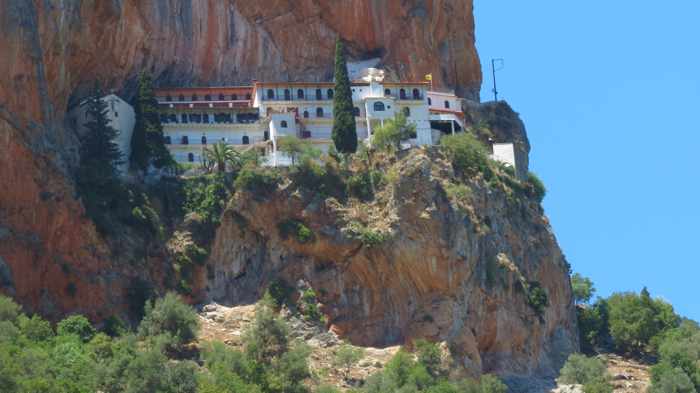 The Monastery of Elona, which clings to the face of a cliff on Mount Parnon, was a breathtaking sight during our drive from Nafplio to Monemvasia
CONTINUED ON PAGE 2