~ continued from page 1 ~
A January 2016 morning view of the northern slopes of the Afentis peak in the Dikti mountain range of East Crete. The photo was shared on Facebook by Festivalaki: Cretan festival of Arts & Culture.
Pictures that piqued our interest 
As I mentioned on the previous page, countless social media images from the past couple of years have left us yearning to take a winter trip to Greece. They include pictures shot by friends and acquaintances who either live in different parts of Greece or who regularly pay winter visits to Athens, island or mainland locations; several professional Greek photographers who post photos practically every day of the year; plus hundreds of individuals and businesses throughout the country that I follow through the My Greece Travel Blog page on Facebook. 
Below is a sample of the vast variety of inviting images that have captured our attention from several different regions on the Greece mainland and a few of the Aegean islands. We haven't yet been to any of the places pictured in the Peloponnese yet, nor to most shown in Crete. But we have seen many of the areas pictured in Athens as well as Samos, Rhodes, Amorgos, Naxos, Paros, Syros and Mykonos, so it's been a treat to recognize winter views of familiar stomping grounds.  
If you haven't been to Greece in winter before either, the photos might well encourage you to consider a future off-season holiday, too. Or, at the very least, they should give you ideas for beautiful and fascinating new places to see on your next summer Greek vacation. 
Messenia and Lakonia (southwestern Peloponnese)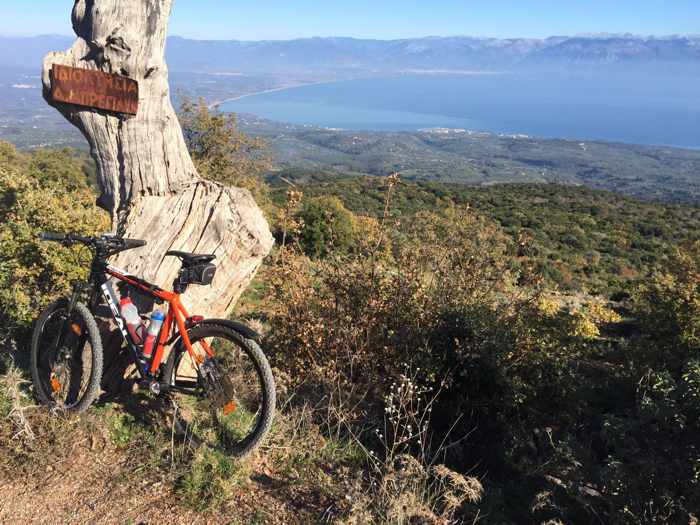 The weather on December 22 2015 was ideal for mountain biking, and this was one of many scenic views that Paul Dobbie photographed during a ride that day. This vantage point, near Tripes, overlooks the Messinian Bay in the direction of Messini and Kalamata.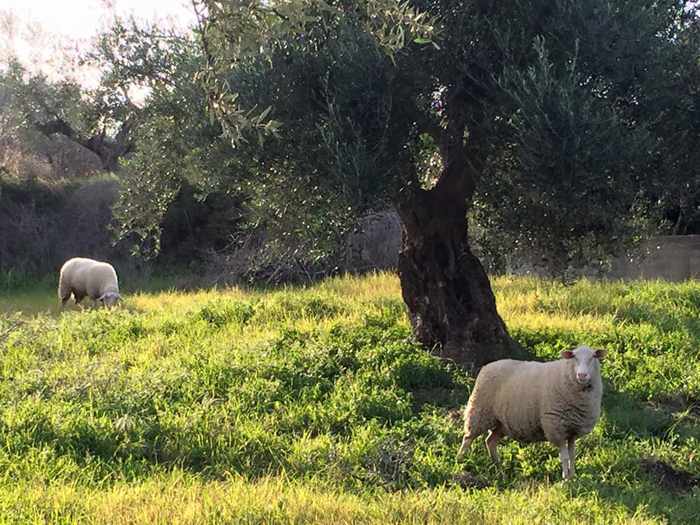 Christmas dinner? Beverley Dobbie photographed these sheep as they grazed in a verdant olive grove at Axladohori on Christmas Day 2015.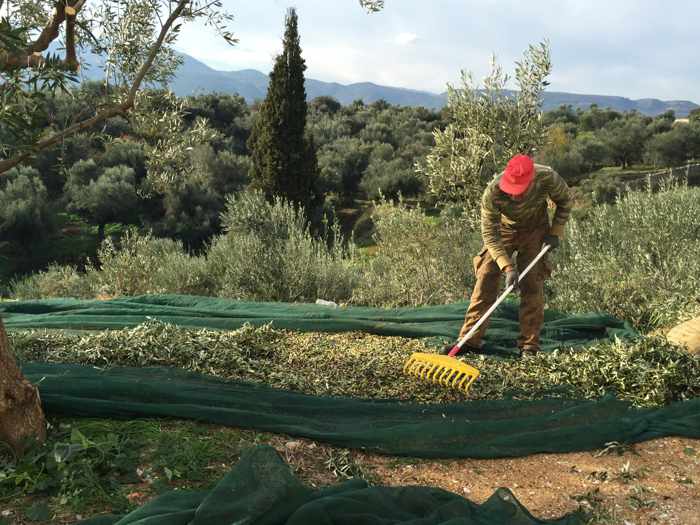 I have seen thousands of olive trees in Greece, but I have never watched an olive harvest. A winter trip would give me an opportunity to observe the process — and perhaps even participate. Beverley Dobbie took this photo of a worker harvesting olives at Karpofora on December 27 2015.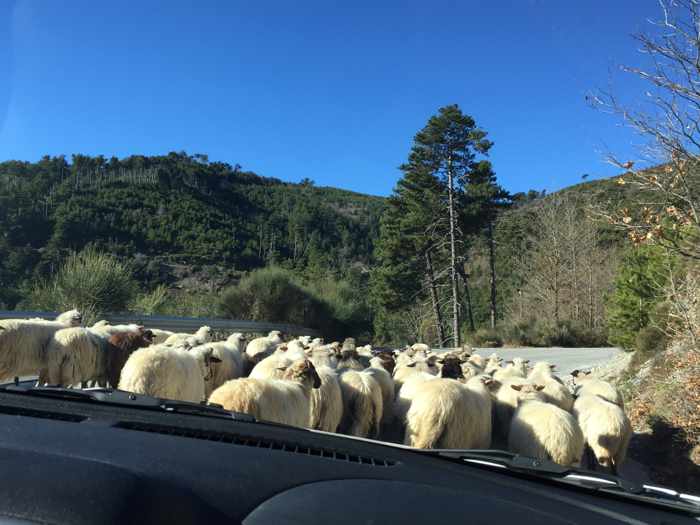 I don't like getting caught in traffic gridlock while on vacation — who does? — but I would much rather be briefly delayed by sheep in winter than wait behind a tour bus or truck belching noxious diesel fumes in the stifling heat of summer. Beverley Dobbie photographed this flock of sheep on the road at the Langada Pass, near Artemisia, on December 22 2015.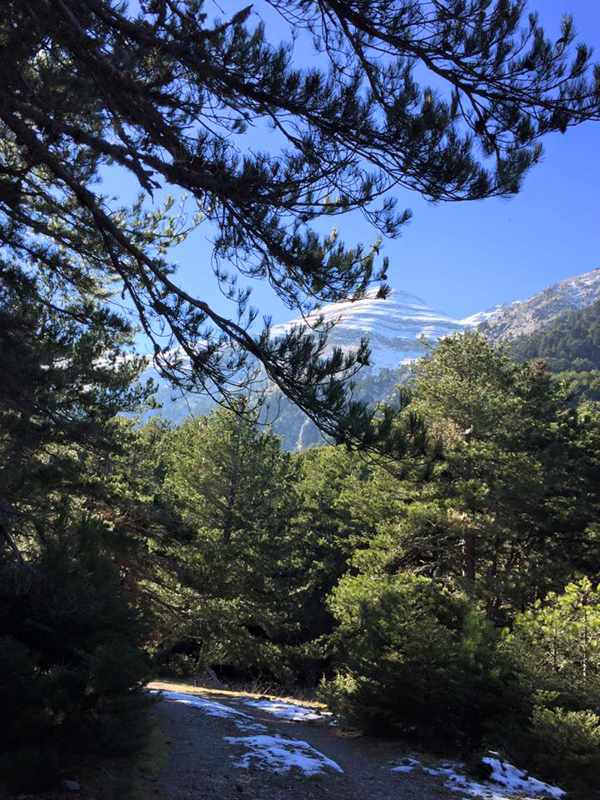 A view toward Mount Taygetos, also known as Profitis Ilias. It is the highest mountain in the Taygetos range, which extends through the Messenia, Lakonia and Arcadia regions of the Peloponnese. Beverley Dobbie took this photo from a road near Toriza, Lakonia on December 20 2015.
Argolis region (central and eastern Peloponnese)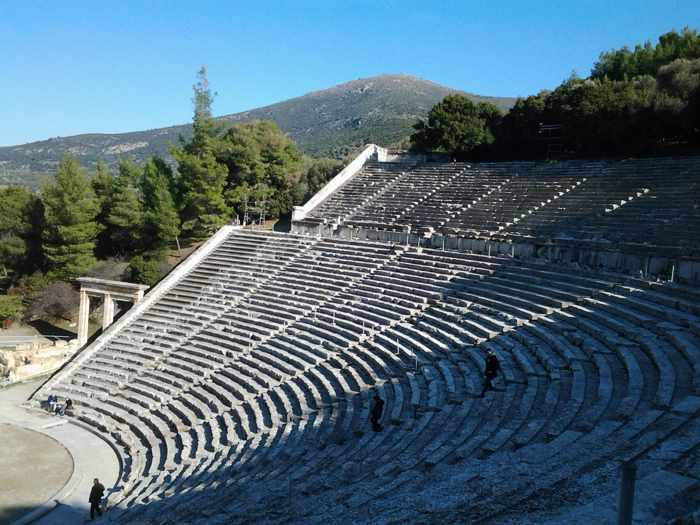 Christopher Butterworth captured this view of the spectacular ancient theater of Epidauros on January 28 2016. As part of the Sanctuary of Asklepios at Epidaurus, which dates from the 4th Century, the theater has been listed as a UNESCO World Heritage site.
Off-season travel lets visitors enjoy historic sites like the Epidauros theater with few if any other tourists around, as this January 28 2016 photo by Christopher Butterworth shows. The theater is considered an architectural masterpiece, and boasts superb acoustics.  It had a capacity of 13,000 spectators.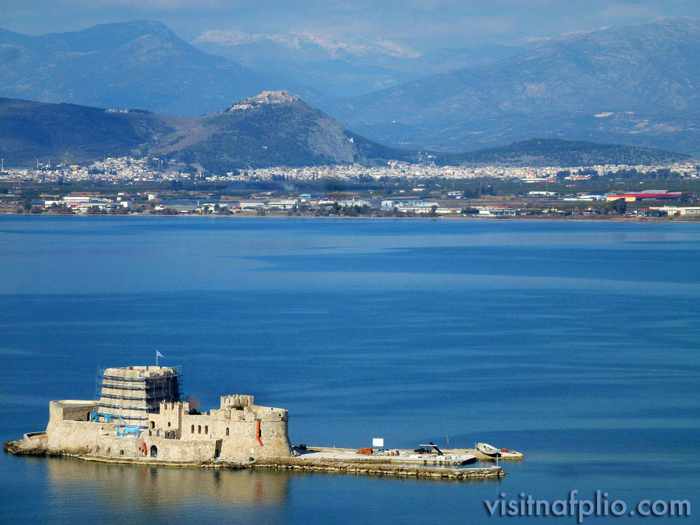 Considered one of the most beautiful cities in the country, Nafplio is the former capital of Greece. It boasts outstanding scenery, too, some of which is shown in this January 2016 photo that the Visit Nafplio travel and information website shared on Facebook.  In the foreground is the Bourtzi castle in the gulf at Nafplio; on the hill behind the bay is the Larissa castle in Argos.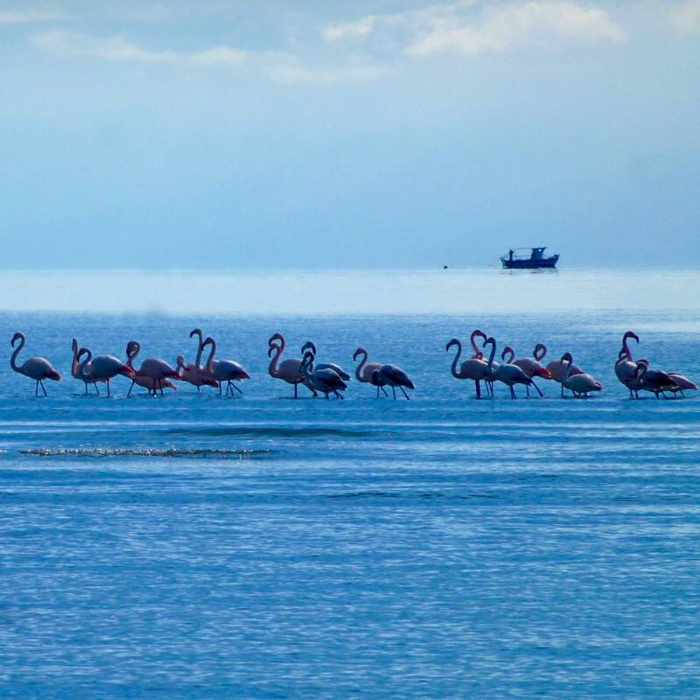 This flamboyance (group of flamingos) enhanced the natural scenery while passing through Nafplio at the beginning of January 2016. The image was shared on the Visit Nafplio Facebook page.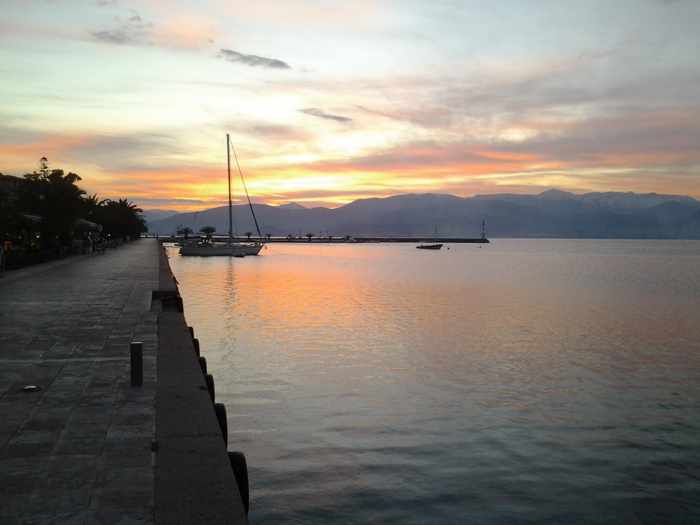 Christopher Butterworth captured this lovely sunset view from the Nafplio waterfront on January 25 2016
Ancient Corinth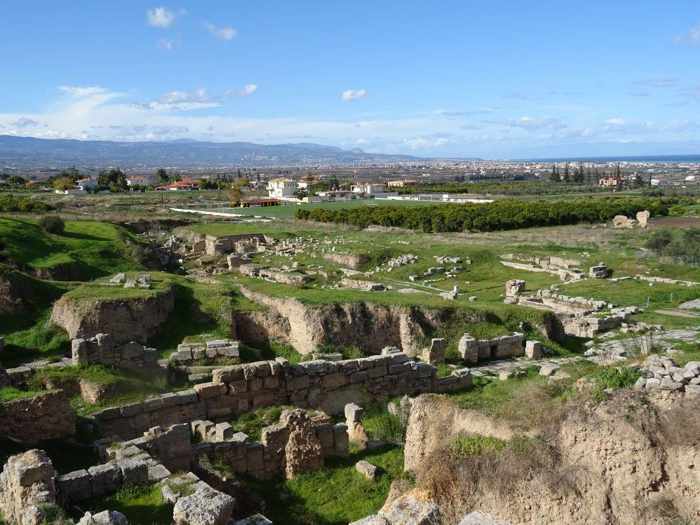 January 7 2016 was a perfect day to visit the ruins at Ancient Corinth, some of which are seen in this photo and the five pictures that follow, all of which were shot by Sally Harper. Ancient Corinth is situated about 80 km from Athens on the isthmus that links mainland Greece with the Peloponnese region.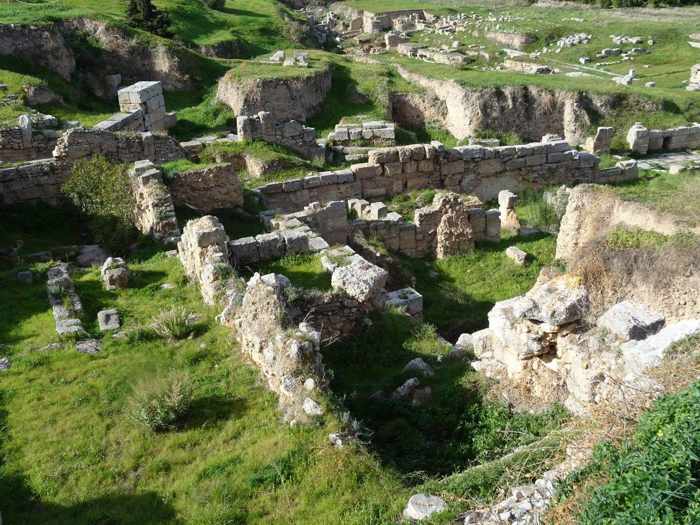 Another part section of the extensive ruins. In ancient times (roughly from  the 8th Century BC until 146 BC), Ancient Corinth was an important commercial and naval center. See the Corinth page of the Sacred Destinations website for information about the site's history and monuments.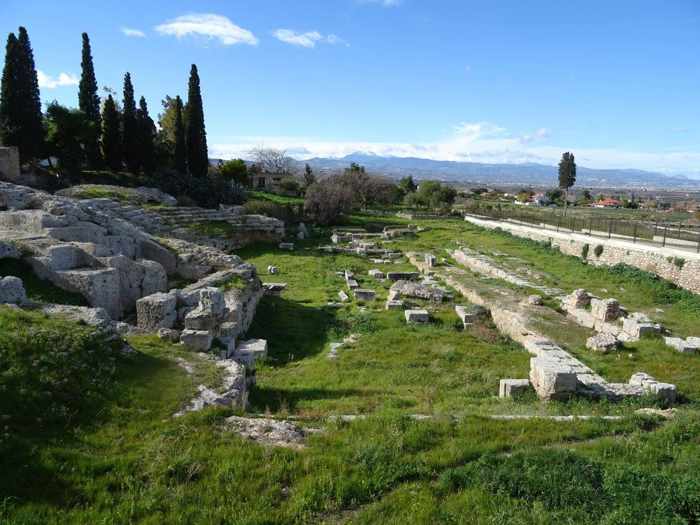 Just part of the Roman Odeum ruins at Ancient Corinth that Sally Harper photographed during her visit on January 7 2016.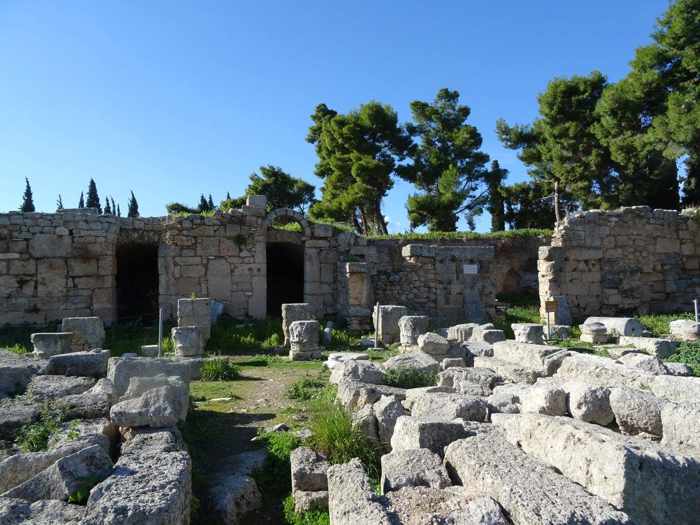 Numerous earthquakes over the ages have toppled most of the buildings in the ancient city, but many wall segments still stand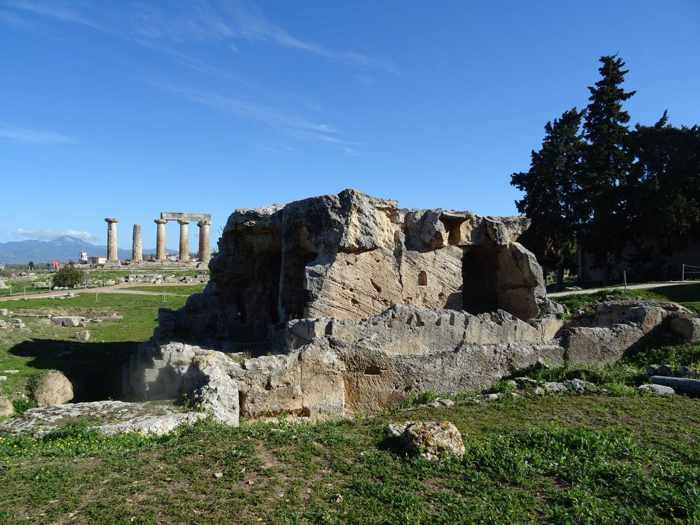 Sally Harper captured this view toward the Temple of Apollo (rear left)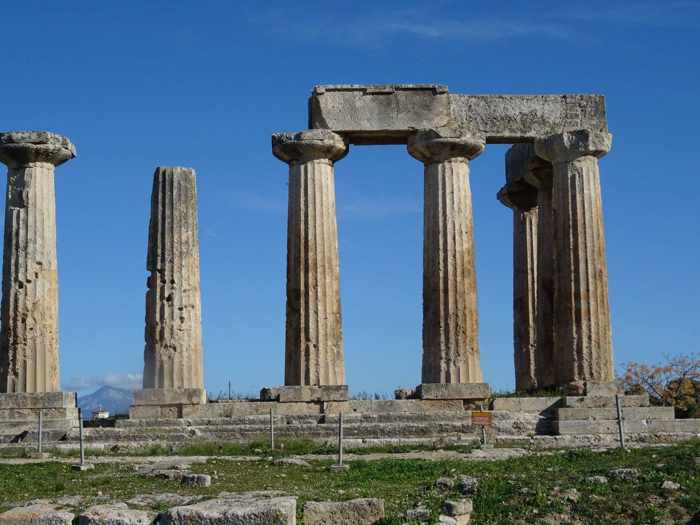 Only 7 of the Temple of Apollo's original 38 Doric columns still stand
Arcadia (central and eastern Peloponnese)

A breathtaking view of the Parnon mountain summit. This photo was shot on January 22 2016 and shared on the Facebook page for Greece on Foot, which offers organized walking tours in Arcadia throughout the year.
Late afternoon sun illuminates the dramatic rock face above Leonidio. This is a Greece on Foot photo from a walk on January 7 2016. It and the six photos that follow all were shared on the Greece on Foot Facebook page.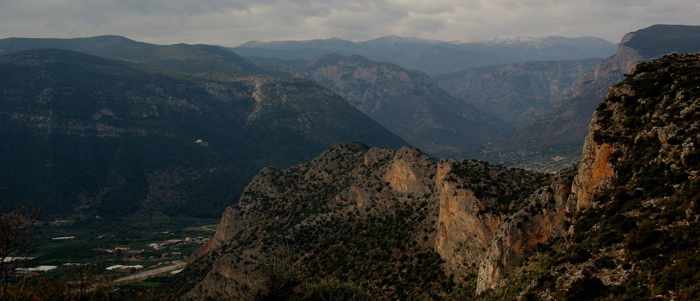 View of the Dafnonas river gorge from a January 19 2016 Greece on Foot walk

A December 3 2015 walk gave participants this panoramic view "south into the Laconian gulf with Pitra, Elafonisso and Kythera floating in the distance"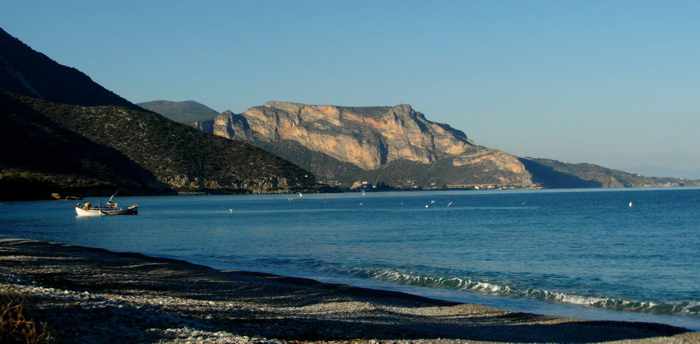 The December 20 2015 view from the seaside Myrto Taverna, where Greece on Foot walkers often stop for refreshments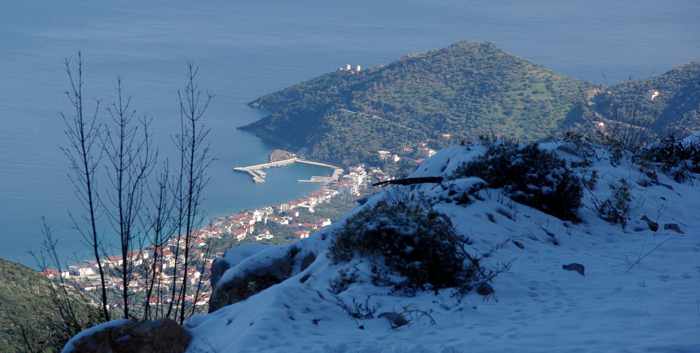 A January 24 2016 view of Tyros from a snowy walking path on the mountainside high above the seaside village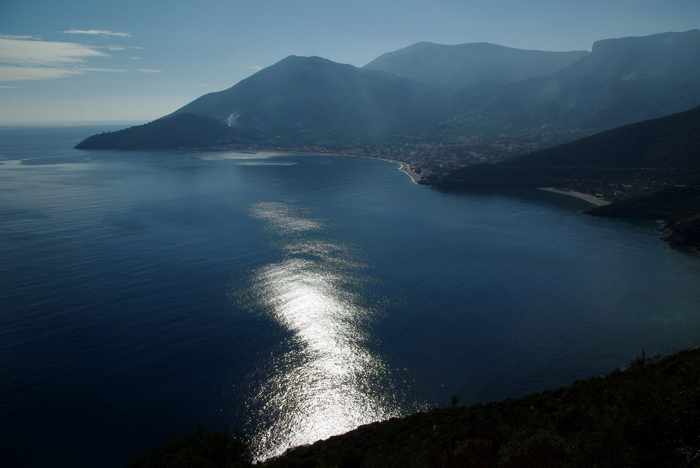 View toward Tyros village as sunshine sparkles on the calm waters of the bay. The light haze over the mountains is smoke from branches being burned after the annual olive harvest.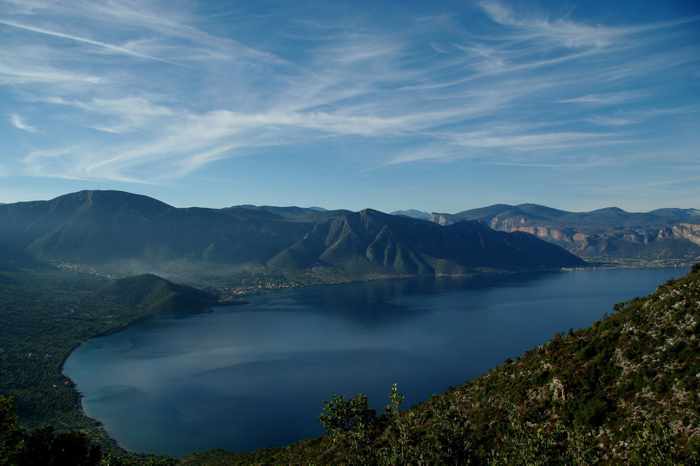 Captivating mountain and coastal scenery like this is what makes me keen to see Arcadia, especially on a winter walking tour
Athens and the Athenian Riviera
This January 30 2016 view of the magnificent Acropolis was shared on the Hotel Elena Mykonos Facebook page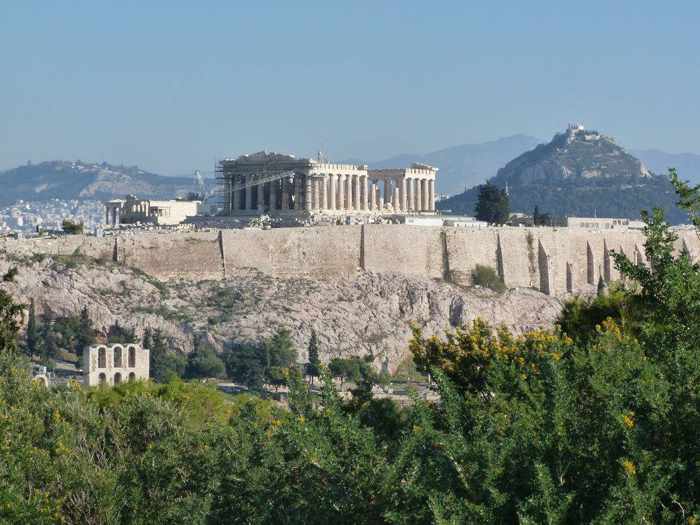 Wendy Gilops captured this impressive view of the Acropolis, the Parthenon and Mt Lycabettus (right rear) on December 27 2015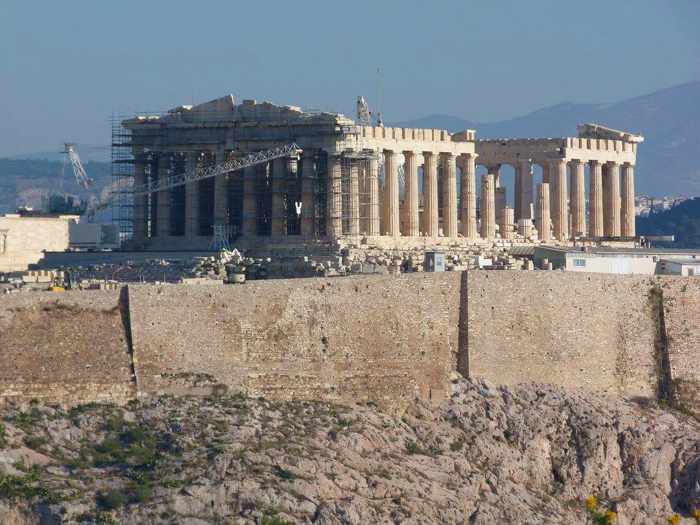 A UNESCO World Heritage site, the Acropolis is a marvel to see in any season, and the Parthenon and other Acropolis monuments are more enjoyable to visit in off-season without the tourist hordes and high heat of summer. Wendy Gilops shot this photo of the Parthenon on December 27 2015.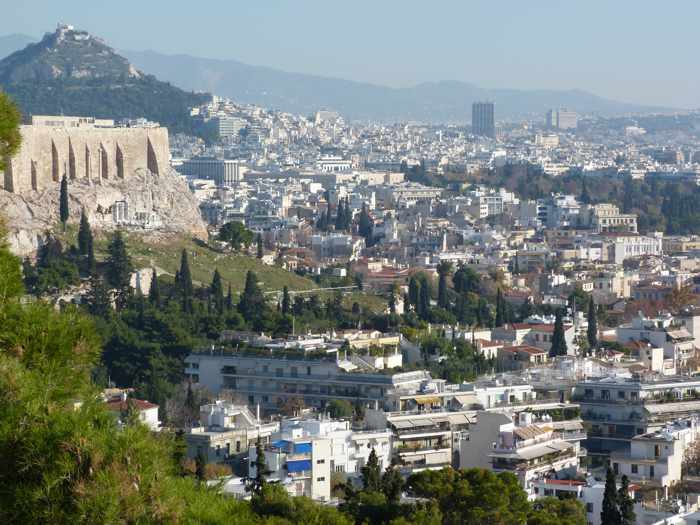 On December 27 2015, Wendy Gilops captured this view of Athens from Filopappos Hills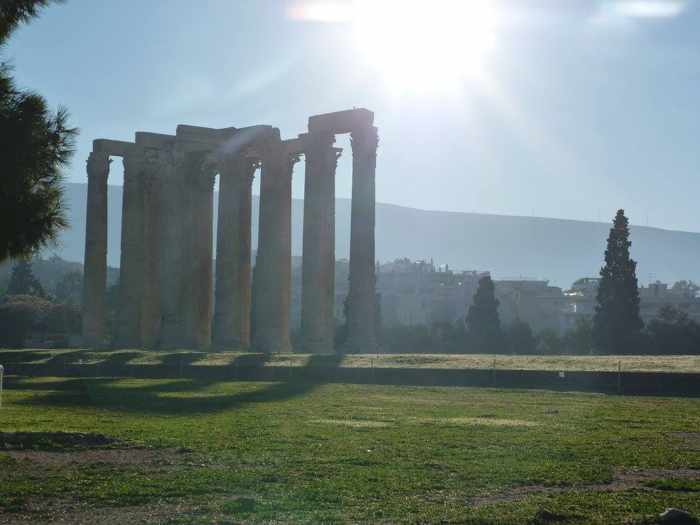 The Temple of Olympian Zeus bathes in brilliant sunshine in this December 29 2015 image by Wendy Gilops. I recall racing to the nearby trees for shade when visiting the site on a very hot and sunny day in May 2013 — I felt like I was going to melt! Heat and sun limited our sightseeing on that trip, but cooler temperatures during an off season trip would enable us to pay the Athens monuments a longer and better visit.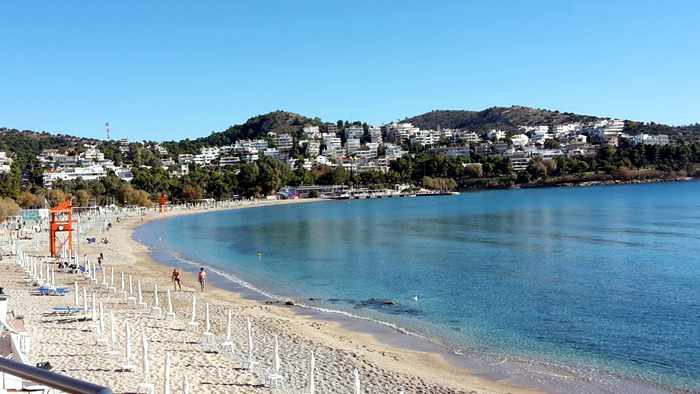 John de Castelberg photographed this beach near Vouliagmeni on Christmas Eve 2015. It looks as lovely as it has when I've seen it in spring and fall.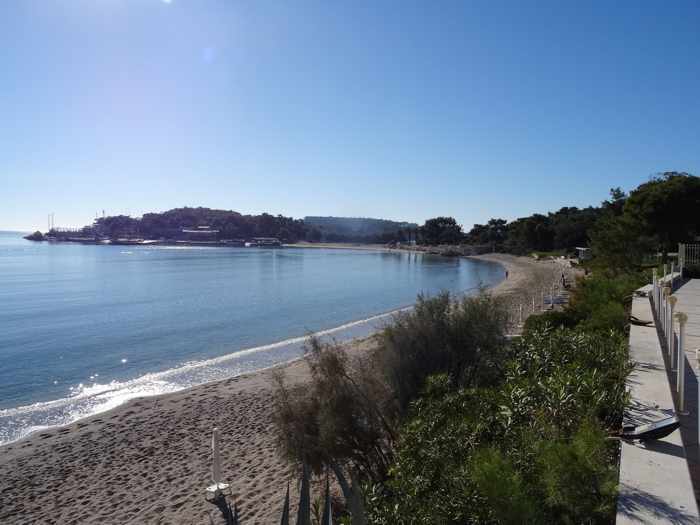 Another John de Castelberg photo of a Vouliagmeni beach, this time from December 29 2015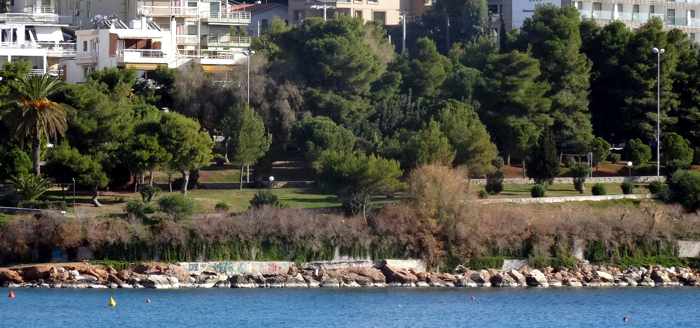 Part of the beautiful tree- and park-lined Athenian Riviera seaside near Vouliagmeni, seen here in a December 29 2015 photo by John de Castelberg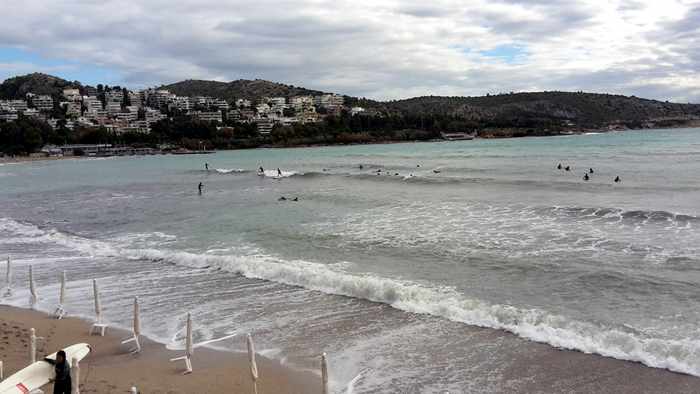 Surfers wait to ride waves on a windy afternoon. John de Castelberg took this photo at the beach near Vouliagmeni on January 5 2016.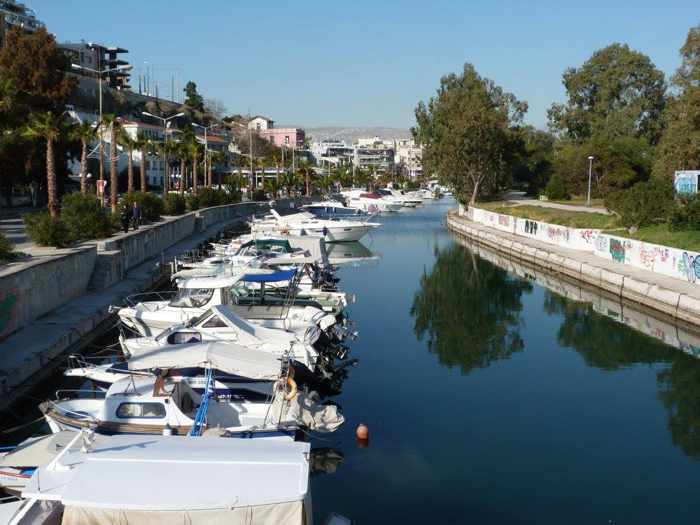 Pireaus is best known as the main commercial port of Athens, but it also boasts seaside parks and this marina canal where visitors can enjoy a stroll by the boats or stop for a drink or meal at a water's edge café. Wendy Gilops shot this photo on December 28 2015.
The sea near Koumoundourou Islet is dotted with dozens of sailboats in this December 28 2015 photo by Wendy Gilops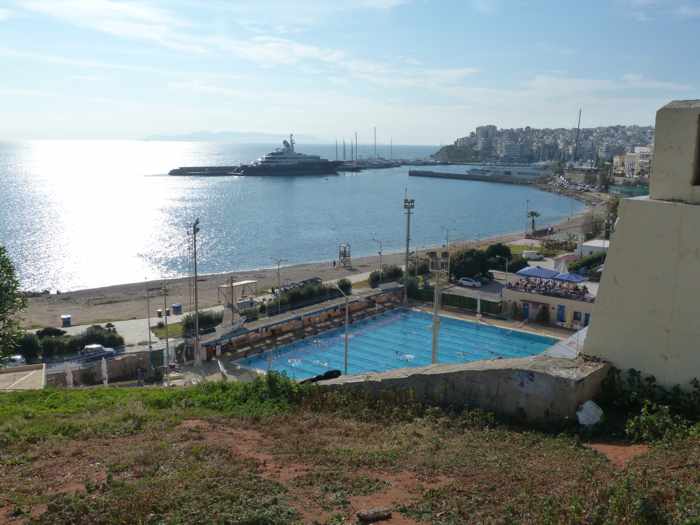 People can be seen in the water at the Municipal Swimming Pool of Pireaus in this December 28 2015 photo by Wendy Gilops
Samos island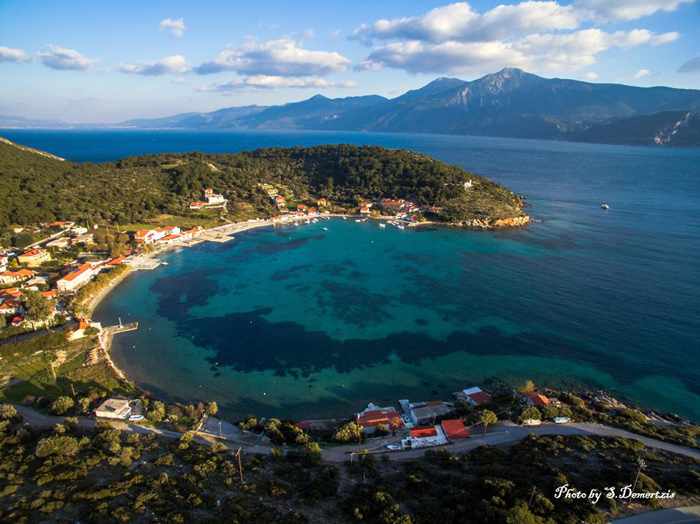 Photographer Stelios Demertzis captured this striking view of Poseidonio on January 24 2016. He posted the image on the Samos Island public group page on Facebook, on which residents and visitors regularly post photos of the amazing Samos sights and scenery.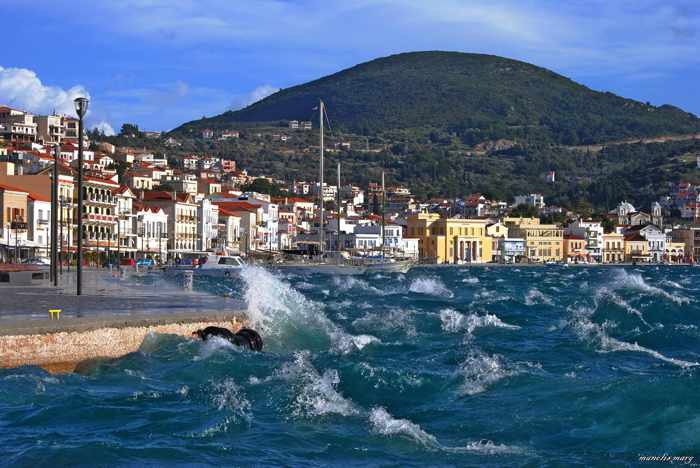 The harbourfront at Vathi (Samos Town) is seen on a windy January 12 2016 in this image by Manolis Marg.
Dimitris Korakis took this gorgeous and evocative photo of a seashore near Pythagorio on a cloudy and windy January 12 2016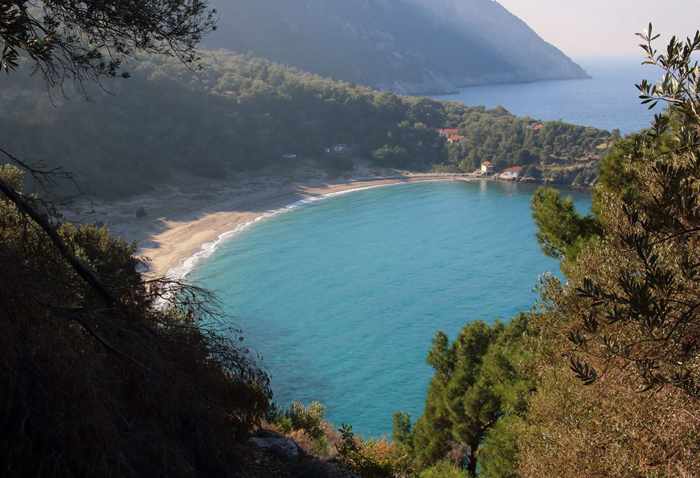 Steve Ewer photographed the crescent-shaped beach at Megalo Seitani, located west of Karlovasi, in late December 2015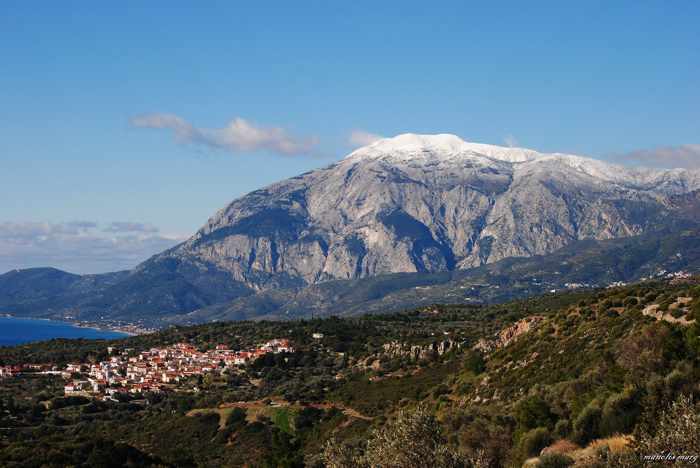 A snowcapped mountain looms behind a hillside village in this beautiful scene photographed by Manolis Marg onJanuary 19 2016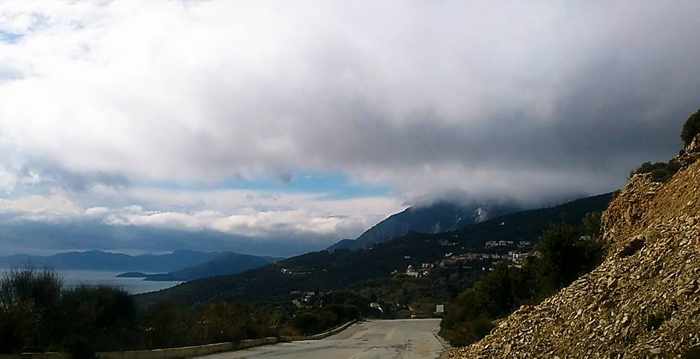 Despite heavy cloudcover, the Samos coastline beyond Marathokampos looked impressive in this January 18 2016 photo by Maria Vonatsou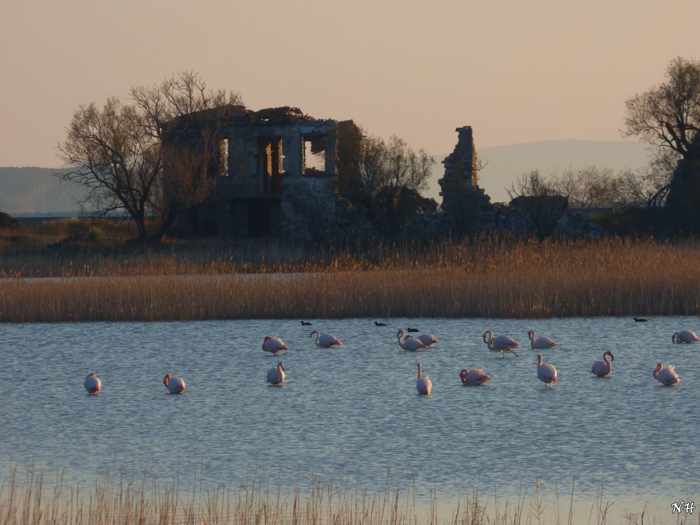 Some of the flamingos that spent several days in the Alyki wetlands are seen in this January photo from the Discover Samos Facebook page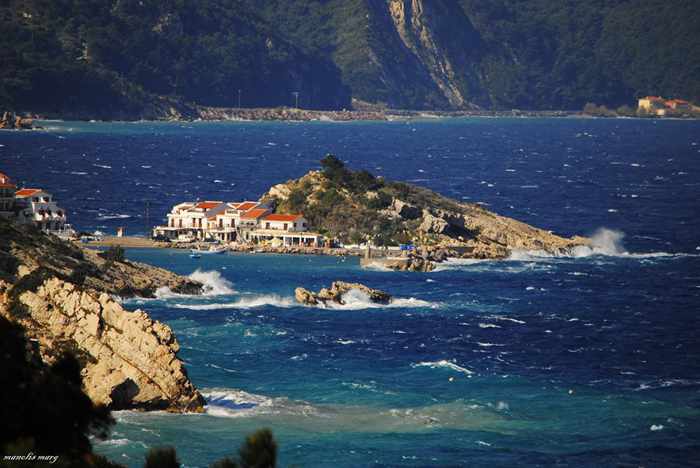 A Manolis Marg photo of rough seas at Kokkari on January 23 2016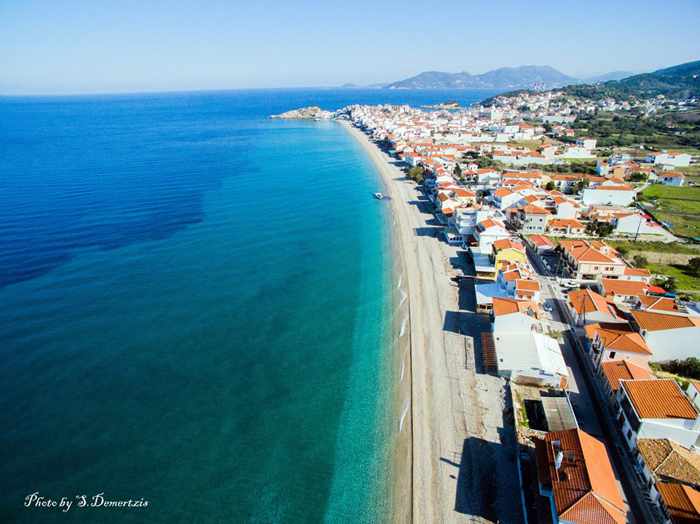 Another view of the Kokkari  seaside resort, this time on a sunny and calm January 28 2016, in an aerial photo by Stelio Demertzis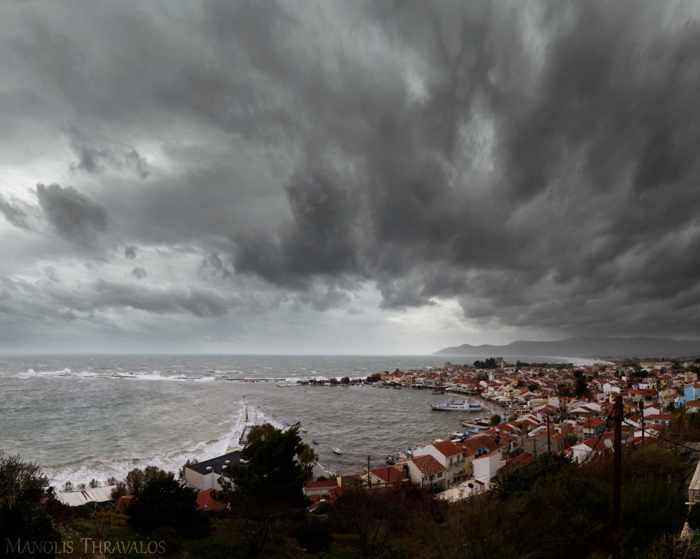 I love dramatic, moody skies, and some of the winter scenes I have enjoyed the most have been photographed during storms or on days when dramatic clouds filled the sky. Manolis Thravalos shot this picture of Pythagorio during a  January 17 2016 storm that battered Samos with winds gusting as high as 9 on the Beaufort scale.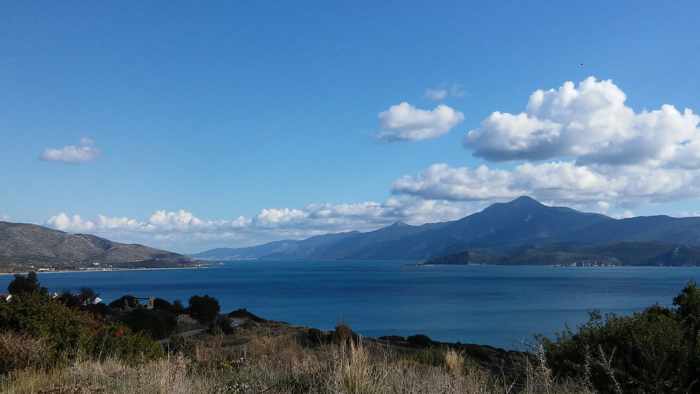 Vaso Kazmatzi shot this photo  on January 14 2016, showing the beautiful view across the Samos Strait to Mount Mykale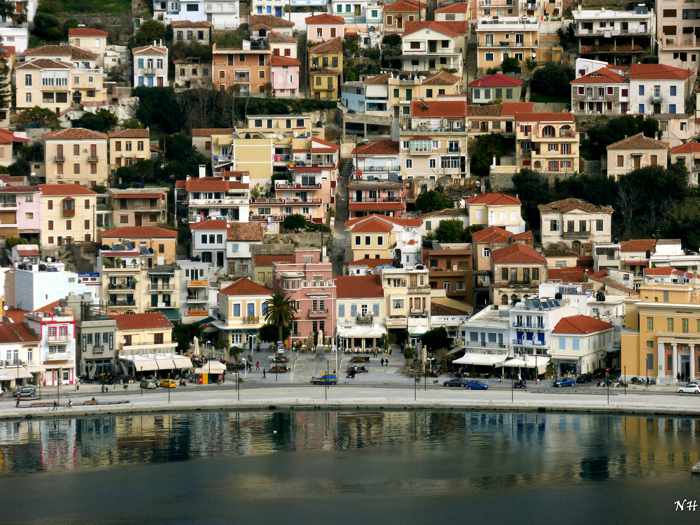 Nikolaos Housas took this photo of Pythagoras Square in the heart of the Vathi city harbourfront on January 29 2016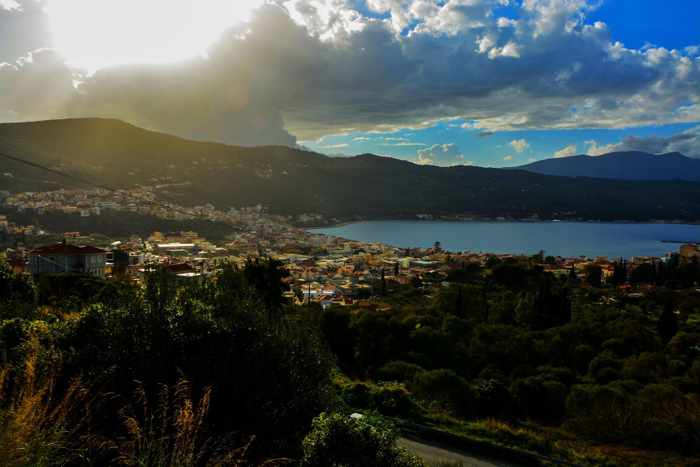 A January 14 2016  view of Vathi, photographed by Stamatis Gounaris
Rhodes island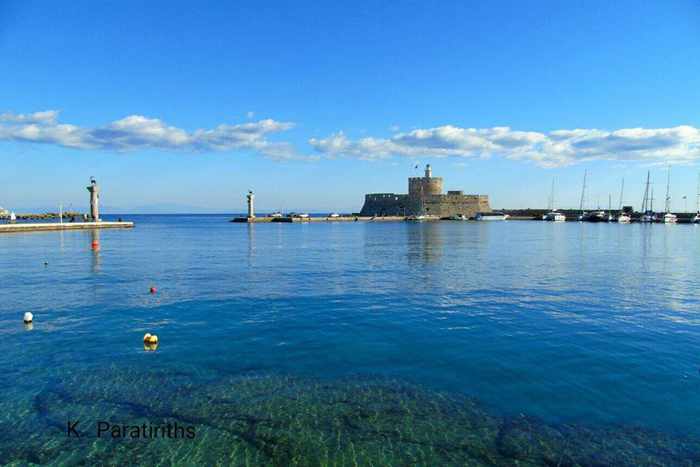 The Ρόδος Rhodos Rhodes Rodos community page on Facebook posted this photo of the Mandraki harbour at Rhodes Town on February 2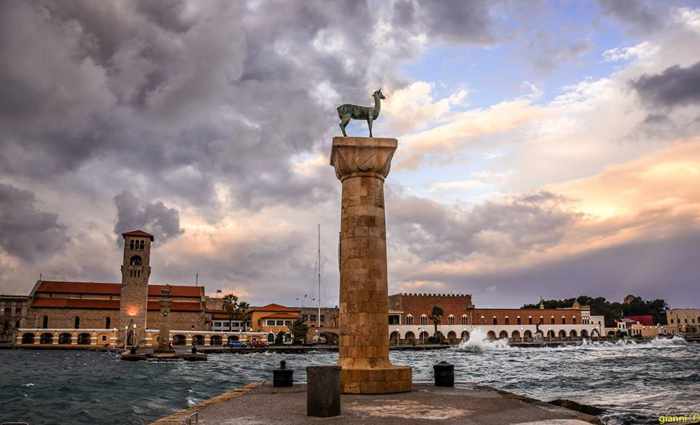 The Mandraki harbourfront looks picturesque even on a windy and cloudy January day. This photo is by Giannis Farmakidis.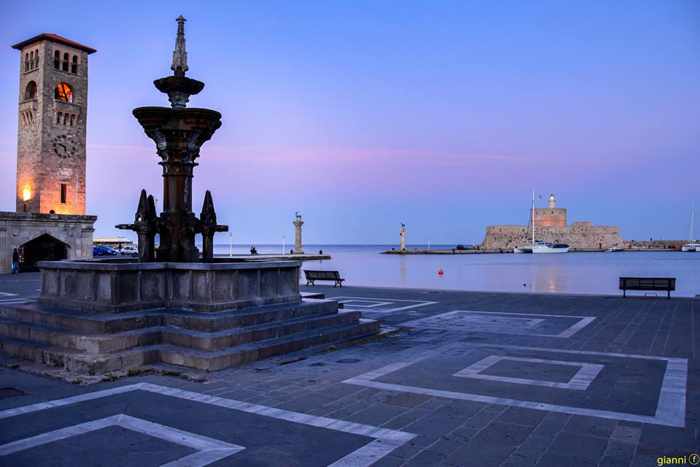 Another Giannis Farmakidis photo of the harbourfront in January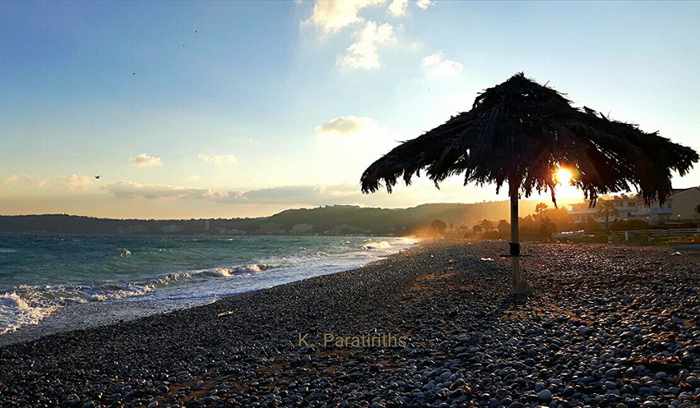 Kapa Paratiriths photographed this beach scene on January 23 2016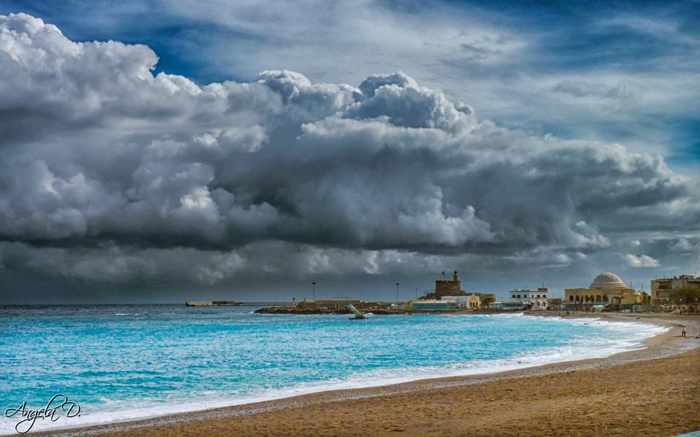 Threatening dark stormclouds swoop above Elli beach in this image shared by artist Angela Dia on her Angela D. Photos Facebook page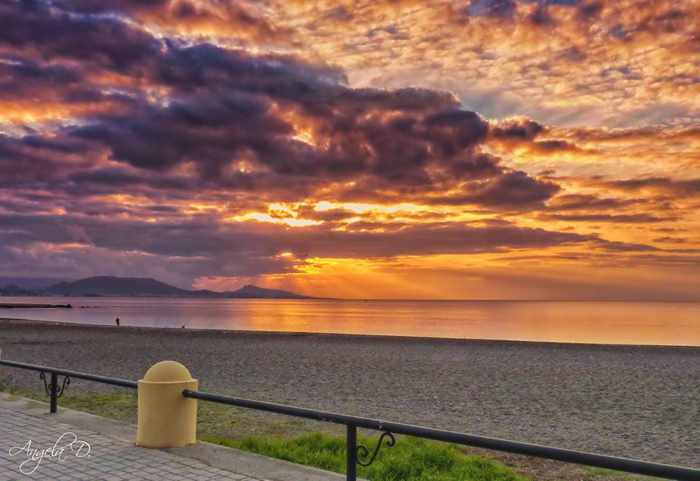 Angela D. captured this stunning winter sunset, and shared it on her Facebook page with the caption: "Walking in front of perfection on a winter afternoon at Psaropoula beach!" You can see dozens more spectacular photos from the island in her Rhodes album on Flickr.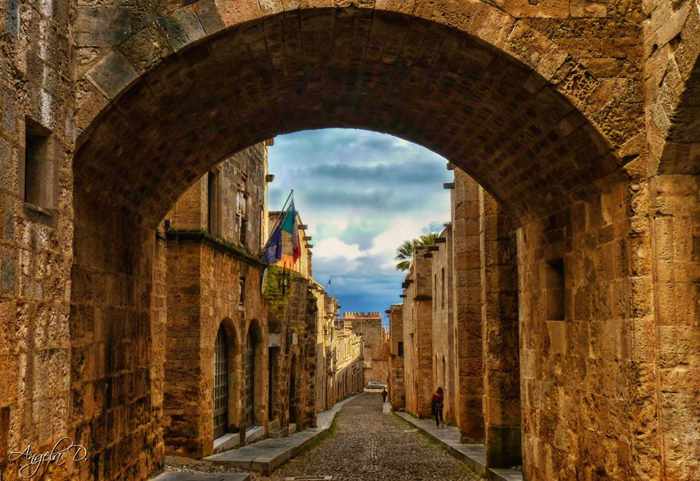 When we walked the Street of the Knights in the Old Town during our visits in early June 2004, the road was jammed with tourists. It's exactly the opposite in off season, as this photo by Angela D. shows. Walking the street in winter, she says, "is a unique experience! It feels like a dive in the past!"
Amorgos island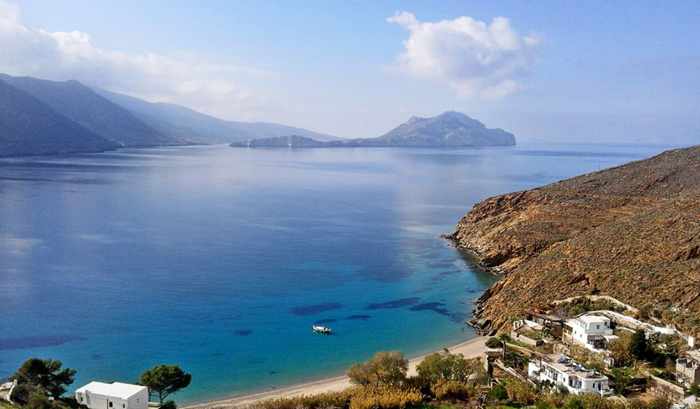 We enjoyed this same breathtaking view of Aegiali Bay during our visit to Amorgos in late May 2009. Apart from a little more greenery and hillsides covered in spring wildflowers, the scene didn't look much different from this January 29 photo shared on Facebook by Amorgos Aegialis Hotel & Spa. The picture was posted with the caption: "Is it really winter?" If you didn't look at the date, you wouldn't think it's off season!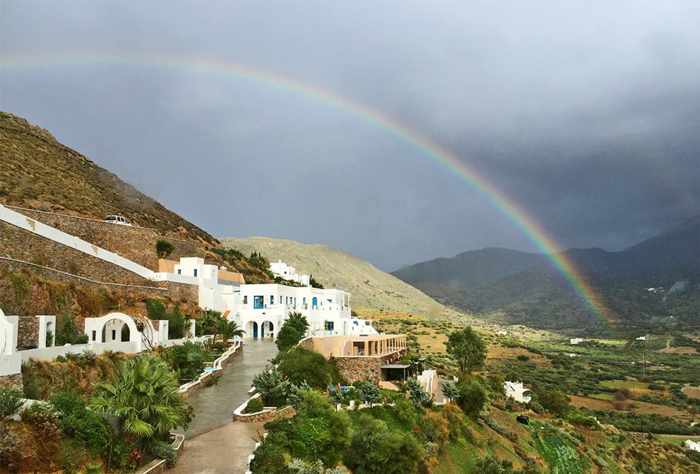 Amorgos Aegialis Hotel & Spa shared this photo of a marvellous rainbow over the valley behind Aegiali on January 20 2016.  The hotel, the only 5-star property on the island, is open year-round, by the way. The two pictures below also were shared on the hotel's Facebook page.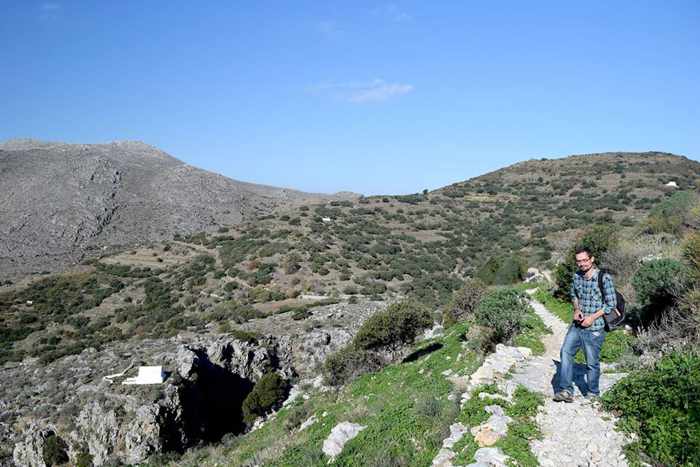 During our spring trip to Amorgos, we spent several days walking some of the many paths and trails, like this one, that can be found all over the island.  It was nice to see that even on December 9 2015 people could go hiking to see the amazing Amorgos mountain and valley landscapes.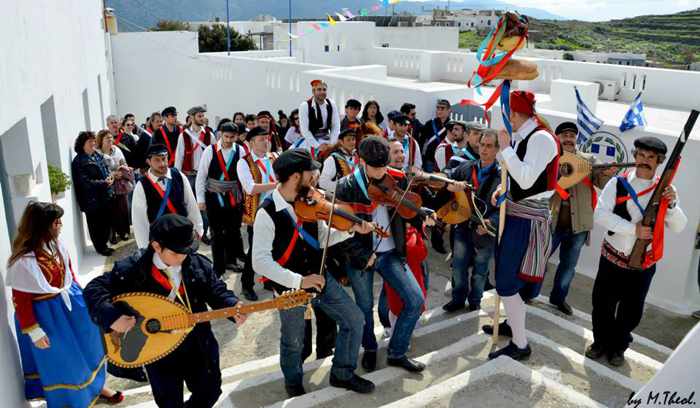 Winter Carnival celebrations take place during February and March on many islands, as well as many places on the mainland. Amorgos is no exception — from March 11 to 15 2016 the island will host Carnival festivities, including a traditional event called Kapitanios.
Syros island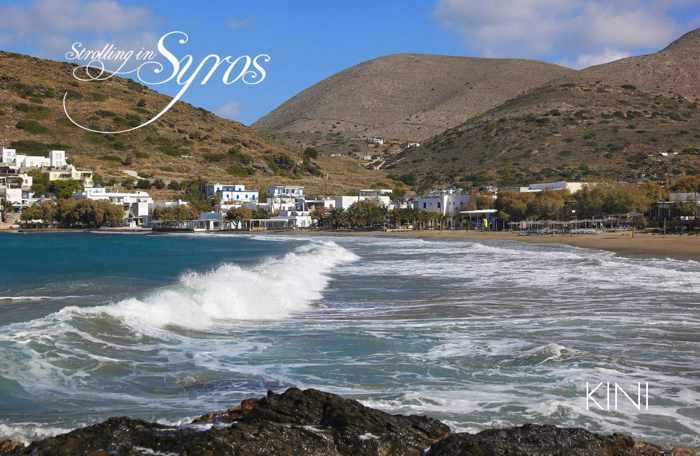 If you've been following either my blog or my Flickr photostream during the past two years, you undoubtedly have seen our many pictures of lovely Kini Bay and beach. This image from the Strolling in Syros Facebook page shows that Kini is equally beautiful in winter.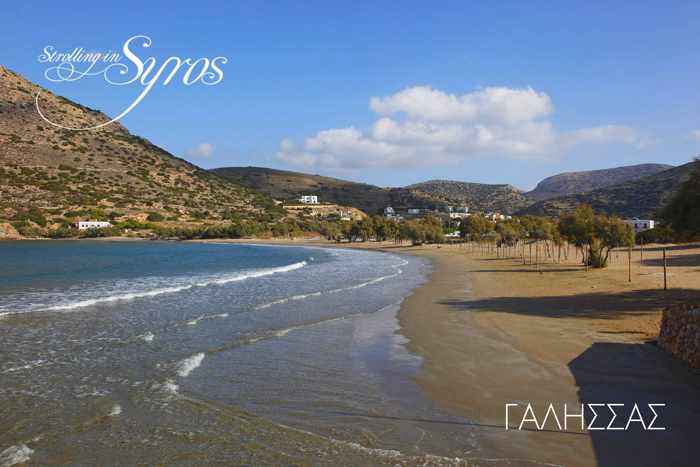 Strolling in Syros captured Galissas beach on a gorgeous sunny day, and aside from the absence of sunbathers and swimmers, it looks just like it did when we were there in June 2015.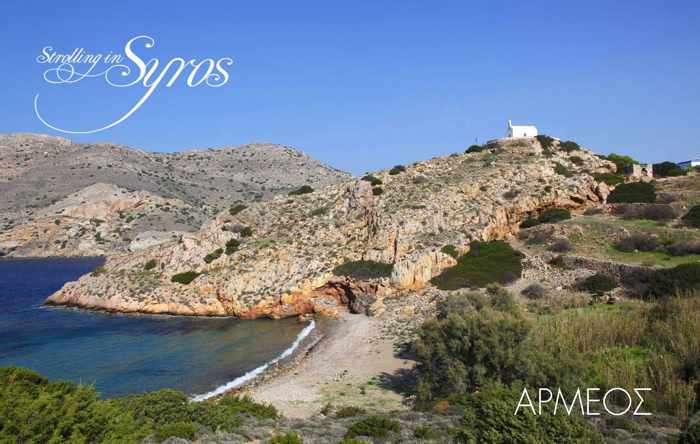 A winter view of Armeos beach and Agia Pakou church on the hill above it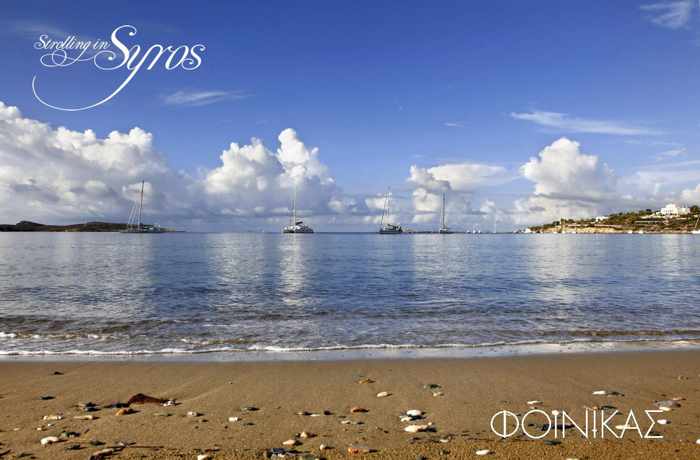 We saw Finikas beach for the first time last June, and it didn't look much different from this winter view captured by Strolling in Syros. You can view two dozen more beautiful winter photos of the island in a February 2 post on the Strolling in Syros Facebook page.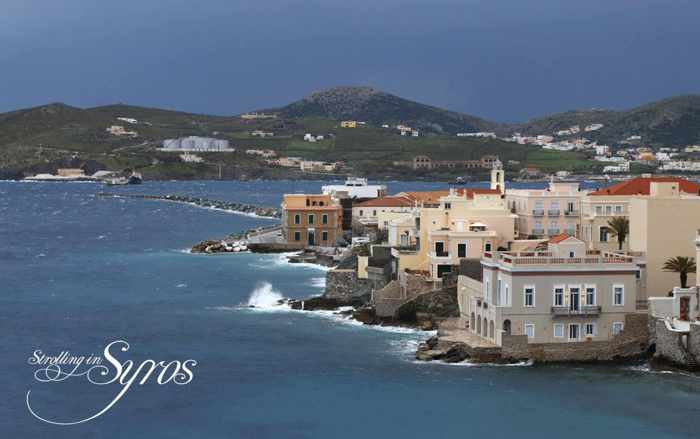 A winter view of the Vaporia seaside in Hermoupolis. Strolling in Syros, by the way, is the title of a hardcover book of beautiful Syros photos. Be sure to pick up a copy as a souvenir if you visit Syros this year.
Paros island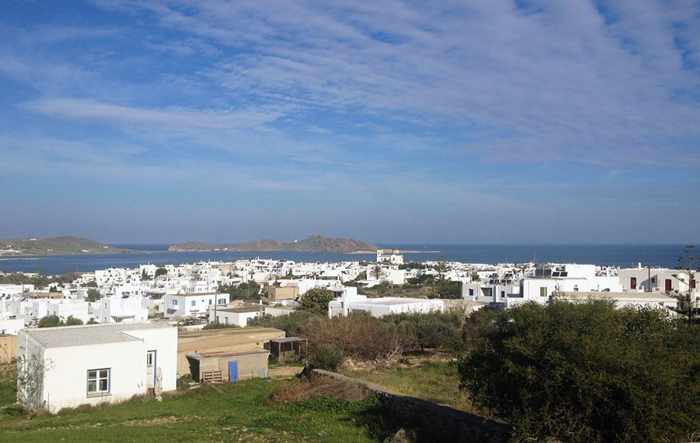 Parosweb, a tourist guide and directory of businesses, services and products on Paros, shared this February 1 2016 photo of Naoussa village on Facebook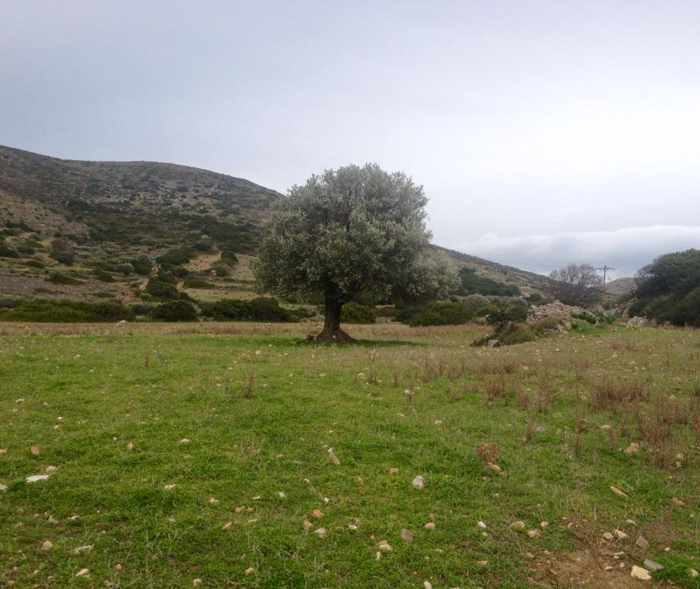 A grey sky is the only hint that it's winter in this January 10 2015 Parosweb Facebook page photo of a hillside at Marathi.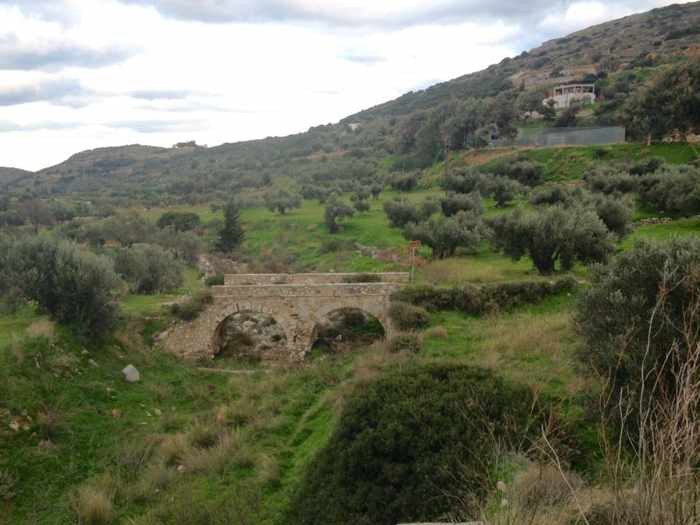 A January 24 2016 view of a hill near Lefkes village. Parosweb posted this photo with the caption: "Have you ever seen such a Green Paros?"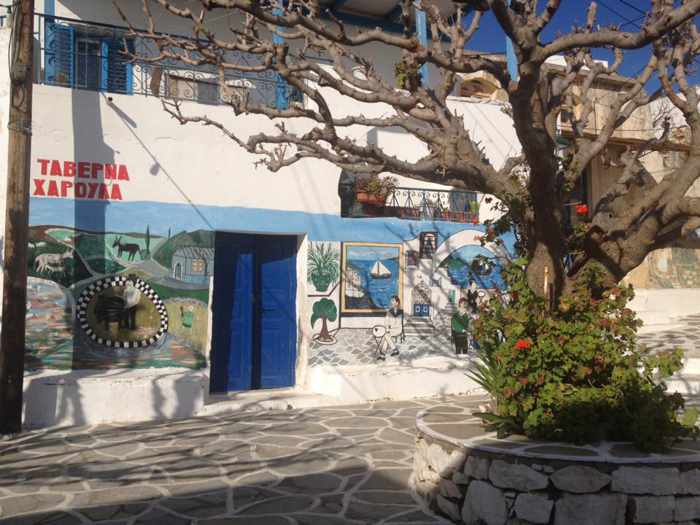 On the first page of this post, you saw a photo of scrumptious Greek cuisine at Haroula Taverna in Marpissa. This is a photo that Parosweb shot of the taverna exterior on January 31 2016. Haroula's is one of many places open on Paros during wintertime. The others are listed in a winter Going Out directory published by Parosweb.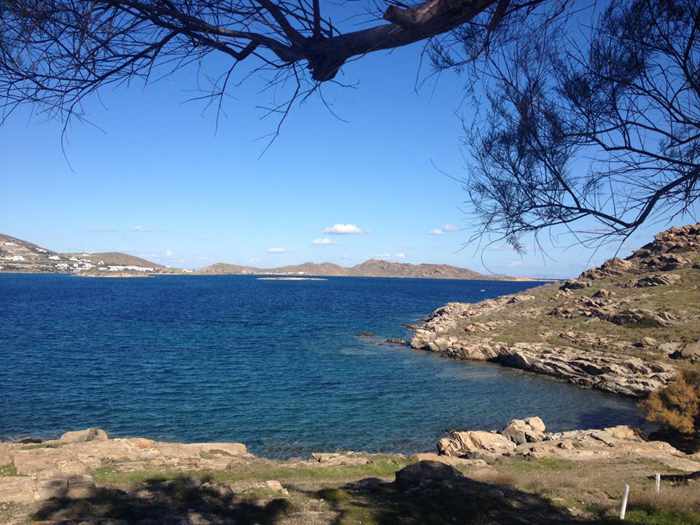 A Parosweb view of the bay at Kolimbithres on a sunny January 14 2016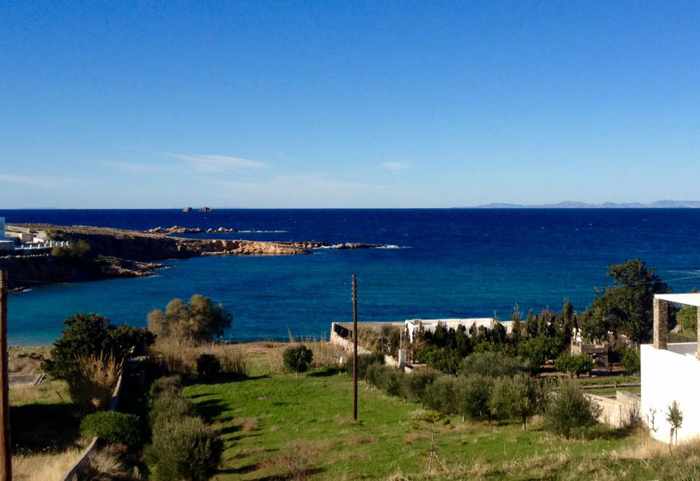 A lovely view from a hillside near Delfini beach on January 8 2016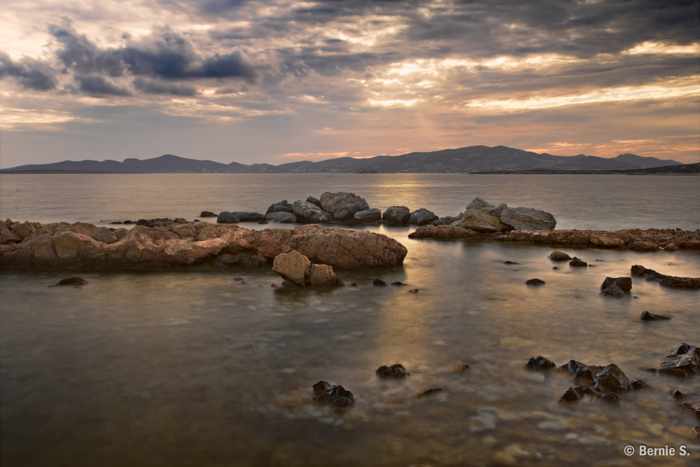 Parosweb shared this wonderful photo by Bernie S, showing a view of Antiparos island on a moody winter day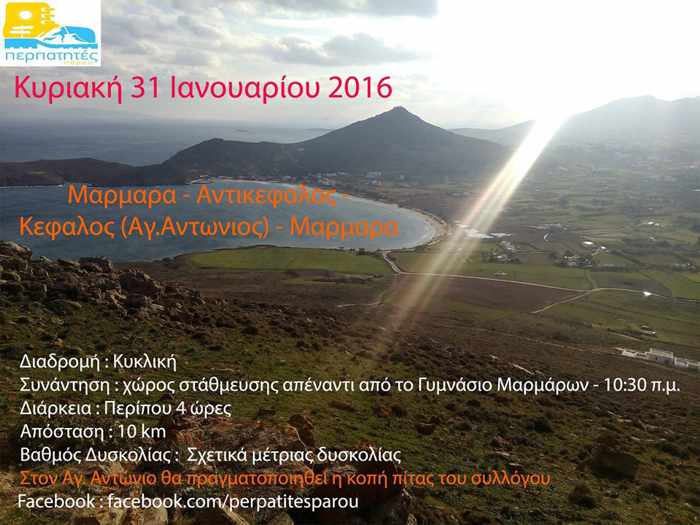 Paros is a great destination for people who love to walk and hike, since the island abounds in scenic paths and trails.  Organized walking tours take place even in winter; one was held on December 6, while the image above is a promotional poster for a 10 km January 31 2016 walk that started at Marmara village.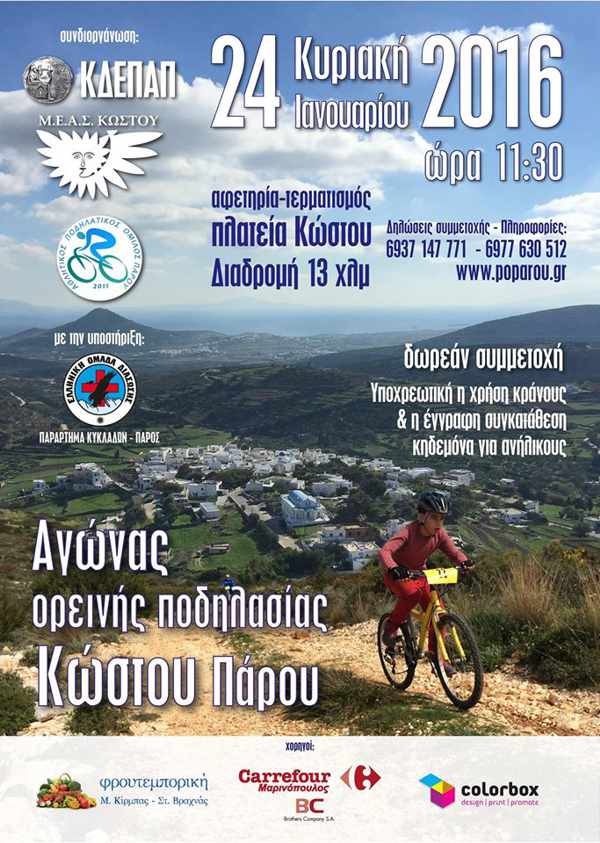 Paros is a great destination for mountain bikers, too, even in winter. This poster advertises a mountain bike race that took place on January 24 2016.
Naxos island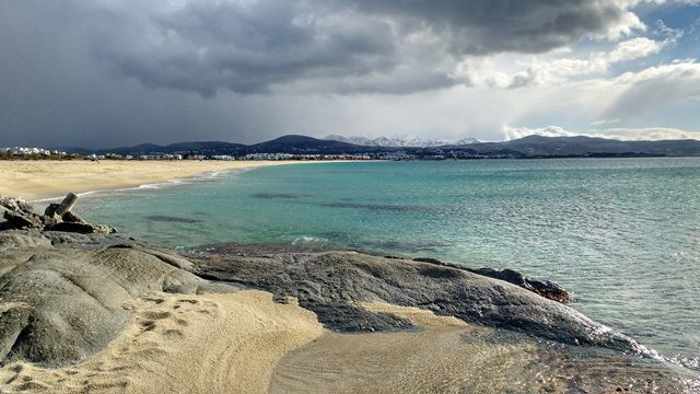 I have posted many of our own pictures of Agios Prokopios beach on my blog, but none have shown snow on the Naxos mountain peaks in the distance as this picture does. This photo was taken on New Year's Day this year,  just after a late December storm left several islands dusted with snow. This photo was shared on Facebook by Lianos Village Hotel, our favourite home away from home when we visit Naxos in spring or fall (it's not open during winter, however, so we will have to stay elsewhere if we visit Naxos off season).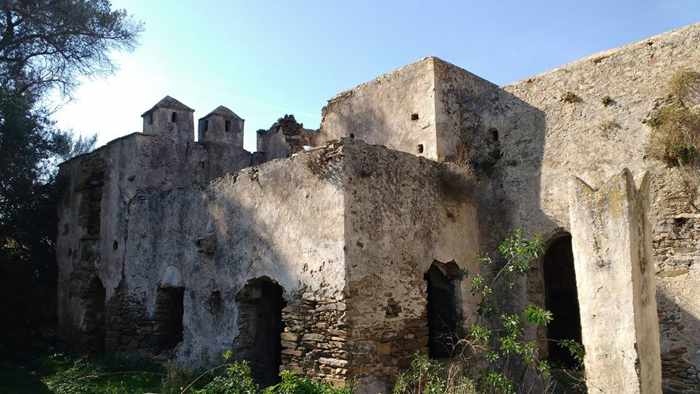 Although we have been to Naxos six times, there are still dozens of villages and just as many historic sites that we haven't yet seen. Hot temperatures have limited our exploring on several of the vacations, but an off-season trip would give us a chance to see more places and monuments in more comfortable temperatures. One of the sites we have yet to visit is the Jesuits Palace near Kalamitsia, seen here in a January 31 2016 photo from the Lianos Village Hotel Facebook page.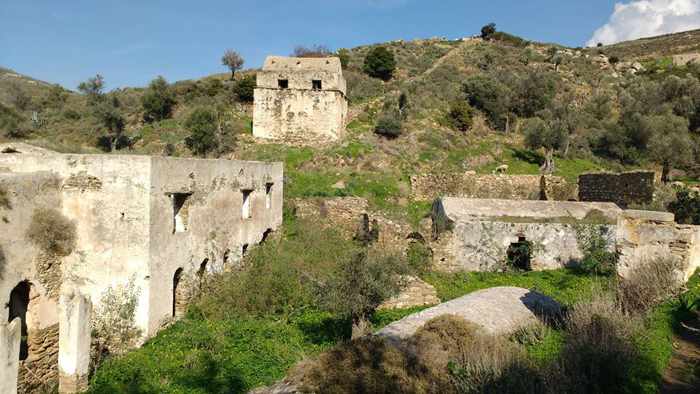 A view of the Jesuits Palace site on January 31 2016. Some of the buildings in this large hillside complex, which Jesuit monks used as a retreat for meditation and contemplation, date back to 1673. This photo, and the six pictures that follow, all were shared on the Lianos Village Hotel Facebook page.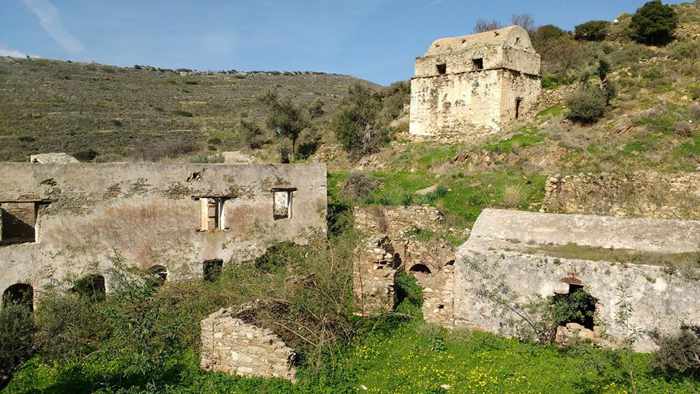 Another view of buildings at the Jesuits Palace on January 31 2016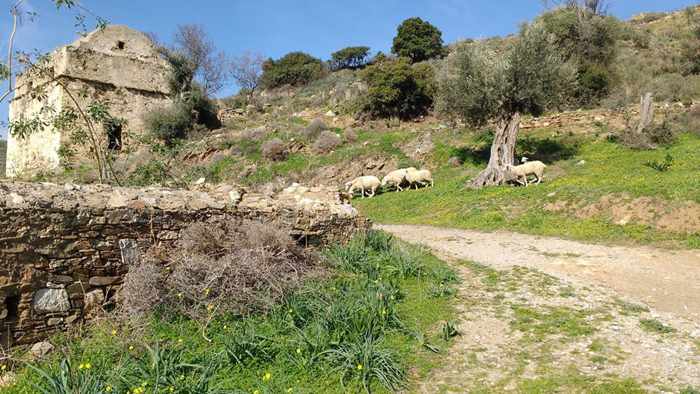 Sheep grazing on the site of the Jesuits Palace on a sunny January 31 2016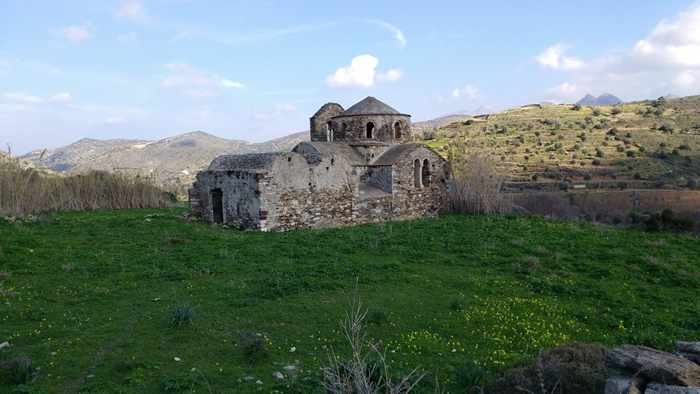 Another noteworthy Naxos monument we still must visit — the Church of Agia Mamas near the Potamia villages, seen here on January 31 2016. In a caption describing this photo on its Facebook page, Lianos Village said the church dates from the mid 9th Century and is considered the oldest chapel on Naxos. Agia Mamas is the protector of the shepherds.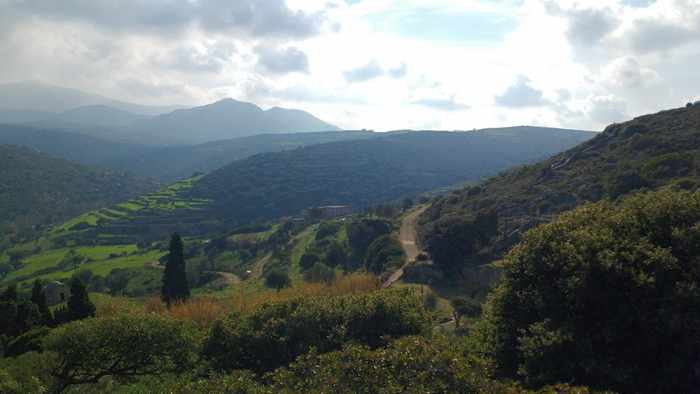 Rolling hills and mountains viewed on January 31 2016 from a vantage point near Agia Mamas church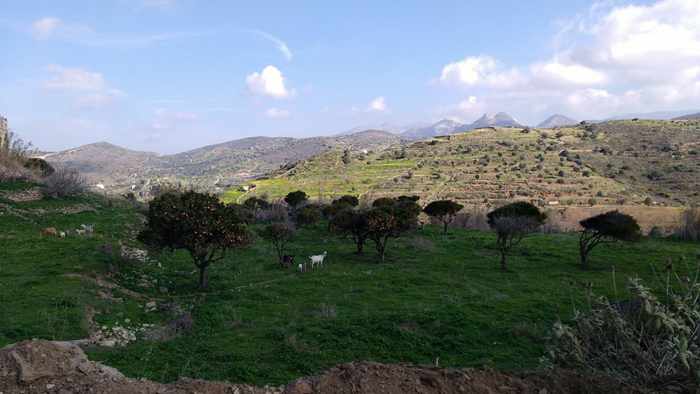 Another view of the countryside near Agia Mamas on January 31 2016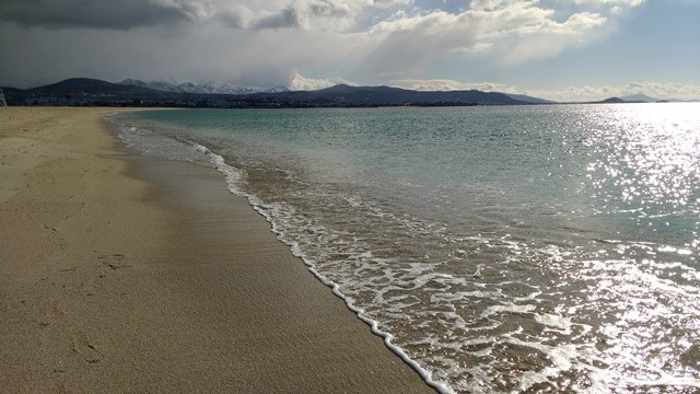 Another New Year's Day 2016 view of Agios Prokopios beach, one of my favourite strands on Naxos. It looks beautiful all year long.
 Mykonos
I have seen scores of wintertime photos of Mykonos, but none as striking and impressionable as the images in this somewhat haunting timelapse video by Andreas Bekas
Crete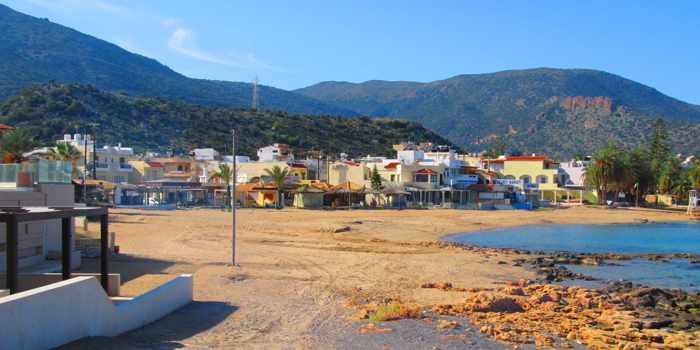 The Best photos of Crete Facebook page noted that it was a balmy 20 degrees when this photo was taken at Stalis beach on February 3 2016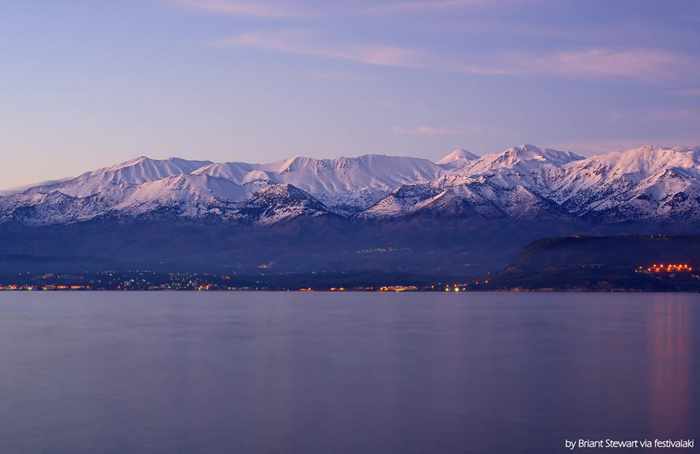 Festivalaki: Cretan Festival of Arts & Culture shared this photo, by Briant Stewart, showing a winter view of the Lefka Ori mountain range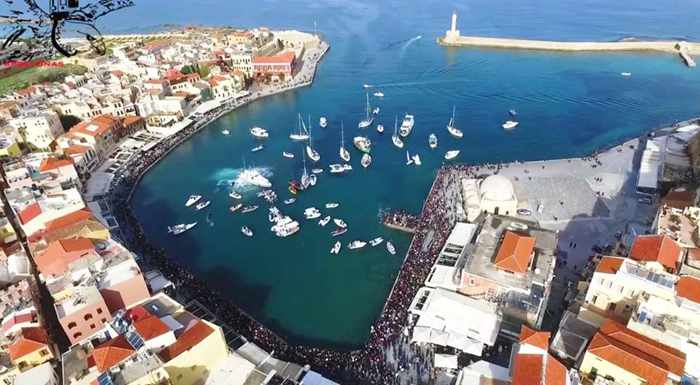 Best photos of Crete posted this aerial view of the January 6 2016 Epiphany festivities at the old harbour at Chania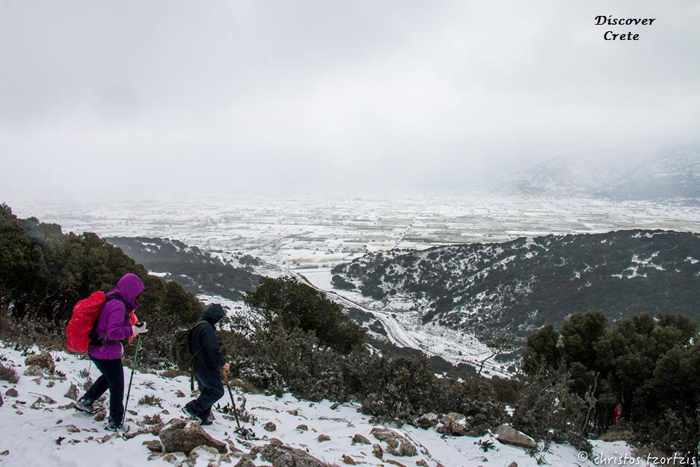 The Discover Crete Facebook page shared Christos Tzortzis's  January 24 2016 photo of hikers on the Lasithi Plateau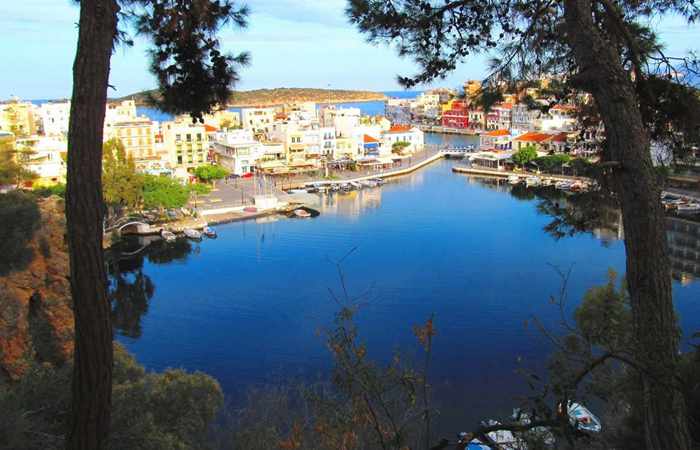 From Best photos of Crete, a view of Lake Voulismeni at Agios Nikolaos in December 2015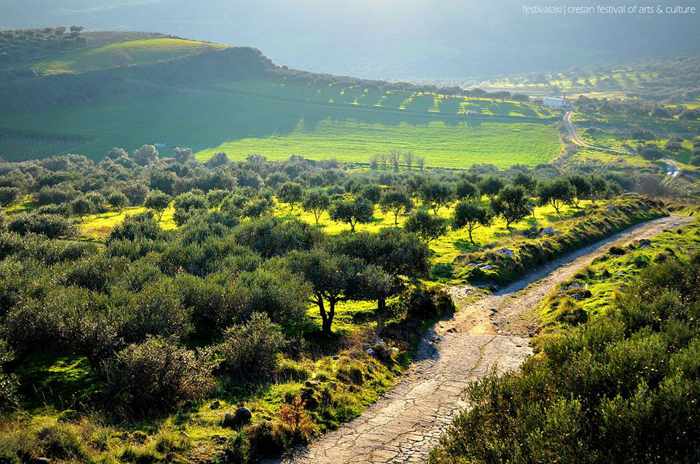 No, it's not Ireland — it's a lush winter landscape on Crete. The photo was shared on Festivalaki's Facebook page February 2 2016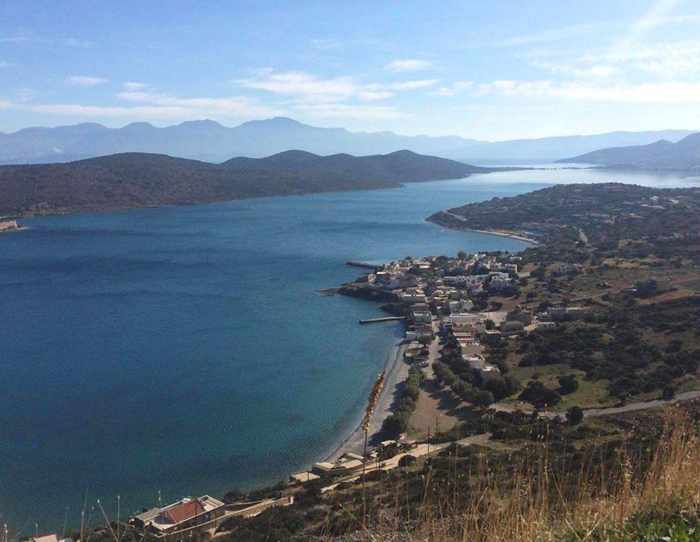 Best photos of Crete shared this December 2015 image that photographer Irena B shot of the coast in the Plaka-Elounda area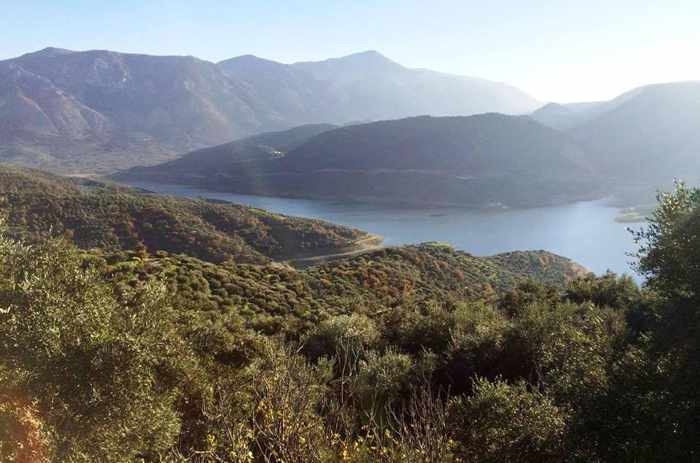 A December 2015 photo by Irena B showing Lake Avdou in Lasithi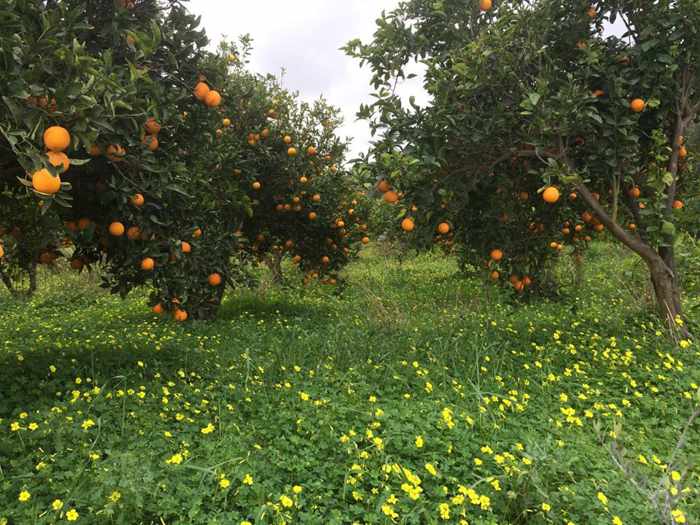 This January 16 2016 photo of an orange tree grove near Kamilari in south Crete was shared on the Kreta-Kamilari Berge Meer Facebook page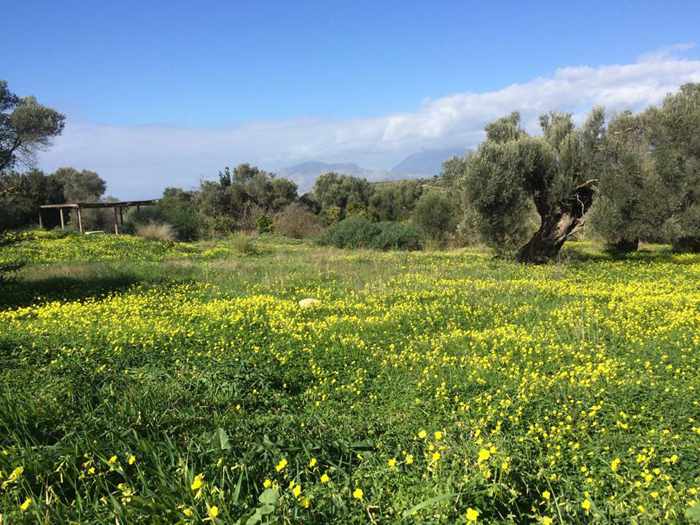 A field near Kamilari is seen in a January 16 2016 photo shared on Facebook by Kreta-Kamilari Berge Meer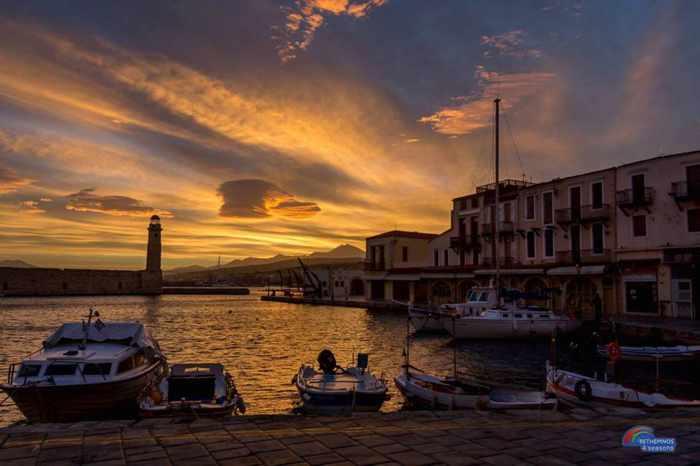 Best photos of Crete shared this January photo showing the charming old port area of Rethymnon at sunset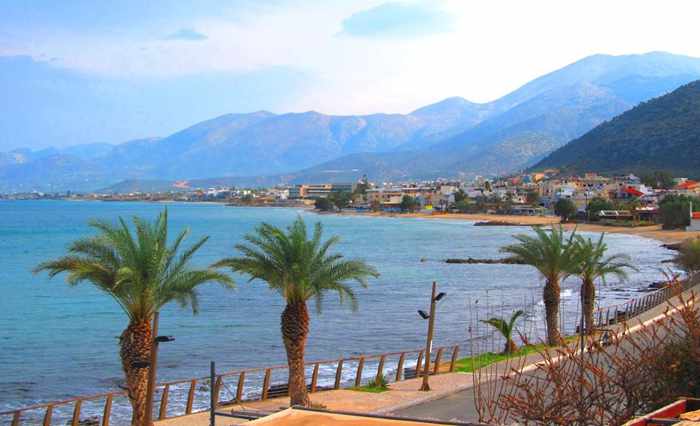 The palm promenade at Stalis is seen in a January 16 2016 image from Best photos of Crete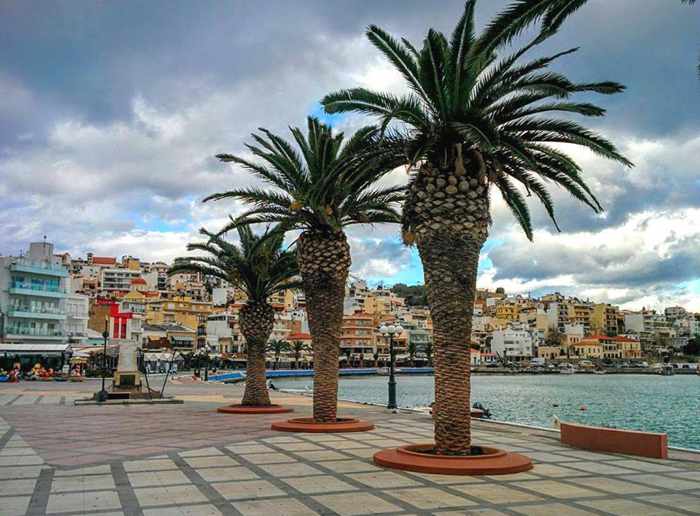 Also from Best photos of Crete, a January 1 2016 picture of the palm promenade on the Sitia seafront
The Kreta-Kamilari Berge Meer Facebook page shared this February 2 2016 photo of Matala beach, the famous hippie hangout from the 1960s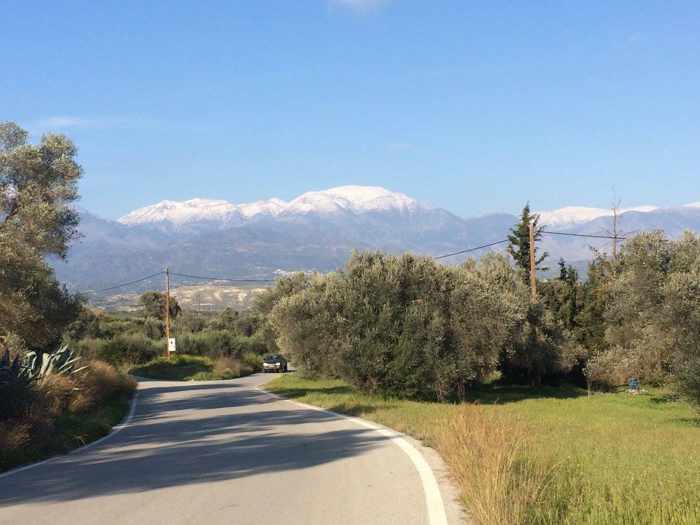 Another Kreta-Kamilari Berge Meer photo, this time showing the Sivas area in the Lasithi region in January.  Imagine taking a scenic winter drive here!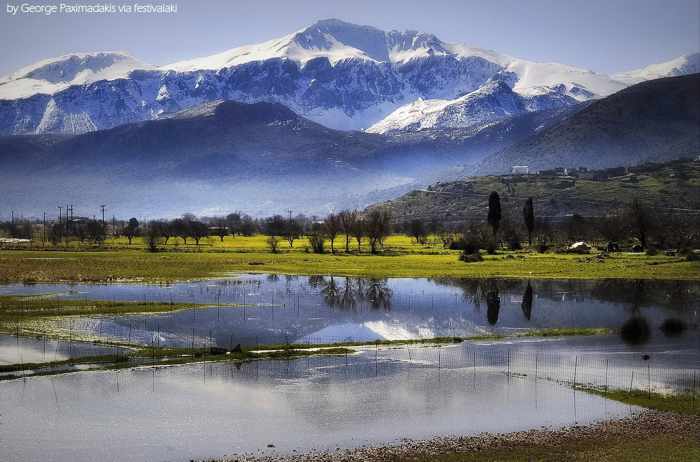 And last but not least, a superb George Paximadakis photo of the Lasithi plateau in the heart of the Dikti mountain range in Eastern Crete. The image was shared on Festivalaki's Facebook page.