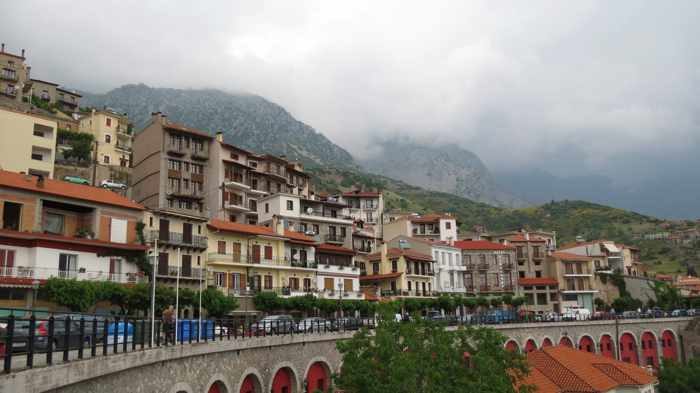 The alpine town of Arachova in Central Greece, seen during our visit in June 2017. The website Greece Is has ranked Arachova one of the country's Top 10 places to visit in wintertime 
Off season delights: Are you trying to pick a place to visit for a unique winter getaway? Have you considered going to Greece?
If you're like many of the people reading this post, you probably picture Greece only as a summer destination, primarily because of the immense popularity of its world-famous beach-blessed islands.
However, Greece is more than just islands and beaches — it's a year-round travel destination with activities and attractions that appeal to everyone, from outdoor sports enthusiasts, to foodies, to history buffs, nature lovers and more.
As for what makes Greece special during the off-season winter months, here's a nicely succinct description by one of my favourite food, culture and travel publications,  Greece Is:
"Winter is the time to swap the sandals for hiking boots, and the cold beachside beer for a brandy or warm rakomelo by the fireplace. Hearty, slow-cooked stews replace light summertime salads, and a whole host of different seasonal products begin to appear: wild mushrooms, juicy oranges, fat chestnuts. This is a time to experience a different sort of Greece – one of rivers, mountains and glorious natural landscapes as yet undiscovered by mass tourism. One that is emptier, wilder but also comforting in its own way, insulated from the rush and chaos of the modern world." 
Although there are scores of places in Greece that would be wonderful to visit in the off-season, Greece Is compiled this list of The Top 10 places to visit in Greece in winter:
♦ Zagori
♦  Arachova
♦  Kalavryta
♦  Meteora
♦  Tzoumerka
♦  Metsovo
♦  Loutraki – Pella
♦  the mountains of Corinth
♦  Pilio (also known as Pelion), and
♦  the mountains of Arcadia
What I particularly like about the Greece Is Top 10 list is that it includes descriptions of each destination or area, and outlines the winter activities that are most appealing at each place. The listing also includes links to additional insightful articles and practical information about each location, as well as photo galleries. I found it a great starting-point for researching a trip to Greece not only in winter (though that's the focus of the ranking), but really for any time of year — all the destinations would be marvellous to visit in spring, summer or fall, as well.
To get some Greece travel inspiration for yourself, click here to read the full article.