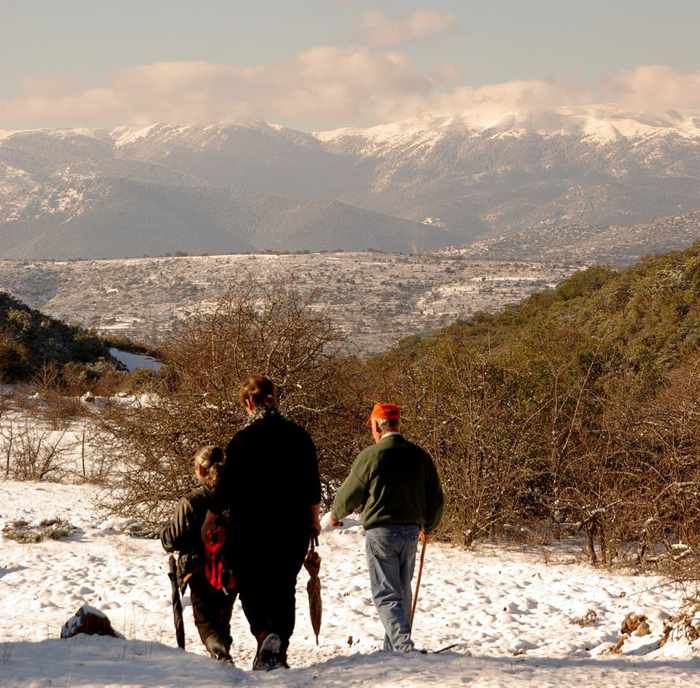 A light layer of snow on the ground didn't deter participants in a Greece on Foot walking tour from enjoying the awe-inspiring mountain and valley scenery in the Arcadia region of the Peloponnese on January 24 …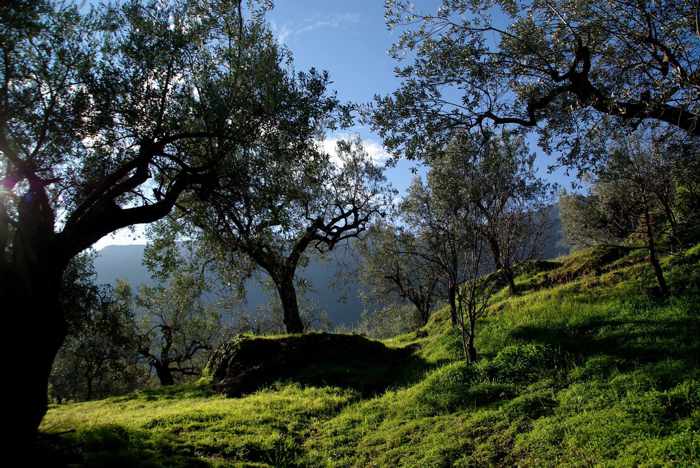 … nor did cold temperatures just two days later, when walkers got to trek through vibrant green olive groves like this one under brilliant sunny skies. (Photos provided courtesy of Greece on Foot tours.)
Winter wonders: Take a winter vacation in Greece? Sure! Why not?
The seething  crowds of summer tourists have long since disappeared, as have the scorching temperatures and the startling high prices of peak season. There's no waiting in long queues for seats on buses or in restaurants, and no jostling with mobs of organized excursion groups or gaggles of selfie-snapping sightseers at monuments and museums. Hiking paths are almost deserted, and roads aren't clogged with tour coaches. The magnificent historic and natural scenery remains glorious despite the drastic change in seasons, the legendary Greek hospitality continues unabated, and the food is superb as always.
Of course, winter is the wrong time to visit if your primary holiday preferences are swimming and water sports, lounging on beaches, or all-night-long dancing and carousing at bars, clubs and beaches on Mykonos, Ios or any of the other legendary Greek "party islands." 
But you'll still find dynamic nightlife in Athens and Thessaloniki, cities which abound in world-class dining, shopping, entertainment and cultural activities all year round. And if you're a winter sports enthusiast, you can challenge your alpine mountaineering or snow kiting skills on Crete, or go snowboarding and downhill skiing at Kalavrita or one of several other major resorts on the Greek mainland.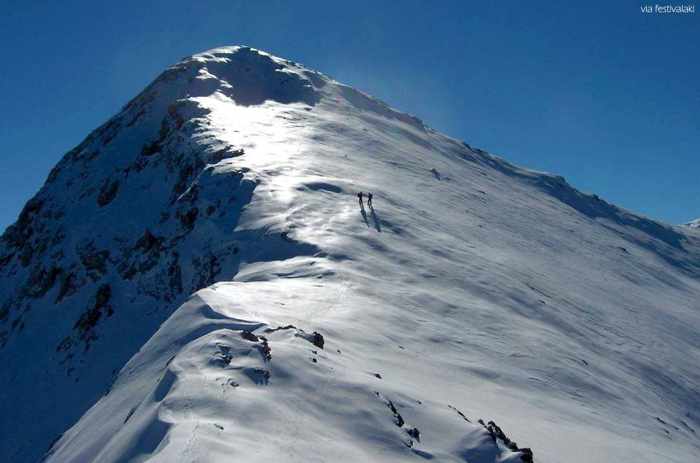 Two alpine mountaineers ascend the steep snow-covered peak of Mt Dikti on Crete, in this image shared on Facebook in late January by Festivalaki: Cretan festival of Arts & Culture. The organization's Facebook post said mountaineering in Crete offers "a wonderful experience combining alpine terrain with breathless views of both the Libyan & Aegean sea."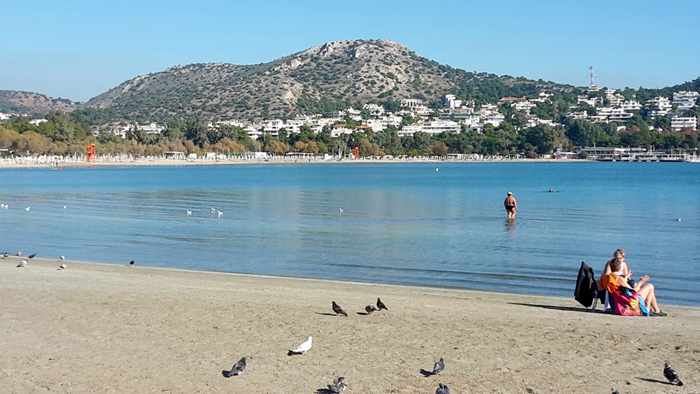 A beach near the Vouliagmeni beach suburb of Athens is seen in this December 29 2015 photo by John de Castelberg.  Most tourists might find the sea too chilly for a winter dip, but the scenic beach- and café-lined coast of the Athenian Riviera is pleasant to visit throughout the off season.
Main tourist season is April to October
For people like me and my partner, who couldn't bear either the blistering heat and sun or the heaving hordes of tourists in midsummer, winter could well be one of the best times to visit Greece. So why, then, have we travelled there only in spring or fall?
That's a question we have been pondering a lot lately. We used to believe it was better to travel during the regular tourist season, which generally starts in late April and winds down by the end of October (particularly on the islands). In fact, most of our Greek holidays have been fairly early in the season, typically sometime between mid-May and early June. But we have gone twice in the autumn — we went island hopping in the Cyclades in late September 2007, and we explored Naxos and Athens during the first half of October 2013.
What we like about our spring trips in particular is the palpable local excitement and anticipation for the new travel season and approaching summer period, an atmosphere we find invigorating and refreshing after our long winter hibernation at home in Canada. Also, the weather is usually perfect for some of our favourite holiday activities — hiking and walking, and dining outdoors (especially near the sea). We weren't keen to visit Greece during the off-season because we were worried we might not enjoy it as much with colder temperatures, inclement weather and few tourists around.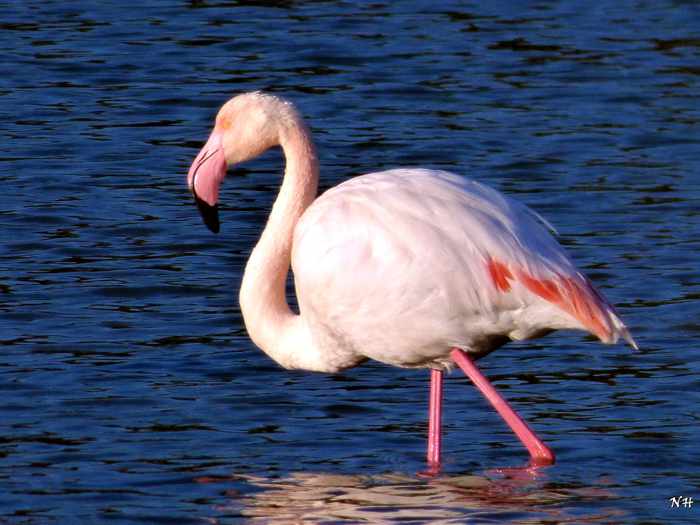 Winter shouldn't keep us away from Greece — it didn't stop this pretty pink flamingo and a dozen of its feathered friends from visiting the Alyki wetland reserve on Samos island for several days at the end of January 2016.  Local photographer Nikolaos Housas captured this splendid image on January 27 and shared it on the Samos Island public group page on Facebook. 
Social media show the winter appeal of Greece
But recently we've really been warming up to the idea of a winter getaway to Greece.  What changed our minds? In two words: social media.
With their photos on Facebook, Flickr and Twitter (some of which I will share with you on page 2 of this post), friends, acquaintances and dozens of people we don't even know have shown us that Greece can be just as delightful and charming in winter as it is during spring, summer or fall. In fact, they have demonstrated that it's a terrific time to see the country's wonderful sights and scenery either on foot or by driving around, and it can often even be comfortable to eat outdoors, or at least sit outside with a coffee to people watch and enjoy the scenery.  What's more, colourful Carnival celebrations held each February and March in scores of villages and towns provide traditional festive fun and excitement we wouldn't find in spring.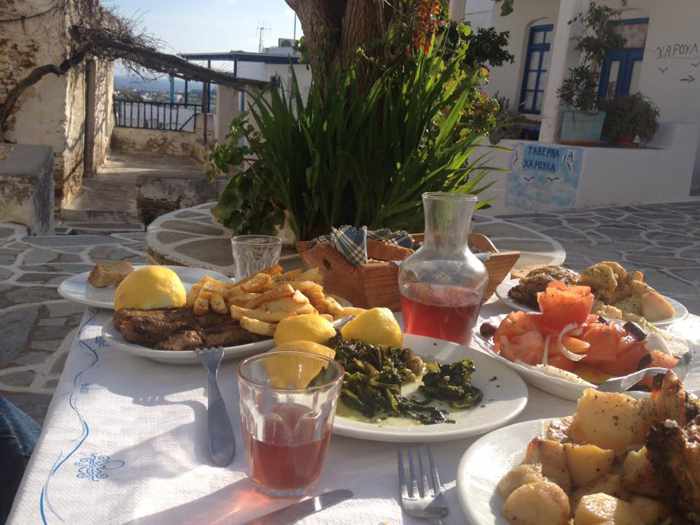 We thought we would miss eating outdoors if we took an off-season trip to Greece. But occasional mild weather means outdoor dining can be possible even in winter, as this photo posted by the Parosweb Facebook page attests. Taken on January 21 2016, the picture shows a table laden with delectable dishes of home-cooked Greek cuisine in the courtyard at Haroula's Taverna in Marpissa village on Paros.
A place to escape our usual winter blahs
Of course there can be gloomy days with rain, cold temperatures, gale-force winds and even snowstorms, as I have reported in posts on December 31 2015, January 17 2016, and January 23 2016. But we get unpredictable and occasionally severe weather conditions at home, too. Yet we continue to drag ourselves through our  December and January doldrums, and the brutal February blahs, daydreaming about Greece and counting the days until we can go back.  Why not just battle the blahs by getting a winter fix of Greece instead?  With luck we might encounter pleasantly mild weather conditions, as you'll see in many of the photos below. At worst, it will feel almost like winter back home — but at least we will be passing the time enjoying the off-season beauty in our favourite travel destination. We're already looking into the possibility of doing exactly that next December or January.
Please click here or on the link below the following picture to turn to page 2 and see some of the photos that have convinced us we're long overdue for an off-season trip to Greece. Fingers crossed that we'll be posting our own winter pictures at this time next year.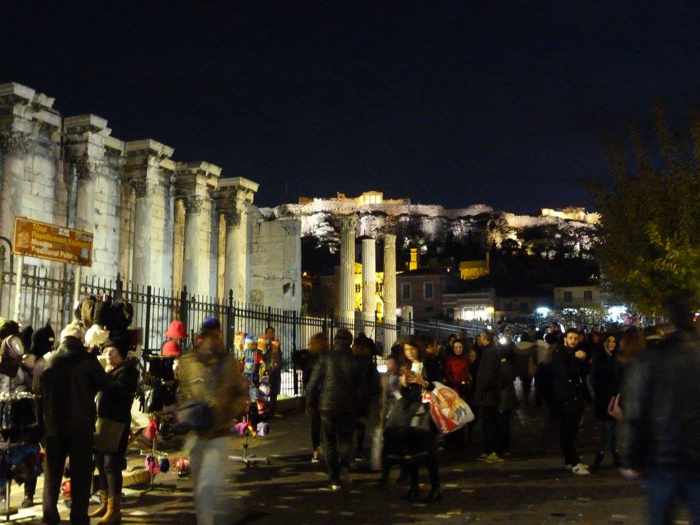 Athens is a bustling year-round travel destination, as evidenced by the throngs of people strolling past historic monuments in the center of Athens, just below the illuminated Acropolis and Parthenon (upper right). Wendy Gilops captured this scene on December 27 2015. 
CONTINUED ON PAGE 2