~ continued from page 1 ~
— Arki —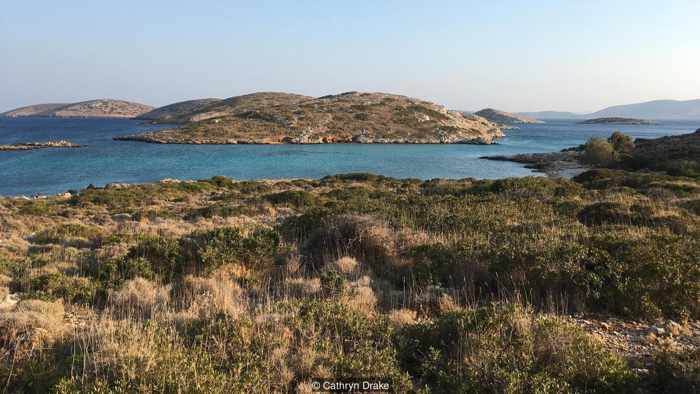 A scene from Arki, captured by Cathryn Drake. This and several more of Drake's photos were published with an Arki article she wrote for BBC Travel.
Only 7 square kilometers in size, with just 35 human inhabitants and 450 goats, Arki is "a tranquil and bucolic gem" that "calls to mind a mythical desert isle – a rugged landscape mantled by brush and wild olive trees stunted by the wind, hidden beaches shaded by tamarisk trees and a luminous teal sea."
For writer Cathryn Drake, the tiny isle in the Dodecanese archipelago is "an antidote to the hustle and noise of city life." As someone who lives in the busy, loud center of a major metropolis myself, Arki sounds absolutely idyllic  — a perfect place to get off the grid and temporarily escape the constant cacophony of urban life.
"Yet one person's holiday paradise is another's home – with all the joys and complexities that come with it," Drake perceptively points out in Greece's last island paradise?  published by BBC Travel on October 31 2019.
The article details Drake's second visit to Arki, where conversations with residents gave her "a local's perspective of life on the island" — eye-opening insights into the challenges of living in such a small, isolated spot.  Yet despite the hardships and profound disadvantages, Drake finds there are significant and enviable benefits, too, including a "sheer lack of urgency to do much of anything" and "a strong sense of community that is lacking in most urbanised places." And, perhaps best of all, being situated well off the beaten tourist path has "saved it from the fate of other, more popular Greek islands that have been spoiled by tourism," Drake observes.
Arki is approximately 10 nautical miles east of Patmos and 7 n.m. north of Lipsi.  During a ferry ride from Patmos to Samos 10 years ago, our ship briefly called into port at Arki, and passed by the even smaller neighbouring isle of Marathi, which I wrote about it in my blog post Marathi: a get-away-from-it-all Greek island. Having read Cathryn Drake's article, I will now regard remote islands like Arki and Marathi — and appreciate their residents — in a whole new light.
— Crete —
Anywhere we travel in Greece, we notice beautiful old buildings in various states of disrepair: Many are slowly falling apart because they're no longer occupied or maintained; some are dilapidated or extensively damaged, and others have crumbled into complete ruin. Earthquakes may have caused some of the property damage; in other instances, it's due to the fact the long Greek economic crisis left their owners with little or no money for upkeep.  When I look closely at these structures, I often wonder if they could ever be restored and re-purposed into charming boutique hotels, bed & breakfast accommodations or rental vacation homes. It makes me happy when I do see that happening, or read about someone giving an old place a new lease on life.
That's why The Luxury of Simplicity caught my attention when I was flipping through the online version of Minoan Wave magazine's summer 2019/spring 2020 edition. Writer Olga Charami looks at five enchanting villages on Crete that had either been long abandoned or in significant decline, but which have recently been "reclaimed" and revived into "modest but appealing" tourist accommodations. And they're not just places to sleep — at some, guests can participate in bread making or cooking classes, help with the production of olive oil, wine or honey, and enjoy organized nature tours and cultural activities.
One such village is Milia, near Chania, where a collection of abandoned 15th Century dwellings were restored "to as close as possible to what they had been, using locally sourced materials and local craftsmen," Charami notes. Even the cobbled streets were repaired. Solar energy powers the buildings, while water is drawn from nearby natural springs. Now operated as a guesthouse and restaurant complex called Milia Mountain Retreat, the property is aimed at visitors "who wish to spend a few days experiencing a different way of life, one based on respect for the natural environment and self-sufficiency."
Another revived settlement is Aspros Potamos, near Aghios Nikolaos, where an uninhabited farmhouse and 10 small homes made of dirt, rock and reeds — "great examples of a style of rural Cretan architecture that dates back 300 years" — were restored.  (Aspros Potamos is shown in the magazine article screenshot I posted above.)  "A photovoltaic system provides just enough electricity to keep the huts equipped with basics such as lighting and hot water. The absolute silence and the view from the small verandas of the mountains and the valley below make a stay here unforgettable," Charami says.
Meanwhile, at the Thalori Guesthouses in Kapetaniana, in the Heraklion region, guests can participate in "trekking tours, 4×4 excursions, canyoning, climbing, canoeing and fishing, as well as classes in traditional cooking and farm work," Charami notes. "The Thalori complex also has a restaurant listed among the best in Crete, and there's a swimming pool built with the utmost respect for the environment."
Charami's article also looks at Vamos Traditional Village in the Chania region, and Kapsaliana Village Hotel in the Rethymno area.
Even if you spend several days in the old city of Chania, you could easily miss seeing many of its noteworthy sights and historic attractions. That's what we discovered in 2017 during our three-night visit. Although we walked ourselves to exhaustion each day, and thought we saw almost everything worth seeing, it wasn't until after our trip — when I began reading two Chania books I had bought as souvenirs — that I learned about significant spots we had overlooked, or had not looked at closely enough. 
I learned about a few more places we had missed when I read Incomparable Chania in the Summer 2019/Spring 2020 edition of Minoan Wave magazine.
Penned by Maria Coveou, the article recommends that first-time visitors head to the long harbour breakwater that leads to the port's iconic lighthouse. From this vantage point, tourists can view the city "much like many of the conquerors of old first saw it," Coveou says, noting that "the Minoans, Dorians, Romans, Arabs,  Byzantines, Venetians, Genovese, Egyptians and Ottoman Turks all laid claim to this area. Attracted by Chania's strategic position on the sea and its fertile land, this succession of rulers left behind different elements that helped shape the cosmopolitan and extroverted character that the city displays today."
To get better acquainted with Chania, Coveou suggests specific streets that visitors should stroll to see how the old city was shaped and developed over the centuries. In the busy Topanas district, for instance, the arches and porticoes along Moschon Street "will help give you a pretty good idea of what Chania looked like under the Venetians," while in the quiet Splantzia neighbourhood Coveou recommends stopping at 1821 Square, a historically important site during the Turkish occupation.
She also suggests routes that will take visitors past the Municipal Market, the Church of Panaghia Trimartyri, and the Archaeological Museum, plus other attractions.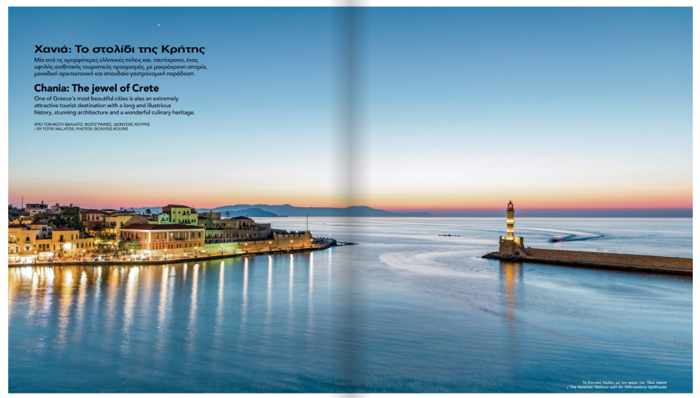 Whether you're a first-time or repeat visitor, be sure to check out the 15-page illustrated Chania guide in Issue 79 of Blue, the in-flight magazine of Aegean Airlines, before you go (or even while you're there).
Written by Fotis Vallatos, Chania: The jewel of Crete highlights the city's top museums, and recommends places to visit for good food and drink, including:
♦ cafes, bars and lounges;
♦ popular brunch spots;
♦ restaurants offering either "creative cuisine" or "traditional fare";
♦ street food eateries; and
♦ sweets and dessert shops.
Vallatos also suggests interesting stores to browse, as well as places to purchase local products.
The guide is illustrated with nearly three dozen photos by Dionysis Kouris that will get you excited to explore this marvellous city.
— Folegandros —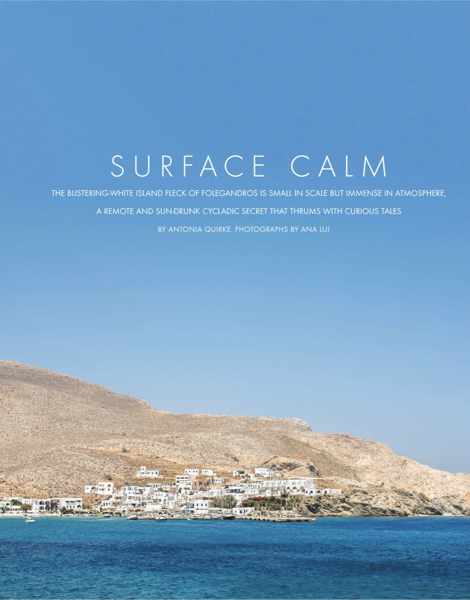 If you're feeling stressed or anxious, find a few minutes to view the photos and read about Folegandros in  Surface Calm, from the July/August issue of Conde Nast Traveller magazine.  The images by photographer Ana Lui, and writer Antonia Quirke's beguiling descriptions of the difficult-to-reach Cycladic isle, might well ease you into a surprisingly mellow mood.
I felt cheerfully chilled reading Quirke's impressions of the serene and slow-paced atmosphere that pervades the island's austere, rocky landscapes and soaring steep cliffs.
Quirke recalls how, shortly after she arrived on Folegandros, a cafe waitress told her that "Nothing happens around here. Nothing, just nothing…" Quirke herself is quick to observe that, on Folegandros, "sometimes it can feel as if the place exists more in the mind. Or in some dreamlike dimension because, among other things, it's peculiarly hard to get to given it's technically only an hour on a fast ferry from Santorini."
Yet with her poetic and vividly descriptive prose, Quirke does paint a rather dreamy picture of a blissfully care-free place to unwind.
Describing Hohlidia beach near the port, she writes: "On the sand are cottages with tumbling porches as blue as agapanthus, rusty push-bikes leaning against Judas trees and wooden chairs propped up with old books, their pages swollen with salt. At night, lanterns are lit all along the sand as though guiding you to bed, or to an Indian temple. And at dawn, just the sound of collared doves and water swirling on stones, the vague light at the horizon becoming form, and spreading lush and fast and almost green.
"At Agios Nikolaos beach, the water is the bluest blue and the painted colours of boats flash in the sunshine. A little bar sits on the sand; a chapel, festooned with creepers trailing down to the water. Kids doze in the warmth, cheeks pillowed on folded sarongs. A party of twenty-something girls from Mykonos tie up their hair and head into the water, the gentle slop of waves cooling their upturned faces."
We've been to Folegandros only once, back in 2007, and Quirke's account rekindled fond memories of our own brief but very pleasant experience. Her story makes me want to return so we can revisit the charming town squares lined with tavernas, explore the beaches she mentioned (we made it to only one) and especially to have a meal at Papalagi, a restaurant she discovered "that sits almost like a treehouse far up on the rocks, entirely open on all sides," at Agios Nikolaos beach. It's exactly the kind of place where we would enjoy a leisurely long lunch.
— Ikaria —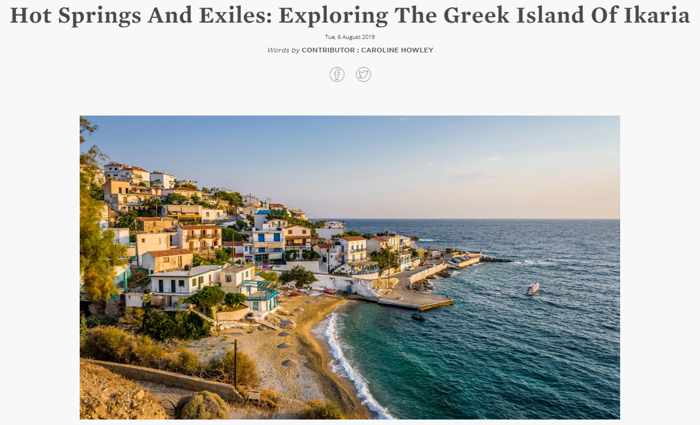 "With secluded beaches, thermal waters, wine from the gods and a life expectancy that tops 90, the isolated island of Ikaria epitomises Greek life at its purest," writer Caroline Howley comments in the introductory passage of her article Hot springs and exiles: Exploring the Greek island of Ikaria, published August 6 2019 by Suitcase Magazine. 
Howley recounts taking a trip to the eastern Aegean island in an effort to find a "more authentic experience, away from the tourist hordes on Santorini and Mykonos." What drew her to Ikaria, in particular, was her long personal fascination with the story of Icarus from ancient Greek mythology, after whom the island was named.
She finds an island famous for the longevity of its inhabitants and its thermal springs, and its historic notoriety as a place of exile for more than 13,000 communists during the Greek War of Independence. She also discovers "unspoiled Greek culture," "thrilling mythology and history," and none   of the "international tourist crowds" that flock to other islands.
Besides explaining how to get to Ikaria (either by short airline flights or long ferry rides from Athens), Howley suggests locations to stay, things to see and do, and where to "discover the island's magic." (Hint: rent a car and just start driving.)
— Ios —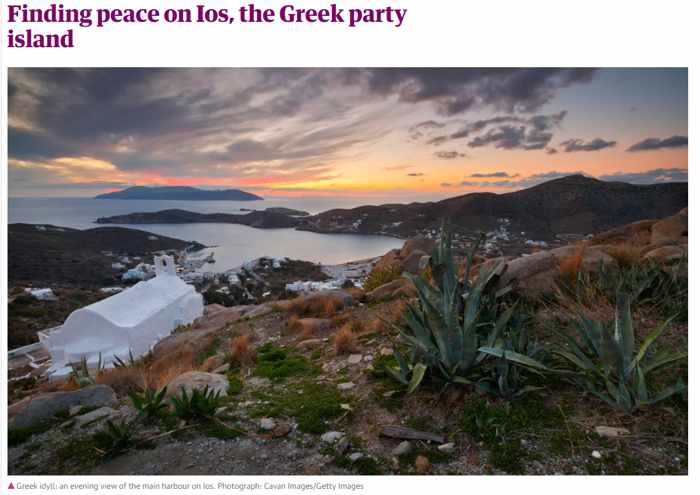 In 2019, travel writers for three different publications explained how to find luxury, peace and privacy on the infamous party island of Ios. Above is a screenshot of a piece that appeared in The Guardian, while the image below shows an article that was published in The Times. Beneath that is a screen capture of an Ios resort profile in Bella Magazine.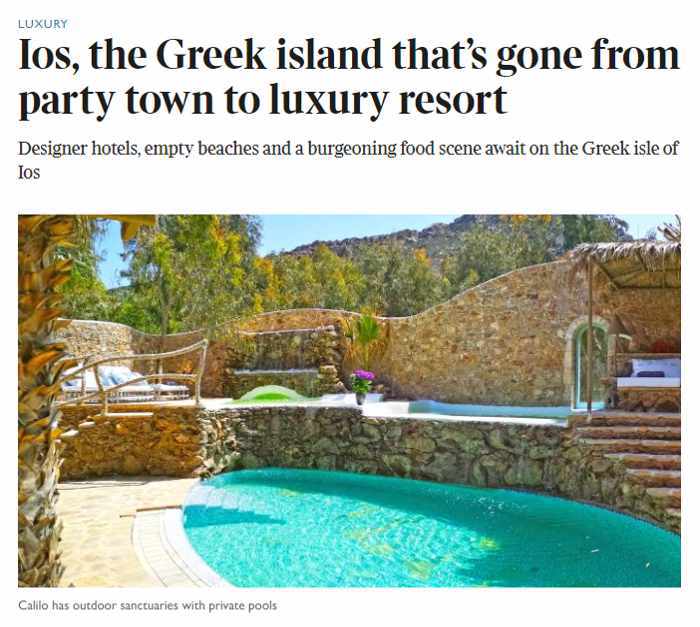 For decades it has been notorious as the go-to beach holiday destination for teenagers and 20-somethings looking to party til they puke, but in the last two years I've noticed that Ios has been developing a remarkable new reputation — as an island paradise where folks long past their prime party years can escape the tourist crowds and enjoy luxury, tranquility and wonderful food.
I've seen the surprising shift in online travel chat rooms, where regular Greek island hoppers previously advised other travellers to avoid Ios like the plague because of its full-throttle, anything-goes summer party scene.  Now, couples in their 50s and older are sharing overwhelmingly positive impressions of their recent visits, discussing plans to return again this year, and recommending that others try to squeeze a few days on Ios into their own island-hopping itineraries.
The travel media have been gushing about Ios, too, with three articles profiling LuxurIos, the trailblazing tourism and conservation company leading the island's stunning transformation. I won't delve deeply into the details, since they are discussed in each of the reports I describe below, but I will say I'm impressed by the efforts that the husband and wife team behind LuxurIos have been undertaking to keep Ios from falling into the same trap of overdevelopment and overtourism that has already captured, and arguably ruined, Mykonos and Santorini.
In Super luxe resort debuts on the unspoiled Greek island of Ios, published by Bella Magazine on August 6 2019, Maxine Albert recounts a stay at Calilo, a 5-star beach resort that LuxurIos had just opened. Albert describes Calilo as the ultimate hideaway for "lucky guests seeking a celestial refuge to kick back, relax and enjoy the best of Ios with the utmost privacy." Her story is accompanied by more than a dozen photos of the plush private suites and some of the resort's inviting common spaces.
The resort — and the island itself — are described in considerably greater detail in Ios, the Greek island that's gone from party town to luxury resort, published August 17 2019 by The Times.  Writer Amanda Dardanis recounts Ios's sordid history as party central for young adults, noting she had been put off ever going to Ios after hearing stories  her Greek-Australian husband told about his booze-fuelled party antics on the island during his early 20s.
"But change is coming to this island of goat-herders and cheesemakers. The party has simmered down and a new parallel narrative is emerging: one of beaches without crowds, newly found gourmet confidence and gentle, slow-burning beauty that chimes with the island's other claim to fame as the final resting place of the father of western literature — Homer. At the same time, new luxury hotels, targeting a more sophisticated visitor, are reshaping Ios's craggy contours. It's the prospect of experiencing this Ios that has persuaded me to brave a visit during the peak summer season," she writes.
Besides discussing Calilo and some of the bars and lounges that LuxurIos operates, Dardanis also describes several of the island's "stand out" restaurants and cafes.
In Finding peace on Ios, the Greek party island published by The Guardian on November 24 2019, writer Juliet Rix explains how visitors "can choose whether to engage with the party side of Ios, or enjoy the delights of the hardly inhabited majority of the island," including the ruins of a 14th Century Venetian castle at Palaiokastro, the Bronze Age archaeological site of Skarkos, hiking paths, and secluded beaches.
Although she stayed at one of the upscale LuxurIos accommodations, Rix notes that Ios still offers something for every kind of traveller, "from lap-of-luxury to £35 a night, teens to several-times-20-somethings, foodie fusion to traditional tavernas."
— Kea —
Kea was another destination visited by Rachel Howard, who authored the two Andros articles discussed earlier in this post,
In Exploring Kea: Greece's undiscovered isle, published in the July edition of the Etihad Airways magazine Atlas, Howard says she had often visited the island in the 1980s, staying in a rustic farmhouse a friend's mother had rented. It had no electricity and was accessible only by footpath. A taverna at a nearby sandy beach was the only place to get food for miles around. She had not been back since then, but paid a return visit in the summer of 2019, expecting to be shocked by how much the island may have changed in the interim.
"Had the pure, simple way of life I had experienced 30 years ago disappeared? Or was this island still stuck in the happy time-trap of its own making? Early signs were promising," she wrote." As we trundled off the ferry at Korissia, the island's unassuming harbour appeared stubbornly and reassuringly ungentrified."
And while driving across the island, she thought the landscape didn't appear all that different, either, apart from a few new homes in places. It was only when she reached Koundouros "that the more preened, glam side of Kea appeared: sun beds lined the beach and splashy yachts were moored beside minimalist villas. The hold-out relics of old Kea – whitewashed windmills where barley was once ground – are still there too, only surrounded by shimmering infinity pools where butlers serve ice-cold cocktails."
That's the Porto Koundouros beachfront complex of villas, bars  and restaurants  she's referring to, and it soon will have 5-star company at another of the island's most picturesque bays. At previously-pristine Vroskopos beach, currently accessible only by boat or on foot, a 75-suite One & Only resort, the first to be built in Greece, is scheduled to open in 2021.
Despite the development of these "high-end hideaways," Howard discovers that " old, authentic, time-trapped Kea still exists. Up on the hills above the east coast, there are hardly any proper roads – a jeep is essential – but an ancient network of stone-paved paths lead to solitary chapels and isolated coves. Here, farmers till their fields with donkeys, sheep huddle around ice-cold springs, and the bees humming in the wild thyme produce delicate honey. The north-eastern part of the island is covered in oak trees, a mainstay of Kea's economy for centuries: the locals sell the acorn caps to tanneries as a natural dye and feed the acorns to their livestock."
Howard also describes unique farmstead accommodations near Kato Meria, the acropolis of Karthaia, and sunset viewing from the waterfront restaurant strip at Vourkari. 
Though in Howard's view the island remains much the same as it was 30 years ago, I can't help but wonder how much longer that will last now that Kea has landed on the radar of major travel publications. In December, Suitcase Magazine called Kea one of the 20 Hot Travel Destinations for 2020, and urged its readers to visit the island "before the crowds catch on." Coincidentally, "go before the crowds catch on" is the same advice Conde Nast Traveler magazine offered, also in December, when it named Kea one of The Best Islands to Visit in 2020.
— Milos —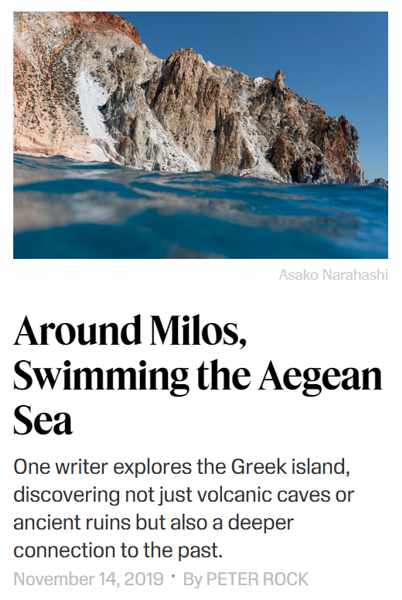 On the first of our two trips to Milos, we took a boat trip that travelled partway around the island — an excursion that is widely considered the top "must do" activity for visitors. (I wrote about the excursion in my blog post Our sailboat tour to Sykia and Kleftiko on Milos.)  The outing took most of the day, and all the sunshine, sightseeing and swimming breaks sapped most of our energy; we struggled to keep our eyes open during dinner that night.  So I couldn't even begin to imagine how mentally and physically exhausting it would be to spend six days swimming around the entire island, with detours to small neighbouring isles — a total swimming distance of more than 20 miles.  But that's what writer Peter Rock had promised people he would do, and he describes his nautical adventure in the engaging article Around Milos, swimming the Aegean Sea , which was published in The New York Times Style Magazine on November 14 2019.
"I've found bodies of water to be a rich way to come to know a place," Rock says in explaining why he chose to "investigate" Milos from a swimmer's perspective. "An island defined by the water that surrounds it. The liquid pressure, circling the land, holding it together, changing its shape. I seek to apprehend Milos while thrashing around these shores, to let these waters press on my body, mind and emotions."
It's a fascinating tale of discovery, as Rock relates what he learns about the people and history of Milos, and recalls how sights he observed underwater and above the sea's surface reminded him of extraordinary events that Homer described in The Odyssey. He also gains insights into himself, as his extended periods alone in the sea provide plenty of time to ponder the recent passing of his father.
While I found Rock's article to be a riveting read, I also enjoyed the accompanying series of photos by Asako Narahashi, which brilliantly portray scenes on the stunning Milos coastline exactly as a swimmer would view them while bobbing in the turquoise waves.
— Paros —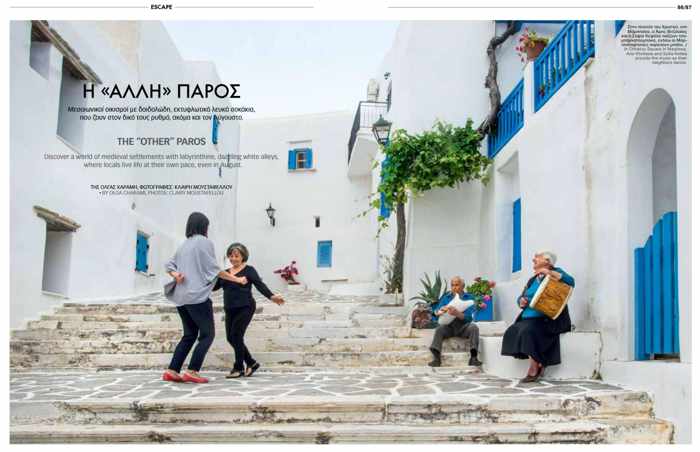 One of my favourite memories of Paros was going  on a tour that took a small group of visitors around the island, with stops at the main towns of Parikia and Naousa, as well as walkabouts in a few picturesque villages, including Lefkes and Marpissa. We saw many beautiful sights during the 7-hour excursion, but it was the villages that impressed me most of all.
Reading The 'other' Paros took me right back to that day, and made me want to plan a return trip to  further explore Lefkes and Marpissa as well as Prodromos — the three medieval villages that writer Olga Charami profiled for the Summer 2019/Spring 2020 edition of Minoan Wave magazine.
Located in the eastern part of Paros, the three settlements "have always been well hidden, invisible from both the sea and the main road that leads to the east coast beaches. Unless you wander these 15th-Century whitewashed labyrinths on foot, you'll never know what you've missed," Charami says. Having seen two of the villages, I can say it would be a shame to miss visiting any of them.
But if you do go to Paros and want to see these enchanting villages, don't do it on a group bus tour like we did — you won't get enough time to discover, explore and simply enjoy being there. Rent a vehicle so you can travel at your own pace, without being quickly herded through the scenic streets by a guide. We barely had time to snap photos since our tour was  on a tightly timed schedule.
Charami's article will help you plan your visit; she describes each village in detail, highlights attractions and features to watch for, and mentions places where you can can stop for food or refreshments, or shop for local products. The article is illustrated with more than a dozen beautiful photos by Clairy Moustafellou.
— Santorini —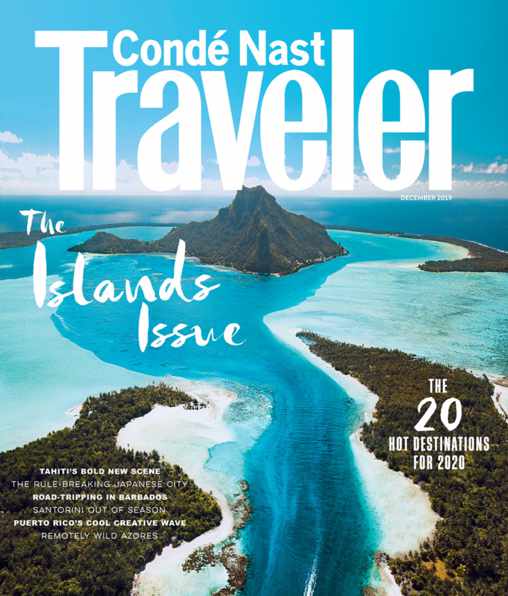 The cover of the December 2019 edition of Conde Nast Traveler magazine, which includes an article about out of season travel to Santorini
So Santorini is on your bucket list of places to visit? Join the crowd — literally — if you plan to travel between May and September. While the scenery and sunsets look absolutely divine and to-die-for on Instagram and social media, those images don't reveal how the island is reeling under the strain and stress of severe over-tourism.
"Over two million people visit Santorini each year. More and more of the island is covered with concrete. Spare rooms and apartments are posted on Airbnb. The infrastructure groans and creaks. There is no time for traditions of hospitality that once were sacred," regular Santorini visitor Timothy O'Grady observes in an article published in Conde Nast Traveler magazine. "You sense that there is another Santorini beyond the chic and glamorous façade, beyond the tour buses and trinket shops, one that has suffered some kind of wound but is nevertheless struggling to reassert itself."
There is indeed another side to the island, and it's still possible to experience its authentic delights — just don't try to find it during the overcrowded summer holidays, O'Grady says in For the real Santorini, visit during off-season.
He recommends paying a visit during October and November instead, when there's a better opportunity to see, feel and even taste how Santorini has been shaped by its intensely dramatic geological history — cycles of profound destruction wrought by volcanic eruptions and earthquakes, followed by periods of recovery and renewal.
I found the essay fascinating for the insights O'Grady gleans from conversations with Georgia Tsara, sommelier and manager of the acclaimed restaurant Selene, who tells him about the island's tumultuous history and explains how the repeated cycles of volcanic upheaval can be discerned in local food and wine products.
O'Grady also shares an interesting story — one I had never heard before — that explains how the village of Oia became world-famous for sunset viewing. 
The article also includes tips on where to stay, where to eat, and what to do if you'd like to discover "the other Santorini."
— Serifos —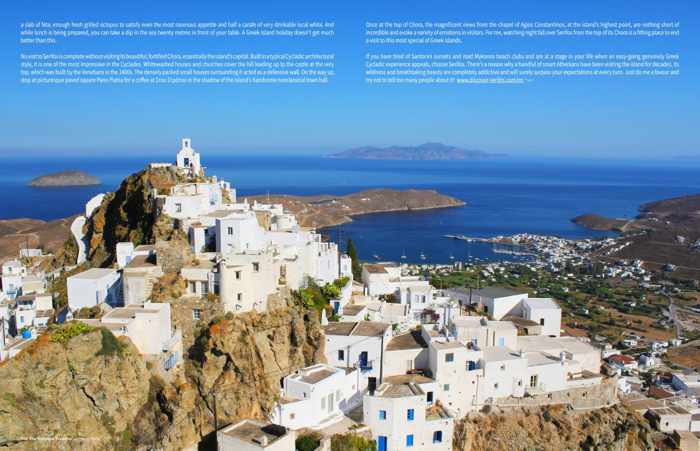 A captivating view of Chora, the capital of Serifos island. The photo appears in a Serifos spotlight in the June – August 2019 edition of The Cultured Traveller magazine.
In conversations about island hopping four or five years ago, I took some friends and acquaintances by surprise when I said we had never seen Serifos. They had all been there, most of them multiple times, and everyone insisted  we would love the island. I didn't doubt what they were saying, since they know what types of places we like, but for whatever reason, we still haven't worked a trip to Serifos into any of our Cyclades holiday plans. I felt a tinge of regret about that when I began reading a Serifos profile that Nicholas Chrisostomou wrote for The Cultured Traveller magazine.
In the article Serifos, which starts on page 124 of the magazine's June – August 2019 edition, Chrisostomou explains why the island is his personal go-to destination to "get off the grid for a short while" and take a refreshing pause from his everyday hectic life.
Chrisostomou never expected that Serifos would become a favourite getaway spot; in fact, his initial impression was that the island didn't "seem special at all" when he walked off the ferry at Livadi port on his first trip there. But once he began driving down a coastal road that circumnavigates the island, he was completed wowed by the "overwhelming" scenery — and soon found himself smitten with Serifos.
"Merely turning a corner gave way to another picture postcard bay or sweeping sea vista, and the island appeared to exude a calmness and reassurance that rapidly connected with my senses. It was akin to revisiting a Greece that seemed to have stood still since the 70s, when I was a kid and island life was unspoilt by mass tourism. Areas of arid terrain and wild countryside, punctuated by intense deep blue swaths of the Aegean, made me ache to get down to the beaches. I'm not particularly a beach person, but Serifos' I just can't resist," he wrote.
As Chrisostomou described driving an ATV to his favourite spots on the island, I found myself wishing I was going along for the ride. As if that wasn't enough to sell me on Serifos, a dozen beautiful photographs accompanying the article quickly confirmed all the good things my friends and Chrisostomou said.
— Syros —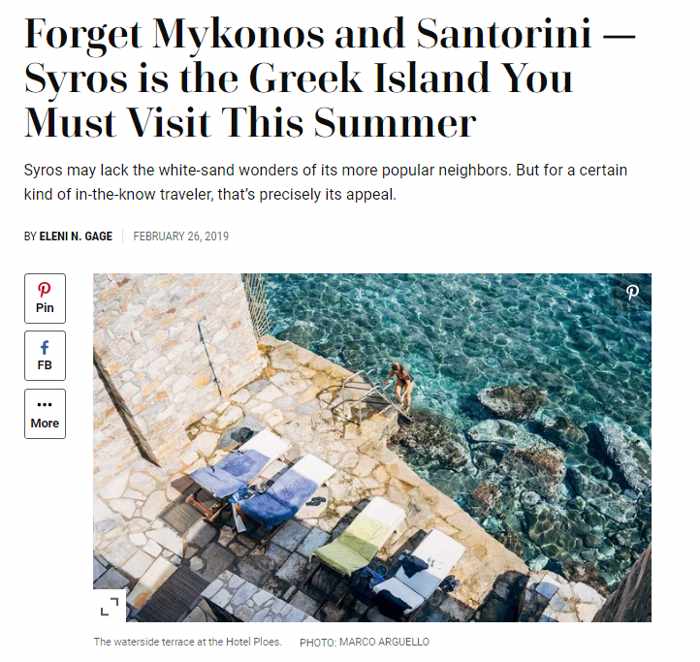 In the February 2019 issue of Travel + Leisure magazine, writer Eleni Gage urges travellers to Forget Mykonos and Santorini — Syros is the Greek island you must visit this summer.
Gage notes that while Syros is practically a next-door neighbour to the extremely busy and hugely popular Mykonos, it draws a mere fraction of the tourist traffic, possibly because of its massive shipyards and its a reputation as a commercial, administrative and industrial center rather than one of the Mediterranean's top beach destinations.
"With fewer spectacular beaches than some of the Cyclades, Syros doesn't fit the lazy-whitewashed-village-atop-a-sandy-shore vision most Americans have of the islands. The visitors who do come — the majority are from France and Scandinavia — are drawn by the festivals and thriving art scene, the more than 1,300 Neoclassical buildings, and the incredible cuisine."
The island's vibrant culture events and attractions, as well as some of its noteworthy dining spots, are among the subjects that Gage covers in her article.
I wrote about the piece when it was published, and included two dozen photos from our own visits to Syros to illustrate some of the sights and places that Gage mentioned.  You can see the pictures in my post T + L magazine serves up a taste of Syros island.
— Tinos —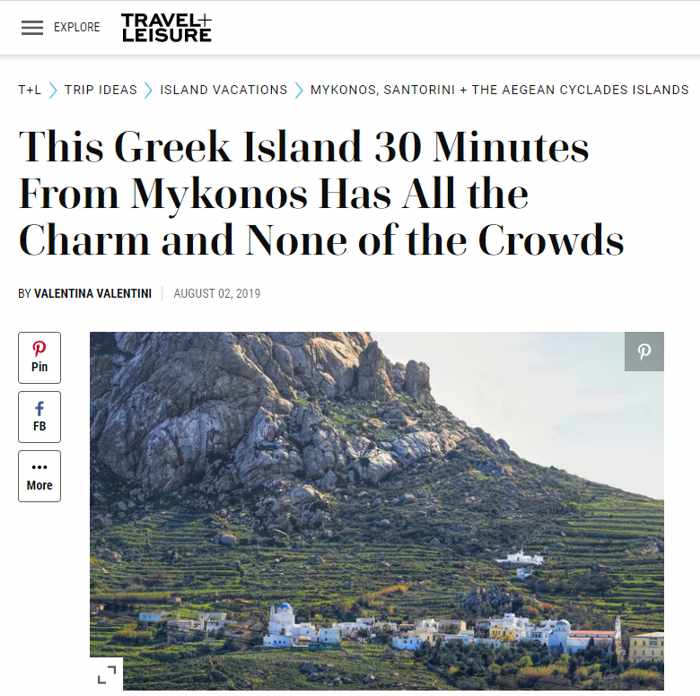 In  a short piece published to the Travel + Leisure magazine website on August 2 2019, writer Valentina Valentini explains Why Tinos island in Greece should be your next trip.
One of her reasons is that the island "has remained unspoiled" by the tourist crowds that venture elsewhere (Tinos doesn't have an airport, and isn't on the cruise ship circuit), while another is the burgeoning "gastronomic scene," which includes an annual food festival and other events highlighting the island's delicious cuisines and interesting local traditions.
"There are 50 villages on the 75-square-mile island, and most them have at least one taverna where gorgeously simple, local dishes, like roasted eggplant with garlic and boiled artichoke with olive oil and lemon, are served up," Valentini says.
"Tinos' eccentricity reverberates throughout the island and in the traditional art and food, letting you experience Greece like few others have," she adds.
Gage briefly notes some of the activities visitors can enjoy on Tinos, and for unique accommodations suggests  Xinara House, a luxury rental villa which has been profiled by other leading international publications.