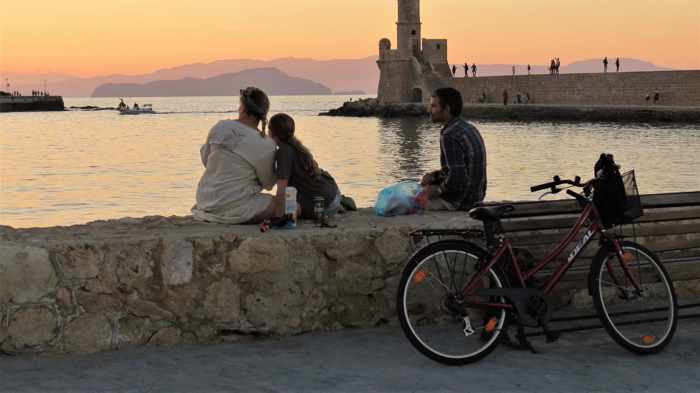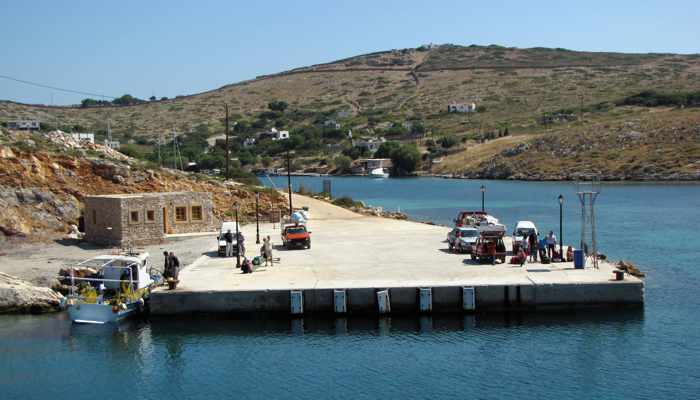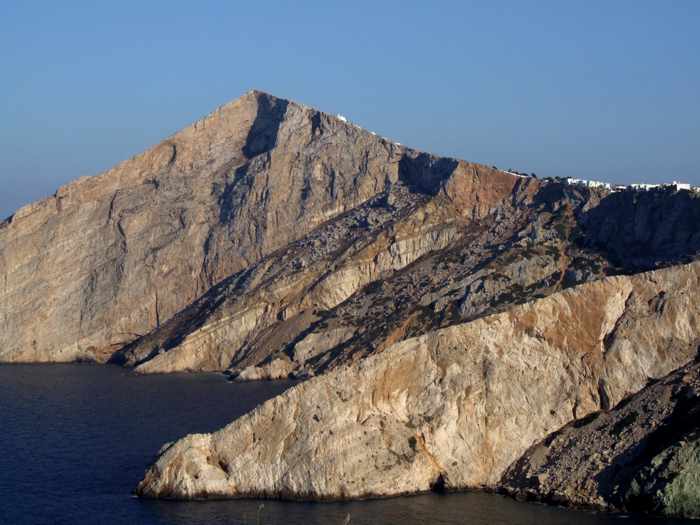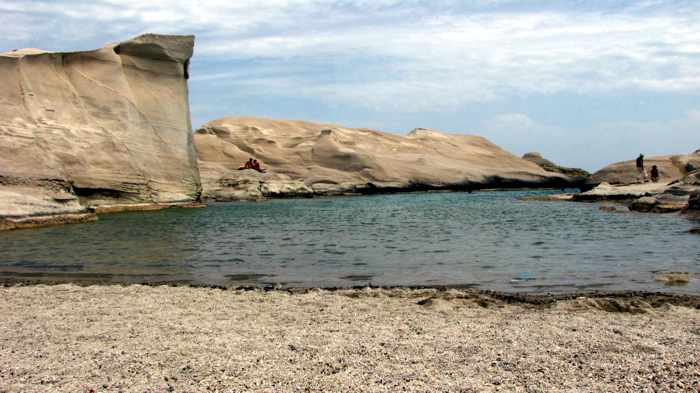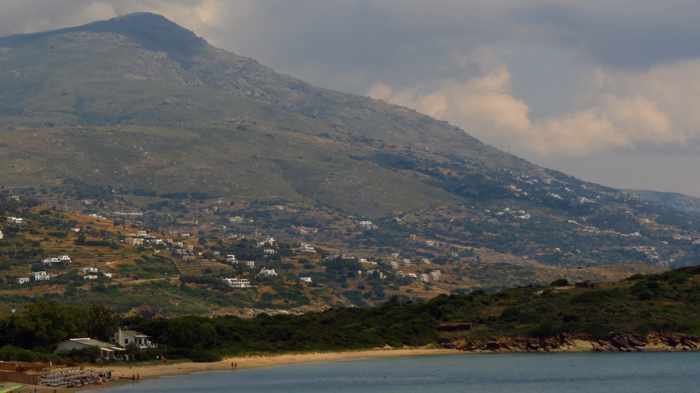 From the top: Tinos seen from a departing ferry; the Chania harbourfront at sunset; the small port pier at Arkoi; soaring cliffs beneath the whitewashed buildings of Chora village on Folegandros; rock formations at Sarakiniko beach on Milos; a mountain and beaches on the west coast of Andros. These are some of the places profiled in my favourite articles about Greek islands in 2019.
Magazine articles and newspaper stories about Greek Islands are the focus of this post, the latest instalment in my series of "best travel reads of 2019."
The reports I have included in this list are the ones I liked the most last year because they me made wish I could rush right away to the island being discussed; taught me about interesting places, attractions and activities I wasn't aware of previously; or provided thoughtful insights by exploring destinations from a unique and captivating perspective. Some are educational; some are inspirational; others are simply fascinating or fun to read.
Though they were published during 2019, all of the reports and profiles are worthwhile reads for anyone planning or thinking about a trip to one or more of the islands either this year or sometime in the near future.  They provide helpful practical information about intriguing things to see and do,  suggest areas to stay in or specific accommodations to consider, and offer ideas for discovering and experiencing the unique local character, history and features of each island. I have included links to the online source of the articles so readers can bookmark the ones that interest them for further reference.
The islands featured in my best articles round-up are:
♦ Amorgos, Andros,Folegandros, Ios, Kea, Milos, Paros, Santorini, Serifos, Syros and Tinos in the Cyclades;
♦ Ikaria in the eastern Aegean;
♦ Arki in the Dodecanese; and
♦ Crete
I've listed the articles in alphabetical order by island name so readers can easily scroll to a specific destination that interests them.
— Amorgos —
Screenshot of National Geographic article about Sister Irini on Amorgos
A highlight of our trip to Amorgos back in 2009 was a visit to the island's best-known monument, the Chozoviotissa Monastery. Founded in the 11th Century, the whitewashed, fortress-like edifice clings to the face of a rugged cliff hundreds of meters above the sea. It is such an incredible sight, my first glimpse of the brilliant white building literally took my breath away.  I'm still so fascinated by Chozoviotissa that I get excited whenever I see photos of it on my Instagram feed, or find video views of it on YouTube.
While I'm certain we will pay it another visit next time we return to Amorgos, there's a much newer monastery I'm equally keen to see. It didn't exist when we travelled to the island, and I didn't learn about it until I read Meet the tourist who became the only nun on Amorgos, a National Geographic piece published on January 17 2019. 
Written by Terri Steel, the article is an engaging story of transformation — a profile of a woman who decides to turn her life in a totally new direction while restoring a derelict church property into a lush garden "paradise" now known as Agios Georgios Valsamitis Monastery.
"She first came to the island as a young mother and wife 35 years ago; after her husband passed, she chose a new path. Her name is Sister Irini, now, and she remains Amorgos's only nun," Steel writes, noting that Sister Irini took her vows as a Greek Orthodox nun in 2011. 
"Seven years ago, Sister Irini began transforming a long-abandoned monastery into an oasis. Visitors come throughout the year to walk her bountiful garden lined with Byzantine frescoes, to hear her story, and to purchase her magnificent paintings of religious icons."
Steel relates part of the sister's story, outlines how the nun spends her days and speculates on how the "heavenly landscape" of Amorgos may have encouraged Sister Irini to pursue a simple, holy life there.
The article is illustrated with images of beautiful Amorgos sights and scenes captured by photographer Chiara Goia.
— Andros —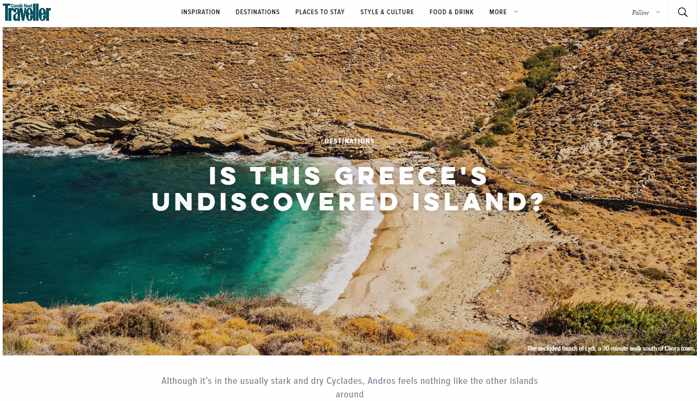 In 2019, prolific travel writer Rachel Howard penned two feature articles about Andros — one for Conde Nast Traveller magazine (top), the other for The Sunday Times newspaper (below).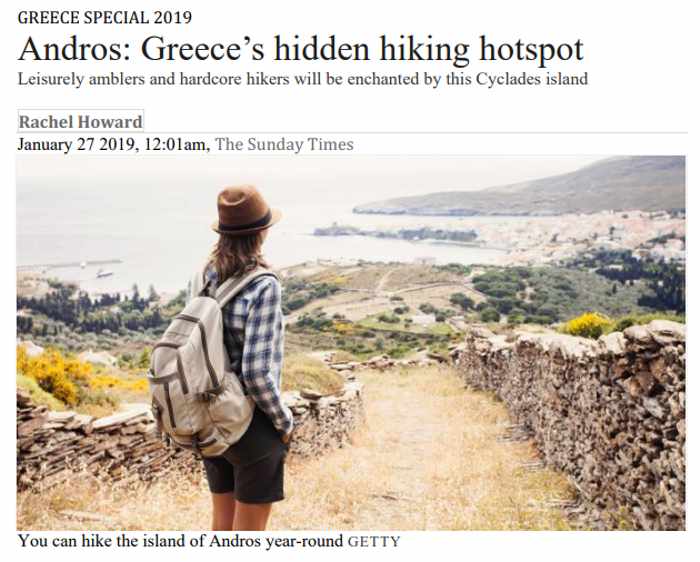 Andros is a big island, and we knew we would barely scratch the surface when we spent six days there in late May of 2015, even though we split our stay between towns on opposite sides of the island. Last year, when I read two revelatory articles about Andros, it really hit home just how much we didn't get to see or experience. I felt hugely disappointed when I realized we had missed some of the island's best features.
Both stories were written by Rachel Howard, for different publications.
The first, Andros: Greece's hidden hiking hotspot, was published January 27 2019 in The Sunday Times.   
Noting that Andros is a lush, mountainous isle, Howard observes that the "forested peaks are ribboned with streams and ravines careen down to wetlands teeming with wildlife. One third of it is a nature reserve, there are dozens of stone villages camouflaged in the hills and it has about 70 beaches, many of the best accessible only by boat or on foot. So it's hardly surprising that Andros is carving out a niche as a year-round hiking destination."
Hiking is what drew Howard to the island — she spent several days walking segments of the island's 200-mile network of footpaths, many of which have been cleared and waymarked by the Andros Routes volunteer organization.
She describes trekking a circular route in Livadia, "a valley dotted with magnificent manor houses, where some of Greece's most illustrious shipping families hole up for the summer," gentler walks from the Ktima Lemonies guesthouse estate to the villages of Lamyra and Menites and to the island capital, Chora, and a 6-mile trail from the mountain village of Vourkoti to remote Achla beach. 
"Venture towards the highlands and you'll stumble upon abandoned watermills, medieval watchtowers and cascading waterfalls. It's easy to imagine Pan charging through the woods, but you're more likely to meet a farmer threshing with an ox or frying sausages and potatoes in pork fat in an outdoor wood-fired oven," Howard says.
Although we did some scenic walks during our own Andros visit, we didn't get to explore any of the specific paths Howard talked about, or any of the trails marked and maintained by Andros Routes.  I'd love to get back to Andros to check some of them out, and perhaps attend one of the programs at Melisses guesthouse, located above Paleopolis Bay on the west coast of Andros.  Howard says bloggers and authors visit Melisses "to present cooking workshops and creative retreats such as illustration and travel photography, hosted by Allegra Pomilio, a glamorous Italian food stylist and a wonderful cook." An Andros holiday with plenty of scenic walks and the opportunity to attend a creative retreat would be right up my alley.
Howard's second article, Is this Greece's undiscovered island? appeared in the September 2019 edition of Conde Nast Traveller magazine. Unlike the previous story, which focussed on island walks, this report is a more general overview of the island's recent history as well as its top sights and leading attractions.
Howard notes that three Greek shipping dynasties — the Embiricos, Goulandris and Polemis families — put Andros on the map in the early 20th Century.  These wealthy families shared some of their largesse locally: They "paved the streets in marble, built imposing mansions and museums filled with billion-dollar art," constructed the island's first high school and hospital, and built a beautiful retirement home.
"Because the island's shipping families used patronage as a show of power, Chora has an embarrassment of cultural riches. There's an archaeological museum, a maritime museum, the Kaireios library with archives stretching back to the 16th century, and an open-air theatre where Pandelis Voulgaris, one of Greece's most accomplished directors, stages the Andros International Festival, a summer-long celebration of the arts," Howard notes.
Since  shipping was the island's primary source of employment and income for so long, Andros didn't have to begin  developing a local tourism industry until just a few decades ago. Tourist traffic is now picking up as more people learn of the island's scenic hiking opportunities, and visit to see its lush natural greenery and "densely wooded hills and ravines" — features they won't find on other islands in the Cyclades.
"Divided by four towering mountain ranges, the landscape is surprisingly varied and the weather can change around each bend. One moment it looks and feels like Tuscany, the next the Scottish Highlands. Watermills, dovecotes and watchtowers materialise in misty valleys," Howard says. "Andros has plentiful springs and streams, waterfalls and wetlands. Every village has a communal marble washbasin fed by ice-cold mountain water. Venturing deeper into the mountains, carved fountains in village squares give way to waterfalls cascading through forests of chestnut, white poplar, oak and maple," she adds.
If you have been to the Cyclades before but haven't yet seen Andros, try adding it to your next island-hopping itinerary; you'll find it's a striking contrast from the arid brown landscapes dotted with whitewashed villages that are so characteristic of its neighbouring isles.
Please click on the link below to continue reading island profiles on page 2 of this post.
CONTINUED ON PAGE 2