~ Marathi island report continued from previous page ~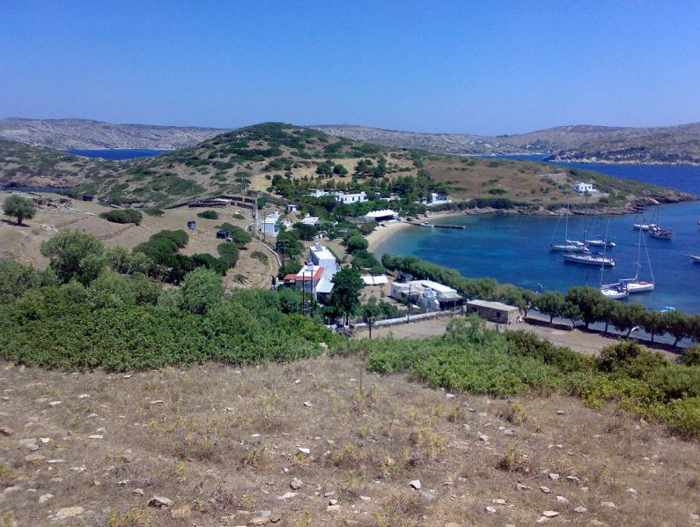 A hilltop view of the beach and bay where visitors will find the only places to eat and stay on Marathi. (Image from the Stavragos website.)
Things to do on Marathi
If your notion of an ideal holiday is to do next to nothing but eat, drink and sleep, you'll feel like you've gone to heaven on Marathi. Ditto if you love to read or to write. The Kalispera Greece website says you can't find a more perfect "sit-and-read-books-in-the-shadow-island." You can also sunbathe on the beach and swim in the bay, of course, and you can take walks to see an old blue-domed church, explore secluded coves or cliffs along the 7 km of Marathi coastline, or meet some of the local goats. But that's pretty much it. If you're an active traveller who prefers being constantly on the move with sightseeing tours or adventurous activities, you probably would get bored on Marathi since you could see the entire island quite quickly. Nightlife? None at all — unless your idea of a party scene is sipping wine while watching the sunset or chatting over drinks in a taverna after dinner.
Where to eat and stay
Overnight visitors have just three options for accommodations on Marathi: the Pantelis Marathi Island Resort, Stavragos Taverna and Rooms, and Peiratis (The Pirate) Rooms and Taverna.
◊ Pantelis Marathi Island Resort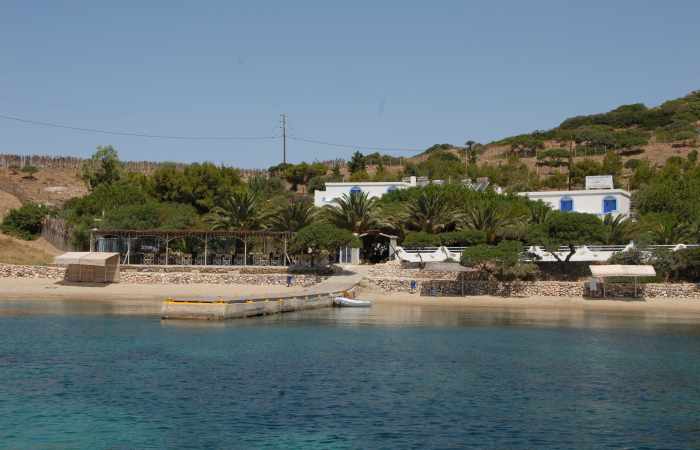 A view of the Pantelis Marathi Island Resort from a few dozen meters offshore. The property has rental rooms, a taverna, beachfront and a dock at which sailboats can moor. (Photo from the Pantelis website.)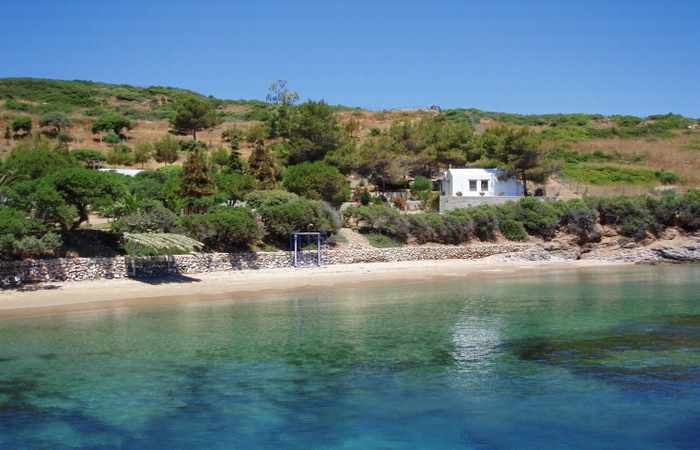 A Pantelis website photo of the long sandy beach in front of the resort
Pantelis Resort is operated by the Emilianos family, which arrived on Marathi in 1977. "At that time, there were no trees, no water, nor electricity on the island. With a lot of hard work, personal effort and love for the place, Pantelis, Katina and their two children Manolis and Toula created a small green oasis for quite a few visitors from all over the world, who come to stay at the hotel or to dine at the restaurant, during the summer months," the resort website says.
The property boasts a grand total of 10 rental rooms plus a seaside taverna in an attractive garden setting. It also has a 30-meter wooden dock where travellers exploring the Greek Islands by sailboat can moor for the night — or tie up while they spend an afternoon or evening savouring Katina's delicious Greek cuisine.
Click here to access the Pantelis website, where you can obtain telephone numbers and email contact information for the resort, as well as view numerous photos of its facilities and Marathi island.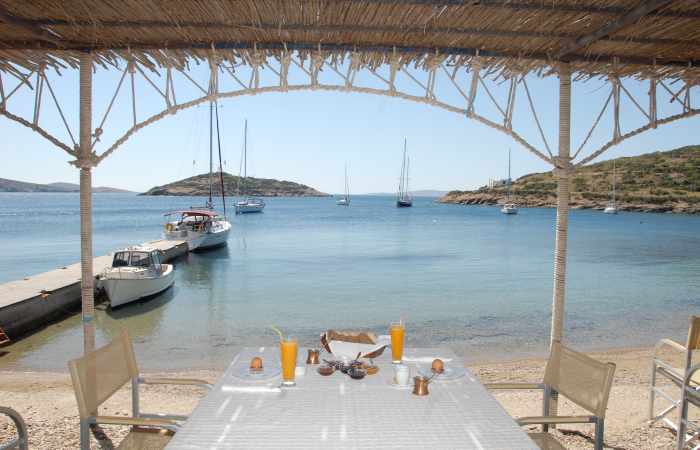 This photo, from the Pantelis resort website, shows the calming view that guests get to enjoy during their breakfast
◊ Stavragos Taverna and Rooms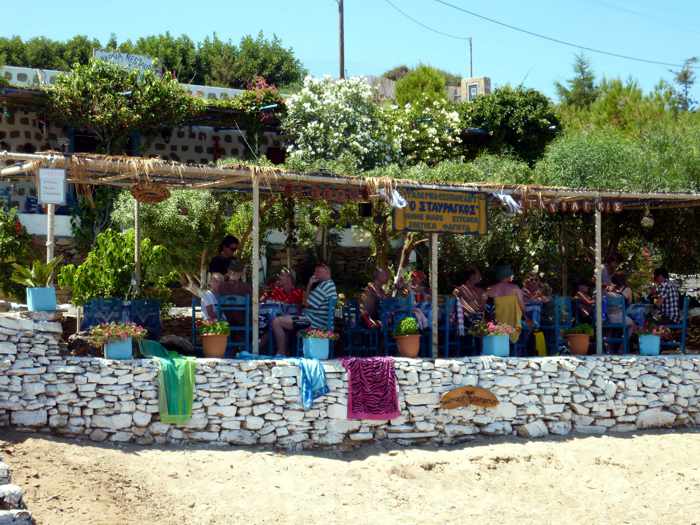 A Facebook photo of the taverna terrace at Stavragos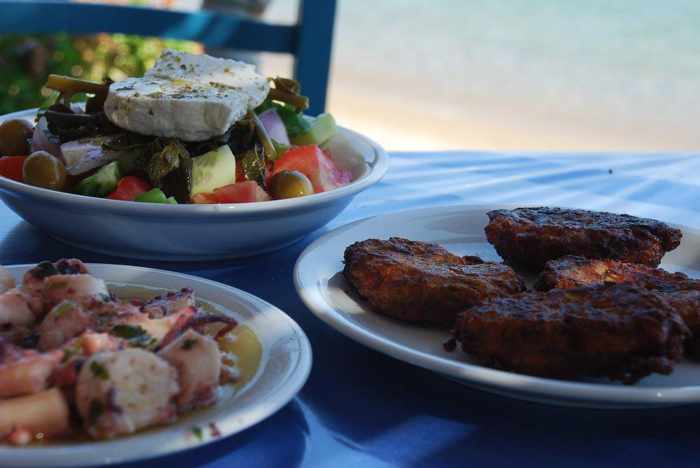 Another Facebook photo showing some of the mouth-watering culinary treats from Katrina's kitchen at Stavragos
For 10 years starting in 1981, a man named Akritas Theologos Kavouras lived alone on Marathi, in a tiny house with no electricity. He was the island's only resident until his death in 1991. His son, Stavros, subsequently moved to Marathi with his wife, Katrina, and the couple opened Stavragos Taverna and Rooms in 2001. The property has only four rooms for rent, and its beachside taverna is very popular for Katrina's home cooking.
"You may struggle a bit to get here," reads a translation of the Stavragos website, "but we promise you an unforgettable experience with good food and tranquility."
Click here to open the Stavragos Taverna and Rooms website, where you'll find telephone numbers and email contact information plus dozens of photos of the rental rooms, Katrina's cuisine and the island. (The website is in Greek, but you can copy and paste the text into Google Translate to read it in English or any other language.)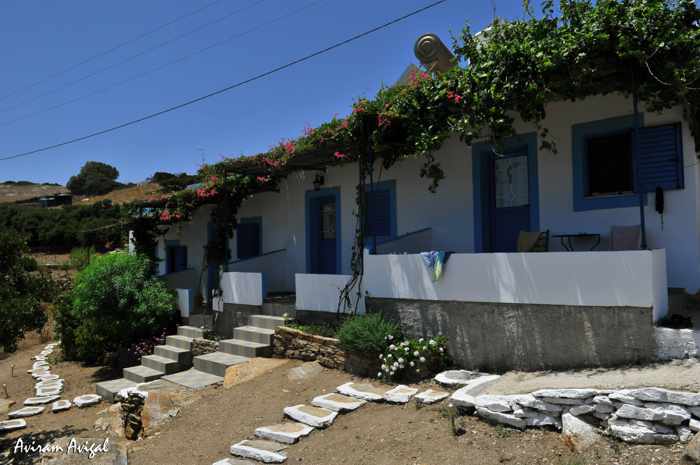 This photo, by Aviram Avigal, shows the exterior of the four rooms that are available for rent at Stavragos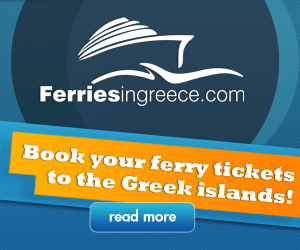 ◊ Peiratis (The Pirate) Rooms and Taverna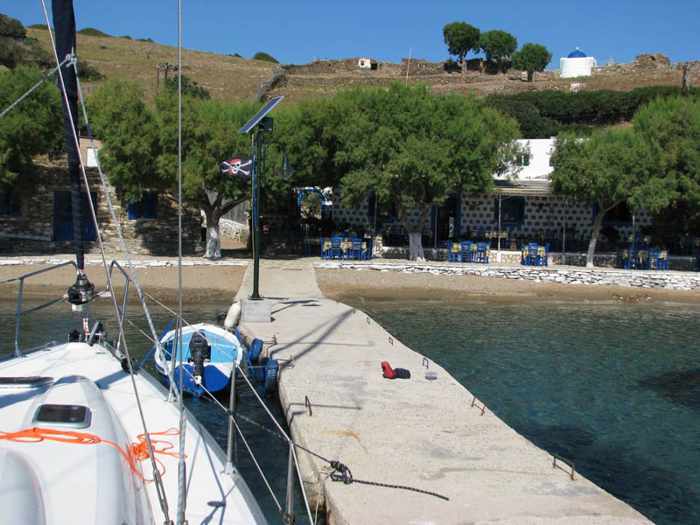 You can't miss The Pirate taverna and rooms — just look for the pirate flag above the dock on the left side of Marathi bay (Photo from The Pirate website.)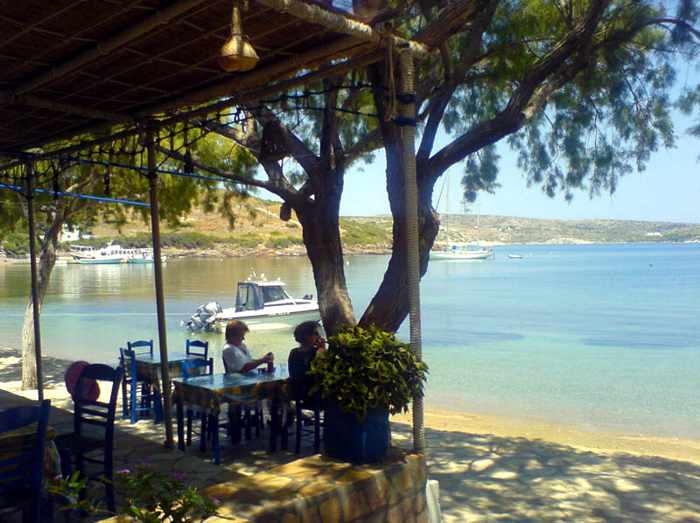 This photo, also from The Pirate website, shows how close taverna guests can dine to the sandy beach and gorgeous turquoise water
The Kavouras family has a long history on Marathi, dating back to 1805.  As mentioned above, one of the Kavouras sons, Stavros, operates the Stavragos taverna and rooms, while brothers Mihalis and Dimitris, and sister Popi, run Peiratis (The Pirate) Rooms and Taverna, a short distance down the beach. The Pirate has 10 rooms available for rent, and its taverna serves traditional Greek dishes that Popi cooks using "eggs, fresh goat milk, pork, chickens, herbs and cheeses" produced right on Marathi. Fresh fish, squid and octopus come straight from the surrounding seas. 
"Marathi is a paradise for people who love tranquility, countryside and quiet nature, enjoying every minute," The Pirate's webpage says.
Click here to access The Pirate website, where you'll find telephone and email contact information along with lots of photos of the rooms, taverna and island.
From The Pirate website, a view of the accommodations building which has 10 rooms available for visitors
Bay view from one of the rental rooms at The Pirate
How to get to Marathi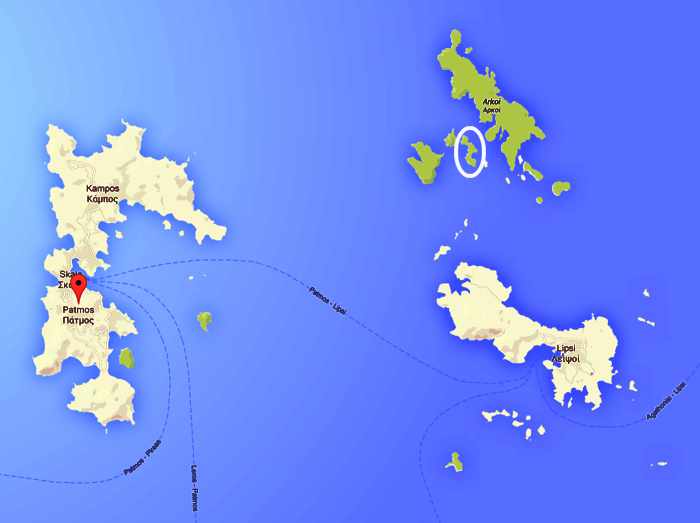 I circled Marathi on this Google map. The island is located close to Arki (top right), Patmos (left) and Lipsi (bottom right)
There are several ways to reach Marathi. From Patmos, it's just a short ferry ride (less than 30 minutes) to nearby Arki. From there, a boat will take you to Marathi in a mere five minutes. (During summer, excursion boats occasionally make daytrips from Patmos to Arki, too).  But getting to Patmos means taking a long ferry trip from Piraeus port in Athens, or making ferry connections from other islands. Alternatively, you could fly to Samos,  Leros, Kos or Rhodes and from there take ferries to Arki. If you've got the budget, a private boat charter will take you directly to Marathi from virtually anywhere in the Greek Islands. You can find further information about travelling to Marathi on the website links I provided above for The Pirate, Stavragos and Pantelis. You can check ferry routes and schedules using the search forms on either the Greek Travel Pages or the Open Seas ferry information site.
Sure, it takes some time and effort to get to Marathi, but it wouldn't be an unspoiled Greek island paradise if you could easily reach it on a charter tour or direct highspeed ferry from Athens!
More information and photos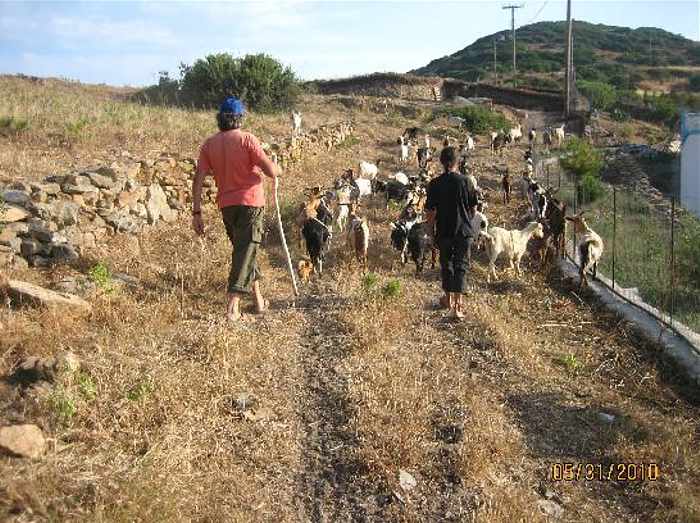 It's quite possible you'll see more goats than people on Marathi. This photo was posted in a TripAdvisor.com review by TA contributor Capitanissa, who has visited Marathi many times (see below).
Marathi has been hailed as "the ultimate in slow travel" by a traveller who has visited the island numerous times in the past decade. In three separate entries on the TripAdvisor.com review page for the Pantelis resort, TA contributor Capitanissa provides excellent descriptions of all three of the tavernas and accommodation options on Marathi. "If you are lucky to ever come and stay here, or sail here, you will be treated to a unique experience," Capitanissa wrote in one of her reviews. I highly recommend you read her comments if you're contemplating a trip to Marathi; her remarks will help you decide which of the three places may best suit your travel style and preferences. (She also describes some delicious dishes to order for dinner.)
Additional Marathi information and photos can be found on several other websites. Self-described Greek Islands "super fan" Hans Huisman from The Netherlands describes Marathi on the Arki destination page of his very informative Greece and the Greek Islands site, as does the Swedish   Kalimera Greece site that I mentioned earlier in this post. You can also view a gallery with 23 photos, and obtain German-language information about  Marathi, on the travel site in-greece.de.
Below are more photos I shot during my ferry ride past Marathi five years ago, along with a selection of pictures that appear on the various websites I mentioned above.
Meet you on Marathi sometime, perhaps?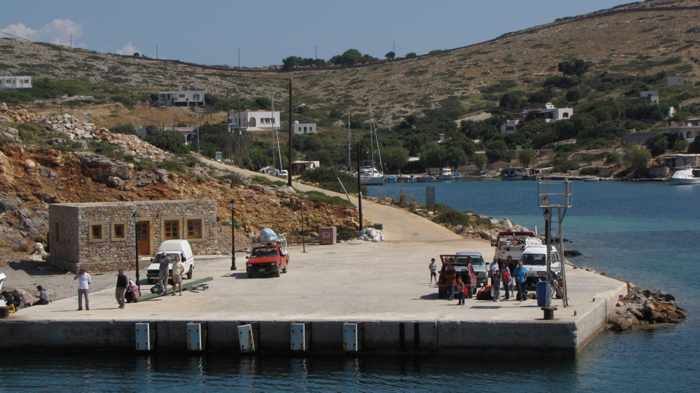 The small port at Arki island. Once you reach Arki by ferry or excursion boat from Patmos or other islands, a small boat will take you across the channel to Marathi in only five minutes.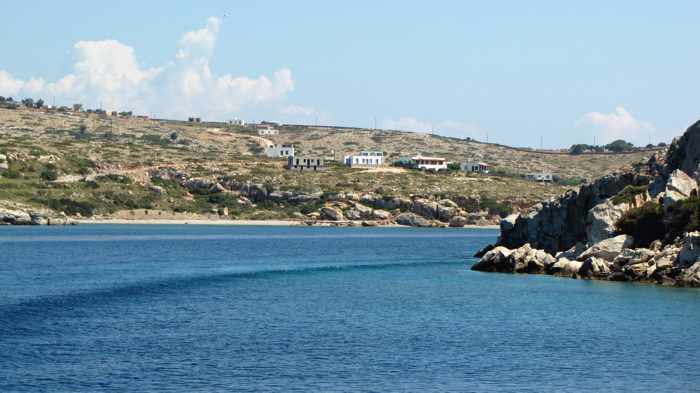 Passing Arki (left) moments before the bay on Marathi comes into view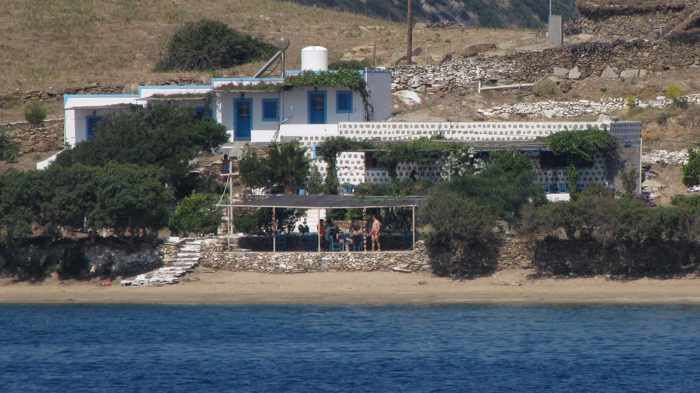 Stavragos Rooms and Taverna on Marathi. This is the photo that really piqued my interest in Marathi … when I saw those people on the taverna terrace next to the beach and quiet bay, I couldn't stop thinking about how relaxing it must be to spend time on the island.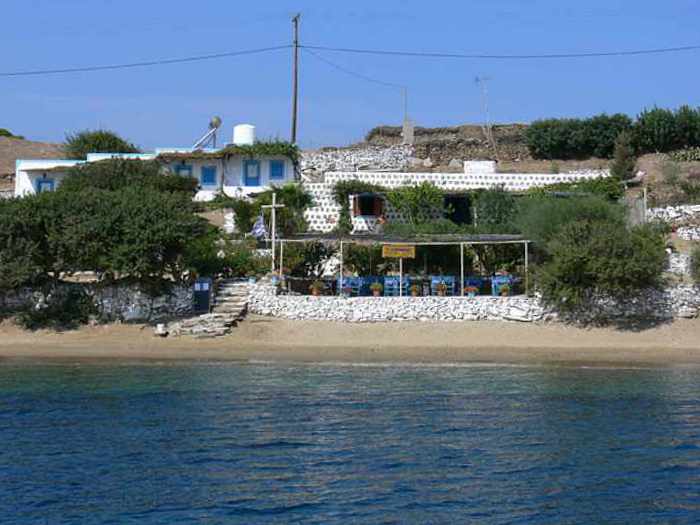 Frontal view of Stavragos in an image from the Marathi photo gallery on the German travel site in-greece.de.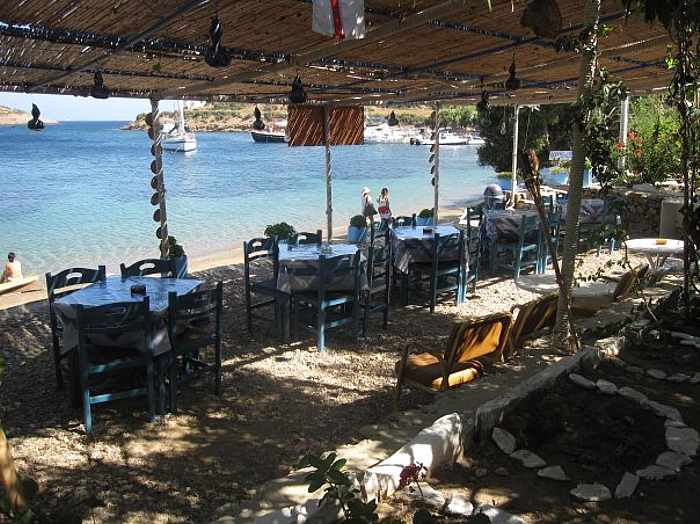 Beach and bay view from the sheltered terrace at Stavragos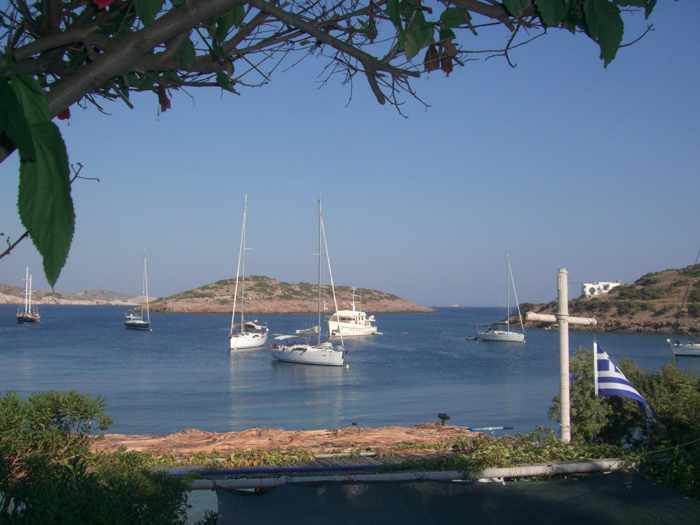 Another view of the bay from Stavragos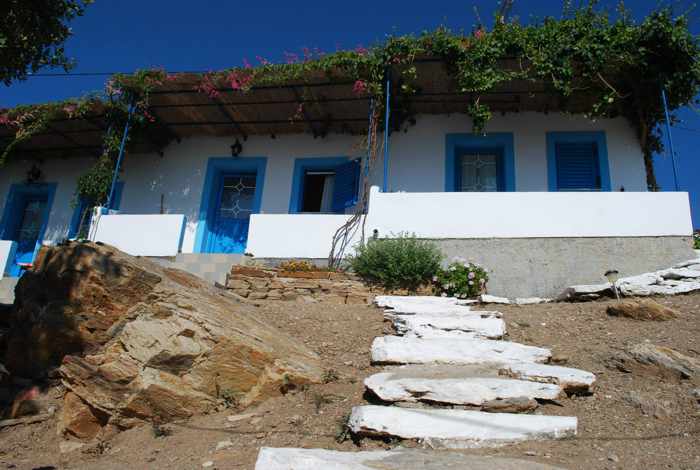 Steps leading to two of the rental rooms at Stavragos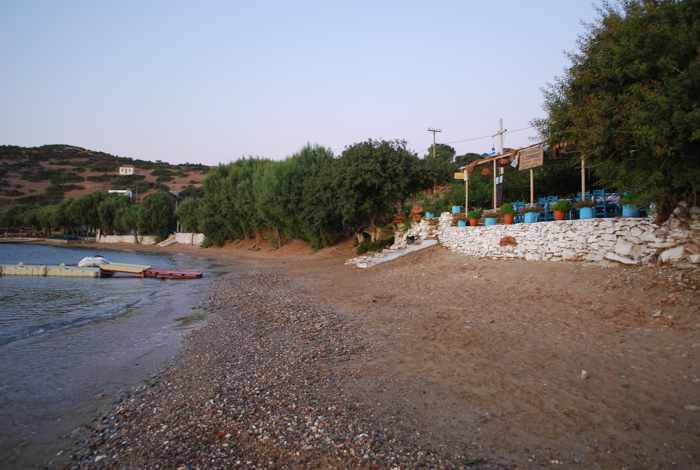 Evening view of the beach in front of Stavragos
Beach view from the sailboat dock at Pantelis Marathi Island Resort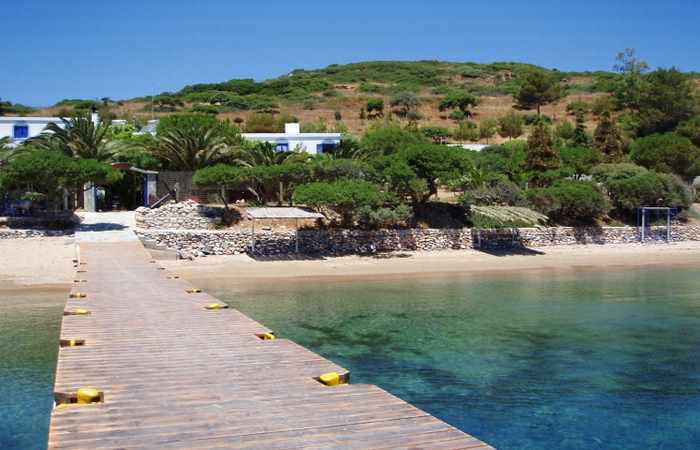 Another dock view of the beach and tree-shaded grounds at Pantelis resort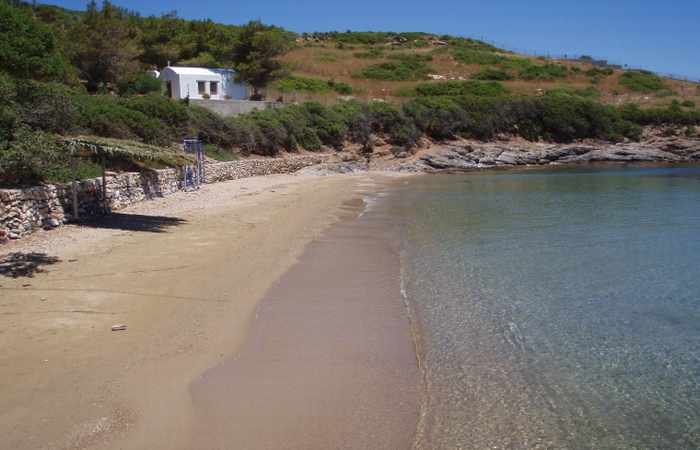 Part of the sandy beachfront at the Padelis resort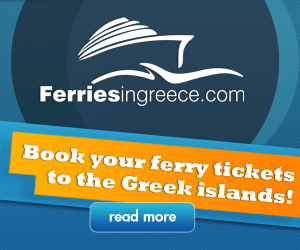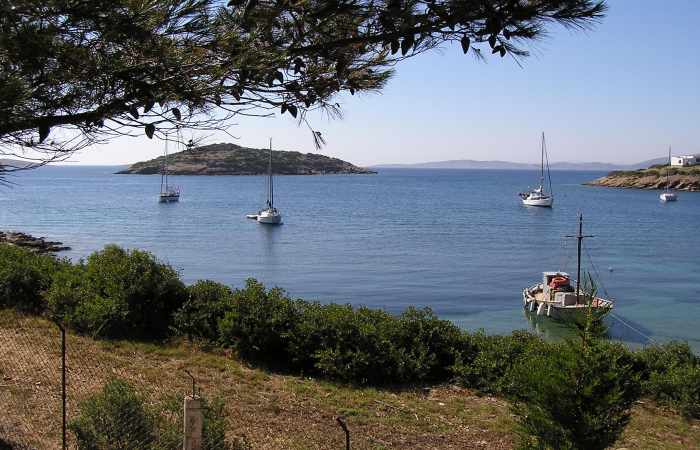 Pantelis resort view of sailboats in the calm bay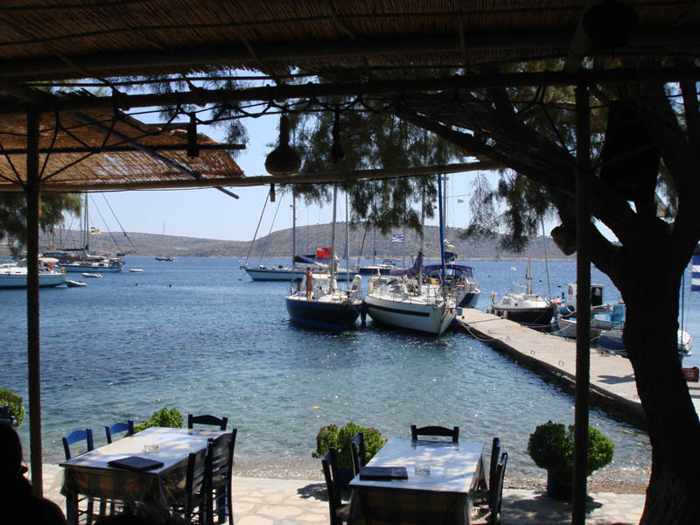 The Pirate Taverna website photo of some of the restaurant tables and the dock in front of the property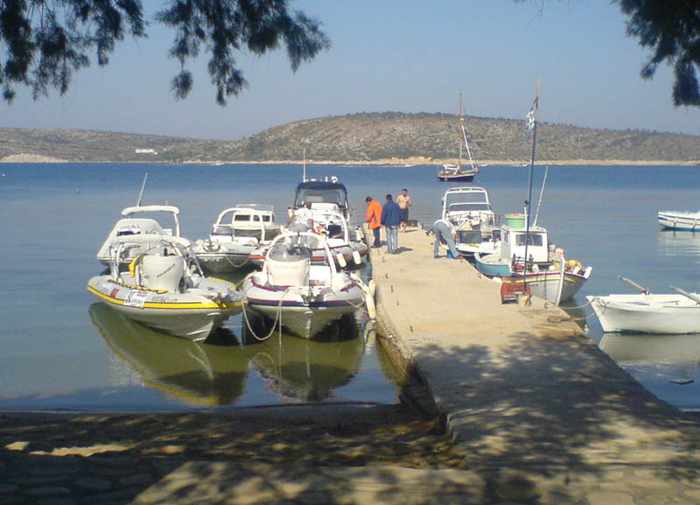 Boats moored at The Pirate Taverna's dock. Many of Marathi's visitors arrive on private or chartered sailboats and yachts to spend a few hours enjoying a meal at one of the three tavernas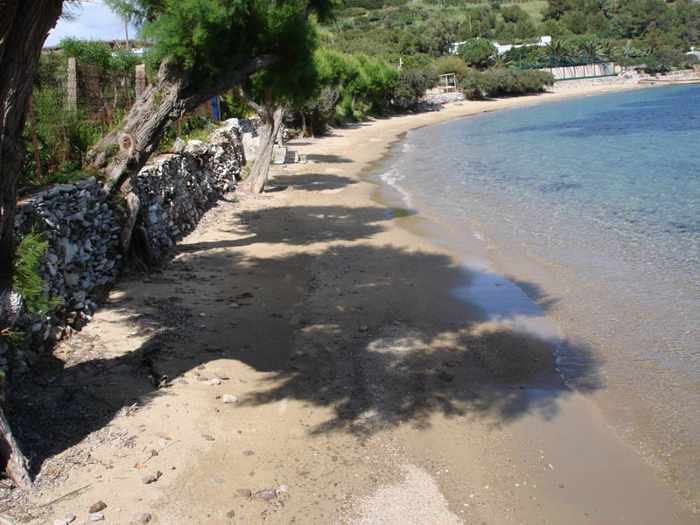 Looking across the curved sandy beach (Photo from The Pirate website.)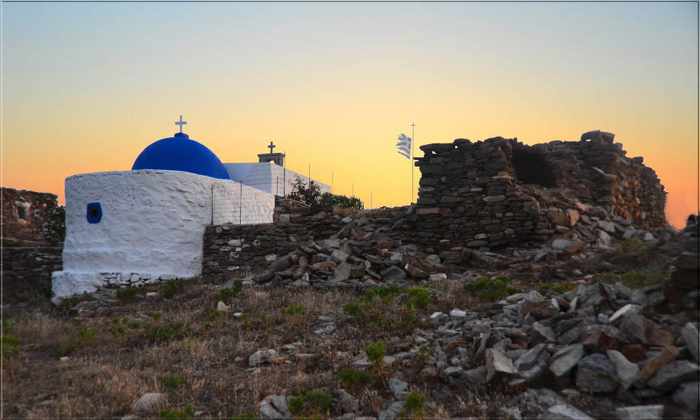 There aren't many sights and attractions on Marathi besides the beach and landscape. A blue-domed church and a stone goat shed are two of the places visitors can walk to while relaxing on the island. (Photo from The Pirate website.)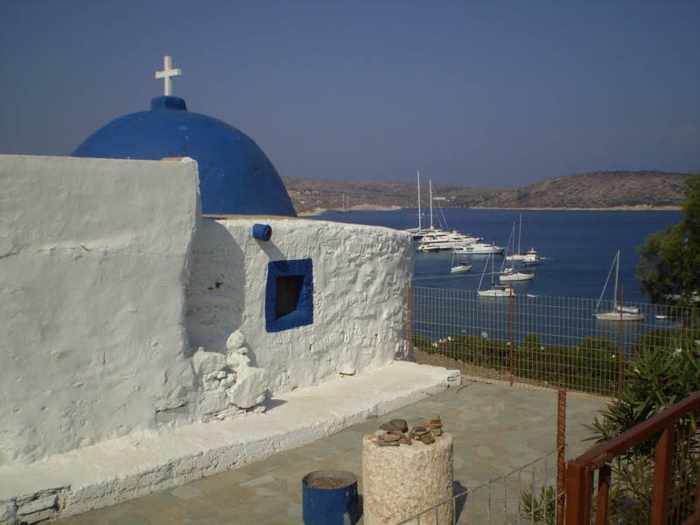 Bay view from the blue-domed church on the hill.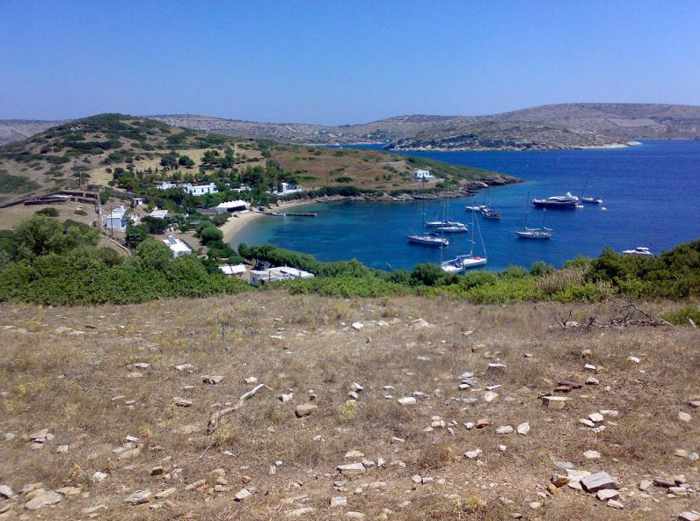 Hilltop view of the beach and bay. (Photo from the Stavragos website.)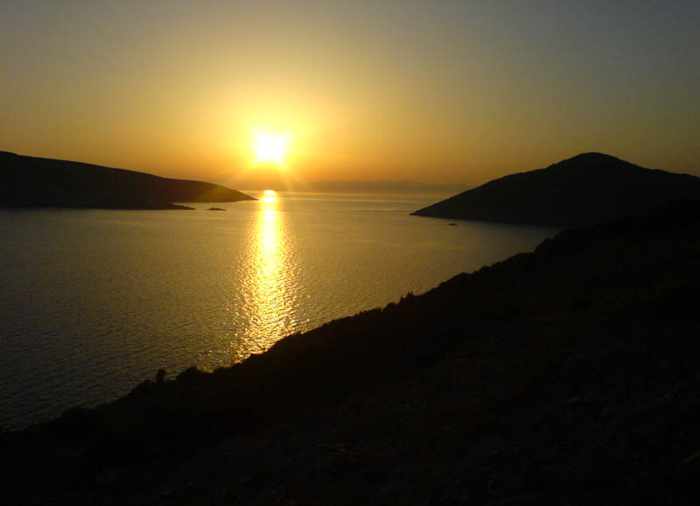 The Pirate Taverna photo of a sunset view from Marathi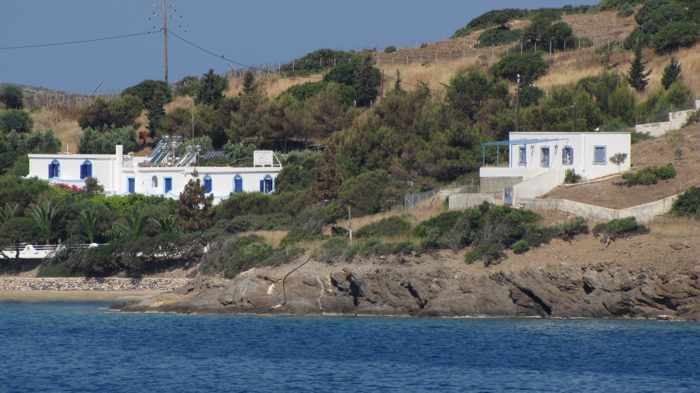 My final glimpse of Pantelis Marathi island resort as our ferry continues on its journey to Agathonisi island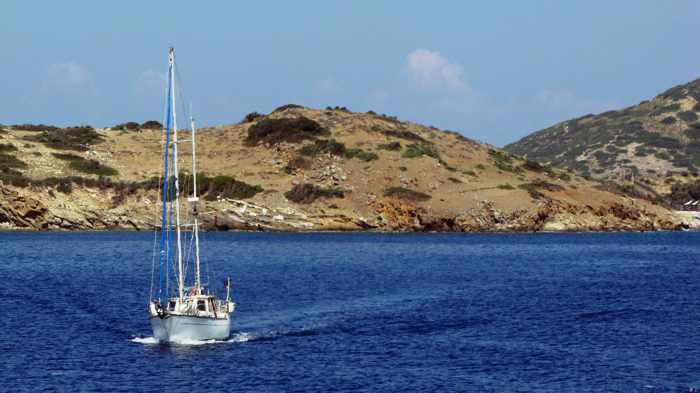 A German-flagged sailboat motors past the Marathi coastline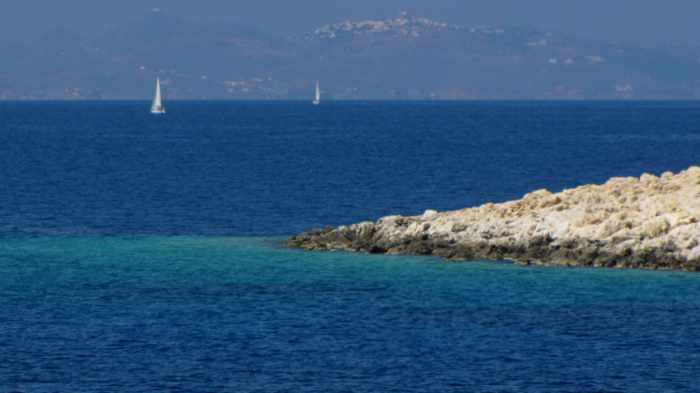 From this rocky point on one of the islets near Marathi, you can actually see the hilltop village of Chora, on Patmos, 12 nautical miles away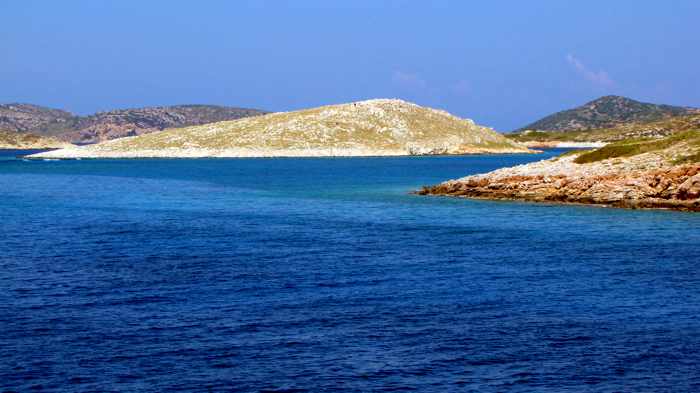 A parting view of the cluster of small islands that includes Marathi and Arki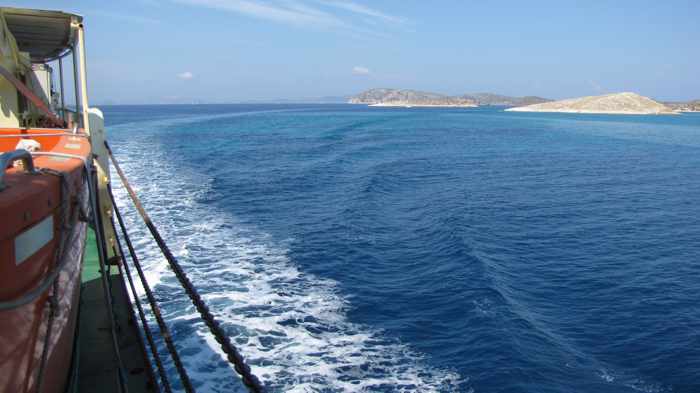 The Nissos Kalymnos heads out to sea after its brief stop at Arki island