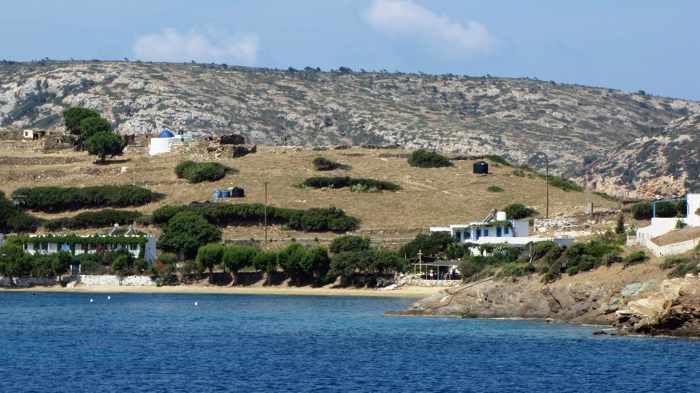 This was my first view — from a ferry — of the serene bay on Marathi where the tiny island's restaurants and rental rooms are located …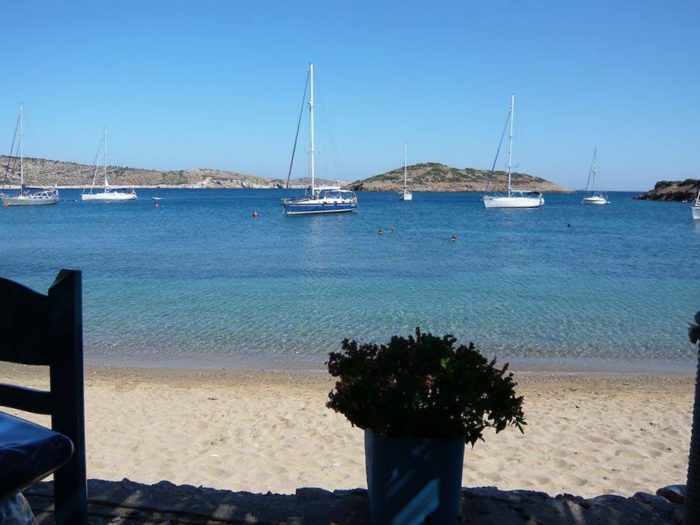 … while this is a view of the bay from the taverna terrace at Stavragos, one of only three places where people can eat and  stay while visiting Marathi (photo from a  Stavragos group page on Facebook).
Island escape: Sometimes when I'm feeling overwhelmed and stressed by city life — the crowded streets and sidewalks, incessant urban noise, construction all around and illuminated advertising signs everywhere I look — I daydream about getting away from it all on a remote Greek island few people know about. Somewhere like Marathi.
A tiny isle situated about 12 nautical miles east of Patmos in the Dodecanese island group, Marathi is off the beaten tourist path and free from crowds, traffic, noise and light pollution. According to Kalispera Greece, the English-language version of a Swedish website about Greece, it's an ideal spot for someone seeking a Robinson Crusoe-style escape from the demands of contemporary urban life.
That's because there simply isn't much there —  just "three tavernas, three pensions, two jetties, one cemetery, one tiny church, a few goats and a pretty nice sandy beach. There are no shops, no cars, no scooters, no villages and no roads," Kalispera Greece says.
There aren't many people, either. A recently-published travel article on the website for the UK newspaper The Telegraph called Marathi one of Greece's 11 least populated islands, with only 12 residents in summertime and just 3 during the winter.
No crowds? No traffic? No bright digital ads? No noise besides birdsong, crowing roosters and jingling goat bells? It sounds idyllic to me, and in online holiday reviews many Marathi visitors have used the word "paradise" to describe the island.
A hilltop view of the Marathi bay and nearby Arki island. (Image from the website for The Pirate Rooms and Taverna on Marathi.)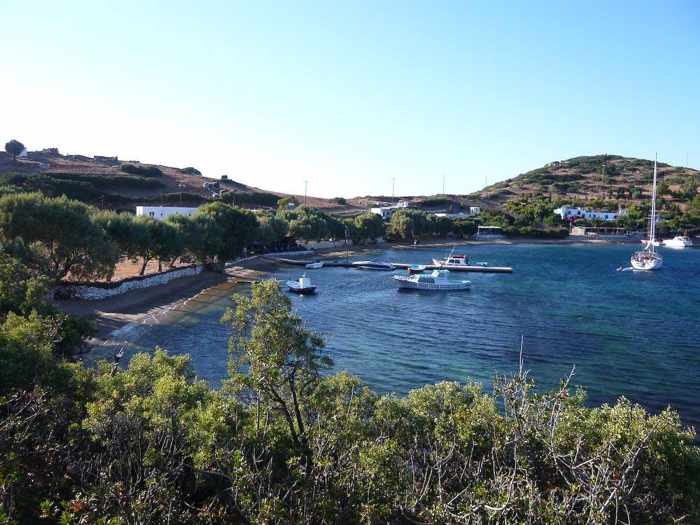 Side view of the Marathi bay in another photo from the public Facebook group page for Stavragos Taverna and Rooms
I haven't stayed on Marathi yet, but I have been enthralled by the dream of enjoying some quality rest and relaxation there after getting a brief glimpse of the isle nearly five years ago.
We were riding the Nissos Kalymnos ferry from Patmos to Samos at the time. The ship had just stopped at the island of Arki, and I was on the open deck enjoying the scenery as we headed to the next port of call, Agathonisi.  As we passed a crescent-shaped bay with a sandy beach on Marathi, I spotted several people watching us from a vine-sheltered terrace at what I assumed was either a private vacation home or a holiday rental villa. I felt a tinge of envy, imagining how restful it must have been for those people if a ferry sailing past once a day was one of the few interruptions to the island's prevailing peace and tranquillity.
Several weeks later, when I was organizing photos I had shot during the ferry ride, I couldn't stop looking at my pictures of the Marathi beach and bay. I wanted to learn more about the island and, a few Google searches later, discovered that I had photographed Stavragos, one of only three properties on Marathi with a taverna and rooms for rent.
Click on the link below to view additional photos and read more about Marathi on page 2 of this post.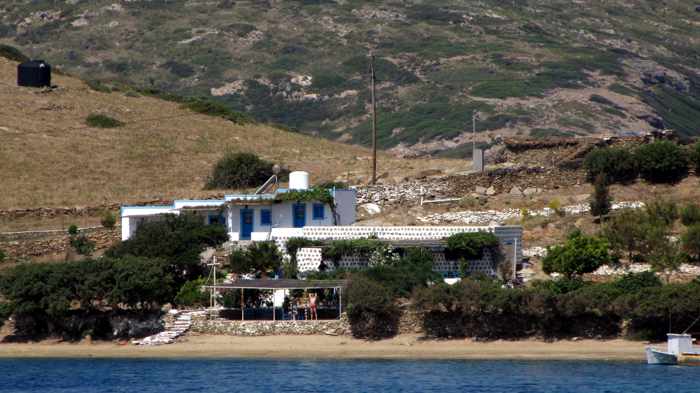 When I saw this building from the ferry, I thought it was a private vacation home. It's actually rental accommodations and an excellent restaurant — Stavragos Taverna and Rooms.  It has four rooms for rent, and serves seafood and home-cooked Greek cuisine at its seaview garden terrace.
 CONTINUED ON PAGE 2