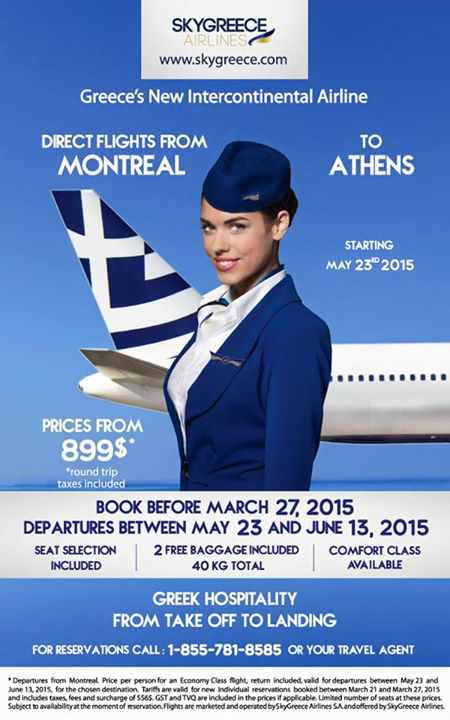 SkyGreece posted this promotional offer on its Facebook page March 21
[Editor's note: this post was updated March 25 with information about Toronto-Athens and Toronto-Thessaloniki fares]
Fare deals: SkyGreece Airlines has finally released introductory fares for its new Toronto to Athens, Toronto to Thessaloniki  and Montreal to Athens routes, which launch on May 17, 20 and 23, respectively.
In a post on the SkyGreece Facebook page March 21, the airline announced that economy class fares for a limited number of round-trip flights between Montreal and Athens will start at $899 (taxes included) for departures between May 23 and June 13. The price includes advance seat selection and two pieces of luggage weighing up to 40 kg.  Presumably, the price is in Canadian dollars.
Fares must be booked before March 27 either through travel agents or by calling SkyGreece's North American reservations desk at 1-855-781-8585.
A "comfort class" option is available; however, the Facebook page announcement does not indicate what those particular seats cost.
The $899 fare breaks down to $334 for the flight and $565 for applicable taxes, fees and surcharges.
Flights from Toronto to Athens & Thessaloniki
In a Facebook post on March 25, SkyGreece announced that prices for its direct flights from Toronto to Athens and Toronto to Thessaloniki will start at $899 (taxes included) for departures between May 17 and June 14. These seats must be booked by April 4, and include the same advance seat selection and luggage allowances as on the Montreal to Athens flights.
As I reported in a January 29 post, the airline said it will offer three flights per week between Toronto and Athens, commencing May 17. A once-weekly flight from Toronto to Thessaloniki will start on May 20, and the Montreal to Athens route will begin operations on May 23.
The new airline will offer Canadian travellers an alternative to Air Transat and Air Canada rouge, which until now have been the only airlines with direct flights between Canada and Greece. The Transat and rouge flights are only seasonal, however, whereas SkyGreece is proposing to fly year-round.
Earlier this month, the Internet has been abuzz with word that return SkyGreece flights could be booked online for as low as US $415, including all taxes and fees. (That would be CDN $521 under current exchange rates.) Several people contacted me to say they had seen these prices on Google Flights Explore; however, when I checked, I couldn't find any SkyGreece flights listed at all. Another person later told me he had seen a July return fare of CDN $561 for a July 5 flight.
The $899 special fare is a good deal — but I'm glad I didn't delay booking my next trip to Greece to see if I could save money once SkyGreece released its prices. I found an even cheaper fare on Air Transat in early January and will be flying to Athens on that airline for the 11th time this spring.
Still, I'm sure the seats available at that price will be snapped up quickly. It will be interesting to see how SkyGreece's regular fares will compare to those offered by its competition. The new routes could be appealing not just to Canadian travellers, but also to Americans living in border states a reasonable driving distance from Montreal and Toronto. With the US greenback so strong against the Canadian dollar at the moment — US $1 = CDN $1.26 at today's exchange rates — more Americans are bound to consider flying to Greece from Canada this year.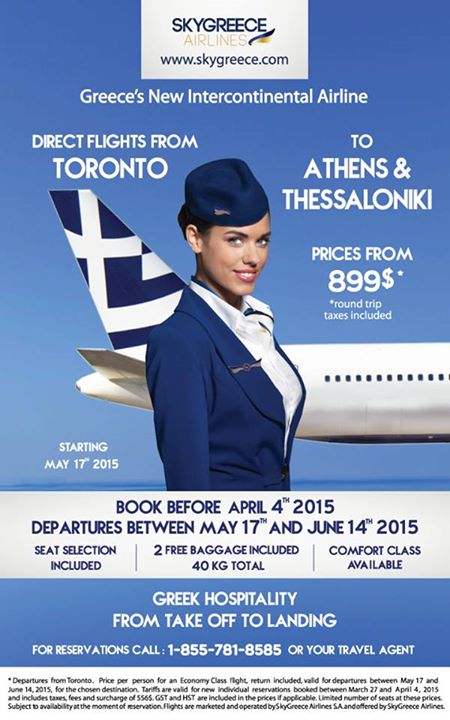 On March 25, SkyGreece posted this announcement about promotional fares for direct flights from Toronto to Athens and Toronto to Thessaloniki