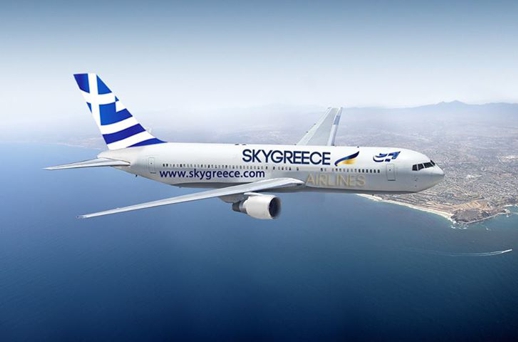 SkyGreece Airlines posted this photo of a Boeing 767-300ER on its Facebook page this week. SkyGreece says it will receive the recently-purchased 274-seat aircraft in Athens sometime in early August.
Slow startup: North Americans will have to wait until 2014 to travel on a new airline that is planning to offer direct flights to Athens from Chicago, Toronto, Montreal and New York.
Early last fall, SkyGreece Airlines S.A. launched a website and Facebook page with announcements that it would commence direct service to Athens from the four North American cities in "Summer 2013." The sparse, single-page website featured the SkyGreece logo with the catch phrase "A Greek spirit in the air," and promised "Legendary Greek hospitality from take-off to landing!"
That news was followed by a flurry of Facebook posts, in November, December, and January, announcing various appointments to the upstart airline's executive management team. And on February 15, SkyGreece posted a photo shot inside a hangar at the Hellenic Aerospace Industry facility at Tanagra, Greece, saying that's where the airline's "heavy maintenance program will be executed."
But then there was no further news — until this week.
CONTINUED ON PAGE 2