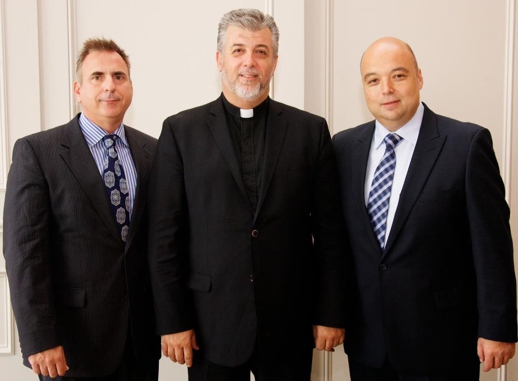 SkyGreece Airlines published this photo of the airline's founders Peter Chilakos (left), Fr Nicholas Alexandris and Bill Alefantis on its Facebook page last fall
SkyGreece had expected to start flying this summer 
Because there had been no more announcements after February, there was speculation on both sides of the Atlantic that the new airline wasn't going to get off the ground after all. Now, however, it appears that the projected 2013 summer launch date was just a little too optimistic.
In a new Facebook post entitled "Major Announcement," SkyGreece yesterday said it has "purchased a B 767-300ER with a capacity of 274 seats. (110 seats will be in a comfort class) with 164 in economy. Our aircraft will be in Athens in early August. Our schedule to North America will begin in early 2014."
The news quickly drew many positive responses and 260 "likes"; however, one Facebook fan made a keen observation: "Ha ha, all those destinations! That one plane will be busy lol." In reply, SkyGreece posted: "Our second aircraft is already in the works and will be announced in late 2013."
Another Facebook fan was quick to offer an explanation for why it's taking SkyGreece longer than expected to get off the ground: "For those wondering why such a long delay all I can say is you guys haven't tried doing business in Greece or anywhere within the EU LOL!" he wrote.
Confusing corporate information
According to the airline's Facebook page, which was set up on September 27 2012, the airline was founded by Peter Chilakos, Fr Nicholas Alexandris and Bill Alefantis.  Father Alexandris serves as company president, while Mr. Chilakos is Vice President of Cargo Operations. Media reports said all three men are Canadians of Greek origin.
According to a January 15 2013 post on the Travel Hot News website, Alefantis is "co-owner of Voyages Funtastique Rex in Laval, Quebec and wholesaler HI Tours," while "Chilakos was educated at the University of Quebec in Montreal and is a shareholder in HI Tours and Voyages Alcyon. Alexandris is a cleric who was educated at the University of Ottawa and lives in Toronto, where he is the director of the Metropolitan Centre of the Greek Orthodox Metropolis of Toronto." Travel Hot News added that former Air Transat executive Robert Brouillard will be SkyGreece's vice president of transportation and revenue, "a similar role to the one he held with Transat for several years."
However, if you search for further online information about the airline, you'll find that conflicting and confusing details have been published since late last autumn. Some websites said SkyGreece will be based in Canada whereas others said it will be based in Greece and will employ Greek cabin crews and pilots. The Wikipedia entry for SkyGreece, for instance, says the company is "incorporated and headquartered in Greece" with offices in New York, Montreal and Toronto.  Several online reports also mentioned that the airline would have a fleet of Airbus A340-300 aircraft.
Websites also provided contradictory information about when and where SkyGreece would begin service. In a December 4 2012 post, the Canadian edition of the Greek Reporter stated that "flights will start in May 2013 and the weekly program will include two flights, one to Toronto and another to Montreal. The flights to New York will be three times a week. The company said it will launch direct flights from Athens to Chicago and South Africa as well."
 Will SkyGreece offer competitive fares?
Besides looking forward to a new direct air connection between Athens and North America (Olympic Airlines ceased flying across the Atlantic four years ago after it underwent a major restructuring and emerged as the new Olympic Air), many travellers will be eager to see if SkyGreece airfares will be bargain-priced. Travel Hot News and other sites said the new airline's "mission is to offer affordable flights to the Greek diaspora returning to visit family in Greece."
Currently, some direct flights to Athens are available from the USA only on Delta Air Lines out of New York's JFK airport and US Airways from Philadelphia. In Canada, travellers can choose between Air Transat, which has been flying to Greece from Toronto and Montreal for more than a decade, and rouge, the new Air Canada "leisure" airline that launches July 1 with flights out of Toronto and Montreal.
Rouge was expected to give Air Transat a highly competitive run for its money, but doesn't seem to be offering any substantial savings except for travel during September and October.
Air Transat cheapest in July & August, rouge in September
For July, the cheapest Toronto to Athens round-trip ticket available on rouge this morning was $3,333 for a July 1 departing flight and a July 15 return. Air Transat had seats available for $2,301 for a July 7-18 itinerary, and for $2,201 for a July 7-22 holiday.
For August, flights were still more expensive on rouge. It had an August 12-26 itinerary available for $1,608, while Air Transat had seats for August 11-26 at $1,551.88. And a September 9-23 rouge itinerary cost $1,238 compared to $1,151.88 for Air Transat's September 8-23 flights.
But rouge offers significant savings for flights later in September and in October. A rouge trip September 23-October 7 cost $1,136 compared to $1,401 for Air Transat's September 25-October 7 roundtrip. And rouge flights on September 30-October 14 were $1,108, substantially cheaper than the $2,301.88 Air Transat was asking for its September 29-October 14 flights.
I checked similar travel dates for Delta, but couldn't find any direct flights during July or August. Prices ranged from $1,410 to $1,557 with one stop en route. In September and early October, however, I found return non-stop trips available for $1,090.
For Us Airways, I found a direct flight in July for $1,811.78, and in August for $1,583.53. Prices dropped in September, with direct flights available for $1,187.53 and $1,287.57.