Marvellous mountain & coastal scenery plays a starring role in Kalymnos, an exhilarating rock climbing video that film maker Kieran Duncan shot on the rugged Dodecanese island last year
— Updated June 2 2021 with a link to a Kalymnos rock climbing guide —
Sheer excitement: I've had Kalymnos on my mind all week after watching a splendid short video that was shot on the island by Kieran Duncan, an adventurous film maker from Scotland.
Duncan's nearly 4-minute-long film follows four young Scots who visit Kalymnos to test their skills at climbing some of its world-famous mountain cliffs and rock formations. Besides exhilarating and spine-tingling scenes of the lads scaling perilously steep rock walls, the film showcases the island's marvellous mountain and coastal scenery, and gives viewers an impression of what it's actually like to drive around the island. It also includes underwater scenes from a scuba diving session, and shows several spectacular sunsets.
I haven't set foot on Kalymnos yet, but I have seen parts of its coast as well as its main port town, Pothia, during a ferry ride from Kos to Patmos in 2010.  At the time, I knew little about the island, apart from being vaguely aware of its long and storied history of sponge diving. I later learned that Kalymnos is nowadays more noteworthy as a challenging rock climbing destination for adventure sports enthusiasts from around the world.
______________________________
Want to learn more about climbing on Kalymnos? Be sure to check out the Ultimate guide to rock climbing at Kalymnos island Greece on the excellent adventure travel, rock climbing and exotic travel website Lydiascapes by Lydia Yang.
______________________________
I haven't done any rock climbing since I was a kid, and wouldn't plan a holiday in Greece just to give it another try. But after discovering Duncan's film earlier this week, I couldn't get the captivating Kalymnos scenery out of my head. From quick online research, I Iearned that the island offers excellent hiking opportunities in addition to its popular climbing, diving and water sports activities. Since my partner and I are avid Greek island walkers, this information instantly made Kalymnos even more appealing as a destination for us to include on a future island-hopping trip in the Dodecanese.
This photo, from the Kalymnos page of the Discover Greece website, captures quintessential Greek island scenery — the deep blue sea, a beach, a village, mountains and a blue-domed church
But what really "sold" me on Kalymnos were comments Duncan included on the Vimeo page for his film. 
"4 pale Scots went to Greece in search of some world class rock climbing, but found so much more!" he wrote.  "The island's incredible presence, locals, food, scenery, and adventurous opportunities make it one of my favourite destinations yet. I hope this film will inspire you to check it out, you won't regret it!"
Duncan's film has certainly encouraged me to consider travelling to Kalymnos sometime. If his video has similarly inspired you, here are a few websites to bookmark for future reference and trip planning assistance:
♦ Kalymnos — The real island experience is the official tourist website operated by the Municipality of Kalymnos. It features dozens of photos along with helpful information about the island's history, arts and culture, traditional products, places to visit, and sports activities. 
♦ Kalymnos Info is a travel guide loaded with details about activities, accommodations, dining, excursions, transportation, and more.
♦ Climb Kalymnos is an excellent online resource and practical guide for rock climbing enthusiasts, with a climbing route database and regular news updates.
♦ Kalymnos Climbing is a commercial site that offers guided rock climbing and climbing courses on Kalymnos. It has a dedicated section describing available hiking and trekking holidays on the island.
♦ The Kalymnos page on the Discover Greece travel portal lists island highlights and must-see attractions, and includes a number of beautiful photos. 
♦  Diving the Skafandro suit, by Sandra Hendrikse and André Merks, is a fascinating article about the rise and decline of the island's historic sponge fishing business.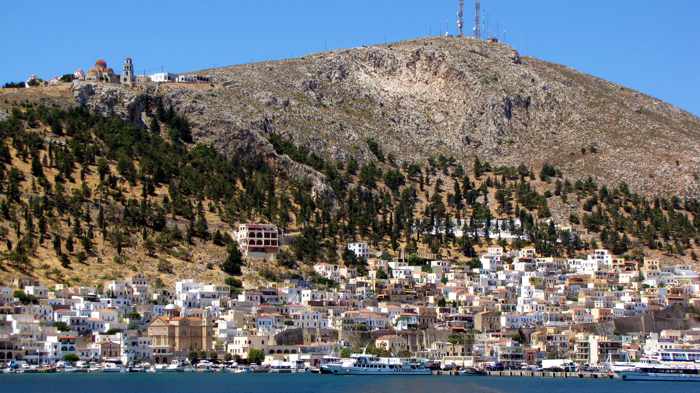 A mountain looms large behind Pothia, the main port of Kalymnos island. I snapped this photo during a brief ferry stop in May 2010, when we were travelling from Kos to Patmos.