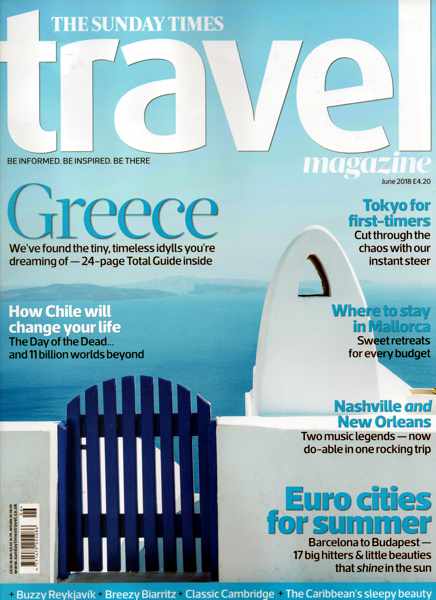 A scenic view from Santorini appears on the cover of the June Sunday Times Travel Magazine, which includes a 24-page "Total Guide" to Greece
Travel tips: Spring is the time when international lifestyle magazines and travel publications typically turn their attention to Greece, and that has been the case again this year. 
When I browsed newsstands while we were in Greece from late May until mid-June, and here at home after returning from our holidays, I noticed numerous magazines that featured cover stories or major articles focussed on travel to Greece.
The two periodicals that appeared the most interesting and informative were the June edition of The Sunday Times Travel Magazine, which I purchased at Athens International Airport prior to our return flight, and the June/July issue of National Geographic Traveler, which I bought at my favourite local bookstore a few days ago.
A photo from Santorini island appears on the eye-catching turquoise and white cover of the Sunday Times magazine, where the main cover line proclaims: "We've found the tiny, timeless idylls you're dreaming of" — all revealed in a 24-page Total Guide inside.
The guide includes:
♦ tips on island hopping by ferry in the Cyclades, Dodecanese and Argo-Saronic archipelagos;
♦ short profiles of "heavenly" 5-star hotels on Naxos, Crete, Santorini, Sifnos, and Mykonos islands, as well as in Halikidi, the Peloponnese and the Athens Riviera;
♦ an article about the Arcadia region of the eastern Peloponnese;
 ♦ highlights of three places, away from the "holiday hotspots," where visitors can "find solitude in a Greece untouched by time: lost in nature, rich in ancient, spiritual sites";
 ♦ advice for low-cost weekend getaways to Athens, Thessaloniki and Kefalonia; and
♦  recommendations for exclusive rental villas and luxurious all-inclusive resorts.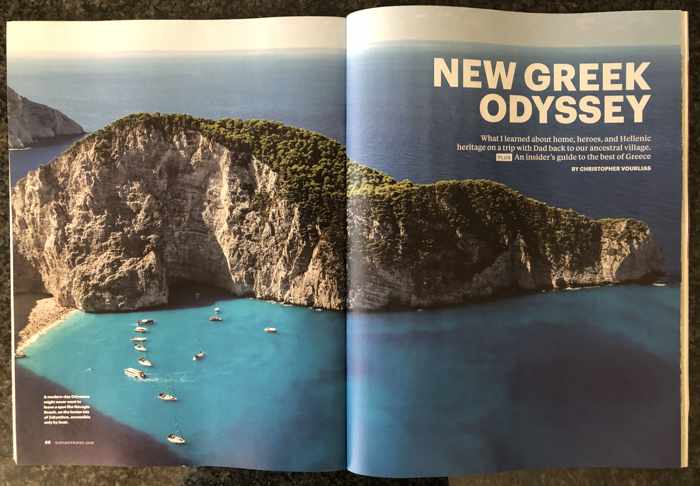 In the feature article "New Greek Odyssey," Christopher Vourlias relates what he learned about "home, heroes and Hellenic heritage" during a trip to his father's ancestral village in Central Greece.
The theme of the National Geographic Traveler issue is "Trips to Change Your Life," and includes two features on Greece:
♦ the intriguing article "New Greek Odyssey," in which writer Christopher Vourlias describes the personally insightful trip he took with his father to the latter's home village in Agrafa, a mountain region of Central Greece; and
 ♦ An "insider's guide to the best of Greece" — short profiles of specific recommended places to visit for food & drink, history & artifacts, islands & beaches, and culture &  people.
And as you would expect, the articles in both magazines are illustrated with tantalizing photos of Greek destinations,  monuments,  and scenery that will make you feel wistful for a trip to Greece — even if, as was the case with me, you may have just had a holiday there.