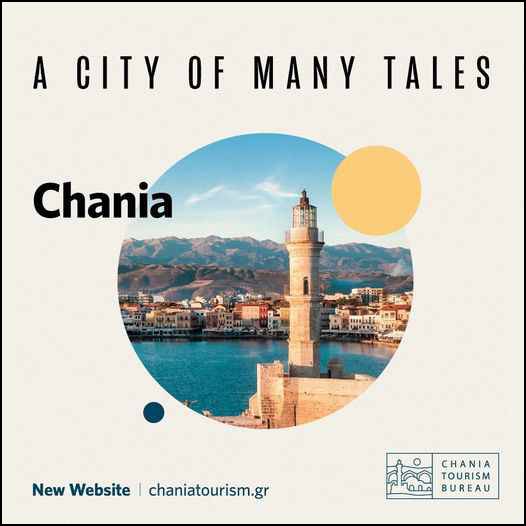 Chania, the second-largest city on Crete island, introduced its new tourism website and travel promotion slogan — Chania: A City of Many Tales — on September 27 2021
New travel resource: If you've been considering a trip to the city of Chania on Crete island, whether for the first time or a repeat visit, there's a new website you should bookmark  for your holiday research and planning. Launched in late September 2021 by the Chania Tourism Bureau, the site —  chaniatourism.gr — is chock full of information, descriptions, photos and maps that will assist travellers arriving for either a short city break or an extended vacation.
For people who haven't yet been to Chania, or haven't even had it on their travel radar, a few clicks through the website — starting with the "Why Chania" section — will quickly reveal why it's a must-see destination, and in fact has been such throughout its rich and colourful history of 4,000+ years.
The website notes that, for centuries, Chania "has served as a nautical crossroad between three continents, a pole of attraction for powerful trade transactions and for Empires driven by intentions of conquest and expansion. Romans, Arabs, Venetians and Ottomans have marched, conquered and left a deep footprint, creating a modern, cultural mosaic on the architectural outlook of the city and a cosmopolitan feel at this remote corner of the Mediterranean."
Chania also has been blessed with incredibly beautiful scenery and spectacular natural landscapes, ranging from stunning beaches, bays and coastlines to imposing mountains, gorges, caves and valleys. These unspoiled natural wonders, combined with the city's abundant historical and cultural uniqueness, have made Chania an enticing year-round destination for travellers from around the world.
The city's longevity and its endurance through eras of occupation and governance by foreign powers have left Chania with a richly storied history, which its tourism board's new slogan — Chania: A City of Many Tales — invites visitors to discover,  while creating memorable stories of their own  as they explore, experience and enjoy the region.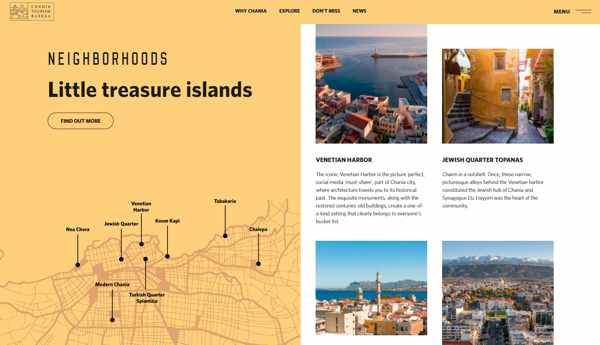 The website's Neighbourhoods: Little treasure islands page provides detailed descriptions, maps and photos of key spots in the old city and Chania's modern suburbs — as well as suggested walking routes.
The tourism website will be informative and useful even to people who have been to Chania before, since it may reveal neighbourhoods, monuments, attractions and other points of interest they may have missed on their earlier visits.
One of the website features we were most pleased to see is the section entitled Neighbourhoods: Little treasure islands, which provides helpful information about nine significant and distinct parts of the city, along with maps and suggested walking routes that lead past important landmarks and points of interest. 
"Wandering around the different quarters of the city, feels like timelining backwards as if each decisive point in history is revealed like a layer," the website says. "The Jewish quarter, the Turkish quarter, the Venetian harbor, the aristocratic neighborhood of Chalepa, the derelict industrial tanneries at Tabakaria, the coastal Koum Kapi and the beach town of Nea Chora, compose a colorful architectural and historical mosaic with complementary and contrasting characteristics, representative of the heritage each culture, era and economic stratum brought to the table."
We've been to Chania twice, most recently in the autumn of 2017, and spent our entire time exploring the city on foot, wandering through streets and along harbour and seafront areas mentioned in a travel guide travel guide we had purchased in a local bookshop. We had a wonderful time, but our meandering definitely would have been far more enlightening and interesting with the website's walking route maps (which pinpointed some noteworthy places we completely missed seeing.)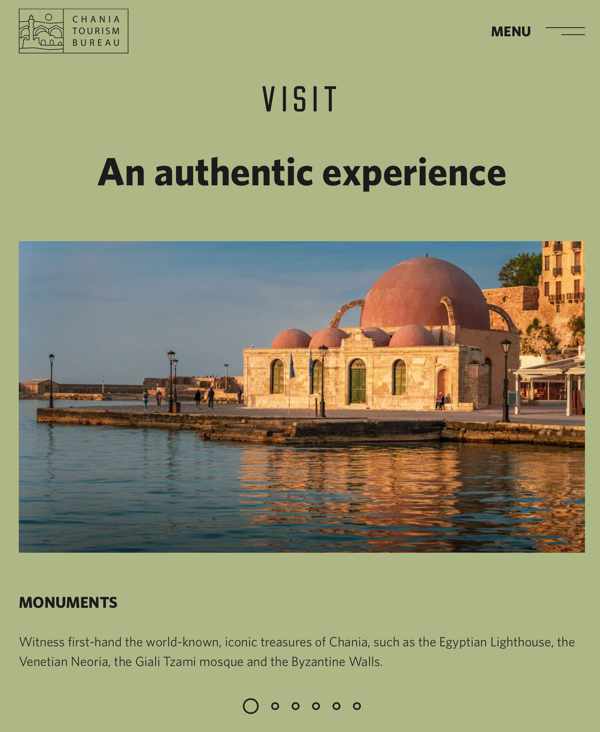 Another excellent resource is the website's Visit / An authentic experience section, which provides information and photos of highlight attractions within and close to the city, including:  monuments and top historic sites; beaches;  gorges and caves;  churches and monasteries;  museums and collections; and the Chania suburbs and nearby villages.
Be sure to check out the drop-down menu entitled "Don't Miss," which navigates to separate sections concerning such "unique experiences" as activities, local traditions and agritourism. The "local tips" page offers insights into local culture by suggesting things to see and do "where the people around you will be mostly locals." 
Information on sports and both indoor and outdoor activities, as well as the world-famous Cretan Diet, can be found in other website sections.
To learn more about visiting Chania, follow these links to the tourism website and its related social media pages:
Web: Chania tourism
Facebook: @Chania.tourism
Instagram: @chaniatourism