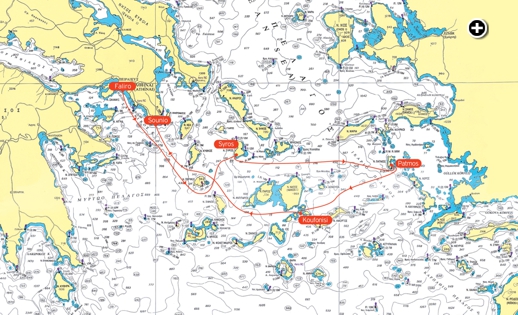 Above is a map showing the course competitors will take in the Central and South Aegean Sea during the 10-day event. Click on the image to view a full-size version. The map is provided courtesy of Paralos Creative.
The competition gets underway this evening at 18:00. The yachts will sail from Faliro Bay to Syros island, a distance of 90 nautical miles (nm), passing between Serifos and Sifnos islands along the way.
On Monday, they will sail east 88 nm to the Dodecanese island of Patmos, passing Delos and Mykonos en route. From Patmos, the course loops through back through the Cyclades on its return to the mainland.
Wednesday's sail is a 63 nm journey from Patmos to Koufonissi in the Small Cyclades. On next Friday (July 26), competitors will participate in an inshore race, then on Saturday the 27th will undertake the final 94 nm leg of the rally, from Koufonissi to Sounion. Along the way they will pass Naxos, Paros, Antiparos and Sifnos before cutting between Serifos and Kynthnos on the final stretch to Sounion.
Full details about the regatta are available on the Aegean Rally website as well as on the Hellenic Offshore Racing Club site.

Το trailer του 50ού ΡΑΛΛΥ ΑΙΓΑΙΟΥ του 2013 by Aegean_Rally
Above is a short promotional video for the 50th anniversary regatta