— continued from page 1 —
Noema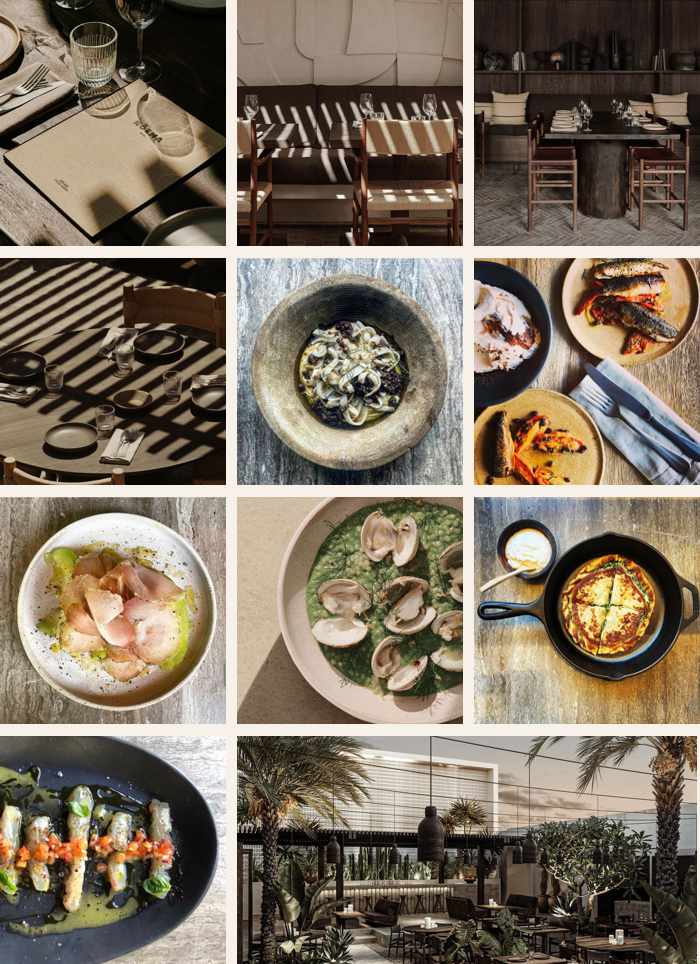 Open since May 21 in the Panachra district in the heart of Mykonos Town, Nōema Mykonos describes itself as a "contemporary Greek restaurant and bar," serving "a new Cycladic cuisine that spotlights indigenous ingredients and cooking methods, sharpened with an experimental attitude to satisfy the modern palate."  Besides being a place to gather with friends and family for delicious food and drink, Nōema will be a destination for music entertainment. DJs and musicians will perform in Its courtyard patio, exploring "musical horizons that defy categorization." Uji, Kaz James and Valeron are among the musicians and DJs scheduled to perform live at Nōema in June.  The restaurant premises include a retail boutique offering a "conscious collection of timeless fashion, hand-made objects and ethereal jewellery that embody effortless Greek island attitude."
Facebook: @NoemaMykonos
Instagram:  @noemamykonos
Web: noemamykonos.com
_____________________________
IT Mykonos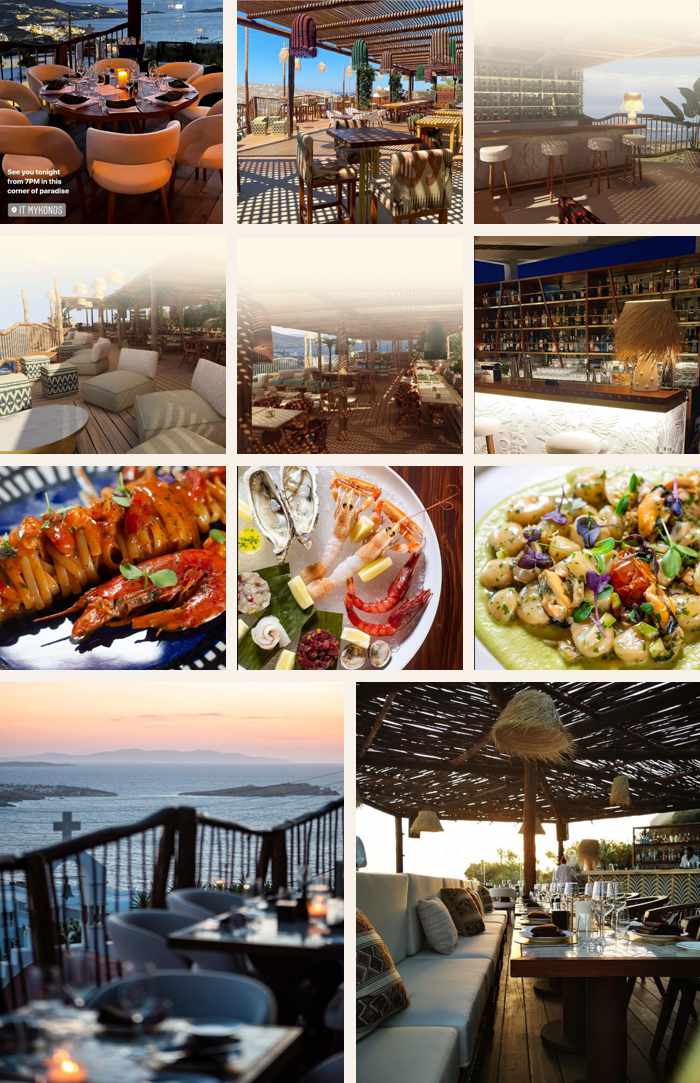 The first IT restaurant in Greece has opened in Mykonos this summer.  Founded in Ibiza six years ago, IT Restaurants has locations in Milan, London and Tulum, along with a pop-up in Porto Servo, Sardinia.  According to the company website, each of the IT restaurants represents "the founders' unique vision of combining carefully curated music, best-in-class Mediterranean cuisine and contemporary interiors in cosmopolitan destinations."  IT Mykonos  brings the company's trademark "Italian Soul" to its new restaurant and lounge premises on the peripheral road in the Drafaki area above Mykonos Town. Guests come for a gourmet meal of Mediterranean cuisine on the open-air, sunset-view patio, then join in the party and dancing that follows when the guest DJ takes over the decks. Camilo Franco, Pan, Arodes, Ageless, Airrica and Sean Doron are among the DJ acts who have performed at IT Mykonos so far this season. IT Mykonos opened on June 24. 
Facebook: @ITMykonos
Instagram: @it_mykonos
Web: itrestaurants
_____________________________
Lio Mykonos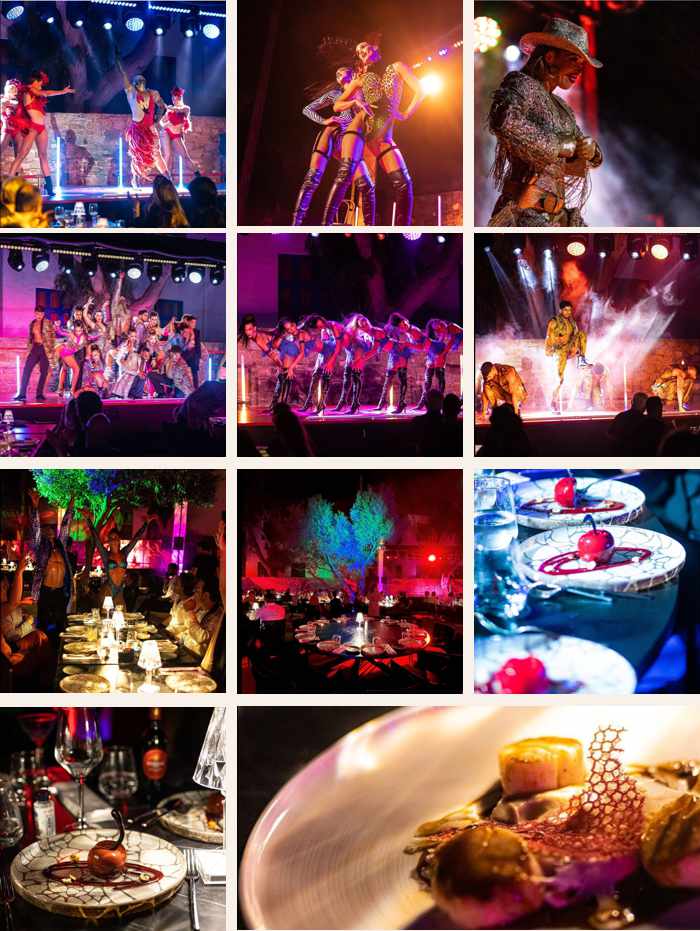 Billed as "the world's most glamorous cabaret," the Lío club in Ibiza is not only celebrating its 10th anniversary this summer, it's also bringing its "electric interactive entertainment, Mediterranean cuisine and late night lounging" to Mykonos. The Lío Mykonos club opened on July 9 at 6 Enoplon Dinameon Street in the Tria Pigadia area of Mykonos Town — just steps from Astra and Bonbonniere nightclubs.  Doors open at 8.30 p.m. and guests choose from 4 dining experiences and "bespoke luxuries" while being dazzled by the sensational cabaret show La Fête Sauvage. At 12:30 a.m. the entertainment spectacle smoothly transitions into La Fête, "a dynamic lounge musical experience where the DJ takes center stage, performers interact with the crowd, and the guest becomes the protagonist."
Facebook: @liomykonos
Instagram: @liomykonos
Web: Lio Pacha Mykonos
_____________________________
Mosaic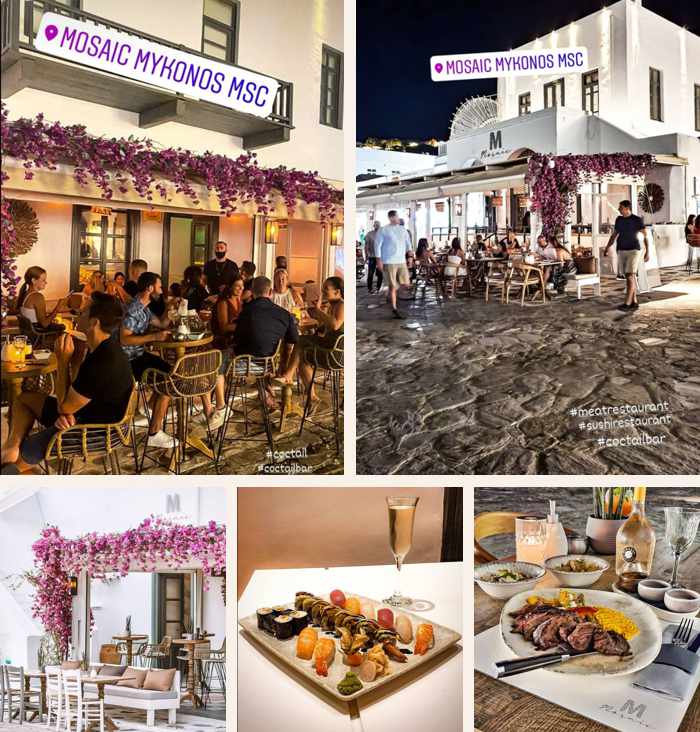 Meat, sushi, cocktails — or MSC, for short — is what Mosaic Mykonos MSC is all about.  Featuring creative dishes that mix and match flavours from all around the globe, Mosaic invites its guests to "discover the world on your plate!" The restaurant opened in early June, and boasts "an eclectic, but thoughtfully curated menu of prime cuts and authentic Japanese sushi, Greek and Mediterranean staples, brunch favourites, world inspired cocktails, international wine gems and fine shisha blends." Mosaic aims to be the island's go-to spot for "meeting, food, fun and flirting" from morning to late night, and it couldn't have picked a better location — it's atthe busiest pedestrian crossroad on the Mykonos Town harbourfront, right next to Manto Mavrogenous Square (in the premises previously occupied by My Plate Mykonos).
Facebook: @mosaicmykonosmsc
Instagram: @mosaicmykonosmsc
Web: Mosaic of Mykonos
_____________________________
m63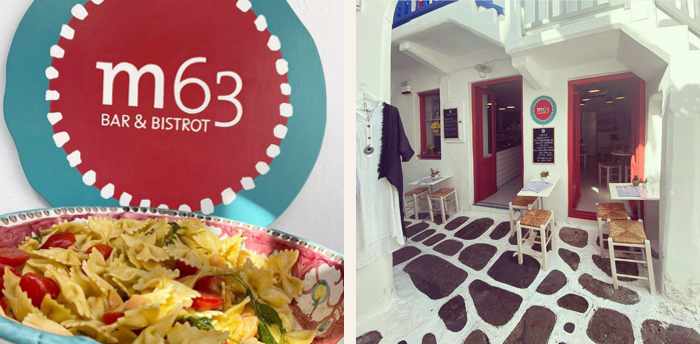 It opened without fanfare at the end of June, but customers have been heralding m63 Bar & Bistrot with stellar reviews on social media. Located on Drakopoulou Street in Mykonos Town, m63 describes itself as "a relaxing corner in the characteristic alleys of Mykonos, where you can stop for a pleasant break. From breakfast to the last drink, you will always find something to enjoy here," the restaurant's Facebook page says. The restaurant serves a range of breakfast, brunch and lunch items  along with tapas-style bites to accompany wine, sangria or an Aperol Spritz at night. Guests have been enjoying everything on the menu from eggs, croissants, coffees and juices to sandwiches, pizza, other typical Italian dishes and homemade desserts, with the Aperol and tapas combination being one of the most popular selections.
Facebook: m63 bar & bistrot
Instagram: m63_bar-bistrot
_____________________________
Cantera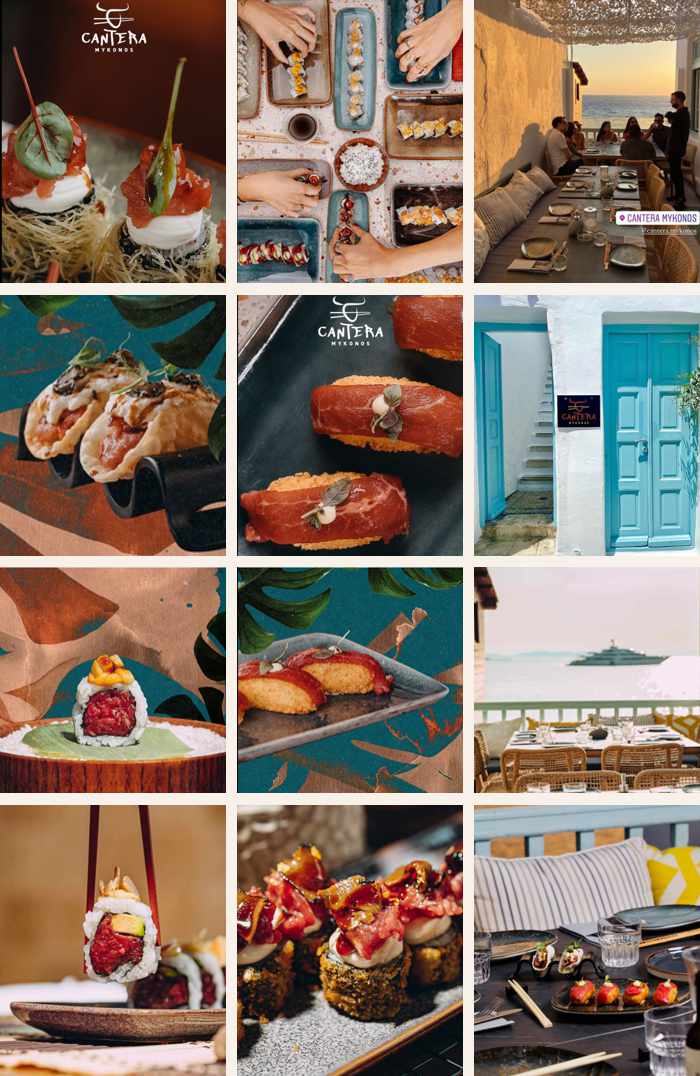 Named after the Spanish word for "quarry," Cantera was conceived from its founders' "eclectic idea" to fuse "the tradition of Japanese cuisine and the unmistakable flavor of meat" — essentially creating a meat sushi restaurant. (On its Facebook page, Cantera describes its focus as: "Asian fusion cuisine, where Sushi meets the meat cult.") Cantera is situated on second-floor premises above Bao's cocktail bar at the scenic Little Venice seafront of Mykonos Town. Its dining room and balcony offer fabulous views of the sea, sunset and Little Venice area. The restaurant opened on June 21.
Facebook: @cantera.mykonos
Instagram: @cantera.mykonos
Web: Cantera Mykonos
_____________________________
Zuma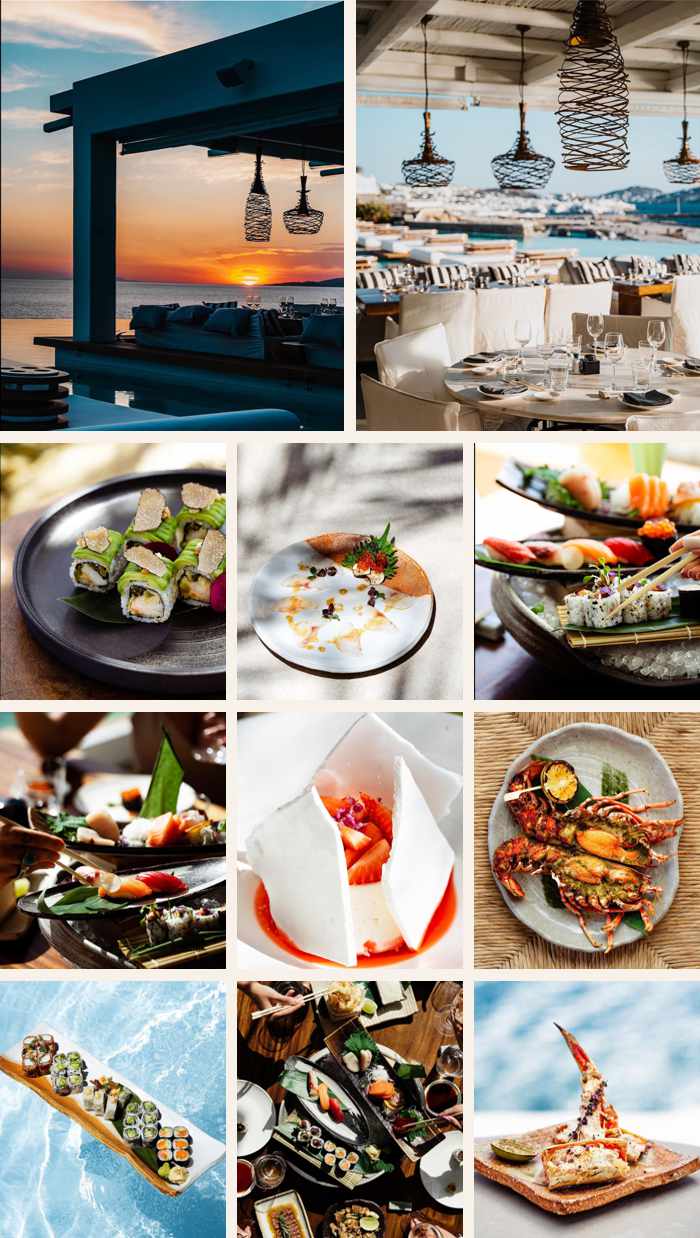 Zuma, the global group of trendy restaurants known for their sophisticated, contemporary twist to traditional Japanese izakaya, is back on Mykonos this summer with a seasonal pop-up at the ultra-luxe Cavo Tagoo Hotel in Mykonos Town.  Zuma made its first appearance last year, during the pandemic-shortened tourist season, and returned on May 28 this year for its first full summer on the Island of the Winds. It's been one of the busiest restaurants on Mykonos  since opening day, drawing legions of sushi and Japanese food afficionados to its chic sea- and sunset-view  dining patio beside Cavo Tagoo's world-famous infinity pool. With its stunning plating and food presentation, Zuma's cuisine is as spectacular and tantalizing as the surrounding scenery.
Facebook: @zumamykonosofficial
Instagram: @zumamykonosofficial
Web: Zuma Restaurant
_____________________________
Pasta Boss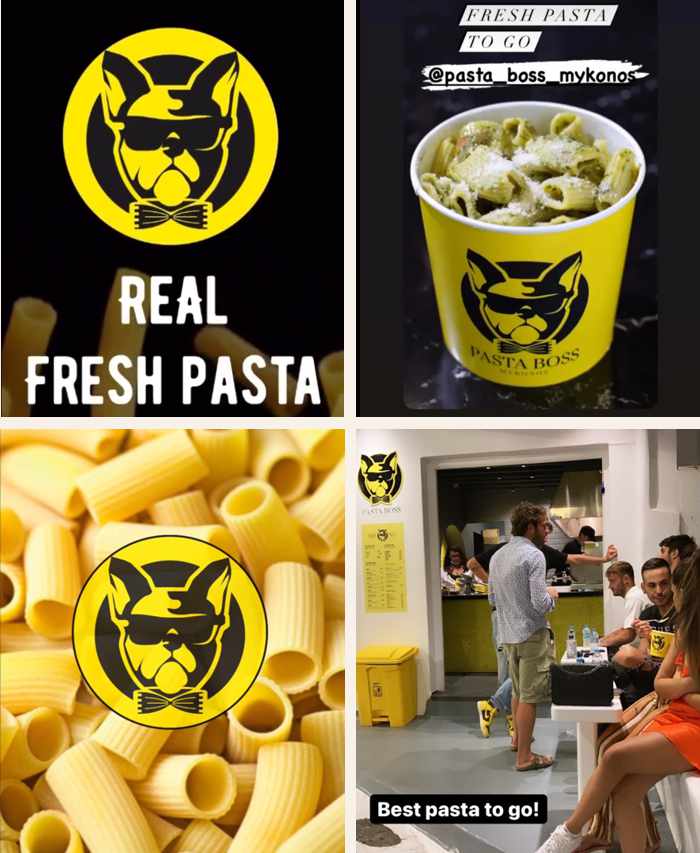 The take-away fast food restaurant Pasta Boss is another new business venture by the owners of La Barran Bar and Drunk Monkey. It's a simple concept: freshly-cooked, tasty handmade pasta "made for walking." Customers choose their desired pasta — rigatoni, penne or casarecce — then select from a variety of sauces, including napoli, arrabiatta, bolognese, pesto, carbonata, 4 cheeses, and more. Toppings like muschrooms, parmesan, crispy bacon, chicken or salmon can be added as extras, while salads, desserts and drinks are available. Pasta Boss is located in the Lakka area of Mykonos Town.
Facebook: @pastabossmykonos
Instagram: @pasta_boss_mykonos
_____________________________
Bonita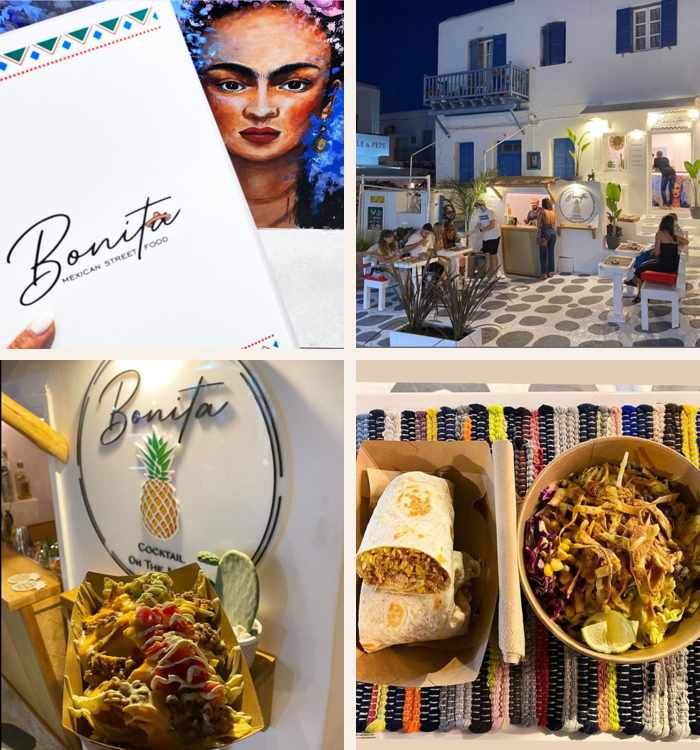 Open since late June, Bonita Mexican Street Food is a sit down and take-away eatery serving popular Tex-Mex items such as nachos, tacos and burritos. It's also a take-out bar, offering a selection of "cocktails on the move," like their cucumber Pepino.  Bonita is located in the Lakka area, near the Fabrica bus station.
Facebook: Bonita Mykonos
Instagram: @bonitamykonos
_____________________________
Ceresio7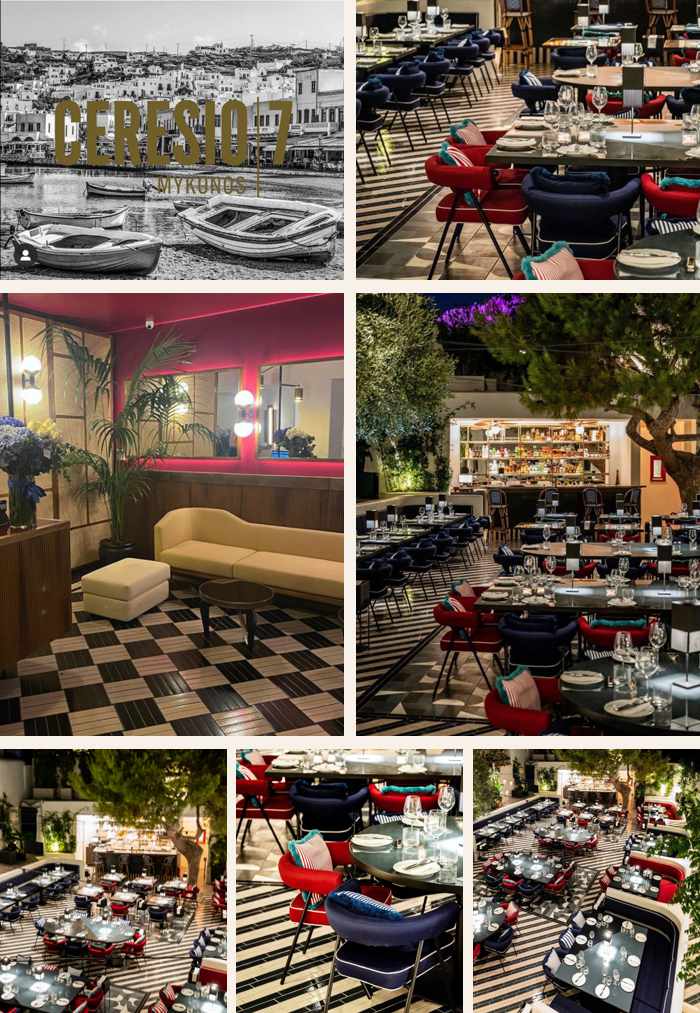 The glamour of Milan and the tastes and flavours of fine Italian cuisine arrived on Kalogera Street in Mykonos Town in late July when Ceresio7 Mykonos opened its doors in late July. The restaurant is a collaboration between members of two highly successful fashion business families — brothers Dean and Dan Caten of the apparel brand DSquared2, and Giannis and Grigoris Gofas of the family behind Greek luxury jewelry and wristwatch retailer Gofas Jewelry.  The Catens have operated the popular Ceresio7 restaurant in Milan for the past eight years and, since Mykonos has long been their favourite summer playground, it seemed inevitable that the brothers would open another restaurant here. Situated in the courtyard of a historic building in the heart of town, Ceresio7 Mykonos "doesn't upend the building's original ethos but rather melds it with Italian elegance by juxtaposing new elements and visions onto the original structure, elements that are a callback to the dolce vita, to the rational yet chic modernism of the '50s and to the polite revolution embodied by Gio Ponti," the company website says. "Ceresio7 Mykonos is a fascinating location that offers both relax and leisure from happy hour to after dinner, combining quality and conviviality, for those who love the island, fine dining and design." The food menu includes selections of antipasti, carpacci, veggie, pasta, secondi, sharing dishes and desserts, while the bar menu offers signature cocktails by Guglielmo Muriello, wines, beers, spirits and champagnes. The food and beverage menus can be seen on the restaurant website, while the Caten brothers undoubtedly will be seen at the restaurant from time to time while they're vacationing on Mykonos in August.
Facebook: @ceresio7mykonos
Instagram: @ceresio7mykonos
Web: Ceresio7
_____________________________
Namah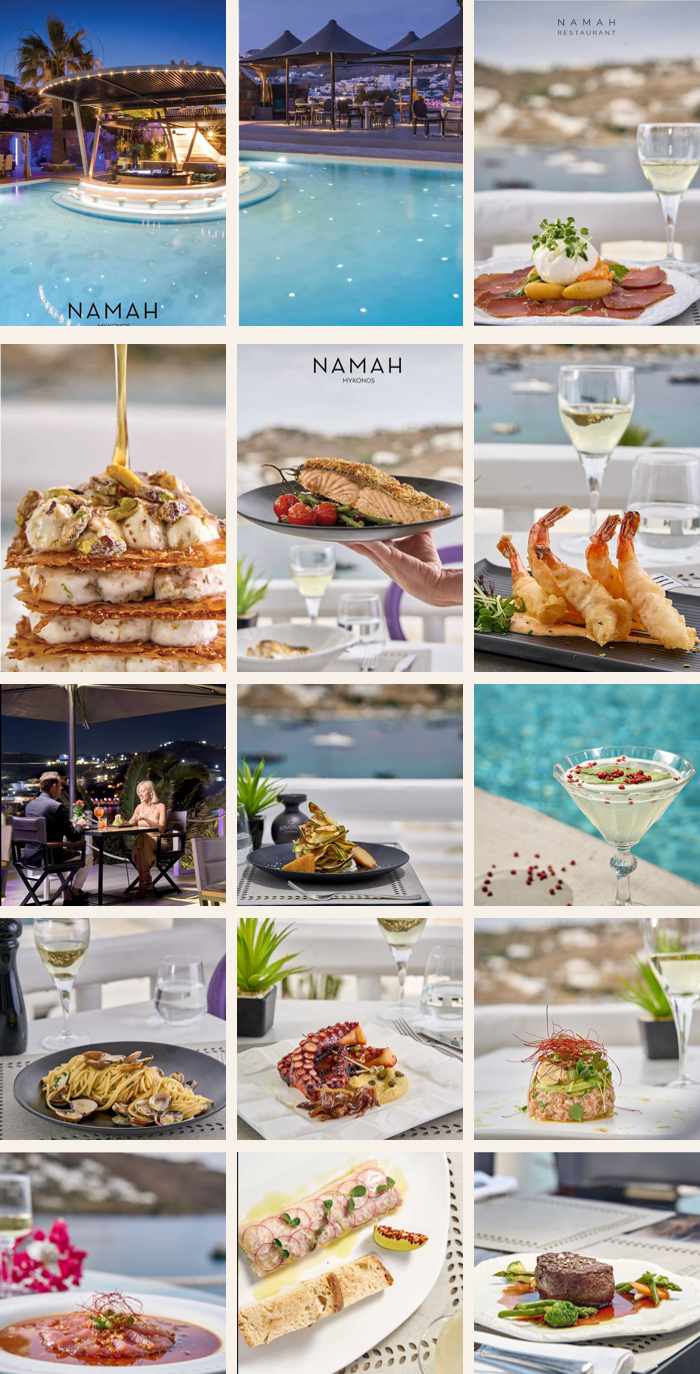 The 5-star Kivotos luxury hotel at Ornos unveiled a new restaurant next to its main swimming pool this summer. Namah opened June 23, featuring a creative menu of "cosmopolitan fusion cuisine … inspired by flavours from all over the world and the rich seafood heritage of the Mediterranean." Signature dishes include  carpaccios, veiches and tartare dishes, grilled octopus with Santorini fava, Big Eye Tuna Sashimi, Black Angus fillet, and a lightly fried eggplant and zucchini tower with tzatziki and kefalograviera cheese. In mid-July, Namah introduced a unique overwater dining experience — romantic tables for two positioned on glass platforms directly above the pool, with great views across Ornos Bay.
Instagram: @namahmykonos
Web: Kivotos Mykonos (note: as of July 22, the hotel website has not yet been updated with information about Namah).
_____________________________
Vento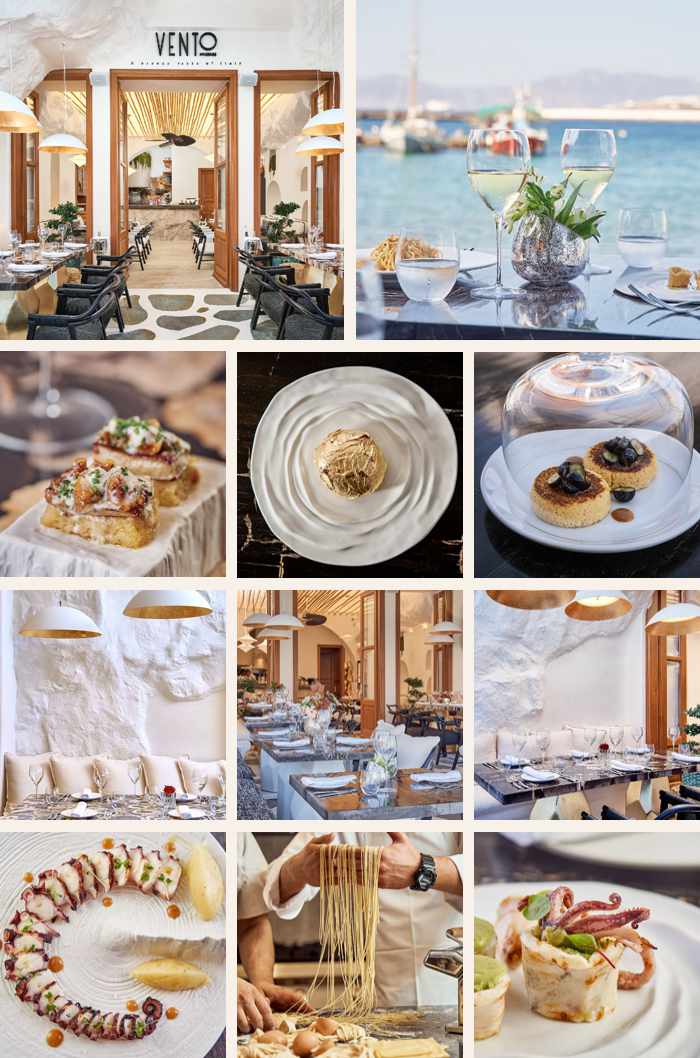 Vento arrived on the Mykonos culinary scene at the end of the 2020 travel season — October 28, to be precise — so it was mainly island residents who got to enjoy its "sophisticated surroundings" and its "comfort food with a touch of Mykonian glamour and artistic flair." Now, it's the tourists' turn to experience Vento's "breeze taste of Italy" and Mediterranean cuisine." As the restaurant's website explains, Vento's "aim was to unite our passion for good food with the elevated gastronomic standards of Mykonos, to marry the Italian, the Mediterranean and the Mykonian gusto in a journey into taste." That journey can last all day long — Vento is an all-day restaurant, serving breakfast, lunch and dinner. Breakfast choices include egg dishes, pancakes, smoothies, fruit and yogurt bowls adn beverages, while the lunch and dinner options range from antipasti, appetizers and salads to handmade fresh pasta dishes, risotto, pizza, meat and fish main courses, desserts and more. Full menus and wine lists can be viewed on the Vento website. A photo gallery on the website showcases the restaurant's elegant decor and some of the stunning dishes created by Chef Alsi Sinanaj, while Vento's social media pages feature additional photos of the impressive premises and mouth-watering food.
Facebook: @ventomykonos
Instagram: @ventomykonos
Web: Vento Mykonos
_____________________________
Promenade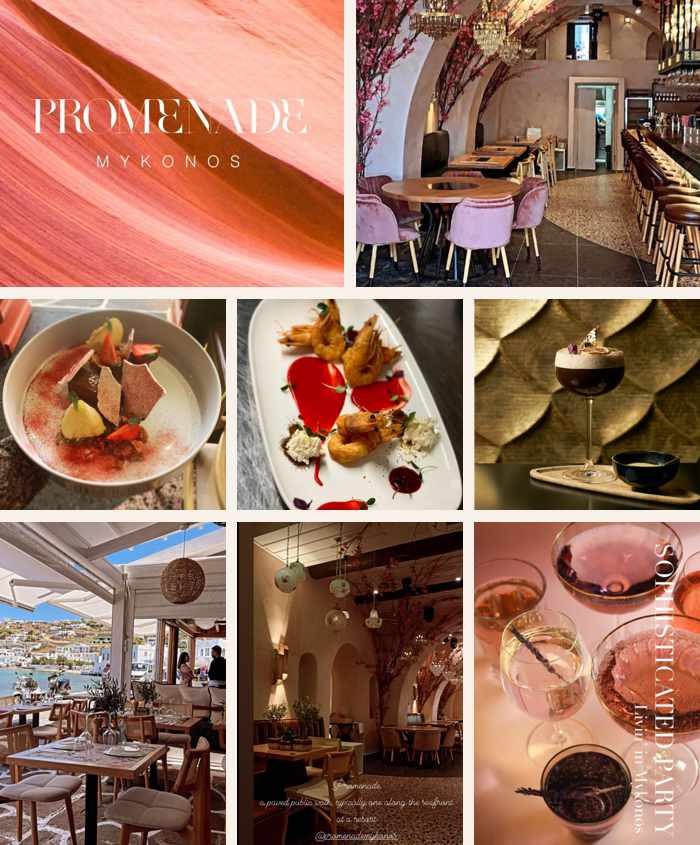 Taking its name from the harbourside pedestrian avenue where it is located in Mykonos Town , Promenade was conceived to provide a "sophisticated space exuding elegance," where guests will enjoy "elevated flavours and party in style." ""Un style à la française" reflects the spirit of Promenade in Mykonos," a post on the restaurant's Facebook page says. 
Facebook: Promenade Mykonos
Instagram: @promenademykonos
_____________________________
Shiba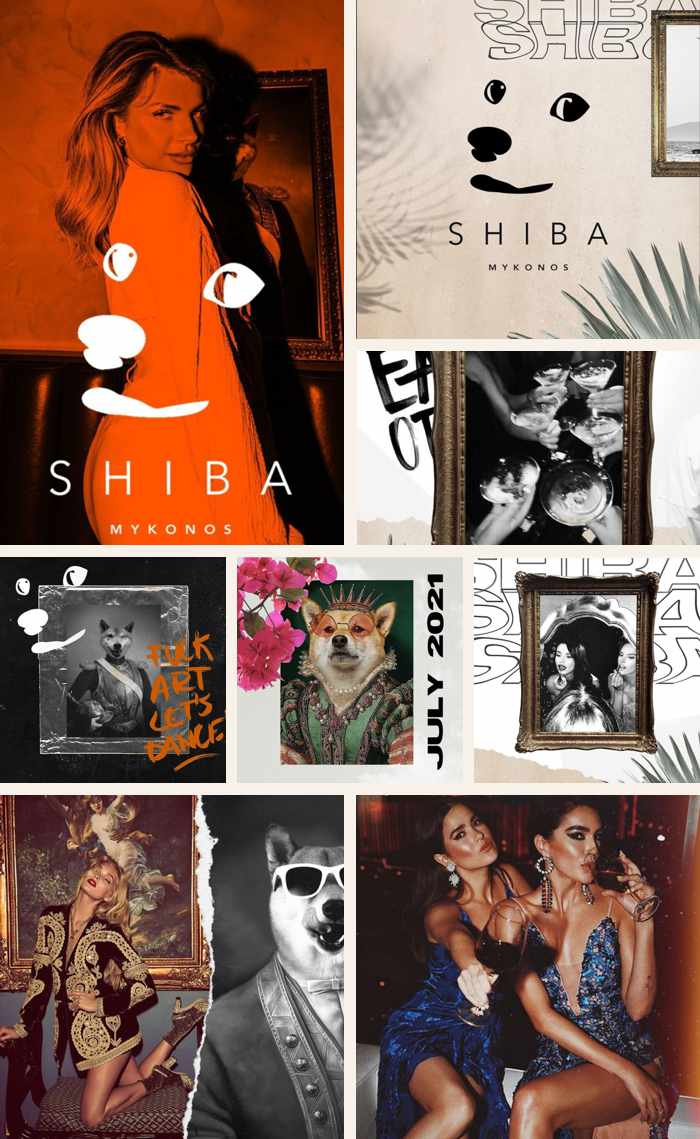 The party side of Promenade restaurant, Shiba bills itself as the "first crypto nightclub in the world," so of course its logo is based on the Shiba Inu dog breed depicted on Dogecoin cryptocurrency. Shibu Inu figure prominently in the nightclub's  social media pages and its interior decor, too, where tongue-in-furry-cheek portraits of the dogs in historical-style poses provide a curious backdrop to the elegantly-dressed, wine and champagne-quaffing models having a doggone good time dancing and cavorting in the club.  Shiba held its opening weekend party on July 16, and its roster of special guest DJs has included the likes of Charles Prince (London DJ of the year) Marius Persic and II Faces.
Facebook: @ShibaMykonos
Instagram: @shibamykonos
Web: Shiba Mykonos
_____________________
Paloma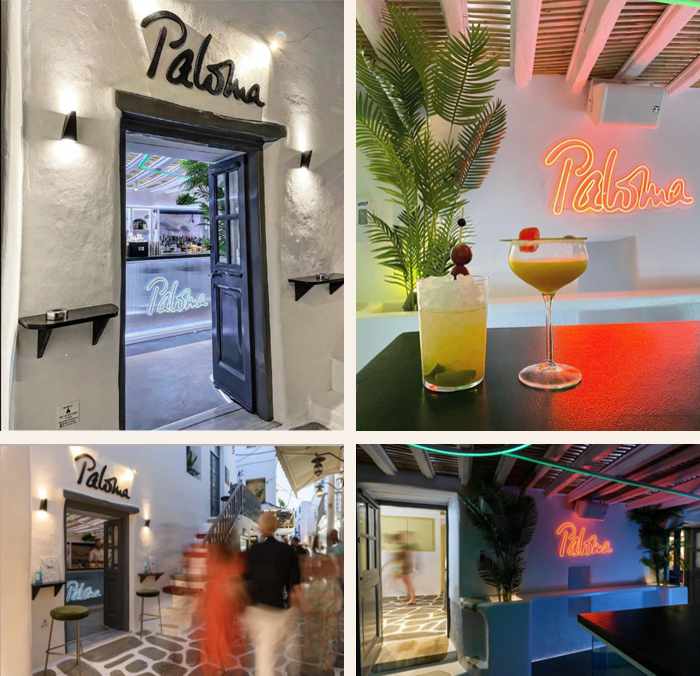 Paloma is an elegant and cozy cocktail lounge that invites visitors to "Come for the cocktails, stay for the good vibes." In a description on its website, Paloma says "Eccentric ambience, tasty cocktails and vivid music are what makes it the go-to place for a true adventure in the Mykonian nightlife. With a new menu featuring 10 cocktails, Paloma presents fresh interpretations of classic cocktails, with its signature warm and convivial hospitality. Grab the chance to discover multi-dimensional cocktails … shaped by tastemakers with unbounded creativity." The bar takes pride in its "a friendly, energetic staff" and its "super knowledgeable and engaging bartenders." Paloma opened its door on May 21 at 16 Kouzi Georgouli Street in the heart of Mykonos Town. Hours of operation are 8 p.m. to 3 a.m.
Facebook: @palomamykonos
Instagram: @paloma.mykonos
Web: Paloma Mykonos
_____________________________
Tiki Mykonos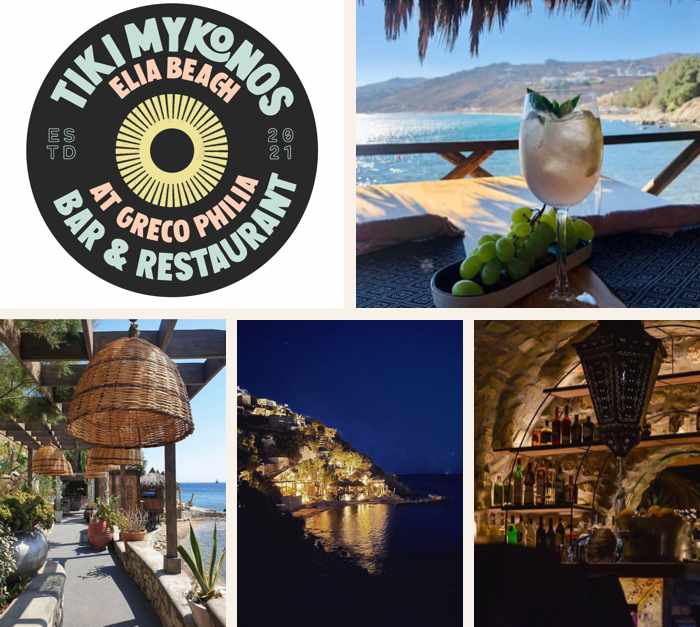 Visitors to Elia beach have a new place to enjoy a drink and bite to eat this summer —  Tiki Mykonos bar and restaurant at Greco Philia Boutique Hotel. Tiki is perched above the seaside, just a short walk from the far east end of Elia beach, and offers wonderful views of the beautiful bay and the popular beach area.
Facebook: TikiMykonos
Instagram: @tikimykonos
_____________________________
Drupes Summerhouse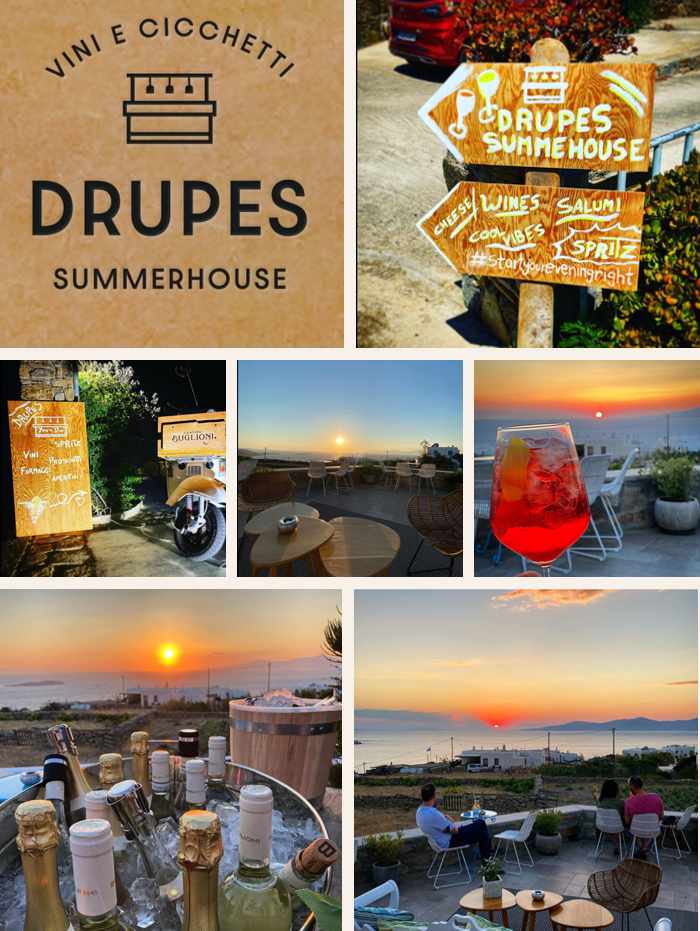 Drupes Summerhouse is an open-air lounge that invites visitors to "come as you are" to start their evening with  wine or cocktails while listening to good music and enjoying the scenic sunset views. A summer offshoot of the Drupes Spritzeria in Athens, the casual, laid-back bar promises cool vibes and "sunsets with plenty of music and laughter." Besides wine and Spritz, the bar offers nibblies like cheese and prosciutti.  Drupes Summerhouse operates from 7 p.m. until midnight, and is situated in the yard at The Liberty Breakfast Room (on the peripheral highway above Mykonos Town).
Editor's Note: After the Greek government imposed a temporary music ban and an overnight curfew on Mykonos in mid July to stem a surge in Covid cases on the island, Drupes announced that it was postponing its operations "for some other time. For when things change. For sooner or later. You know, Drupes is all about a fine balance of positive vibes and happy faces, cocktails based on mixing energy with wines and cool sounds….Campari and dances, bubbles under the sun, laughter sounds and love …. It's all about coming all together to 'seize the day." It is the genius for rendering simplicity exquisite. When one or two ingredients are missing, the outcome of the equation is different. Druges cannot be different. Drupes is a way of living in the moment."
Although the music ban and curfew are set to end on July 26, Drupes has not indicated if it will re-open for the rest of this summer. If you're planning to check it out, phone first to ensure they're open. Contact information is on their social media pages.
Facebook: @drupesmykonos
Instagram: @drupes.summerhouse
_____________________________
Mother Earth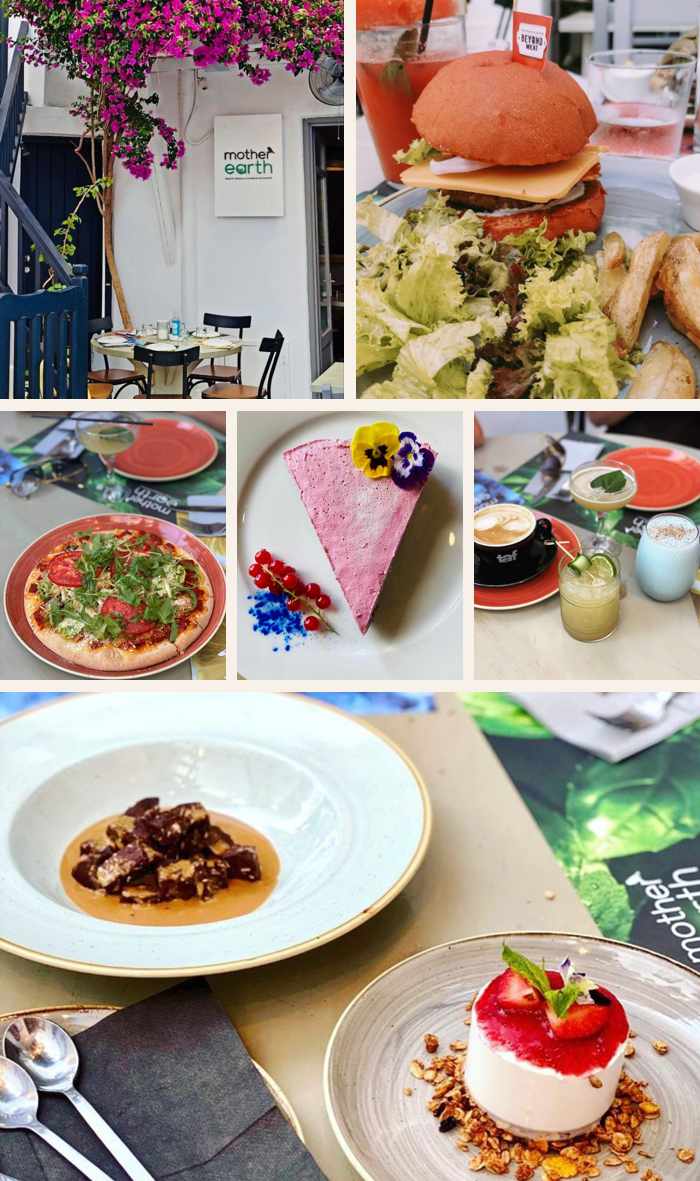 Visitors seeking delicious vegan and vegetarian cuisine will find a new spot tempting their tastebuds this summer. Mother Earth Healthy Vegan and Vegetarian Restaurant opened on Mitropoleos Street in mid-June, and filled every seat with hungry diners happily devouring dishes including pizzas with  gluten-free crust; vegetarian versions of such Greek fast food favourites as gyros and kebabs; Buddha bowls; avocado soup; burgers and fries, and luscious desserts.  Beverage selections include coffees, cocktails and mocktails. The restaurant doesn't take reservations — seating is available on a walk-in basis only — so head there early to grab a seat.
Facebook: @motherearthmykonos
Instagram: @motherearthmykonos
_____________________________
Velanos
It specializes in breakfast and brunch fare, but Velanos is a go-to spot for evening cocktails and conversation, too. The restaurant opened during the third week of July at a location next to the National Bank, near Mykonos Airport. Its menu includes a variety of tantalizing breakfast dishes, including eggs, pancakes, French toast, power bowls, and fruit dishes (the scrambled eggs with goat cheese, fresh tomatoes and chives served on brioche bread looks particularly scrumptious.) Velanos has an indoor dining room as well as a sheltered open-air patio, which is a great spot to enjoy the sunset while sipping wine and nibbling on a platter of cold cuts and cheese. The restaurant is open from 7 a.m. until 1 a.m.
Facebook: Velanos Mykonos
Instagram:  @velanosmykonos
_____________________________
Cookie Smart Bakery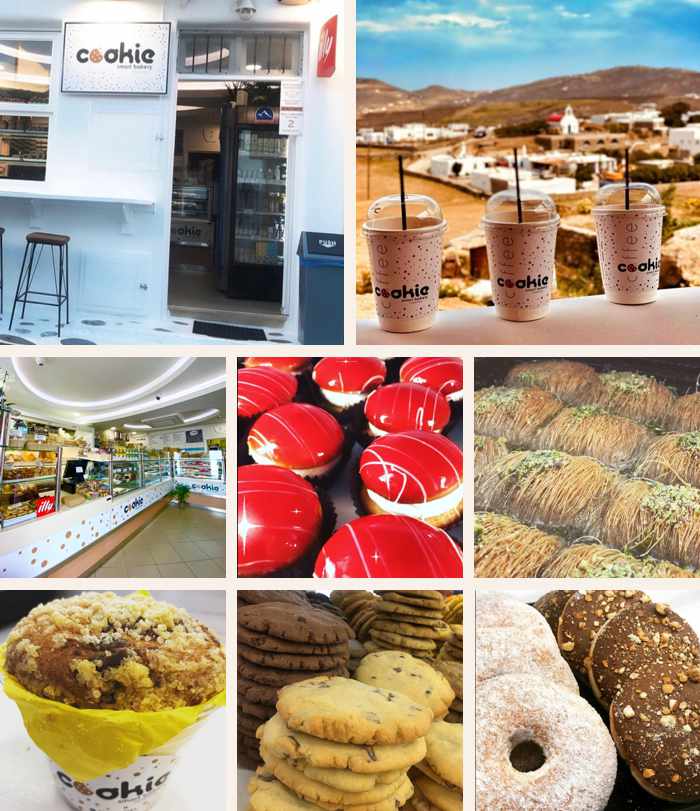 Cookie Smart Bakery opened its doors early this year, offering a mouth-watering selection of cookies, pastries and other sweet treats, along with breads, sandwiches and beverages. The shop is located at 8 Agiou Louka street in Mykonos Town, close to the Fabrica Square bus station.
_____________________________
Pelican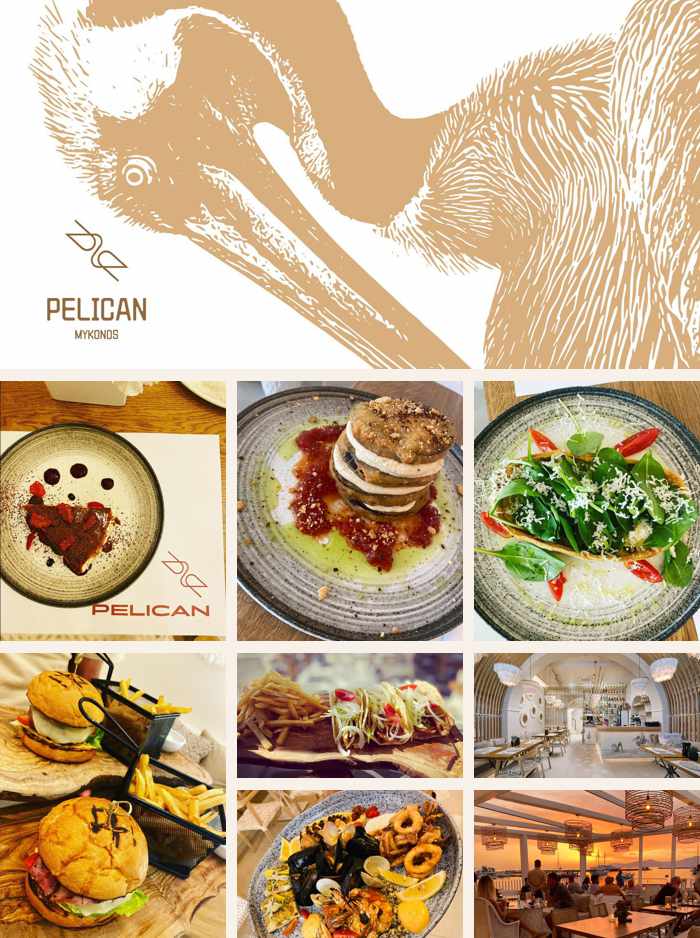 Pelican was among several restaurants that made their debut on Mykonos last year. Like the others, it opened to a severely shortened travel season and a precipitous plunge in tourist traffic, thanks to the first wave of the Covid pandemic.  With travellers flocking back to the island in droves this summer, Pelican is getting the chance to introduce itself to the repeat visitors and first-timers who couldn't make it to Mykonos in 2020. Situated on the busy Gialos harbourside promenade in Mykonos Town, Pelican is an all-day restaurant and bar serving breakfast, lunch, dinner and drinks. The restaurant aims to take its customers on "a culinary ride … to every corner of Greece," guiding them along "different Greek and Mesogean taste trails through simplicity and respect for tradition." The breakfast / brunch menu offers the expected choices of egg dishes, omelets, pancakes yogurt bowls, juices and more, while the all-day menu includes an extensive selection of hot and cold appetizers, salads, sea food dishes, pastas and risottos, meat, traditional Greek dishes, vegetarian items, desserts, and beverages. The Pelican website contains full food and beverages menus, and a gallery packed with dozens of photos of its culinary creations and its eye-catching premises.
Facebook: Pelican Mykonos
Instagram: @pelicanmykonos
Web:  Pelican Mykonos
_____________________________
Pierre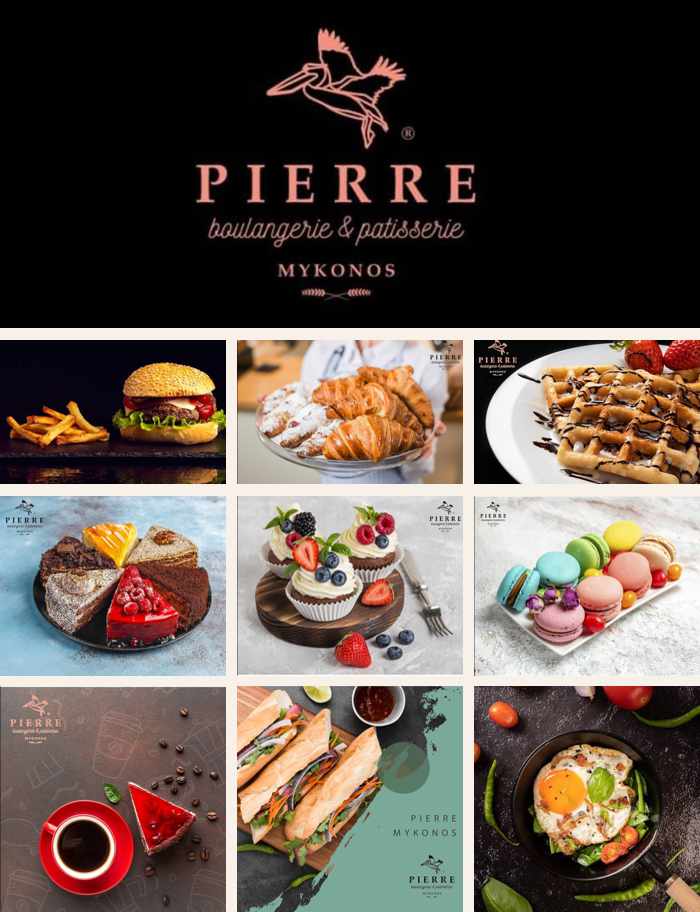 If you think life is sinfully sweet on Mykonos, a trip to Pierre boulangerie & patisserie will make it even sweeter. A new arrival in June of 2020, Pierre takes living the sweet life up a few notches with its delightful array of snacks, sweets and desserts . The Greece-based company  strives to create unique flavours and high-quality products, and deliver them withtop-notch service. Pierre regularly posts on its social media accounts, where its professionally-photographed images of its baked goods and other food products  are guaranteed to instantly induce intense cravings for any viewers who have a sweet tooth. Besides cakes, muffins, croissants and cookies, Pierre's offerings include breakfast, brunch and lunch fare. The shop is also a great spot to take a coffee break. You'll find Pierre at 29 Mitropoleos Street in Mykonos Town.
Facebook: @PierreMykonos
Instagram: @pierre_mykonos
_____________________________
Nama restaurant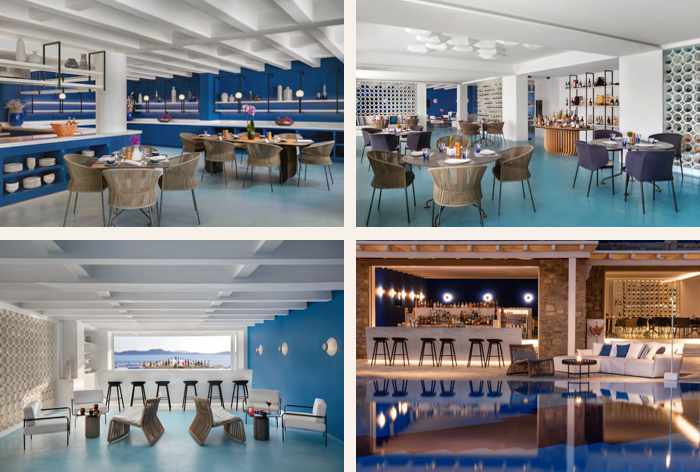 Long one of the island's premier 5-star hotels, the Mykonos Grand Hotel & Resort at Agios Ioannis beach introduced its new Nama restaurant and pool bar this season.  Located beside the hotel's main swimming pool, Nama has indoor and outdoor dining areas that boast unrivalled views of the sea, Delos island, and the spectacular sunsets.  The menu takes "a contemporary approach towards making classic Greek dishes more sophisticated."  The restaurant will serve an à la carte and buffet breakfast, as well as à la carte lunches and dinners.
Facebook: @mykonosgrand
Instagram: @mykonosgrandresort
Web: Mykonos Grand Hotel & Resort
_____________________________
The Wine Cellar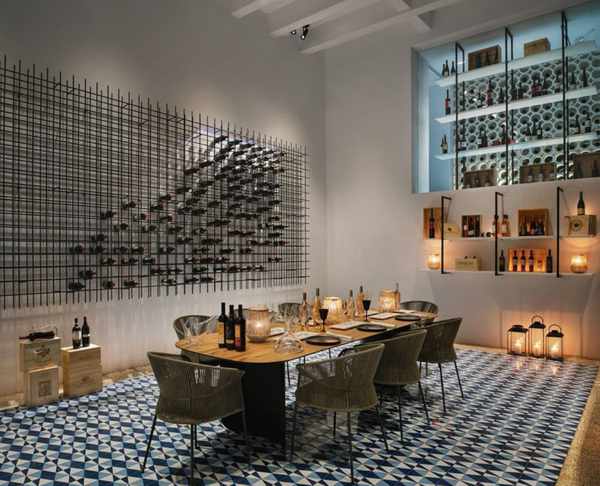 Another new-for-2021 feature at the Mykonos Grand Hotel & Resort is The Wine Cellar, designed to "become the ultimate private venue for wine aficionados."  The Wine Cellar offers "bespoke wine classes, tastings, food and wine pairings, as well as private events."
Facebook: @mykonosgrand
Instagram: @mykonosgrandresort
Web: Mykonos Grand Hotel & Resort
_____________________________
Althea Spa Retreat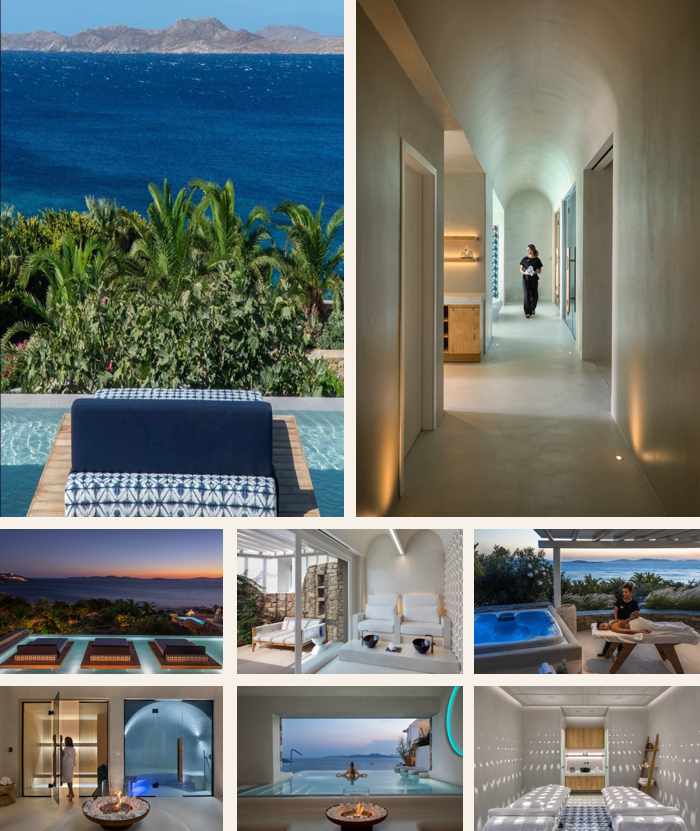 Another new feature at the Mykonos Grand Resort this year is its award-winning Althea Spa Retreat, created in partnership with London-based MKV Design.  The facility occupies 750 square meters of indoor and outdoor space overlooking nearby Delos island, and was uniquely designed to achieve an "elegant balance" between natural light and the iconic white and blue colours of the Cyclades islands.  The retreat offers a variety of "rejuvenating treatments designed to restore and revive mind, body and spitir in a sanctuary of wellness" — and the views of Delos play a key part in achieving relaxation and serenity.  As the Retreat's page on the hotel website points out, Delos is "one of the sunniest areas in the world and a place of high concentration of cosmic energy. According to Greek Mythology god Apollo, the god of light, was born there." The spa itself is named after Althea, the Greek goddess of healing.  As the website further explains, "The Spa's unique design optimally utilizes the glorious natural light aligned with the Cycladic architecture in white & blue shades. A series of treatment rooms with private shaded courtyards, its semi-caved Thalasso pool as well as outdoor treatment and relaxation areas allow interaction with nature and views to the Aegean Sea. The result is a complete sense of all-round well-being." Althea Spa Retreat has already received numerous accolades, including Greek Hotel of the Year Best Spa Award 2021 , and was a finalist in the Hospitality Design Awards 2021, among others. The spa operates daily from 9 a.m. to 8 p.m.
Facebook: @mykonosgrand
Instagram: @mykonosgrandresort
Web: Mykonos Grand Hotel & Resort
_____________________________
Bistrot de Nicolas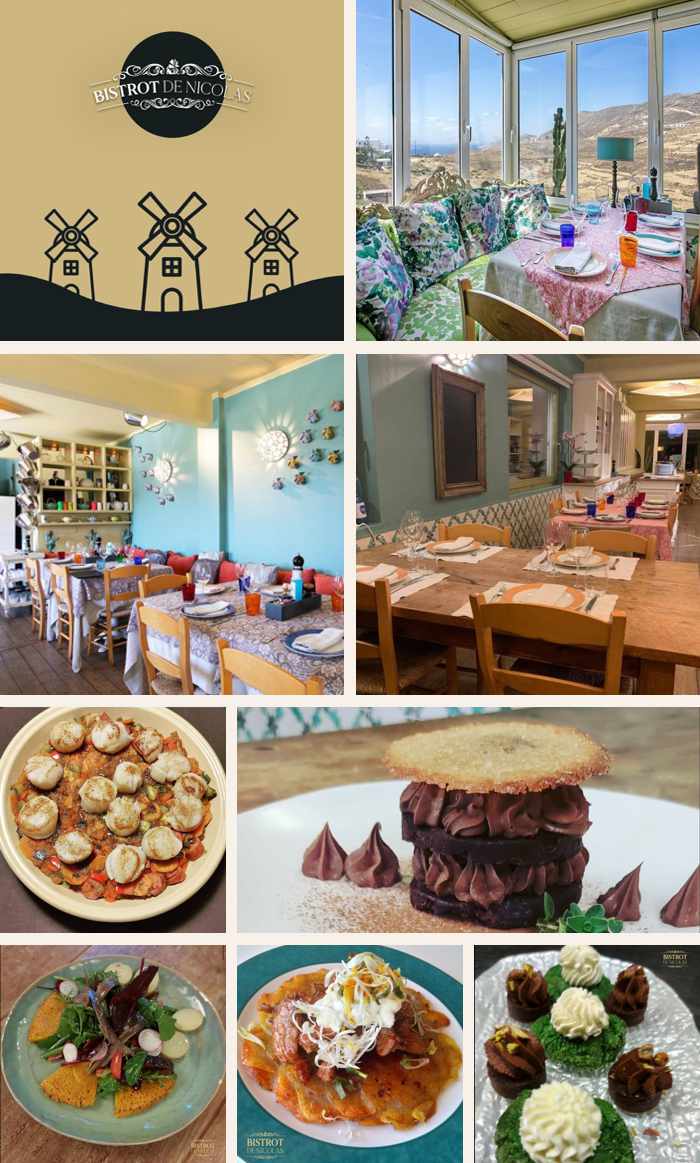 Regular Mykonos visitors will remember La Cucina di Daniele, an Italian restaurant that was a longtime favourite of locals and tourists alike, acclaimed for both its fine cuisine and its well-curated wine cellar. After it closed a couple of years ago and its premises in the Glyfada area of Mykonos became available (along the highway from Mykonos Town to Ano Mera), a chef named Nicolas acquired the space and established a bistrot that combines "modern French cuisine with the finest ingredients from Mykonian land." Bistrot de Nicolas — Vins et Gourmadises à partager (Wines and delicacies to share) was just opening its doors, and preparing to host a Vins et Mets tasting event in mid-March of 2020, when the Covid pandemic began wreaking havoc on the world economy. Acting out of a sense of responsibility towards its customers and staff, the restaurant closed its doors and waited out the pandemic's first wave, ultimately reopening  on July 2 2020 and holding its anxiously-awaited Vins et Mets event two weeks later.  For a short time last summer, and this year since June 9, Mykonos visitors have had an opportunity to enjoy the cozy restaurant atmosphere and taste Nicolas's creations, which reflect "a strong French-Mediterranean influence," yet remain "faithful to the chef's Greek roots."  (You can see dozens of the chef's amazing dishes in photos on the restaurant's social media pages.) Starting July 21, Bistrot de Nicolas is open from 6 p.m. to midnight every day except Monday.
Facebook: @bistrotdenicolas
Instagram: @bistrotdenicolas
Web: Bistrot de Nicolas
_____________________________
Hug Espresso Bar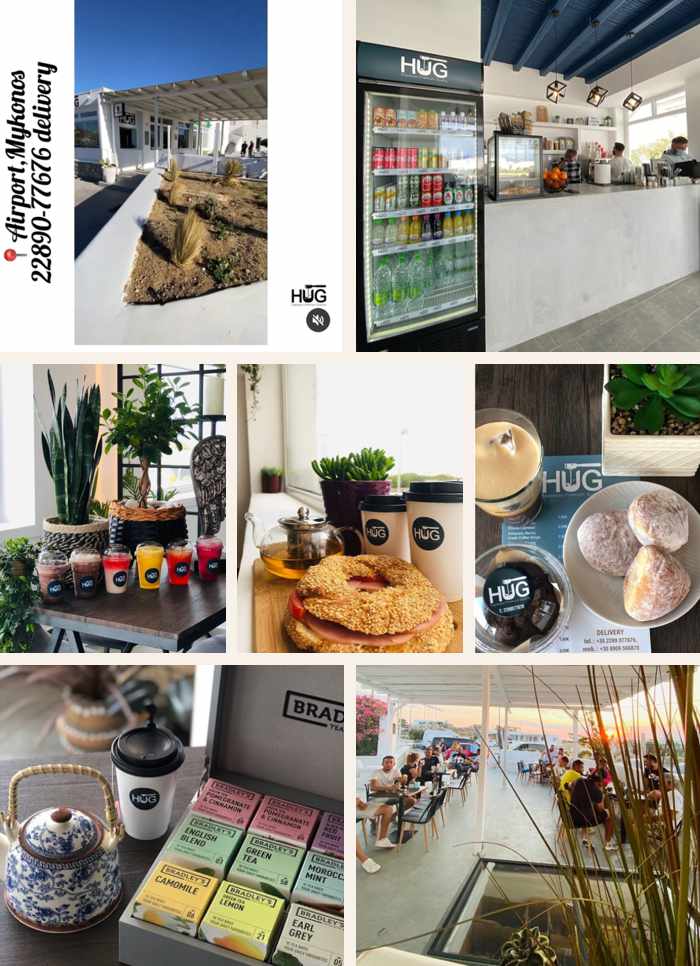 HUG Espresso Bar opened on March 6 near the Mykonos airport. It offers a selection of espresso, capuccino and other coffee drinks,  juices, Bradley's Tea, and other beverages, as well as muffins, pastries, sandwiches, and snacks. 
Instagram: hug_espresso_bar
_____________________________
Bouboulo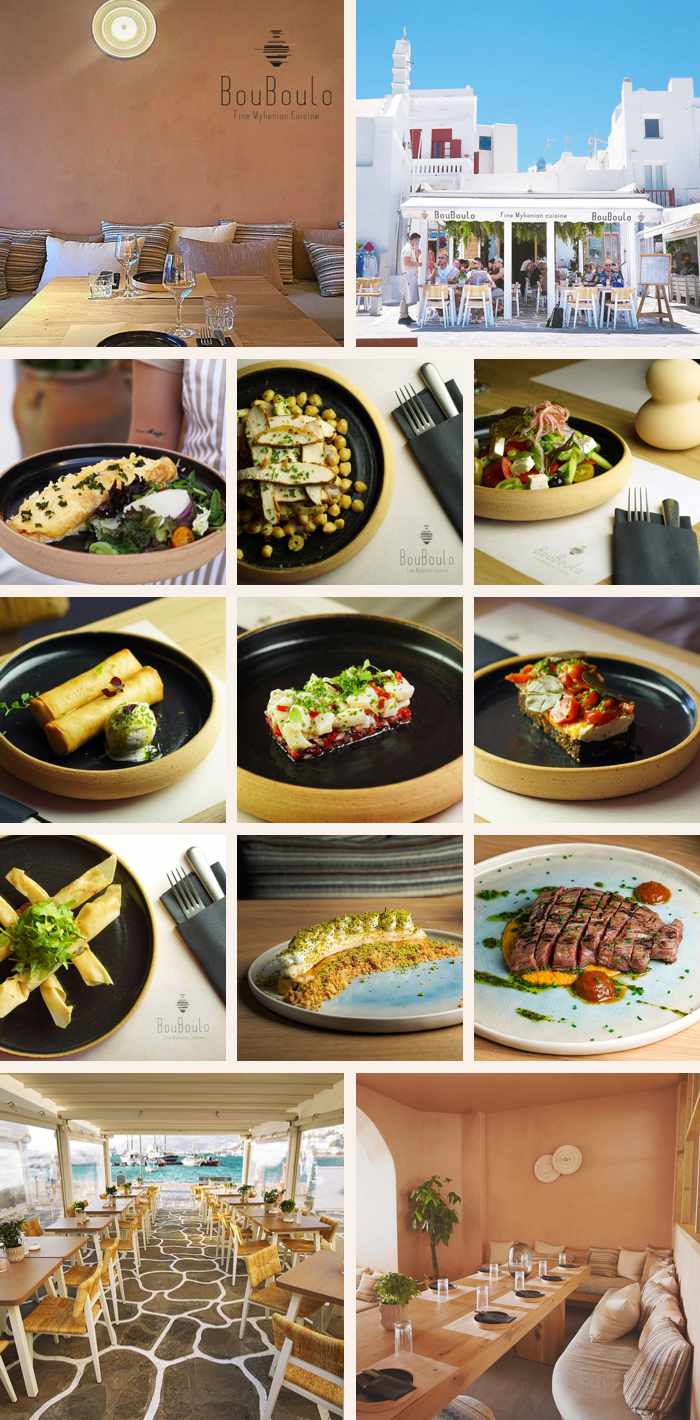 The fine Mykonian dining restaurant Bouboulo was another new arrival to the Mykonos Town harbourfront's pedestrian promenade during the shortened tourist season of 2020. A project of Greece's nice n easy hospitality group, which operates four other venues on the island (Nice n Easy restaurant, Spala, Nesaea and the SantAnna beach club) as well as several restaurant in Athens. Bouboulo opened in late July.  Like most of the eateries on the heavily-trafficked Gialos waterfront, Bouboulo is an all-day restaurant, opening for breakfast service around 9 a.m. and offering its full menu from lunchtime until late night closing. Diners on the open-air patio sit only a few meters from the harbour, enjoying views of the Old Port area. Bouboulo follows the nice n easy group's core philosophy, which can be summed up in just three words: Local, fresh, delicious.  The menu emphasizes "Mediterranean, fresh, local raw materials with high nutritional value, always supporting small producers and their products," the Bouboulo website explains.  The breakfast/brunch and all-day menus can be viewed on the Bouboulo website, along with a gallery chock full of photos of the kitchen's superbly-presented creations.
Facebook: @bouboulo.mykonos
Instagram: @bouboulo.mykonos
Web: Bouboulo Fine Mykonian Cuisine
_____________________________
Joker Mykonos
Advertised and promoted primarily, but not exclusively, to the huge market of Italian travellers who head to Mykonos for holidays every summer, Joker Mykonos is a series of exclusive dinner and party events that will be held on Monday nights during July and August at Alesta restaurant, which is located along the road from Mykonos Town to Platis Gialos beach.  Limited to only 200 people, the soirees will feature a private dinner feast with live musical entertainment, followed by dancing to music by top Italian DJs. The first Joker event is set for July 26.
Instagram: @joker.mykonos
_____________________________
Bordello Mykonos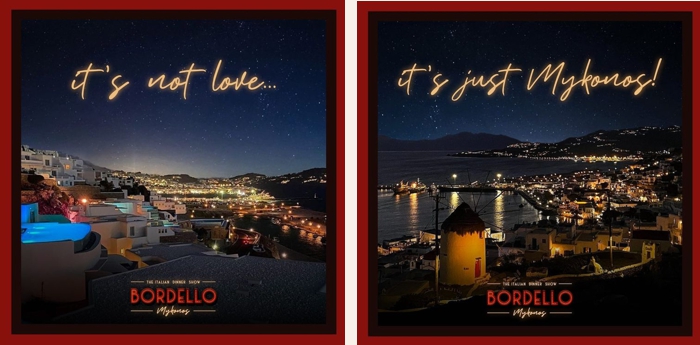 Bordello Mykonos is another series of gala dinner party events geared to Italian tourists visiting Mykonos.  The images shown above were shared on social media as a "coming soon" promotional campaign for Bordello Mykonos — The Italian Dinner Show being held during July and August at the Pinky Beach restaurant and beach club at Agia Anna/Paraga. The Bordello opening party originally had been scheduled for July 24, but had to be cancelled when the Greek government imposed temporary restrictions — including a music ban and overnight curfew — to bring a rise in Covid cases on the island under control. Those restrictions end on July 26, so the grand opening party now will take place on July 28 with a  live DJ set by Italian singer/rapper Geolier. 
Instagram: @bordellomykonos
_____________________________
Coya Mykonos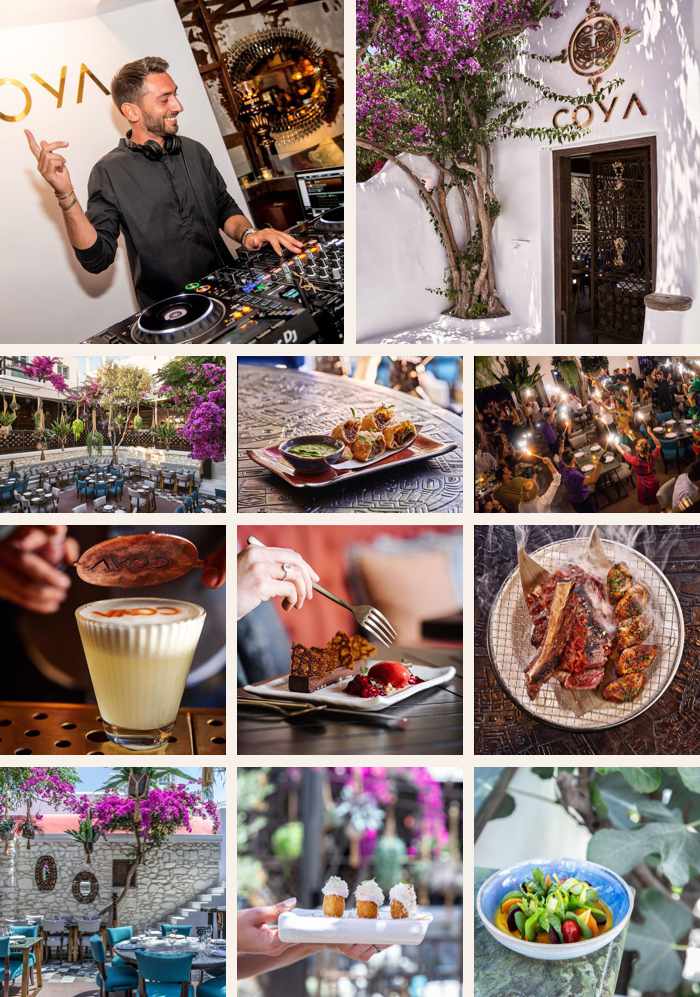 When Coya Mykonos opened in spring 2020, bringing the Coya restaurant chain's signature Peruvian tastes and spirit to the Island of the Winds, the place quickly became the most talked-about and recommended new arrival of the season. Visitors flocked for the flavourful Peruvian fusion cuisine and festive atmosphere, and to enjoy the ambience and conviviality of the Coya Pisco bars and lounge. Coya Mykonos is the first location in Greece for the London-based Coya Restaurant group, which also operates Coya restaurants in Paris, Monte Carlo, Gstaad, Abu Dhabi and Dubai. Coya Mykonos follows the restaurant chain's passion for innovative food and drink.  As the Coya website explains, "There's nothing we love more than experimenting with traditional Peruvian dishes and using Japanese, Chinese and Spanish cooking techniques to surprise and excite even the most seasoned foodie. We apply the same attitude to our award-winning cocktail list, infusing our own pisco with unexpected flavours and shaking up classic recipes with our own twists. Our menus change seasonally but you will always find ceviche, plates to share, fish and meat cooked over our charcoal grill and delicious cazuelas. Our food is naturally healthy, with plenty of vegetarian, vegan and gluten-free options. Our wine and drinks list is chosen specially to complement the unique flavours of our dishes and includes organic wines and seasonal recommendations." Sample menus for Coya Mykonos can be viewed on its website, along with contact and location details.
Facebook:  @coyamykonos
Instagram: @coyamykonos
_____________________________
Toro D'Oro – Karelas Finest Meat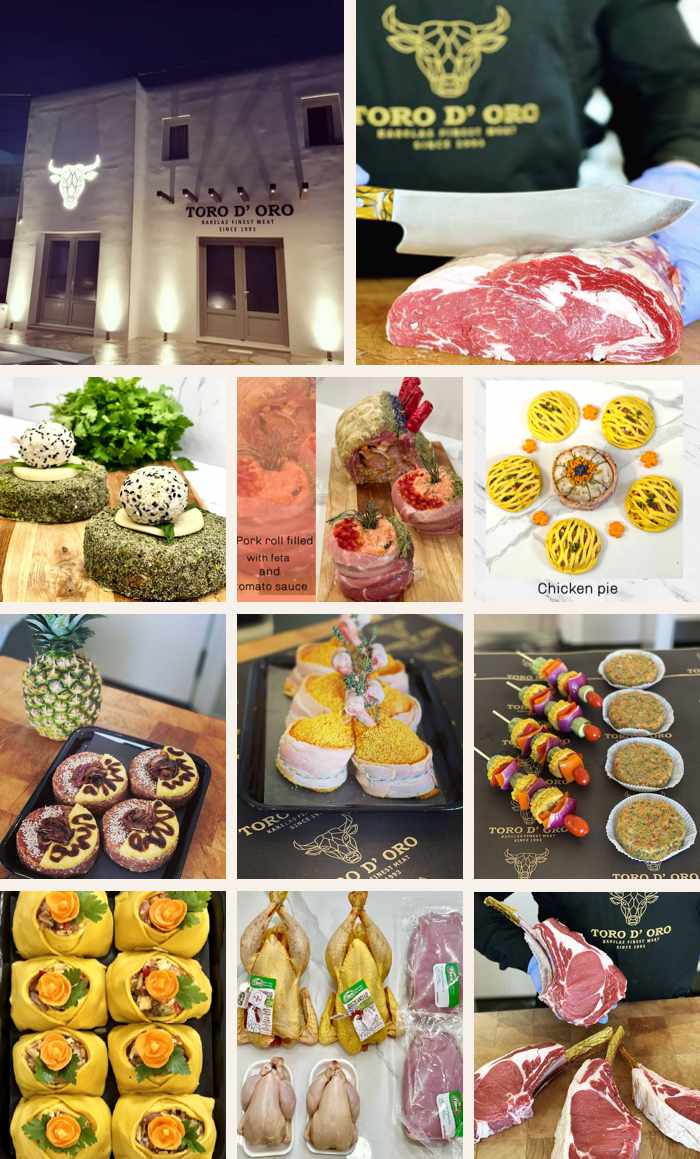 If you're planning to host BBQs or dinner parties while staying in a villa or rental home on Mykonos, Toro D' Oro Karelas Finest Meat has a selection of premium meats for your grill, as well as a selection of innovative products ready for you to pop in the oven, cook and serve. The shop, which opened on February 13,  is part of a family-owned butcher business that has been operating in the Thessaly region of mainland Greece since 1993. The company started in the city of Larissa and subsequently opened locations in Karditsa and Volos. The Mykonos shop is its first retail outlet on a Greek island. Toro D' Oro is located in the island's Vothonas district, near Veneti bakery on the road from Mykonos Town to Ano Mera. Have a look at the Toro D'Oro Instagram profile to see photos of their amazing Hawaiian beef burgers, chicken flower pocket pies, beef meatballs with crispy crust, crunchy chicken lollipops, and many more high-quality meat products. 
Facebook: Toro D'Oro Karelas finest meat
Instagram: @karelas_finest_meat
_____________________________
Mathios Tavern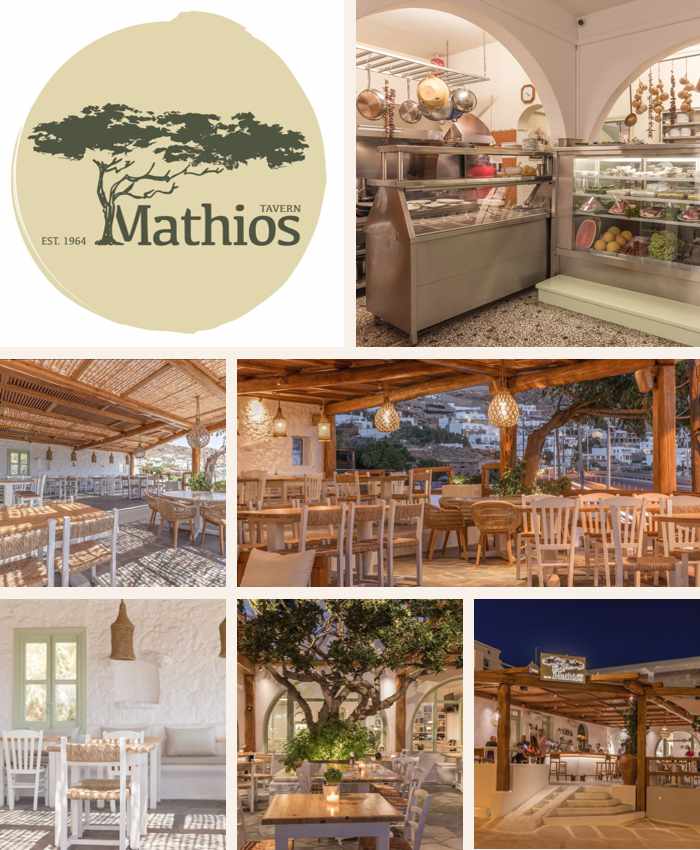 Regular Mykonos visitors will notice a new look and a new name — well, sort of — for the popular taverna across the road from the New Port at Tourlos. Mathios Tavern — previously known to travellers mainly by its English name, Matthew Tavern — has updated its appearance with a simple but traditionally-based new look and colour scheme conceived by local firm NK Interior Design.  The open-air dining patio has a bright and cheery atmosphere, and the 60-year-old tree, Aggeliki, still stands proudly as the terrace's centerpiece. Although the veranda, business name and tavern signage have been refreshed, all of the other elements that have made Mathios a successful and enduring landmark in Tourlos  — friendly service, quality products and delicious food — haven't changed. One of the few traditional and reasonably-priced travernas remaining on the island, Mathios is a convenient spot to enjoy a drink or meal before or after catching a ferry at the New Port or during a beach day at nearby Agios Stefanos. It's also worth visiting for a meal even if you're not staying in the Tourlos area during your Mykonos holiday.  (If you do go, don't just order off the menu — first, step into the kitchen to view the day's specialties in the display counters; staff will be pleased to explain how the various dishes are prepared, and make suggestions for items to try.) The tavern's social media pages feature photos of the taverna and some of its dishes, while the website includes more photos and a full menu.
Facebook: @mathiostavern
Instagram: @mathios_tavern
Web: Mathios Tavern
_____________________________
Sanctus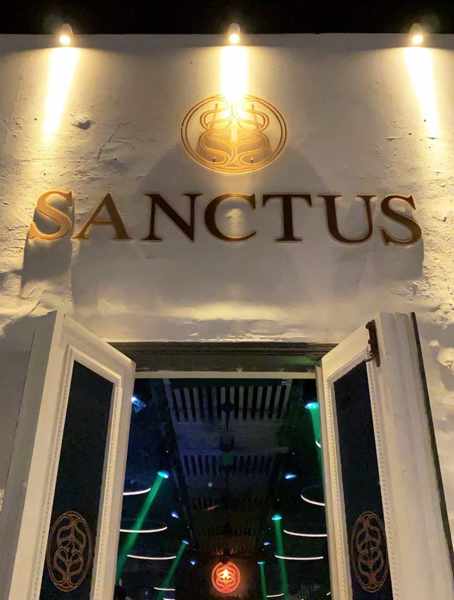 Sanctus nightclub has left Little Venice and moved to a new location for 2021 — 1 Mavrogenous Square, above Mosaic restaurant (in the premises previously home for the former Madon club).  The after-hours electronic music club operates during July and August, when such DJ acts as Brina Knauss, Mind Against, Fideles, Armonica, and Agents of Time make special guest appearances. For summer 2021, Sanctus will present Muse by Lehar & Musumeci every Thursday night.
Facebook: @sanctusmykonos
Instagram: @sanctusmykonos
_____________________________
Humano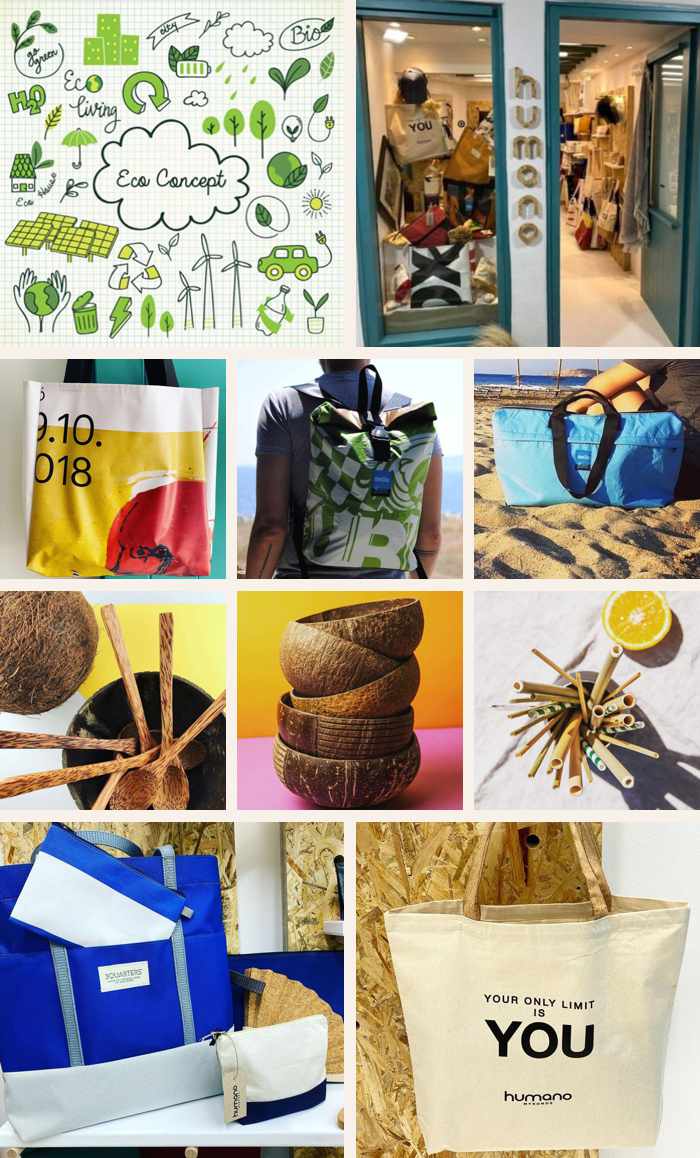 Mykonos has long been an island of conspicuous consumption and over-consumption. Celebrities and the world's weathy arrive on private jets, helicopters or megayachts; stay in sprawling villas or spacious 5-star hotel suites;  roam the island in chauffered SUVs, luxury vehicles or exotic sports cars; shop til they nearly drop in trendy fashion and jewellery boutiques; and eat and drink copious quantities of caviar, meat, seafood, champagne, and fine wines. Heavy construction vehicles rumble down the narrow Mykonos roads to building sites that add dozens of new villas and hotels each year, while the island's two reservoirs struggle to cope with the constantly growing demand for water. On Mykonos, it seems people are totally oblivious to the tremendous climate and environmental crises the world is facing.  A new retail shop in Mykonos Town is trying to change that mindset by encouraging island visitors to make more thoughtful and earth-friendly way of life choices in their buying and consumption habits. Humano sells upcycled and sustainable products for everyday use –handmade soaps and bamboo toothbrushes; coconut bowls and cutlery; recycled paper notebooks; and handbags, beach bags, carry-alls and backpacks made from cotton or repurposed fabrics from awnings, street banners, and windsurfing sails.  The store's founders and staff, all of whom are passionate about reuse and recycling and respect for the environment, hope their eco-friendly products might be the small push that gets more people to make significant reductions in their consumption of unsustainable goods.  You'll find Humano at 8 P. Drakopoulou Street, just a short stroll from the Mykonos Town harbourside promenade.
Facebook: @humanomykonos
Instagram: @humanomykonos
_____________________________
Shops at the Argo Hotel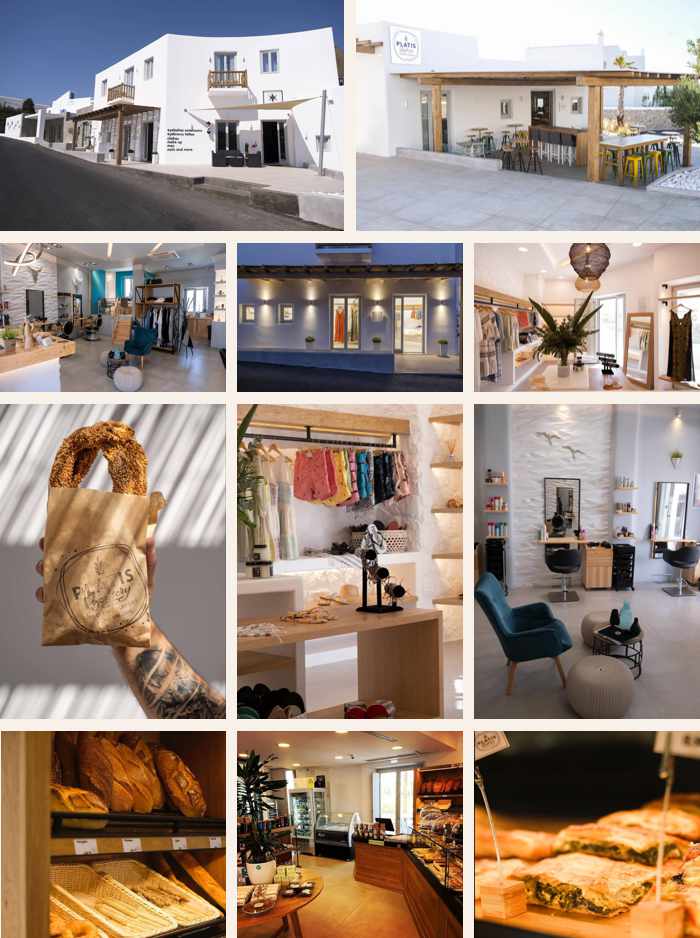 Over the past couple of years, the much-in-demand Argo Hotel at Platis Gialos beach has enhanced its property by renovating its interiors and adding a new wing of well-appointed suites. At street level, the hotel created space for retail services that have long been in demand but hitherto unavailable at the increasingly popular family-oriented resort area. Open in time for the abbreviated 2020 tourist season, the new establishments — Breezy fashion boutique; a hair, nails and aesthetics salon; and Platis Bakery — were an instant hit with visitors. Platis Bakery quickly became a go-to spot for beachgoers to grab a breakfast, lunch, coffee or snacks, while travellers staying in self-catering accommodations nearby found it convenient for stocking up on breads, rolls, spinach pies, desserts and fruit for their kitchenettes. Bakery customers can either take their food selections to the beach or back to their accommodations, or dine at tables on an open-air patio outside the shop. Breezy Boutique offers a selection of casual clothing andsummer fashion accessories, while the salon offers hairstyling and nail treatments for women and men, along with makeup, eyelash extensions and eyebrow tattoos, among other services. This year, the three shops were joined by another eatery, Platis Souvlaki, which we profiled on page 1 of this post.
Facebook: PlatisBakery
Instagram: @platisbakery
Web: Argo Hotel Mykonos
_____________________________
Bistro dei Cavalieri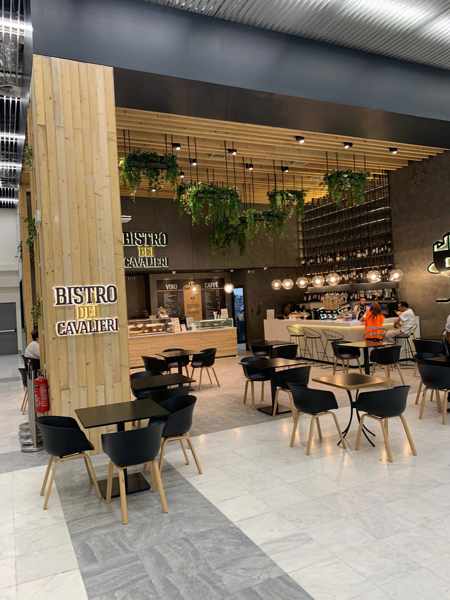 The fully-renovated Mykonos International Airport terminal now has a hip new restaurant where flyers can enjoy quality Italian cuisine before a flight — or immediately after arrival on the island. Bistro dei Cavalieri is a traditional Italian bistro decked out in a stylish contemporary decor with modern furnishings designed by ENKA Moisiadis of Thessaloniki (click on the link to see more photos of the restaurant).  The bistro's Mediterranean menu includes handmade pizza cooked in a wood burning oven; panini; and fresh pasta. The restaurant also has a coffee and wine bar where travellers can select from a variety of Italian and Greek wines as well as premium specialty coffee drinks.
_____________________________
Γρηγόρης (Gregorys)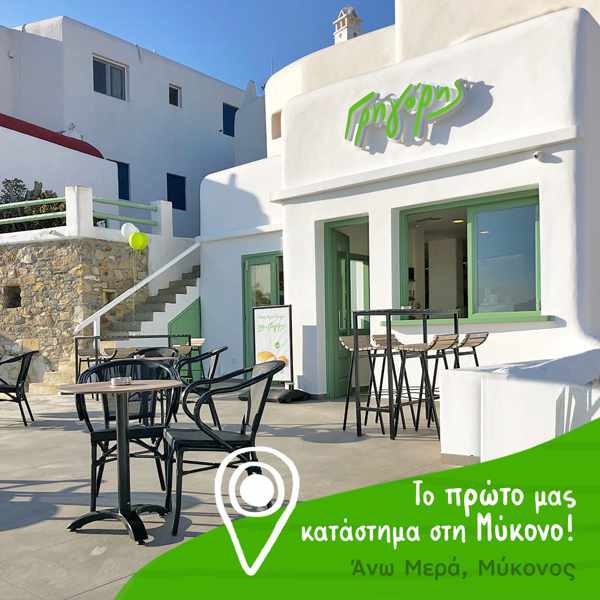 The Γρηγόρης (Gregorys) cafe chain has opened its first outlet on Mykonos. The store sells coffees, smoothies and other beverages, as well as sandwiches, salads, snacks and desserts. The Mykonos Gegorys cafe opened in March in Ano Mera. 
_____________________________
Starbucks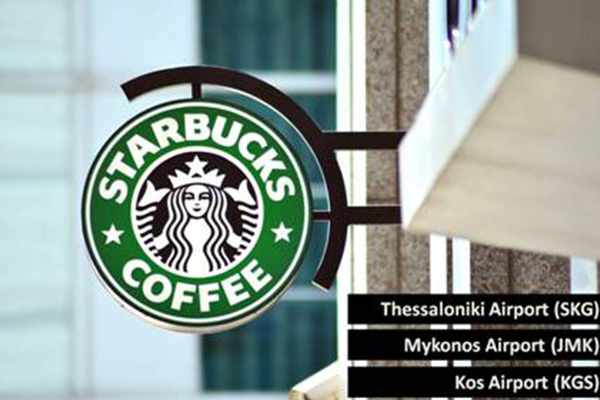 Good news for Starbucks fans: The coffee chain has opened a service counter in the new terminal building at Mykonos International Airport. It's the second Starbucks outlet to open on Mykonos. The first, a full-service location with an outdoor patio, is situated along the peripheral road in the Drafaki district above Mykonos Town and has been operating for about 15 years. 
_____________________________
Cantina Mykonos — New Port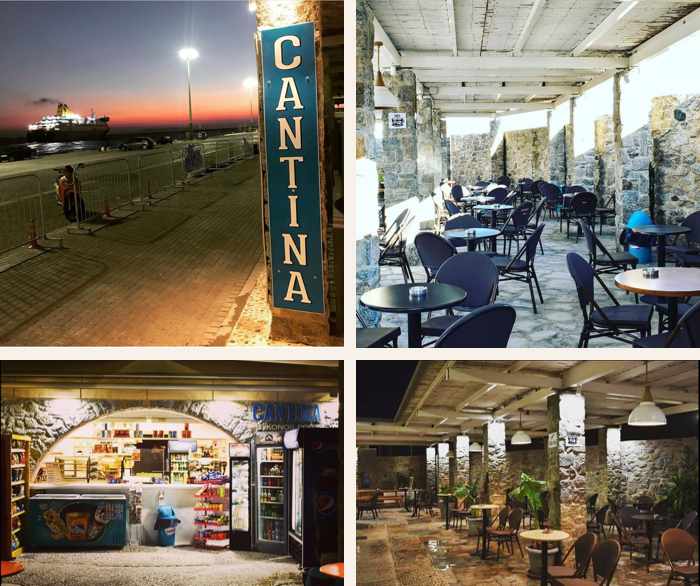 Mykonos visitors arriving or departing by ferry can now grab a drink, snack or meal right at the New Port, without having to venture into the nearby Tourlos area to dine at one of the restaurants and tavernas situated along the road to Mykonos Town. Cantina Mykonos — New Port opened in spring 2020, but reduced travel during the pandemic meant few tourists got to discover the place last summer.  It offers a wide selection of snacks, pastries and desserts, as well as hot and cold drinks,  coffees and alcoholic beverages.  Traditional Greek treats like cheese and spinach pies are available, too. The Cantina has customer seating in open-air and sheltered patios,  and free wi-fi Internet is provided . The Cantina also offers  luggage storage– a  service previously available only in Mykonos Town. This makes it convenient for people killing time between ferry connections to visit nearby Agios Stefanos or take the SeaBus to town for a walkabout there. The restaurant also has free parking — a plus for people driving to the port to pick up friends and family.
Instagram: @cantinamykonosnew_port
Web:   Cantina Mykonos
_____________________________
Farm n Sea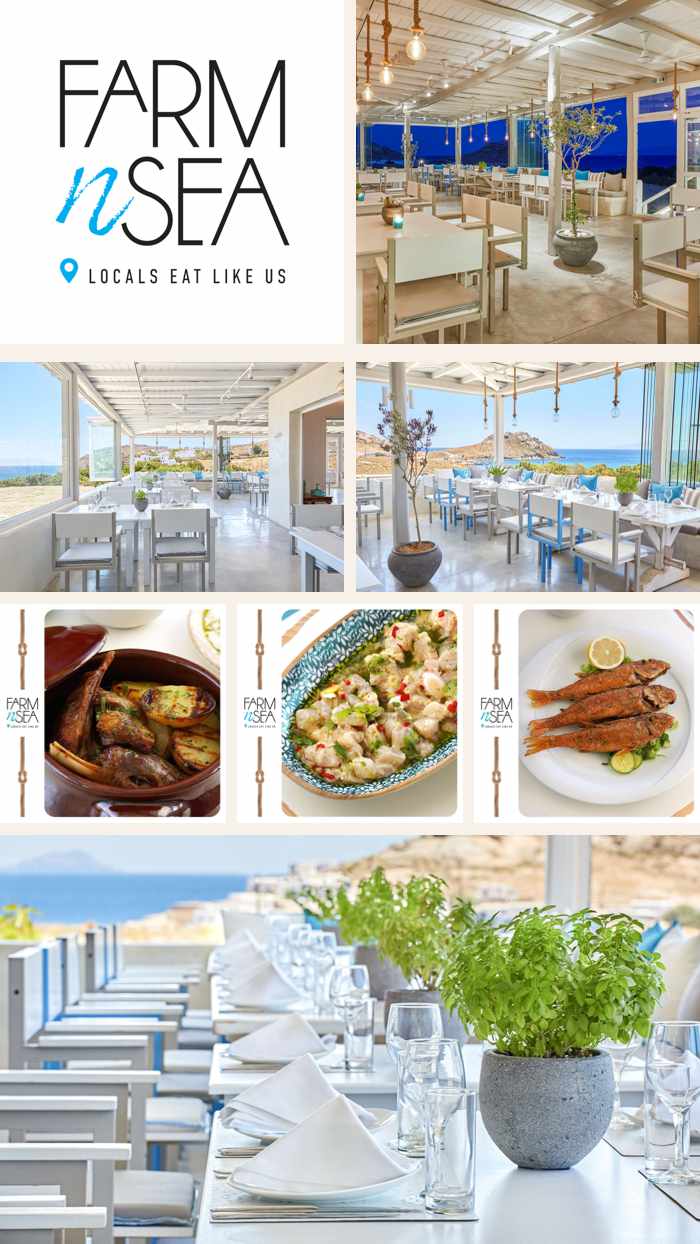 Visitors looking for Nesaea restaurant near Kalafatis and Agia Anna beaches will find it operates under a different name and branding this year. The restaurant is now named Farm n Sea, and proudly proclaims in its promotions that "Locals eat like us." But the bright, casually elegant premises haven't changed, nor has the restaurant's guiding philosophy of "farm-to-table sourcing of the finest local and seasonal ingredients."  In a recent social media post, Farm n Sea summed itself up in this succinct description:  "Cycladic architecture, idyllic scenery, calm and discreet environment, true Myconian flavors."
Facebook: @FarmnSeaMykonos
Instagram: @farmnseamykonos
_____________________________
Marisso Hotel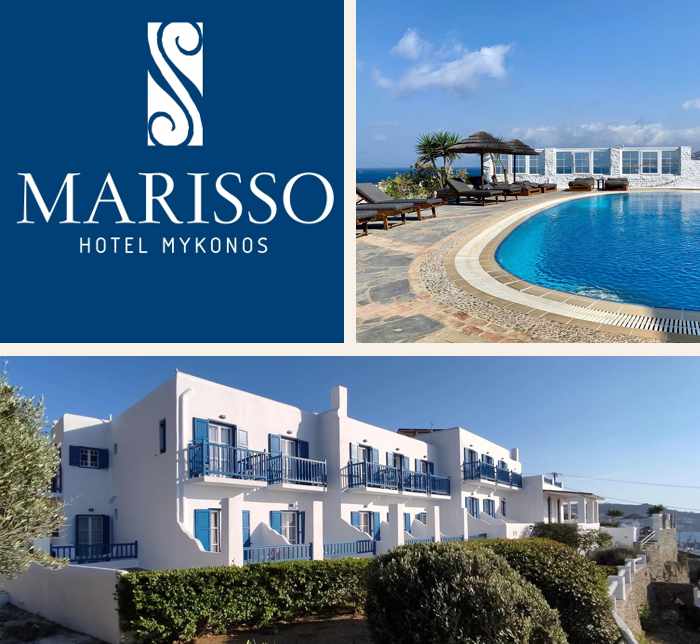 Also sporting a new name this year is the Mykonos Town hotel formerly known as Little Rohari — for 2021, it has been rechristened as Marisso Hotel. In operation for 30 years, the hotel hasn't changed its acclaimed hospitality and friendly service, and still offers "a relaxed and peaceful haven overlooking Mykonos Town, the Aegean sea, and the neighboring islands." Situated on a hillside just a short stroll from the bustling commercial center of Mykonos Town and the Fabrica Square bus depot, the Marisso offers a private swimming pool for guests who can choose from a selection of reasonably-priced double rooms, some with sea view, and others with garden view, as well as a triple room with garden view. 
Facebook: @MarissoHotel
Instagram: @marissohotel