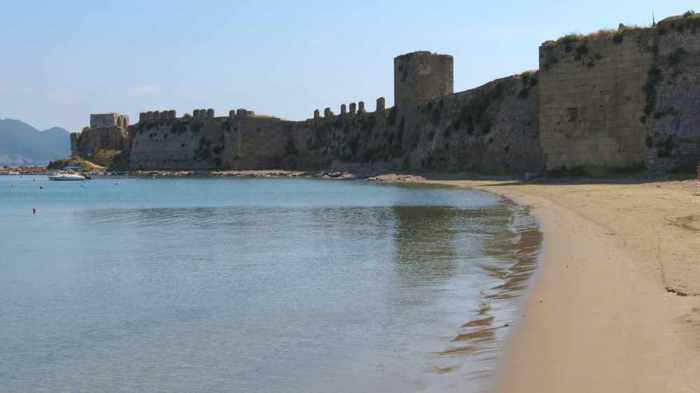 Our lunch at Akrogiali Taverna in Methoni was served with three lovely views, including the historic Methoni Castle to our right …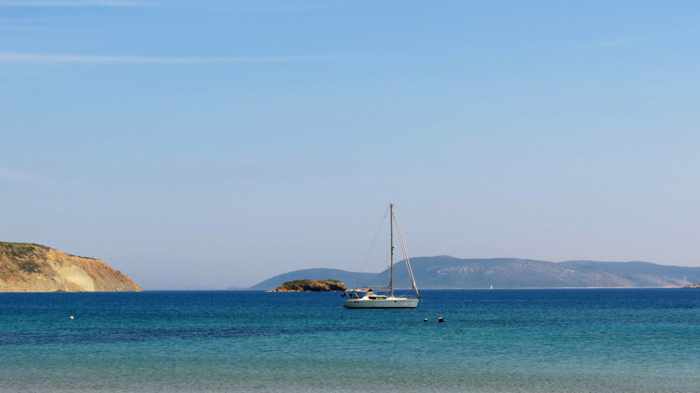 … Methoni Bay and Sapientza Island directly in front, and …
… the golden sands and turquoise waters at the town beach to our left
Seaside dining: It was a huge treat to have lunch in the town of Methoni after visiting the area's leading historic attraction for a few hours (which I described in my recent post,  A Walkabout in Messenia's 800-year-old Methoni Castle).
What made our lunch break so special wasn't just our feast on fabulous Greek fare, but the beautiful views we got to enjoy from our seaside seats at Akrogiali Taverna. From our table a mere meter from the water's edge, we could gaze at Methoni's golden sand beach, its picturesque bay and small harbour, and the imposing stone walls of the ancient castle. 
That kind of restaurant location and scenic backdrop is simply impossible to find anywhere back home in Toronto. Even though our city boasts an enviably long waterfront on Lake Ontario and a clutch of small islands with extensive parkland just a short ferry ride from downtown, we can't dine right beside the water anywhere (not even on the Toronto Islands), and there are no centuries-old historic places along the shoreline. (Toronto is a young city by European standards — it was incorporated only in 1834).
The unique experience of open-air dining at a beach or seaside taverna with a scenic view is one of the main reasons why we love travelling to Greece so much, and our visit to Akrogiali was the first such meal of our 2017 spring holiday.  It really hit the spot given that it had been over 11 months since we had last been to a beach taverna.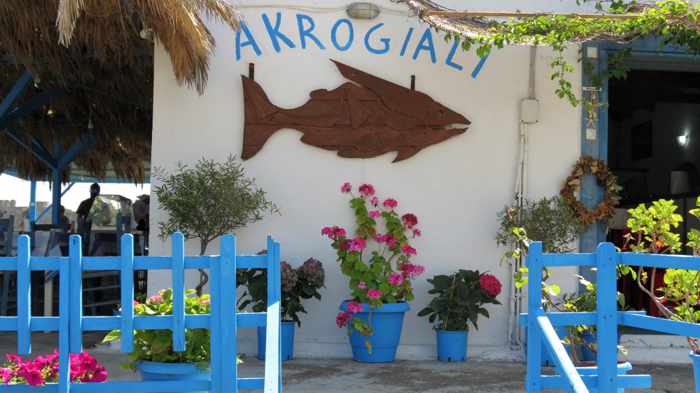 Beach view of the entrance to Akrogiali Taverna
After walking around Methoni Castle in the hot sun for more than two hours, and then strolling through part of the town of Methoni, we were looking forward to cooling off in the shade and having a good lunch. We found a couple of options on the Methoni beachfront, but liked the look of Akrogiali the best, so we got a table there.
Our lunch was just as delicious as the scenery: Greek salad, gigantes (giant beans baked in a tomato sauce), kolykythokeftedes (zucchini fritters), piperies me tyri (grilled peppers stuffed with a spicy feta), keftedes (Greek meatballs), a platter of gavros (small grilled fishes) and a big plate of fried potatoes.
With the calming views, light sea breeze and the sound of waves lapping against the sandy beach, it was pure bliss. I would have been happy to spend the rest of the day there, drinking wine and nibbling mezes while watching swimmers and boats in the bay, and looking at the castle.
Below are more photos of our lunchtime view and three of the dishes we enjoyed. If you would like to read what other people have thought of the restaurant, you can find more than 100 reviews under the Akrogiali Taverna listing on TripAdvisor.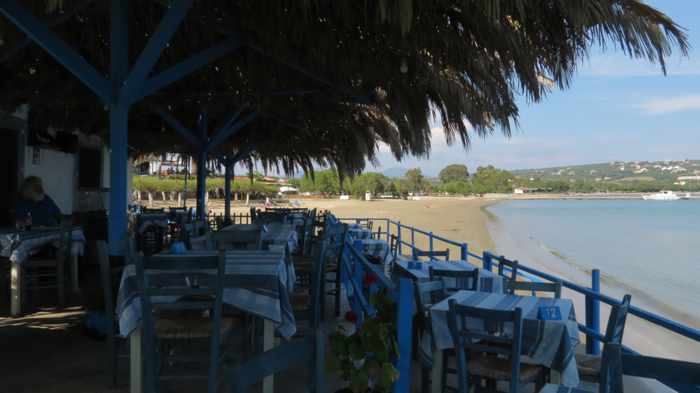 Part of the large open-air dining terrace at Akrogiali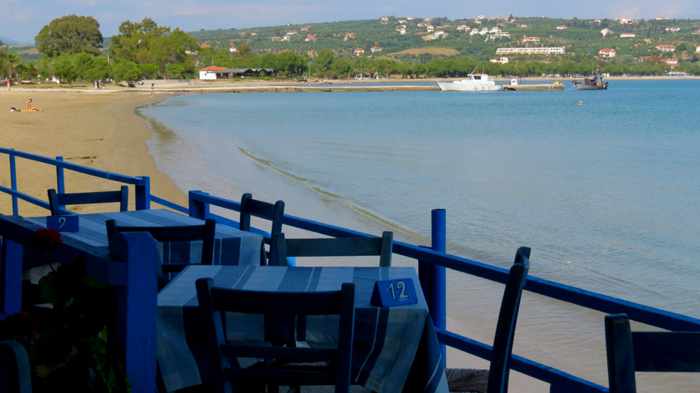 Tables along the edge of the patio offer unobstructed views of Methoni beach and bay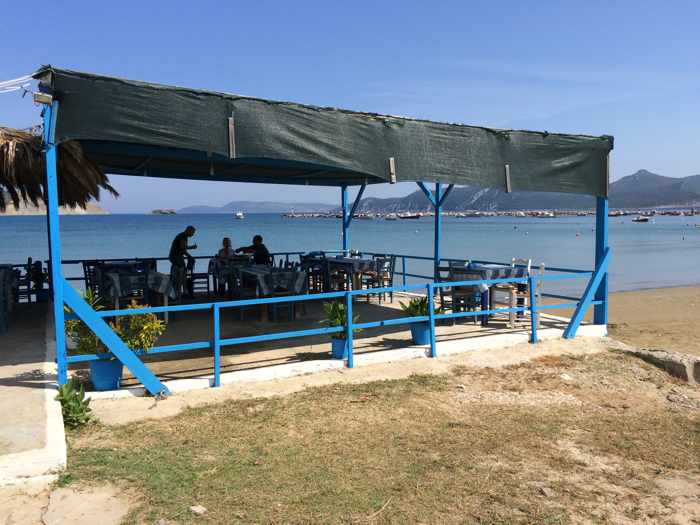 Side view of part of Akrogiali's large, shaded patio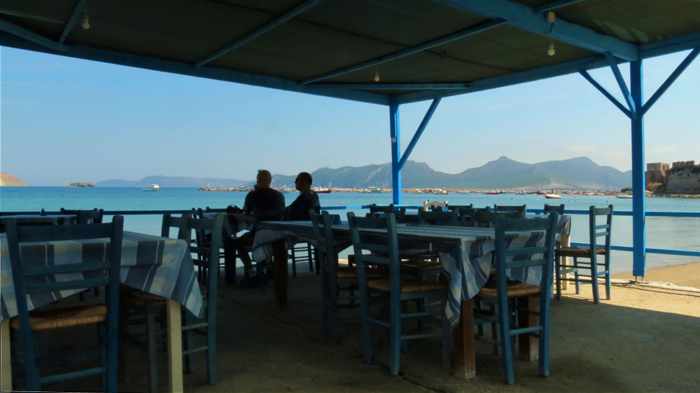 The taverna is less than a 5-minute walk from the Methoni Castle entrance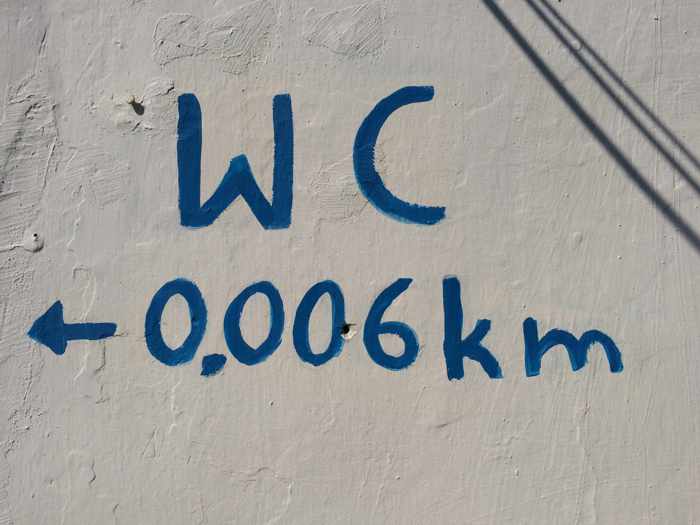 Toilet humour: a sign on the taverna wall points the way to the restrooms. They were only 30 steps from our table.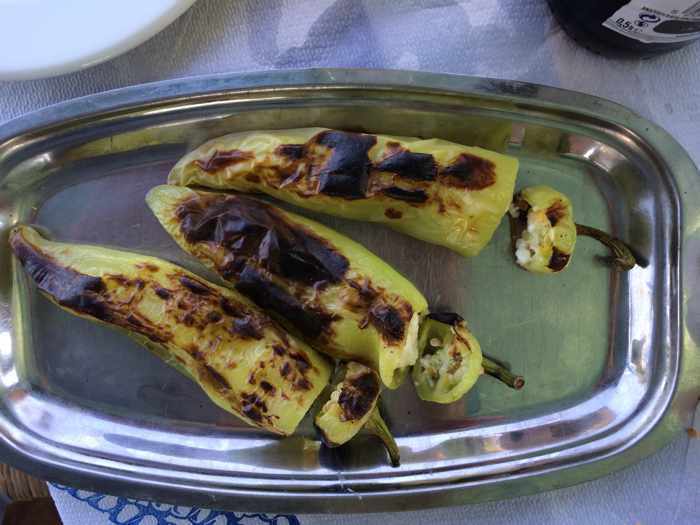 The piperies me tyri (grilled peppers stuffed with a spicy feta cheese)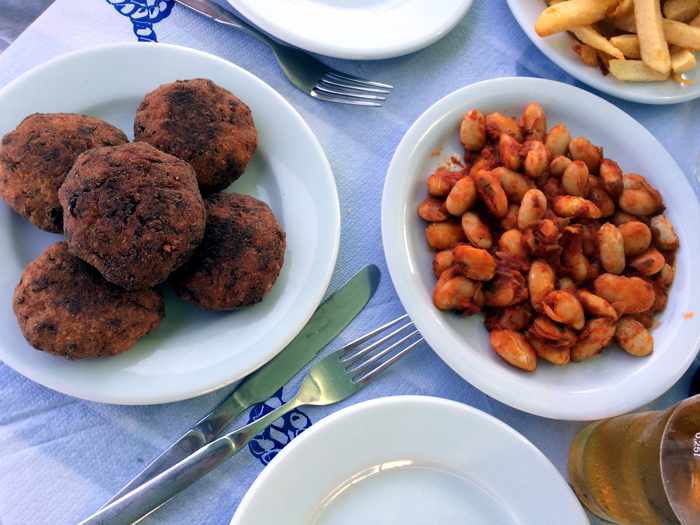 Kolykythokeftedes (zucchini fritters) and gigantes (giant beans)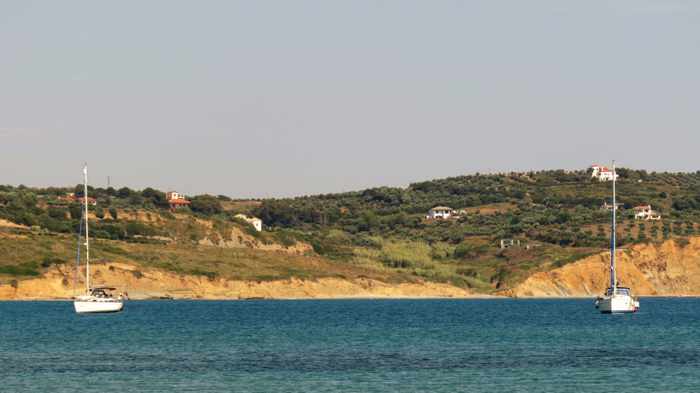 Sailboats in Methoni Bay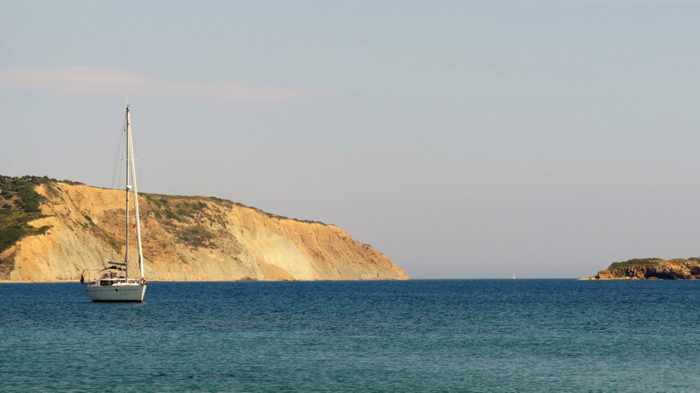 View toward the mouth of the bay and Kouloura islet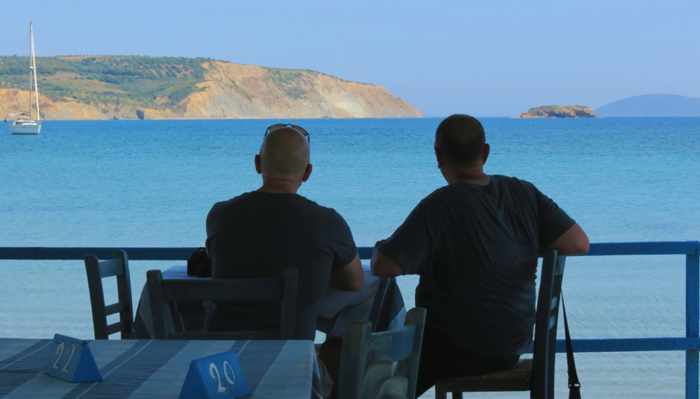 Customers enjoying the view from Akrogiali's patio