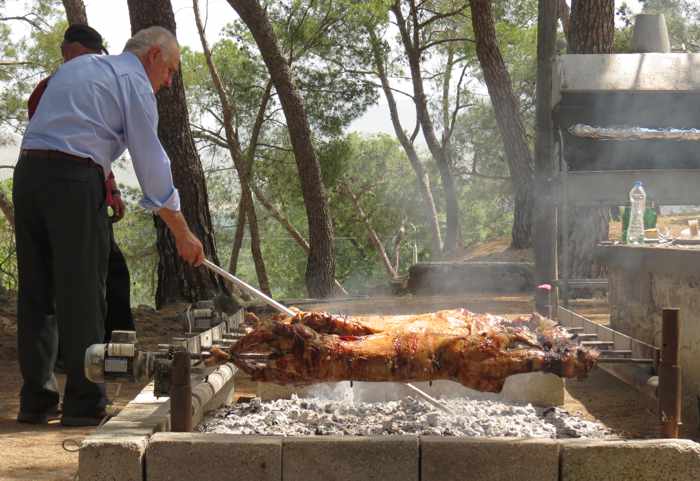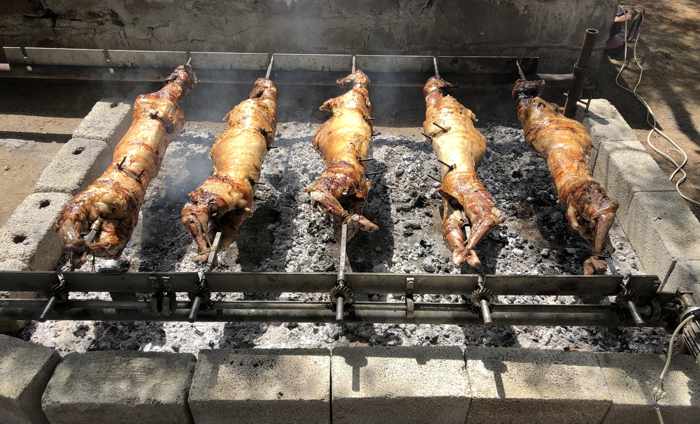 Staff at Delfinia Hotel in Molyvos roast lamb on the spit — the main course for the hotel's special Greek Easter holiday meal in 2019
Memorable meal: Today — Sunday, April 19, 2020 — is Easter in Greece, the country's biggest and most important holiday event of the year. Last year, we got to celebrate Greek Easter for our first time ever while vacationing on Lesvos island. Although it was only 12 months ago, it feels much, much longer, since time seems to have slowed to a crawl during the ongoing Covid-19 pandemic.
We were staying at Delfinia Hotel & Bungalows in Molyvos at the time, and jumped at the opportunity to enjoy a traditional Greek Easter meal that the hotel was hosting on its open-air, seaview breakfast patio. 
It cost us €25 each, an absolute bargain for the excellent quality and splendid variety of delicious food that was served. Amidst all the hustle and bustle of the afternoon feast, we managed to snap a few photos of some of the delightful dishes we enjoyed, and have posted them below.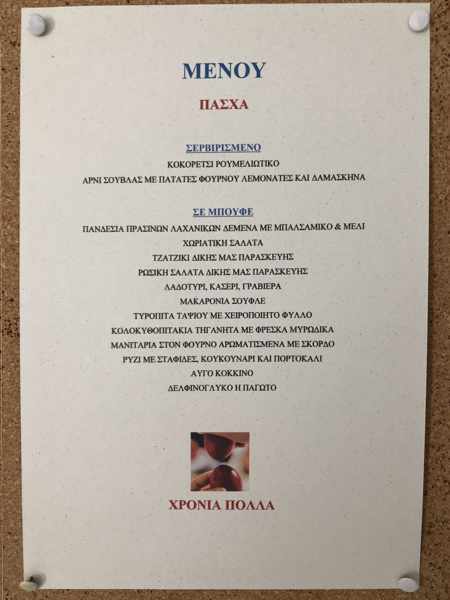 The menu for the Delfinia Hotel's Greek Easter meal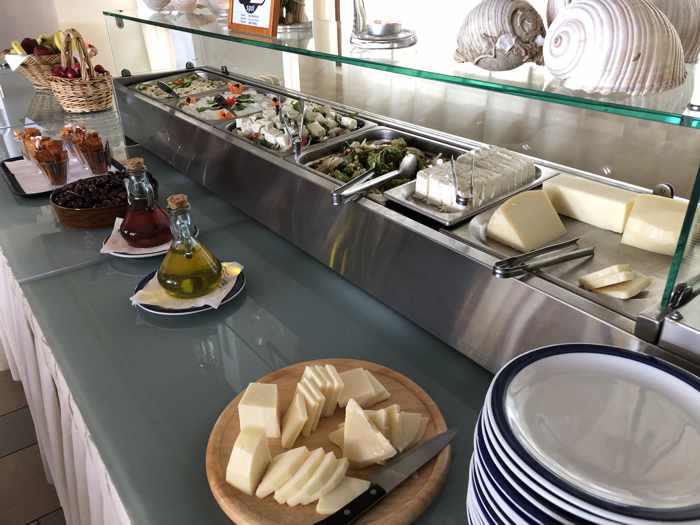 Two views of the wonderful salad and cheese selections on the buffet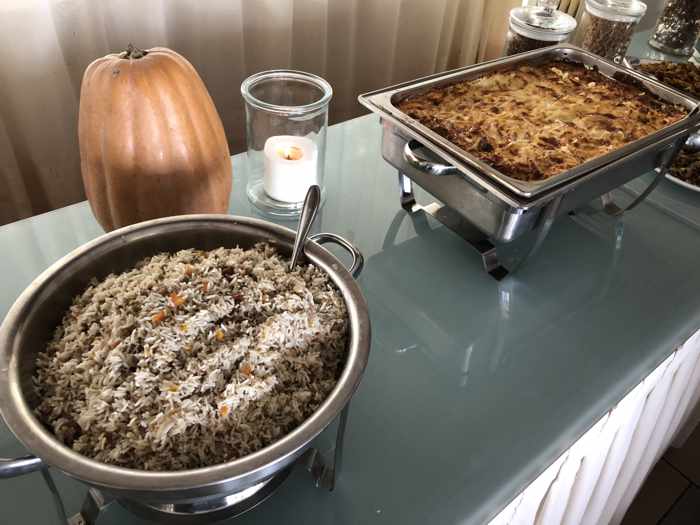 Rice and baked pasta side dishes on the buffet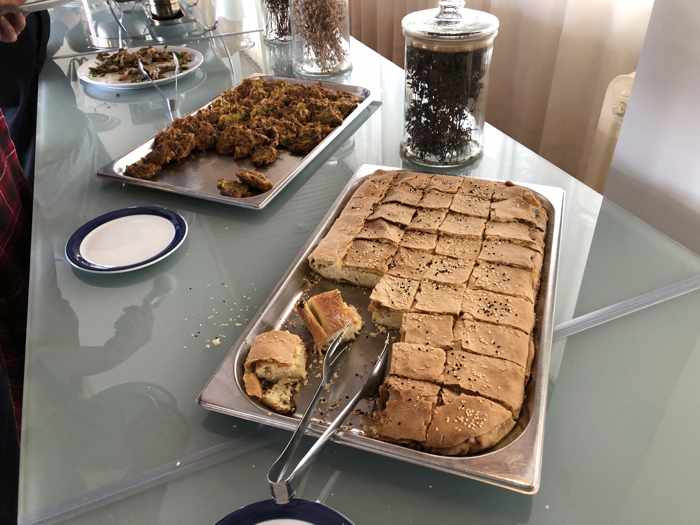 Three of the side dishes:  mushrooms (top), zucchini fritters (center) and cheese pies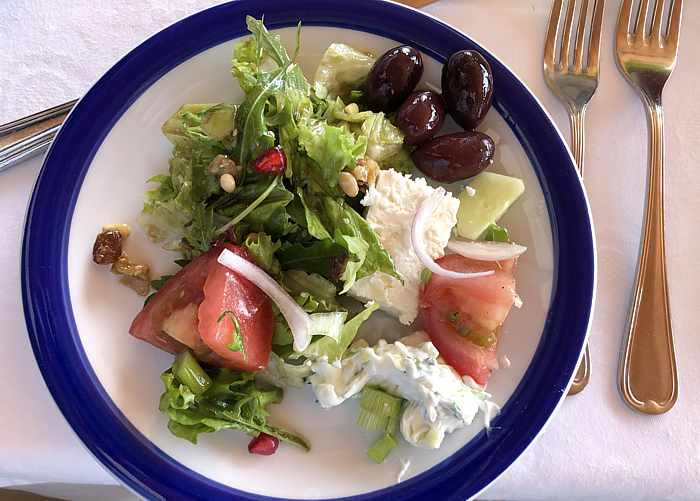 We started the meal with a Greek salad, olives and tzatziki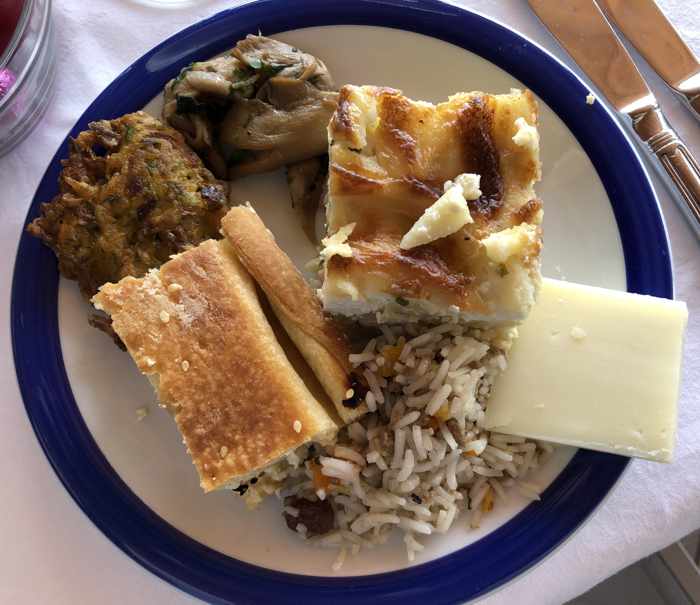 Next up was a plate of yummy baked pasta, cheese, rice, cheese pie, zucchini fritter and mushrooms (all so delicious, we went back to the buffet for seconds)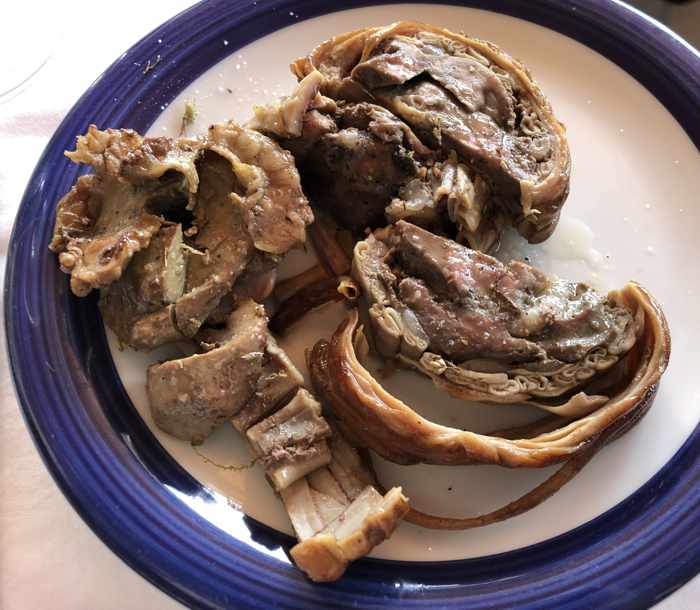 The first main course was a large serving of kokoretsi. If you love organ meats, you would love this spit-roasted traditional dish.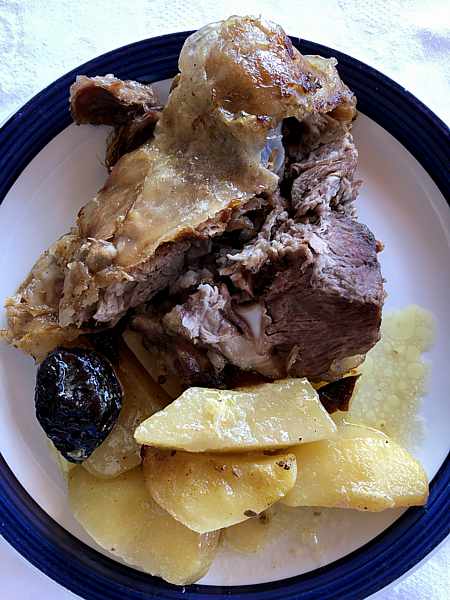 The centerpiece of the meal: spit-roasted lamb with roasted potatoes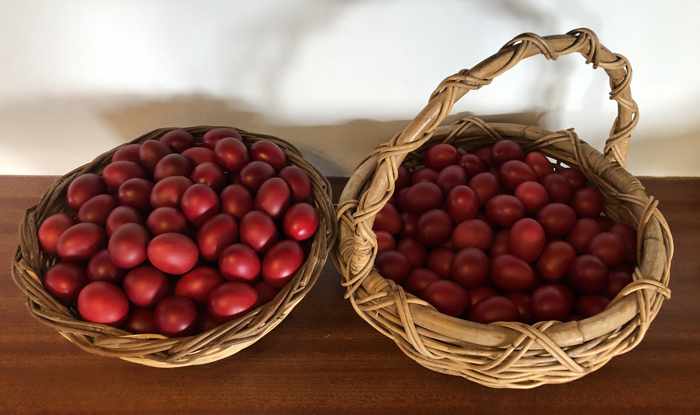 Baskets of red-dyed eggs for the Easter game of tsougrisma 
The buffet  included an array of mouth-watering Greek sweets and pastries, which we unfortunately forgot to photograph before devouring them.
The afternoon feast lasted a few hours, following which we took a long walk through Molyvos to get some exercise and work off some of the gazillion calories we had just consumed. [Click here for links to previous blog posts in which we have published photos from our walkabouts in the beautiful town of Molyvos.]  
Greek Easter won't be the same this year because of social distancing rules and lockdown restrictions in Greece during the Covid-19 pandemic, so there won't be any group festivities like the one we enjoyed at Delfinia Hotel. With luck, though, things will return to normal for next year and, with even more luck, we might get an opportunity to experience another wonderful Easter meal in Greece.