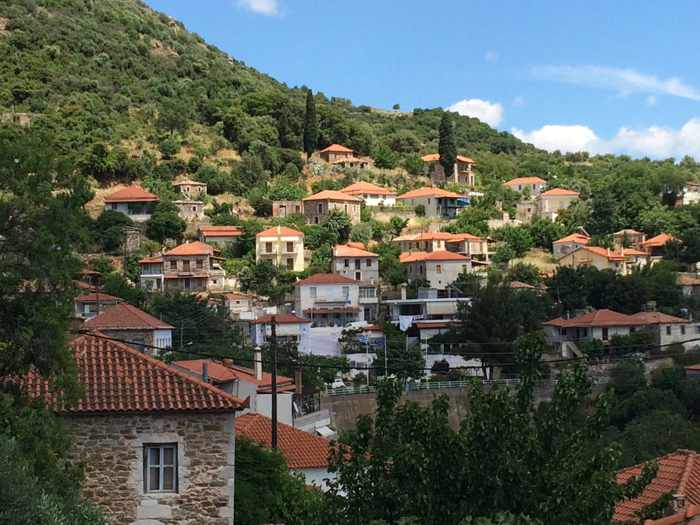 Houses in Mavromati, on the lower slopes of Mount Ithomi.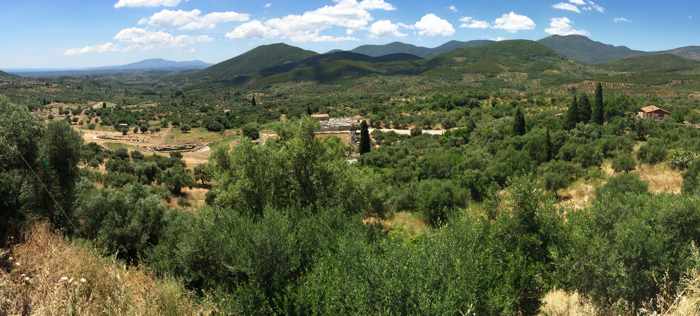 The view from the main road in Mavromati
Verdant vistas: First stop on our spring holiday was Mavromati, a small mountain village that overlooks the historic archaeological site at Ancient Messini.
Although we spent less than 24 hours in the village and nearby area at the beginning of a road trip through the western Peloponnese, we were impressed with what we got to see and experience — as I described in my previous post, Admiring the Arcadian Gate.
Just as enjoyable and memorable were the beautiful views and landscape scenery at Mavromati.
From a variety of vantage points in the village as well as from our balcony at Messana Hotel, we loved looking at the verdant vistas that spread out below us. There was much to see: the sweeping views included tree-covered mountains and rolling hills, the historic ruins of Ancient Messini, and a valley extending all the way to the coastal city of Kalamata,  30 kilometers to the south. We could even glimpse the Messenian Sea.
This Google map pinpoints the location of Mavromati and Ancient Messini in the western Peloponnese region of Greece
Please turn to page 2,  where I'll show and tell you more about Mavromati.
CONTINUED ON PAGE 2