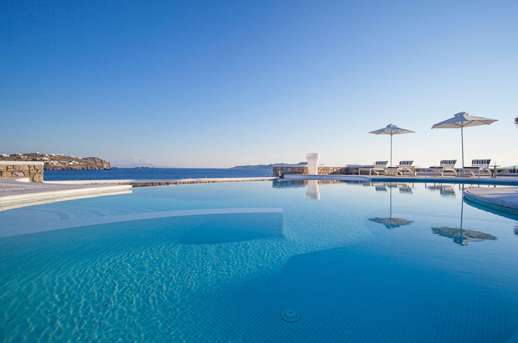 The gorgeous seaview swimming pool at De.light Boutique Hotel looks oh-so-inviting in this photo from the hotel website. De.light is among numerous Mykonos resorts currently offering early booking deals for summer travel.
Reserve now: If you plan to visit Mykonos this summer, consider booking your accommodations as soon as possible to get a good deal on the price — and ensure you get to stay at the hotel of your choice.
On New Year's Eve, a travel tip entitled 5 things smart travelers should do in January caught my eye on the Condé Nast Traveler magazine website.  Item #5 recommended reserving summer hotel rooms on Mykonos and Santorini now to take advantage of early-booking bargains.
The article quoted Leftheris Papageorgiou of St Paul Minnesota-based Hellenic Adventures as saying this is the time of year many hotels on the two hugely popular Cycladic islands offer special promotions. "Not only will you get your top pick of hotels, but you'll get them at a reduced rate," he said.
Mykonos popular on travel website searches
But there's another good reason to reserve soon — rooms at your preferred hotel could sell out quickly. Mykonos recorded one of its best-ever years for tourism in 2014, and the island's popularity could soar even higher this summer.
In fact, Mykonos ranked in the world's top 5 travel destinations for 2015 in data analyzed by Skyscanner, one of the major travel search engines. Additionally, Skyscanner found that Mykonos was the #2 most-searched destination for Australians, and #3 for travellers in the United Kingdom. (People around the globe conduct more than 30 million searches per month on the travel site. Working with trend forecasting firms, Skyscanner studied its treasure trove of data to predict the top places in the world "to be and be seen in 2015.")
And just a few days ago, The Huffington Post singled out Mykonos and Santorini when it ranked Greece #4 in its Top 15 International Destinations for 2015. "These magnificent islands are every bit as gorgeous, romantic, laid back, and fun as any place you can find on earth. There's Mykonos for romance, Santorini for breathtaking beaches, Crete for natural wonders, and so much more to discover." the Huffington Post explained.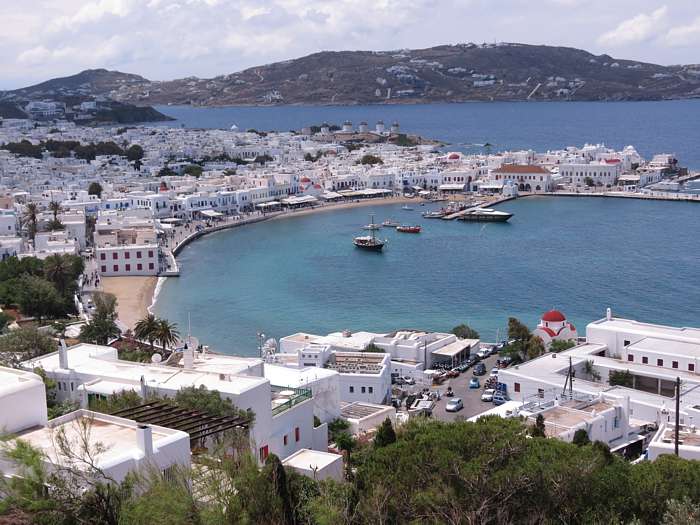 A view of Mykonos Town and its harbour area. The Skyscanner travel search website has predicted that Mykonos will be one of the world's top 5 travel destinations in 2015.
Random search for bargains at Mykonos hotels
To see if early booking bargains are indeed available right now, I randomly checked websites for dozens of hotels on Mykonos (sorry, Santorini fans — I just didn't have the time to check hotels on that island, too). I discovered that many sites don't explicitly indicate if any special promotions are available at all, while several still advertise early booking deals for last year. Quite a few sites have banners or navigation menus promising "special offers," but the links took me to blank pages or basic online booking forms that didn't indicate rate reductions. Clearly, many hotels haven't updated their webpages in a long time! But with tourist arrivals expected to be strong on Mykonos again this year, I'm sure many hotel proprietors won't need to offer discounts to fill their rooms. Nevertheless, I did find deals for certain room categories or specific travel dates indicated on the websites for several popular hotels and resorts.
What follows is summary of promotions I discovered during my random survey, listed by island location. If you're interested in a different resort on Mykonos or any other island, for that matter, carefully check their websites for mention of early booking bonuses. If you don't see any deals advertised, email or telephone the hotel to inquire if any benefits are available if you book now. It never hurts to ask, and many Greek hotels will be pleased to provide discounts if you reserve directly with them rather than through one of the major online third-party booking agencies.
Please click on the link below to continue reading on page 2 of this post.
CONTINUED ON PAGE 2