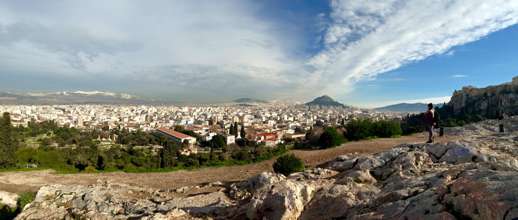 Central Athens as seen from Mars Hill near the Acropolis, in a photo by Athens Walks. Click on the image to view a full-size version of the photo.
View from the hill: My friends at the Athens Walks tour company captured this exhilarating view of Athens last Saturday (January 3 2015).
Shot from a vantage point on Mars Hill near the Acropolis, the image was posted to the Athens Walks Facebook page shortly before 8 in the morning, with the caption: "Winter Athens is so cool! -2 C this morning." Brrr!
But even though it may have been bone-shivering cold on that crisp sunny morning, travel experts consider Athens one of the world's hottest destinations to visit in 2015. Just last month, Condé Nast Traveller magazine included Athens in its list of the Top 10 Destinations to Watch in 2015.
City is experiencing a 'cultural revival'
The magazine noted that Athens is basking in a long-overdue "renaissance" thanks to artists and young entrepreneurs who are leading "a cultural revival with pop-ups and start-ups and creative ventures, cool little shops and exciting hotels." Major new cultural venues are opening, too, including the National Museum of Contemporary Art and the Stavros Niarchos Foundation Cultural Center.
Athens is a year-round travel destination, and by visiting in low season periods like January you can avoid the tourist crowds and long lineups that travellers encounter from spring to fall.
The many monuments and historic sites in Central Athens are best explored on foot, something you could do on your own provided you have a detailed map of the city. Speaking from experience, however, I recommend taking a private tour offered by firms such as Athens Walks who will show you fascinating places you probably would never discover on your own.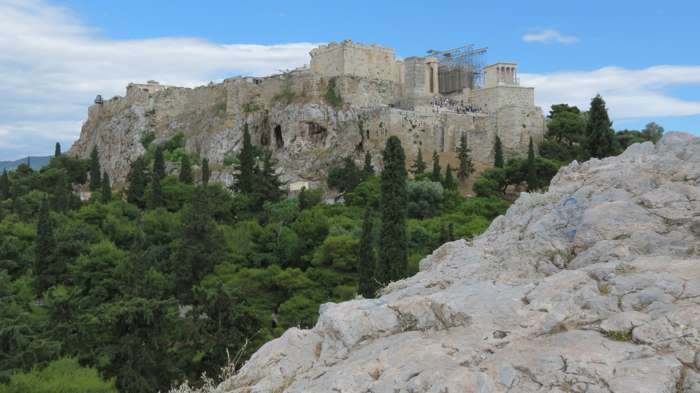 Mars Hill is a great spot to view the Acropolis, too, seen here in a photo I shot on May 30 2014.