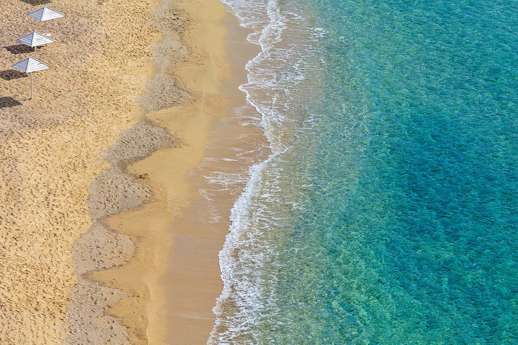 This enticing photo of beautiful Kalo Livadi beach, shot by Athens-based hotel photographer Christos Drazos, makes me yearn to go swimming at Mykonos! The image appears on the website for Pietra e Mare Hotel, which is situated on a hillside overlooking Kalo Livadi beach and bay.
Kalo Livadi
Pietra e Mare (Italian for "Stone and Sea") is a 4-star hotel comprised of 30 rooms and honeymoon suites perched on a hillside above scenic Kalo Livadi beach and bay, approximately 12 kilometers from Mykonos Town. When I scrolled through the full-size photos on the Pietra e Mare website's front page, I spotted "Book now and save up to 50%" superimposed on an image of a woman enjoying the fabulous sea view from one of the hotel's jacuzzi spas. I clicked on the "book now" link, which took me to the hotel's online reservation page. I entered several different travel dates and saw some significant discounts posted for different room categories on various dates, but didn't find any price reductions as high as 50%.  It's possible they've already been snapped up, or are offered for dates I didn't check.
On the "packages and offers" page accessed from the drop-down website navigation menu, I found information about two other specials. The "Explore Mykonos Island!" package offers a 3-night stay in a superior sea view double room, and includes 3 days of car rental (almost a necessity, given Kalo Livadi's considerable distance from Mykonos Town and its lack of bus service from there to other beach areas on the island). Guests booking this deal also will receive complimentary round-trip transfers from the Mykonos ferry ports or airports, as well as welcome drinks and use of the hotel's private sunbeds on Kalo Livadi beach. The "Exclusive Honeymoon" package requires a minimum 3-night stay, and offers a honeymoon sea view suite with outdoor jacuzzi, a 4-course candlelight dinner served on your hotel room's private balcony, a bottle of champagne on arrival, and a bottle of wine. Links for both offers take you to the hotel's online reservation page, where prices are displayed according to availability and travel dates.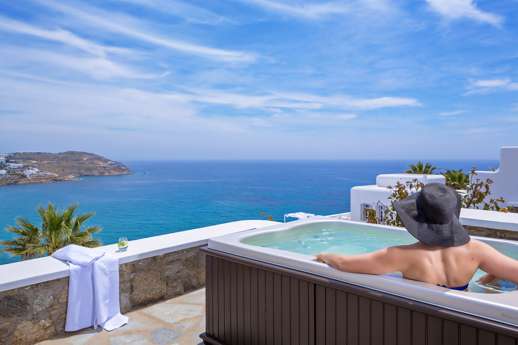 Some of the suites at Pietra & Mare feature outdoor private jacuzzis, like this one shown on the hotel website, from which guests can admire the incredible views of the sea and Kalo Livadi Bay
Agios Ioannis

De.light boutique hotel occupies a hillside location at Agios Ioannis (better known to many people as "the Shirley Valentine beach"), and its beautiful swimming pool terrace boasts excellent views of Agios Ioannis Bay. De.light is presently offering deals that will let you enjoy their comfy rooms and that delightful pool for 10 to 15% off regular rates; you'll find them at the bottom of the main website page by clicking on the tabs entitled "special offer."  One describes a 10% discount on certain room types booked for visits between June 26 and August 30, while the other details a 15% discount for certain rooms reserved in the periods April 20 to June 25 and September 28 to October 20. Both offers expire by the end of March (or, presumably, when all the rooms are sold out.)
Curiously, De.light's main webpage also displays a notice about an even better deal. When you first arrive at the hotel website, look closely at the magenta pillow propped on the bed shown in the main photo and you'll briefly see "Our special offer -20% early booking." (This message reappears after the photos on the page complete a programmed sequence.) Unfortunately, there is no link providing further details, or indicating how to receive this special reduction. Interested travellers should contact the hotel directly to ask about this promotion.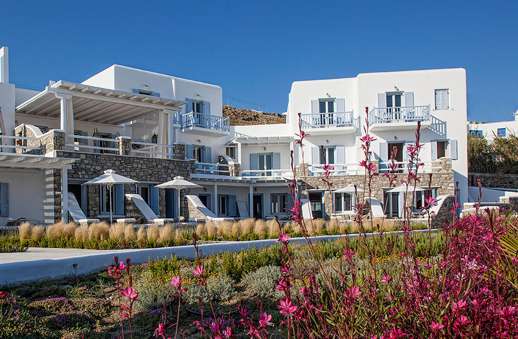 Website image of the De.light Boutique Hotel building and grounds
Ornos
The 5-star Kivotos luxury boutique hotel near the southern end of Ornos beach currently displays three specials on its website. The "best available rate" promotion for May to October must be booked online, and provides a €100 credit guests can use "to spoil yourself with a Spa treatment or experience our Gourmet restaurants with breathtaking views over the Ornos bay." The "free upgrade offer" for May and October applies to guests who reserve a deluxe jacuzzi room or a sea view suite. They will be upgraded to the next room category, and will receive a buffet breakfast and wi-fi as part of this deal. The Kivotos also offers prepaid holiday packages for which room rate discounts of up to 20% will be provided. Click the "book this offer" buttons on the website to access the online reservation form and see if packages are available for your travel dates.
This photo from the Kivotos Hotel website shows part of the resort's elegantly landscaped public area
 En Lefko Suites is situated in the quiet Aleomandra area of Mykonos, about 1.5 kilometers to the southwest of Ornos and approximately 1.5 kilometers from Agios Ioannis. It has 24 suites featuring traditional Cycladic architecture and minimalist interior design, and its website says En Lefko is geared "for those who value understated finesse and elegance, but do not settle for anything less than the finest tailor-made services."  The website is promoting an offer applicable only to September travel. A notice on the main page says guests who book 10 days in one of the junior suites will "get 1 night complimentary!" The "book now" link takes you to the online reservation engine where you'll have to insert your September travel dates to see if you can obtain this offer.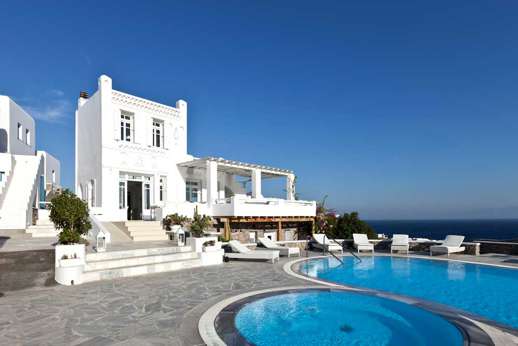 This image from the En Lefko Suites website shows part of the resort property in the Aleomandra area of Mykonos
 Platis Gialos
One of the island's top destinations for families, Platis Gialos beach is located approximately 5 kilometers from Mykonos Town. The area offers an extensive array of accommodations, from rental studios to 5-star luxury resorts like The Myconian Ambassador (which happens to be the very first hotel we ever stayed at in Greece, back in 2004). The Ambassador is built against a hill behind the beach, and the rooms enjoy exceptional views of the sea and three beaches (Platis Gialos, Psarou and Agia Anna).
I found three deals advertised under a "special offers" tab that you'll find on the menu bar at the top of the Ambassador's main webpage. The "Hot Deal Summer 2015"  package offers "up to 15% discount including champagne, American Breakfast Buffet, Arrival & Departure Transfers, complimentary sun chairs & umbrellas at the beach, free WiFi and more." The "Summer Early Sales Offer" includes up to a 25% discount with "champagne American Breakfast Buffet, Arrival & Departure Transfers, complimentary sun chairs & umbrellas at the beach, free WiFi and more. Plus: 20€ Spa Credit per room per day, deducted from your Spa Treatments." Third offer is for a "Romantic Honeymoon Experience" — a 3-night getaway with a romantic dinner and massages. Clicking on the "book now" buttons will take you to the online reservation page where you can see what discounts are still available for different travel dates.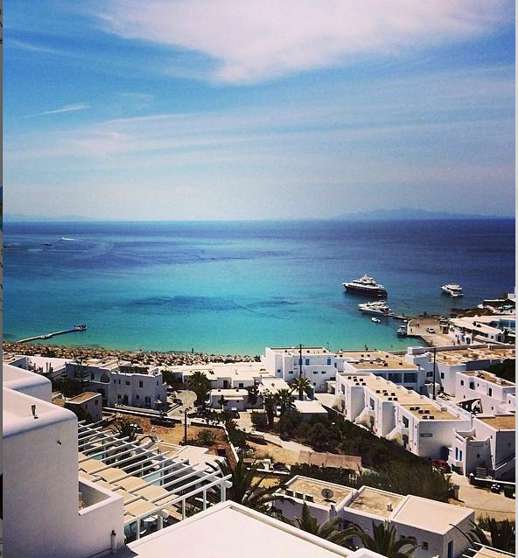 The Myconian Ambassador Hotel posted this photo on its Facebook page to show part of the view from its rooms.  The image is similar to some of the photos I shot when we stayed at the Ambassador in 2004. You can see them by clicking here to access my May 6 2011 post, Mykonos: My first and favourite Greek island.
Psarou
Located close to Platis Gialos (it's along the same bus route), Psarou beach is the top Mykonos destination for glitterati from around the world. Every summer, Greek and international celebrities, business tycoons and affluent travellers flock to Psarou in droves, often arriving on sleek private yachts, to drink, dine and dance at Nammos by the Sea, one of the island's most exclusive seaside clubs and restaurants.
The Grecotel Mykonos Blu is a high-end resort featuring suites, villas and bungalows built on multiple levels that descend all the way to the beach, where seaside lounge chairs and umbrellas are provided for the exclusive use of guests. The Mykonos Blu website still displays an early booking offer that expired on December 31 2014; however, it also shows a 20% online booking discount for the resort's "island bungalow" accommodations. The €195 per night rate is for two persons, includes breakfast, and is available for stays in May and October. Special honeymoon packages also are available.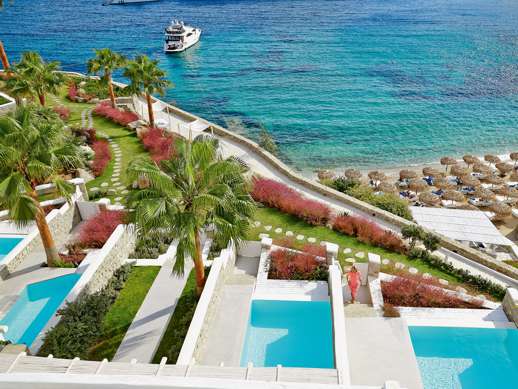 Mykonos Blu website photo of the hotel grounds, beach area, and private pools for some of its suites. Guests can watch international celebrities arrive at Psarou beach on expensive private yachts.
 The 5-star Palladium Hotel is situated high above Psarou beach, along the road that links Platis Gialos and Psarou to Mykonos Town.  A boutique hotel featuring elegant contemporary design and decor, the Palladium is short walking distance from the two beaches — Psarou is about 200 meters down the hill, while Platis Gialos is about 350 meters down the road. The Palladium website is currently promoting a "7 Day Special Half Board Package" that includes an American buffet breakfast, choice of either lunch or dinner each day, a welcome drink, arrival and departure transfers to the Mykonos ports or airport, free Internet and 20% off a car rental. For travellers planning to visit Santorini as well, the hotel is offering a special online booking deal with four Santorini hotels. Details are available on the Palladium website.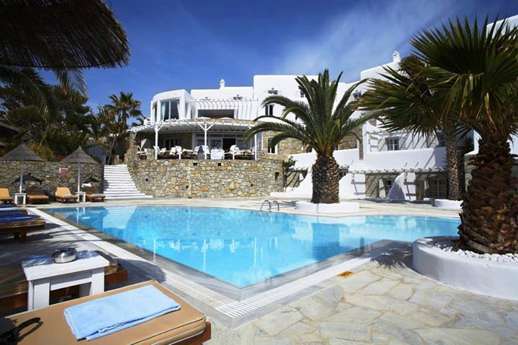 This image from the Palladium Hotel Facebook page shows part of the hotel building and one of its attractive swimming pool terraces
 Paraga
One of the lively "party beaches," Paraga is situated between Paradise beach and Platis Gialos, easy walking distance from both. Most of the accommodations in the area are private villas or studio apartment rentals, but there also is a campground & hostel facility, as well as a couple of hotels. The San Giorgio Mykonos offers the best surroundings and accommodations of the bunch — its design features "new Bohemian luxury" in a carefree, laid-back oasis where guests can relax, unwind and simply "be themselves." The San Giorgio had been offering two "early bird" specials  that expired on December 31, but two more deals are still available. One is a "stay for 3 nights, pay for 2" promotion applicable for reservations between May 1 and 21st, and between October 1 to 18. The other is a "stay for 7 nights, pay for 5" promotion, also for the same May and October periods. The deals are non-refundable and must be paid in full at time of booking.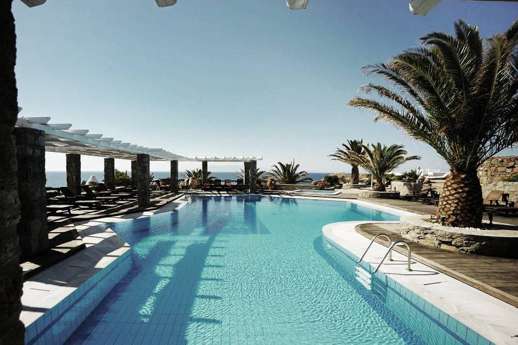 San Giorgio Mykonos website photo of the hotel swimming pool
Mykonos Town
Andronikos Hotel is a luxury 4-star hotel situated in the Drafaki district of Mykonos, on the hilltop several hundred meters from the commercial center of Mykonos Town. It's a lovely property with gorgeous rooms (management kindly gave us a brief tour of the hotel in May 2014; the rooms looked exactly like the ones shown in the website photos. Check out the pics of the ultra-cool "cocoon" rooms!)
The main page of the Andronikos website has a "Special Offers" box you can click on to see details of some discounts available for low season and early booking. What's confusing, though, is whether those offers are still valid. The "Low Season Discovery" deal says: "For bookings from 1/5 – 04/6 and 27/9 – 8/10 enjoy 20% discount on all room categories. Terms & Conditions: 2 nights minimum stay, 30% prepayment non-refundable." There's no mention of when the offer expires. On the other hand, the "Early Booking Offer" states: "Take advantage of 10% discount on all bookings made till 31/12  for all room types. Terms & Conditions: 3 nights minimum stay 30% prepayment non-refundable." I assume the 31/12 refers to 2014, but if Andronikos interests you, I recommend contacting it directly to inquire if the deadline for scooping up this particular deal has been extended into this month.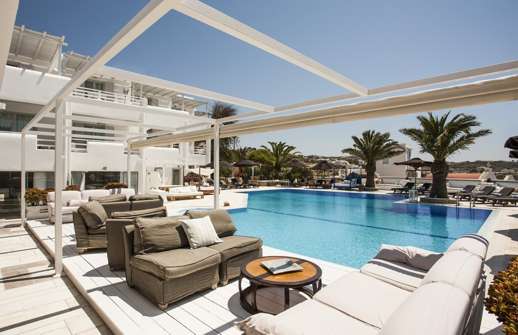 Andronikos Hotel website photo of the swimming pool and poolside lounge
Ostraco Suites is a 21-room luxury boutique hotel situated in the Drafaki area, close to the Andronikos . A post on its Facebook page urged travellers to "Take advantage of our Early Booking Discounts and hot Special Offers and book your room for Summer!", and provided a link to the hotel's online booking form.  You have to key in your travel dates to see what discounts might be available. For May I saw room rate reductions ranging from €18 to €77 per night, along with some special 3-day package deals and some "third night free" offers.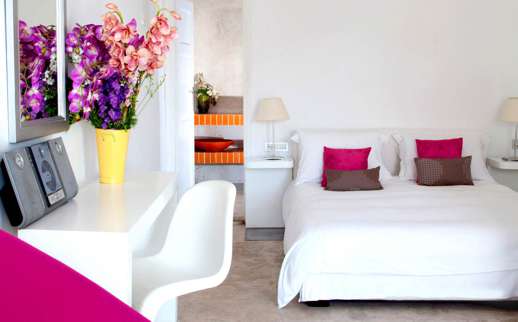 Ostraco Suites website photo of a room interior
The website for the chic Belvedere Hotel, one of the most famous and trendy hotels on Mykonos, is currently showing a non-refundable promotion that could save visitors "up to 40% off your stay." The fine print? "Book until 31/01 and save up to 40% this season with our non-refundable offer. Enjoy daily continental breakfast and complimentary Wi-Fi Internet access. Rates includes all taxes," the website says. With savings like that, you'll have plenty of cash left over to enjoy exquisite cocktails at the hotel's posh poolside Belvedere Bar, or to treat yourself to outstanding cuisine at the hotel's renowned Nobu Matsuhisa restaurant. The hotel is situated on the edge of the Fine Arts District of Mykonos Town, a short walk from all the shops, restaurants, bars, galleries and museums in the town's vibrant commercial core.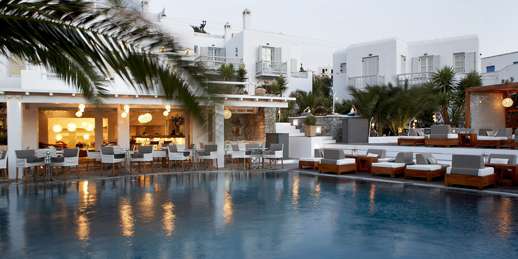 This Belvedere Hotel website image shows the poolside bar and restaurant terraces, which are particularly popular for sunset-hour cocktails and dining
The Vencia Boutique Hotel is a 4-star property perched on the hilltop above Mykonos Town. Common areas and many of the rooms have superb views of the Town, sea and sunset, while the in-house restaurant, Karavaki, is one of the top-rated restaurants for all of Mykonos on TripAdvisor.com. The Vencia's website is showing two promotional offers for selected travel periods in April, May and October. Click on the "rates and reservations" tab near the top of the hotel website, then click on the "book online" button in the window that appears. A pop-up box  shows the two offers. One states: "Enjoy a 20% discount for Standard Rooms (Sea View and Garden View).  Valid for stays between 06.04-10.05 & 01.10 -31.10 2015." The other promotion says: "Enjoy a 10% discount for our Suites. Valid for stays between 06.04-10.05 & 01.10 -31.10 2015."  Honeymoon packages also are available.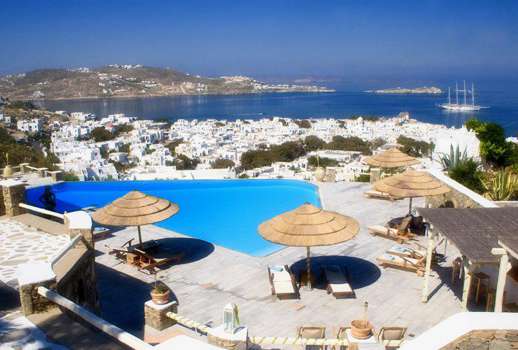 This image from the Vencia Boutique Hotel Facebook page shows the hotel's breathtaking views of Mykonos Town and beyond
 The Mykonos Theoxenia boutique design hotel is advertising a discount of up to 20% for summer reservations made by the end of February. Click on the grey "Summer 2015" box near the bottom right corner of the website's main page. It will take you to the hotel's online booking engine, which shows available price savings on a variety of rooms and suites. The hotel occupies an historic stone building constructed in the 1960s. The interior features a cool contemporary design with "1960s glam" decor elements. The Theoxenia is conveniently located in Mykonos Town next to the island's iconic row of windmills on a hillside overlooking the Little Venice tourist area.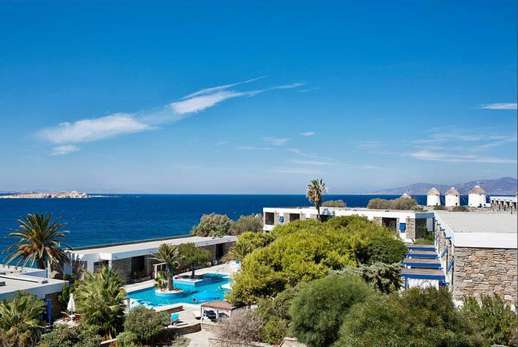 This image from the Mykonos Theoxenia Facebook page shows the historic hotel's meticulously landscaped courtyard and swimming pool terrace. Three of the famous Mykonos windmills are visible at the middle-right side of the photo.
 Mykonos View Hotel occupies a hillside location on the north end of Mykonos Town, about a 5-minute walk from the town center and the island's Old Port.When you visit the Mykonos View website, a "Special Offer" box appears in the middle of the main page to advise that if you book now for 2015, you can "get a GREAT Discount on Regular Online Rates!" Click on the link provided, and you'll be taken to the hotel's booking engine, which indicates the discounts being offered for various room categories. The Mykonos View is an idea spot for families or friends travelling in a small group — it has rooms and maisonettes than can sleep from 3 to 5 adults. The hotel's Oniro Bar, which has excellent views of Mykonos Town and the Old Port area, is the perfect place to enjoy drinks while watching the sunset. (Even if you don't stay at Mykonos View, you can still drop by the Oniro Bar to enjoy the views and scenery with a delicious cocktail or glass of wine.)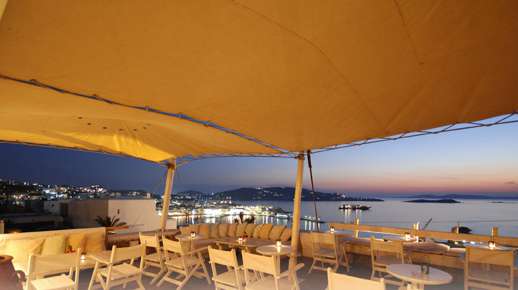 The Mykonos View Hotel and its Oniro Bar (shown here in this photo from the hotel website) boast mesmerizing panoramic views of Mykonos Town, the Old Port, the sea, the sunset, and nearby islands
The Kouros Boutique Hotel, nestled against a hillside in the Tagoo area on the north side of Mykonos Town, enjoys breathtaking panoramic views, too. Guests can see Mykonos Town and both of the island's ports, as well as Delos, Rinia, Syros and Tinos islands. The Kouros presently has two offers indicated on its website. The "Non-Refundable Rate" gives a 10% discount off regular prices, while guests who book the "Stay & Drive" offer will enjoy a free car rental during their visit. The car deal applies only during September, however.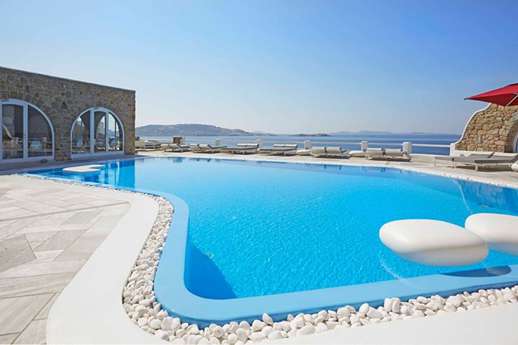 The Kouros Boutique Hotel's seaview swimming pool is shown in this photo which was posted on the hotel's Facebook page
Agios Stefanos
Located a short walk from the Mykonos New Port, Agios Stefanos is one of the island's top "family" beaches, and has expansive panoramic views toward Mykonos Town as well as Delos and Rinia islands.  Rocabella Mykonos is an upscale hotel located 300 meters away, on a hillside overlooking the beach and sea.  Open year-round, Rocabella is presently offering three specials through its website. The "Super Early Booking Offer" is available until the end of February and provides savings up to 30% for stays booked on a non-refundable basis, or 20% for stays booked on a flexible basis in line with the hotel's cancellation policy. The "Early Booking Offer" is available until the last day of March, and provides savings up to 20% on a non-refundable basis or 10% on a flexible basis. Both special offers apply to travel between April 1 and October 15. The "Non-Refundable Offer" gives a 15% savings for travel anytime from April 1 onward.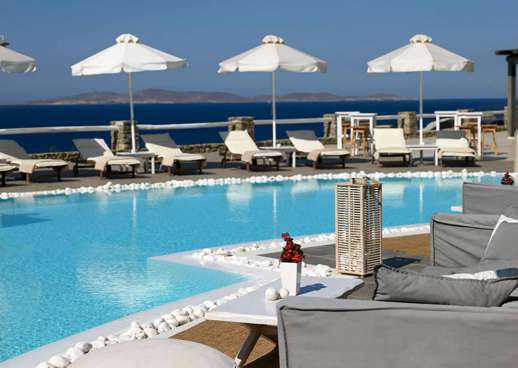 Rocabella Mykonos website photo of its hotel pool views toward Rinia and Delos
Super Paradise
  Although Super Paradise is one of the top party beaches on Mykonos, accommodation choices in the immediate area are very limited.  If you'd like to stay near the beach so you can be close to the action, Super Paradise Rooms, located partway up the hillside directly behind the Super Paradise Club, is offering a 5% early booking discount. The air conditioned rooms are equipped with a fridge, safe, flat-screen TV, and en-suite bathroom with shower and hair dryer. The rooms have great views of the beach and Super Paradise Bay. You can check room rates and availability on the property's online booking site.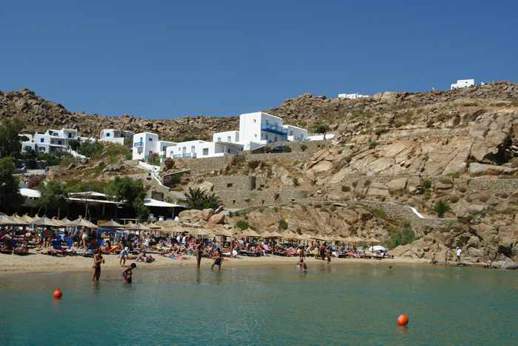 Website photo of the Super Paradise Rooms complex on the hill behind Super Paradise beach
Things to do when you get to Mykonos
If you haven't been to Mykonos before, but are planning to go now that you know how to find a hotel deal, you might want to read some activity suggestions that Skyscanner published in a November 21 2014 online article, Top 10 things to do in Mykonos. Just a word of caution, however, about two of the recommendations.
The # 1 tip — "work on your tan at Paraga beach" — includes a dreamy photo of palapas and lounge chairs on a beautiful brown-sand beach next to gorgeous turquoise water. That's actually Kalafatis beach, not Paraga. (I doubt you'll be disappointed with the impressive beach scenery at Paraga, though; it, too, is a lovely beach).
And tip #4 recommends having dinner at Little Venice. I suggest visiting the seaside bars for just a drink instead. Little Venice is perhaps the biggest tourist trap on the island, and you'll pay dearly for drinks and for mediocre meals. Each year I hear complaints about grossly overpriced and unremarkable food at Little Venice, and I've had my own bad dining experiences there. By all means drop by for a sunset-view cocktail or glass of wine, but head into the heart of Mykonos Town afterwards for a meal. You'll enjoy better food at more reasonable prices.