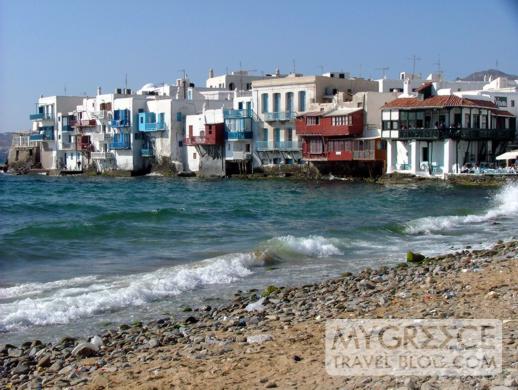 Waves rolling ashore in the scenic Little Venice area of Mykonos Town
Feels like home: Once my partner and I had decided we were going to travel to Greece for the first time, we couldn't decide which islands to visit. We were going to be travelling on a package tour, and had a huge variety of itinerary options. Most of the island hopping packages scheduled Mykonos as the first stop, but we weren't all that keen on going there. We had heard that Mykonos is a wild and crazy island where people party in the streets and on the beaches 24/7. We wanted a restful, relaxing holiday, and didn't relish the idea of not being able to sleep off our jet lag because noise from non-stop partying might keep us awake. But our travel agent promised that Mykonos wasn't anything like we'd heard, and she urged us to go. "I know you're going to come back and tell me you loved it," she insisted. Somewhat reluctantly, we agreed to include Mykonos, and headed to Greece.
We arrived at Mykonos after dark, following a gruelling full day of travel. (It took nearly 24 hours from the time we left our home in Toronto until the moment we walked into our hotel room on Mykonos.) It was the last weekend in May, but when the crew opened the doors of the highspeed ferry once it had docked at  the new port on Mykonos, we got blasted by a strong cold wind. We had been expecting Mykonos to be as hot as central Athens had been during our afternoon wait for the ferry, so the bone-chilling winds at the Mykonos port took us completely by surprise.
The shuttle bus ride from the port to our hotel — the Myconian Ambassador at Platis Gialos beach — was largely a blur, since the driver raced along the island's twisting, hilly roads at breakneck speed. I recall seeing a Starbucks somewhere along the road, but didn't recognize anything else. I was relieved when we got to the hotel without crashing, but was disappointed that we couldn't see what the Platis Gialos area looked like because it was so dark. I kept my fingers crossed, hoping we would like what we saw when we woke up the next morning.
In my case, that was around 4 a.m. I peeked out the doors to our small balcony but couldn't see much, so I went back to sleep. Sometime around 5 I awoke once more, hearing roosters crowing somewhere close by. I took another look outside and could see whitewashed buildings below us (the hotel is built up the side of a hill), but in the hazy pre-dawn light I still couldn't tell if Platis Gialos was as nice as our travel agent said it would be. So I went back to bed for a  few hours. When we finally got up and opened the balcony doors, we were thrilled to see a brilliant sunny morning and jaw-dropping gorgeous views not just of Platis Gialos beach and bay, but also nearby Psarou beach and bay. Just as the travel agent had predicted, we loved what we saw. We couldn't have asked for a better welcome to Mykonos!
Below are several photos showing the views from our hotel room at the Myconian Ambassador. More photos of the hotel can be viewed in the Myconian Ambassador Hotel album on the mygreecetravelblog.com Facebook page.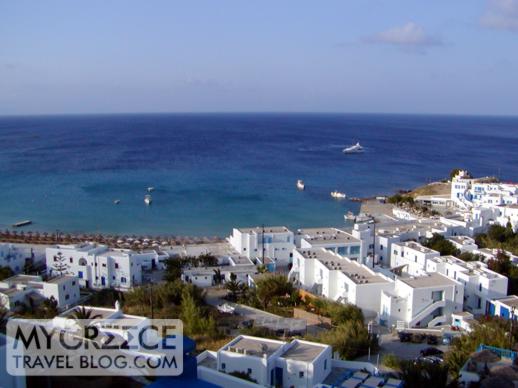 The view from the balcony for our room at the Myconian Ambassador Hotel, overlooking the Platis Gialos beach resort area of Mykonos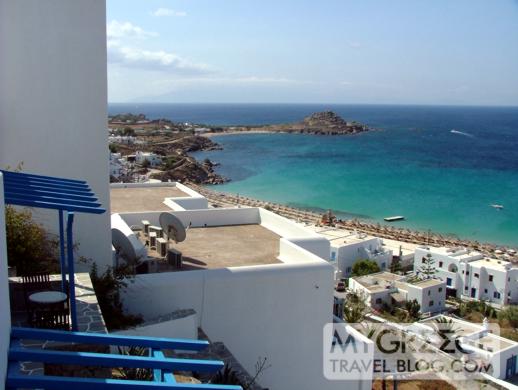 The view to the far left, in the direction of nearby Paranga beach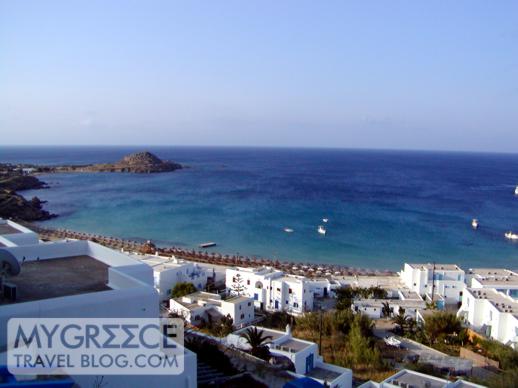 The buildings below are hotels, many of which sit alongside Platis Gialos beach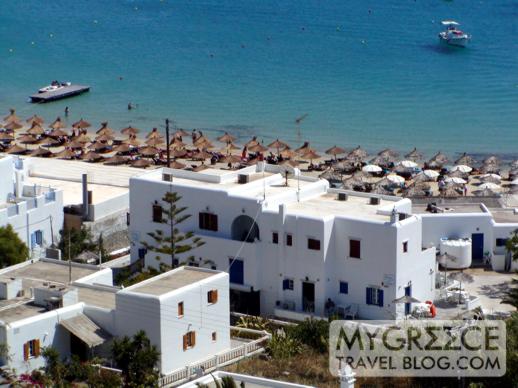 Rows of rental loungers and umbrellas line most of the length of Platis Gialos beach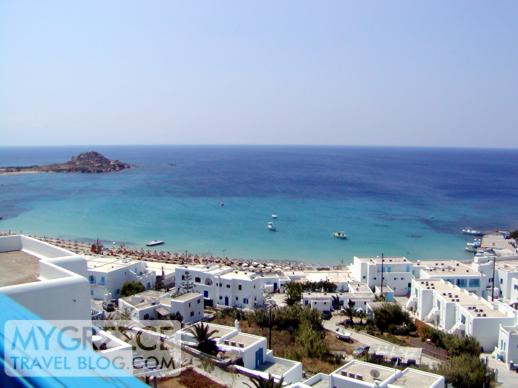 The hotel sits on a steep hill, but the walk to the beach takes only five minutes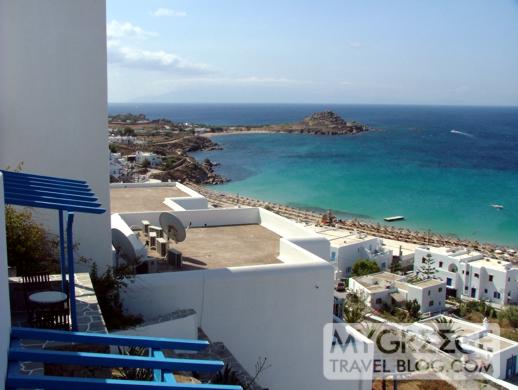 A path winds above the coast from Platis Gialos to the rocky peninsula, passing small coves and inlets as well as a sandy crescent-shaped beach visible in the photo. From there, the path continues to Paranga beach.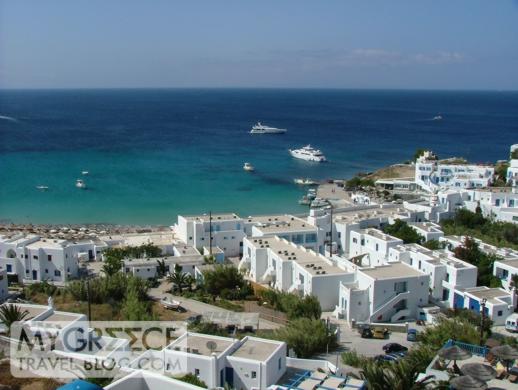 Most days there were at least two private yachts anchored in Platis Gialos bay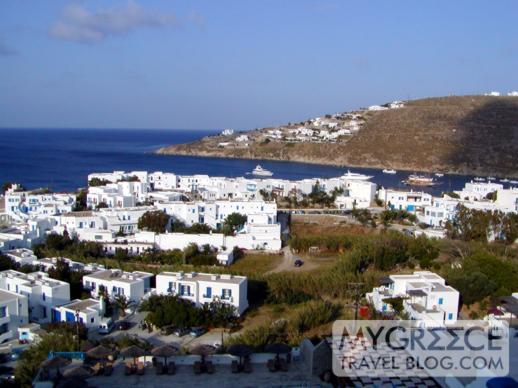 From our balcony, the view to the right takes in much of Psarou bay, where several more luxury yachts are anchored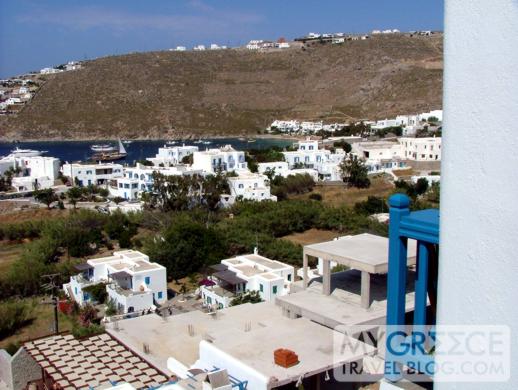 Mykonos has been a favourite destination of the affluent jet set for decades, and Psarou beach is one of their favourite places to see and be seen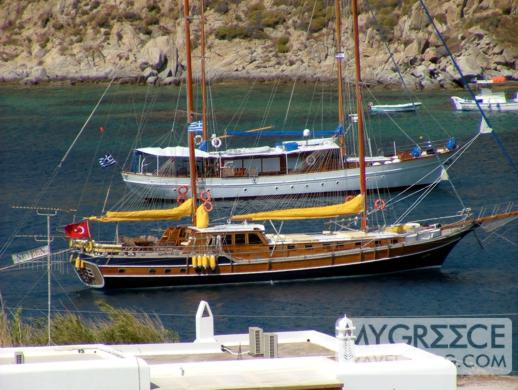 Two luxury yachts at anchor in Psarou Bay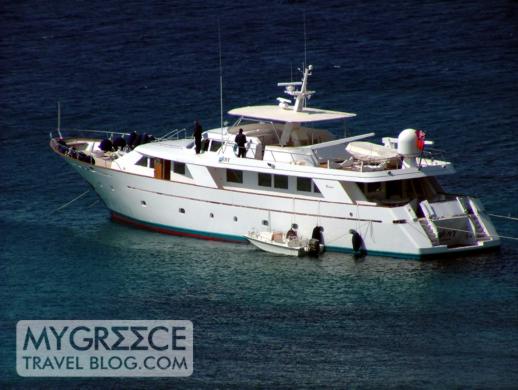 A sleek yacht anchored in Psarou Bay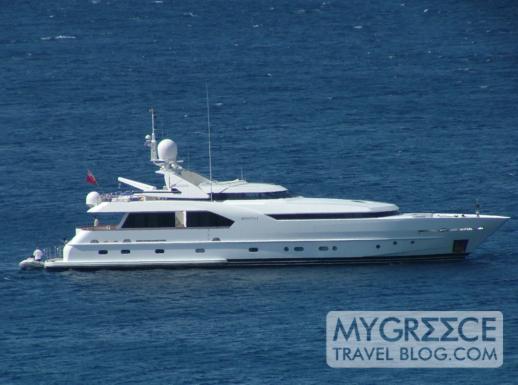 A yacht anchored in the bay near Platis Gialos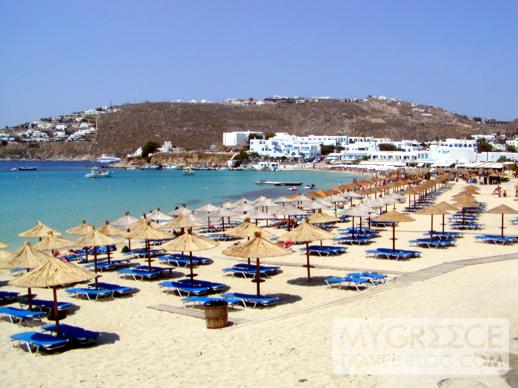 A view of Platis Gialos from the far end of the beach, on the way to Paranga beach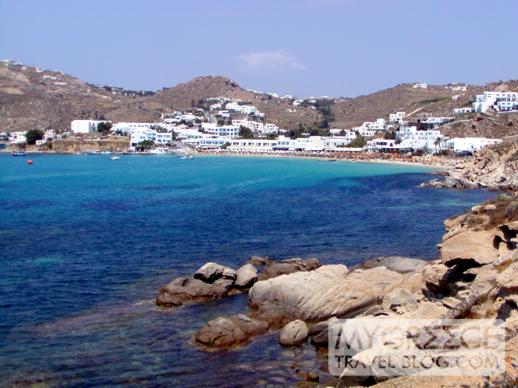 Looking toward Platis Gialos from the coastal path leading to Paranga beach