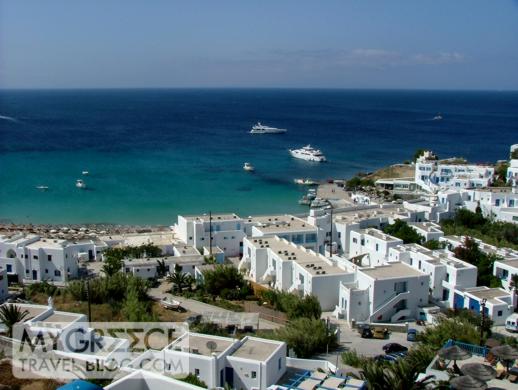 On our very first morning in the Greek Islands back in 2004, we were awestruck by this view from our balcony at the Myconian Ambassador Hotel on Mykonos
Va-va-va-view: On our first-ever trip to Greece, we arrived at Mykonos after nightfall and didn't have a clue what kind of view we would get from our balcony at the Myconian Ambassador Hotel. The hotel employee who showed us to our room opened the balcony doors and assured us we would have beautiful sightlines of the sea and Platis Gialos beach, but most of the area was pitch black  and we couldn't see much more than lights from nearby hotels and houses. It also was surprisingly quiet, though whenever the light breeze blew in our direction, we could faintly hear Greek music being played in the tavernas lining the beach a few hundred meters below us.
When we woke up the next morning and pulled open the balcony doors, our jaws dropped as we got our first glimpse of Platis Gialos in daylight. The view was absolutely gorgeous! Spread out below were dozens of the island's signature white cube buildings, the golden-brown sandy beach, and the vivid deep blues and tempting turquoise waters of the legendary Aegean Sea.
On all of our Greek Island holidays since then, we've always tried to get a hotel room with a good sea view. If the room itself doesn't offer one, we're content if there is at least a decent sea view from a public area somewhere else on the hotel property — be it a breakfast room, swimming pool terrace, or other place where we can sit, relax and gaze at the scenery. At home, all we see from our windows and balcony are highrise glass, steel and concrete towers. When we travel on holidays, we cherish views of the sea. It's even better if we can see some islands and mountains, too. Bonus points if we can watch a spectacular sunset. But a Greek holiday just wouldn't feel the same if we couldn't see the Aegean.
I posted additional photos of the views from the Myconian Ambassador Hotel in my June 3 2011 post. Below are photos showing the various different views we have had from some of the other hotels we stayed at during Greek Island holidays since. Some of the views are terrific, and others considerably less so, but with only one or two exceptions, we always got to see the sea without having to leave our hotels.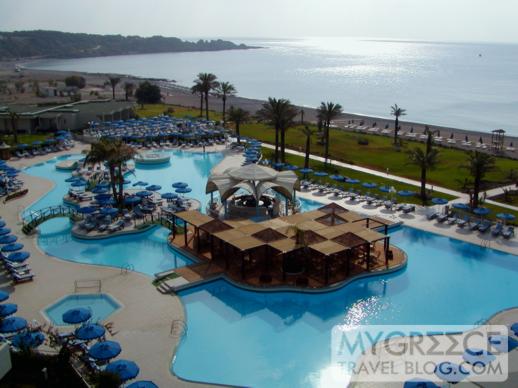 The view from our balcony at the Rodos Palladium at Kallithea beach on Rhodes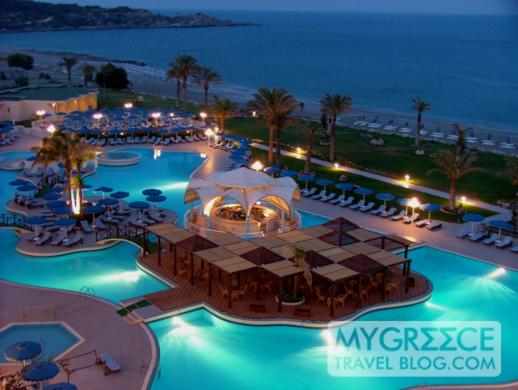 Evening view from our balcony at the Rodos Palladium in 2004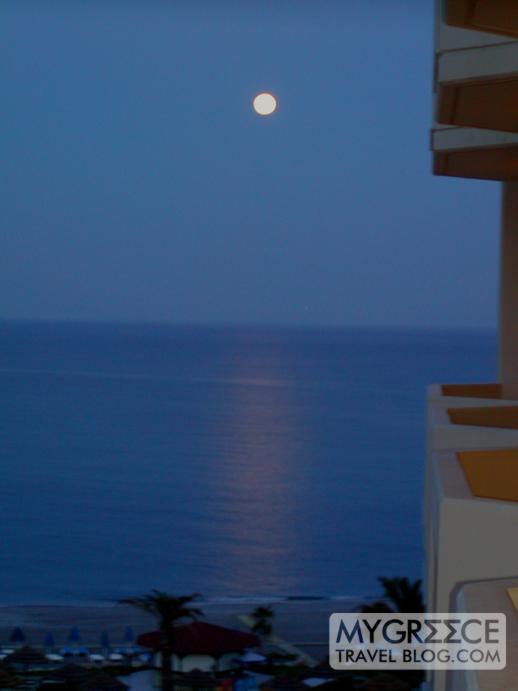 Our Rodos Palladium balcony view of a full moon above Kallithea Bay in 2004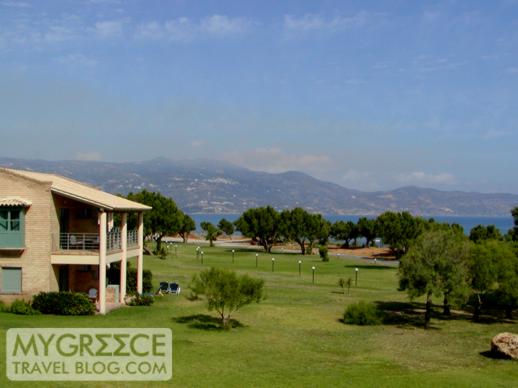 The balcony to our room at the Candia Maris Resort & Spa in Amoudara, Crete gave us this view of sea and mountains in 2004…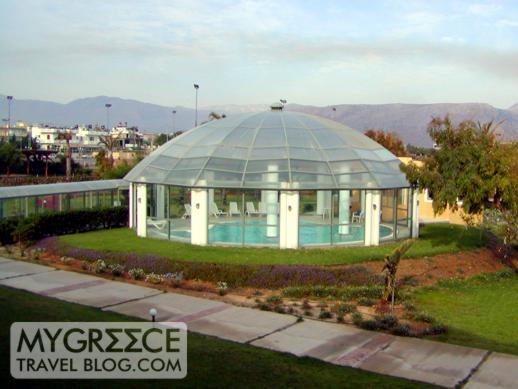 … as well as this view of the resort's indoor swimming pool…
… plus this view of other balconies on our side of this particular hotel building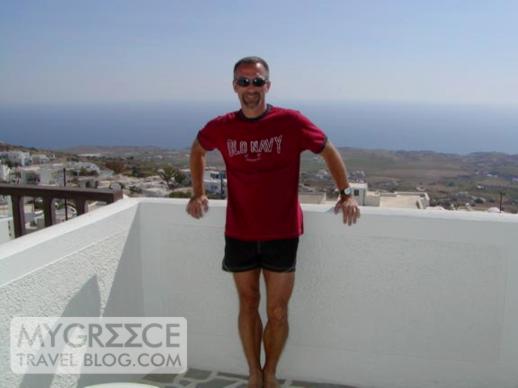 That's me on our sea-view terrace at the Santorini Palace Hotel on Santorini in 2004. This isn't the breathtaking caldera view for which Santorini is renowned (this is the less scenic east side of the island), but it looked great to us. And if we did want to see the spectacular caldera view, all we had to do was exit the hotel's main entrance and walk 100 meters up a short slope — and there it was.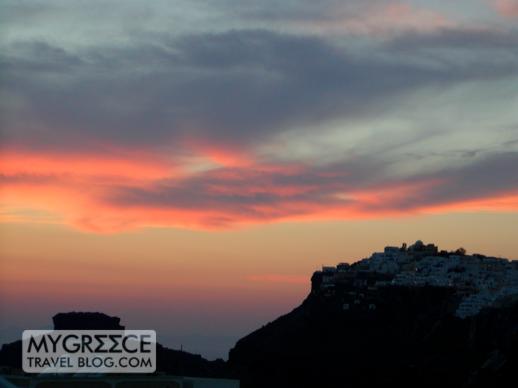 We couldn't see a famous Santorini sunset from our terrace at the Santorini Palace Hotel, but we could see the sunset glowing on clouds above Imerovigli village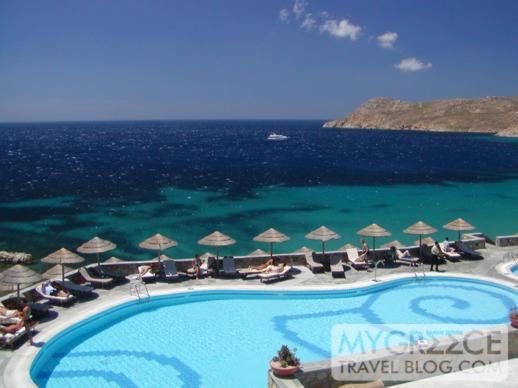 A view of Elia Bay on Mykonos from the Myconian Imperial Resort & Villas in 2005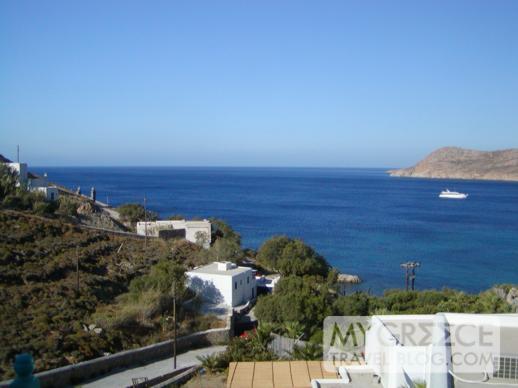 Part of the sea view from our balcony at the Myconian Imperial Resort & Villas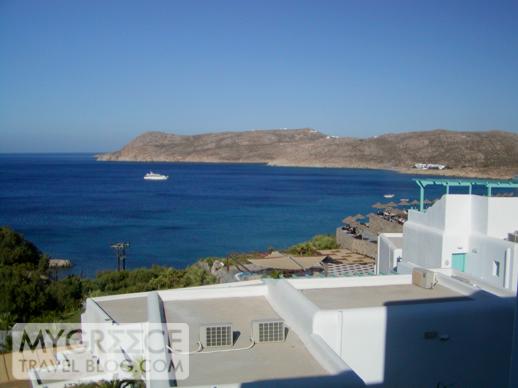 More of the sea view from our balcony at the Myconian Imperial Resort & Villas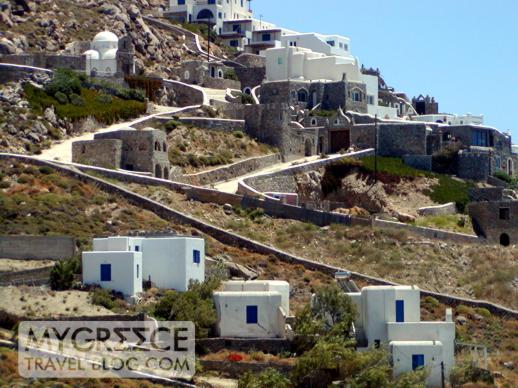 Houses and rental accommodation on the steep hillside rising to the left of our balcony at the Myconian Imperial Resort & Villas
Our bathroom window gave us a view of more hotel rooms higher up the hillside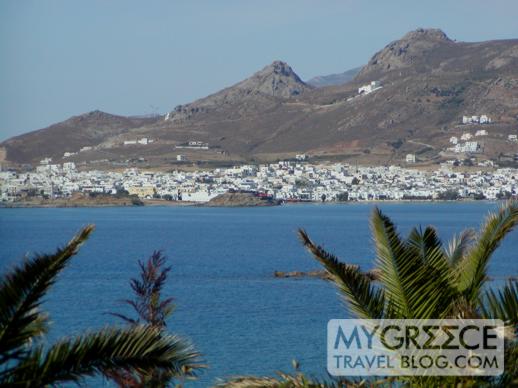 In 2005, we enjoyed views of Naxos Town and Agios Georgios Bay from the Naxos Beach II hotel in the Stelida district of Naxos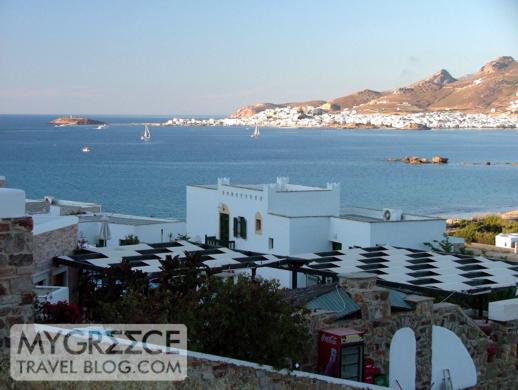 Another view toward Naxos Town from the Naxos Beach II hotel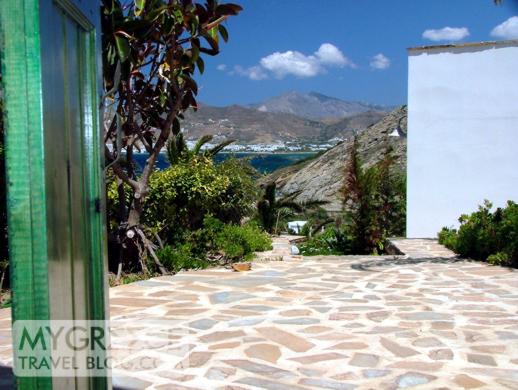 Our bedroom at Naxos Beach II had doors that opened onto a stone-paved terrace offering this view toward Naxos Town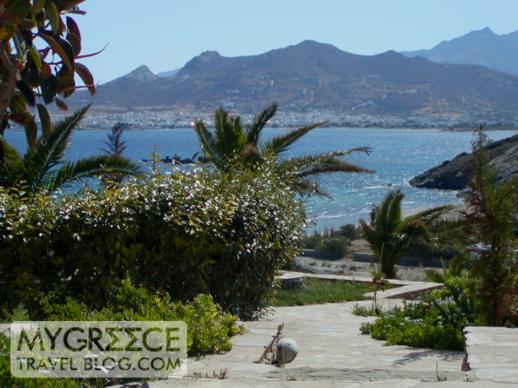 Another view from the terrace outside our bedroom at the Naxos Beach II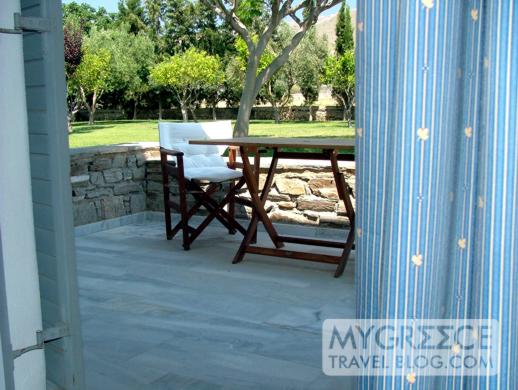 At the Yria Hotel on Paros in 2005, our room had a large ground-level terrace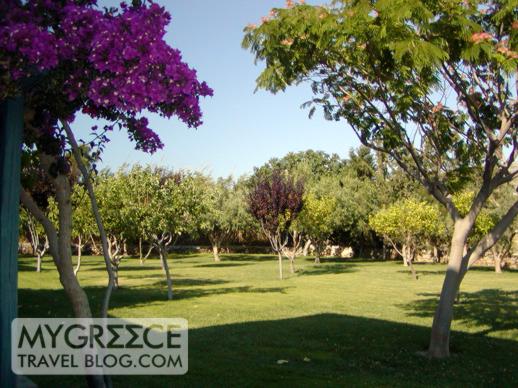 This was the view if we looked to the left while sitting on the terrace…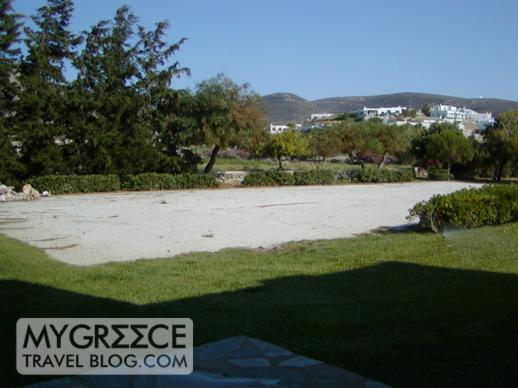 …while, unfortunately, this was the view to the right — overlooking an unattractive overflow parking area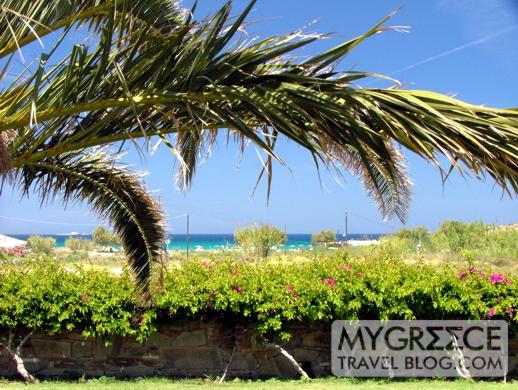 We could catch a slight glimpse of the sea from the Yria's swimming pool terrace…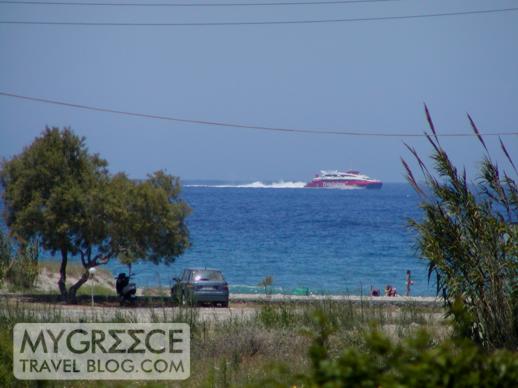 …and also see a small section of Paraspora beach, which was just a five-minute walk down the road…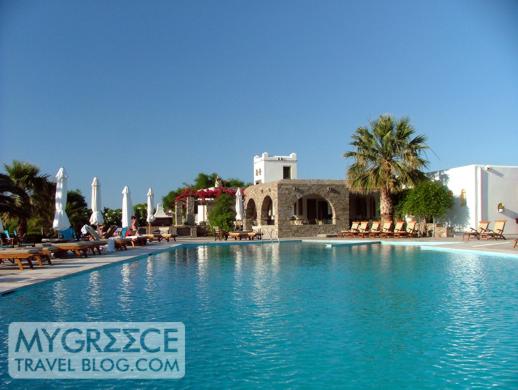 … but the Yria Hotel's main attraction was its enormous swimming pool. It looked fantastic, but the chilly water was murky from suntan oil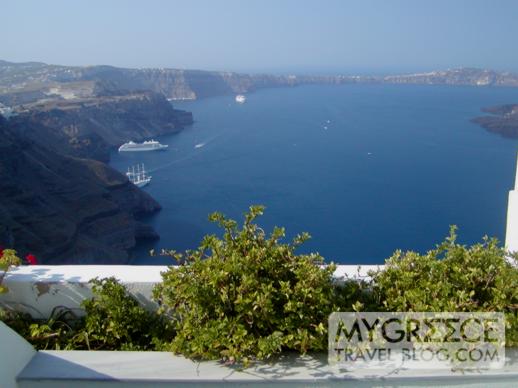 In 2005, we loved this marvellous caldera view from our private terrace at the Phenix Hotel in the cliffside village of Imerovigli on Santorini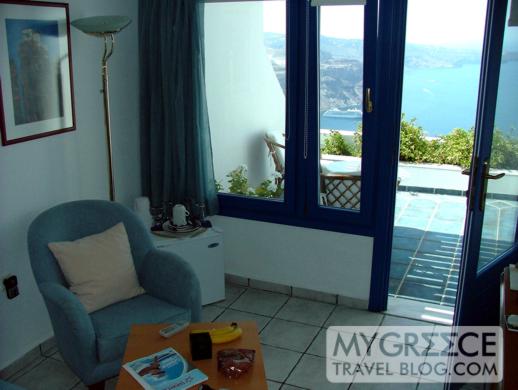 We didn't even have to leave our hotel room to enjoy the amazing view…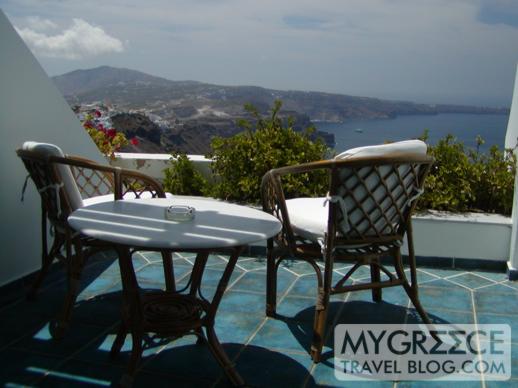 …but we preferred to savour the stunning scenery from our sun-bathed terrace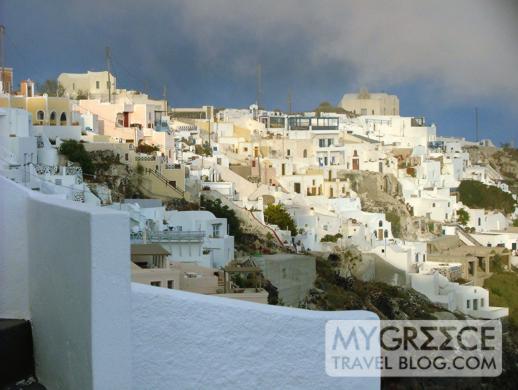 Looking to the left, we had this view of other hotels perched perilously on the steep cliffside high above the sea in Imerovigli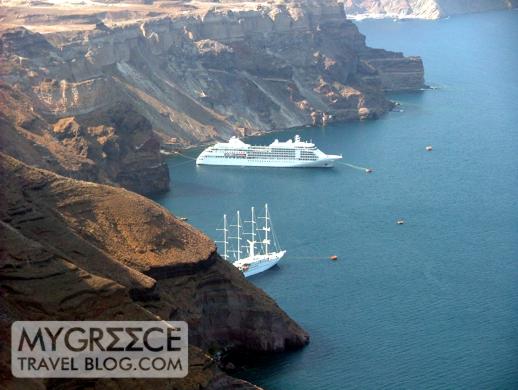 Looking down, we could see the caldera and cruise ships below the town of Fira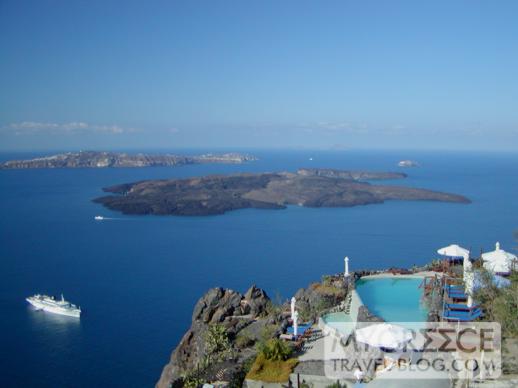 And from an upper level of the hotel, we enjoyed this view of the volcano island (Nea Kameni) and the gorgeous swimming pool at the Honeymoon Petra Villas, a beautiful multi-level hotel clinging to the cliffside next door to the Phenix