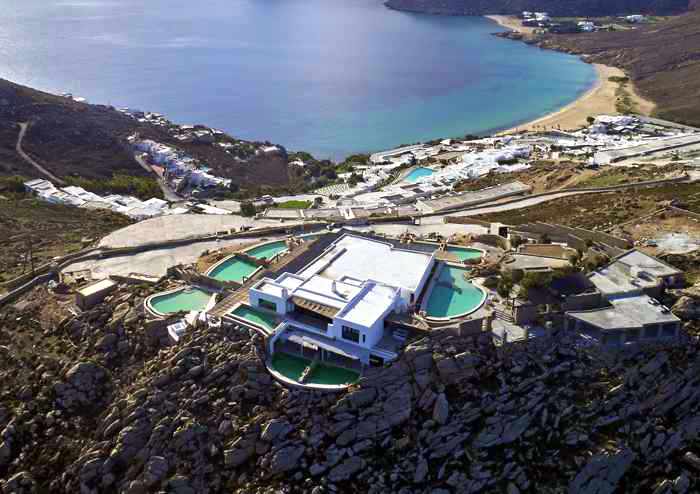 From their lofty aerie overlooking Elia beach, guests of the Panoptis Escape villas will enjoy unrivalled 360-degree views of Mykonos and the sea, plus both the sunrise and the sunset.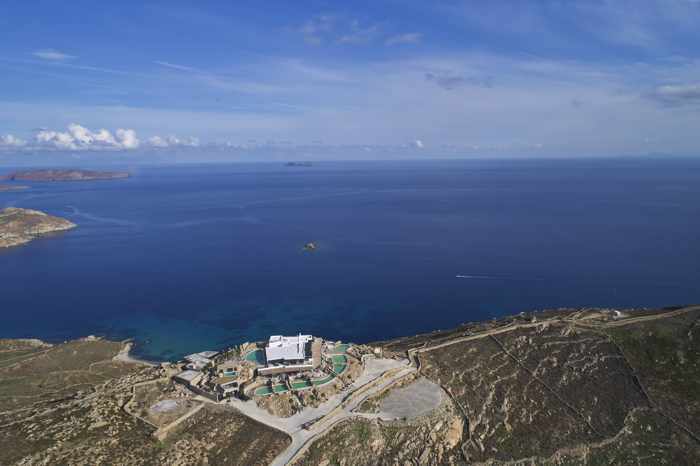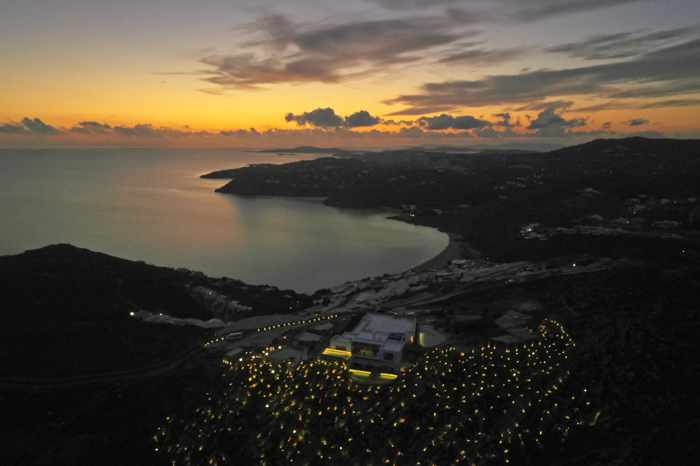 Peak perfection: An exquisite new mountaintop villa retreat will be opening on Mykonos this summer, promising "pure relaxation," "laid-back luxury," and exceptional personalized service  along with "breathtaking sunrise to sunset sea views."
Perched on a rocky peak high above Elia beach, Panoptis Escape is an enclave of luxuriously-appointed boutique accommodations that include honeymoon suites and 1-, 2- and 3-bedroom villas.  While the villas can be booked on an individual basis, the complex can be reserved in its entirety as well. Featuring more than 1,900 square meters of indoor space, 2,500 meters of outdoor space, 12 swimming pools and 21 bedrooms that can sleep up to 69 people (42 adults and 27 children), Panoptis will provide a perfect private getaway space for a wedding party or large group of family, friends or business associates on a corporate retreat.
Panoptis is the 10th and newest 5-star property in the Myconian Collection luxury hotel and villa chain, owned and operated by the Daktylidis family of Mykonos. It is scheduled to open in May.  Five other Myconian Collection hotels are clustered on the same steep mountainside at Elia — the Imperial, Royal, Villa Collection, Utopia and Avaton. Panoptis overlooks these sister properties from its enviable summit position. 
 "Panoptis" translates as "where man meets his gods," and villa guests could well feel like they're in heaven as they savour the scenery and serenity at their lofty lair.
Each of the accommodations include "en-suite multi bathroom facilities and luxury toiletries and amenities, separated living rooms with mini kitchenette facilities, refrigerators, wine coolers, coffee machines and electric kettles and a fully equipped kitchen."
The property features a welcome area, lounge, open-air bar, outdoor open-air kitchen with BBQ, restaurant facilities, and a wellness studio. Guests can relax on sunbeds on the Myconian Collection's private section of Elia beach, and have access to spa facilities. Private vehicle parking is available, while a helipad can accommodate up to three helicopters for guests who arrive by air. A staff of 20 — receptionists, bar and kitchen personnel, housekeepers and maintenance crews — work on site.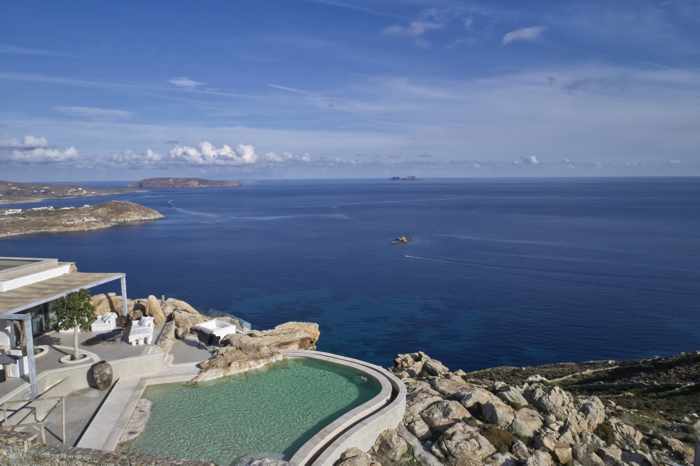 Daytime (above) and sunset-time views (below) from one of the private swimming pools at Panoptis Escape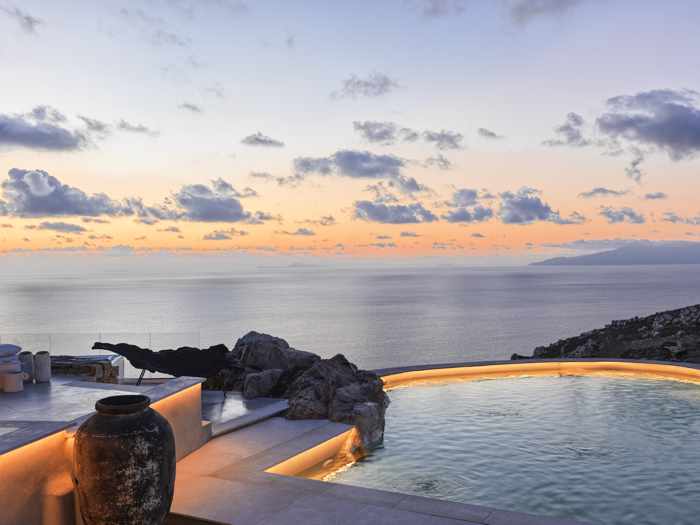 I can only imagine the fabulous impression Panoptis will make on visitors — and how amazing it will be for them to spend their vacation relaxing amidst such sumptuous surroundings and spectacular scenery. We have thoroughly enjoyed staying in two of the Myconian Collection properties — the Ambassador at Platis Gialos (our first hotel on our very first trip to Greece), and the Imperial — so we have an idea of what the Panoptis guest experience will be like. And we've already seen its breathtaking views with our own eyes. During our stay at the Imperial, we climbed to the top of the mountain above the hotel, and stood near the spot where Panoptis now sits. The views were outstanding, so I feel a tad envious of the lucky guests who will enjoy them from the comfort of private pools and patios at the Panoptis.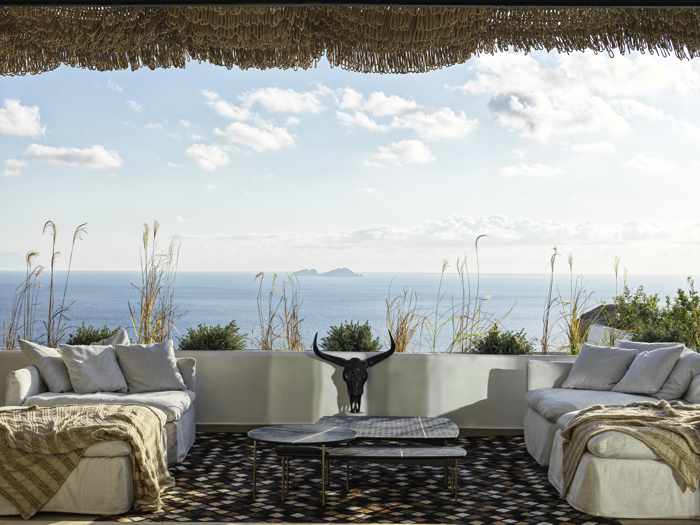 A seaview patio for one of the villas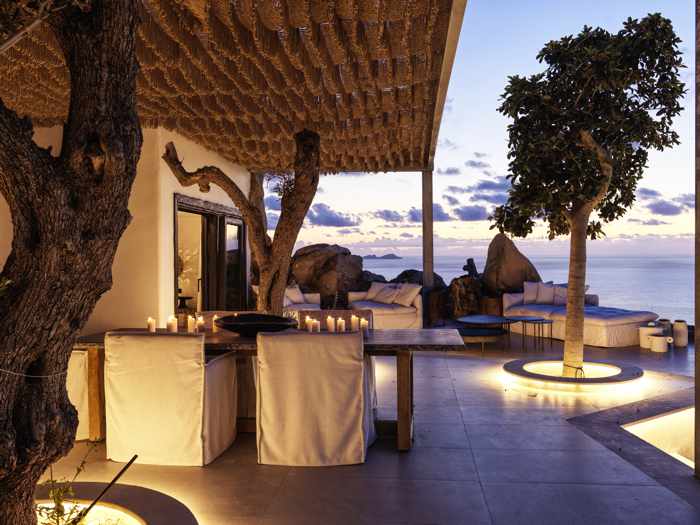 An open-air dining space on one of the villa patios
Panoptis is a member of Small Luxury Hotels of the World, and can be booked through its listing on the SLH website.
Please click on the link below to turn to page 2, where I have posted additional photos showing some of the villa interiors and outdoor spaces.
CONTINUED ON PAGE 2