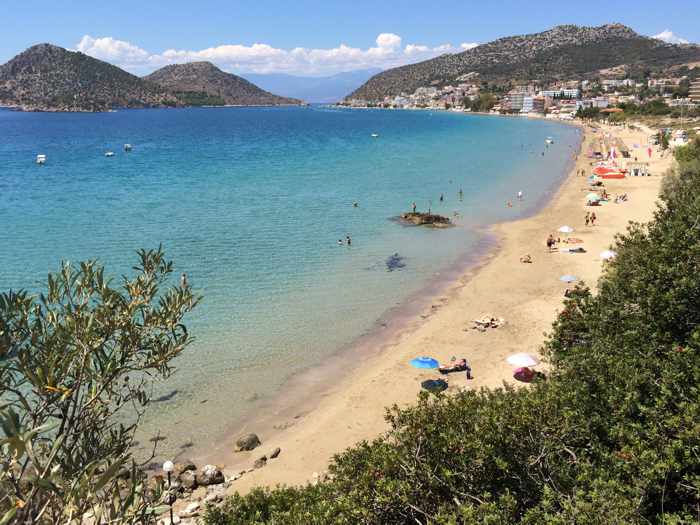 The beautiful golden sand seafront at Tolo stretches for approximately one kilometer from Psili Ammos beach (seen here) to a harbour barely visible in the center-top area of this photo
Extreme temps: We're never happy after we return home from one of our Greek holidays, as we did three days ago — we always wish we were still in Greece. But this time we're actually a bit relieved that we're not there — we simply could not have handled the heat wave currently sweeping across the country.
Sunshine and temperatures hitting the low 30s (Celsius) hindered some of our walking and sightseeing in Nafplio, Monemvasia, Tolo and Hydra on several days of our vacation from May 30 to June 16, but since we left Greece on Thursday temperatures have soared even higher, approaching and even exceeding an absolutely sweltering 40 degrees in many places, particularly on the mainland.
On Saturday, for instance, the temperature reached 43.4 at Sparta, which we had found hot when it was in the low 30s during the day we spent there. As I write this post today, it's 37 in Nafplio, where a few 30-degree days forced us to limit our activities during the first week of June. And temperatures are forecast to remain scorching hot for several more days. If we were still in Greece, we would either be hiding inside our air-conditioned hotel rooms, or swimming as much as possible.
Fortunately there were plenty of excellent places to take a dip in the sea at most of the destinations we visited. Click on the link below to turn to page 2 and see photos of the great swimming spots we discovered near Epidaurus, Hydra, Monemvasia, Nafplio and Tolo.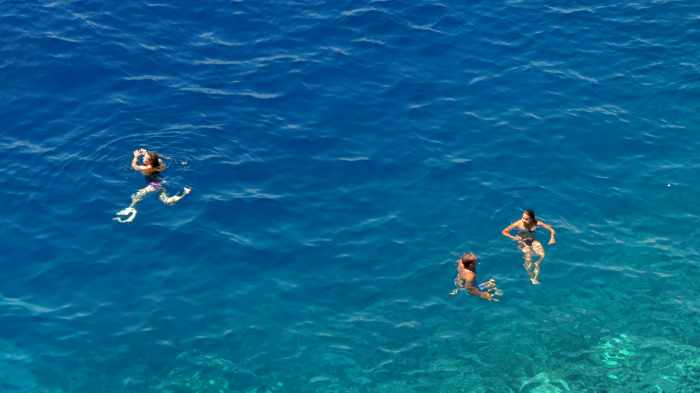 Bathers cool off in the gorgeous turquoise waters at Hydronetta, a popular coastal swimming spot on Hydra island
CONTINUED ON PAGE 2