Naxos was the third stop on our island-hopping holiday in early June of that year. Our first island was Mykonos, where the hotel pool was icy cold. Second stop was Santorini, where the pool was just marginally more tolerable. But we were thrilled to discover that the water in the Naxos Beach II's oval pool was refreshingly comfortable — not too cold, and not too warm. Perfect for cooling off after sunbathing, and perfect for taking a dip even in the early evening even when the pool was in complete shade.  We easily spent more time in the Naxos Beach II pool than we have spent in all our other Greek hotel pools combined.
Luckily for us, the hotel didn't have many guests when we were there, so we often had the pool, air mattresses, lounge chairs and sometimes even the entire surrounding terrace all to ourselves. The pool deck isn't very large, so there aren't many lounge chairs around it — they probably get snapped up quickly (and extremely early in the morning) during peak travel season. However, there is a large bar and dining area close to the pool, and that's where the hotel held an excellent BBQ buffet dinner twice a week.
The pool itself would have been a lot more attractive if the bottom of it wasn't painted with a large illustration of the Portara, the giant stone "doorway" monument on the hillside overlooking the port at Naxos Town. It looks a bit corny, but I'm sure there have been plenty of kids (and adults, too) who have gotten a big kick plunging off the Naxos Beach II diving board and pretending to swim through the Portara. (If you had binoculars, you could see the monument from the swimming pool terrace — the hotel is built on a hillside in the island's Stelida district, with excellent panoramic views toward Naxos Town.)
Below is a pic of the real Portara, plus several photos of the Naxos Beach II pool and poolside terrace.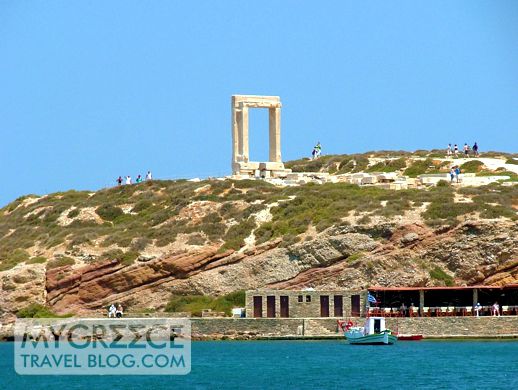 The Portara monument near the port at Naxos Town on Naxos is part of the ruins of an unfinished Archaic Temple dating from the 6th Century B.C.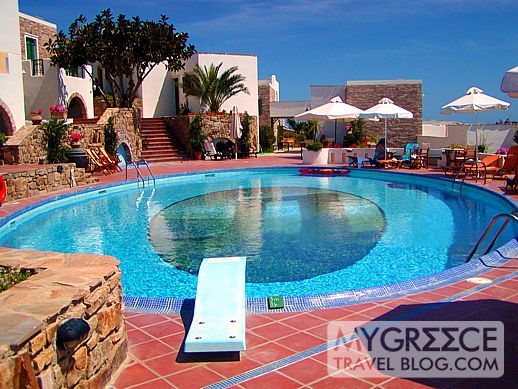 Hop off the board and take a dive through the Portara!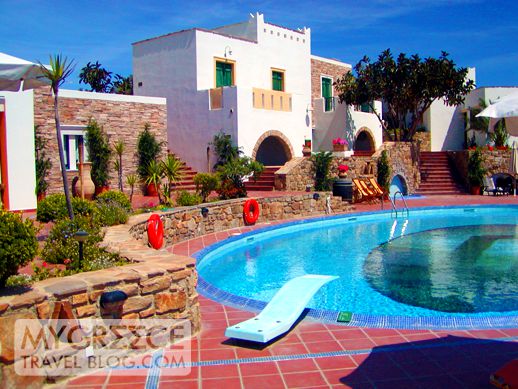 The pool is right next to the Naxos Beach II hotel reception area (in the building with the stone wall and window, at left)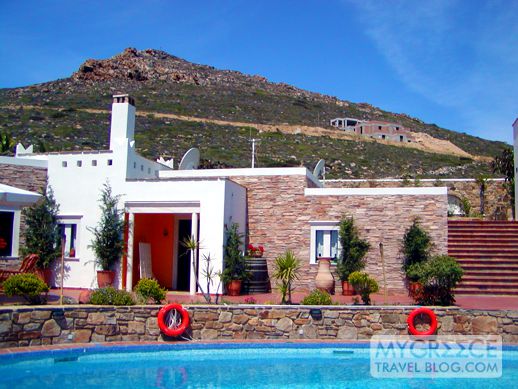 Naxos Beach II hotel swimming pool view of the mountain towering above the Stelida district of Naxos, a 10-minute drive from Naxos Town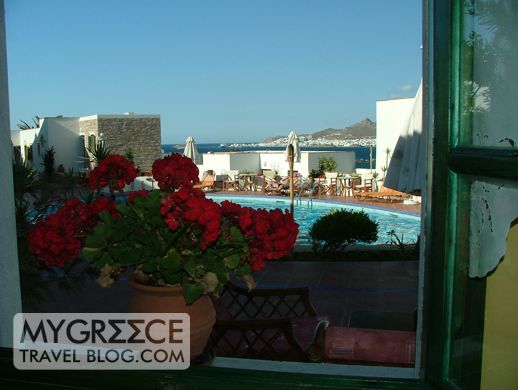 A view of the swimming pool and Naxos Town in the distance, seen through a window in the reception room at the Naxos Beach II hotel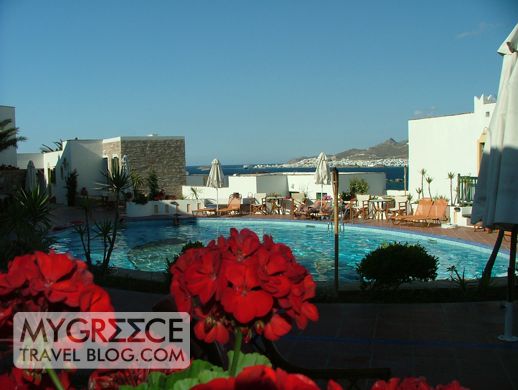 Another view of the swimming pool from the hotel reception area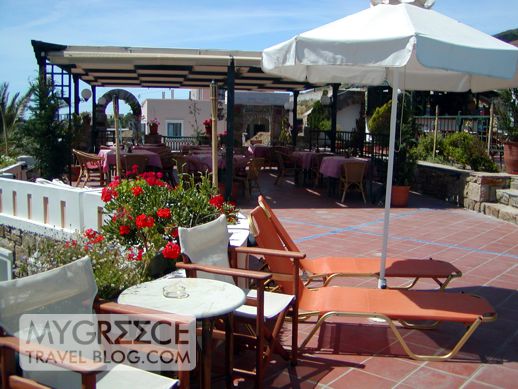 An outdoor bar and dining area sits just steps from the swimming pool terrace. Unfortunately, the hotel didn't serve breakfast there — just biweekly BBQ buffets.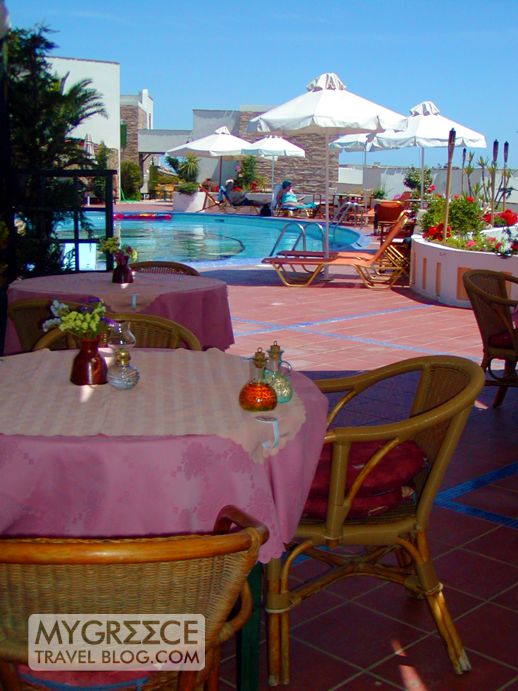 Outdoor bar and dining area view of the Naxos Beach II swimming pool